Skip product carousel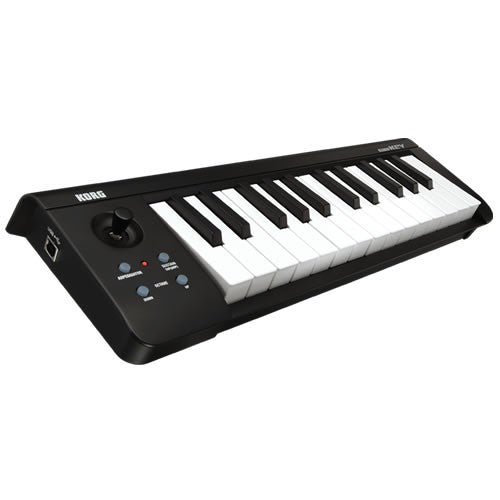 Korg microKEY 25-Key USB-Powered Keyboard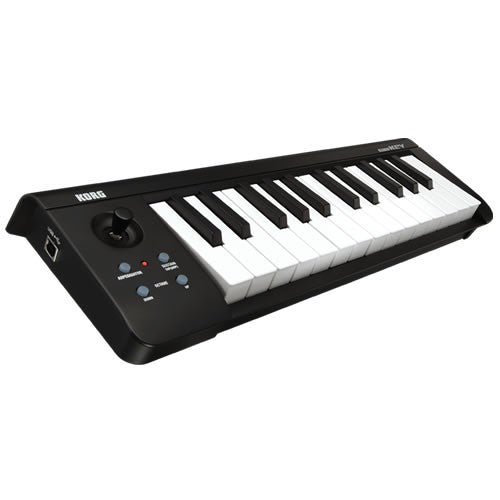 Korg microKEY 25-Key USB-Powered Keyboard
microKEY are a compact family of USB MIDI keyboards featuring the velocity-sensitive Natural Touch mini-keyboard; acclaimed on instruments such as the microKORG XL and microARRANGER. In addition to the existing 37-key model, the lineup has been expanded with the addition of a supremely portable 25-key model, and a five-octave 61-key model providing the space to play freely with both hands. Bundled software and discount coupons are more generous than ever. The microKEY is the ideal USB MIDI keyboard for the musician who wants to assemble a convenient and compact music production system.
Product Highlights
USB MIDI keyboard-thin, lightweight, and USB-powered
Velocity-sensitive natural-touch mini-keyboard with excellent playing feel
Three models to choose from:

the highly portable 25-key model
the space-saving 37-key model
the 61-key model for the studio musician

Octave Shift and Key Transpose features access the full MIDI note range
Versatile controls include arpeggiator buttons, sustain/tap button, and joystick (25 key)
Pitch Bend and Modulation wheels add expression to your performance (37 key, 61 key)
No need to install a driver; just connect it to your computer, and it's ready for use
Great for use with iPad (microKey25 can be powered from iPad, 37 and 61 require external USB power)
Dual USB ports; ideal for adding Korg's nanoPAD2 or other USB devices to your setup (37 key, 61 key)
A generous assortment of licenses and discount coupons for popular software titles is included
KORG KONTROL Editor is included
A license is included for the "Korg Legacy Collection Special Bundle," giving you software versions of Korg's classic synthesizers (61-key model only)
No driver installation needed - the standard USB MIDI driver provided by Windows/Mac OS X is supported
Using the KORG KONTROL Editor software (provided), you'll be able to customize the microKEY for your setup. You can choose from eight velocity curves plus fixed velocity (a total of nine types), and also specify the control change number of the modulation wheel or joystick, as well as specify their maximum and minimum values.
The microKEY25 features excellent portability, allowing you to enjoy playing and producing with a great-feeling keyboard even when you're away from home. It features an expressive Joystick, as traditionally found on larger controllers, and provides simultaneous control of multiple parameters at the same time, along with control of the built-in tempo-synced arpeggiator function. That's not all; the microKEY25 can be powered directly from your iPad via the Camera Connection Kit, and it can be immediately used to control MIDI-capable apps such as Korg's iMS-20. The microKEY25 also includes a download code for FREE Korg M1Le software, giving you all of the preset sounds and all of the PCM waveforms of the original M1, and a browser/search function that makes it easy to find that "perfect sound."
Also included are licenses* for Applied Acoustics Systems' Strum Acoustic Session, Lounge Lizard Session, and Ultra Analog Session as well as a license for Toontrack's software drum sound module EzDrummer Lite,* and a discount coupon* for Ableton's "Live," "Live Suite," and "Live LE" DAW software, widely popular for its sophisticated functionality.
SKU
KOR-MICROKEY25
Vendor
Korg
Aftertouch
No
Bus Power
Yes
Controller Type
Keyboard
Included From Manufacturer
USB Cable
KORG BUNDLE SOFTWARE PIN Card
Keys Weighted
No
Key Num
25
Midi
USB
Mpn
MICROKEY25
Product Unique Features
KORG KONTROL Editor software
Arpeggiator
Yes
Compatible Devices
Mac/PC;iOS
Onboard Controllers
Joystick
Arpeggiator Button
Sustain / TAP Button
Key Action
Natural Touch Mini Keyboard
Number of MIDI Control Zones
1
Product Weight
1.43 lbs
Software Editor
Yes
Width
15.55"
Depth
5.16"
Height
2.08"
Korg USA Warranty Policy
All Korg products purchased from a Korg USA authorized dealer are warranted to be free from defects in material and workmanship to the original consumer for a period of one (1) year.
Register your new Korg keyboard, keyboard rack module or digital piano online and receive a certificate that extends the product warranty for an extra year from the date of purchase. Product must be registered within 90 days of purchase to receive an extra year of warranty.
Tuner and Metronome products are warranted to be free from defects in material and workmanship to the original consumer for a period of three (3) years.
Tubes, AC Adapters and Foot Switches are warranted to be free from defects in material and workmanship to the original consumer for a period of ninety (90) days.
The customer must provide proof of purchase in order to obtain warranty service. The dated sales slip or copy thereof is the only acceptable proof of purchase.
The product must be purchased from a Korg USA authorized dealer and have a valid serial number.
This warranty is valid only in the USA.
Damage resulting from the following causes are excluded from the warranty set forth above: misuse, including damage occurring during shipment, damage caused by battery leakage, accident, fire, unauthorized repairs, tampering, cosmetic damage or other types of damage which are the result of improper handling or abuse; the cleaning of controls or contacts due to exposure to dirty, dusty, or otherwise contaminated environment; damage resulting from modification; damage to units used for loan or rental.
Standard Shipping