Skip product carousel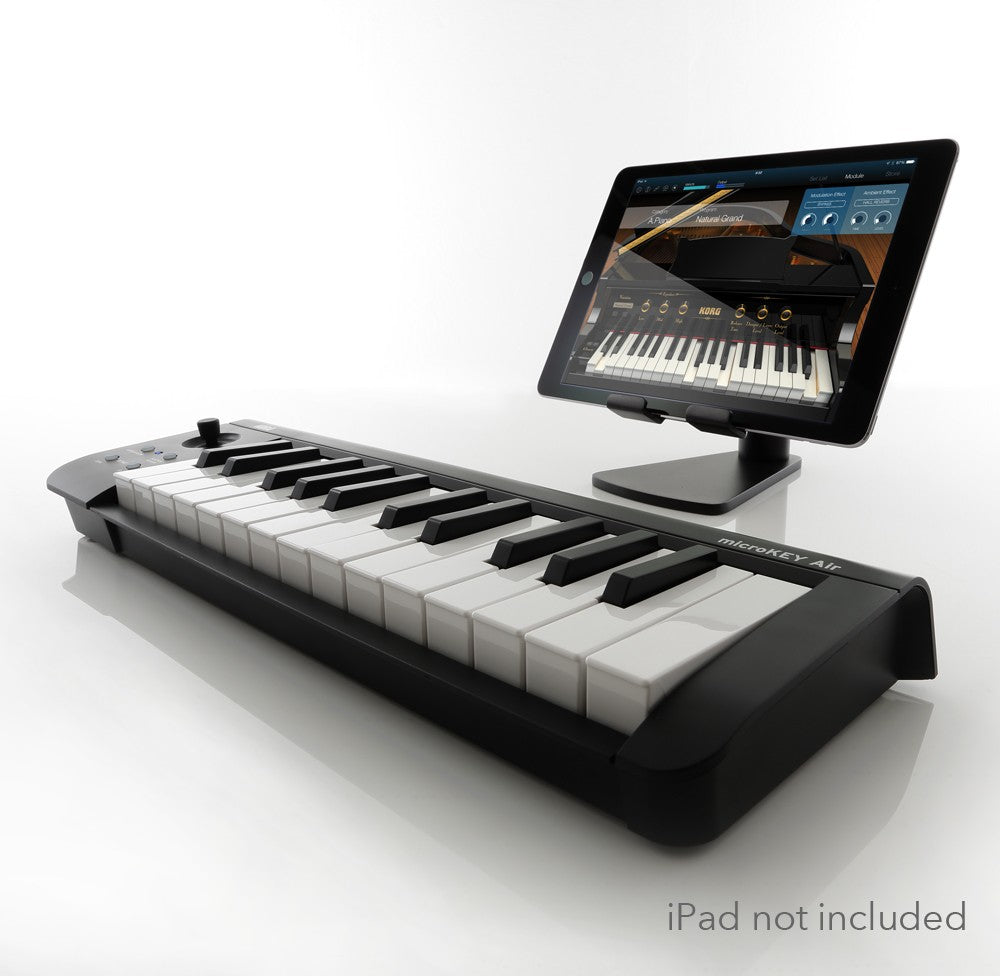 Korg microKEY Air-25 Bluetooth MIDI Keyboard Controller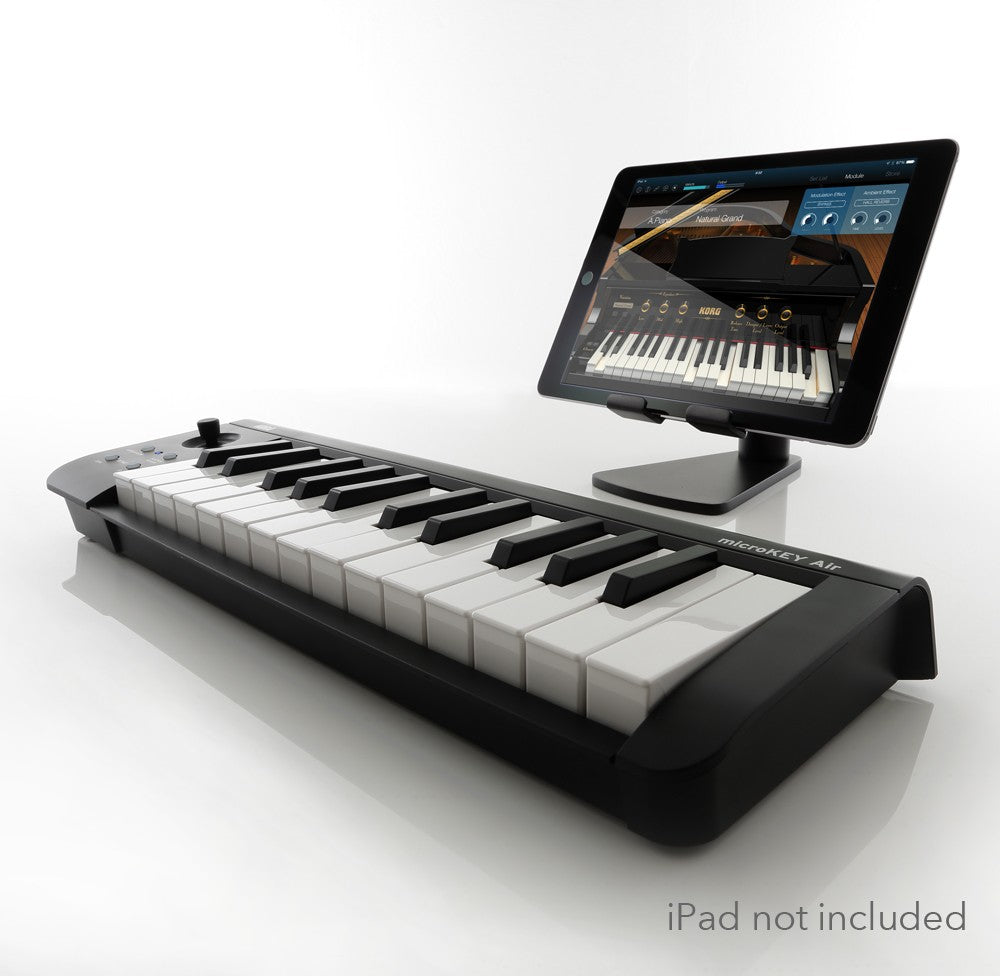 Korg microKEY Air-25 Bluetooth MIDI Keyboard Controller
Control, unplugged
Too many wires in your studio? Are wires literally holding you back from the freedom of different configurations and setups?
Korg, creators of the best-selling microKEY series and the next-gen microKEY series can help you break free from wired connections with the new microKEY Air series of wireless MIDI controllers!
Connect wirelessly to iPad, iPhone, or Mac
The microKEY Air supports Apple's "Bluetooth Low Energy MIDI" Standard for wireless devices. You can easily connect wirelessly with iPad/iPhone music apps such as KORG Gadget, KORG Module, and GarageBand, as well as any MIDI-capable music production software on your Mac. Painstaking tuning has resulted in high stability and low latency, no strings – or wires – attached.
Lasts a month between battery changes
With one hour of use per day, the batteries allow approximately one month of operation. . And best of all, the microKEY Air runs on just two AA batteries.
To USB or not to USB?
The microKEY Air can also be connected via a USB cable. You can connect it to Mac/Windows and start using it immediately without having to install a driver.
Small but playable Natural Touch Mini Keyboard
KORG's Natural Touch mini keyboard. Has been carefully designed to assure playability while staying compact, and makes it easy to play chords or rapid phrases. Choose between a 25, 37, 49 or 61-key configuration to suit your specific playing style and space/travel requirements.
Connect with a single USB cable. Supports Mac, Windows, iPad, and iPhone
Since the microKEY is USB bus-powered, you only need a single USB cable to connect it to Mac or Windows. There's no need to install a driver; just connect it to your computer and start playing. The second generation newly supports connection to iPad and iPhone. Add an Apple Lightning - USB camera adaptor and one USB cable and your setup is complete, allowing you to access apps such as KORG Gadget, KORG Module, and GarageBand.
Lavish array of powerful music software bundled free of charge
The microKEY comes with serious collection of powerful music software titles C including popular iPad/iPhone apps, special editions of KORG Gadget and KORG Module, and the KORG Legacy Collection, which gives you five classic KORG instruments as plug-ins. With the microKEY you won't have to purchase additional software; you can start creating music right away.
Korg software bundle includes
Software for Mac/Windows

KORG Legacy Collection - M1 Le (synthesizer sound module) with a special upgrade pass to the KORG Legacy Collection - Special Bundle
UVI Digital Synsations (synthesizer sound module)
AAS Ultra Analog Session (synthesizer sound module)
AAS Strum Acoustic Session (acoustic guitar sound module)
AAS Lounge Lizard Session (electric piano sound module)
Propellerhead Reason Limited (DAW music production software)
Ableton Live $50 discount coupon (DAW music production software)

Apps for iPad and iPhone

KORG Module Limited (piano/keyboard sound module app)
Dedicated editor software "KORG KONTROL Editor" is provided
By using the dedicated KORG KONTROL Editor for Mac/Windows you can customize the keyboard to your preferences, including fine adjustments to the velocity curve.
Specifications

Keyboard: 25-Key natural touch mini-keyboard
Controllers:

Joystick
arpeggiator button
sustain/TAP button
octave shift buttons

Octave Shift: -4 - +4
Connections: USB Type B (x1)
Wireless Type: Bluetooth Low Energy (Apple Bluetooth Low Energy MIDI specification compliant)
Power Supply: Two AA batteries (when connected wirelessly; use alkaline or nickel-metal hydride batteries) USB bus power (when connected via USB)
Power Consumption: Less than 100mA
Dimensions:

Length: 15.55"
Width: 5.16"
Height: 2.05"
Weight: 1.48 lbs
Operating requirements (wireless connection)
Mac: Mac that supports Bluetooth 4.0 or later, and has OS X10.10 Yosemite or later installed.
iOS: iPad/iPhone that Supports Bluetooth 4.0, and has iOS8 or later installed
Operating requirements (USB connection):
Windows: Microsoft Windows 7 SP1 or later (32-bit / 64-bit)
Mac: MacOS 10.8 Mountain Lion or later
iOS: iOS8 or later
* Korg does not guarantee that the unit will work with every computer that meets these requirements.
SKU
KOR-MKEYAIR25
Vendor
Korg
Aftertouch
No
Bus Power
Yes
Controller Type
Keyboard
Included From Manufacturer
USB Cable
Korg Software Bundle Code
Keys Weighted
No
Number of Keys
25
Midi
USB and Bluetooth
Mpn
MKEYAIR25
Product Unique Features
With one hour of use per day, two AA batteries allow approximately one month of wireless operation.
Arpeggiator
Yes
Compatible Devices
Mac/PC;iOS
Control Connections
USB Type B
Onboard Controllers
Joystick
Arpeggiator Button
Sustain/TAP Button
Octave Shift Buttons
Key Action
Natural touch mini-keyboard
Number of MIDI Control Zones
1
Product Weight
1.48 lbs
Software Editor
Yes
Width
15.55"
Depth
5.16"
Height
2.05"
Korg USA Warranty Policy
All Korg products purchased from a Korg USA authorized dealer are warranted to be free from defects in material and workmanship to the original consumer for a period of one (1) year.
Register your new Korg keyboard, keyboard rack module or digital piano online and receive a certificate that extends the product warranty for an extra year from the date of purchase. Product must be registered within 90 days of purchase to receive an extra year of warranty.
Tuner and Metronome products are warranted to be free from defects in material and workmanship to the original consumer for a period of three (3) years.
Tubes, AC Adapters and Foot Switches are warranted to be free from defects in material and workmanship to the original consumer for a period of ninety (90) days.
The customer must provide proof of purchase in order to obtain warranty service. The dated sales slip or copy thereof is the only acceptable proof of purchase.
The product must be purchased from a Korg USA authorized dealer and have a valid serial number.
This warranty is valid only in the USA.
Damage resulting from the following causes are excluded from the warranty set forth above: misuse, including damage occurring during shipment, damage caused by battery leakage, accident, fire, unauthorized repairs, tampering, cosmetic damage or other types of damage which are the result of improper handling or abuse; the cleaning of controls or contacts due to exposure to dirty, dusty, or otherwise contaminated environment; damage resulting from modification; damage to units used for loan or rental.
Ground shipping is FREE for all orders $99 and up.