Skip product carousel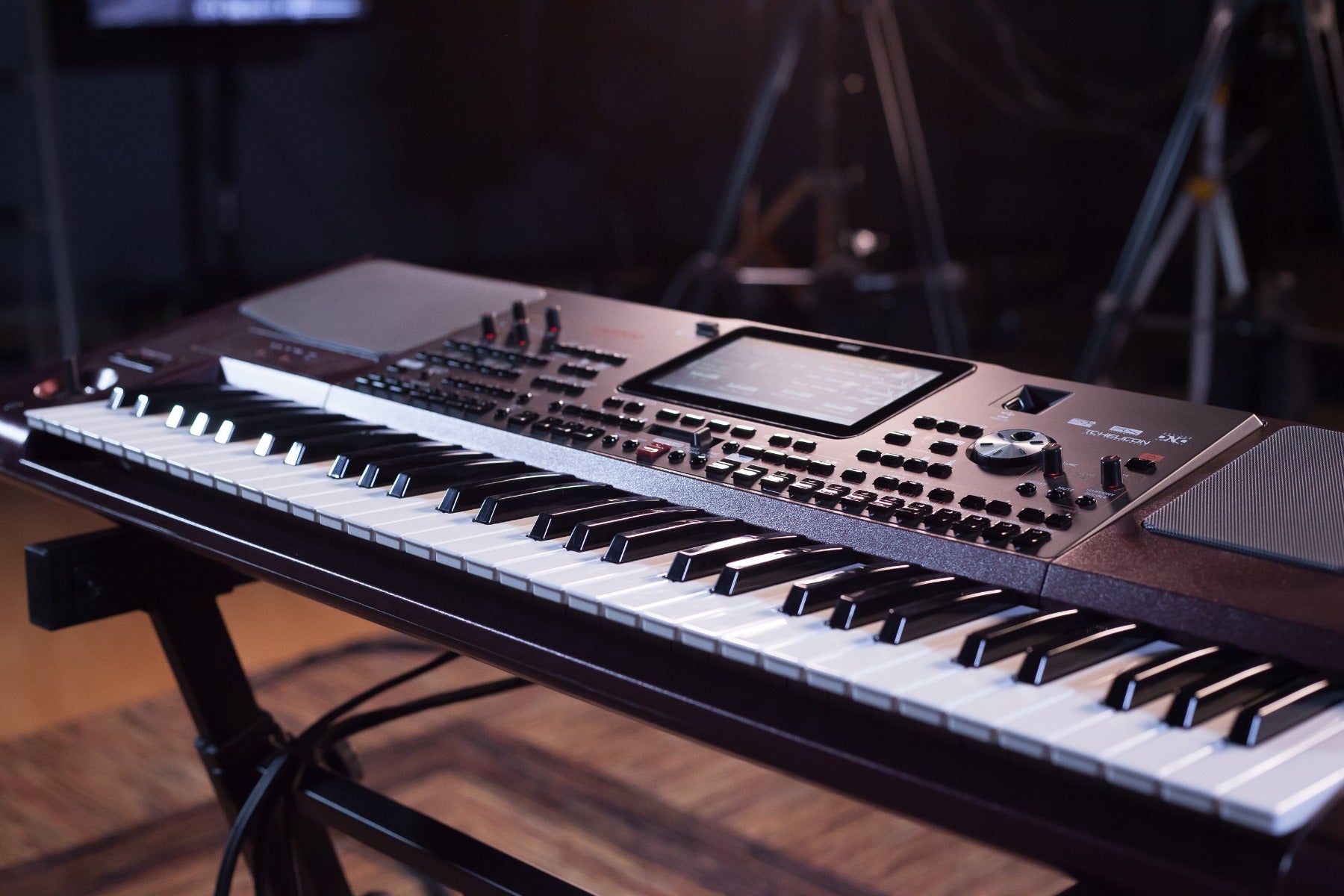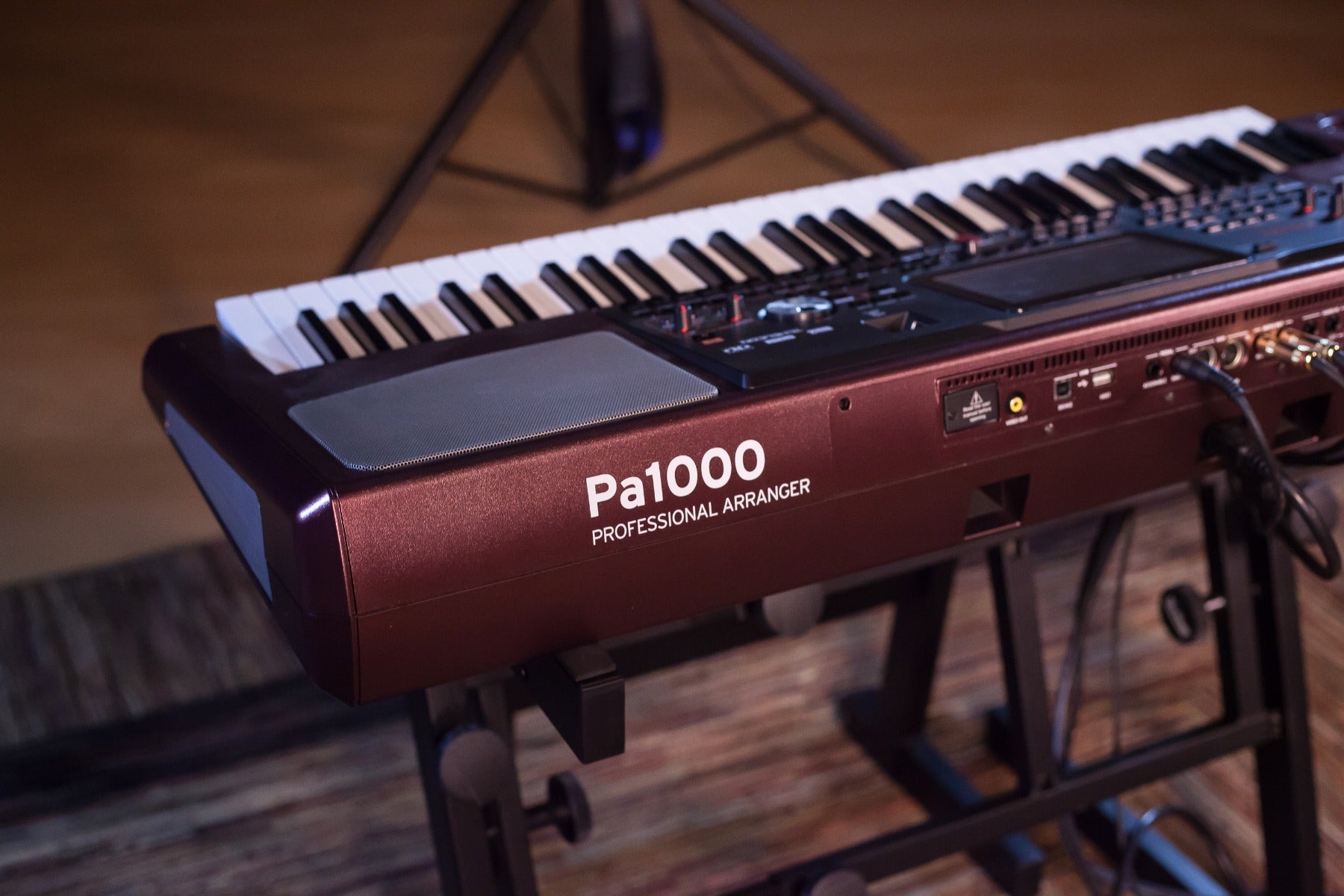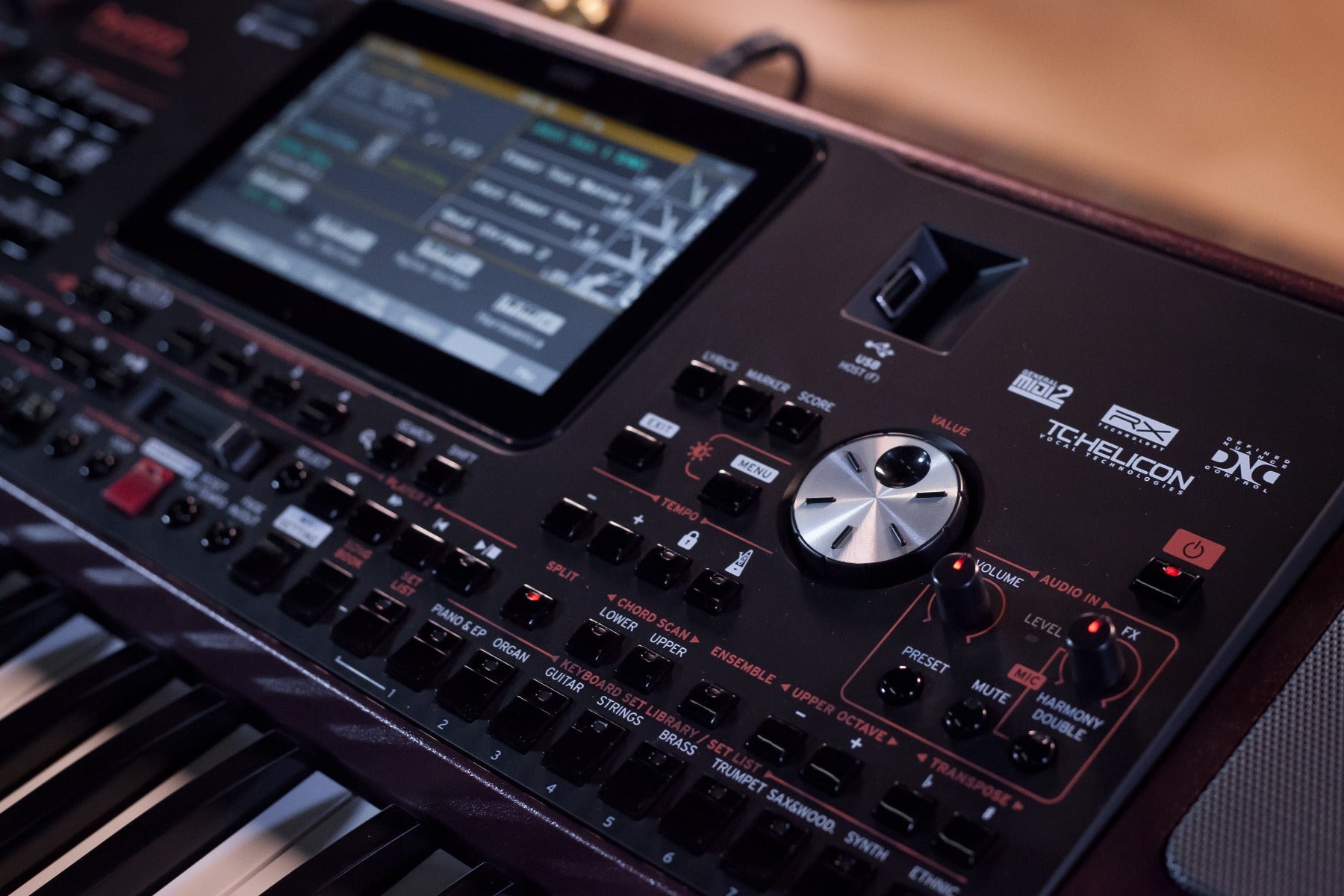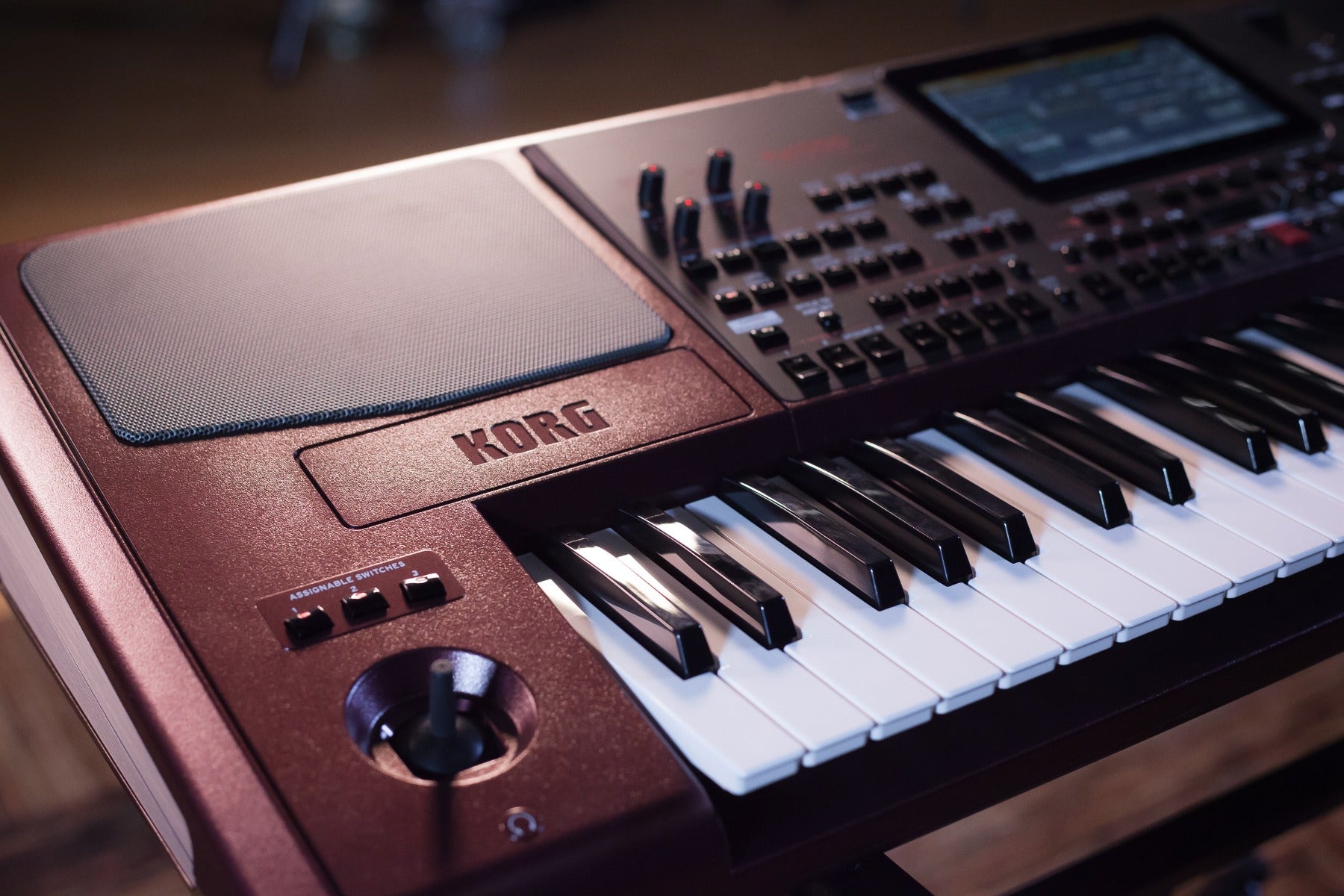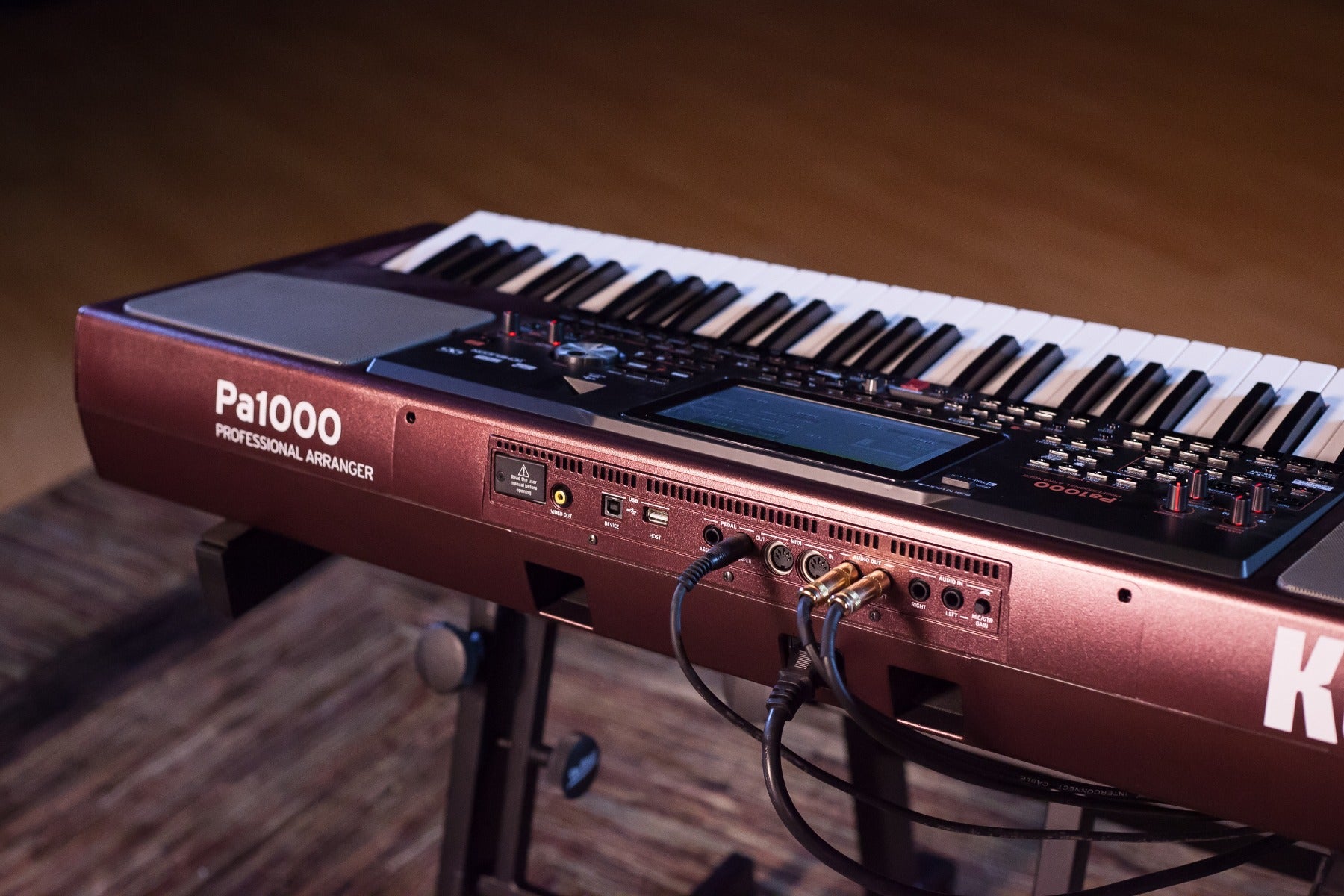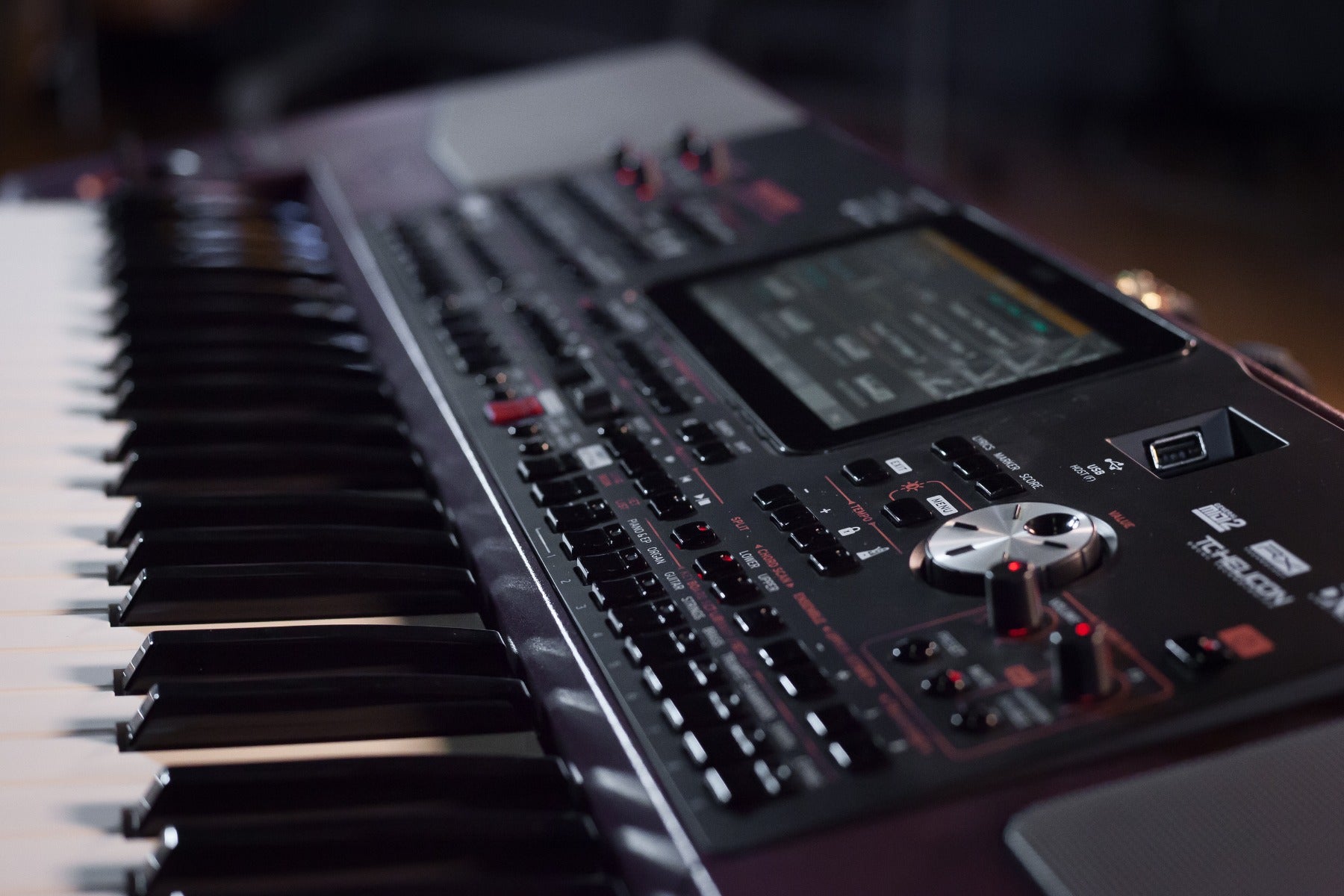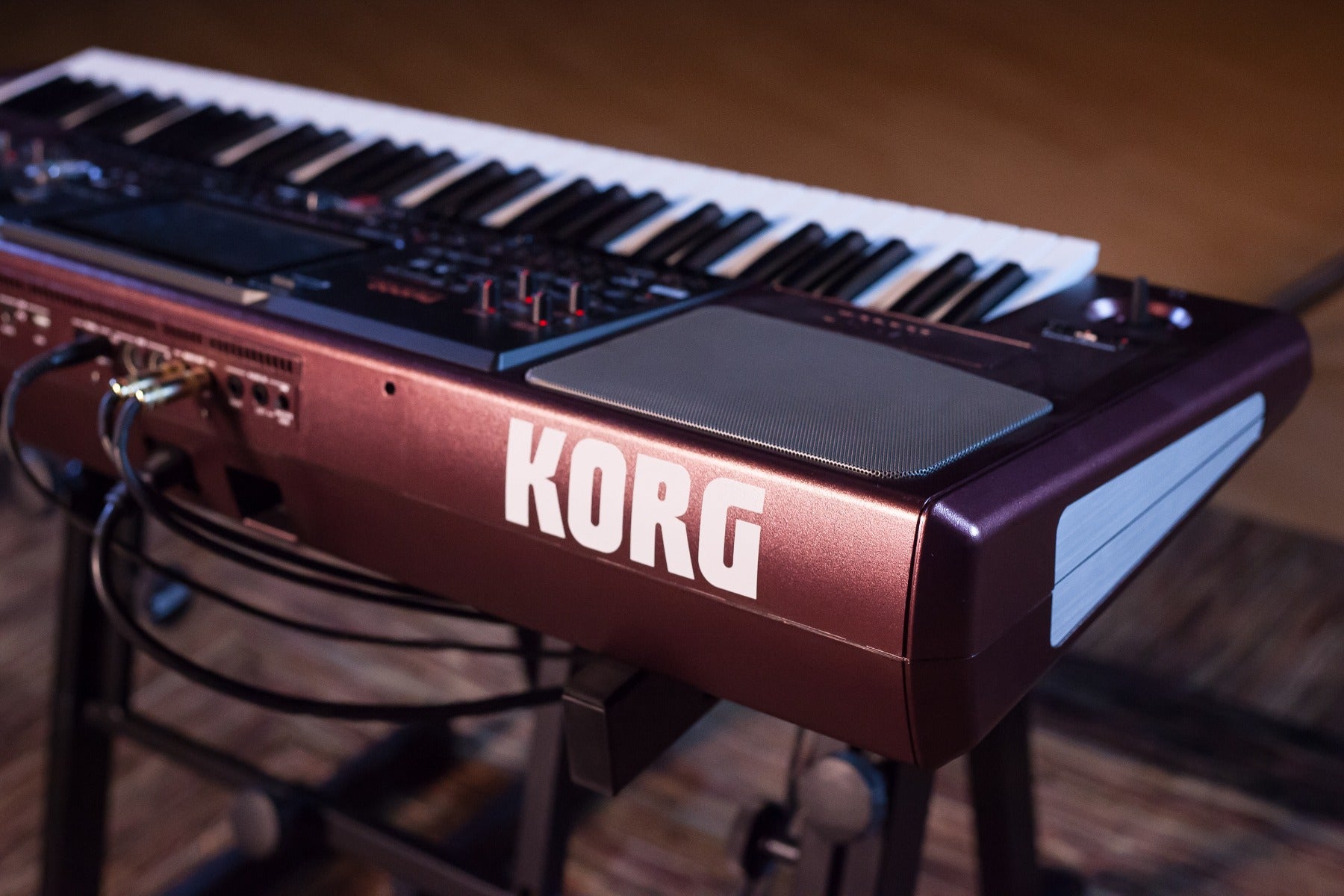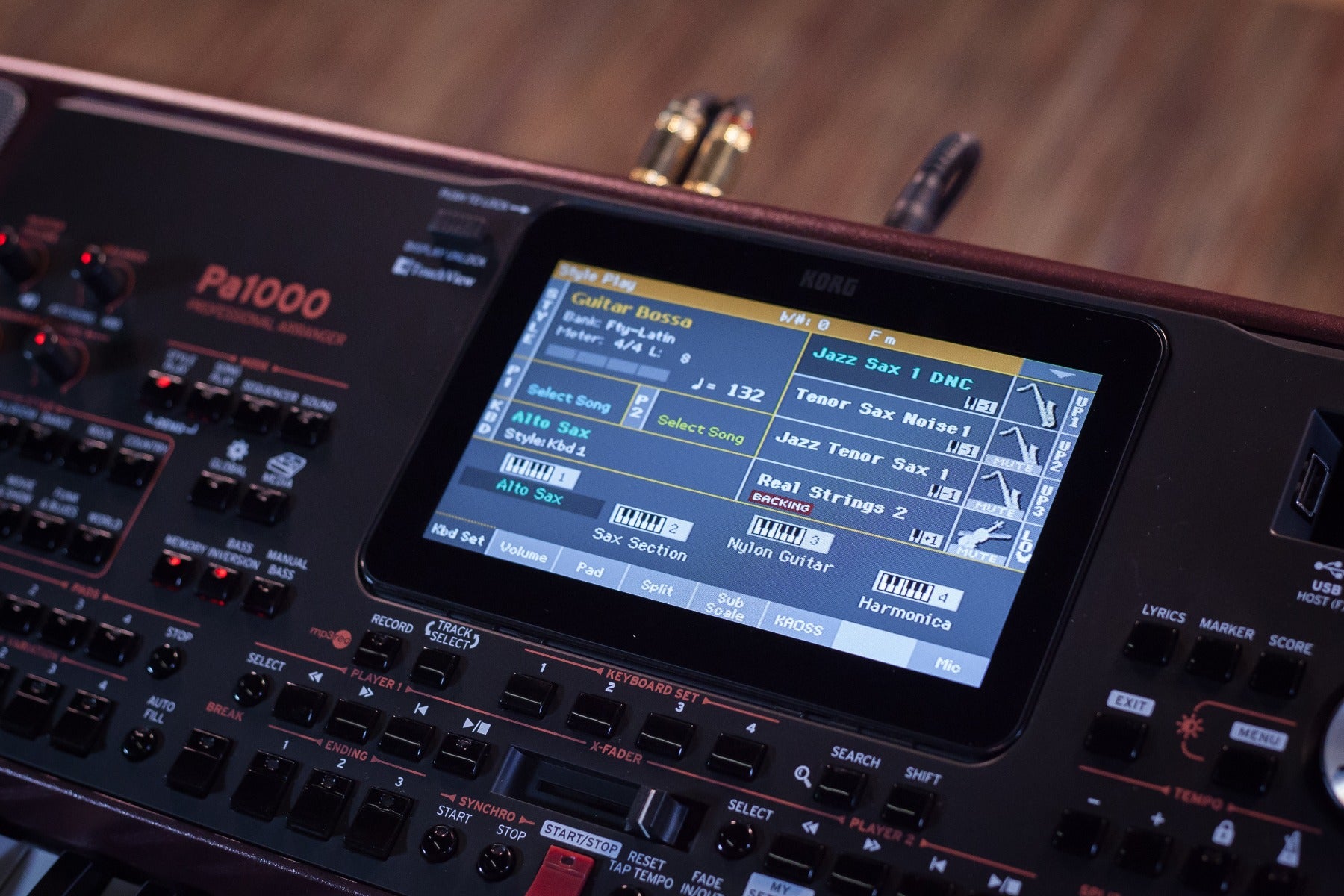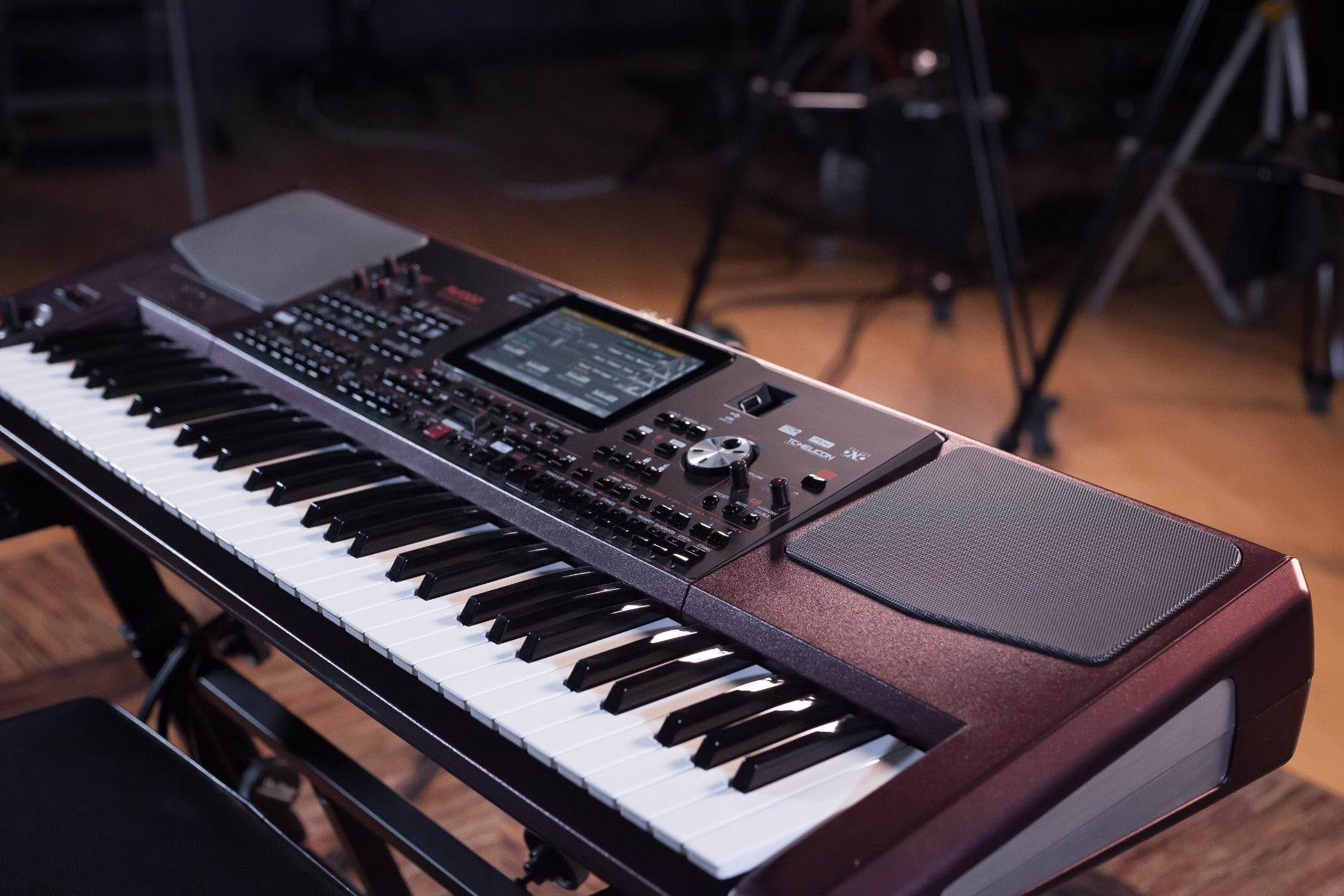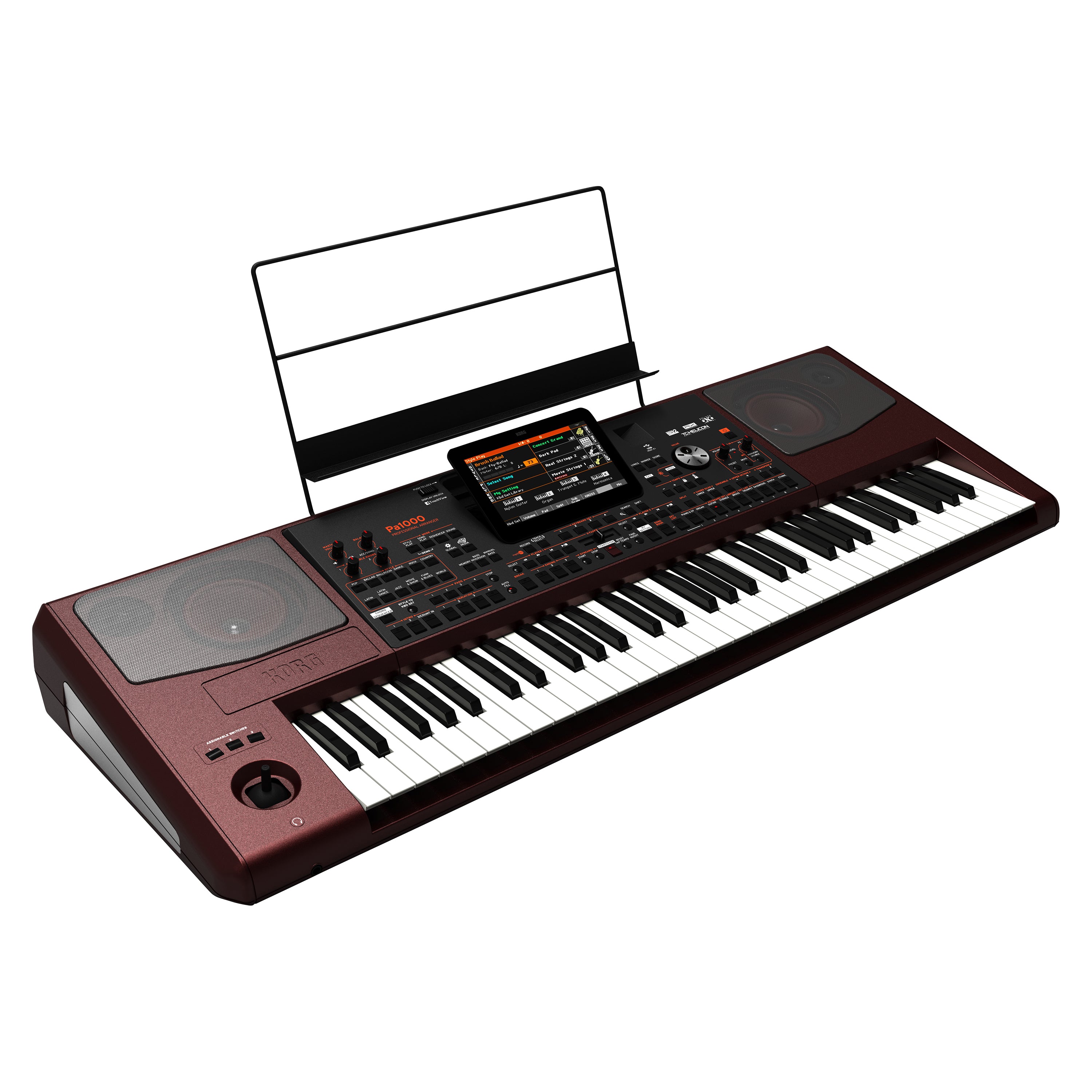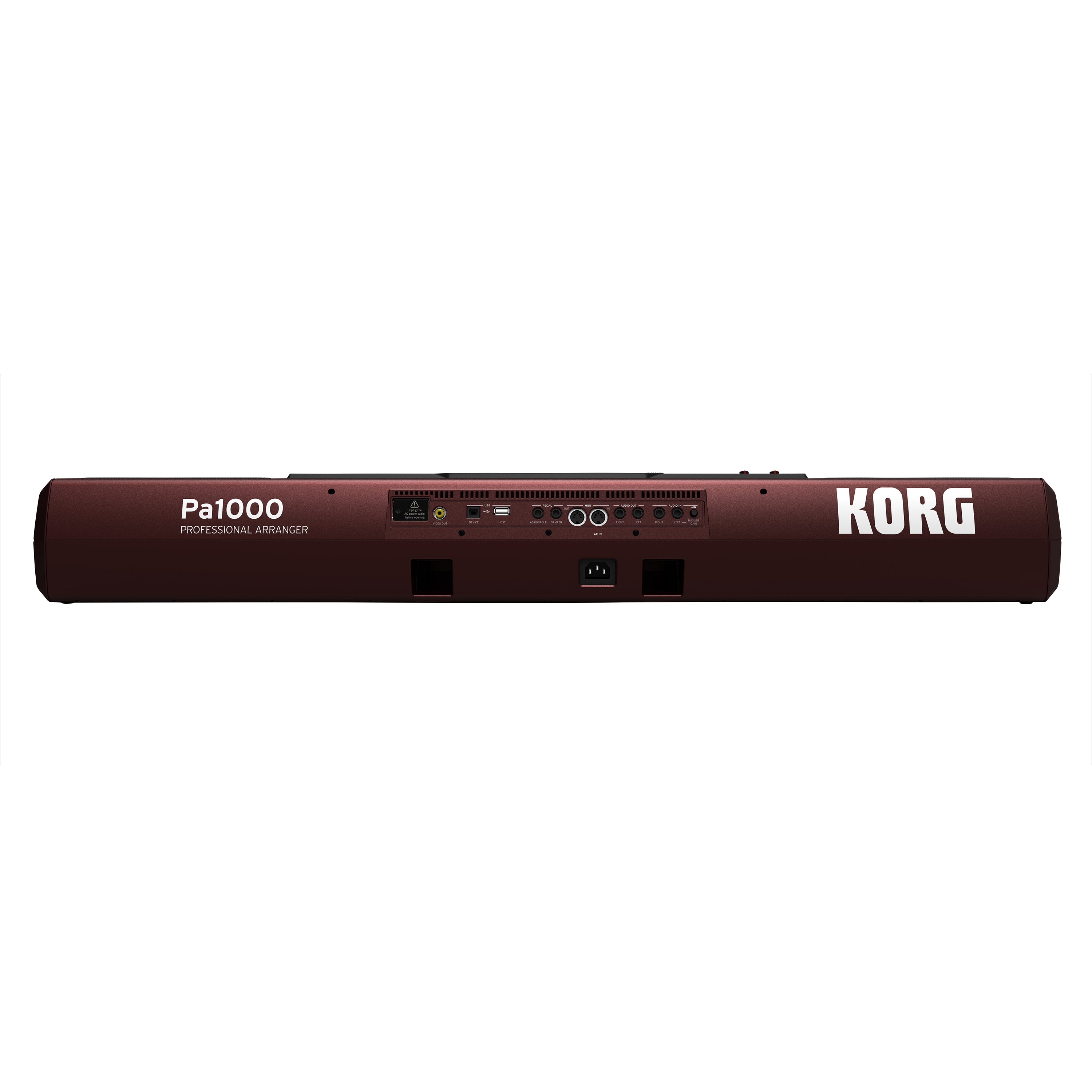 Korg Pa1000 Arranger Keyboard COMPLETE STUDIO BUNDLE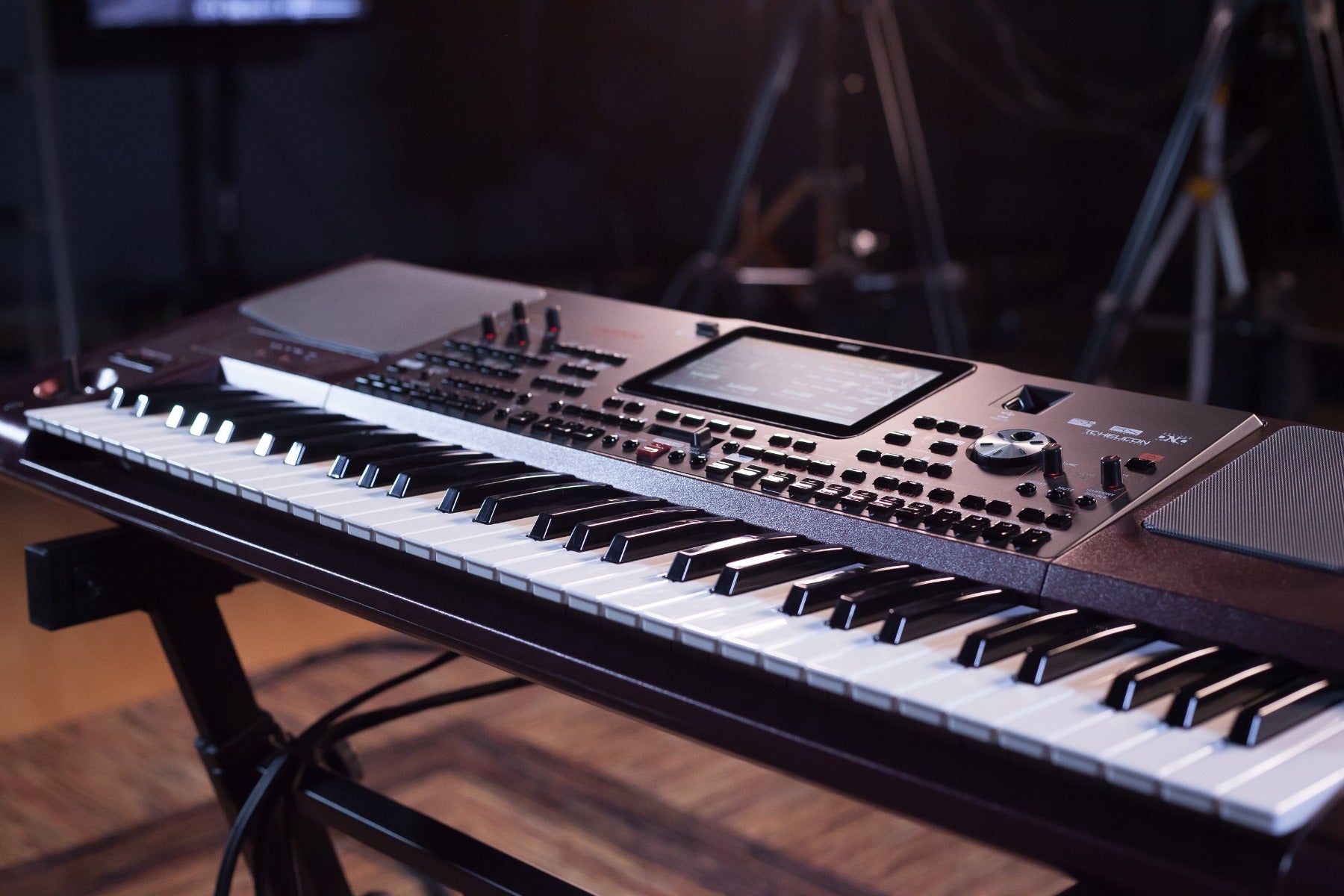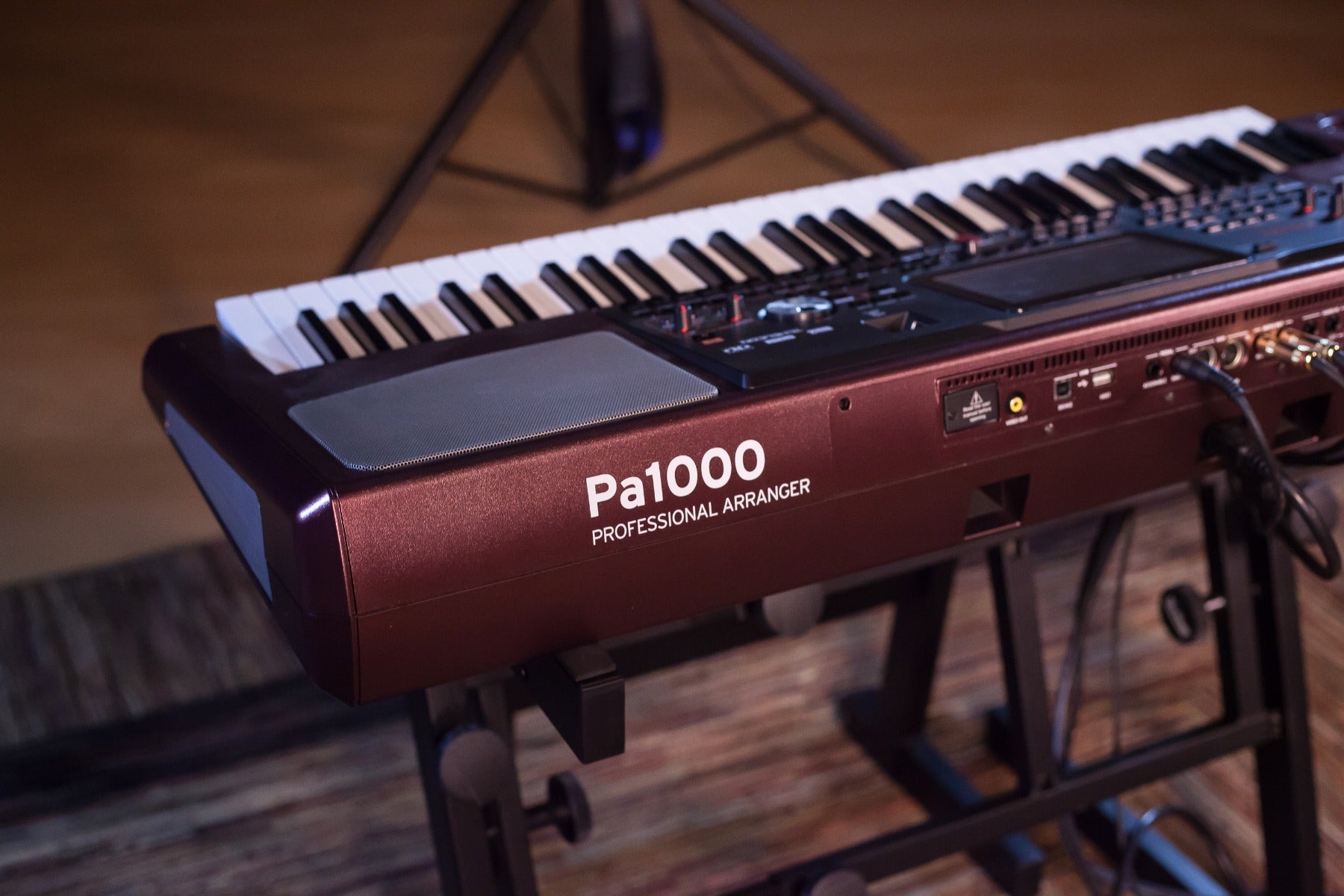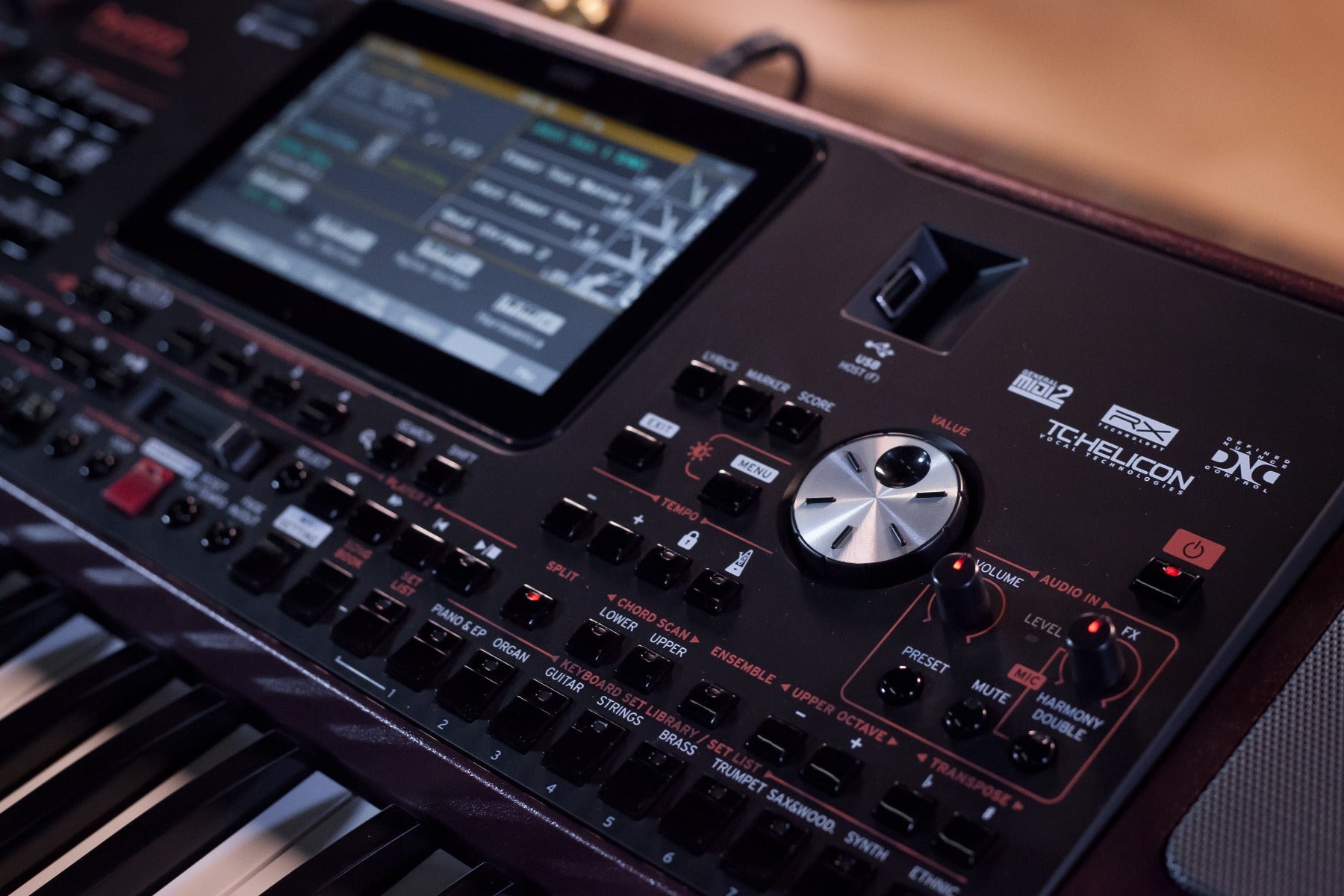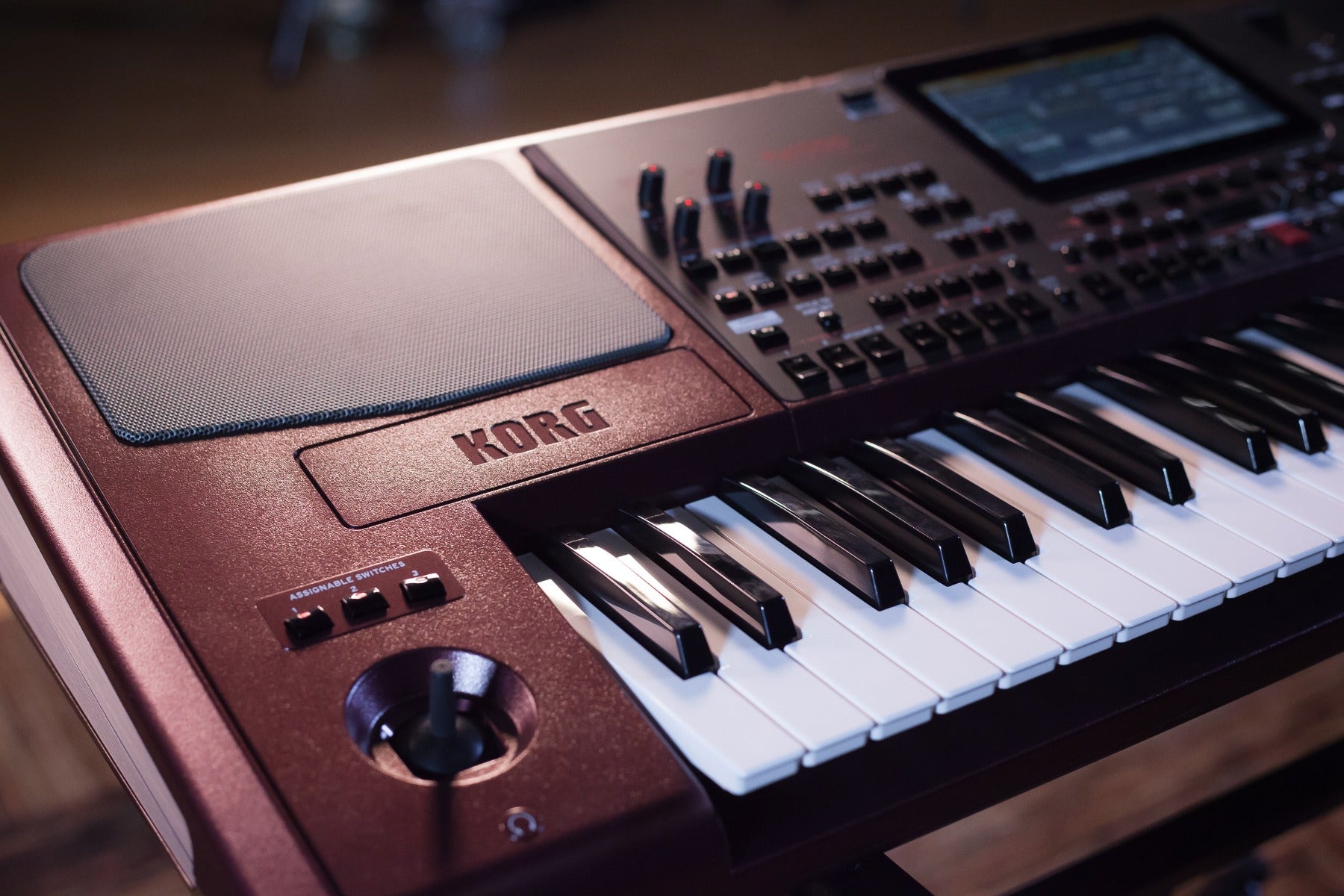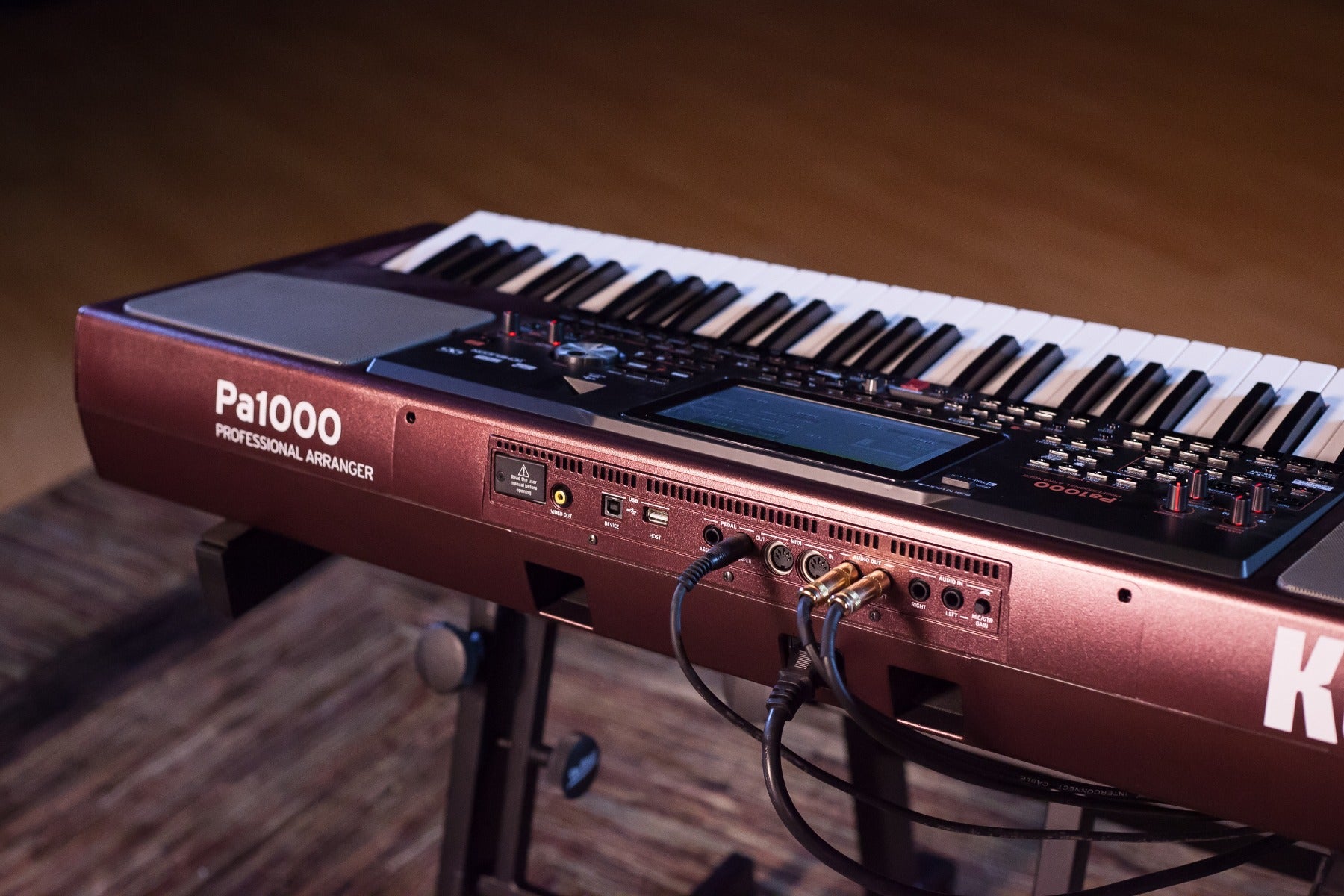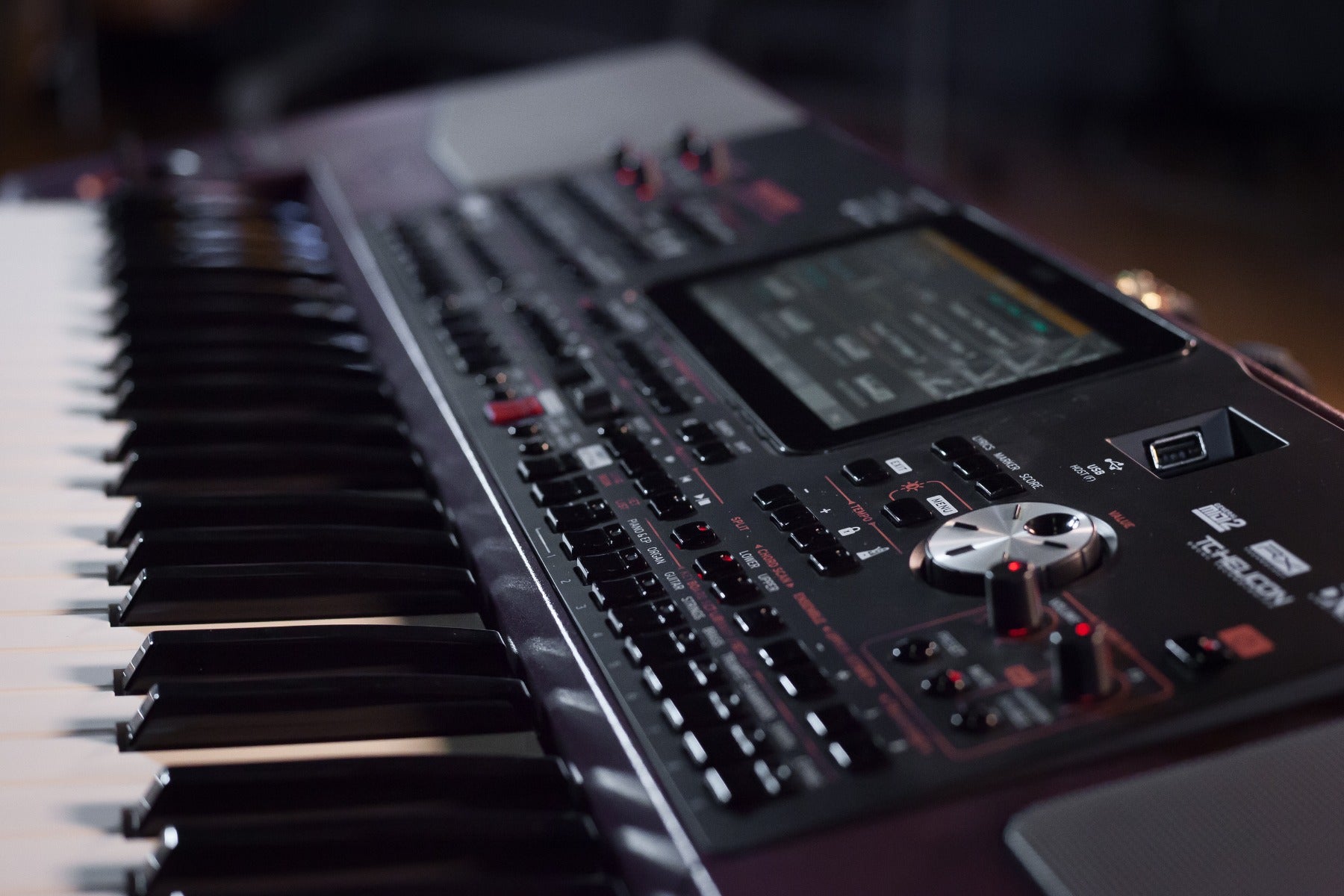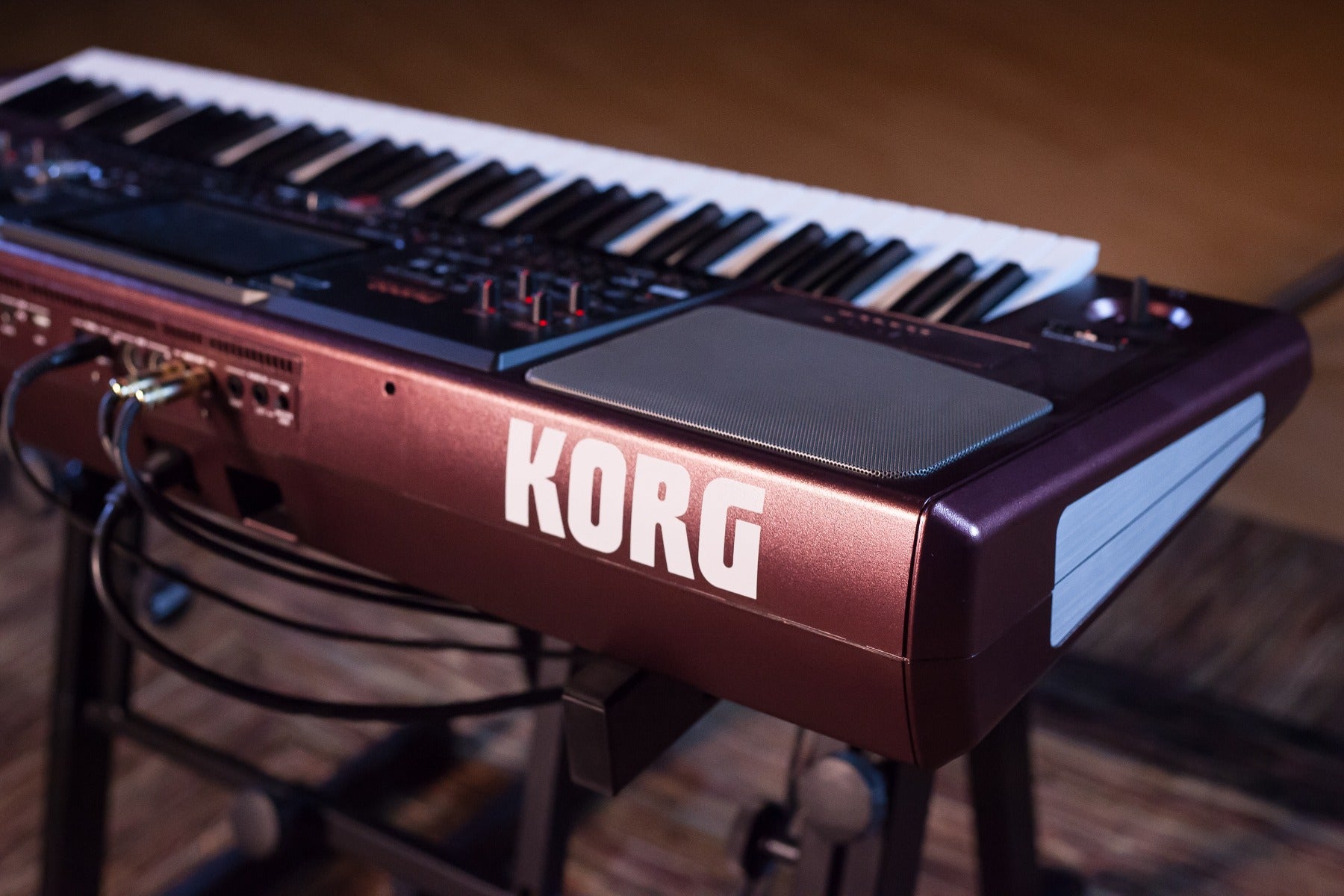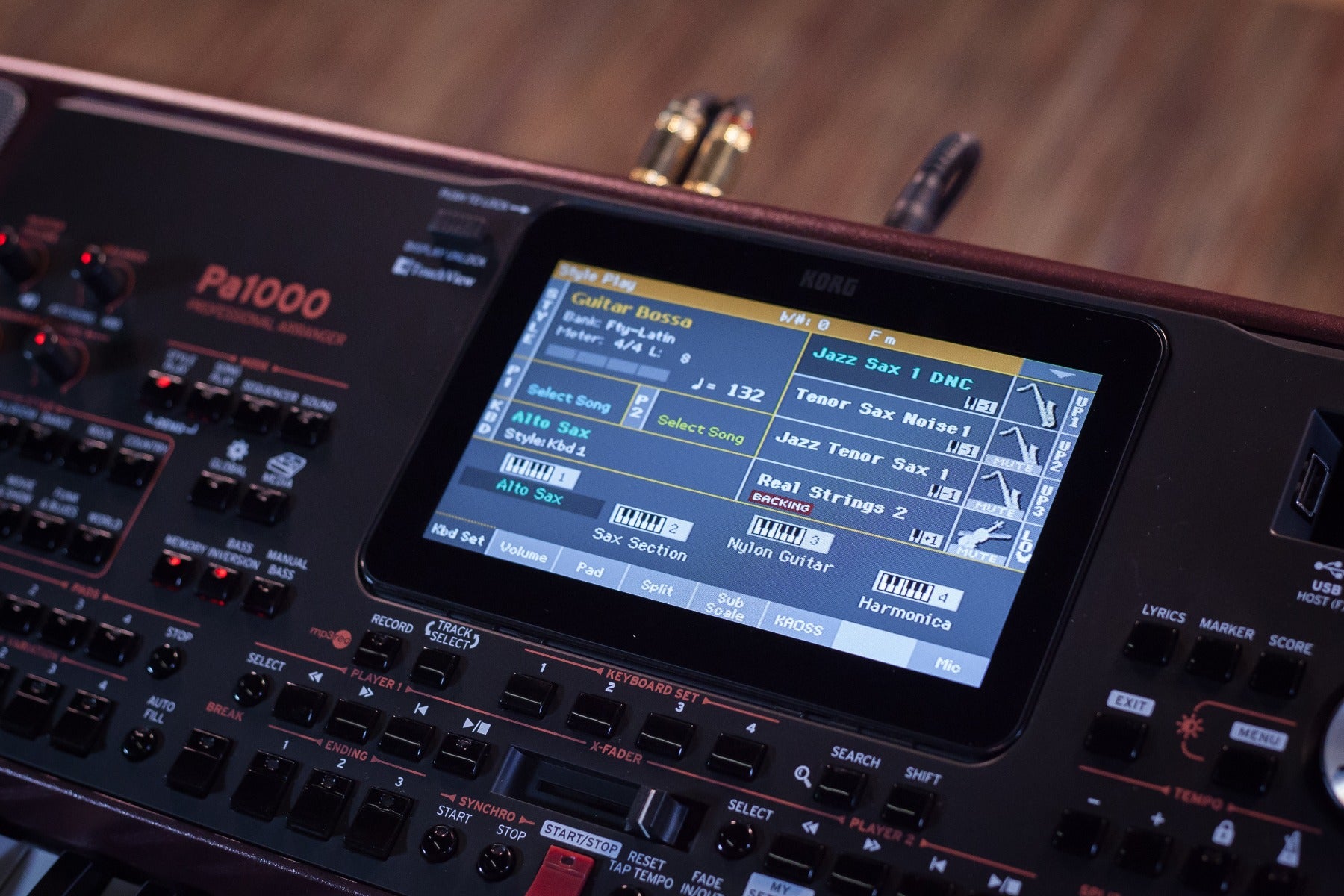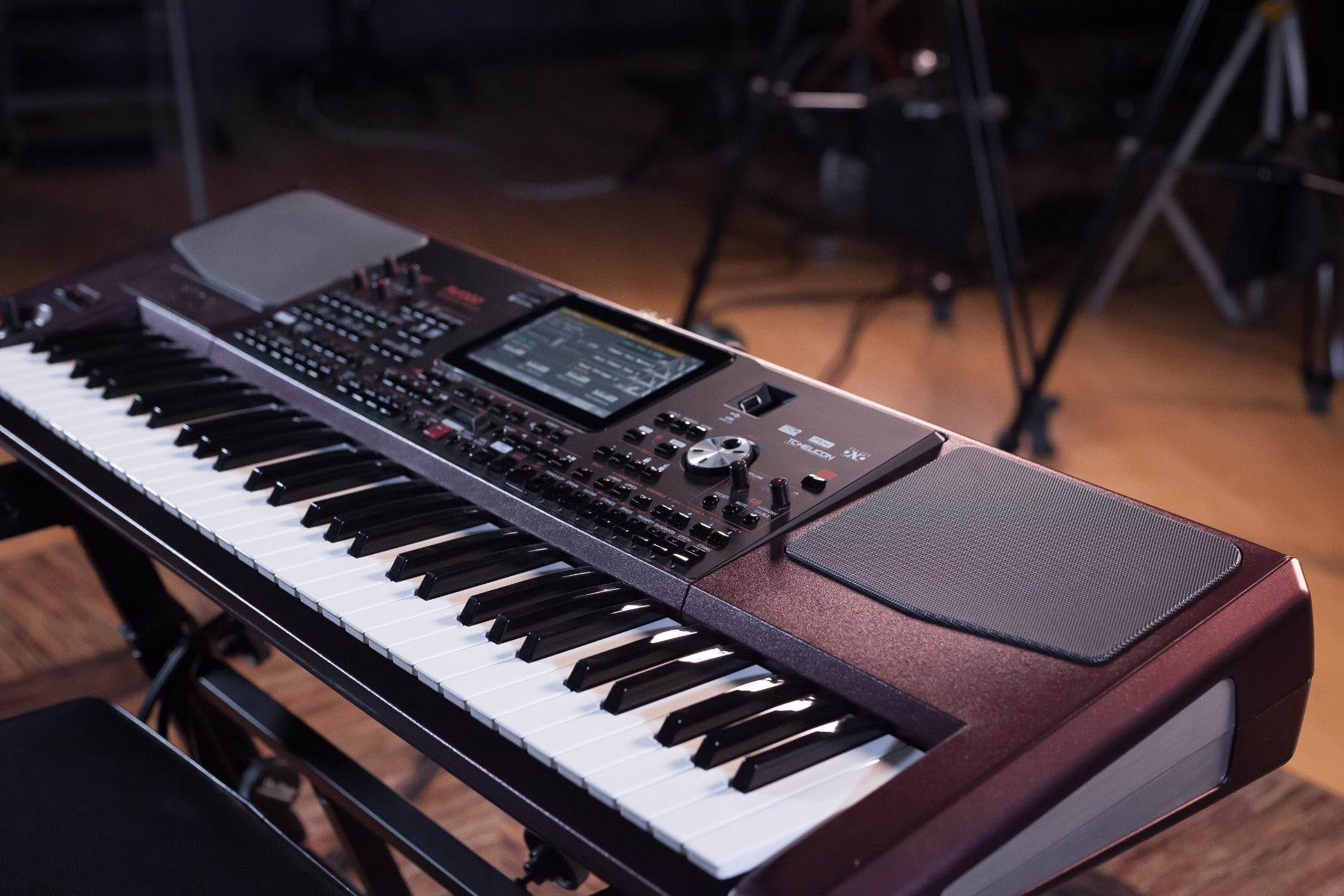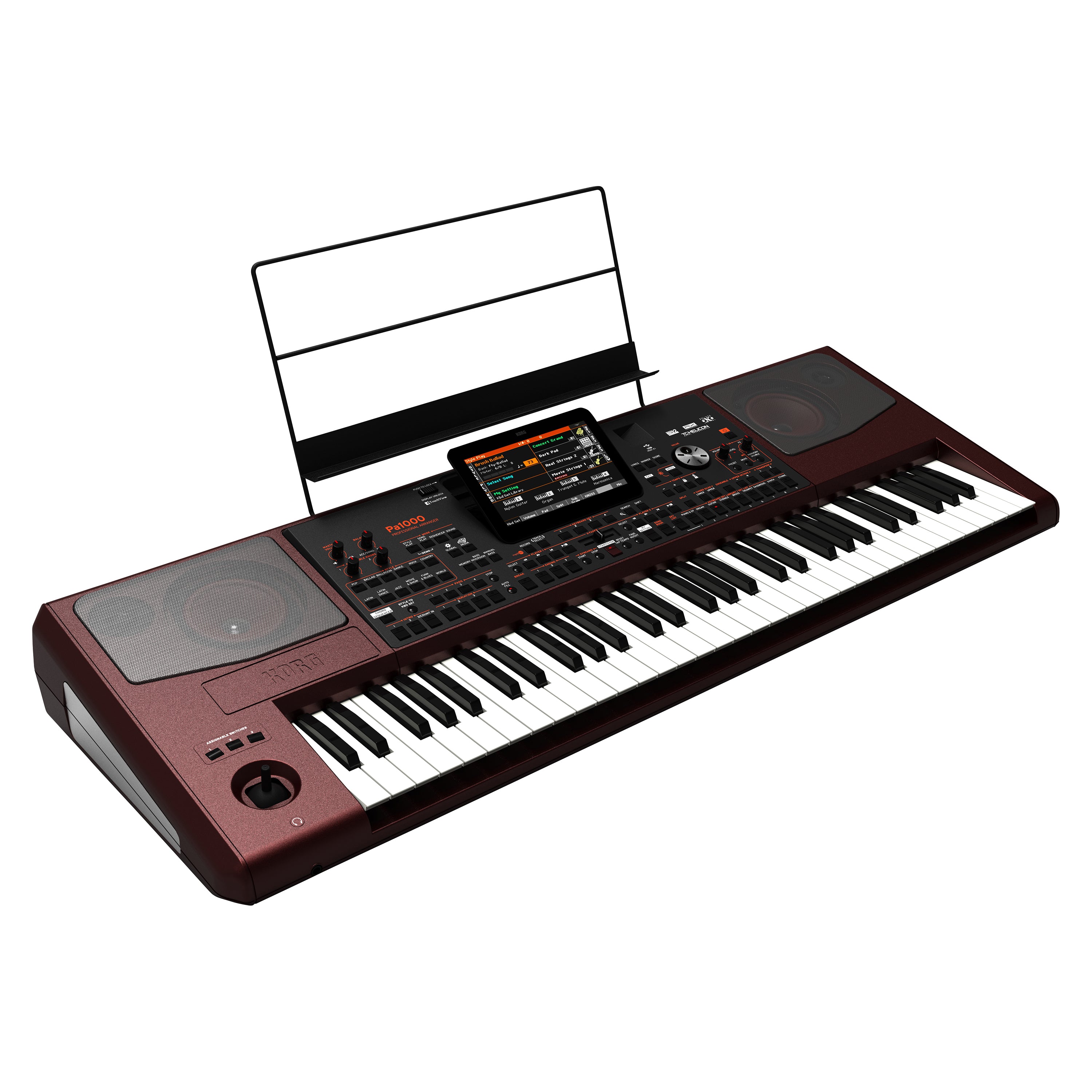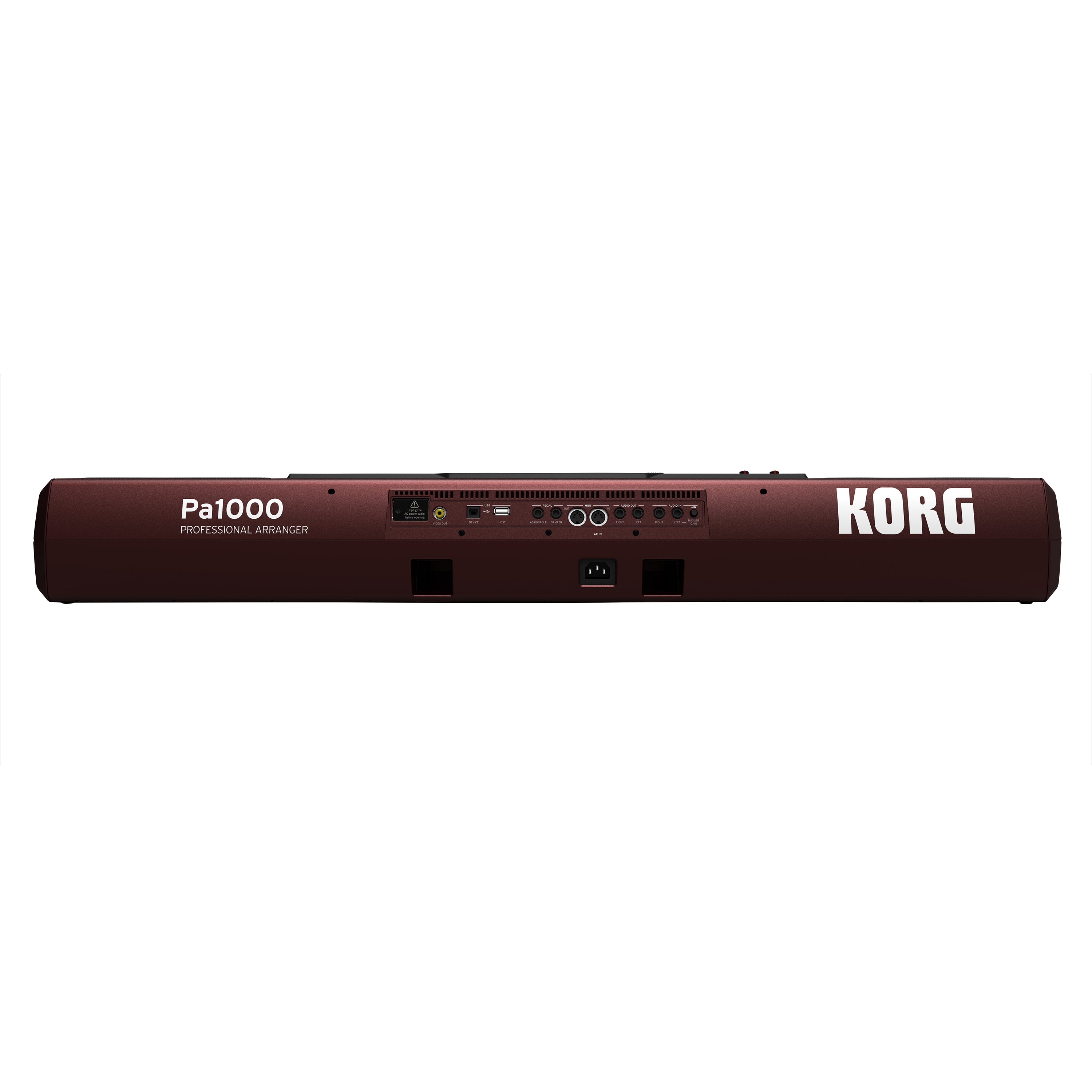 Korg Pa1000 Arranger Keyboard COMPLETE STUDIO BUNDLE
11 items included
This Kraft Music Bundle Includes
$2,964.99
Regular price
$3,143.75
You Save $178.76
Click on a product to view more details.
Korg Pa1000 has plenty of sounds (featuring Defined Nuance Control for enhanced realism) to keep your performances fresh and exciting, as well as an enormous range of Styles covering music genres from all over the world. Combine this with powerful performance functionality, an intuitive user interface and rich, sculpted sound and you have an arranger for the most discerning and demanding player. 
Pa1000's sound engine extends the amount of User PCM memory to 600MB using compression. The number of User Style locations has also expanded to a maximum of 1,152, which will cover almost every style imaginable. The built-in speaker system produces a strong, full-bodied sound that's enhanced by standard features such as the TC Helicon Vocal Harmonizer, a dual MP3 player & recorder and the Dual Crossfade Sequencer. Video output is standardized so your audience can sing along to onscreen lyrics. Pa1000 packs all this in a high‐quality case with aluminum inserts in the side-panels of an elegant chassis to provide a prestigious look on any stage.
Built-in KAOSS FX give you creative control over your performance. From subtle morphing between Variations and Drum Kit types, fine mixing between accompaniment Sounds, live reshaping of ongoing rhythms to the most radical note-crunching effects used by countless DJs, tape delay and arpeggios, you can add 'liquid mixing' to any Style or MIDI Song with the aid of easy-to-use computer-assisted composition features. Push the boundaries of your musicality!
Pa1000 sets a new standard for arranger workstations. Korg has raised the bar of excellence by offering ever-more-realistic sounds and powerful features, delivered in a slim and professional looking design at an affordable price.
Increased PCM with major improvement to sound quality
More than 420 Styles and 1,700 sounds out of the box
Semi-weighted keybed with aftertouch
Expanded selection of Sounds and Styles
User sampling increased to 600MB
Mic input and audio in (including guitar in) with TC Helicon effects
Defined Nuance Control (DNC) for added expressiveness when soloing
7" TFT color touch screen
KAOSS MIDI and effect control from touch screen for added performance possibilities
2×33W speaker system with 2-way bass reflex
Korg is responsible for the most successful and respected arranger keyboards in the world. Used by countless professional musicians in every country around the world, Korg arrangers have thrilled audiences and delighted players everywhere with the magic combination of unbeatable sound quality and features. Korg Technology blends this great Korg history with powerful new technology and ideas from musicians around the world to deliver a new standard in arrangers. The result is a musical powerhouse that packages technological magic into a cool and user friendly design: Korg Pa1000.
Feel the keyboard
The 61-key keyboard offers a semi-weighted action, feels just right, features naturally responsive key-on/key-off velocity sensitivity and aftertouch, and is designed for musicians of all levels.
Slim, powerful and easy to use
Pa1000 has been designed with the concept of combining a slim profile with a professional motif. The 2×33 watt amplifiers drive the 4 loudspeakers in a bass-reflex enclosure to generate a rich, full-bodied listening experience. The main panel has been optimized to ensure that all controls are ergonomically positioned and intuitively located to make every performance feel smooth and natural. Big, bright and bold, the new capacitive TouchView display hosts a redesigned graphical interface that is easier than ever to read, even under the most demanding lighting environments.
Sound quality at its best
Pa1000 relies on Korg's advanced EDS-X (Enhanced Definition Synthesis-eXpanded) sound engine and comes complete with over 1,750 ready-to-play sounds. This realistic collection offers a vast gathering of classic and contemporary keyboards, band and orchestral instruments, plus electronic and acoustic instruments – from techno to folk. Included are two multi-layer stereo grand pianos with damper and body resonance, plus electric pianos from Korg's SV-1 stage piano. The digital drawbar organ includes key on/off noises, leakage and rotary speaker emulation. In addition, Pa1000 has been equipped with new wind instruments, strings, basses – even acoustic and electric guitars. Sounds have been painstakingly captured using state-of-the-art methods that allow the finest of details to be accurately reproduced.
Up to 600MB (compressed PCM User memory) are available, so custom sounds can be added easily. The General MIDI (GM) sound bank has been improved for better compatibility with GM files. Pa1000 can also load/import Korg, WAV, AIFF and SoundFont formats and export in WAV or AIFF. Sounds can be fully edited and can use up to 24 oscillators for each note.
Do it with Style
Pa1000 delivers over 430 Styles straight out of the box. Each one is a fully-realized musical environment dedicated to creating a particular musical style. With so many to choose from, Pa1000 can provide instant access to a vast and robust range of musical genres. Each Style features 4 Fill Ins + Break patterns, one for each variation. Using the new Auto Fill function they can be automatically recalled as you move between the four variations.
Pa1000 has 1,152 user locations for you to save your new Styles and settings. In addition, each Style can be enhanced by using the four Pads. Each Pad can add a one-time or repeating riff, a percussion part, an accent sound or even a sound effect.
The latest Styles – today!
The latest Styles – today! Thanks to an all new built-in Standard MIDI File to Style converter, you can quickly and easily have styles of the latest songs. Just obtain a new Standard MIDI File, load it into Pa1000 and the built-in converter will quickly and easily turn it into a full Korg style while also creating a Chord Sequence from the Song's chords.
Studio-quality effects
Pa1000 includes the best of the Korg library. 2 Insert and 2 Master effects can be used for the accompaniment tracks, while 1 Insert and 2 Master effects can be used for the real-time keyboard tracks. 148 effect types are available, including reverbs, delays, vintage stomp box simulations, amp and cabinet simulators and more.
TC Helicon Voice Processor
Korg's long term cooperation with world leader in vocal harmonies TC-Helicon continues in Pa1000. With new features and algorithms, the TC-Helicon Voice Processor ensures your vocals have the highest possible sound quality. Up to 3 realistic voices are available and can be controlled by the keyboard or by MIDI events. 5 other effect blocks are available, including EQ, compressor, gate and two FX.
Refine your guitar's pure sound
Guitar FXs let you add pedal and studio effects to a guitar connected to the dedicated guitar input on the back of the instrument. Korg selected some of the best guitar effects from their collection to add the sound of all-tube amplifiers, realistic distortion, chorus or delay pedals and the highest quality studio reverbs.
Player/sequencer
The famous Korg XDS Crossfade Dual Sequencer Player supports the MP3+G (also known as MP3+Graphics) format for MP3 files in addition to the most popular lyrics formats. This feature allows backing sequences to play with enriched lyrics and graphics that can be displayed simultaneously on the on-board TFT display and on an external monitor. There is also a Marker function, allowing direct jumps to a given position in the song.
And because Pa1000 is very clever, it can record your entire performance! You can run a song, play the keyboard, sing along and everything will be recorded in MP3 format and stored on an external USB device or in the internal memory.
The SongBook
Particularly useful for live use, the SongBook is a fully programmable and easily searchable music database. Each entry contains all the settings required to play a particular song. The SongBook can use styles, MIDI files or MP3s and immediately recall settings such as song title, genre, artist, tempo, volumes, sounds, muted tracks, FX settings, easy edit, 4 Keyboard Sets, TC-Helicon presets, master transpose and more. The SongBook includes also a renewed Set List function with a convenient panel-button association for fast recall to make life easier during live gigs.
With the SongBook Editor, you can easily view, create and edit your Korg Pa-Series SongBook entries and Set Lists using a Windows-based computer. It can also be synchronized with iOS and Android tablets to become your handy external digital music sheet reader (third-party software required, sold separately). Everything you need to play your song back perfectly is in the SongBook, a useful musical feature that is unique to Korg.
Improved connectivity
MIDI connection can also be done through the USB HOST ports (in addition to the USB DEVICE and the MIDI ports). This allows for easy connection of controllers like digital pianos or Korg Nano and Micro series controllers (sold separately) with no need for special adapters.

SKU
KOR-PA1000CST
MPN
Pa1000
Vendor
Korg
Built In Speakers
Yes
Connectivity
USB 2.0 and MIDI
Included From Manufacturer
Music stand
Power supply
Keys Weighted
Semi-Weighted
Key Cover
No
Number of Keys
61
Mpn
PA1000
Piano Cabinet Style
Portable
Product Unique Features
7" wide capacitive color TouchView TFT display with manual tilt system
Accompaniments
Yes
Duet Mode
No
Finish
High-quality case with aluminum inserts
Half-Damper Support
Yes (With Optional Single Pedal)
Audio Inputs
Dual 1/4" stereo line inputs
1/4" mic/guitar input with 0 to +40dB gain control (12k Ohm mic / 500k Ohm guitar)
Audio Outputs
Dual 1/4" stereo main output
1/4" headphone output
Key Action
Semi-weighted with velocity and aftertouch
Layer Feature
Yes
Metronome
Yes
Pedals
1/4" damper pedal input (supports half-pedaling with optional Korg DS-1H pedal, sold separately)
1/4" assignable pedal/footswitch input
Product Weight
23.7 lb
Quarter-Tone Scale Function
No
Rhythm Patterns
107 Factory Drum Kits
Song Recorder
Audio & MIDI
Number of Songs

Fully programmable SongBook music database, based on Styles, MIDI Songs (MID and KAR files), MP3 Songs, with automatic selection of Style Play and Song Play modes
User definable Set Lists, with Entries selectable from the control panel

Number of Sounds

More than 1,750 Factory Sounds, including two multilayer Stereo Pianos with damper and body resonance, GM/XG sound sets and 107 Drum Kits
512 User Sounds
256 User Drum Kits

Speaker Power
2 × 33W
Speaker Size
2 × 25mm dome tweeters
2 × 100mm woofers in bass reflex box
Split Feature
Yes
Storage Type
Internal;USB Flash Drive
Number of Tracks
16 tracks
Transpose Feature
Yes
Voices of Polyphony
128 voices / 128 oscillators
Width
40.55"
Depth
14.89"
Height
5.36"
Korg USA Warranty Policy
All Korg products purchased from a Korg USA authorized dealer are warranted to be free from defects in material and workmanship to the original consumer for a period of one (1) year.
Register your new Korg keyboard, keyboard rack module or digital piano online and receive a certificate that extends the product warranty for an extra year from the date of purchase. Product must be registered within 90 days of purchase to receive an extra year of warranty.
Tuner and Metronome products are warranted to be free from defects in material and workmanship to the original consumer for a period of three (3) years.
Tubes, AC Adapters and Foot Switches are warranted to be free from defects in material and workmanship to the original consumer for a period of ninety (90) days.
The customer must provide proof of purchase in order to obtain warranty service. The dated sales slip or copy thereof is the only acceptable proof of purchase.
The product must be purchased from a Korg USA authorized dealer and have a valid serial number.
This warranty is valid only in the USA.
Damage resulting from the following causes are excluded from the warranty set forth above: misuse, including damage occurring during shipment, damage caused by battery leakage, accident, fire, unauthorized repairs, tampering, cosmetic damage or other types of damage which are the result of improper handling or abuse; the cleaning of controls or contacts due to exposure to dirty, dusty, or otherwise contaminated environment; damage resulting from modification; damage to units used for loan or rental.
Ground shipping is FREE for all orders $99 and up.