Skip product carousel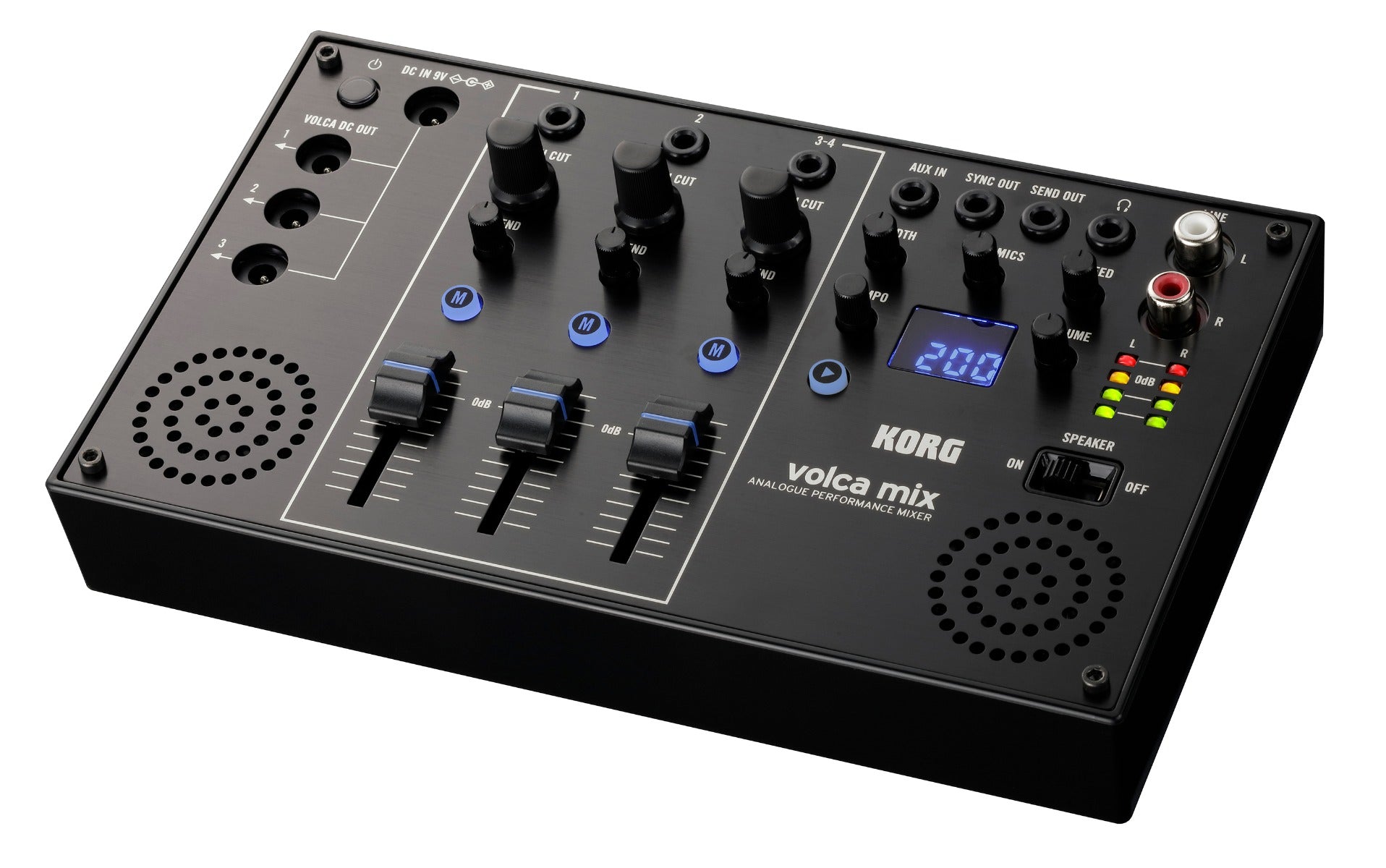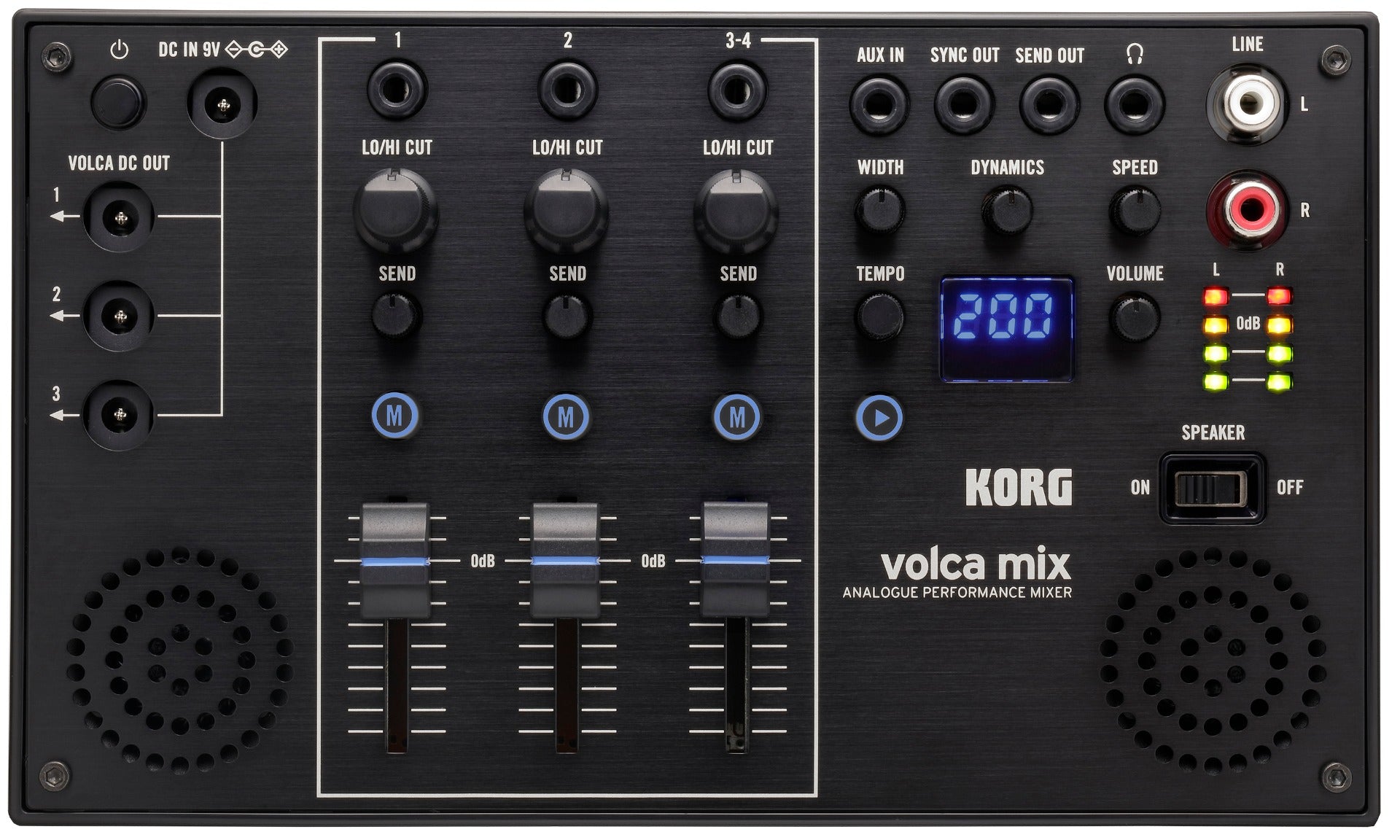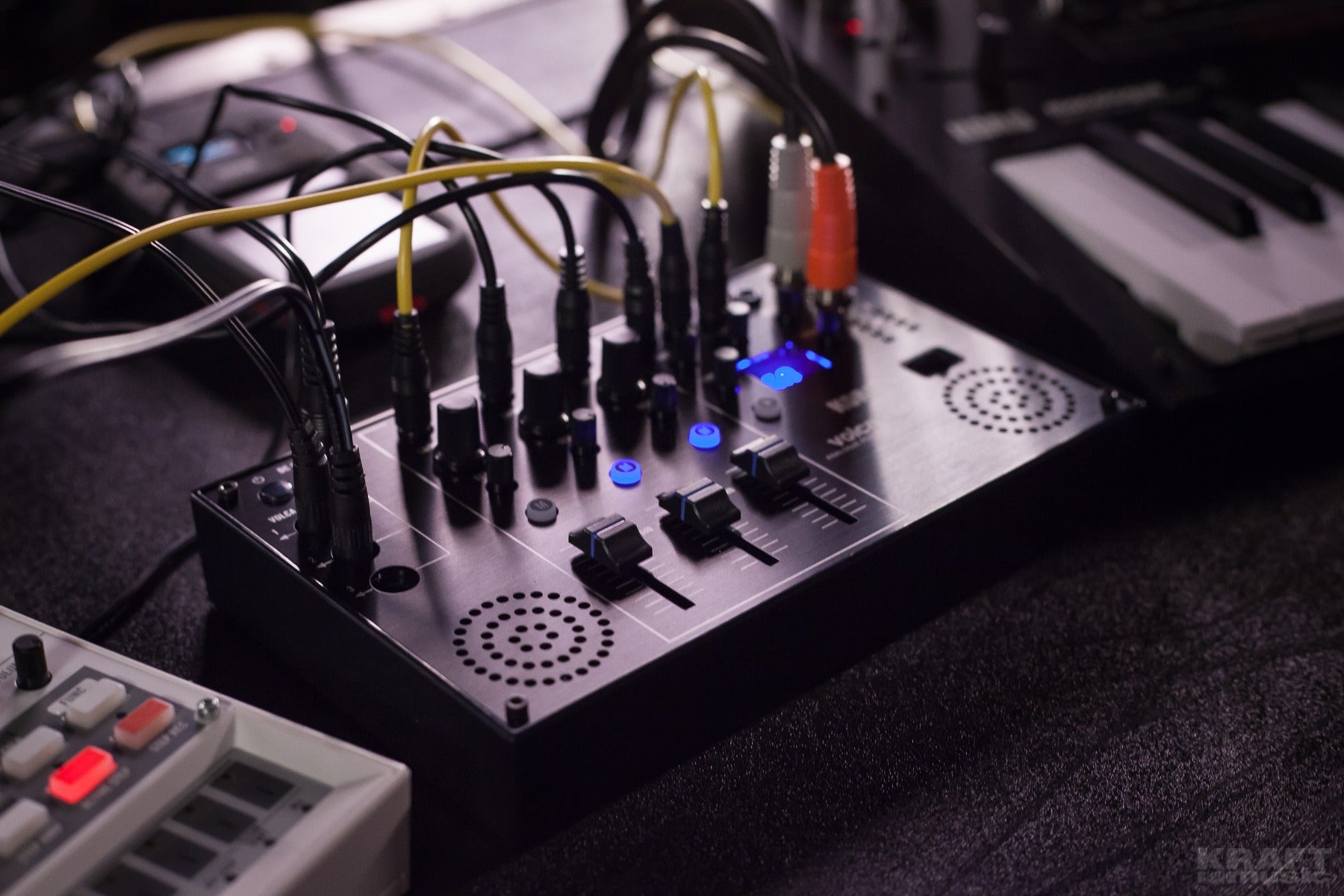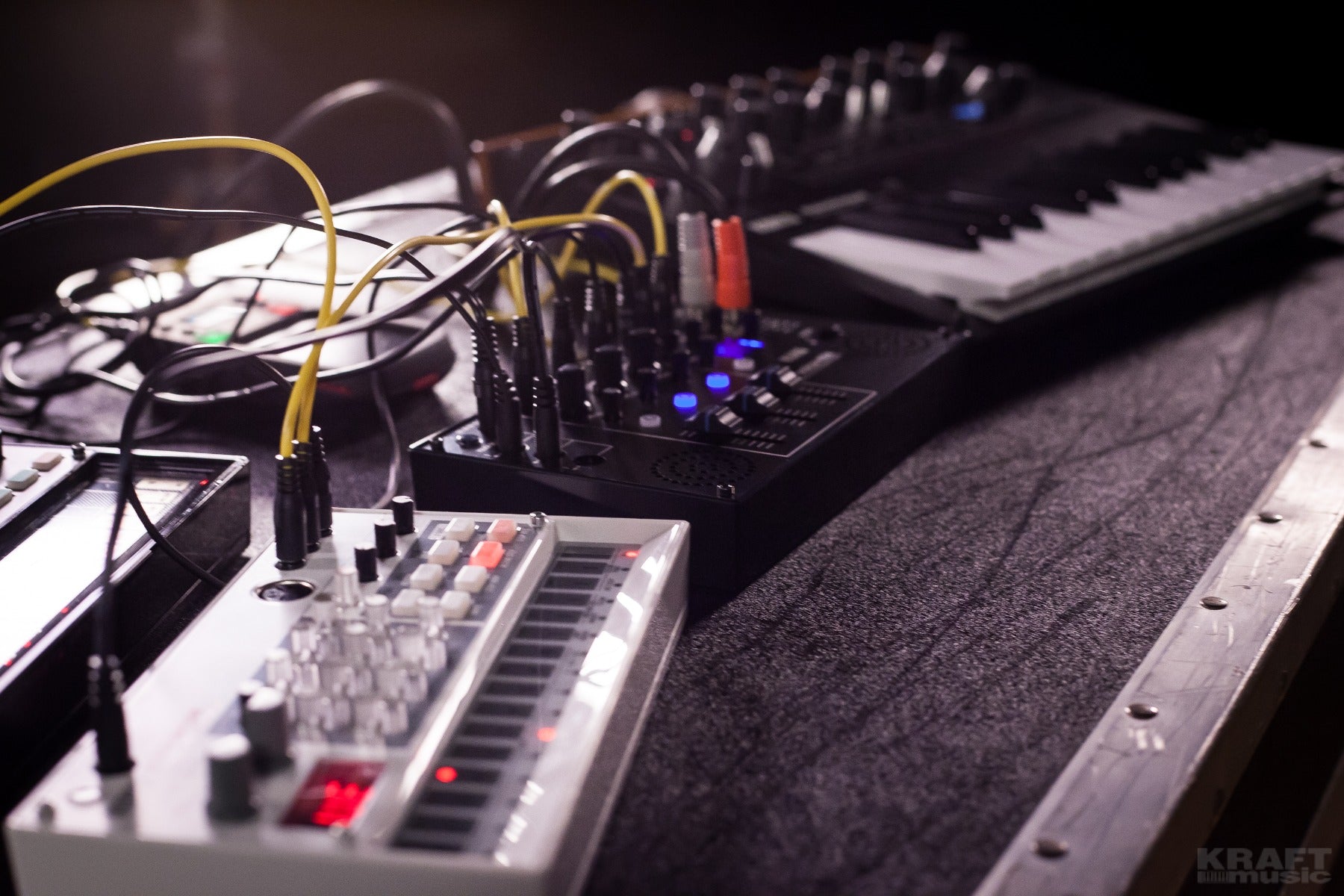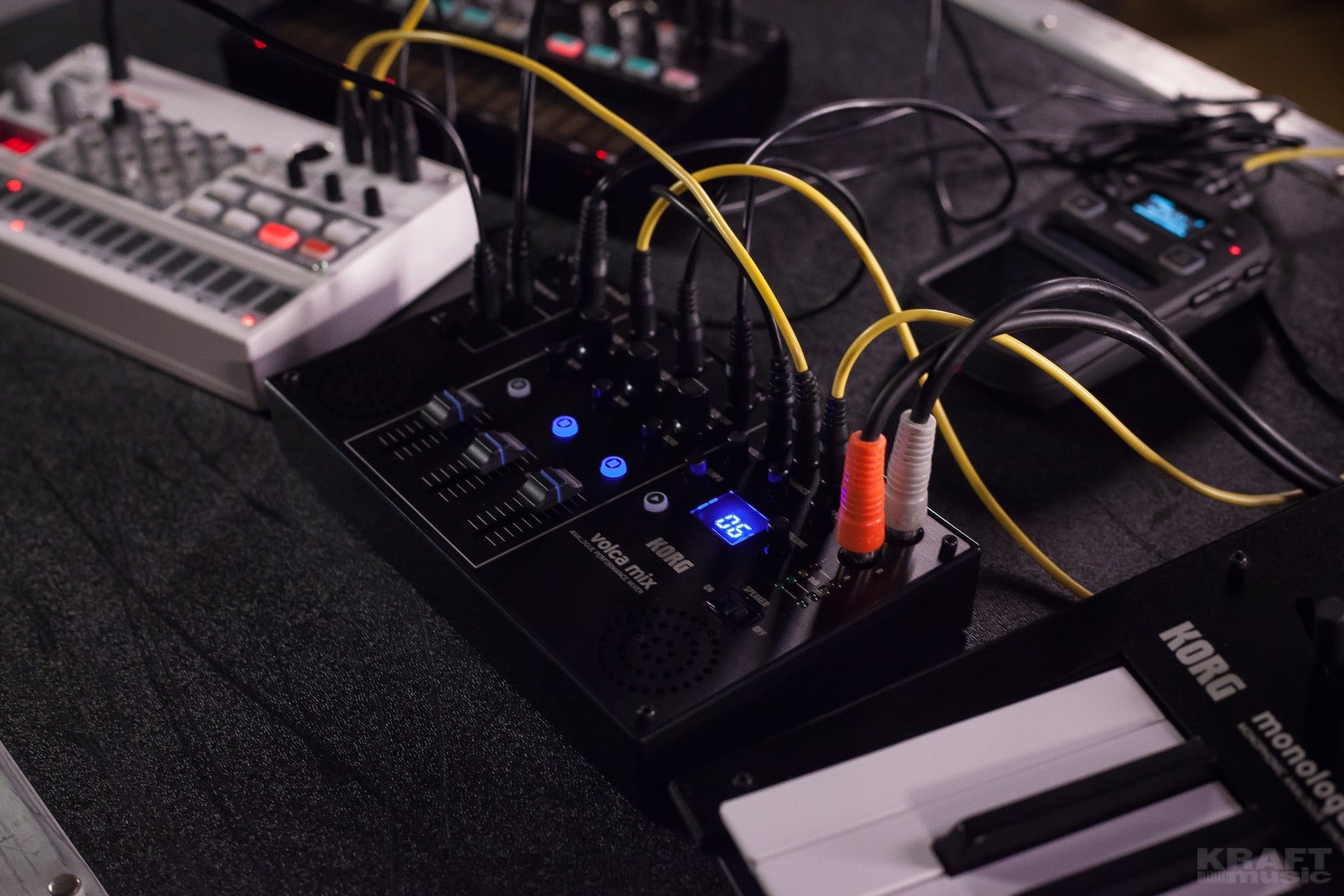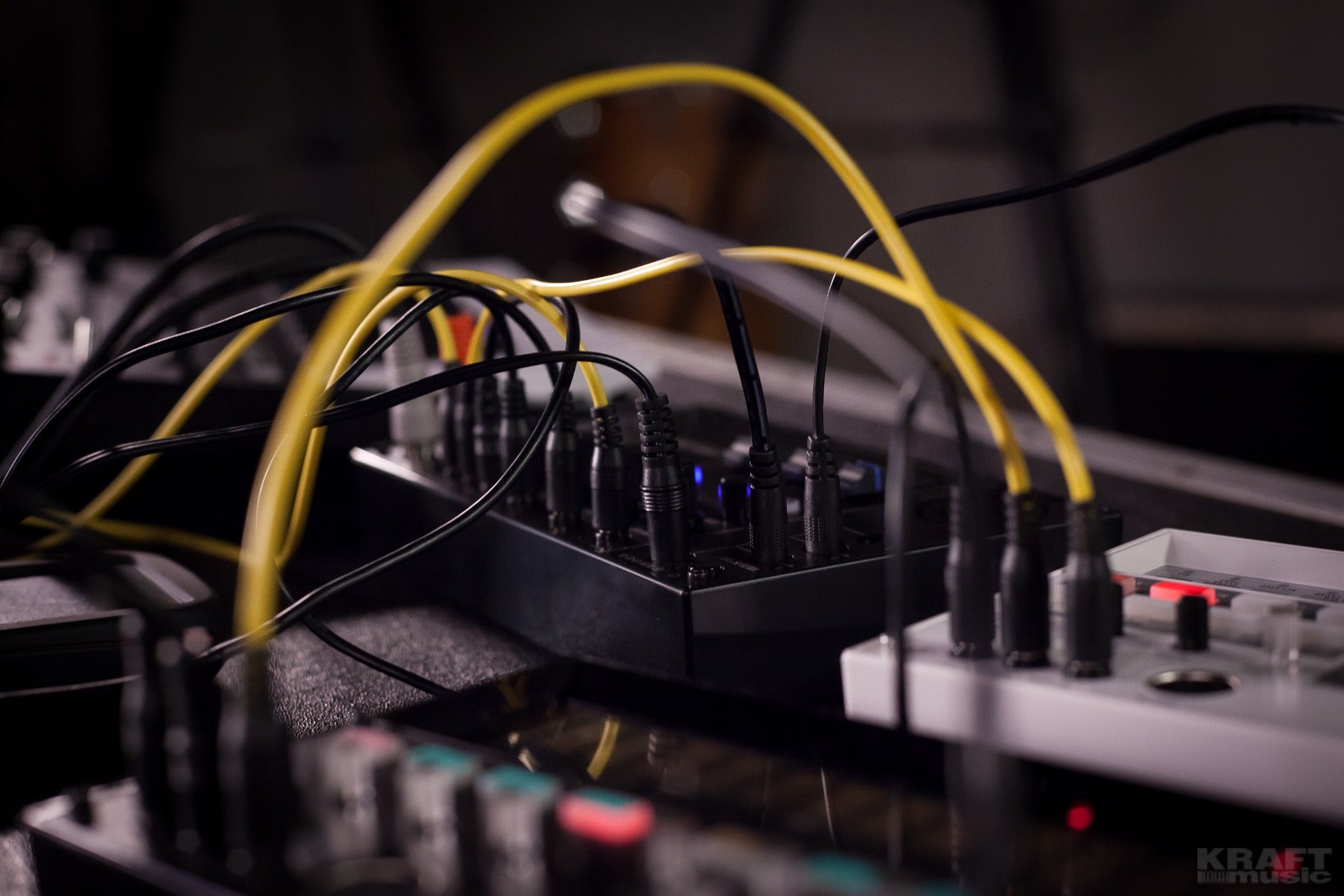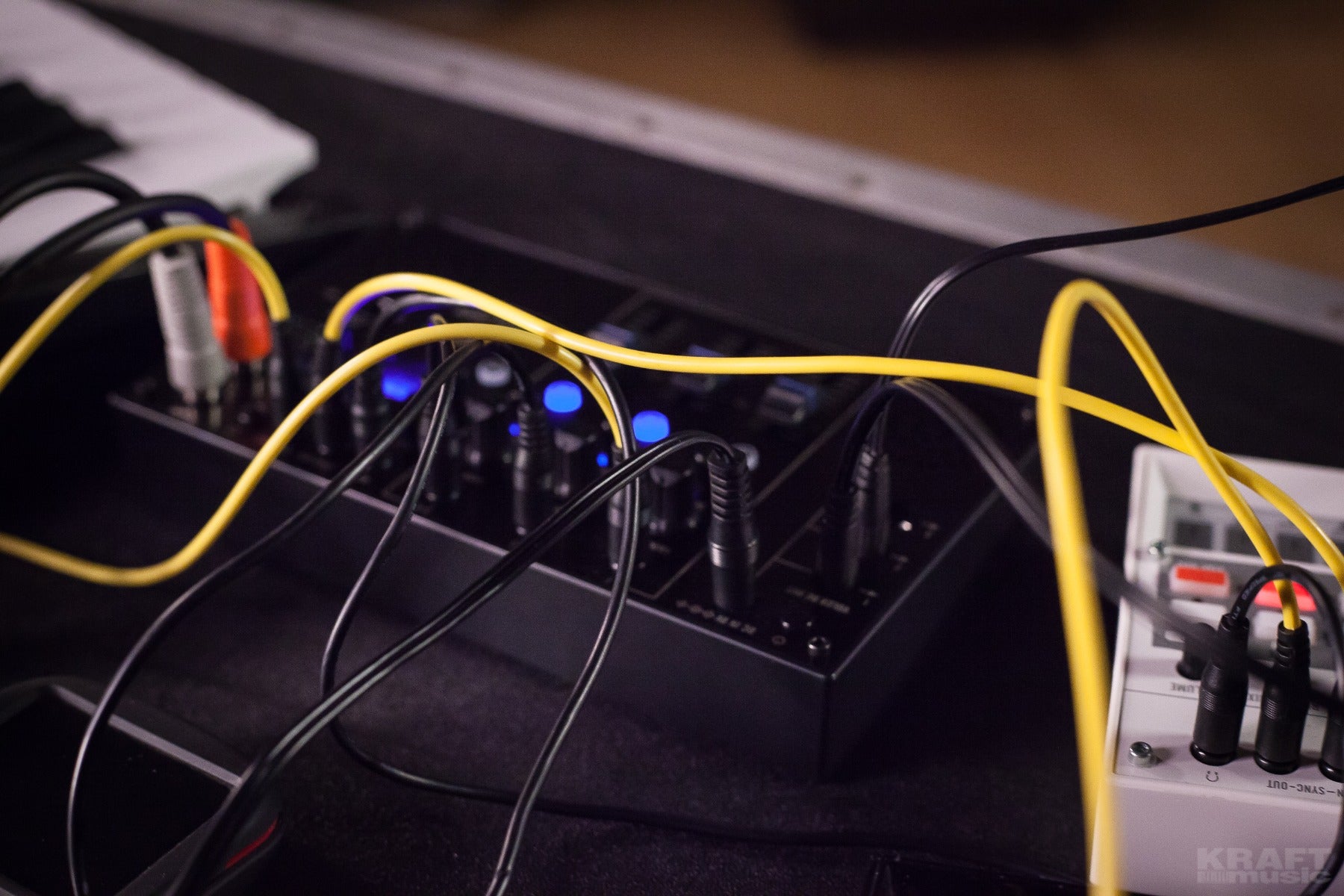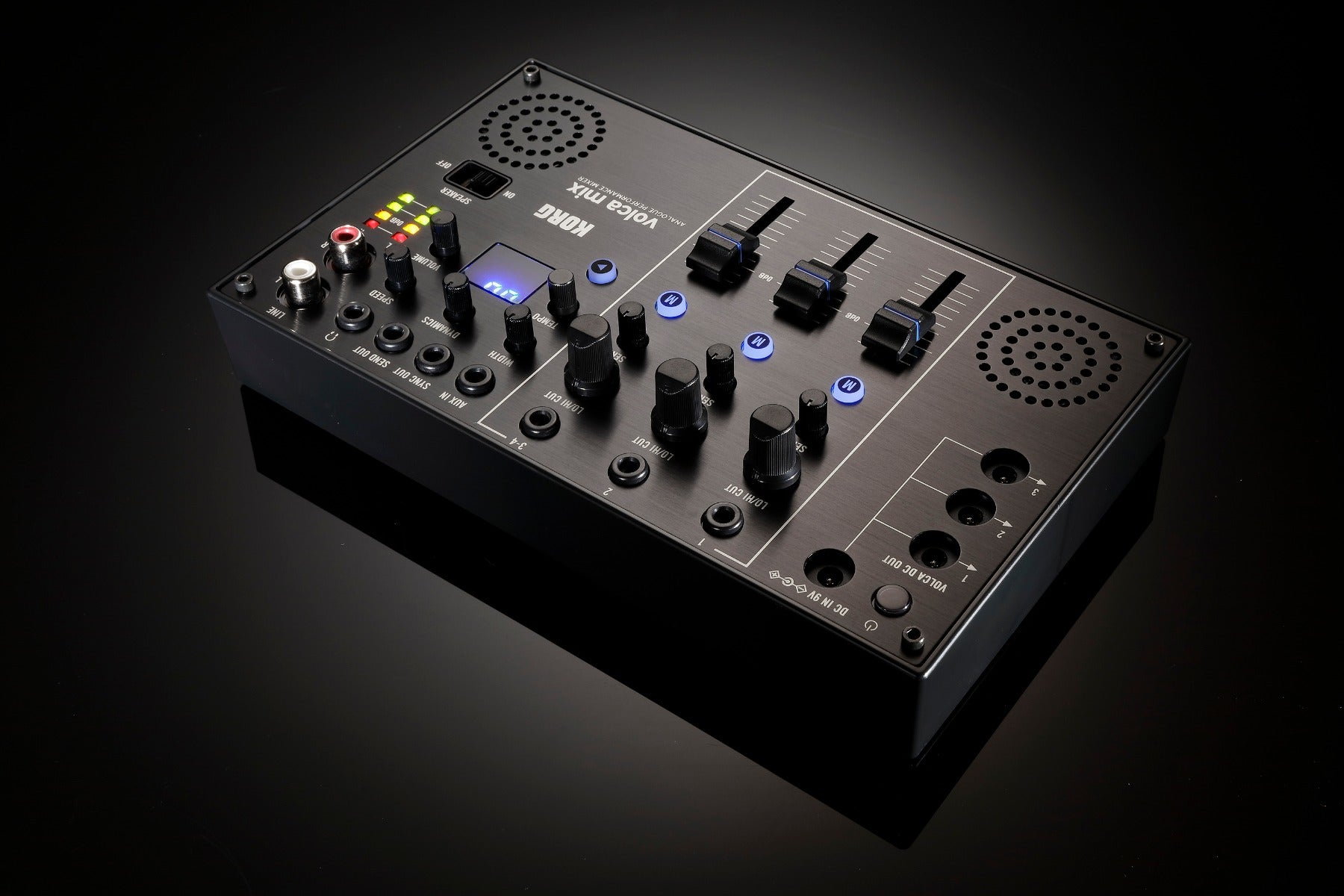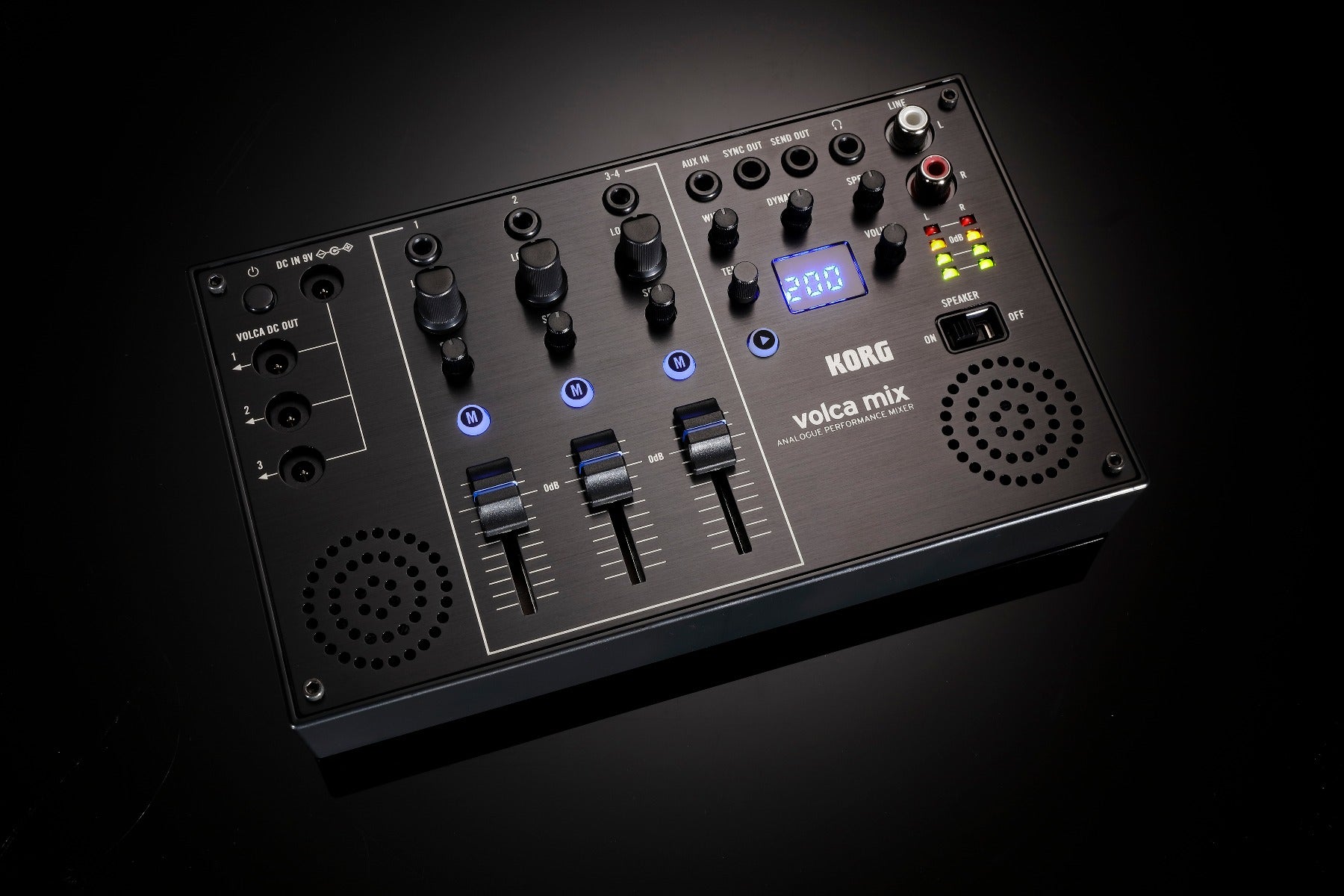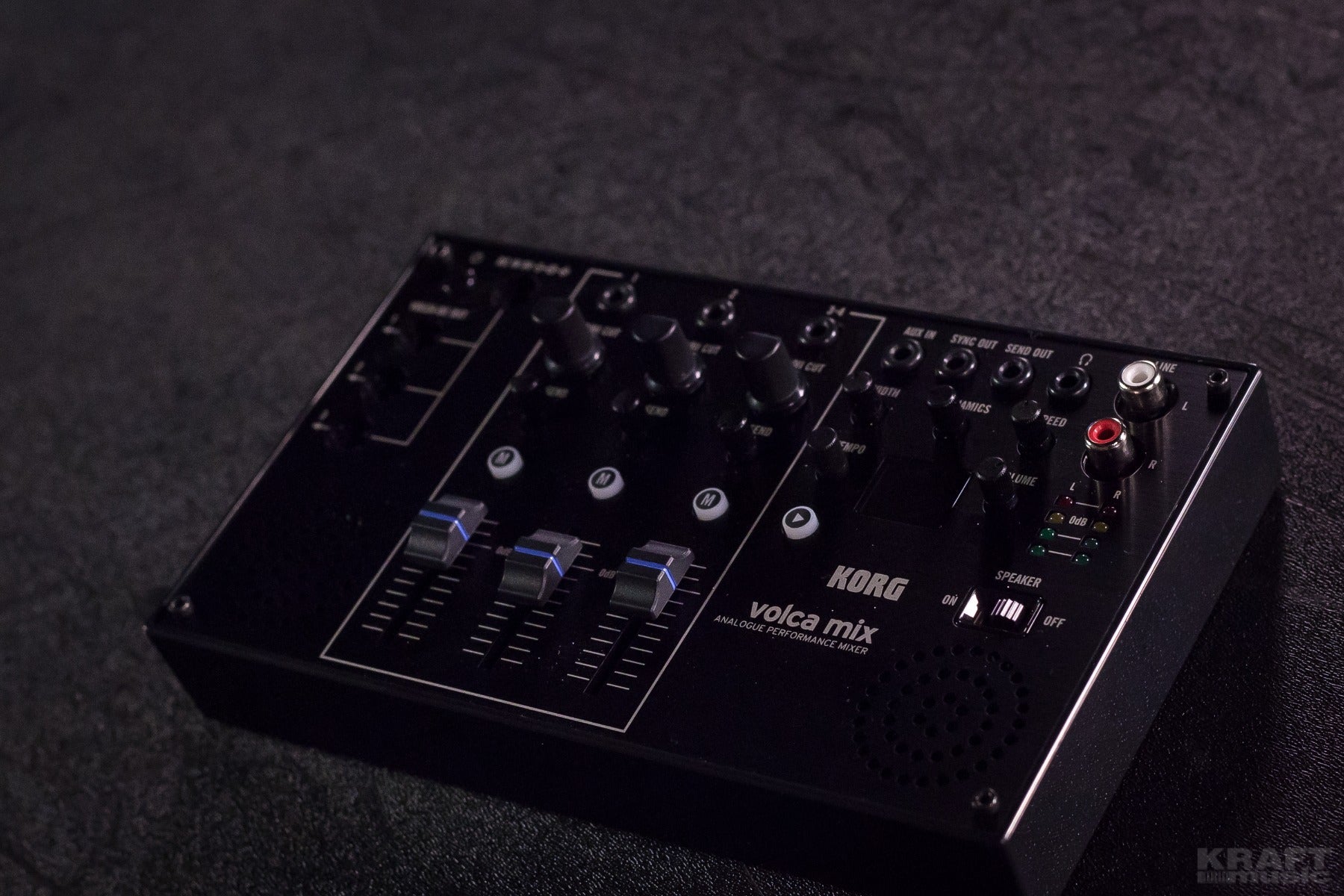 Korg Volca Mix 4-Channel Performance Mixer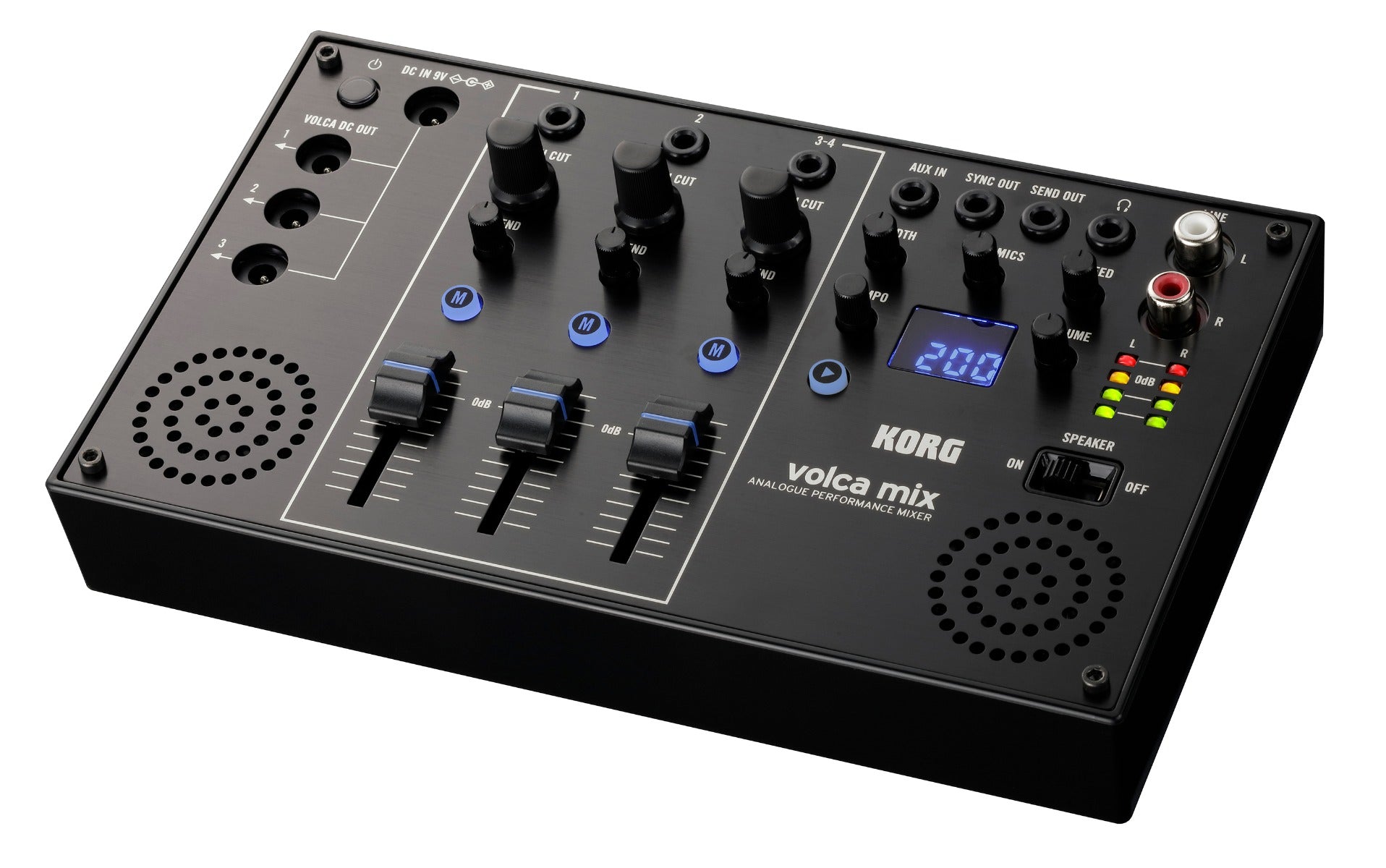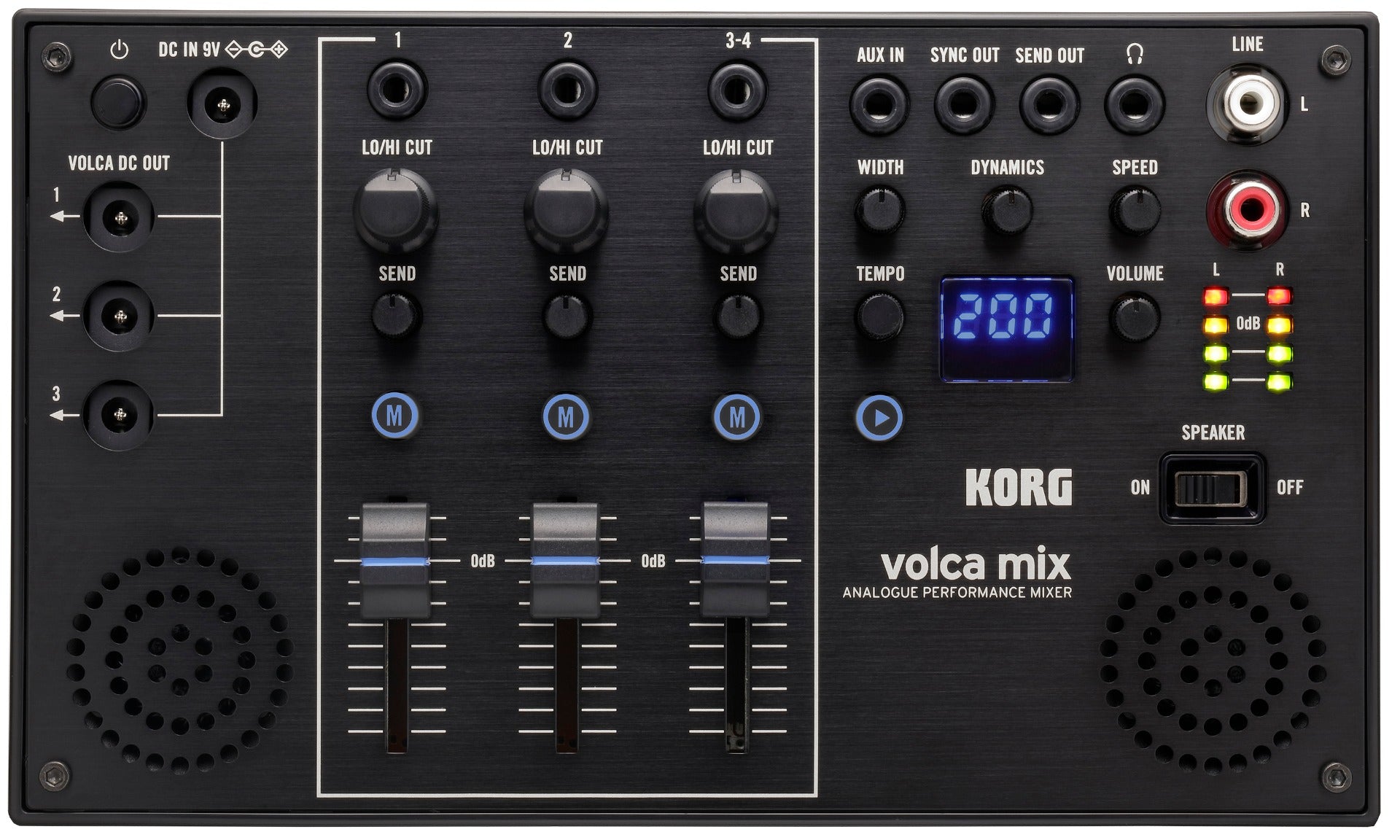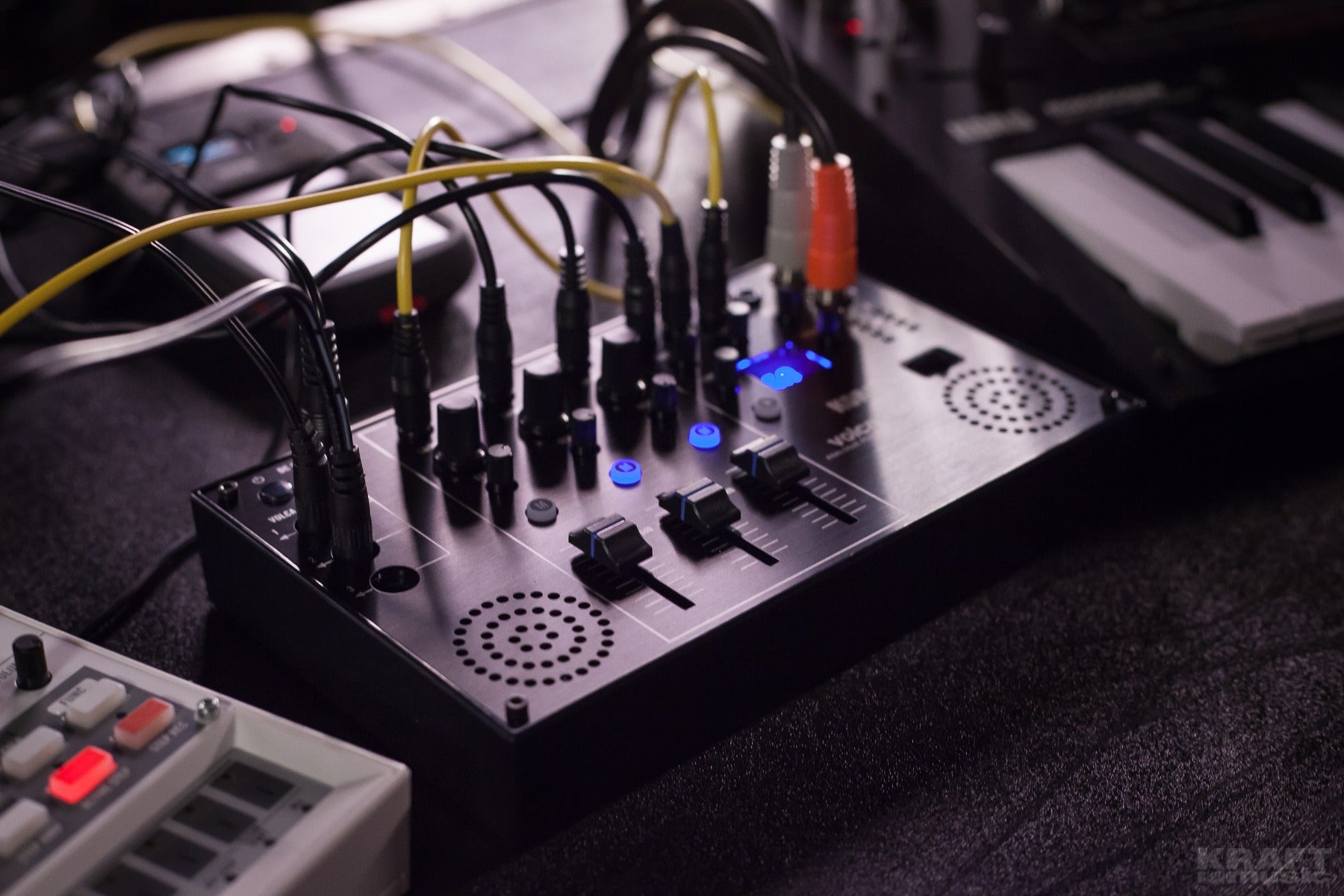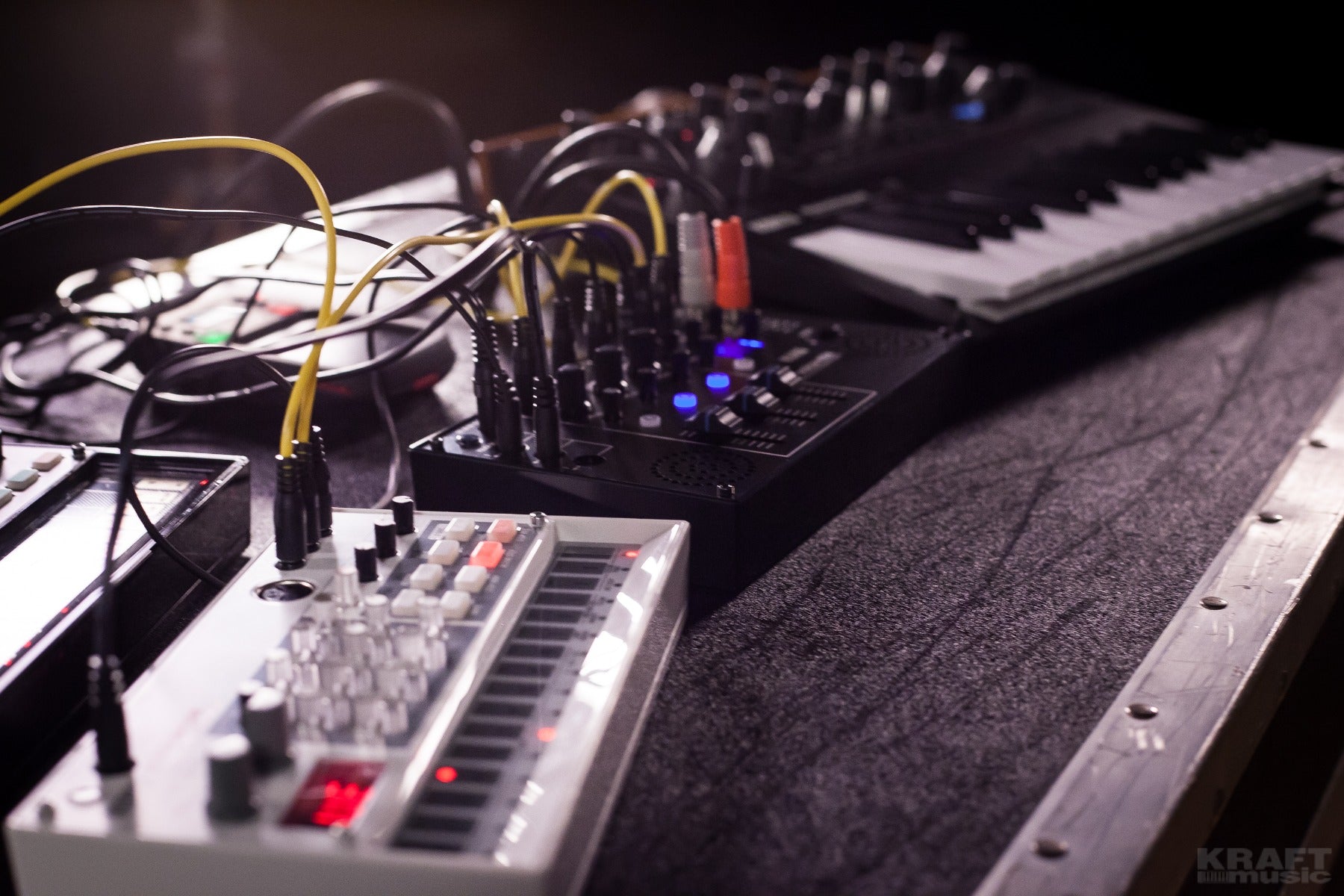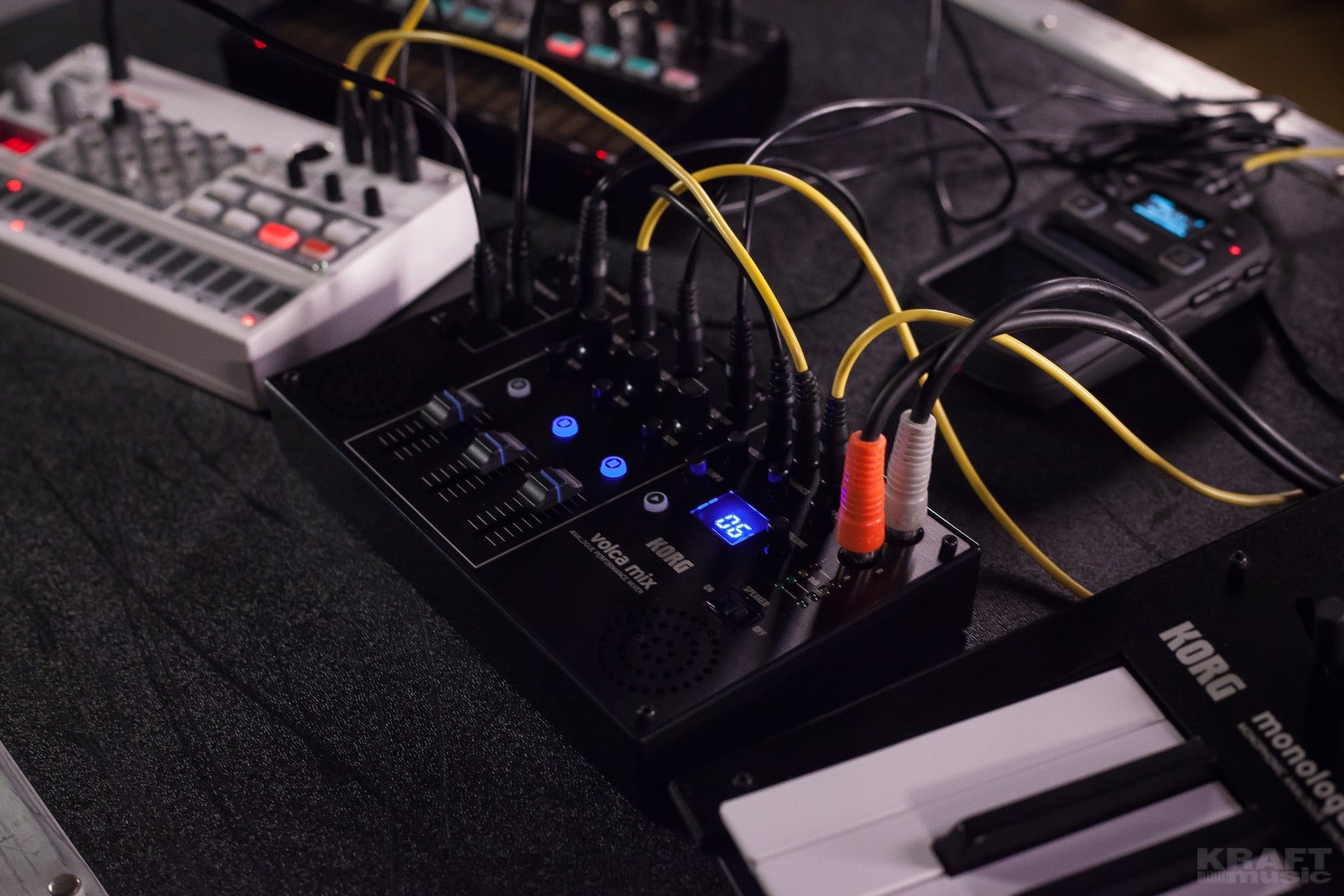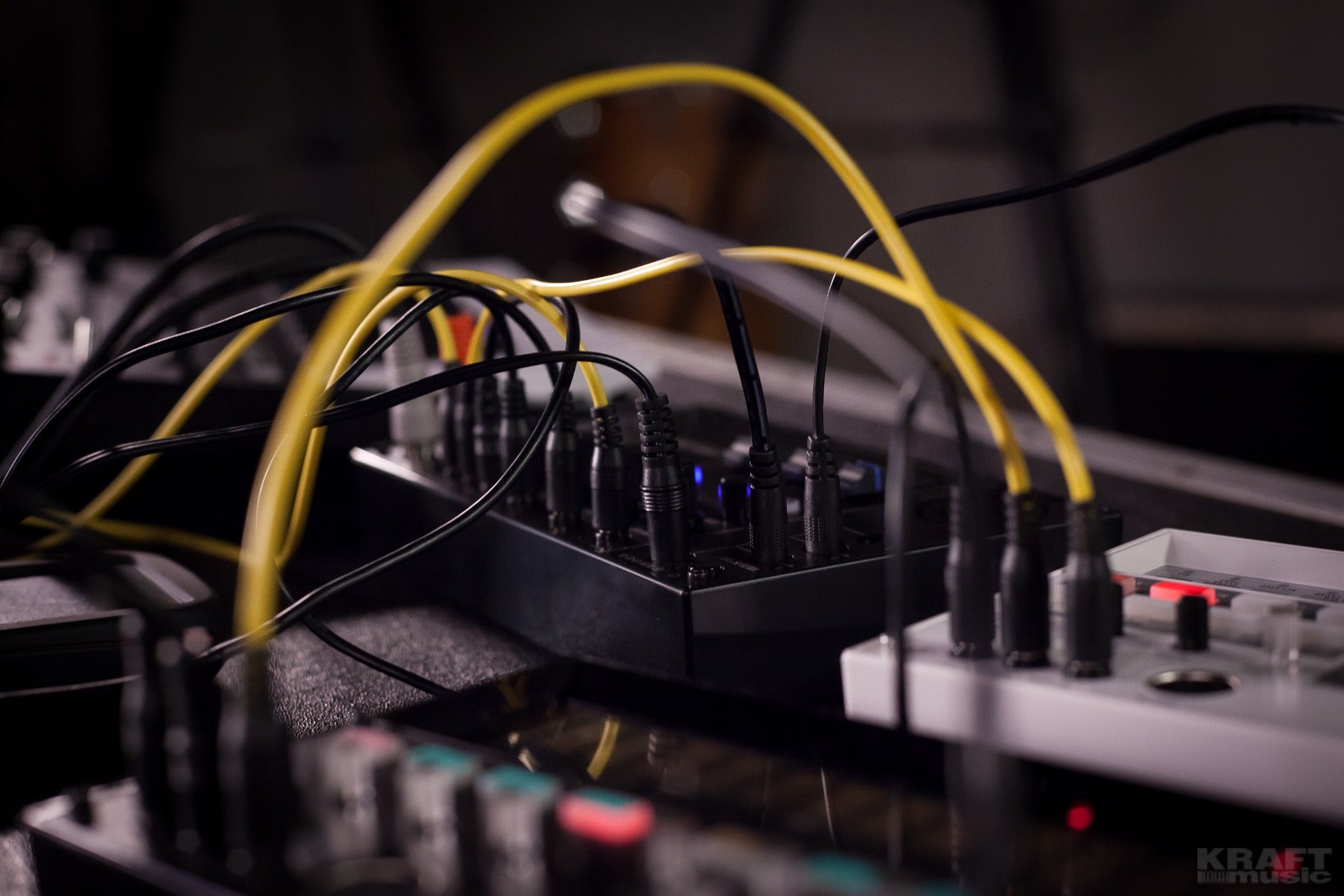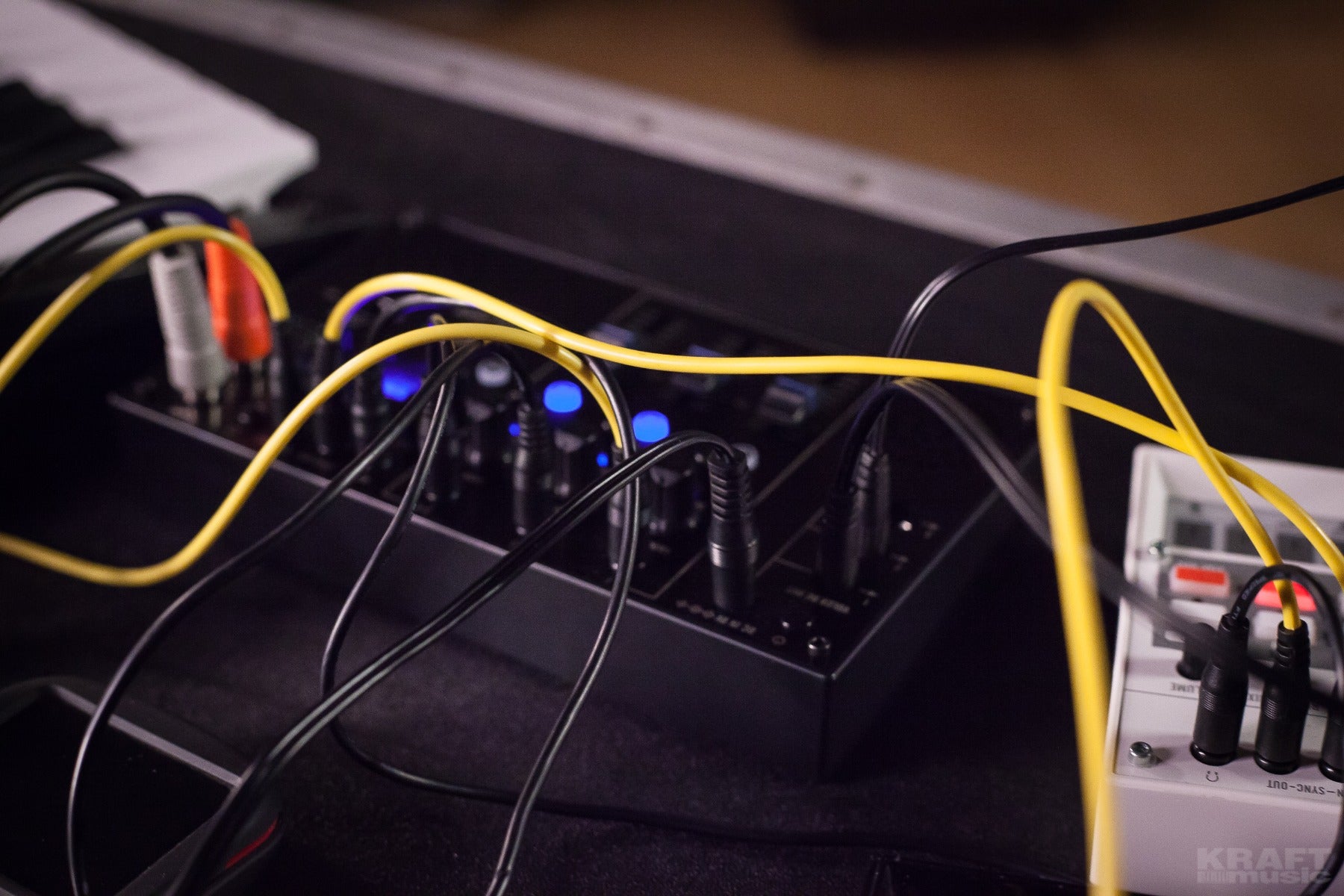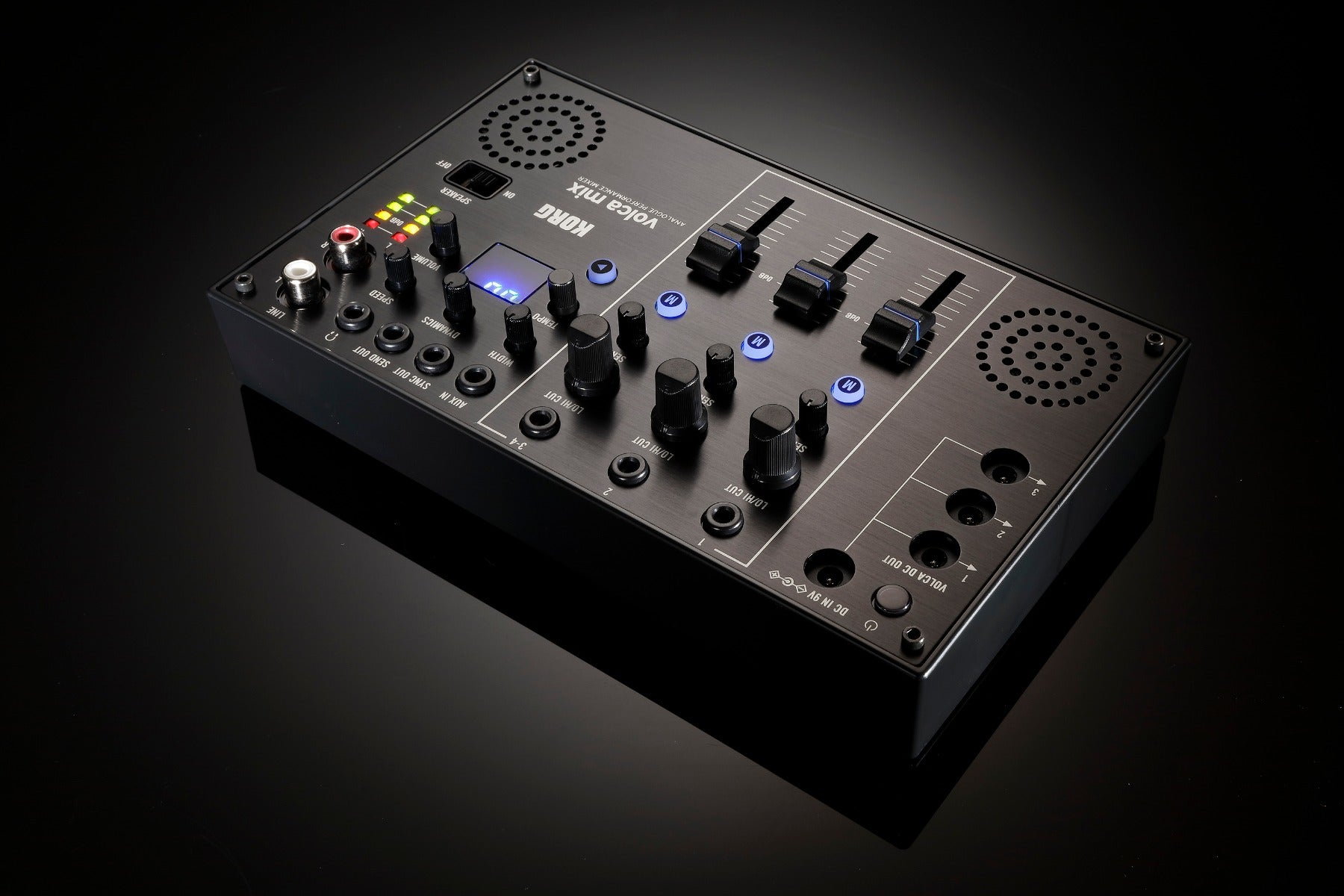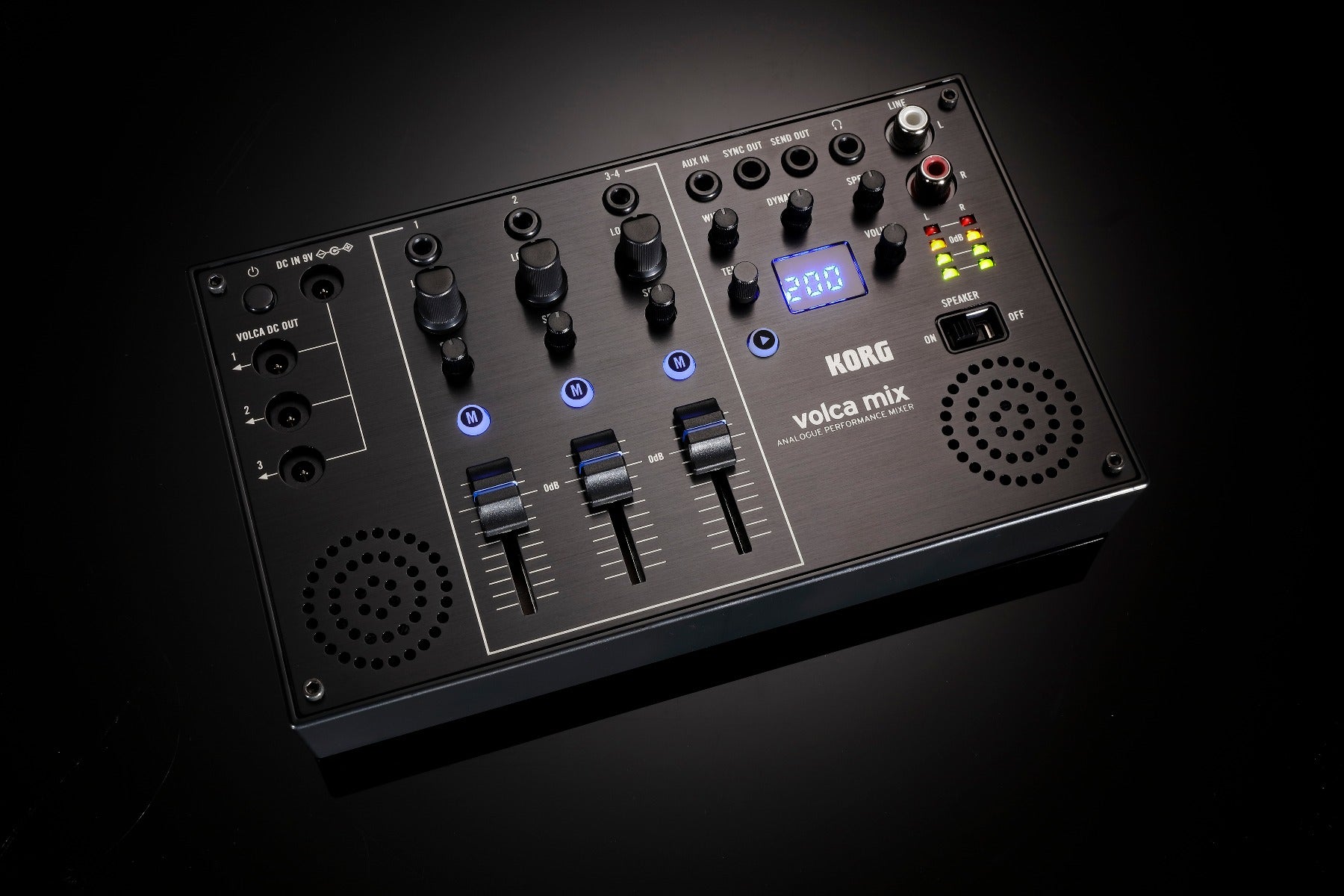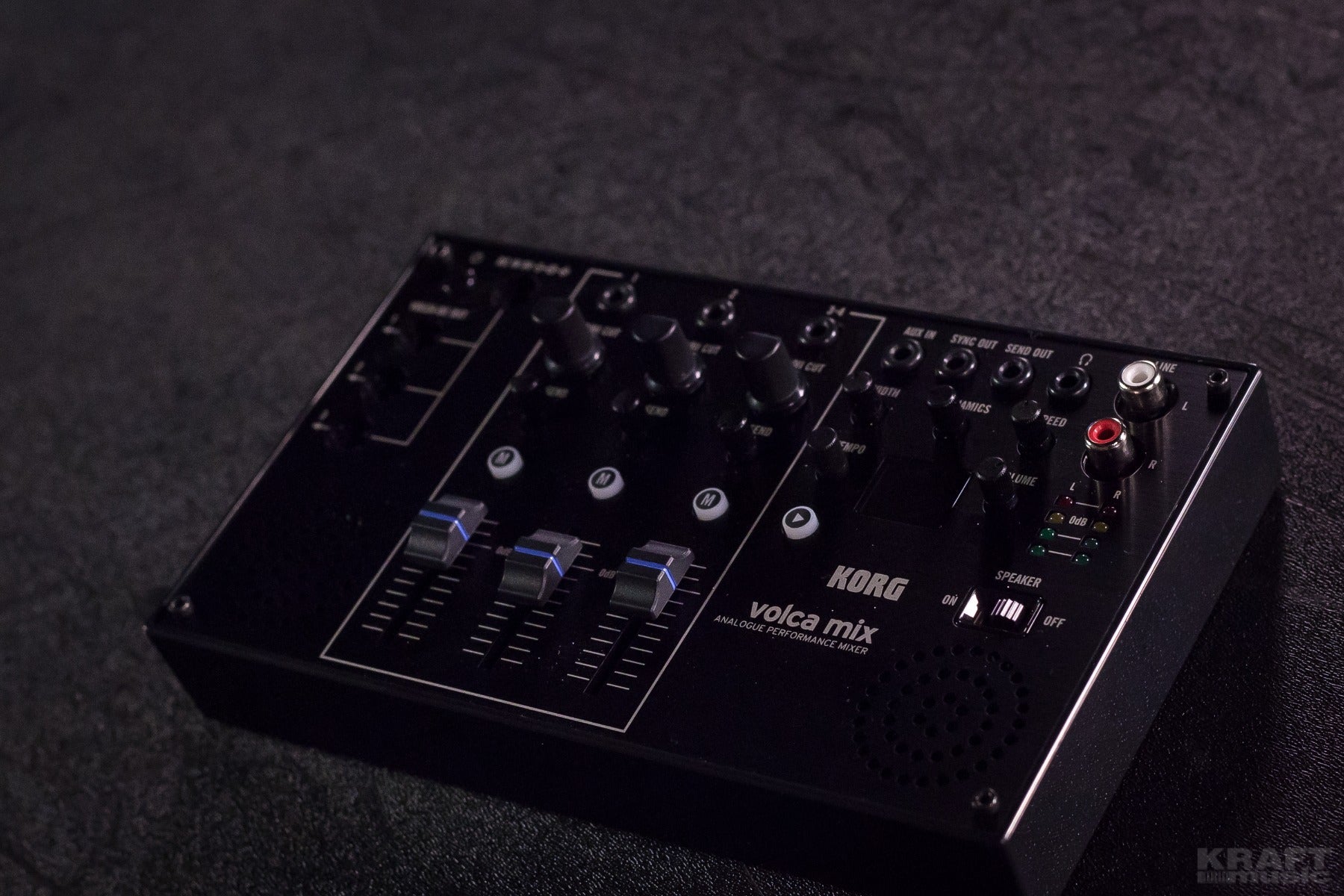 Korg Volca Mix 4-Channel Performance Mixer
Korg Volca Mix is a four-channel analog performance mixer that lets you construct a live setup combining multiple Volca units. It features easy-to-control volume faders, crisp-sounding lo/hi cut filters and a master chain that radically transforms the sound. In addition to the sync function found on all Volcas, there are also DC output connectors that can supply power for up to three Volca units. Numerous functions to facilitate your onstage Volca performances have been packed into a high-quality aluminum-paneled body reminiscent of a high-end DJ mixer.
Compact multi-function four-channel mixer
Volume faders and lo/hi cut filter for superb performability
Output and monitor capabilities for use on stage, plus stereo speakers for maximum portability
Powerful effects and control
Master chain lets you control dynamics
Send out and aux in for connecting external effects
Sync function that can act as transport/tempo master in a live setup
DC out can supply power for up to three Volca units
AC adapter, DC-DC cables and audio cables are included with the unit
Compact multi-function four-channel mixer
Volca Mix is a four-channel analog mixer with an intuitive interface and plenty of connectivity. It provides two mono inputs and one stereo input, perfect for connecting three Volca units. The jacks are mini-jacks, allowing you to make connections with just one stereo mini-cable from the headphone output of each Volca unit. The channel volumes use vertical faders that allow precise control. The gain can be boosted to adjust the mix balance and mute buttons are also provided. Each channel is also equipped with a lo/hi cut filter that lets you control low and high frequency ranges with a single knob. The pristine, natural-sounding filters that you expect from analog gear give you complete control over the character of your sound.
The output section provides RCA stereo line outputs to ensure a stable connection. There's a master volume with an LED VU meter for adjusting the output level, as well as a headphone output that can be used simultaneously with the line output, providing a reliable monitoring environment on stage. Speakers are also built in for excellent portability. The stereo speakers are placed at both sides of the front, and, while compact, deliver SPL levels that are even greater than the built-in speakers on previous Volca units.
Powerful effects and control
Volca Mix is equipped with master effects powered by all-analog circuitry. In addition to an expander that broadens a mono source into a stereo sound image, there's a dynamic range compressor that compresses the high-frequency range according to level changes of the low-frequency region, as well as a side chain effect that's indispensable for dance music. Use these to dynamically vary the mix, adding a professional feel to live performances.
Connect an external effect unit for further variety
Volca Mix provides a stereo mini-jack send out and aux in jack along with send level knobs for each channel. This allows you to use it with an external effect unit in a send/return connection. The aux in jack can also be used as a stereo input channel for a fourth Volca unit, an iOS app or any other gadget, instrument or device.
Volca Mix features an analog sync out jack that can easily be connected to many pieces of Korg gear for tempo sync, and also a play button and tempo knob to control that sync signal. By using Volca Mix as the sync master device of your live setup, you can easily enhance your live performance, such as simultaneously playing sequences from multiple synced units while combining mute and volume control to create performances that use your Volca units in even more ingenious ways.
Unlocks even more potential out of the Volca series
Three Volca DC out jacks are provided, and by connecting the included DC-DC cables you can supply power for up to three Volca units. Even when using multiple Volca units on stage, you won't need to bother with adapters or bring another power strip – just concentrate on your performance with a streamlined setup and breakdown.
A rich variety of included accessories
Volca Mix comes with an AC adapter, DC-DC cables and audio cables included. Right out of the box, you'll be ready to put together a complete Volca live setup.
SKU
KOR-VOLCAMIX
MPN
Volca Mix
Vendor
Korg
Audio Recording
None
Included From Manufacturer
Power supply
(3) DC-DC power cables
(3) audio cables
Mic Preamps
0
Mixer Channel Filterable
4
Mixer Type
Analog
Mpn
VOLCAMIX
Simultaneous Inputs
4
Aux/Effect Sends
1/8" stereo send output
Channel EQ
Lo/hi cut filter per channel
Effects
Analog stereo width expander
Analog dynamic range compressor
Number of Faders
3
Audio Inputs
(3) 1/8" stereo mix inputs
1/8" stereo aux input
Audio Outputs
Dual RCA stereo main output
1/8" stereo headphone output
Power
AC adapter (DC 9 V), included
Product Weight
12.35 oz.
Rackmountable
No
Width
7.60"
Depth
4.53"
Height
1.77"
Korg USA Warranty Policy
All Korg products purchased from a Korg USA authorized dealer are warranted to be free from defects in material and workmanship to the original consumer for a period of one (1) year.
Register your new Korg keyboard, keyboard rack module or digital piano online and receive a certificate that extends the product warranty for an extra year from the date of purchase. Product must be registered within 90 days of purchase to receive an extra year of warranty.
Tuner and Metronome products are warranted to be free from defects in material and workmanship to the original consumer for a period of three (3) years.
Tubes, AC Adapters and Foot Switches are warranted to be free from defects in material and workmanship to the original consumer for a period of ninety (90) days.
The customer must provide proof of purchase in order to obtain warranty service. The dated sales slip or copy thereof is the only acceptable proof of purchase.
The product must be purchased from a Korg USA authorized dealer and have a valid serial number.
This warranty is valid only in the USA.
Damage resulting from the following causes are excluded from the warranty set forth above: misuse, including damage occurring during shipment, damage caused by battery leakage, accident, fire, unauthorized repairs, tampering, cosmetic damage or other types of damage which are the result of improper handling or abuse; the cleaning of controls or contacts due to exposure to dirty, dusty, or otherwise contaminated environment; damage resulting from modification; damage to units used for loan or rental.
Ground shipping is FREE for all orders $99 and up.