Skip product carousel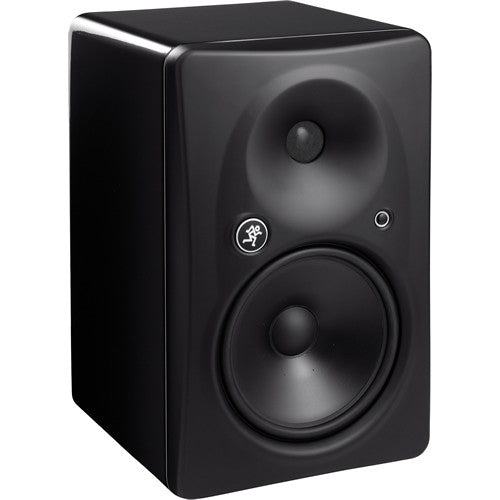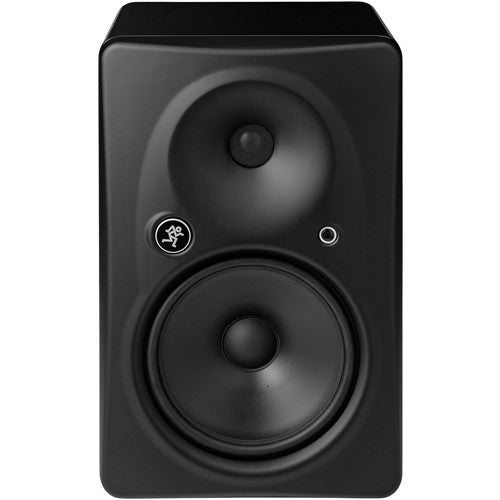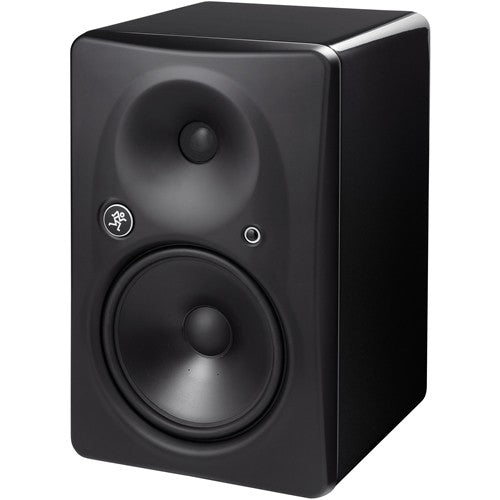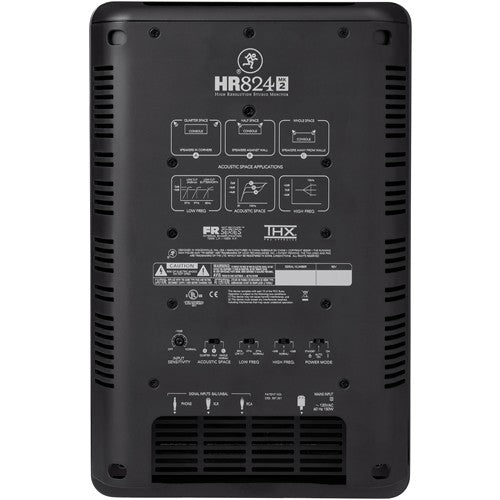 Mackie HR824mk2 Studio Monitor Speaker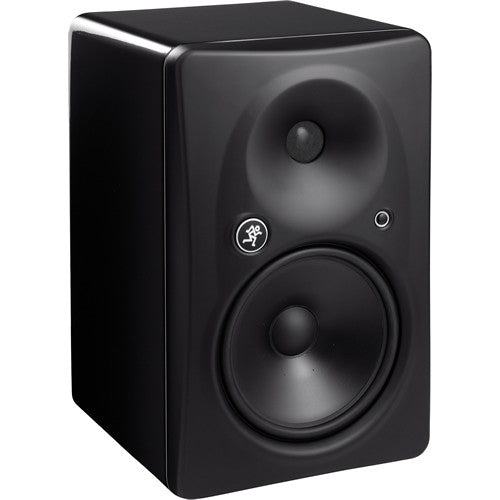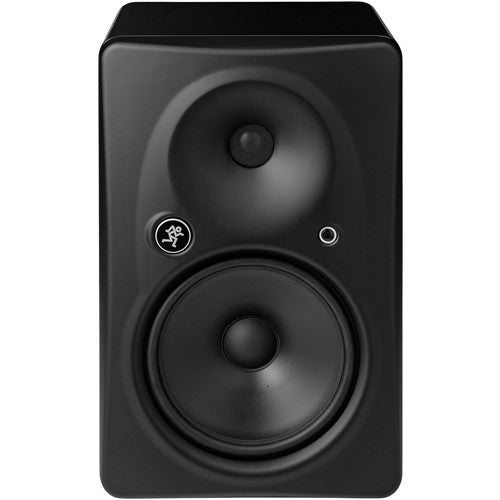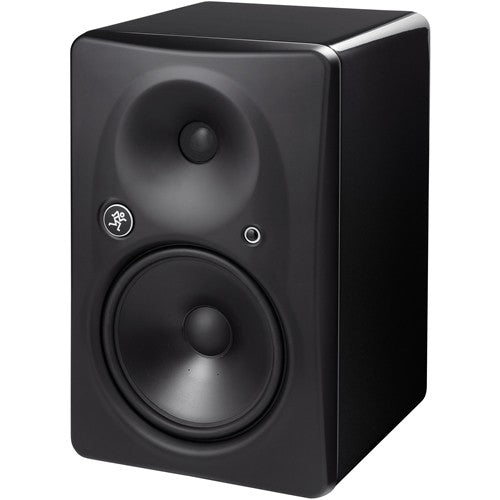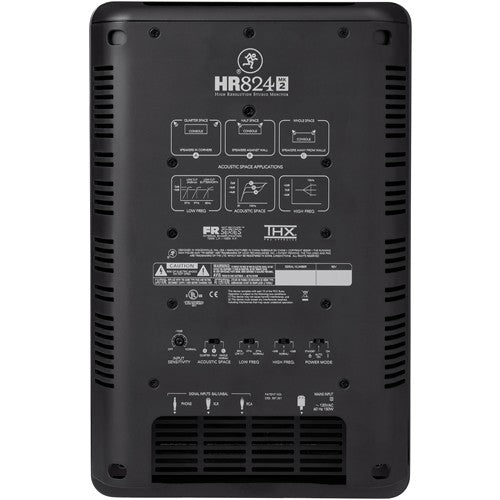 Mackie HR824mk2 Studio Monitor Speaker
The high-resolution HR824mk2 Active studio reference monitor sounds as smooth as it looks.
The new Zero Edge Baffle minimizes diffraction for a crystal clear image of your mix, and controls sound waves for wide, even dispersion. The rear-firing, mass-loaded passive radiator ensures tight, detailed bass extension, down to 35Hz. And thanks to remarkably linear frequency response, you always get accurate mix translation. Acoustic Space, LF roll-off and HF controls let you tailor the sound to suit your space-and your taste.
With all this and more, the HR824mk2 turns your studio's sweet spot into a full-on sweet zone.
High-resolution Active studio reference monitor
Ultra-linear frequency response for accurate mix translation
8.75-inch high-precision, low-distortion LF transducer
1-inch titanium dome, ferrofluid cooled tweeter
Optimized Waveguide for wide, even sweet zone
Twin FR Series amps - 150W for LF / 100W for HF
Cast aluminum Zero Edge Baffle minimizes diffraction
Full internal damping eliminates midrange artifacts
Onboard passive radiator extends bass response to 35Hz
Acoustic Space, LF roll-off, and HF controls
Balanced XLR, TRS, and unbalanced RCA inputs
OmniMount ready for easy wall/ceiling placement
THX pm3 certified for surround sound applications
Perfect for High Definition audio, cinema and gaming systems

SKU
MAC-HR824MK2
Vendor
Mackie
Active Passive
Active
Included From Manufacturer
Power Cable
Waveform OEM
DAW Essentials Collection
Mpn
2034159-00
Speaker Application
Full-Range
Speaker Size Filterable
8
Connectors
Balanced Differential (XLR and 1/4" TRS) Unbalanced (RCA)
Covering Material
Piano-black gloss finish
Enclosure Material
3_4-inch (19 mm) thick MDF cabinet
Equalization (EQ)
Low Frequency Filter, HF Equalization
Flyable
No
Frequency Range
1.6 kHz to 22 kHz
Frequency Response
35 Hz to 20 kHz
Nominal Impedance
4 ohms
Power
150W for LF / 100W for HF
Product Weight
34.6 lb/15.7 kg
Protection Circuit
Yes
Sensitivity
7.5 dBu=100 dB SPL at one meter
Tweeter/Horn
1-inch ferrofluid cooled titanium dome tweeter
Width
10.8 in/27.3 cm
Depth
13.8 in/35.1 cm
Height
16.8 in/42.5 cm
Woofer/Low Frequency
8.75-inch high-precision, low- distortion woofer
Mackie Limited Product Warranty
This Limited Product Warranty is provided by Loud Technologies Inc. ('Loud') and is applicable to Products purchased in the United States or Canada through a Loud-authorized reseller or dealer. This product warranty together with the documentation, your invoice, receipt and the terms and conditions located at Mackie's website constitute the entire agreement, and supersedes any warranty terms contained in the operator manual. The Product Warranty will not extend to anyone other than the original purchaser of the product.
Please refer to the full warranty statement at Mackie's website or included with your product for all terms and conditions.
Warranty Periods
3-year inclusive of electronics, 2-year drivers (where applicable), nontransferable
All SRM, DLM, HD, iP and C Series Speakers, Reach, all PPM Mixers, all HRmk2 Studio Monitors
1-year all inclusive, nontransferable
Thump Series Speakers, FreePlay, all Onyx Mixers and Recording Interfaces, all DL, ProDX, VLZ4, ProFXv2 and Mix Mixers, all CR, MRmk3 and XR Studio Monitors, all Big Knobs, DC16, all MCU Pro Series Control Surfaces, SP260, all FRS Series Amplifiers, DL Series Expansion Cards, Mixer/ Loudspeaker / Reach/ FreePlay Bags / Covers / Hardware
90-day all inclusive, nontransferable
FreePlay Lithium Ion Battery
Loud warrants to Customer that the Product will be free from defects in materials and workmanship under normal use during the Warranty Period.
If the Product fails to conform to the warranty, then Loud or its authorized service representative will, at its option, either repair or replace any such nonconforming Product, provided that Customer gives notice of the noncompliance within the Warranty Period. Please retain the original dated sales receipt as evidence of the date of purchase. You will need it to obtain any warranty service.
Ground shipping is FREE for all orders $99 and up.