Skip product carousel
Instant Rebate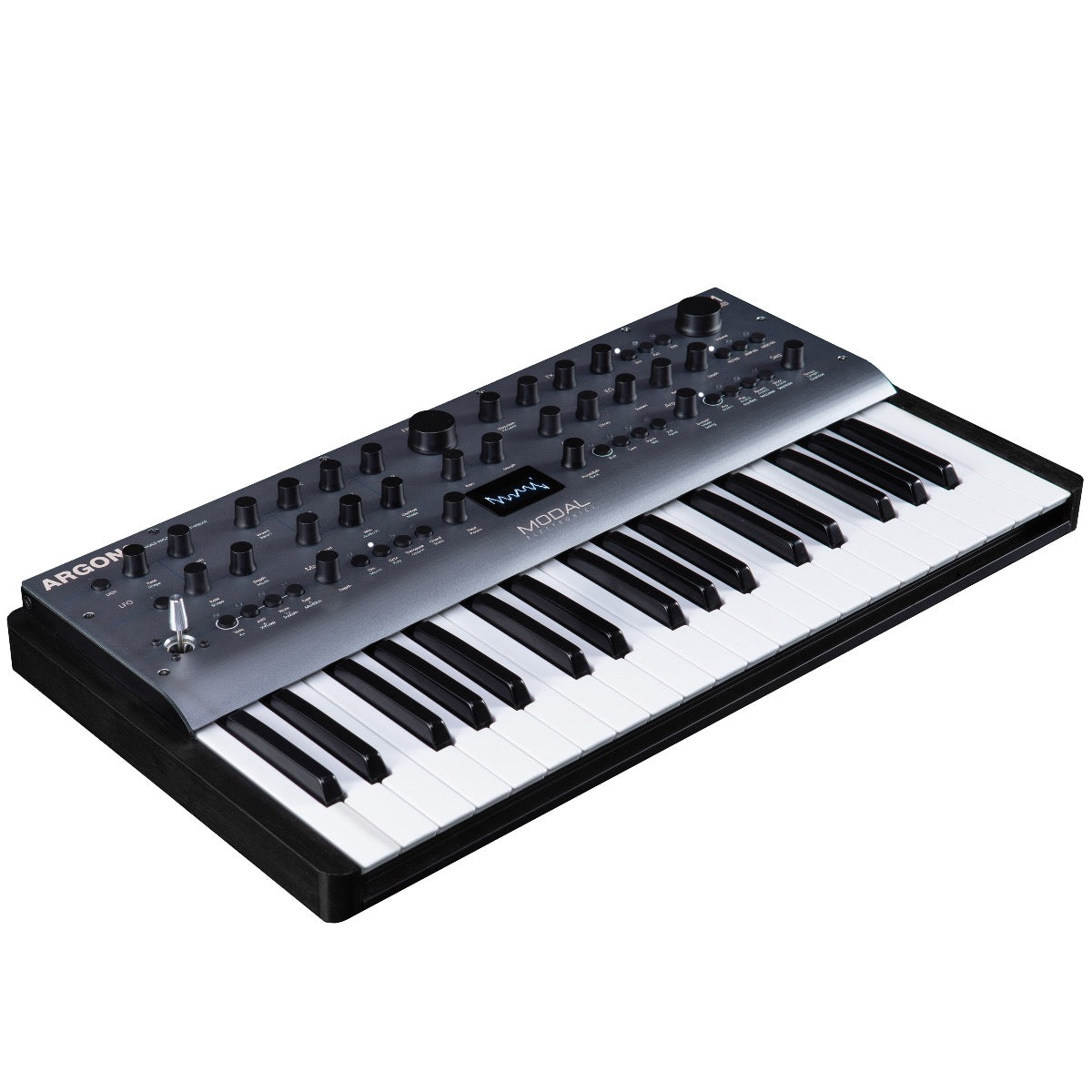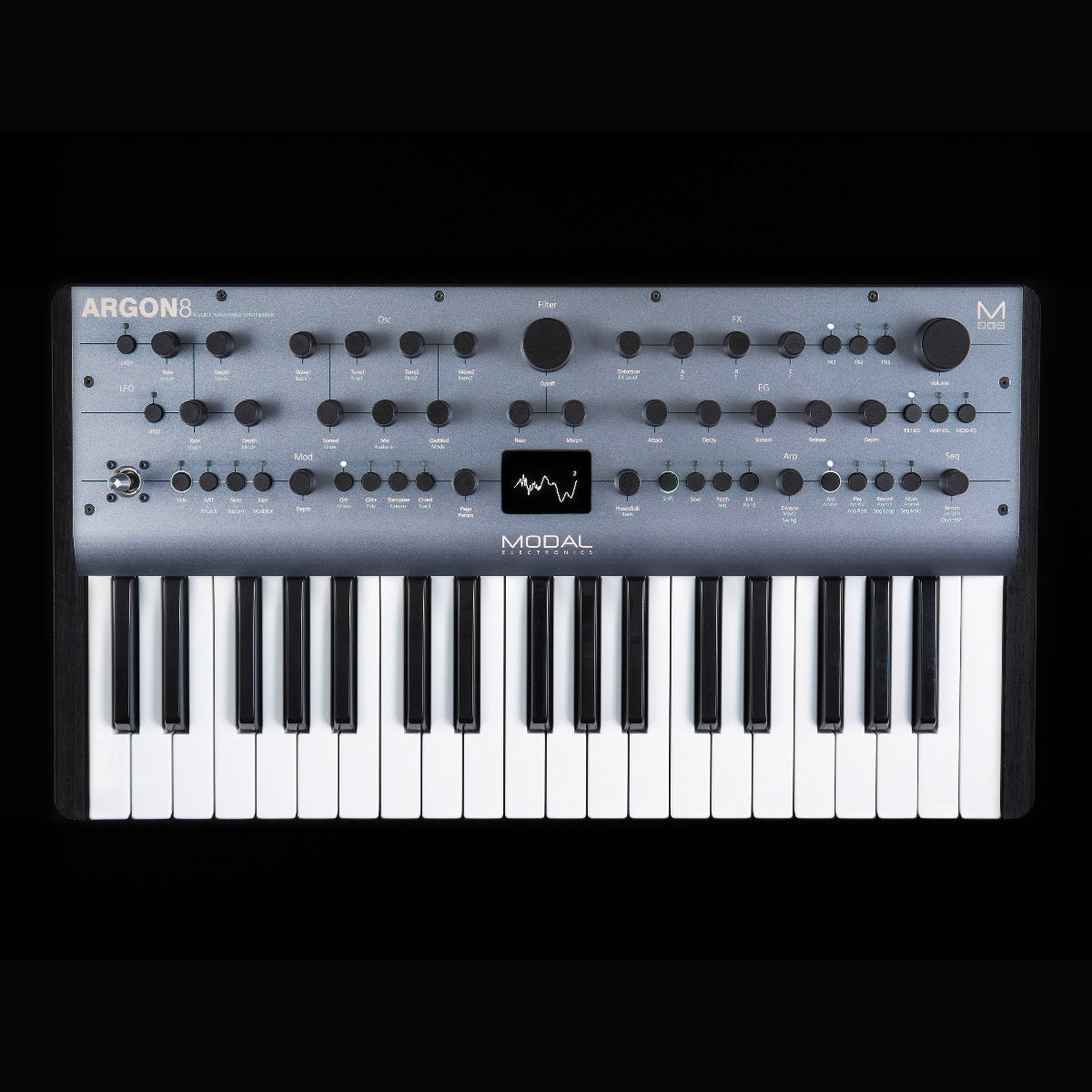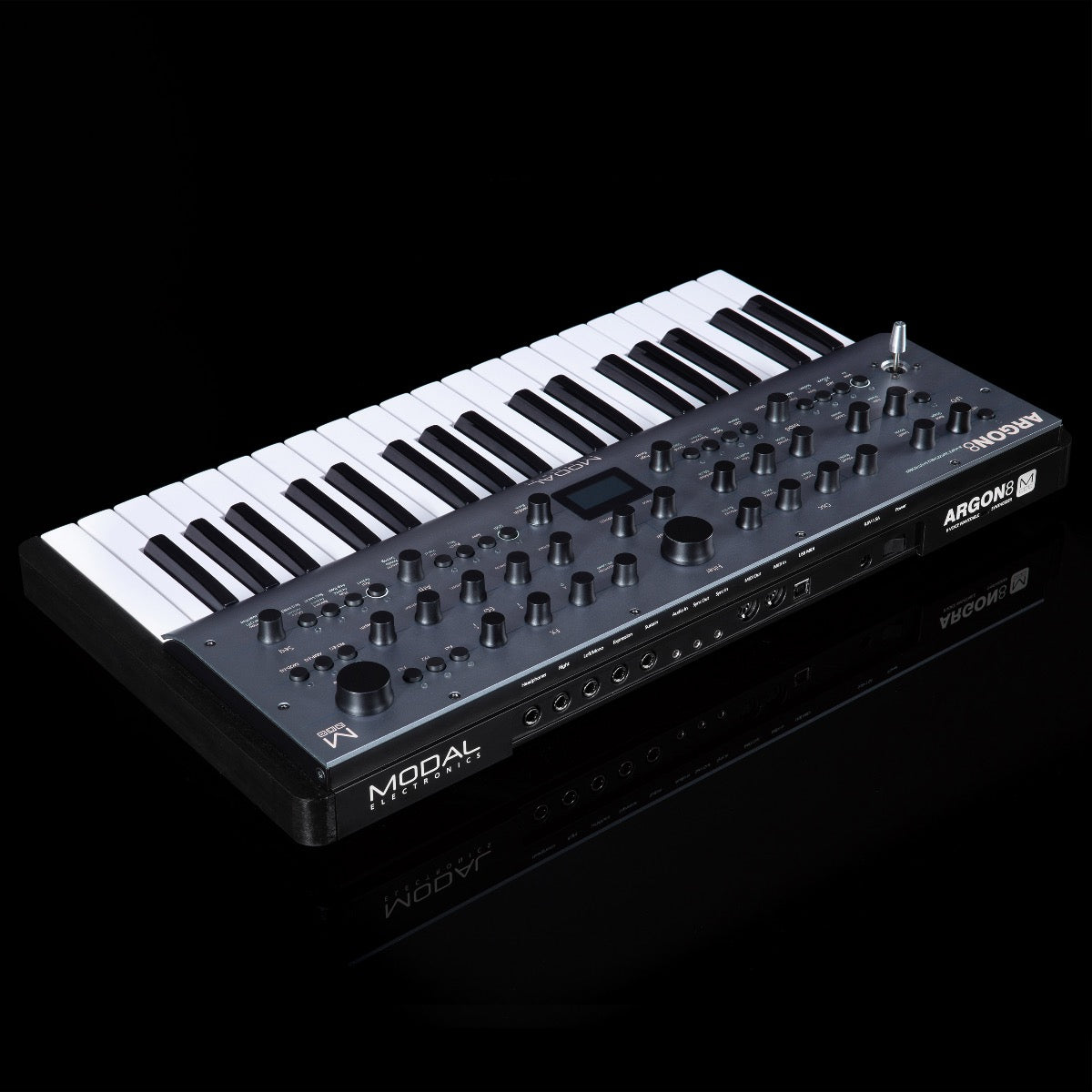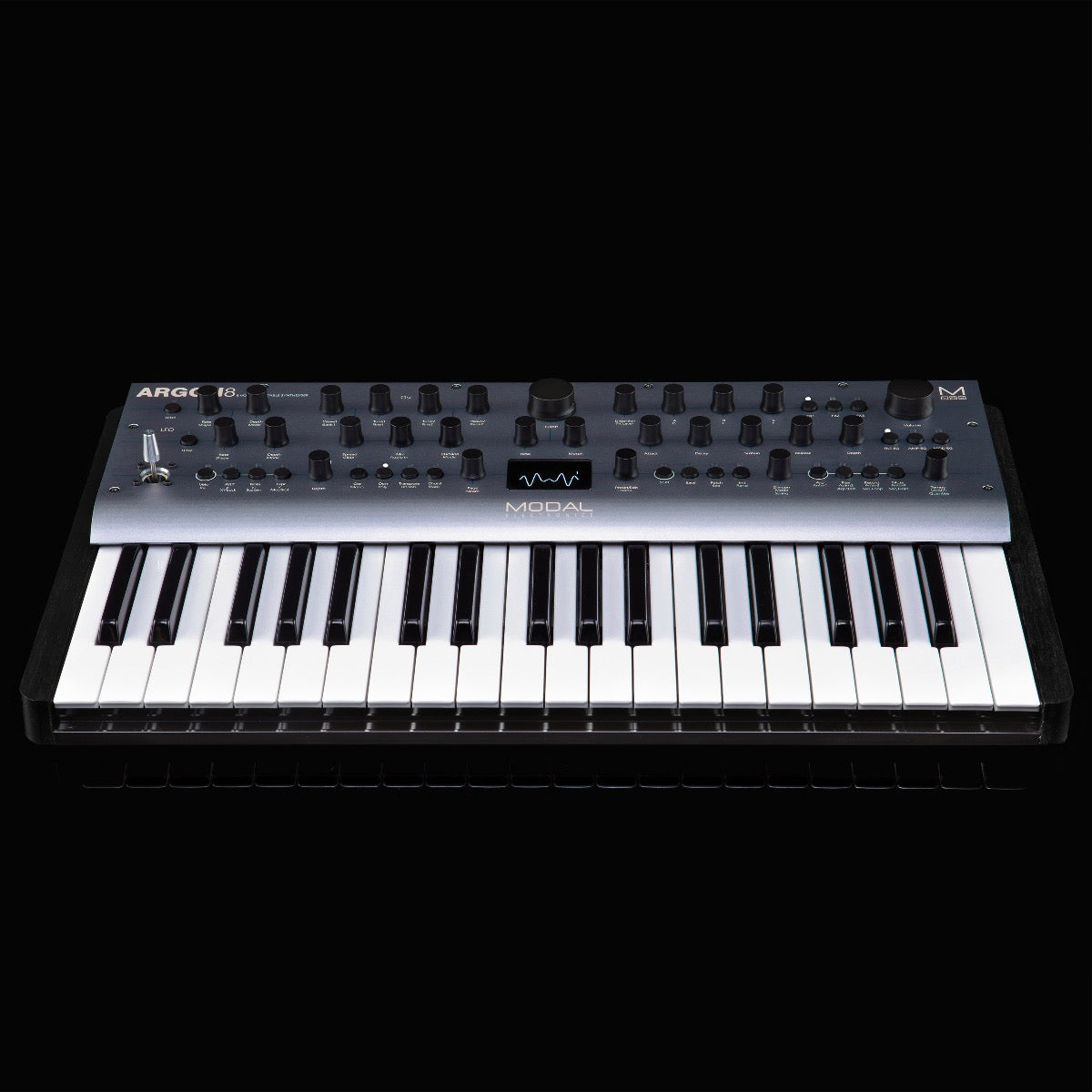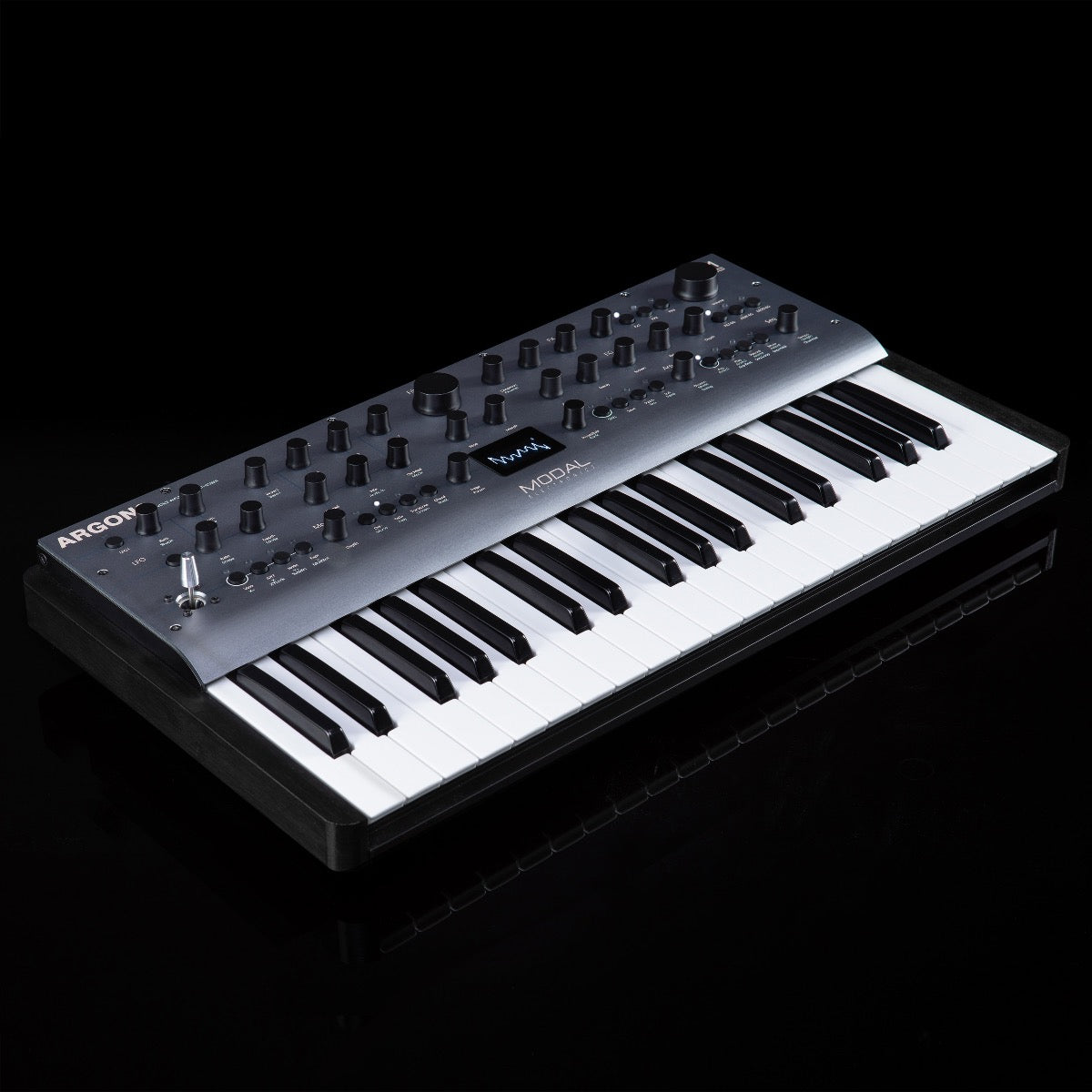 Modal Electronics Argon8 37-Key Polyphonic Wavetable Synthesizer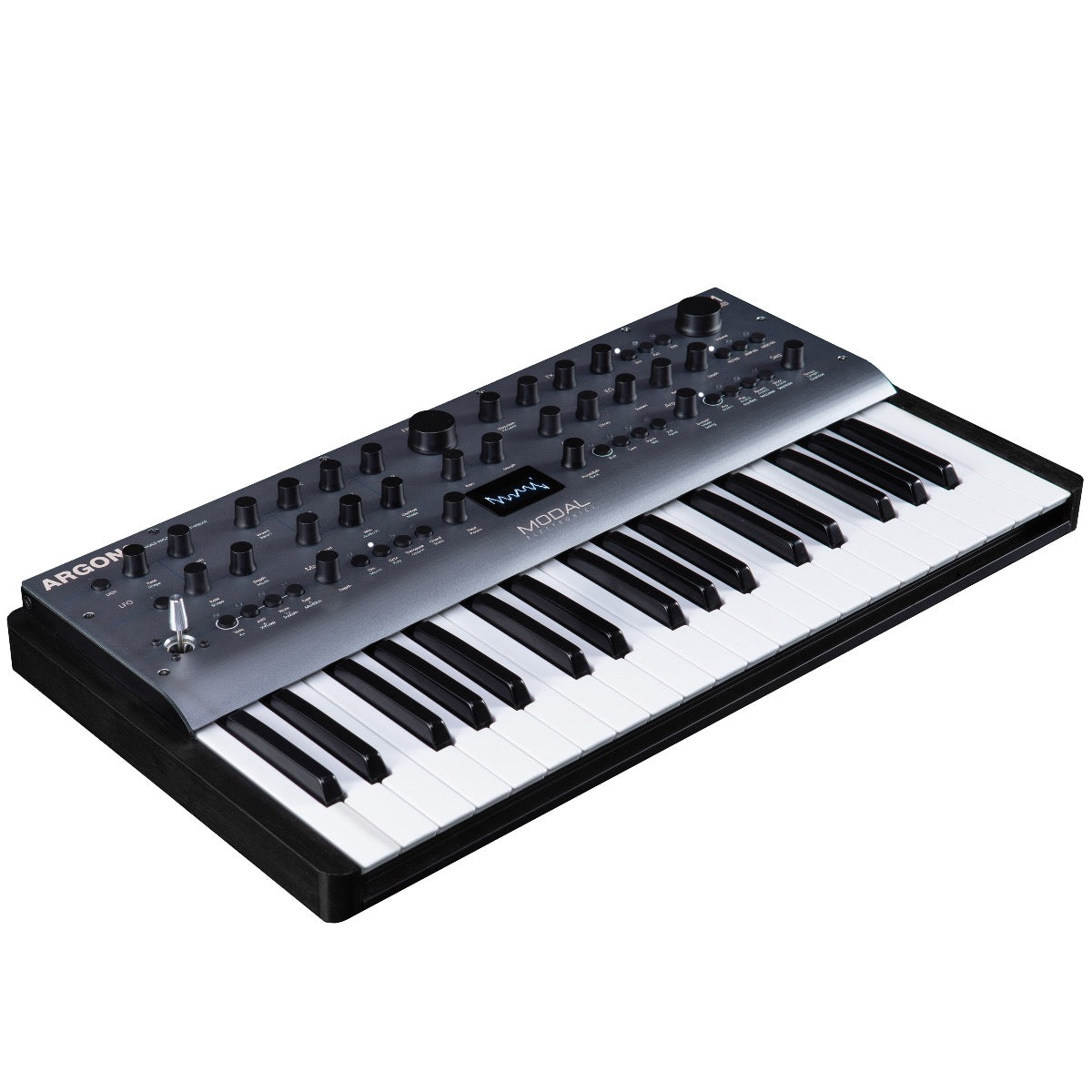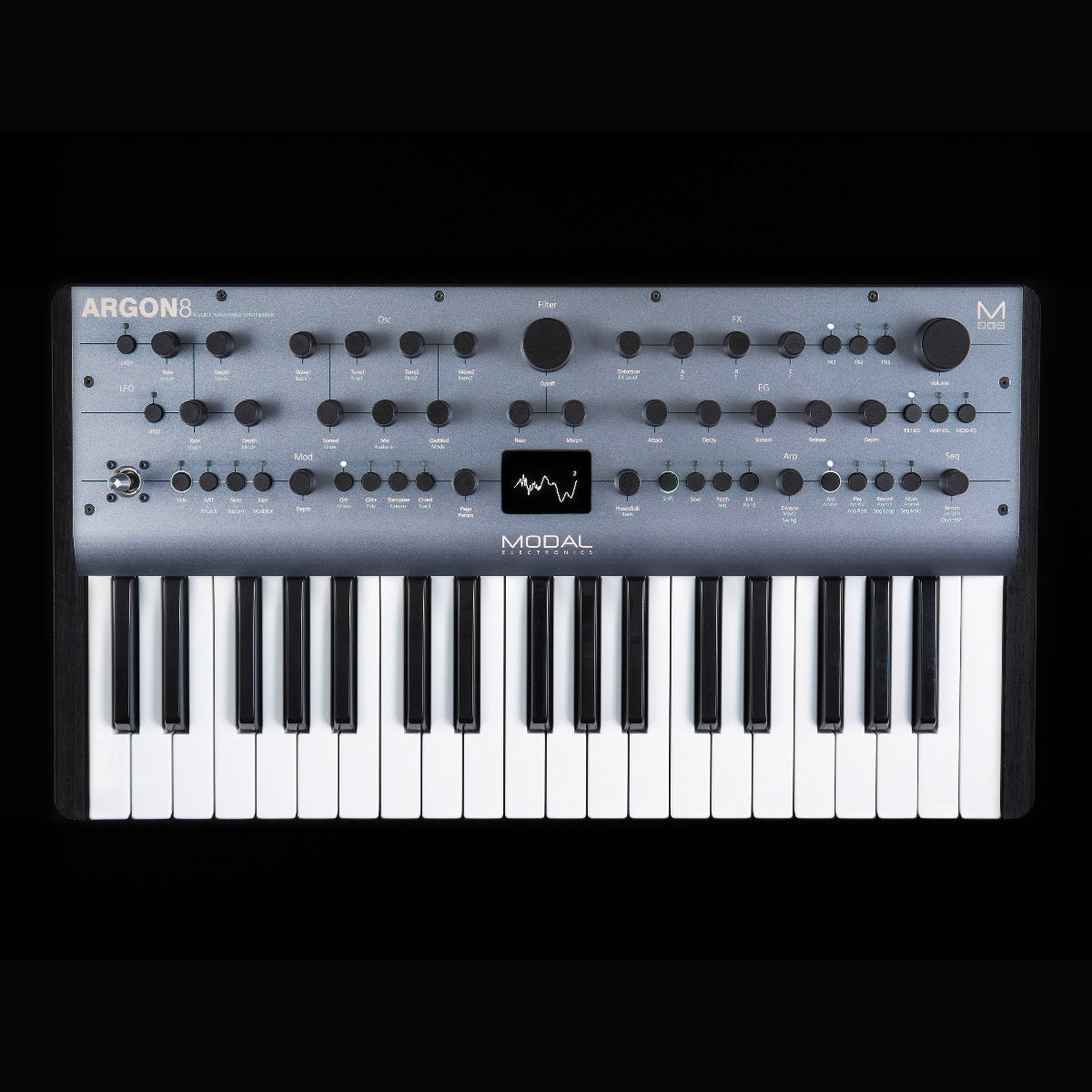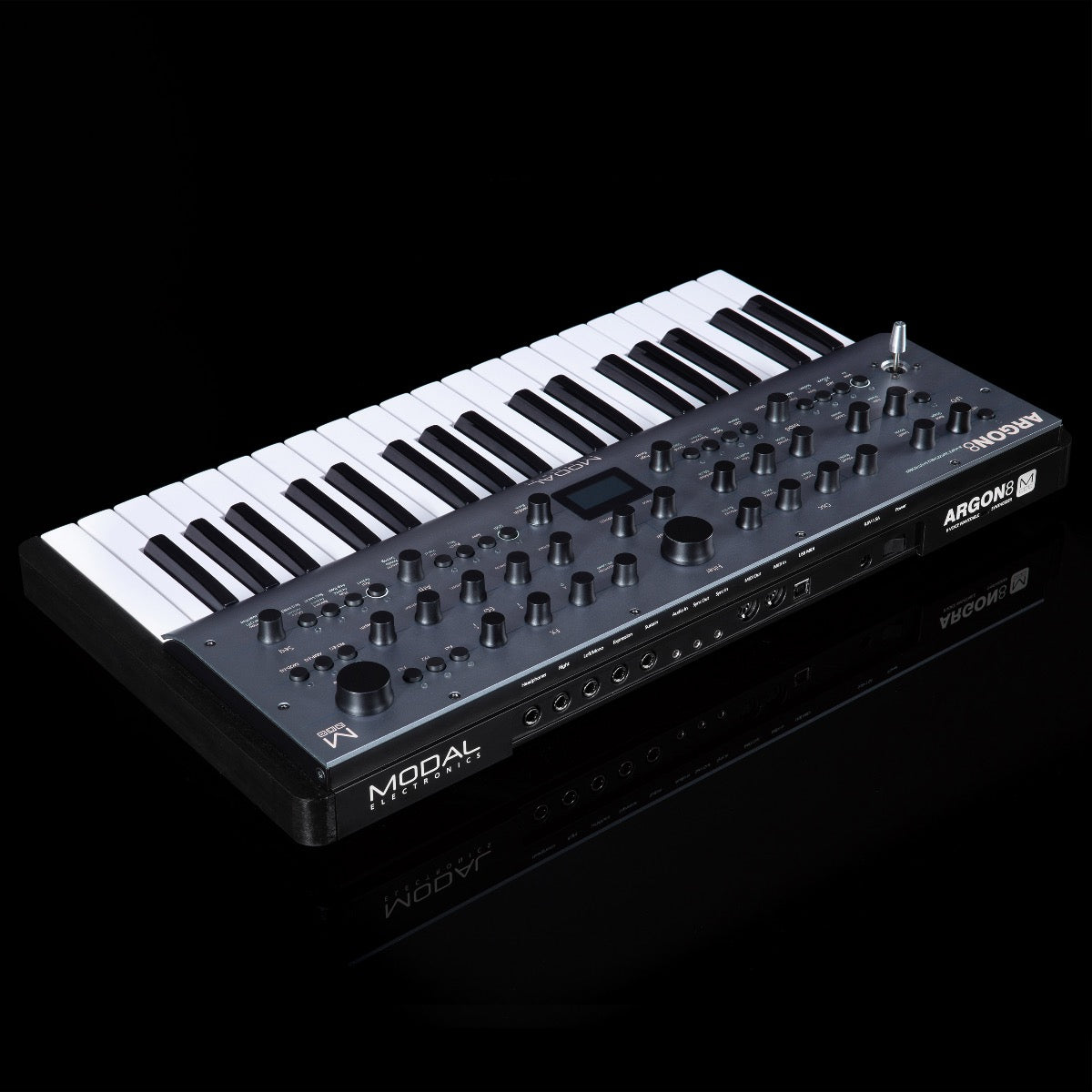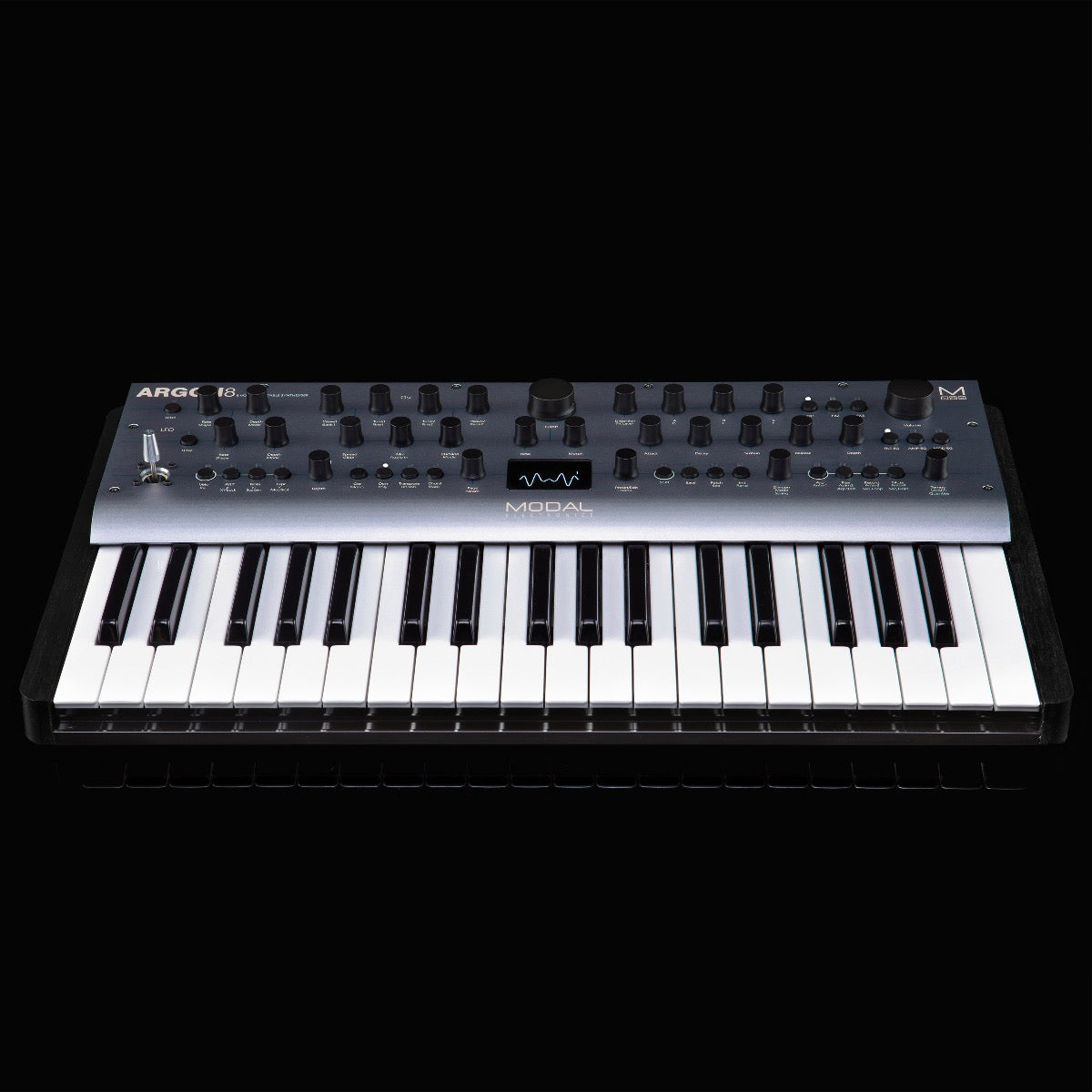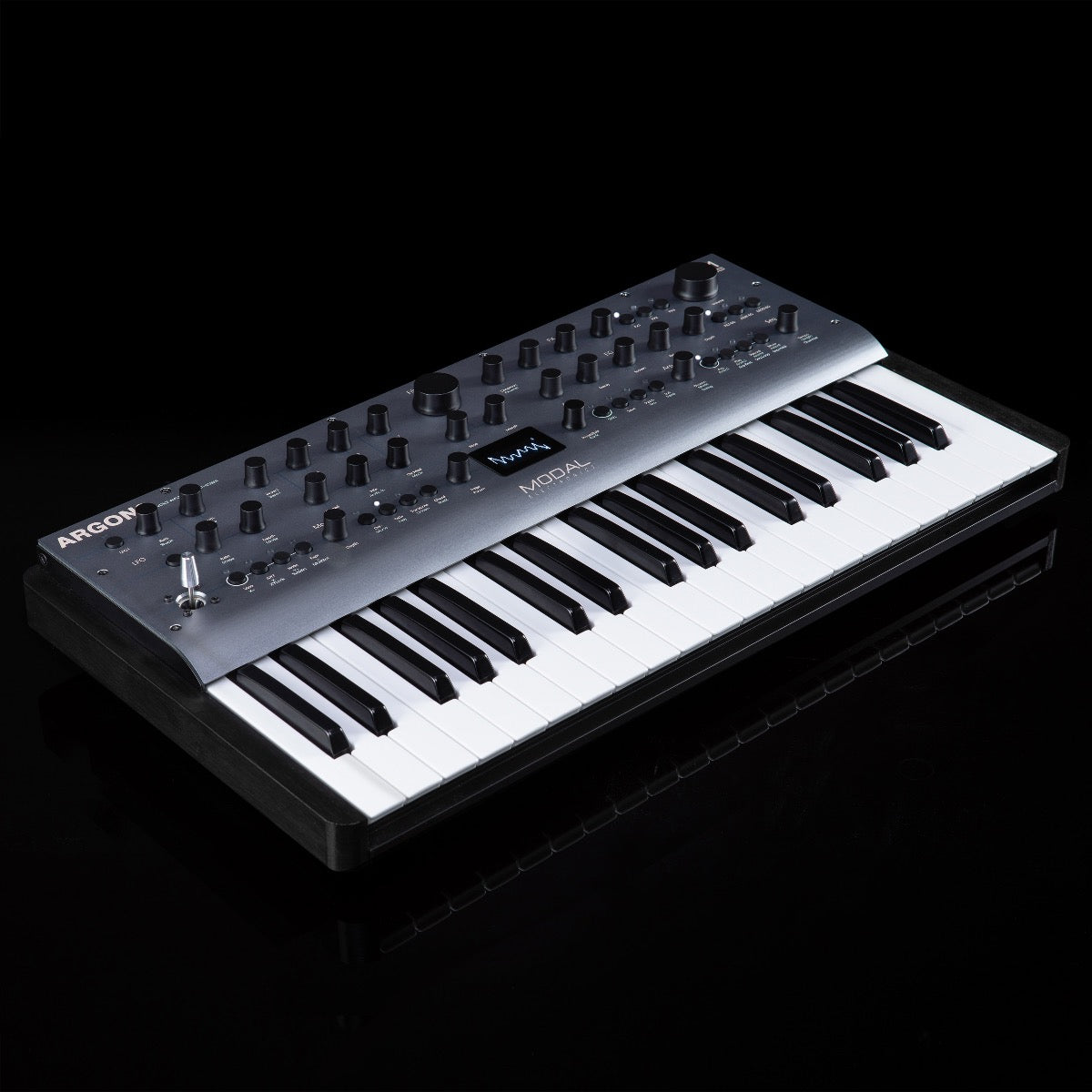 Modal Electronics Argon8 37-Key Polyphonic Wavetable Synthesizer
Modal Electronics Argon8 is a polyphonic wavetable synthesizer that takes much of the sound design capability and functionality of Modal 002 and places it in an incredibly compact package. Bringing eight voices of true polyphony with features previously never seen at this price point, Argon8 raises the bar in sub-$1,000 synthesizers. Argon8's sound engine enables extremely complex synthesis creation hitherto unprecedented at this price point.
Oscillators
120 carefully crafted wavetables split into 24 banks of 5 morphable waveform sets covering everything from virtual analog classics to cutting edge EDM, including many from Modal 002 and a whole range of mathematically generated tables. An additional PWM bank and 4 noise/modulation banks are available on Oscillator 2.
28 static wavetable processors including de-rez, wave folders, wave shapers, phase shapers and rectify that can be applied to the 120 wavetables to give a mind boggling array of permutations and new waveshapes.
32 high resolution wavetable oscillators, 4 per voice, with 8 types of oscillator modifier including phase mod (FM), ring mod, amp mod, hard sync and windowed sync.
Filter
Two-pole morphing resonant filter with multiple filter types.
Filter can be morphed from low pass through band pass to high pass.
Modulation
Hugely powerful mod matrix with eight assignable slots with four additional fixed routes, 11 mod sources and 52 destinations.
4-axis joystick can be assigned to a huge range of modulation destinations and virtually locked when desired.
Three dedicated envelope generators for amp, mod and filter that can be accessed independently or all three simultaneously including negative (reverse) versions.
Two audio-rate LFOs (one poly, one global) with tempo sync. Polyphonic LFO can sync to frequency divisions.
Effects
Waveshaping distortion.
Three incredibly powerful independent and user configurable stereo effects engines that can create sophisticated delays, lush reverbs, flanging, phasing and rich choruses.
Sequencer
Realtime sequencer with 512 steps, input quantize and four recordable/editable parameter animations.
All time-based effects, LFOs and sequencer arpeggio can be clocked either internally or externally.
Keyboard
Fatar TP9/S full size 37-key keybed with both velocity and aftertouch.
1.54" OLED display provides instant visual feedback to the user at all times of playing/editing.
Multiple keyboard modes: mono, poly, unison 2, unison 4, unison 8, stack 2 and stack 4.
Built-in sophisticated programmable 32-step arpeggiator with rest capability and up to 2,048 steps before repeating.
Glide/portamento with both legato and staccato modes.
Software editor
Argon8 provides a class-compliant USB MIDI connection, enabling Argon8 to play in an integrated setup. Free software editor ModalApp is available on macOS, iOS, Windows and Android tablets and phones. ModalApp is also available as an Audio Unit and VST3 plug-in for DAW applications.
Free sounds
Over 1,000 additional patches from some of the best sound designers are available for download at Modal's website with more being added all the time. Find the perfect patch, get some inspiration to create your own – all free!
SKU
MOD-ARGON8
MPN
Argon8
Vendor
Modal Electronics
Aftertouch
Yes
Analog Digital
Digital
Built In Speakers
No
Included From Manufacturer
Power supply
Keys Weighted
No
Key Num
37
Key Size
Full Size Keys
Midi
In, Out, and USB
Mono Poly
Polyphonic
Mpn
MDL-ARG-37
Product Unique Features
MODALapp editor and patch librarian available as standalone app, Audio Unit or VST plug-in
Arpeggiator
Yes
Control Connections
1/8" sync input
1/8" sync output
Onboard Controllers
4-axis assignable modulation joystick
Effects
(3) independent stereo effects engines
Reverb
Delay
Chorus
Flanger
Phaser
Audio Inputs
1/8" stereo external audio input
Audio Outputs
Dual 1/4" stereo output
1/4" stereo headphone output
Key Action
Fatar TP9/S synth action with velocity and aftertouch
Multitimbral Capability
Monotimbral
Oscillators per Voice
Varies by Sound Engine
Product Weight
12.4 lb
Programs/Presets
500 patch storage locations (ships with 300 factory programs)
100 sequence storage locations
100 effects patch storage locations
Sequencer
Realtime 512-step sequencer with quantize
(4) recordable/editable parameter automation lanes
USB Port (to Host)
MIDI;System Updates;Editor/Librarian/Patch Manager
Voices of Polyphony
8
Width
22"
Depth
11.75"
Height
4"
Modal Electronics Ltd. Limited Warranty
One year Parts and Labor on all Modal Electronics Ltd. products. Warranty covers all defects in material and workmanship.
The following are not covered: damage caused by accident, misuse, abuse, product modification or neglect; damage occurring during shipment; damage from failure to follow instructions contained in the instruction manual; damage resulting from unauthorized repairs; or damage caused by improper installation; or damage caused by AC power overvoltage conditions.
Modal Electronics Ltd.'s liability is limited to the repair or replacement, at its option, of any defective product and shall not include incidental or consequential damages. Modal Electronics Ltd. reserves the right to replace a discontinued model with a comparable model. Any replacement units or parts may be new or rebuilt.
Standard Shipping