Skip product carousel
Price Drop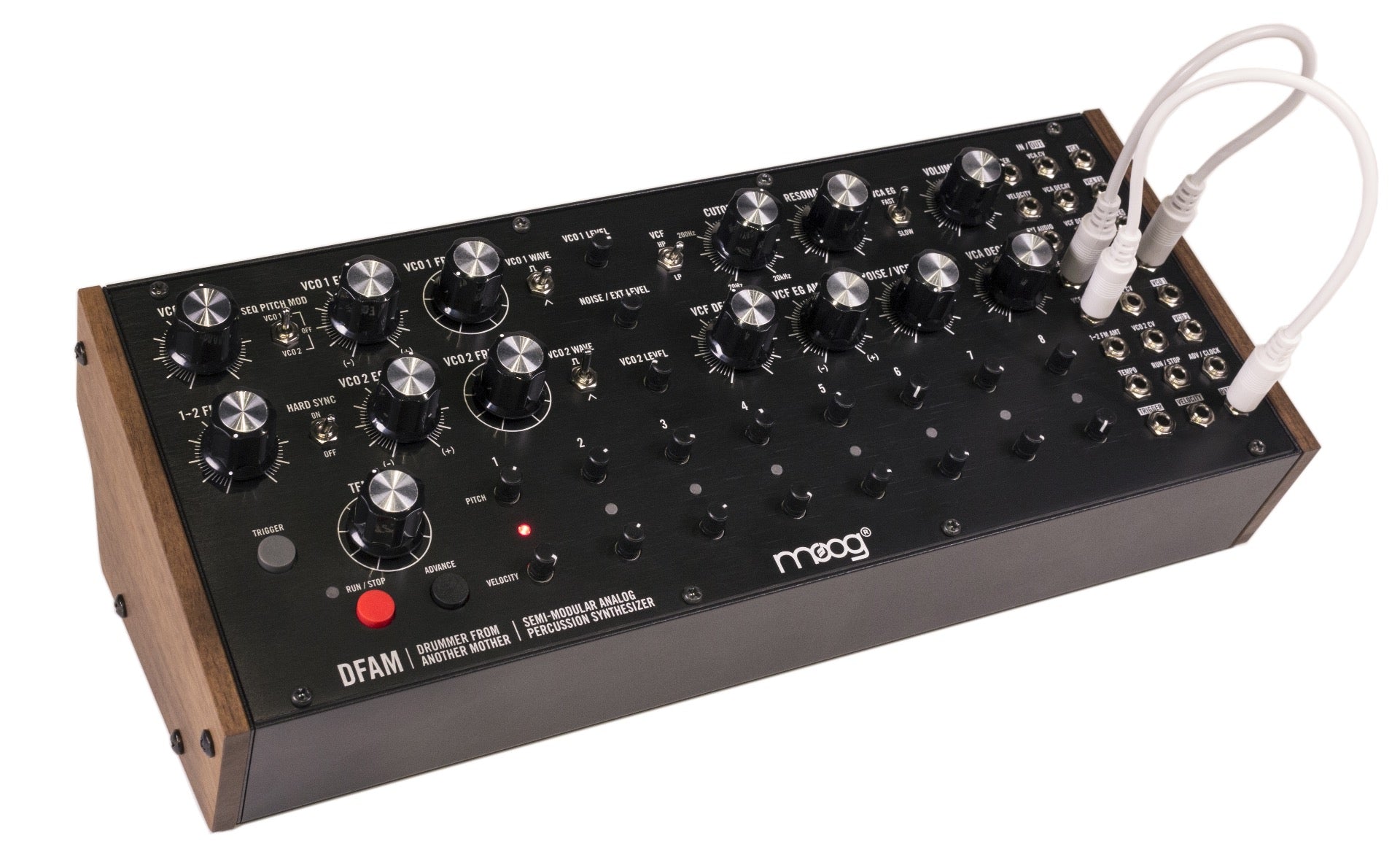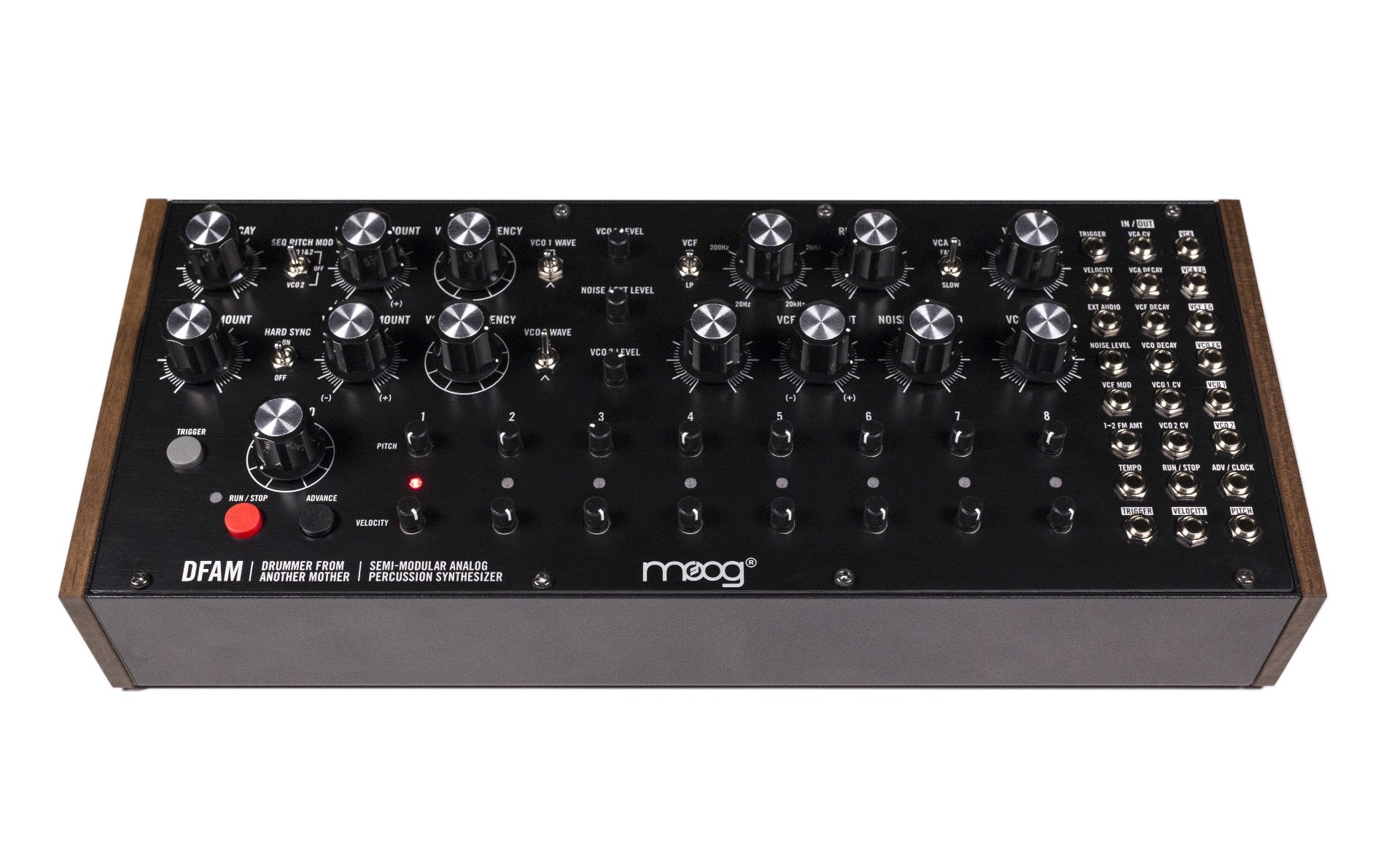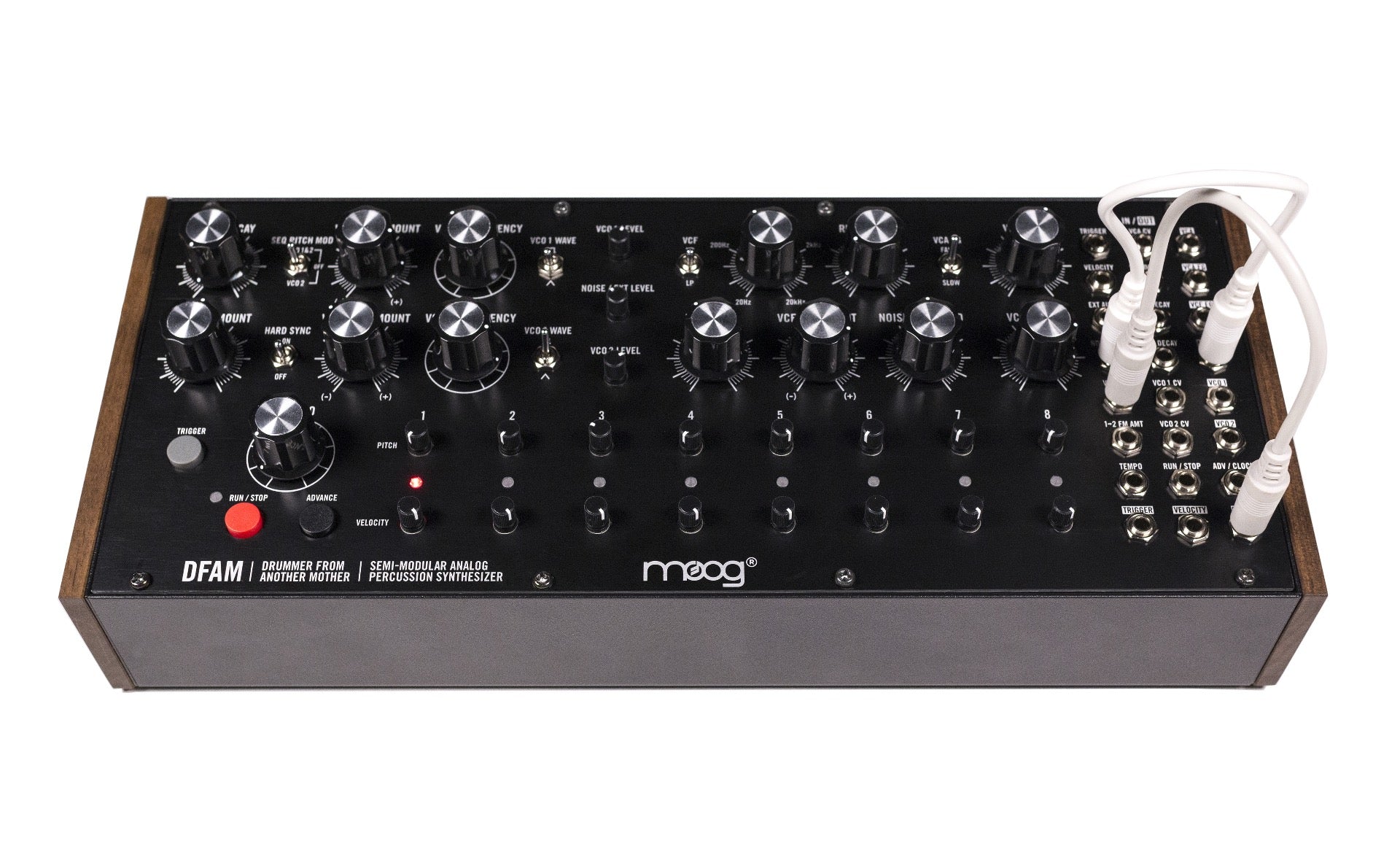 Moog DFAM Drummer from Another Mother Percussion Synthesizer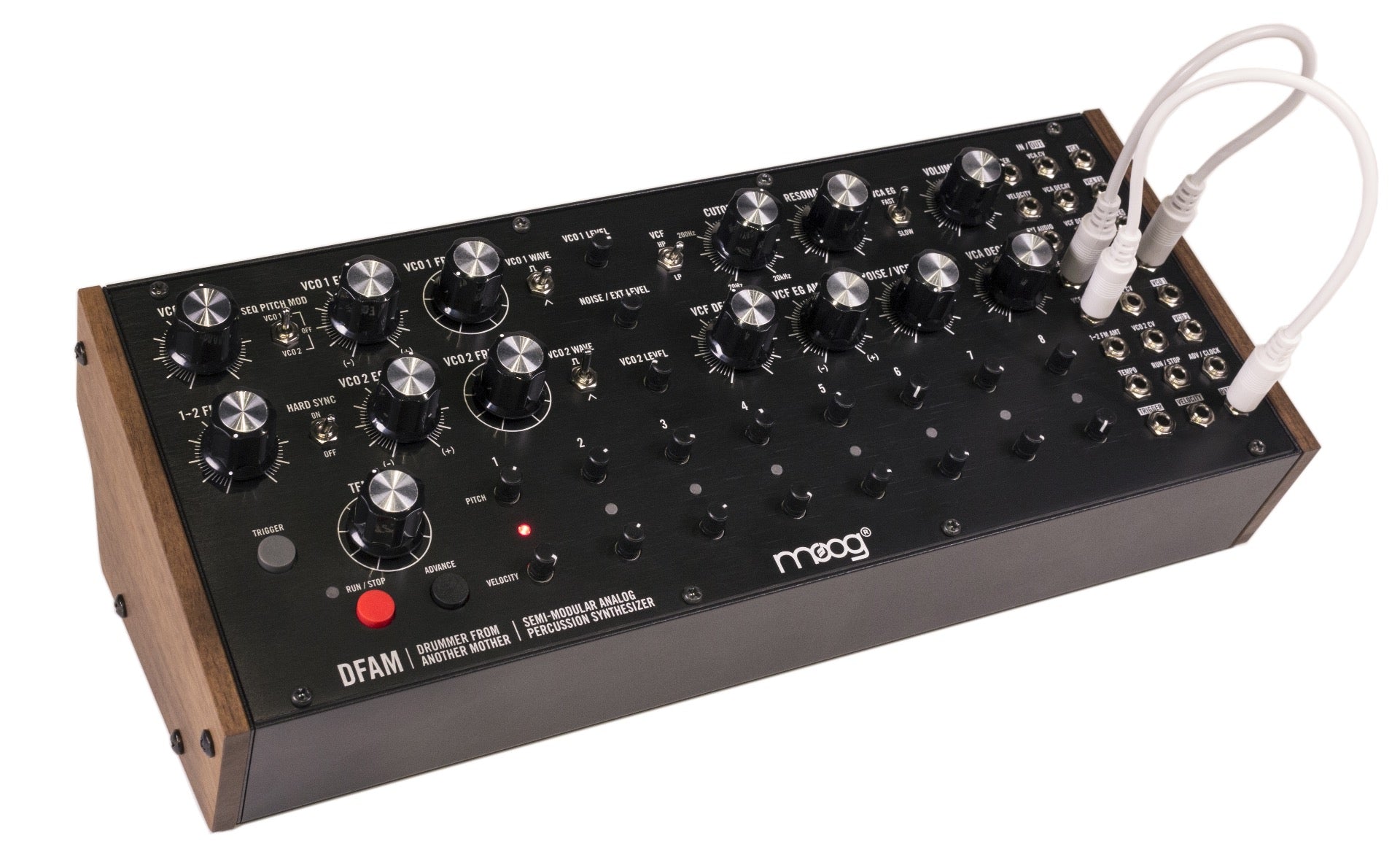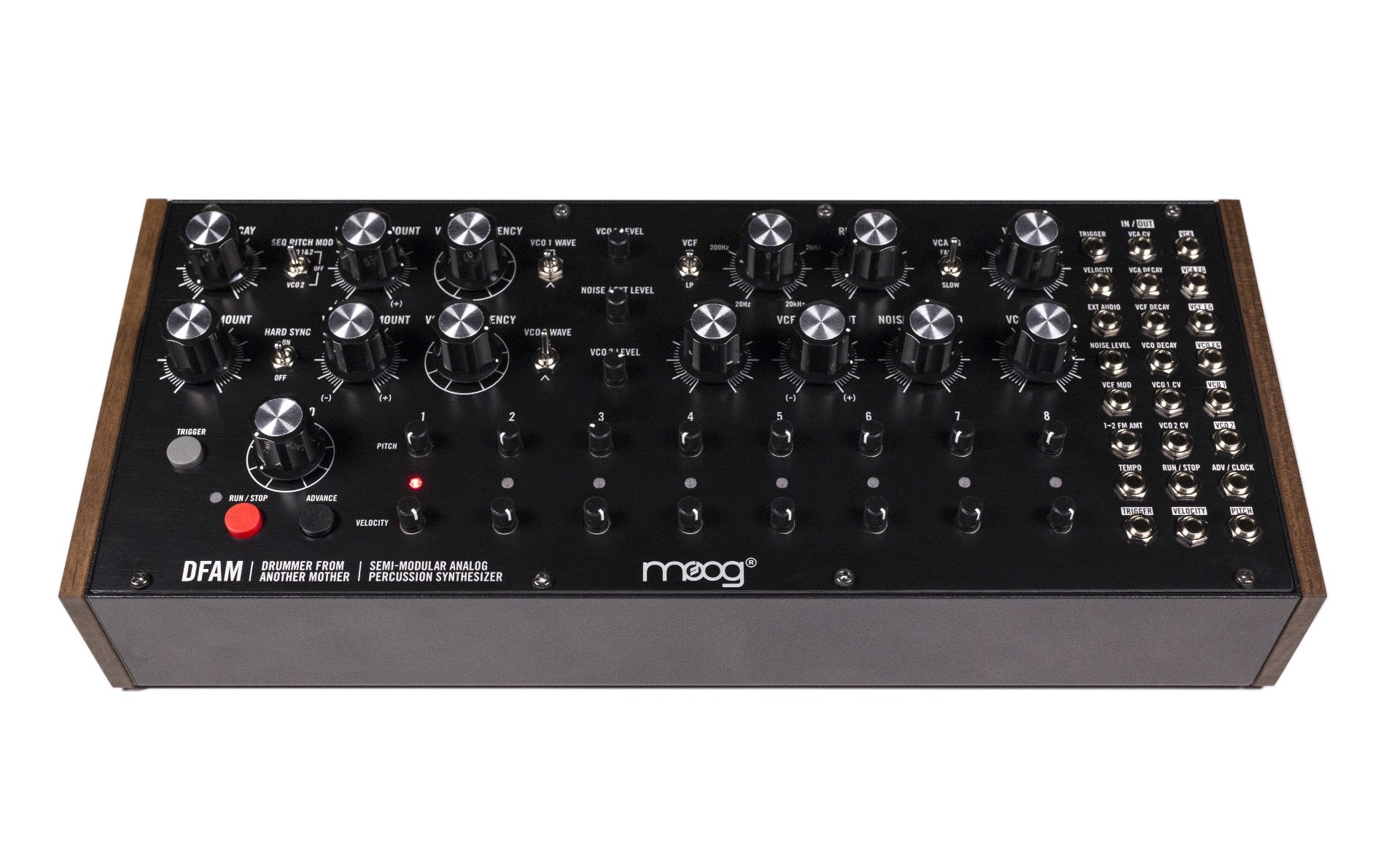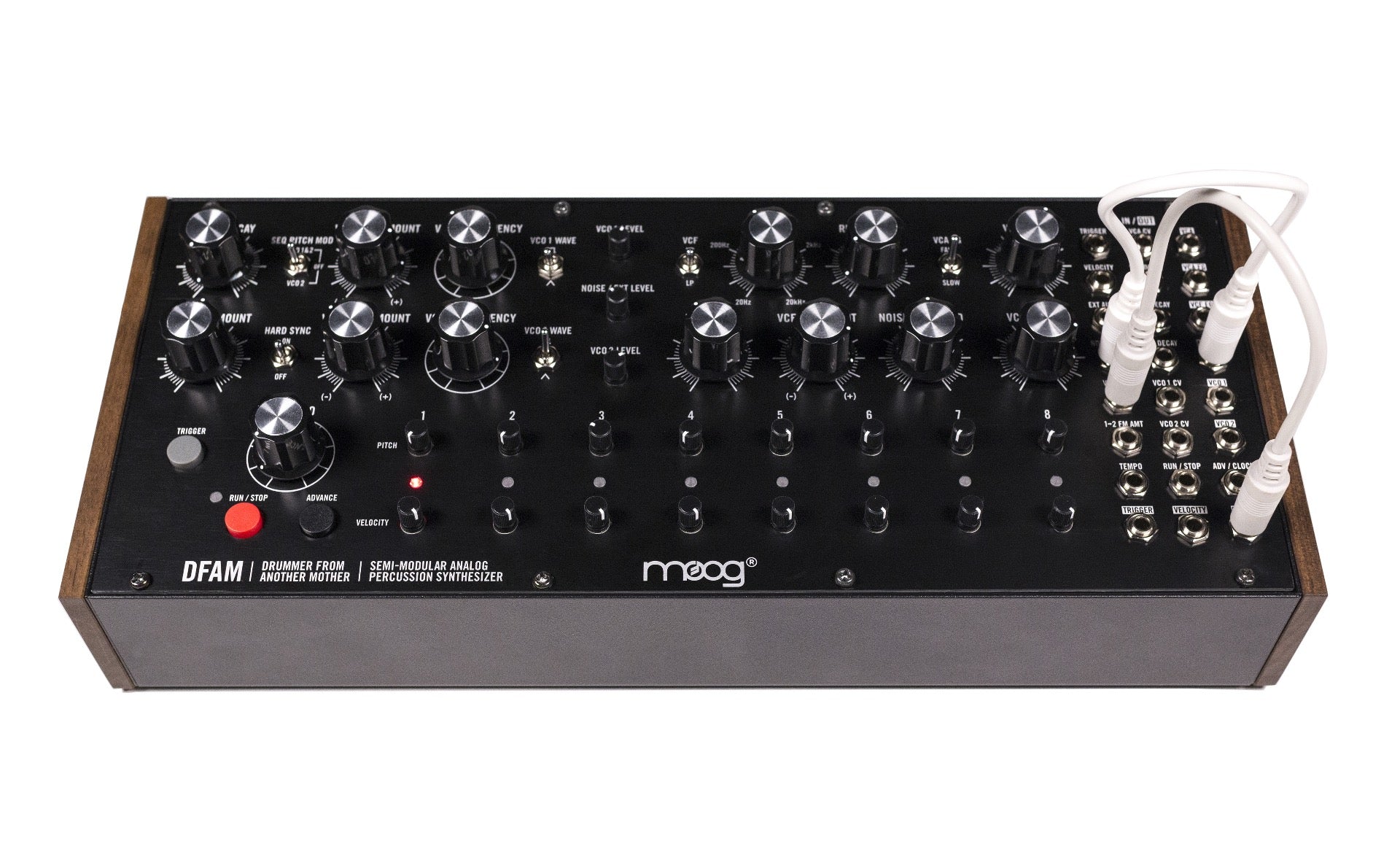 Moog DFAM Drummer from Another Mother Percussion Synthesizer
Moog Drummer from Another Mother (DFAM) is a highly interactive semi-modular analog percussion synthesizer and a vibrant deviation from the traditional drum machine. Handcrafted in Asheville, NC by the employee-owners at the Moog Factory, DFAM is the first addition to the Mother-32 family of synthesizers and presents an expressive, hands-on approach to percussive pattern creation. It requires no patching, and absolutely no experience is needed for human beings of any age to quickly begin synthesizing new and unique rhythmic compositions.
Activated by an easy-to-use analog sequencer, DFAM's emotive sound begins with a white noise generator and two wide-range analog oscillators. Oscillator hard sync and FM cross-modulation invite effortless transitions between rhythmic pulsations, resounding bass and resonant bells in an instant. DFAM's distinctive voice is then shaped by a versatile Moog ladder filter with two selectable modes: low pass mode imparts impact and dimension to each sound it touches, while high pass mode opens the door to naturally expressive strikes, spikes and clangorous accentuations.
DFAM behaves much like a living organism, reacting in different ways to different individuals. This is due to three dedicated analog envelopes working dynamically with the sequencer to ensure that tribal toms breathe, industrial impacts evolve and cacophonous chaos can be spawned or subdued at the turn of a knob.
Each DFAM ships with a package of Moog patch cables that unlock access to the 24-point modular patchbay. Use it to create new sounds or bizarre behaviors, synchronize an unlimited number of DFAM and Mother-32 units together or fully integrate your analog instrument into a modular Eurorack production environment.
Through exploration and experimentation, the vast potential of this expressive analog instrument is realized.
Semi modular: no patching required. Anyone can create unique and impactful analog rhythms.
100% analog: unbridled sonic flexibility for a lifetime of percussive inspiration.
Two oscillators: ultra-wide range sound generation – craft everything from subtly pulsing cadences to clangorous cacophony and floor-splitting bass.
Selectable analog filters: dynamically sculpt your sound with a low pass or high pass ladder filter.
Three envelopes: interact dynamically with velocity to impart 'human' variation to your sound.
Eight-step analog sequencer with velocity: vibrantly continuous control over each note.
24 patch points: explore modular patching or connect to a Mother-32 to create a 3-oscillator leviathan.
Link multiple units: rack up multiple DFAM and Mother-32 units for evocative analog compositions.
External audio input: process other sounds through DFAM's analog circuitry.
Eurorack compatible: easily remove DFAM from its case and mount it into a eurorack system (requires a 10- to 16-pin eurorack cable, sold separately).
| | |
| --- | --- |
| SKU | MOO-DFAM |
| MPN | DFAM Drummer from Another Mother |
| Vendor | Moog |
| Included From Manufacturer | Patch cables |
| Module Type | Drum/Percussion |
| Module Width | 60hp |
| Mpn | MOD-DFAM-01 |
| Module Power Usage | 230mA @ +12V |
| +5V Required | No |
| Depth | 26mm |
Moog Music Inc. Limited Warranty
Moog warrants its products to be free of defects in materials or workmanship and conforming to specifications at the time of shipment. The Warranty Period is one year from the date of purchase.
If, in Moog's determination, it has been more than one year since the product shipped from its factory, Moog will determine whether or not to honor the warranty without regard to the date of the purchase.
Your new product warranty is transferrable to a new user with a proof of purchase dated less than one year prior to the current date. To initiate a warranty transfer, email Moog with a copy of the original proof of purchase, the serial number, and your personal information and Moog will update the warranty status.
During the Warranty Period, any defective products will be repaired or replaced, at Moog's option, on a return-to-factory basis. This warranty covers defects that Moog determines are no fault of the user.
The Moog Limited Warranty applies to USA purchasers only. Outside the USA the warranty policy and associated service is determined by the laws of the country of purchase and supported by the local authorized distributor. If you purchase outside of your country, you can expect to be charged for warranty as well as non-warranty service by the service center in your country.
You must obtain prior approval in the form of an RMA (Return Material Authorization) number from Moog before returning any product. Click 'Customer Service' at the Moog website to request the RMA # via email or call Moog.
All products must be packed carefully and shipped with the Moog supplied power adapter. The Voyager and Little Phatty must be returned in the original inner packing including the foam inserts. The warranty will not be honored if the product is not properly packed. Once you have received the RMA# and carefully packed your Moog, ship the product to Moog Music Inc. with transportation and insurance charges paid, and include your return shipping address.
Once received, Moog will examine the product for any obvious signs of user abuse or damage as a result of transport. If the product is abused, damaged in transit, or is out of warranty, Moog will contact you with an estimate of the repair cost. Warranty work will be performed and Moog will ship and insure your product to your United States address free of charge.
Please initiate your warranty online at the Moog Music Website by clicking 'Product Registration.' If you do not have web access, fill out all the information on the card included with your shipment and mail it to Moog.
Standard Shipping