Skip product carousel
Price Drop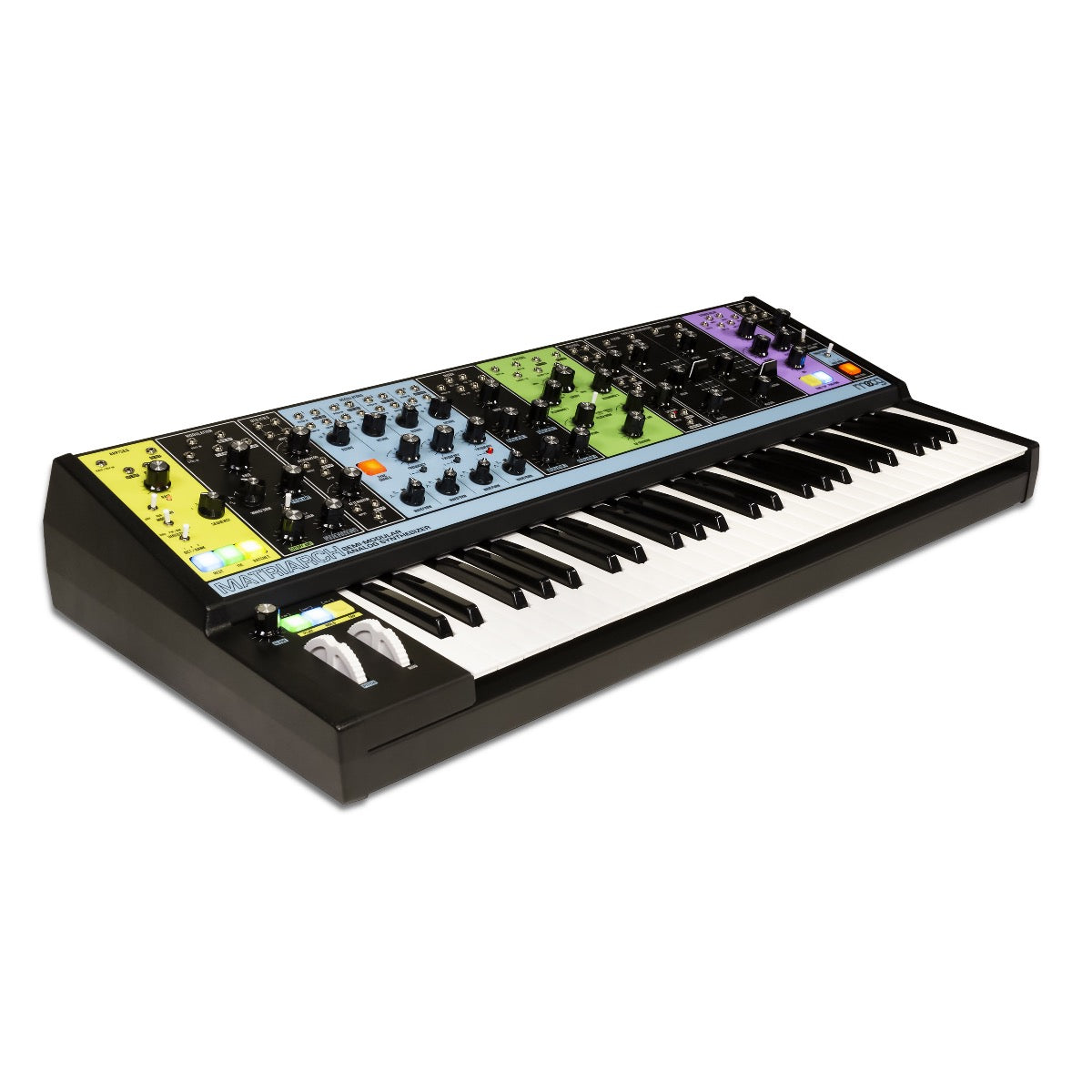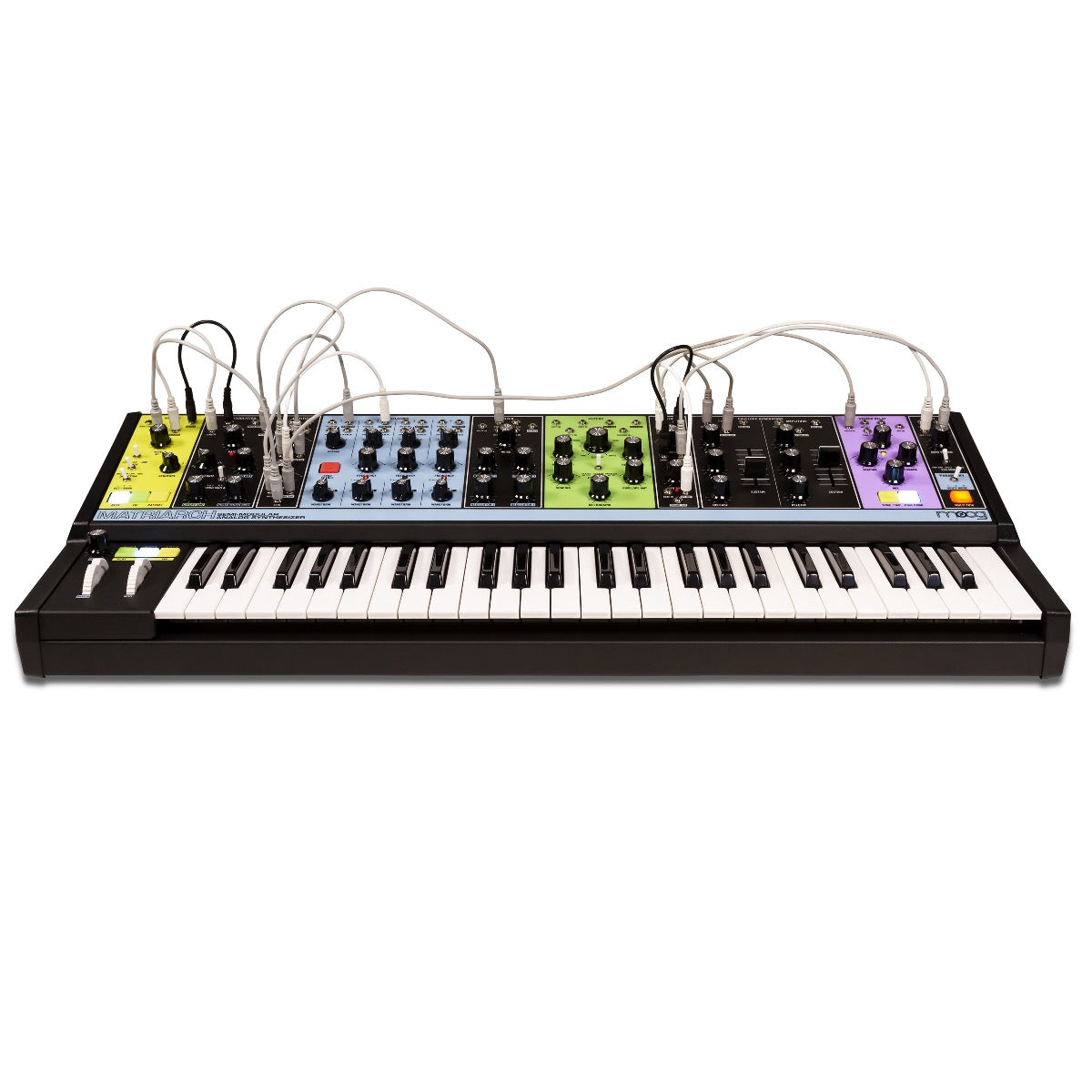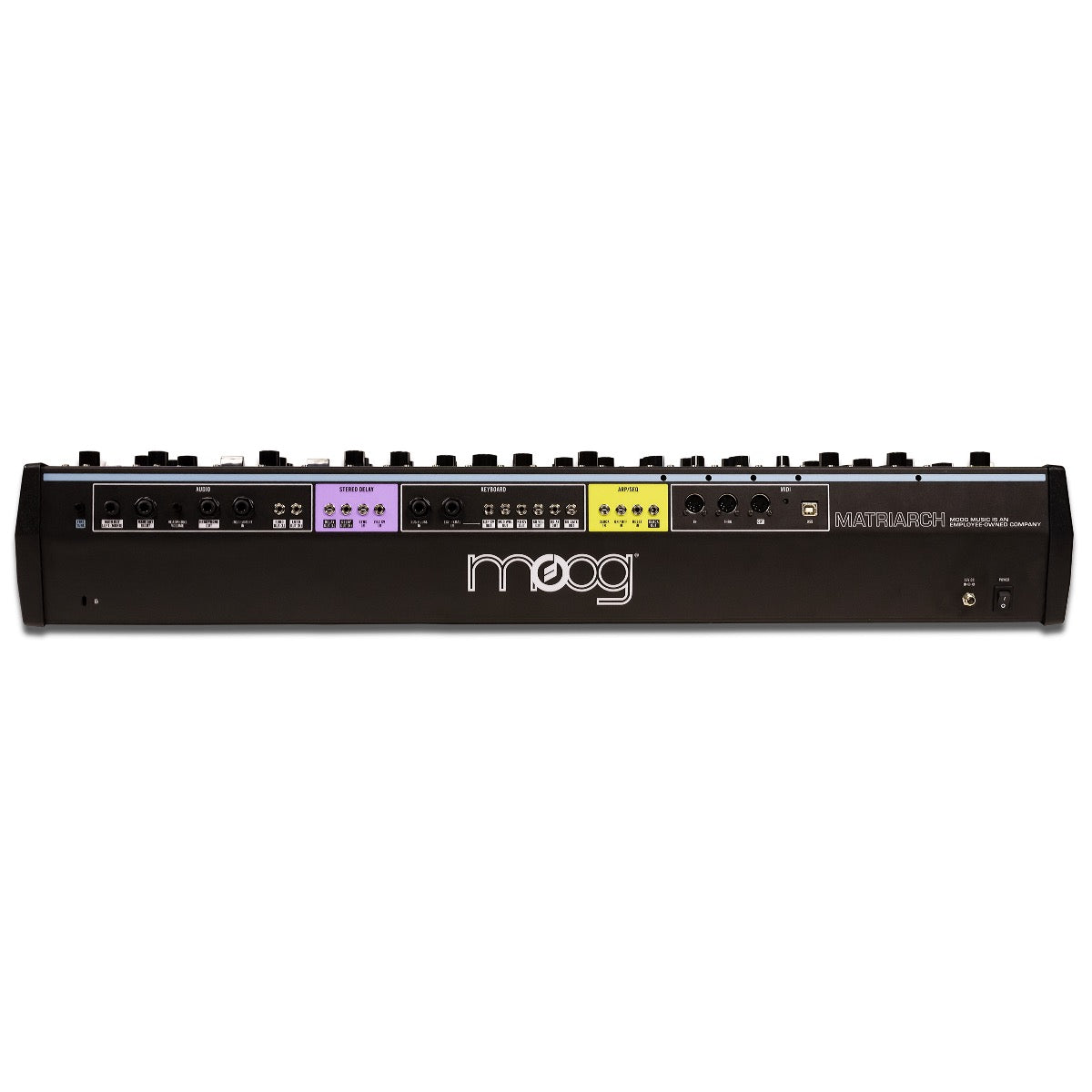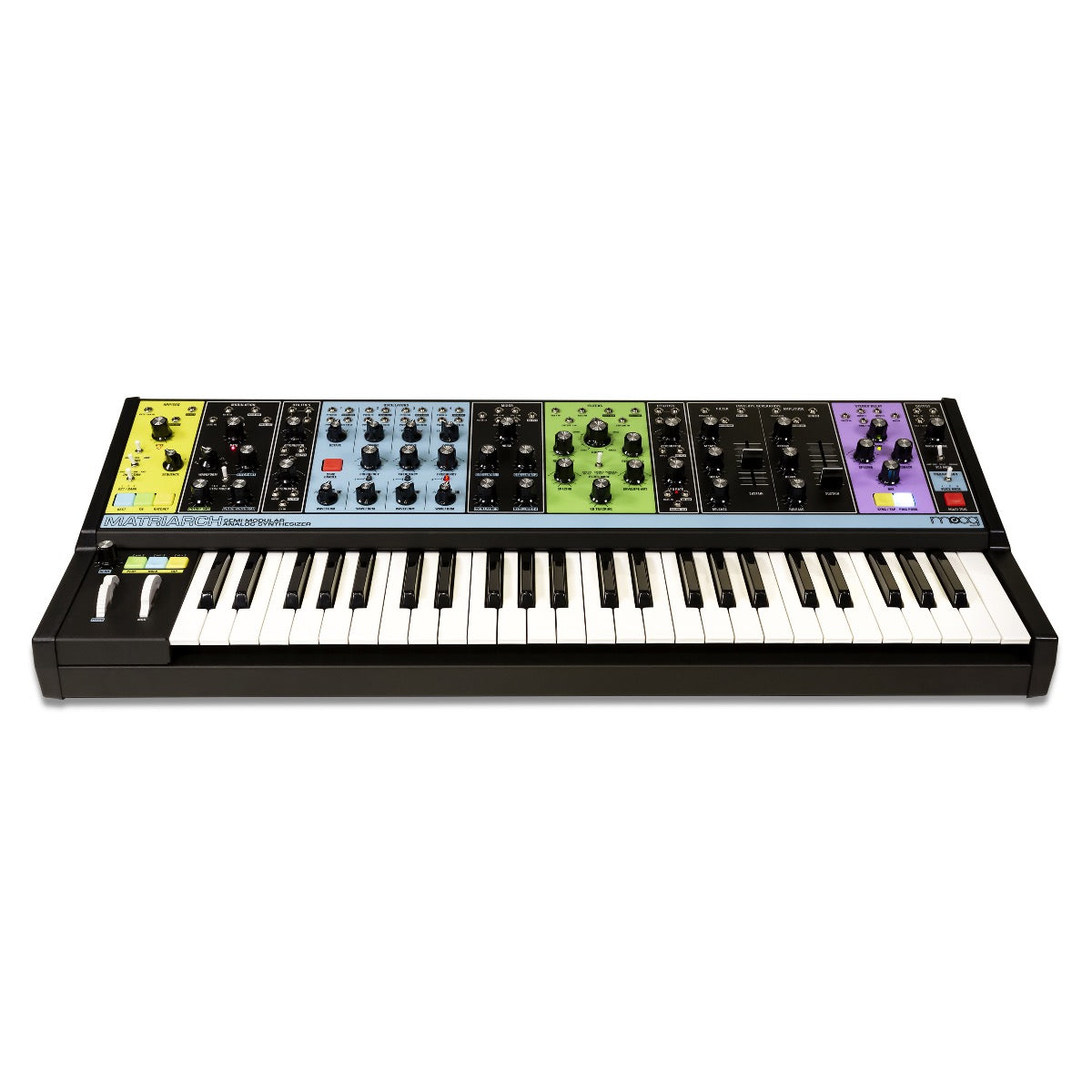 Moog Matriarch Semi-Modular 4-Note Paraphonic Analog Synthesizer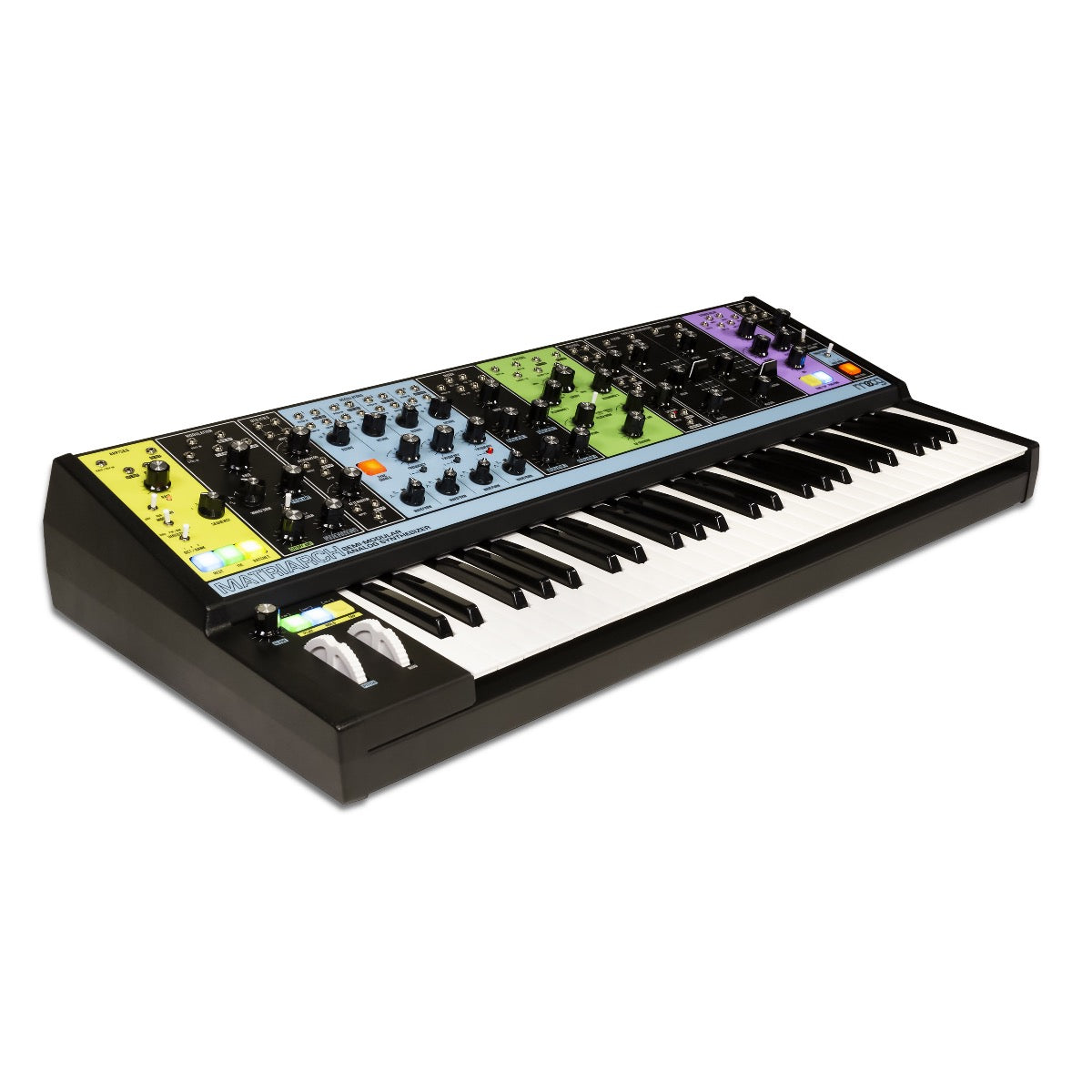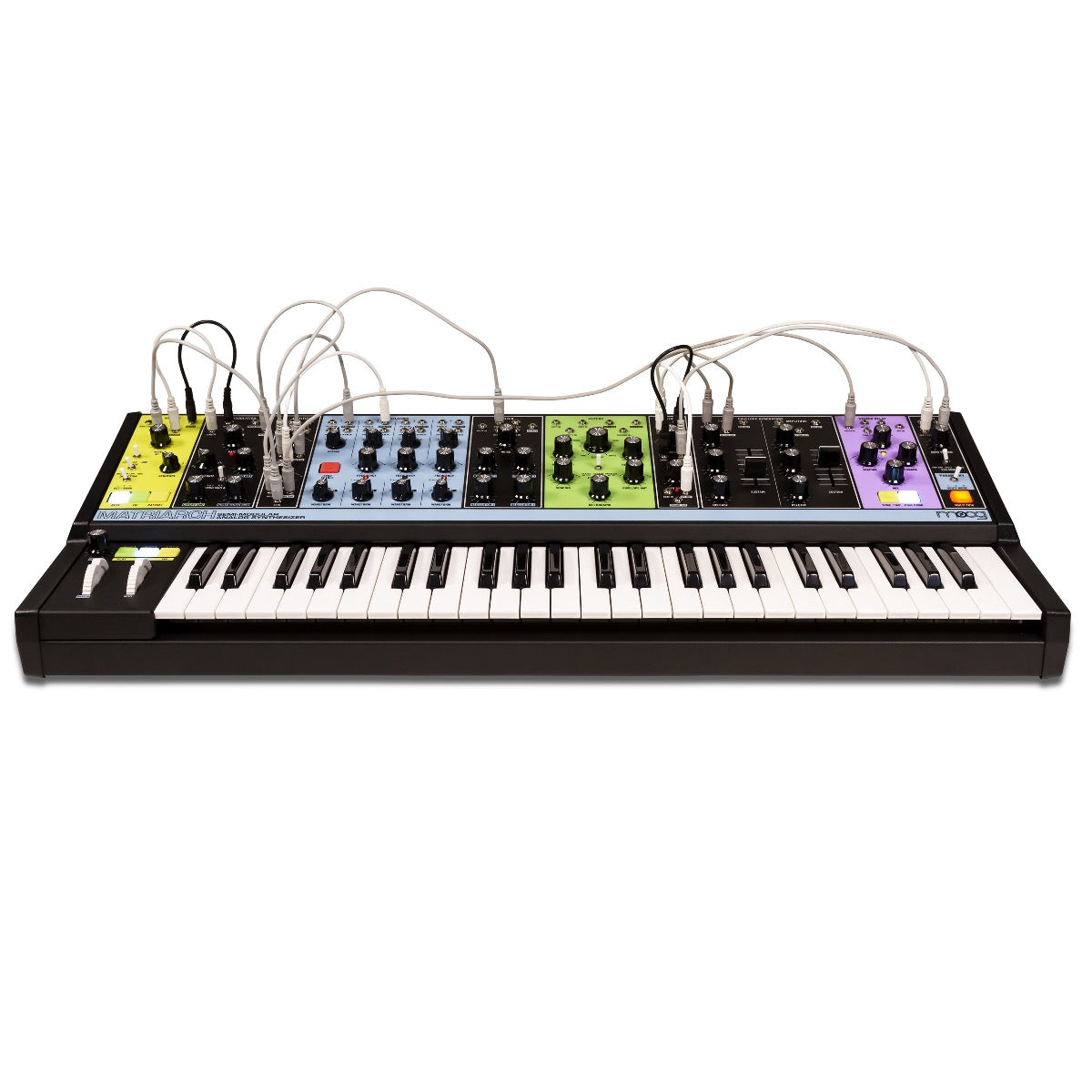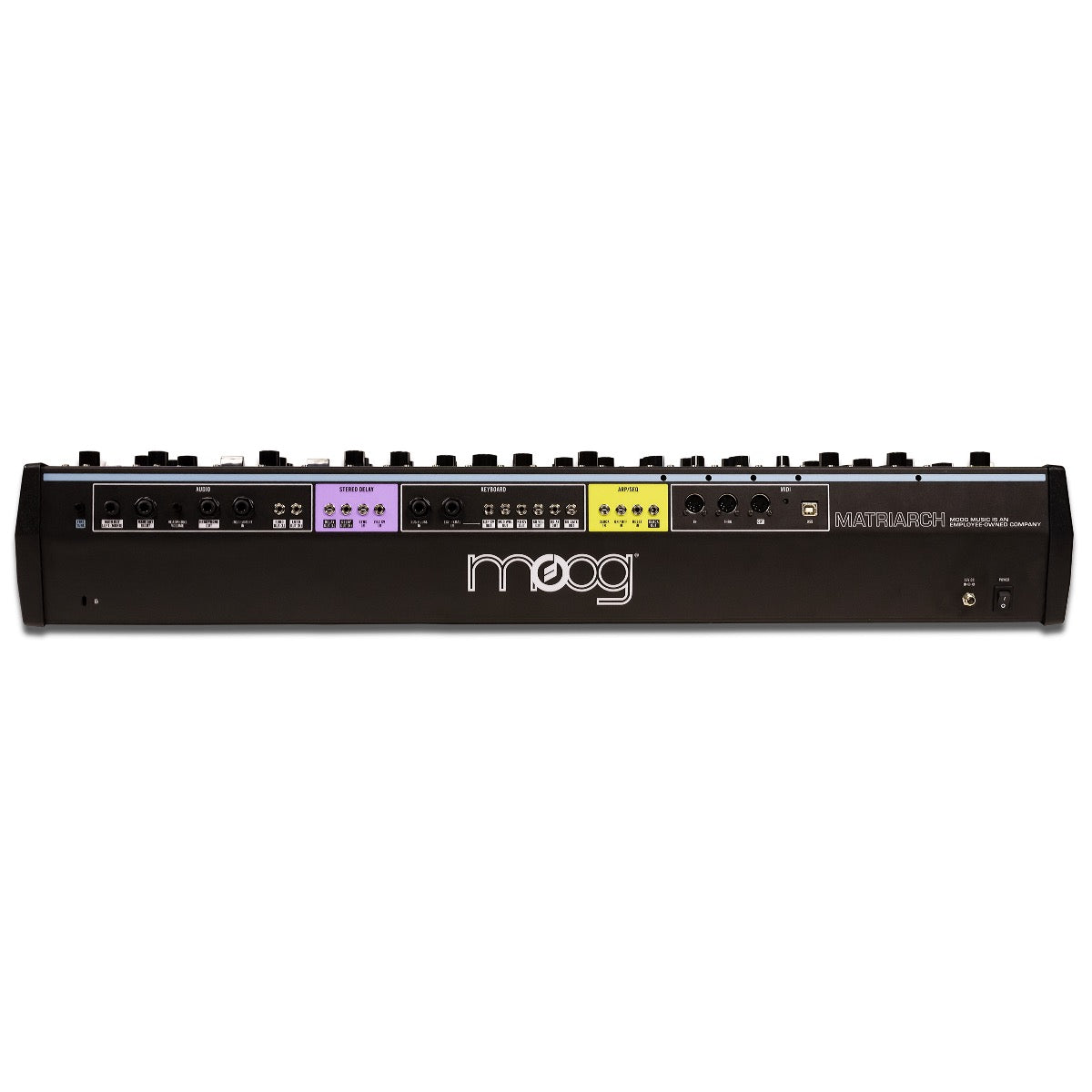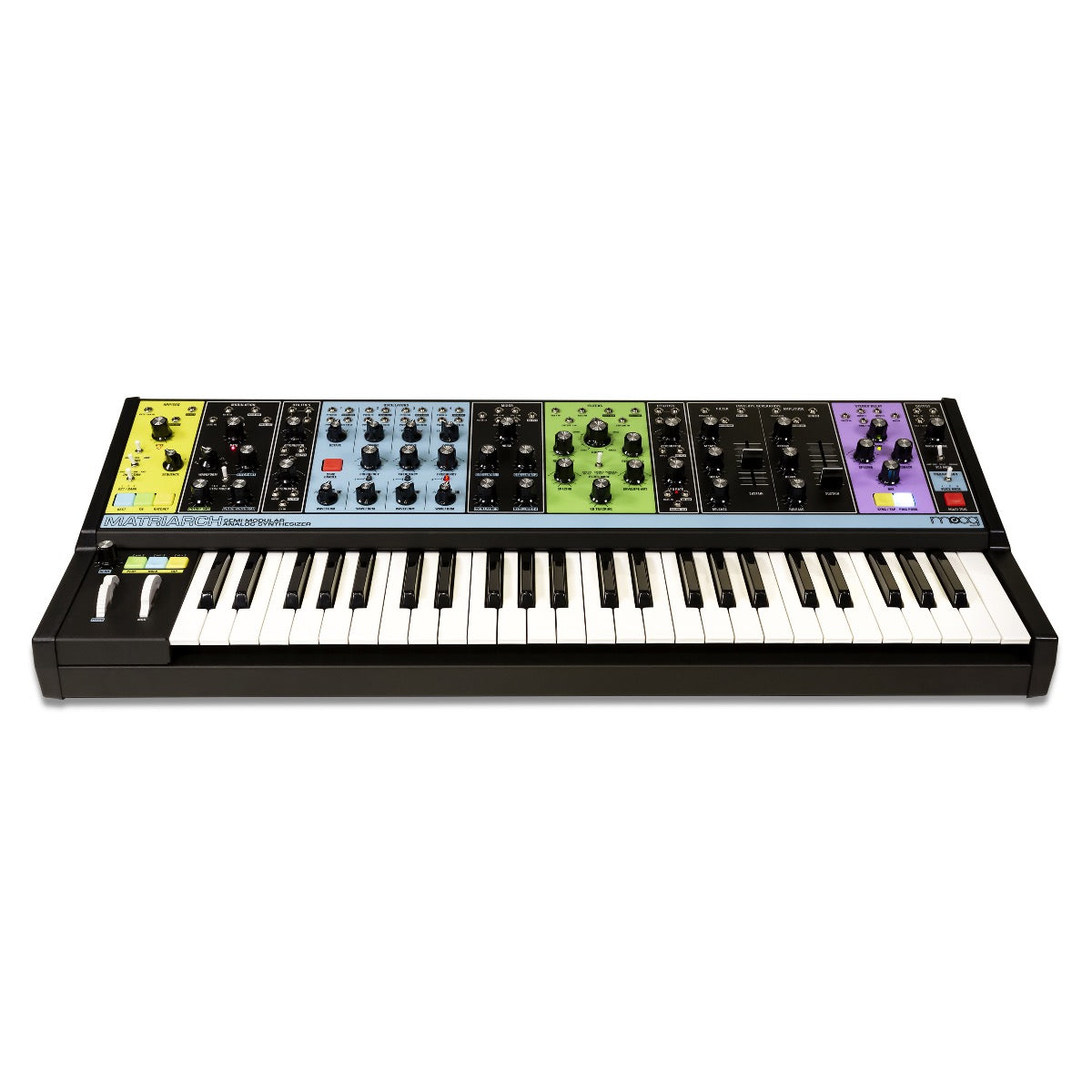 Moog Matriarch Semi-Modular 4-Note Paraphonic Analog Synthesizer
Moog Matriarch is an analog synthesizer with an emphasis on imagination. The pinnacle of Moog's semi-modular family of synthesizers, Matriarch's patchable architecture and classic Moog circuits reward open exploration with endless sonic possibilities and unparalleled analog sound.
Monophonic, duophonic and 4-note paraphonic voice modes
Stereo analog delay with up to 700ms of MIDI syncable stereo or ping-pong style repeats
256-step sequencer with up to 4 notes per step and 12 stored patterns
Sequencer can be decoupled from Matriarch to independently sequence external gear
Arpeggiator with selectable modes: order played, forward/backward, random
Semi-modular analog synthesizer with no patching required
90 modular patch points for endless exploration
Expressive 49-note Fatar keyboard with patchable velocity and aftertouch
4 analog oscillators with selectable waveshape and hard sync per oscillator
Full-range analog LFO with 6 selectable waveshapes
Dual analog filters with parallel (high pass / low pass), stereo (low pass / low pass) and series (high pass / low pass) modes
Dual analog ADSR envelopes
Dual analog VCAs
3 bipolar voltage controlled attenuators with ring mod capability
2×4 parallel wired unbuffered mults
Additional simple analog LFO for adding modulation to delay, filters and VCAs
Easily create rich harmonic shapes with up to 4 notes of paraphony that can be sequenced, shifted and stored with Matriarch's intuitive 256 step sequencer, or stack the analog VCOs to play on a massive 4-oscillator mono synth.
With a deep assortment of synthesis modules based on Bob Moog's original circuit designs, Matriarch's 100% analog signal path spans a dynamic sonic vocabulary, ​from overdriven monophonic bass to gently evolving paraphonic plucks that cycle through waveshapes into a wash of infinite delay trails​. ​Incorporating the power of vintage design stereo ladder filters, dual envelope generators, stereo analog delays and stereo VCAs, Matriarch delivers a multi-dimensional sound that empowers the sonic exploration of space and time​.
Though Matriarch's semi-modular design requires absolutely no patching, 90 modular patch points are easily accessible throughout the panel via the included patch cables. This powerful electronic instrument is a highly versatile addition to any stage or studio that can effortlessly transform from a performance keyboard into a fully modular analog synthesizer at a moment's notice.
In addition to its standalone function, Matriarch is also an ideal processor of external sound sources and a powerful keyboard front end for expanding a DFAM, Mother-32, Grandmother or eurorack modular system.
SKU
MOO-MATR
MPN
Matriarch
Vendor
Moog
Aftertouch
Yes
Analog Digital
Analog
Built In Speakers
No
Included From Manufacturer
Power supply
Patch cables
Keys Weighted
No
Key Num
49
Key Size
Full Size Keys
Midi
In, Out, Thru, and USB
Mono Poly
Duophonic/Paraphonic
Mpn
MOD-MATR-01
Arpeggiator
Yes
Control Connections
90 modular patch points
1/4" expression pedal input
1/4" sustain pedal input
Onboard Controllers
Pitch bend wheel
Mod wheel
Effects
Stereo analog delay with up to 700ms of delay time
Audio Inputs
1/4" external audio input
Audio Outputs
Dual 1/4" stereo output
Dual stereo 1/8" eurorack-level main output
Dual stereo 1/8" eurorack-level delay output
1/4" headphone output
Key Action
Synth action with velocity and aftertouch
Product Weight
24 lb
Sequencer
256-step sequencer with up to 4 notes per step and 12 stored patterns
USB Port (to Host)
MIDI
Voices of Polyphony
Up to 4-note paraphonic
Width
32"
Depth
14.24"
Height
5.5"
Moog Music Inc. Limited Warranty
Moog warrants its products to be free of defects in materials or workmanship and conforming to specifications at the time of shipment. The Warranty Period is one year from the date of purchase.
If, in Moog's determination, it has been more than one year since the product shipped from its factory, Moog will determine whether or not to honor the warranty without regard to the date of the purchase.
Your new product warranty is transferrable to a new user with a proof of purchase dated less than one year prior to the current date. To initiate a warranty transfer, email Moog with a copy of the original proof of purchase, the serial number, and your personal information and Moog will update the warranty status.
During the Warranty Period, any defective products will be repaired or replaced, at Moog's option, on a return-to-factory basis. This warranty covers defects that Moog determines are no fault of the user.
The Moog Limited Warranty applies to USA purchasers only. Outside the USA the warranty policy and associated service is determined by the laws of the country of purchase and supported by the local authorized distributor. If you purchase outside of your country, you can expect to be charged for warranty as well as non-warranty service by the service center in your country.
You must obtain prior approval in the form of an RMA (Return Material Authorization) number from Moog before returning any product. Click 'Customer Service' at the Moog website to request the RMA # via email or call Moog.
All products must be packed carefully and shipped with the Moog supplied power adapter. The Voyager and Little Phatty must be returned in the original inner packing including the foam inserts. The warranty will not be honored if the product is not properly packed. Once you have received the RMA# and carefully packed your Moog, ship the product to Moog Music Inc. with transportation and insurance charges paid, and include your return shipping address.
Once received, Moog will examine the product for any obvious signs of user abuse or damage as a result of transport. If the product is abused, damaged in transit, or is out of warranty, Moog will contact you with an estimate of the repair cost. Warranty work will be performed and Moog will ship and insure your product to your United States address free of charge.
Please initiate your warranty online at the Moog Music Website by clicking 'Product Registration.' If you do not have web access, fill out all the information on the card included with your shipment and mail it to Moog.
Standard Shipping