Skip product carousel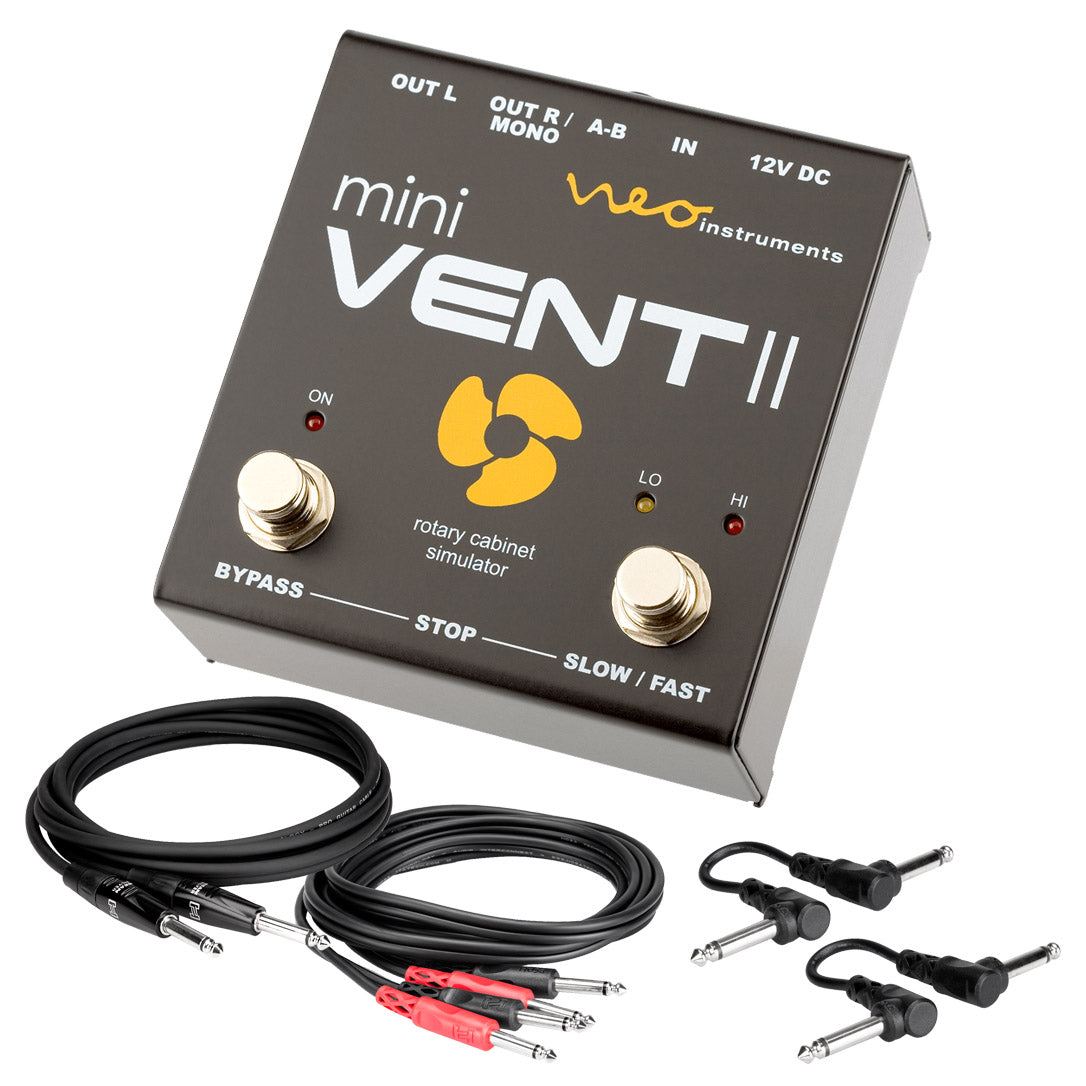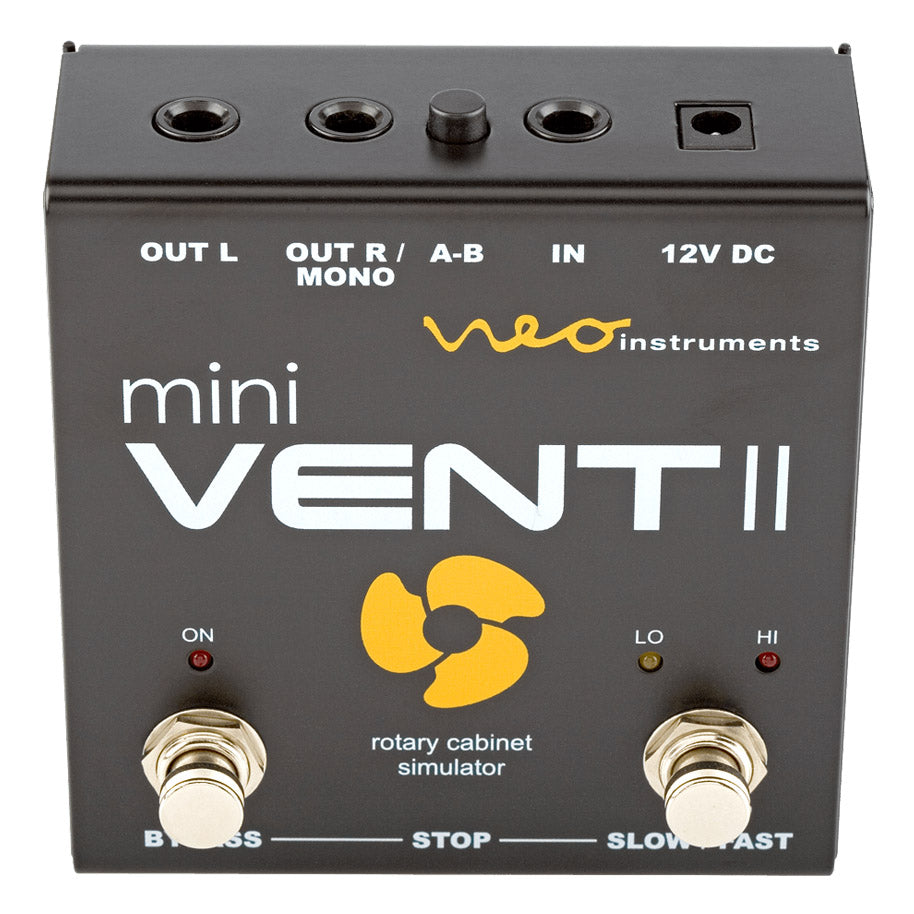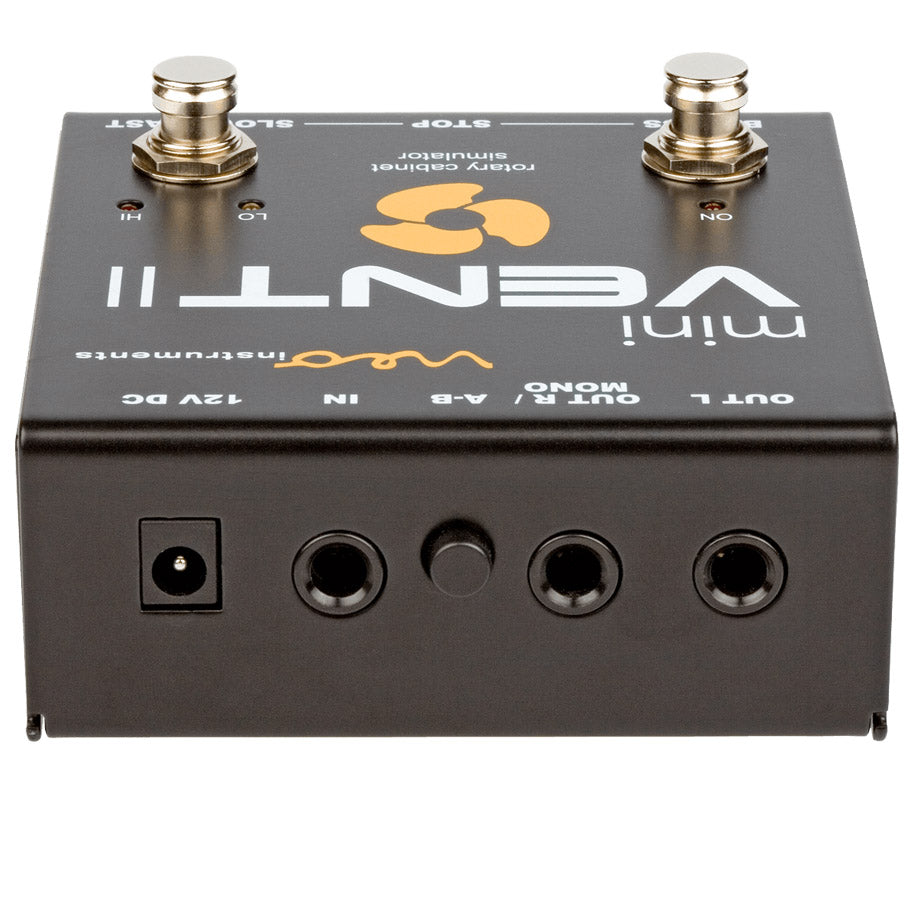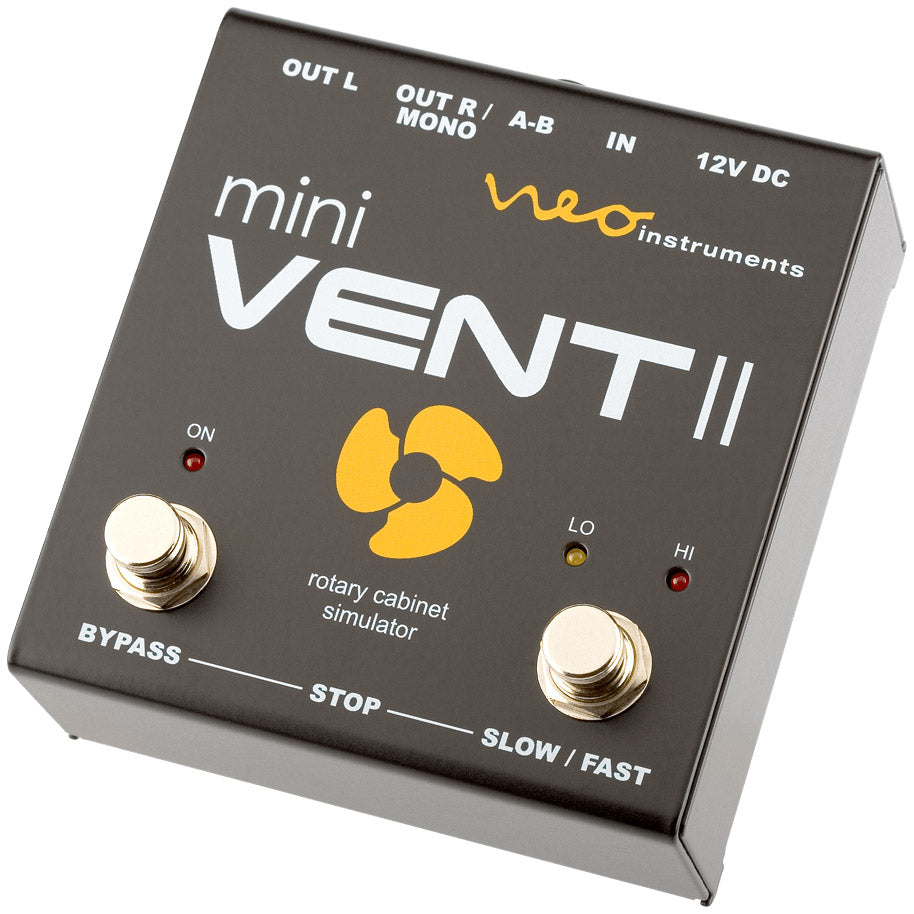 Neo Instruments Mini Vent II Rotary Effects Pedal CABLE KIT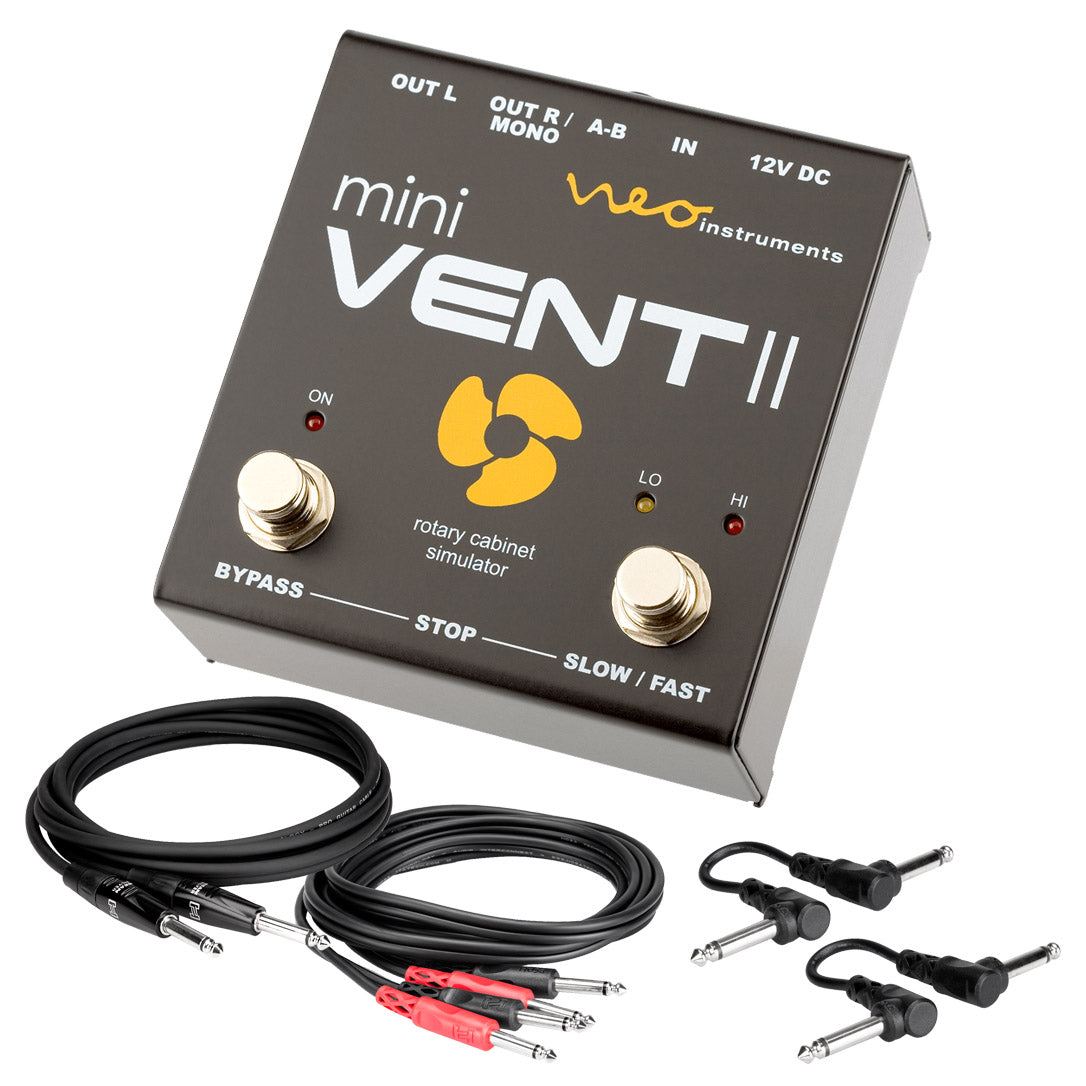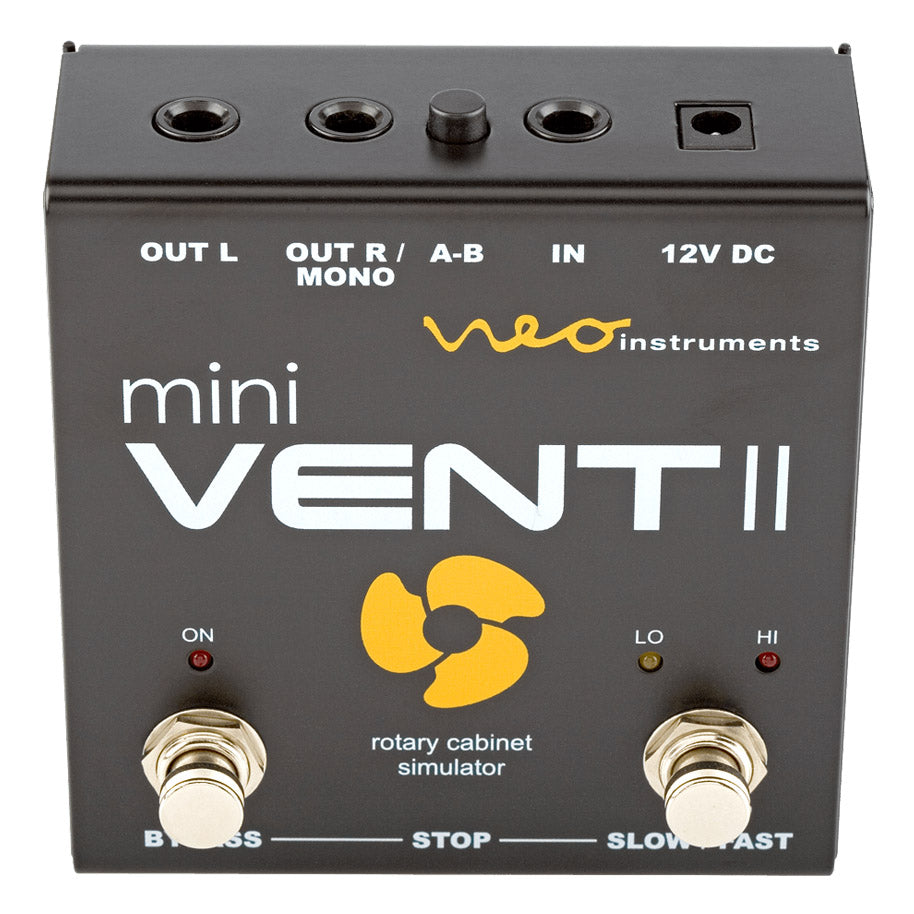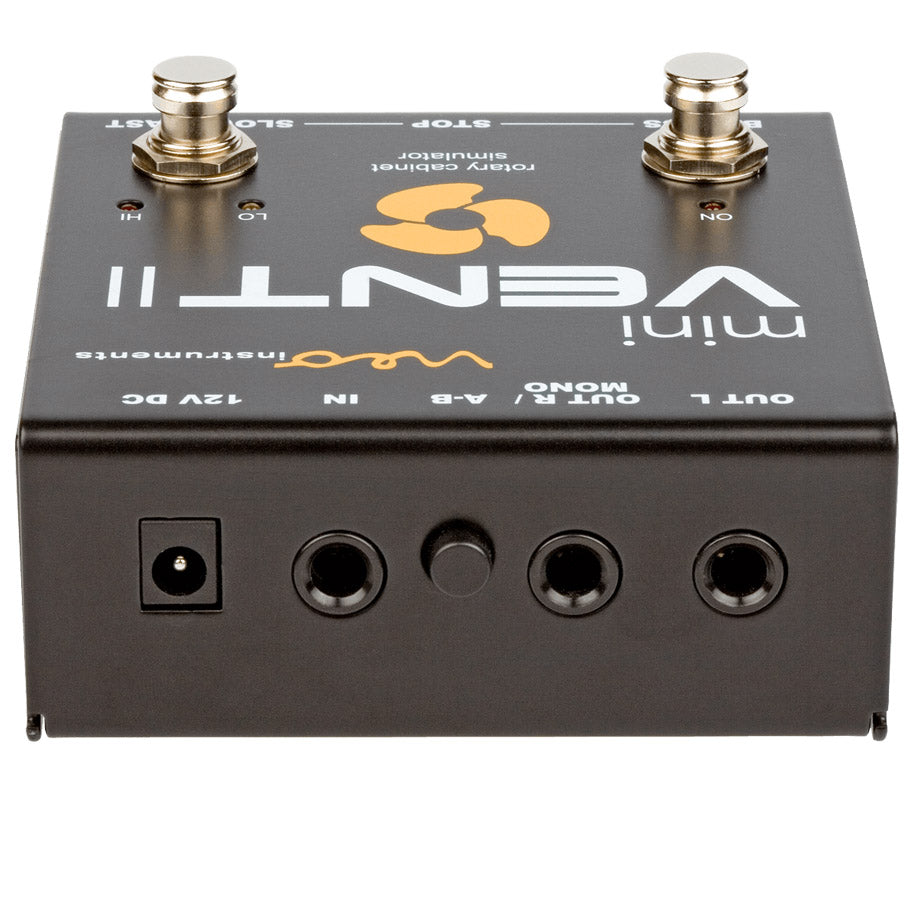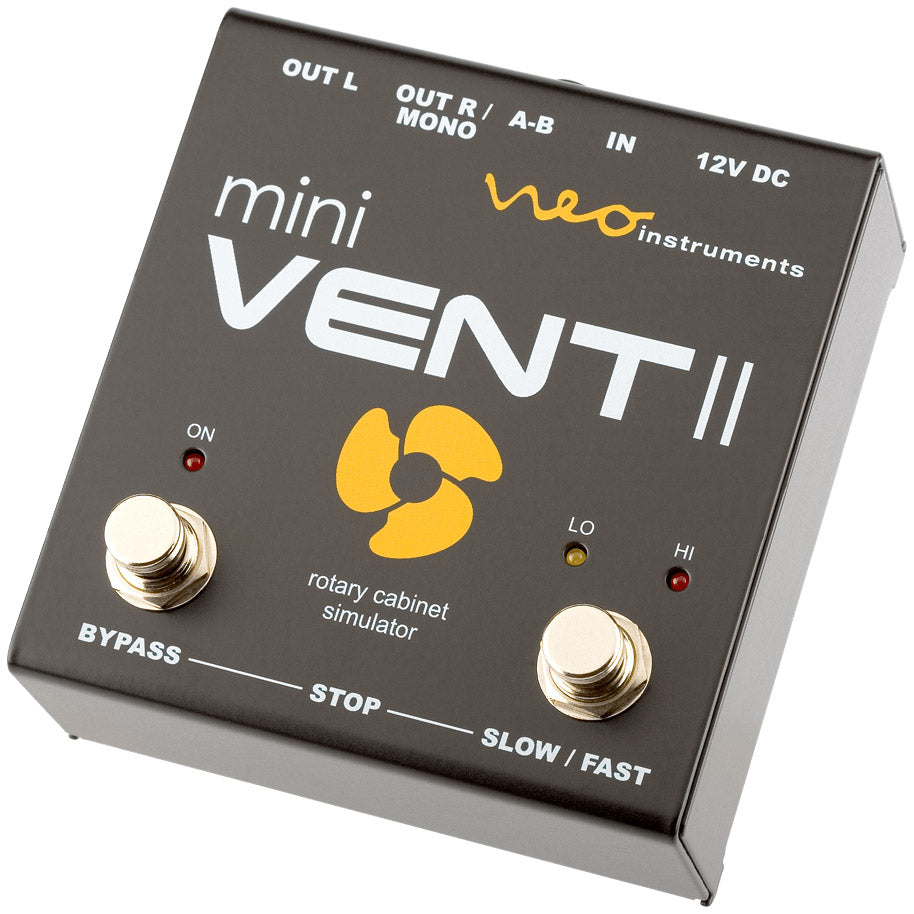 Neo Instruments Mini Vent II Rotary Effects Pedal CABLE KIT
4 items included
This Kraft Music Bundle Includes
Click on a product to view more details.
Neo Instruments Mini Vent II gives you the amazing lush sound of their Ventilator II in a compact and easy-to-use pedal format. Enhance your organ, keyboard or guitar with the depth and richness of this classic rotary speaker emulation.
Mini Vent II has the same DSP power as its big brother Ventilator II. Its powerful and flexible emulation algorithms provide the dynamic responsiveness of rotary cabinet classics as well as exciting variations – discover the infinite sonic possibilities. It's ready to play, providing everything most players need and its compact rugged enclosure is ideal for guitar pedal boards where space is at a premium.
Authentic rotary speaker emulation for organ, keys, guitar and bass
Extended parameter set: Speed, Balance, Drive, Distance, Cabinet Mode
Switch Mode routine for customizing footswitch functions
Compact and rugged enclosure
Silent foot switches for Bypass and Slow/Fast with LED indicators
Stop function for the rotors
Mono input, stereo output with input gain select (hi/lo)
Bypass status memorized on power off
Includes 12 volt universal power supply with 4 adaptors to use anywhere in the world
One for all
Are you searching for that silky sweet, smokey hot or gritty grinding rotary sound you know from classic records? Then Mini Vent II is for you! Whether you play organ or guitar, Mini Vent II is responsive and can be tweaked to exactly the sound you desire. Discover how versatile, dynamic and vibrant your instrument can sound with the detailed emulation of a Leslie 122 rotary cabinet. Connected directly into your guitar amp, PA or recording setup, the flexibility of two different cabinet modes ensures the perfect adjustment and sonics tailored to your performance. Many of the world's pros rely on Mini Vent II for good reason.
Enchanting sound
Slowly the rotors begin to turn and open up a spacey sound spectrum in real 3D. This magical moment when sound is getting in motion will put a smile on your face. Thanks to the meticulous emulation of a Leslie 122 rotary speaker, accurately representing a three-microphone placement (2 treble, 1 bass), Mini Vent II captures every detail you need. This is ensured by the same DSP performance, enormous headroom and impeccable sound quality renowned the world over by its big brother Ventilator II.
Tube drive
A rotary emulation would not be complete without the smoky hot magic of a tube saturated power amp. Neo's sophisticated tube amp model delivers a vivid and dynamic sound that can be controlled musically with your organ's volume pedal or your guitar's volume knob. Discover the extra excitement of how drive can thicken your sound from light to super juicy, perfect for vibrant lines and themes.
Best in class
Mini Vent II is the result of many years of experience and Neo Instruments' quest for perfect sound. They've taken a close look at every detail and optimized it for the best possible results. They chose a super powerful DSP to deliver unparalleled depth and dimension in a single effect and only use the highest quality components without compromise to ensure 100% clean and authentic sound.
Flexible yet easy to handle
Various editable parameters allow customizing the sound of Mini Vent II, including Rotor Speed, Rotor Balance, Drive, Microphone Distance and Cabinet Mode. Two user presets can be stored in memory and recalled via the A/B switch. Integrate Mini Vent II directly into any setup via its mono input and stereo outputs. The rugged footswitches are perfect for use on the road. Its compact footprint is ideal for pedal board rigs.
SKU
NEO-MINIVENTIICK
MPN
Mini Vent II
Vendor
Neo Instruments
Effect Type
Rotary
Included From Manufacturer
Power supply
Mpn
Mini Vent II
Effects
Emulates the sound of a Leslie 122 rotary speaker picked up with 3 mics
Drive section emulates distortion and final stage saturation of Leslie tube amp
Audio Inputs
1/4" mono input
Audio Outputs
Dual 1/4" stereo output
On-board Expression Pedal
No
Number of Pedal Switches
Bypass
Slow/Fast
Power Adaptor
included 12V DC 0.5A AC adapter
Product Weight
2 lb 6 oz.
Width
4"
Depth
4"
Height
1.5"
Neo Instruments Warranty
Neo Instruments extends a warranty covering all verifiable defects in material and workmanship for a period of 12 months from the date of original purchase. Statutory warranty rights remain unaffected hereby.
The warranty covers the remedying of manifest defects by replacing or repairing defective parts. Any other claims, in particular those for a reduction in price or cancellation of contract, may only be made after an attempt to rectify the defect or deliver a replacement has failed.
The warranty does not cover damage incurred during transit, as well as damage caused by non-compliance with the operating manual and improper or negligent handling of the device. Beyond that, the warranty does not cover defects or damage caused by acts of God (including but not limited to lightning, floods, etc.) or other external influences, as well as mechanical damage or flaws that are not attributable to manufacturing defects.
Standard Shipping