Skip product carousel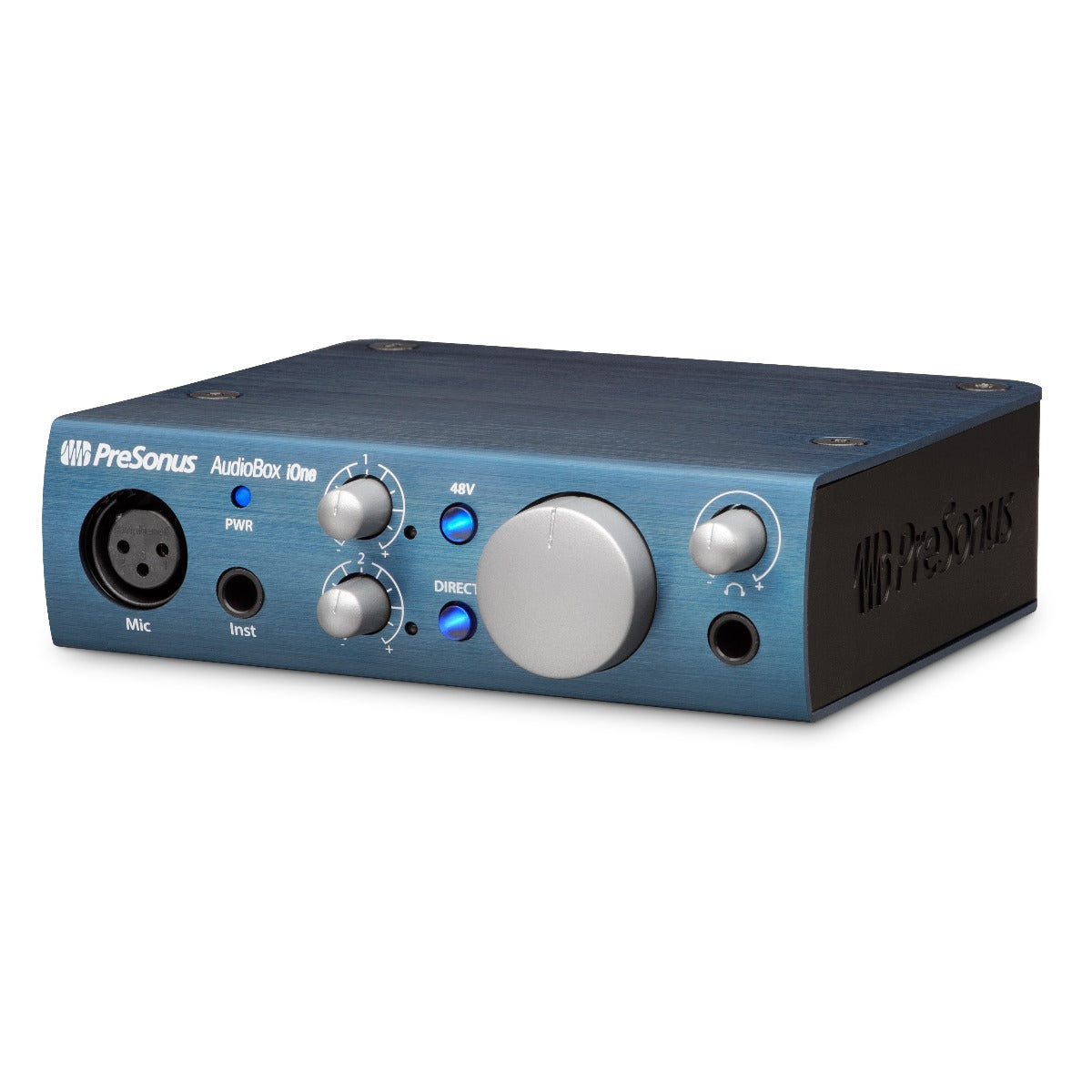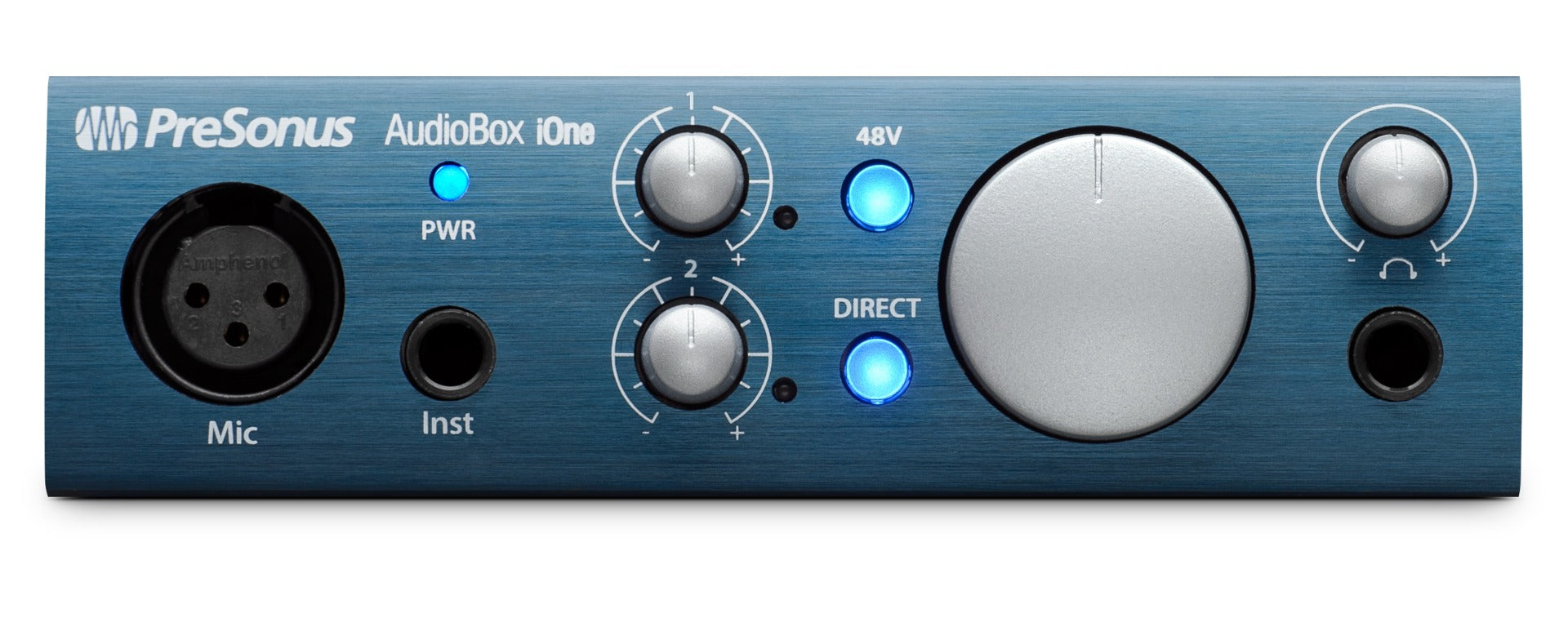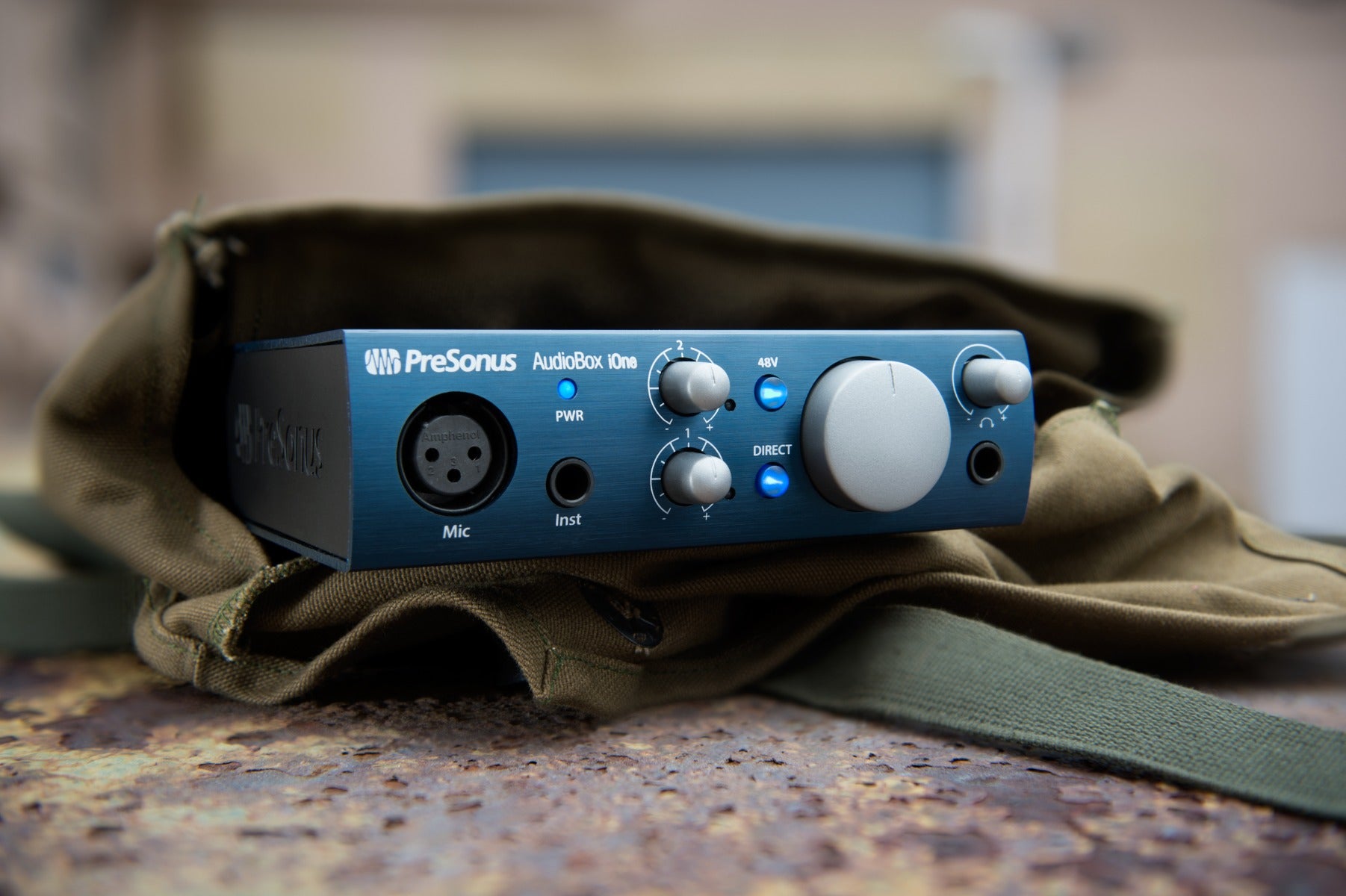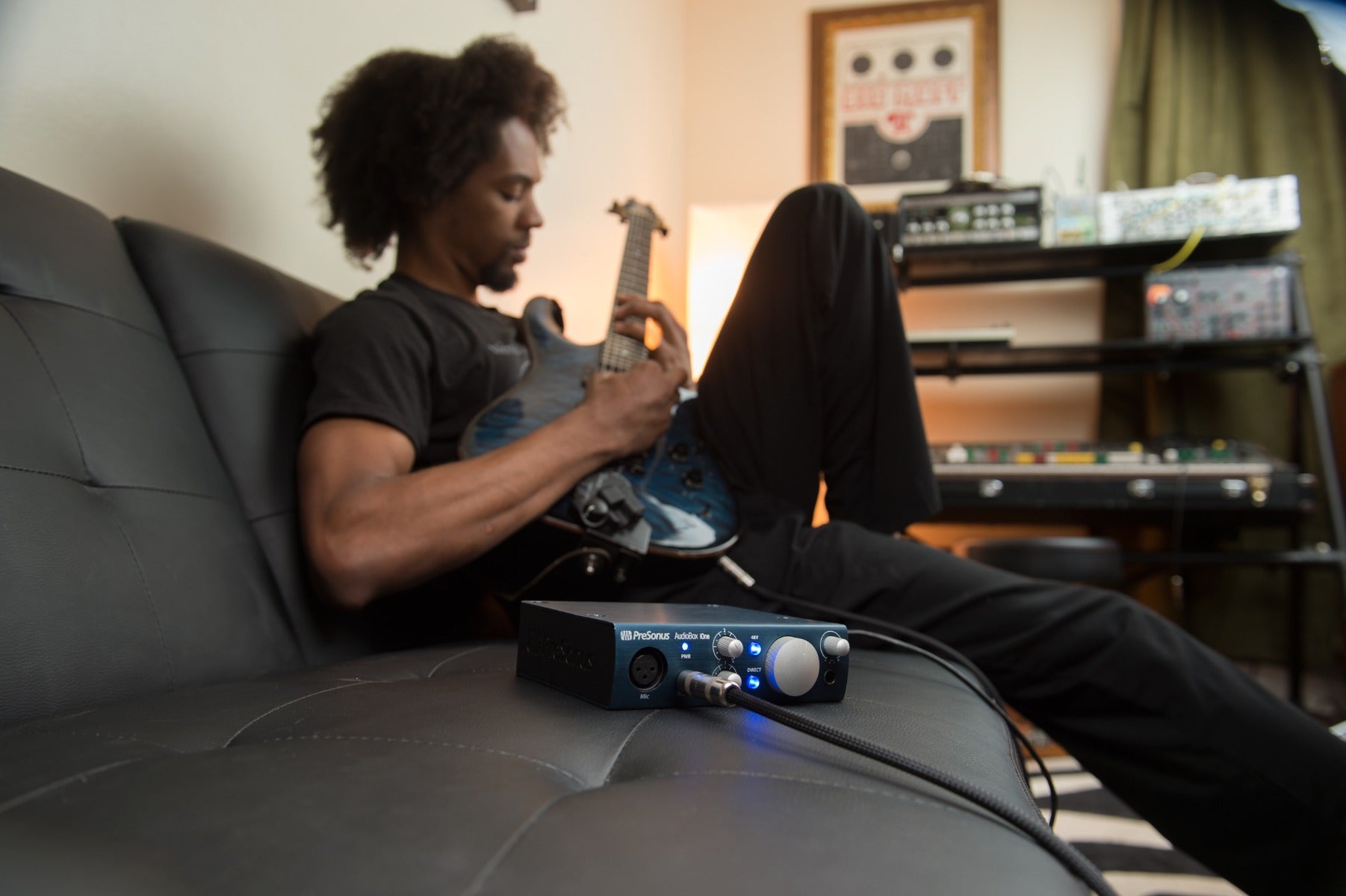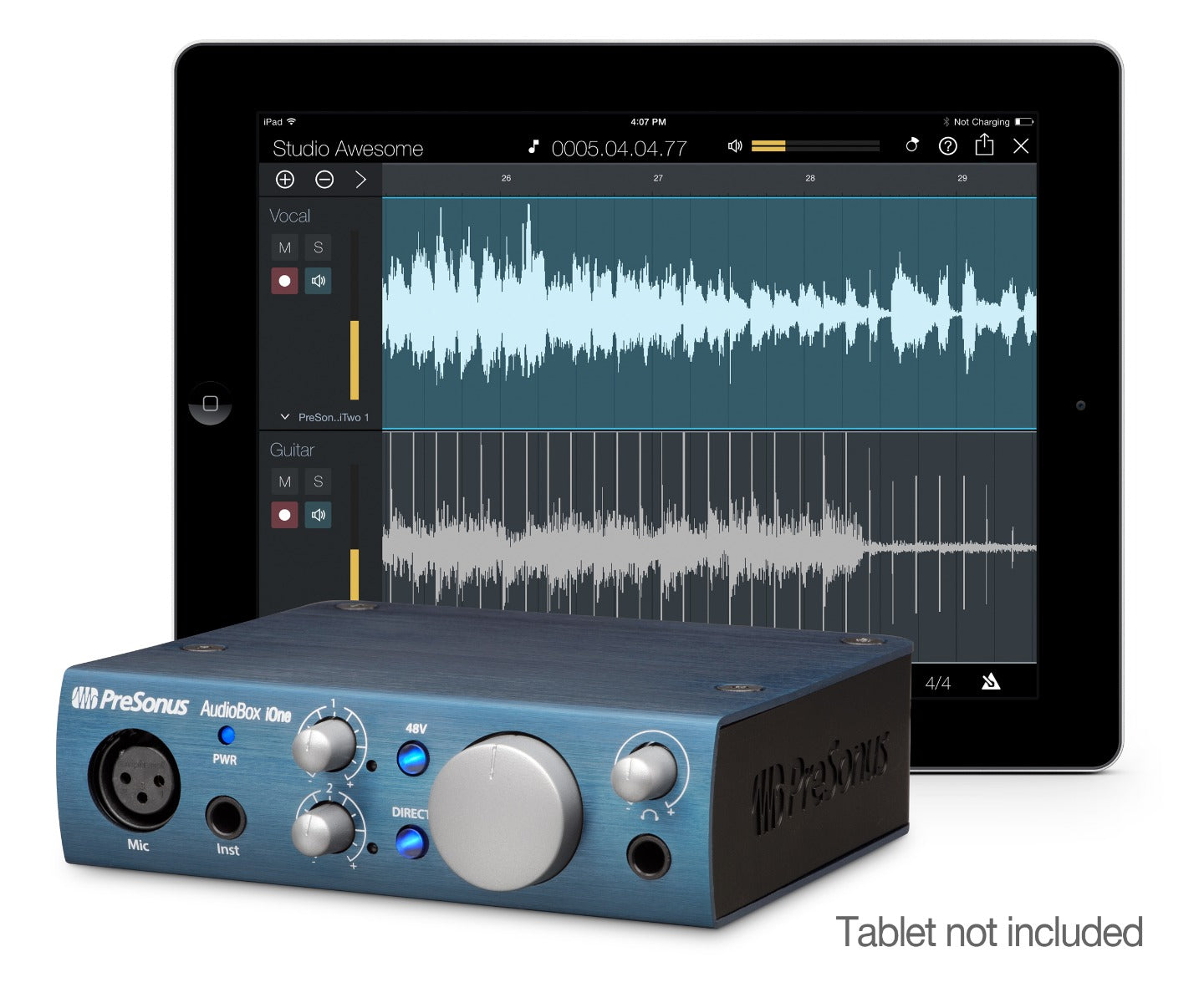 Presonus Audiobox iOne Audio Interface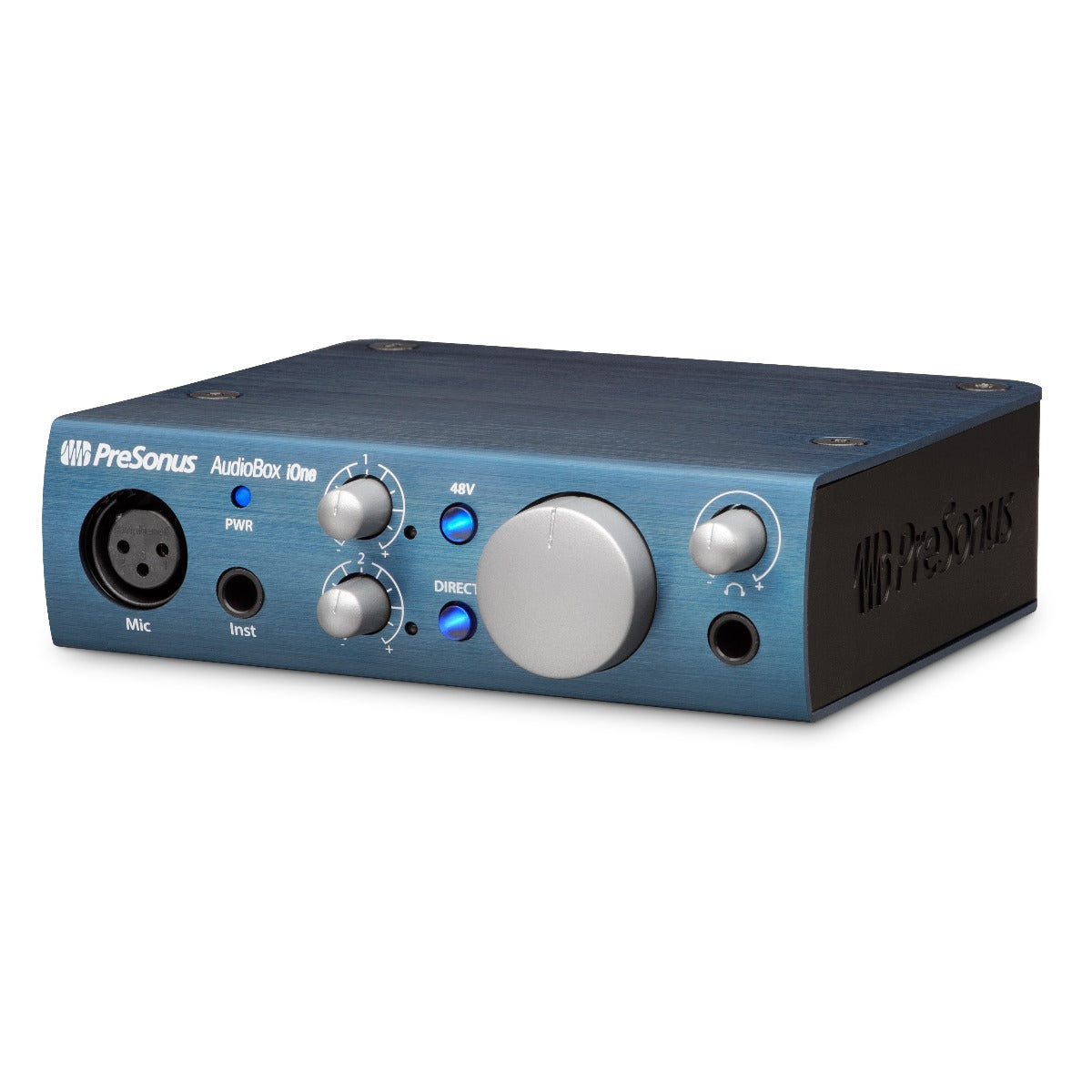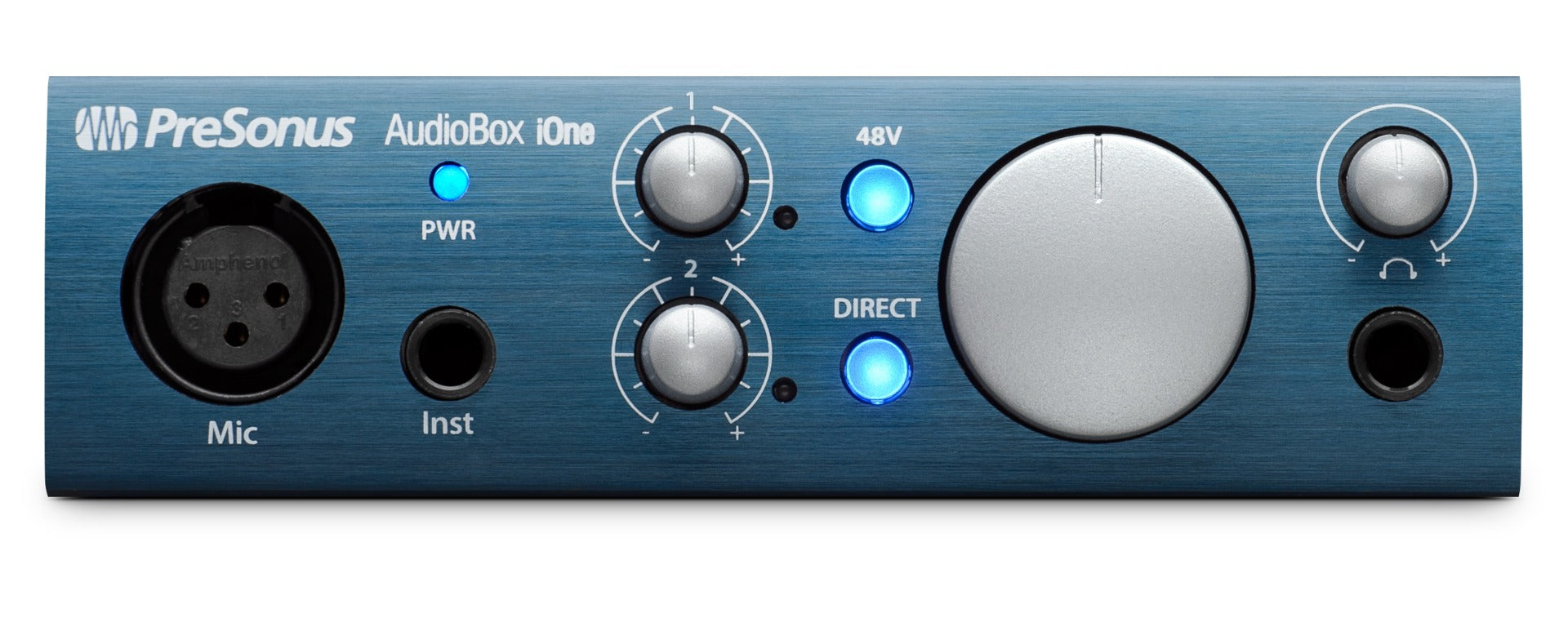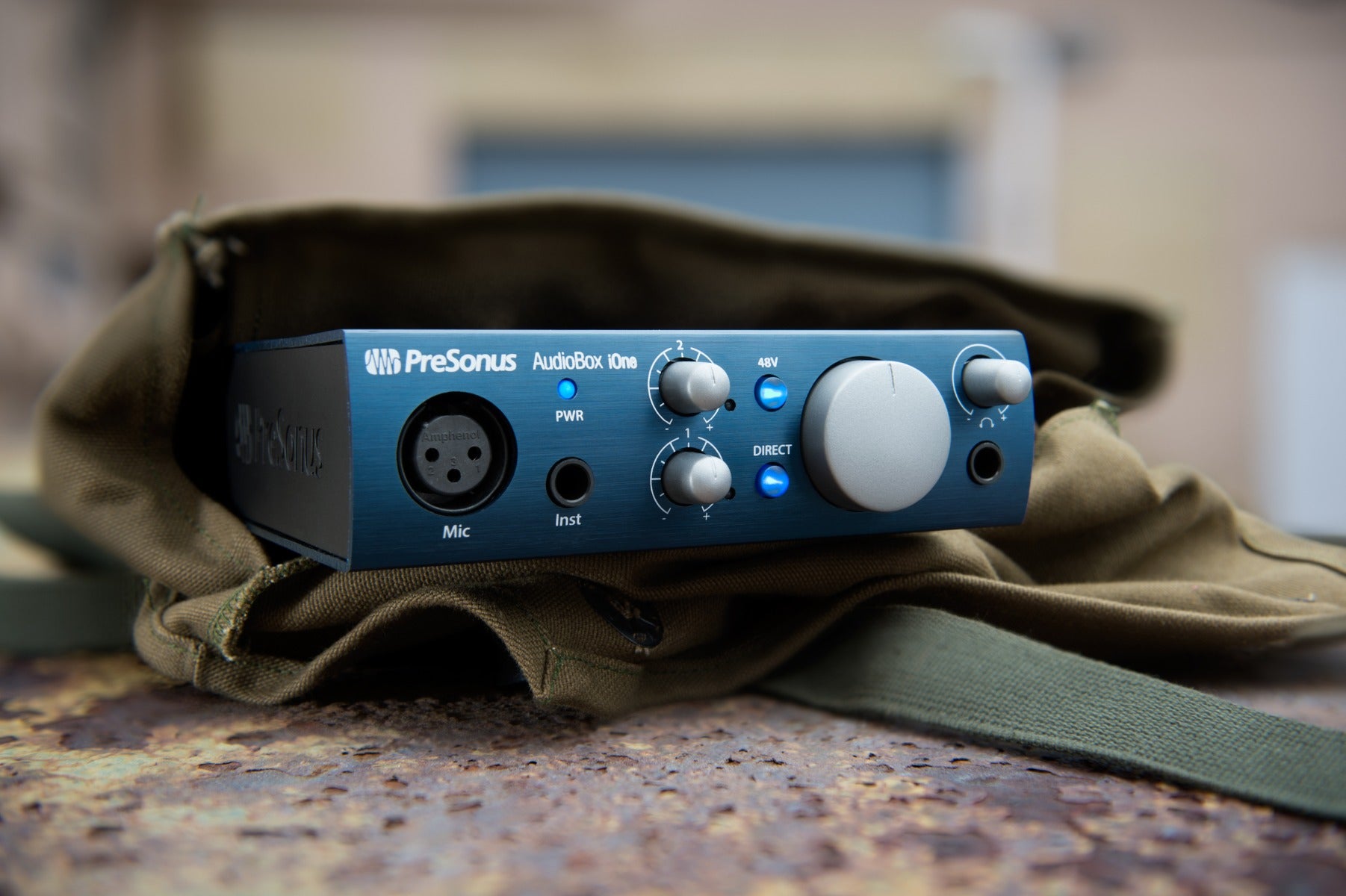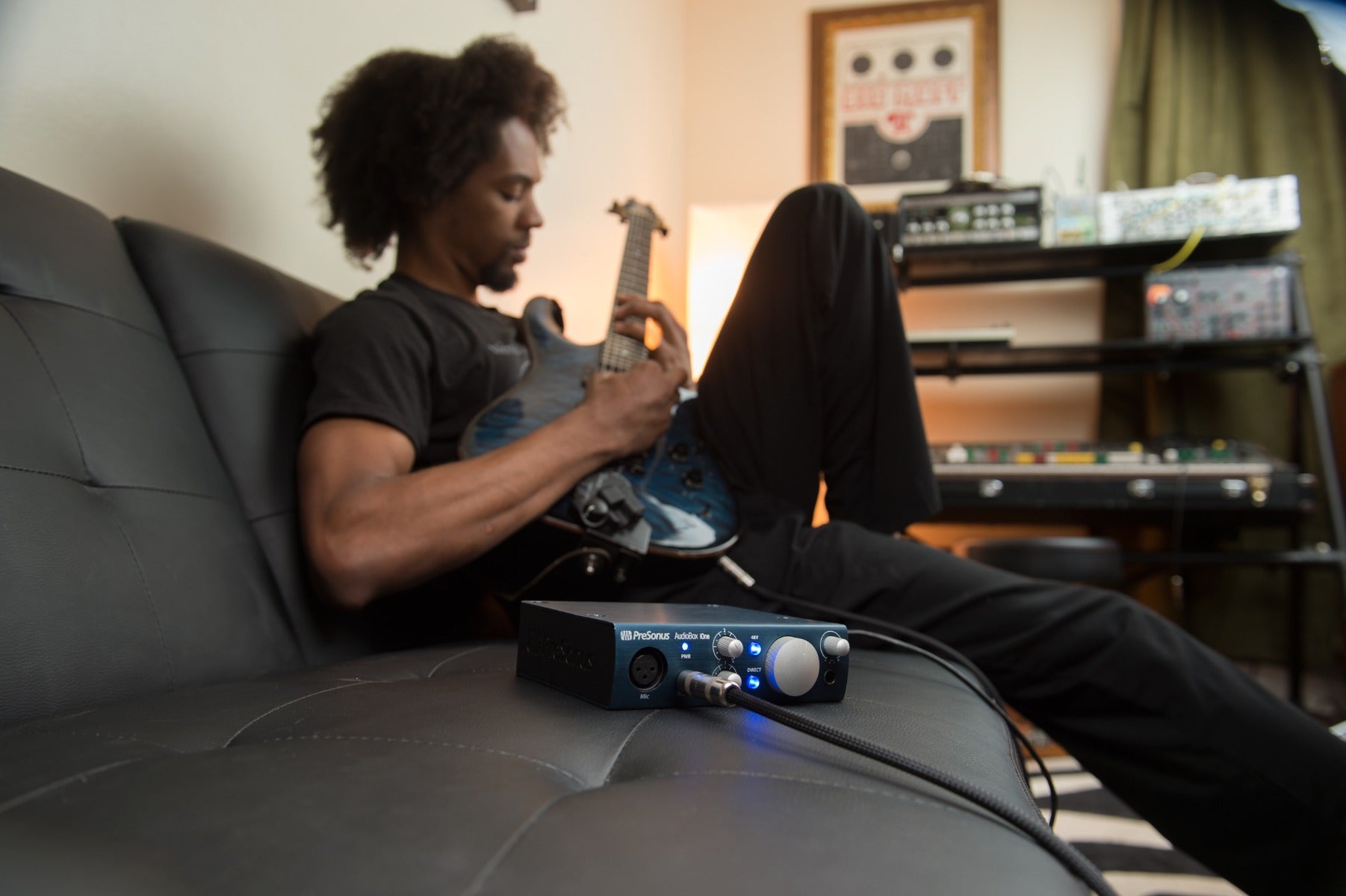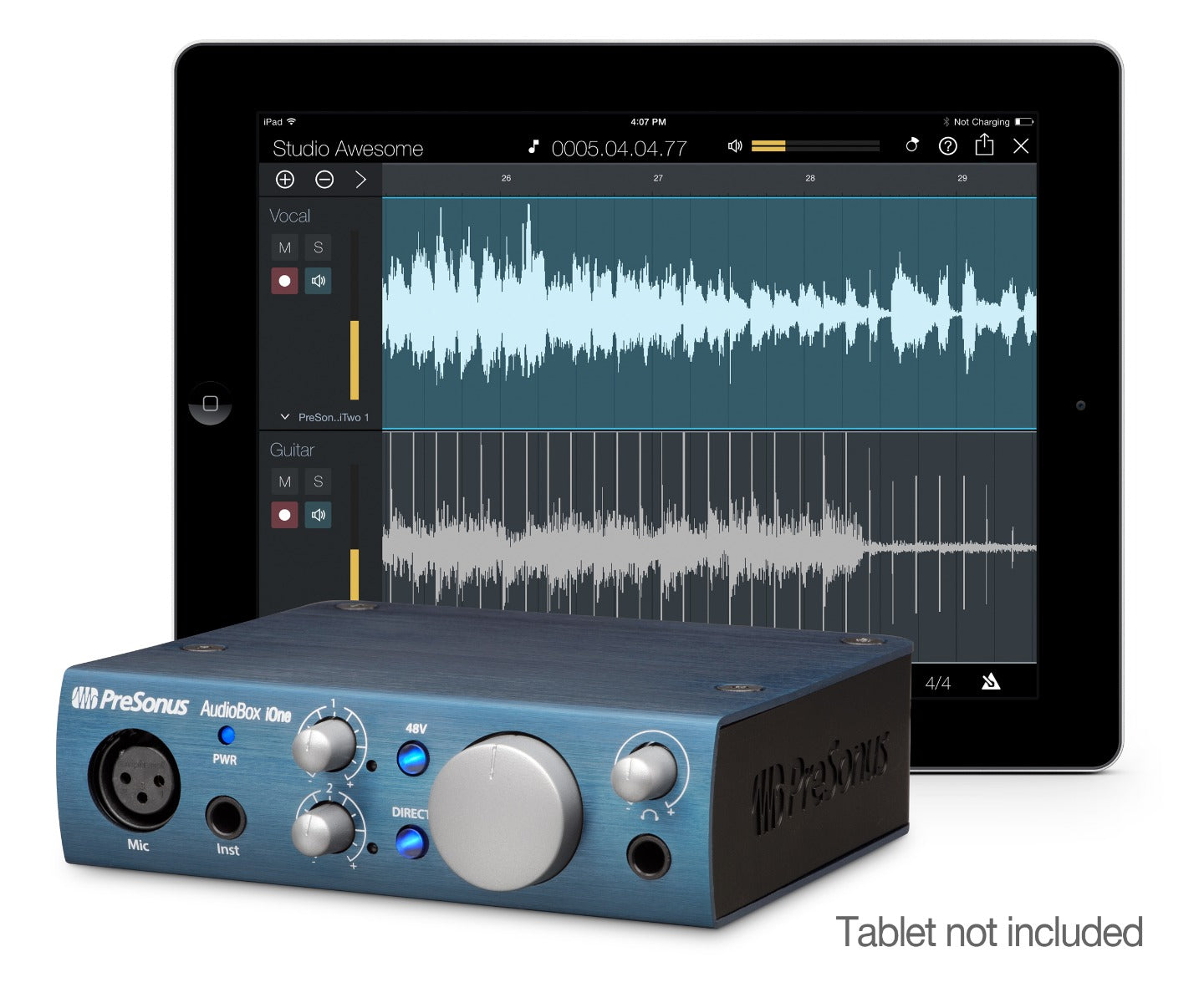 Presonus Audiobox iOne Audio Interface
A great choice for mobile musicians and podcasters, the AudioBox iOne is USB bus-powered, compatible with Apple iPad, compact, ruggedly built, and works with virtually any Windows, Mac, or iPad recording software. It offers one instrument input and one mic input with high- performance Class A mic preamplifier, balanced TRS monitor outputs, and professional-quality, 24-bit/96 kHz converters. It comes with PreSonus- Studio One Artist DAW software for Mac and Windows and works with free CaptureTM Duo for iPad recording software, with direct wireless transfer of your recordings to Studio One.
Studio One Artist Lets You Focus on Your Music
Like all PreSonus interfaces and digital mixers, the AudioBox iOne comes with our award-winning, all-muscle, no-bloat Studio One Artist recording and production software for Mac and Windows. Studio One is incredibly easy to use thanks to its clear, straightforward, single-window design and powerful file browser with extensive use of drag-and-drop. As a result, you can record your inspirations quickly, without getting distracted by the tools. Tasks that would require multiple steps in other DAWs can be done in just one or two steps with Studio One. In addition, Studio One Artist includes a wealth of professional-quality plug-ins, virtual instruments, sounds, and loops. If you want even more, there-s a low-cost upgrade path to Studio One Producer and Professional.
Get it in your iPad too!
Studio One Artist is excellent for Mac and Windows but you probably want to record on your iPad too. That-s why we created free Capture Duo two-track recording software for iPad. Based on PreSonus- Capture live-recording software for StudioLive mixers, Capture Duo lets you record two stereo tracks using the AudioBox iOne or any other iPad interface that supports Core Audio for iPad, including the iPad-s built-in mic. Because it's preconfigured for the AudioBox i series interfaces, which are class-compliant for the iPad (so they don-t need drivers), you simply connect the AudioBox iOne or iTwo to your iPad, launch Capture Duo, and you're ready to record. If two tracks isn't enough, no worries! Just go to the App Store and purchase the low-cost, multitrack Capture for iPad. With Capture for iPad, you can record up to 32 tracks with 24-bit, 96 kHz fidelity.
Class A All the Way
The AudioBox iOne delivers excellent audio performance, thanks to our newest, sweet-sounding Class A mic preamplifier and professional-quality, 24-bit converters that sample at up to 96 kHz.
What-s Class A?
Power amplifiers are classified primarily by the design of the output stage and are designated Class A, B, AB, D, G, or H. In a Class A preamp, the output circuits are always on for the entire cycle of signal swing or the bias current flows at all times. As a result, Class A preamps that use quality components, such as those in the AudioBox iOne, have the most linear design, with the least amount of crossover distortion, and they deliver purer, clearer, and more musical results than the Class AB designs that are found in many preamps.
Loud and Clear
Great preamps are crucial to great sound but to get that pro sound, you also need outstanding converters. And to hear what you're doing, you need a headphone amp that keeps up with the rest of the design.
That-s why PreSonus uses high-quality 24-bit, 96 kHz analog-to-digital and digital-to-analog converters with 105 dB of dynamic range. The DACs feed a pair of balanced _-inch, line-level outputs and an ultra-loud, crystal-clear headphone output. If you can't hear yourself with an AudioBox i-series interface, you had better visit your audiologist for an ear exam or wait until that low-flying jet passes over. That is, unless you-re sampling jet sounds. You can totally do that with AudioBox i-series interface, an iPad, and Capture Duo.
Built to Travel
We designed AudioBox iOne to excel as a mobile interface, so we built it to take a serious pounding and remain completely reliable. It's built like a small tank, with a metal chassis and knobs/jacks secured directly to the enclosure to reduce strain on the internal circuit board.
So toss the AudioBox iOne in your backpack or laptop bag and take it along! Wherever your travels take you, your AudioBox i-series interface will be ready to perform.
The Finishing Touches
We could have stopped right there, but it's not our way to stop when we can give you even more. So we included an internal analog mixer with zero-latency monitoring, enabling you to monitor recorded tracks and overdubs with no annoying delay time. The iOne lets you use a 50-50 mix of recorded tracks and live input. We included a Kensington key lock to keep your AudioBox i-series interface safe when you travel. So if you're looking for a simple, versatile recording interface with exceptional sound quality that works with a Mac, PC, and iPad, look no further than the AudioBox i series. Because sometimes a simple, well-made, well-designed solution is exactly what you need.
SKU
PRE-AUDIOBOXIONE
Vendor
PreSonus
Bus Power
Yes
Connectivity
USB
Direct Monitoring
Yes
Included From Manufacturer
USB Cable
Software Bundle
Max Sample Bit
96 kHz / 24-bit
Mic Preamps
1
Mpn
AudioBox iOne
Product Unique Features
Compatible with PreSonus Capture Duo two-track recording software for iPad so you can record directly to the iPad
Simultaneous Inputs
2
ADAT Expandable
No
Number of Channels
2 in / 2 out
Digital Conversion
24-bit / 96 kHz
Audio Inputs
(1) 1/4" instrument input
(1) XLR microphone input with low noise, high headroom, class A preamplifier
Audio Outputs
(2) balanced 1/4" TRS line-level outputs
Phantom Power
+48V on XLR microphone input
Product Weight
1.35 lbs.
Rackmountable
No
Width
5.91"
Depth
5.31"
Height
1.71"
PreSonus Hardware Products 2-Year Limited, Non-Transferrable Warranty
FMIC warrants that the PreSonus brand hardware product you have purchased shall be free of any defects in parts and workmanship if used under normal operating conditions for a period of two (2) years from the date of purchase or initial lease, including footswitches, covers, speakers, cabinets, cabinet hardware, handles and power supplies, except vacuum tubes are warranted for a period of ninety (90) days from date of purchase or initial lease ("Limited Warranty"). This Limited,Non-transferable Warranty applies only to the original retail purchaser or lessee when purchased or leased from an Authorized PreSonus Dealer and is subject to the limitations set forth herein. IMPORTANT: PLEASE RETAIN YOUR ORIGINAL SALES RECEIPT, AS IT IS YOUR PROOF OF PURCHASE VALIDATING THIS LIMITED WARRANTY.
NOTE: This warranty applies only to PreSonus hardware products sold by an Authorized PreSonus Dealer after January 1, 2023.
Please consult your owner's manual or the manufacturer's website for full warranty documentation, including limitations, exclusions, and other terms and/or obligations.
Standard Shipping