Skip product carousel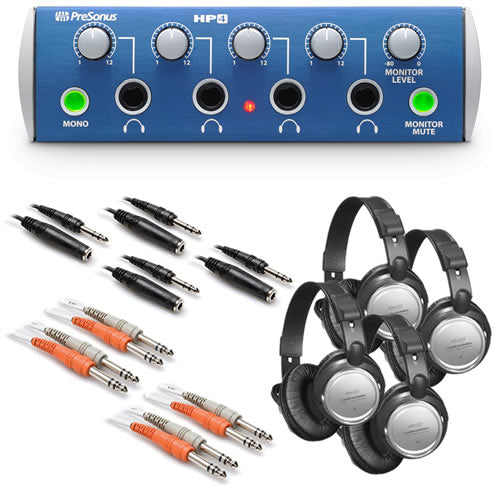 PreSonus HP4 Headphone Distribution System COMPLETE AUDIO BUNDLE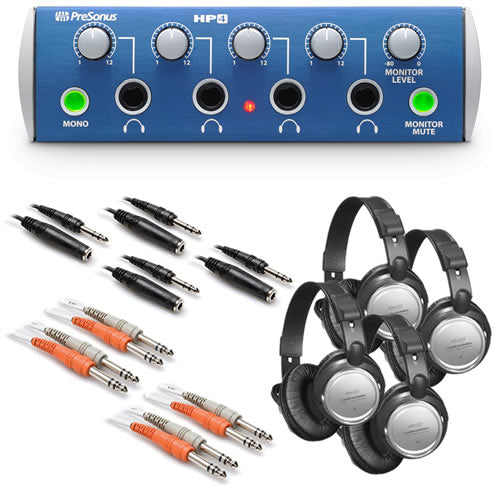 PreSonus HP4 Headphone Distribution System COMPLETE AUDIO BUNDLE
4 items included
This Kraft Music Bundle Includes
$229.99
Regular price
$317.65
You Save $87.66
Click on a product to view more details.
Now Hear This!
Are you and your session players and bandmates tired of straining to hear underpowered headphones? We were too. That's why Jim Odom and his jambalaya-fueled team of engineers designed 150 mW headphone amps for the HP4 headphone-distribution system.
These headphone amps are not just loud enough for session and stage use, they're loud enough to explode the oysters in a Po' Boy sandwich. Yet the sound is clear and clean, with a wide dynamic range. At last, everybody will be able to hear-assuming they are capable of hearing. Be careful with that level control!
Simplicity is the HP4's hallmark. You get left and right line inputs, left and right line outputs with level control, and the four headphone outs. You can globally mute the headphone outs, adjust the overall headphone level, sum the stereo signals to mono, and mute the rear-panel Monitor outputs.
The HP4 can sit on a tabletop or can be screw-mounted to a standard rack tray (not included), where it requires just 1/3 rackspace. And if your needs grow, you can use the line outputs to feed the inputs of a second HP4 or an HP60. Chain as many headphone systems as you need.
So listen up! Quit struggling with mediocre headphone amps. Get the HP4 and hear everything loud and clear. You owe it to your music.
Input/Output
4 screaming-loud (150 mW per channel) stereo headphone outputs (front panel)

2 balanced line outputs (monitor outputs)

2 balanced line inputs
Meters, Controls, and Features
Headphone level control for each channel

Mono summing switch for each channel

Monitor level control

Monitor mute switch

Daisy-chain multiple units via monitor outputs
Physical
Compact 1/3U rack-mount chassis

Sealed, detented, metal rotary controls

External 16 VAC power supply

| | |
| --- | --- |
| SKU | PRE-HP4CA |
| Vendor | PreSonus |
| Bus Power | Yes |
| Included From Manufacturer | 16 VAC power supply |
| Mpn | HP4 |
| Number of Channels | 4 |
| Audio Inputs | 2 balanced ¼" line inputs |
| Audio Outputs | 4 screaming-loud (150 mW per channel) stereo ¼" headphone outputs (front panel), 2 balanced ¼" line outputs (monitor outputs) |
| Product Weight | 5 lbs |
| Rackmountable | Optional |
| Width | 5.5" |
| Depth | 1.75" |
| Height | 5.5" |
PreSonus Hardware Products 2-Year Limited, Non-Transferrable Warranty
FMIC warrants that the PreSonus brand hardware product you have purchased shall be free of any defects in parts and workmanship if used under normal operating conditions for a period of two (2) years from the date of purchase or initial lease, including footswitches, covers, speakers, cabinets, cabinet hardware, handles and power supplies, except vacuum tubes are warranted for a period of ninety (90) days from date of purchase or initial lease ("Limited Warranty"). This Limited,Non-transferable Warranty applies only to the original retail purchaser or lessee when purchased or leased from an Authorized PreSonus Dealer and is subject to the limitations set forth herein. IMPORTANT: PLEASE RETAIN YOUR ORIGINAL SALES RECEIPT, AS IT IS YOUR PROOF OF PURCHASE VALIDATING THIS LIMITED WARRANTY.
NOTE: This warranty applies only to PreSonus hardware products sold by an Authorized PreSonus Dealer after January 1, 2023.
Please consult your owner's manual or the manufacturer's website for full warranty documentation, including limitations, exclusions, and other terms and/or obligations.
Ground shipping is FREE for all orders $99 and up.