Skip product carousel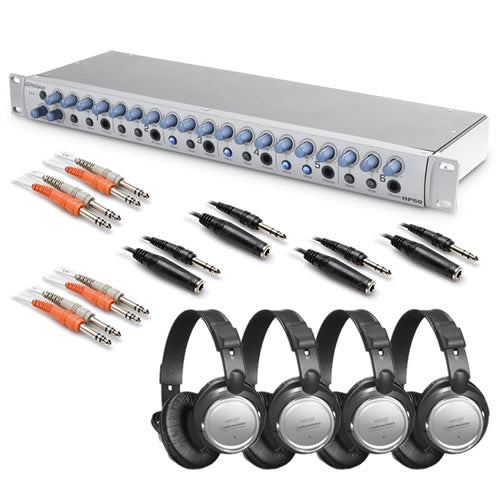 PreSonus HP60 Headphone Mixing System STUDIO PAK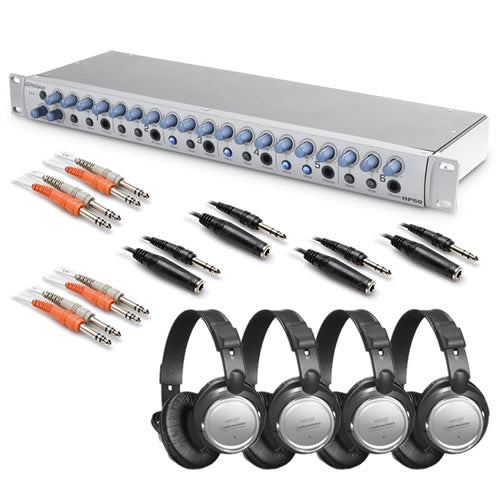 PreSonus HP60 Headphone Mixing System STUDIO PAK
4 items included
This Kraft Music Bundle Includes
$389.99
Regular price
$507.65
You Save $117.66
Click on a product to view more details.
The Problem Solver
"Turn my headphones up!" "More me, I can't hear myself!" "Turn down that click!" It gets old. Change that tune with the HP60 headphone distribution system. The HP60 is more than just a half-dozen headphone amps, it's a field-tested solution to a host of common headphone-monitoring problems.
Let's start with "turn my headphones up." Each of the HP60's six headphone amps has its own level control and puts out 150 mW, which is loud enough to drive the alligators out of the Louisiana swamps. If they can't hear this headphone system, they're stone deaf.
More likely they'll scream, "turn it down, you're killing me!" Problem solved.
Now let's solve "turn down that click." The HP60 features two sets of line-level, stereo inputs that are routed to all six headphones; a Mix control that sets their relative levels for each headphone output. So you can feed the main control-room mix to channel A and the click to channel B and use the Mix controls to individually raise or lower the click relative to the main mix for each musician. Problem solved.
As for "more me," in addition to the two pairs of main stereo inputs, you get an external stereo input pair with level control for each headphone channel. A Mono switch lets you sum the left and right inputs. Additionally, a mute switch is provided for each headphone output.
So you can send each person a feed of just their instrument or voice and can control the level separately for each. Problem solved.
Take Command
With the HP60, when you talk, everyone listens. Hit the Talk button and use the talkback-mic input and your favorite dynamic mic to tell 'em what to do. You can even use a footswitch to control the talkback hands-free.
Each channel also has stereo line outputs that can send a copy of the line-level headphone-channel mix to additional headphone amplifiers or monitor systems. So if you have a large band and need more than six headphones, you can chain two or more HP60s.
So get the problem solver, the most flexible and advanced headphone-mixing system in its price class: the PreSonus HP60.
Input/Output
6 screaming-loud (150 mW/channel) headphone outputs (front panel)

6 unbalanced stereo line outputs (1 per channel); carries a copy of the channel mix

6 unbalanced stereo external analog line inputs (1 per channel) for "more me," with trim controls

4 balanced analog line inputs (L/R Mix input pairs A and B)

1 balanced XLR Talkback input for external dynamic microphone

1 footswitch jack for hands-free Talkback operation
Meters, Controls, and Features
2 stereo input channels (A and B)

Channel controls

External input level

Headphone level control for each headphone output

Mix A/B control (blends signals from input pairs A and B)

Mono switch for external input

Mute switch (mutes input pairs A and B)

Master controls

Input A level

Input B level

Talk button (momentary switch)

Talkback-mic level
Physical
1U 19" rack-mountable, rugged steel chassis

Internal power supply with standard IEC connector

| | |
| --- | --- |
| SKU | PRE-HP60STP |
| Vendor | PreSonus |
| Bus Power | No |
| Mpn | HP60 |
| Number of Channels | 6 |
| Digital Conversion | 20 Hz - 20 kHz, ±0.5 dB, 60Ω load |
| Audio Inputs | Inputs A and B Connector Type (2 ea.) ¼" TRS balanced, External Input Connector Type ¼" TRS stereo unbalanced |
| Audio Outputs | ¼" TRS stereo unbalanced |
| Product Weight | 5 lbs |
| Rackmountable | Yes |
| Width | 5.5" |
| Depth | 1.75" |
| Height | 5.5" |
PreSonus Hardware Products 2-Year Limited, Non-Transferrable Warranty
FMIC warrants that the PreSonus brand hardware product you have purchased shall be free of any defects in parts and workmanship if used under normal operating conditions for a period of two (2) years from the date of purchase or initial lease, including footswitches, covers, speakers, cabinets, cabinet hardware, handles and power supplies, except vacuum tubes are warranted for a period of ninety (90) days from date of purchase or initial lease ("Limited Warranty"). This Limited,Non-transferable Warranty applies only to the original retail purchaser or lessee when purchased or leased from an Authorized PreSonus Dealer and is subject to the limitations set forth herein. IMPORTANT: PLEASE RETAIN YOUR ORIGINAL SALES RECEIPT, AS IT IS YOUR PROOF OF PURCHASE VALIDATING THIS LIMITED WARRANTY.
NOTE: This warranty applies only to PreSonus hardware products sold by an Authorized PreSonus Dealer after January 1, 2023.
Please consult your owner's manual or the manufacturer's website for full warranty documentation, including limitations, exclusions, and other terms and/or obligations.
Ground shipping is FREE for all orders $99 and up.