Skip product carousel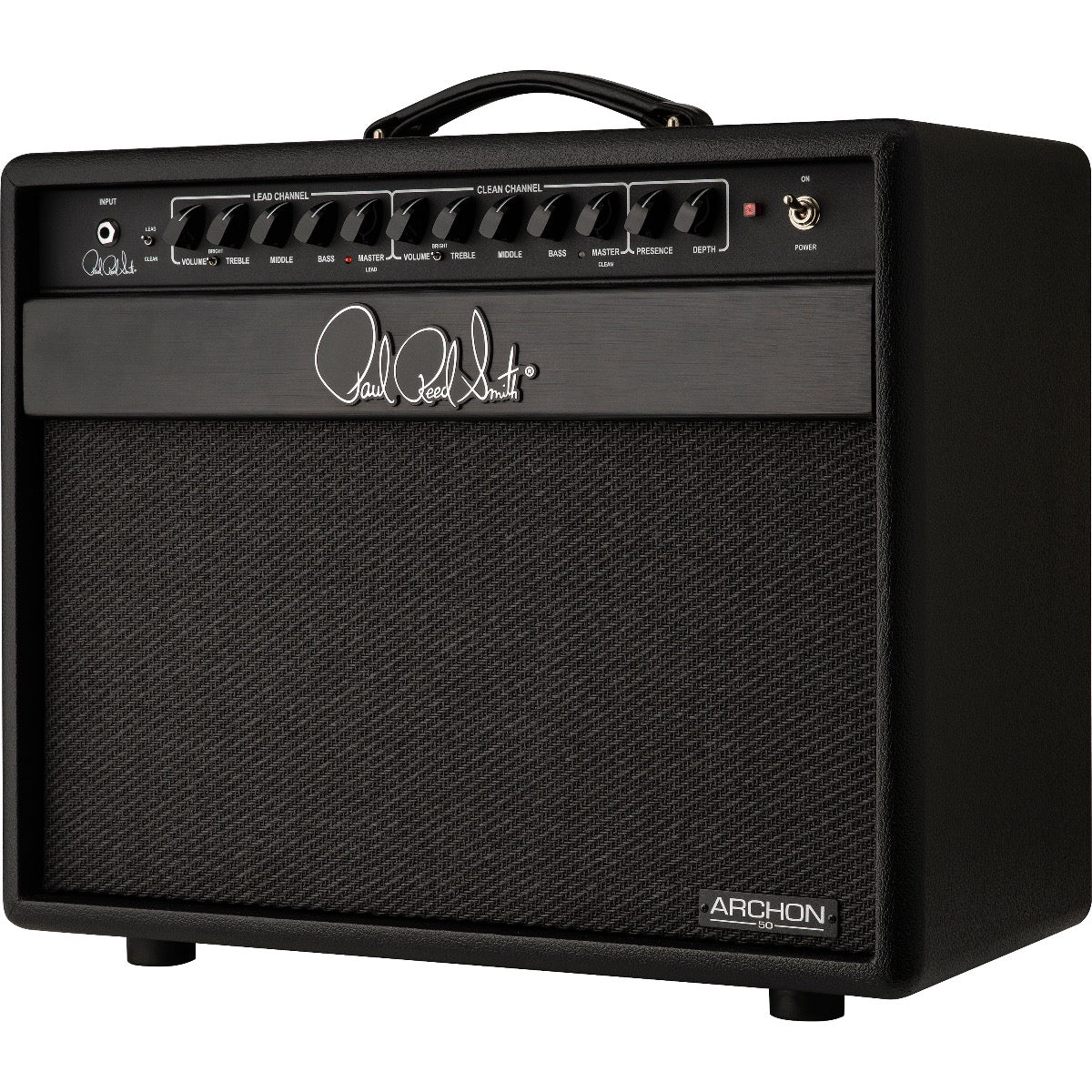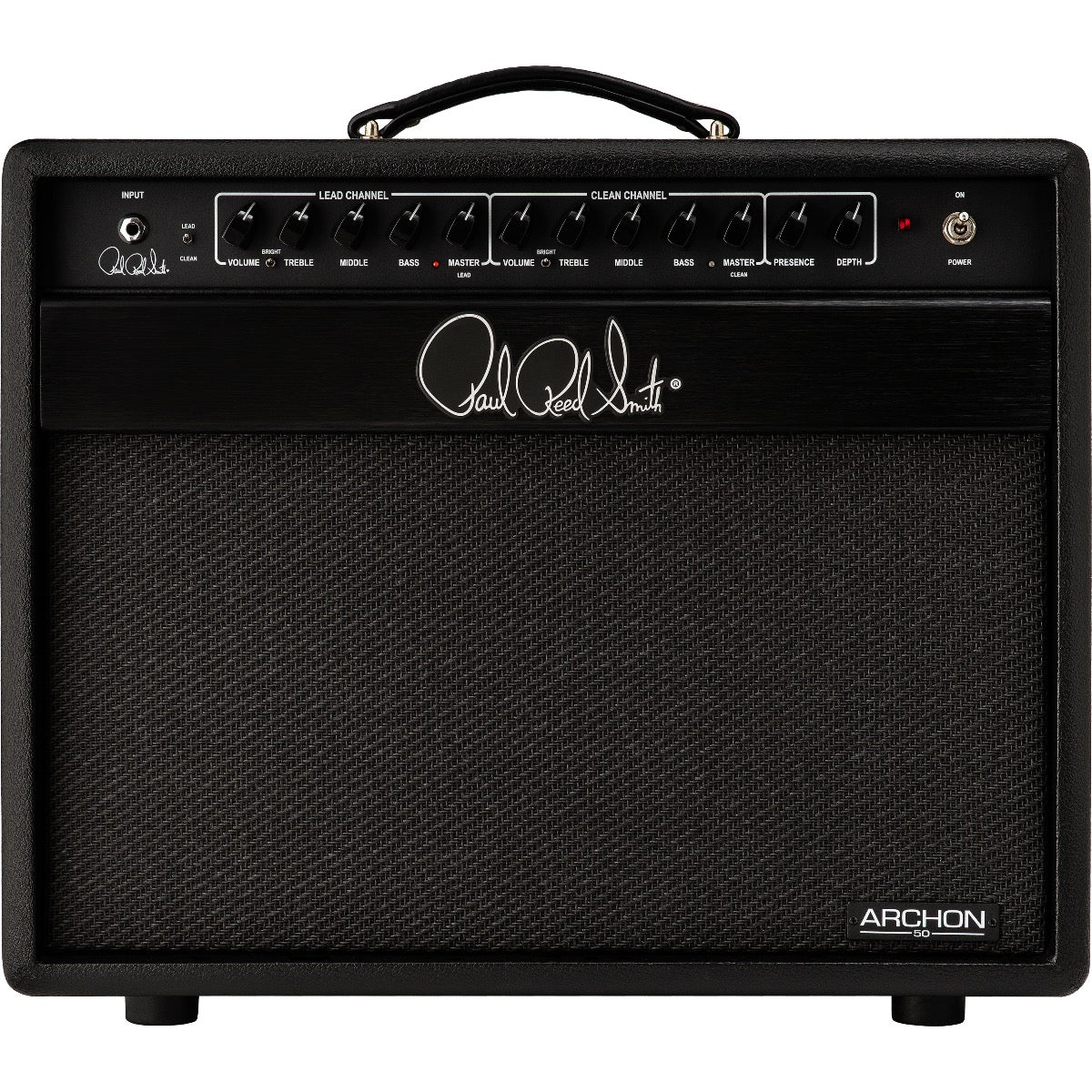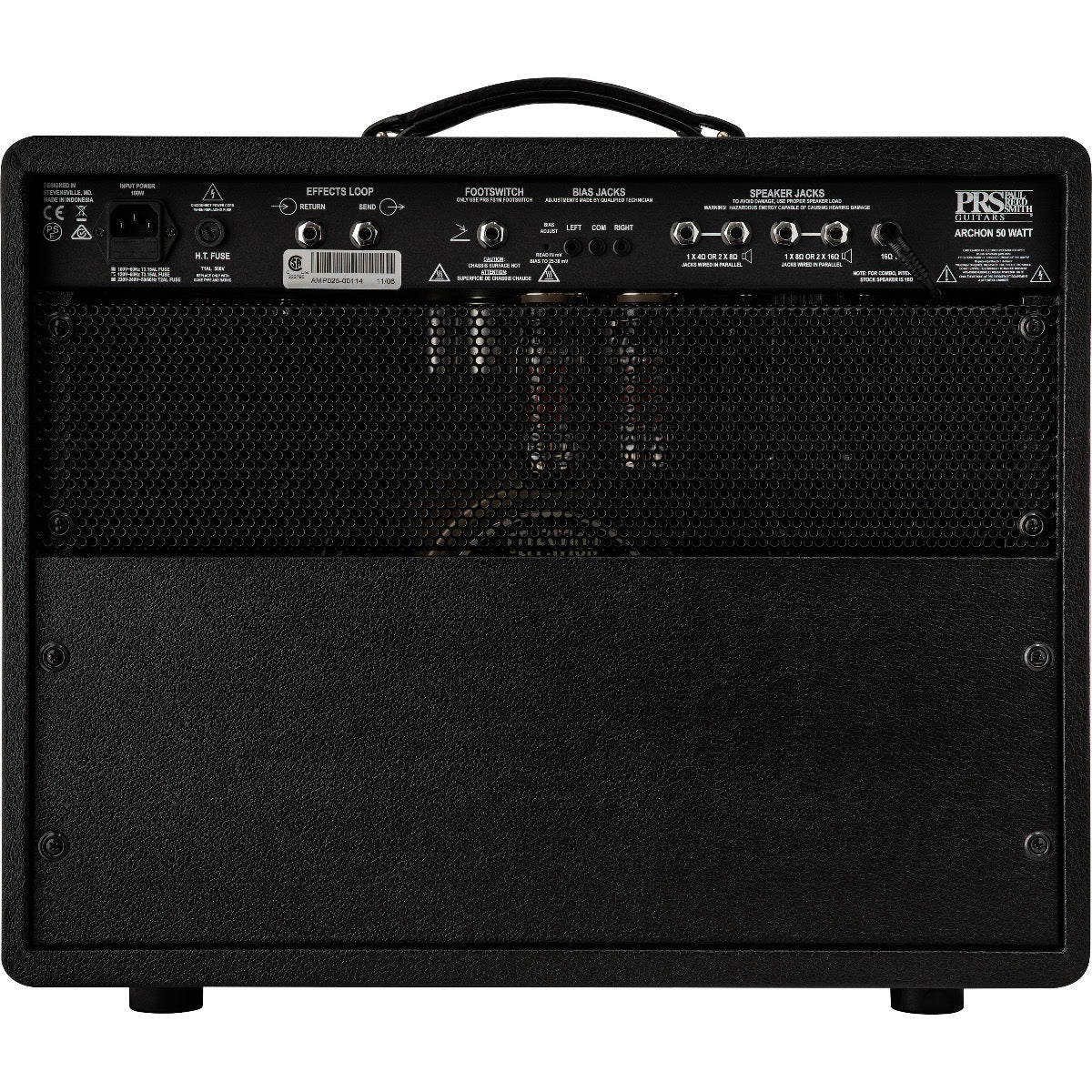 PRS Archon 50 Combo 1x12 50W Tube Guitar Amplifier with Celestion V-Type Speaker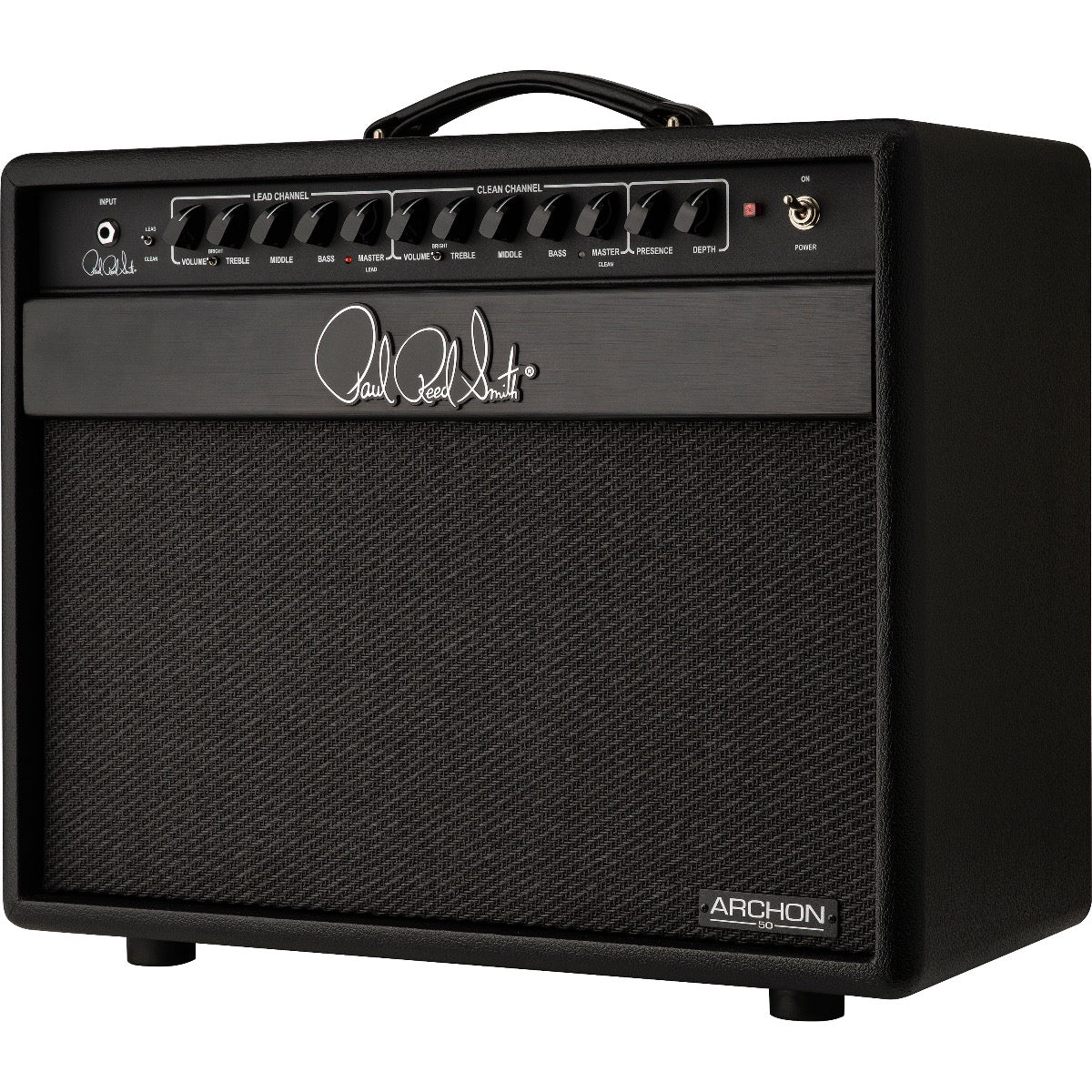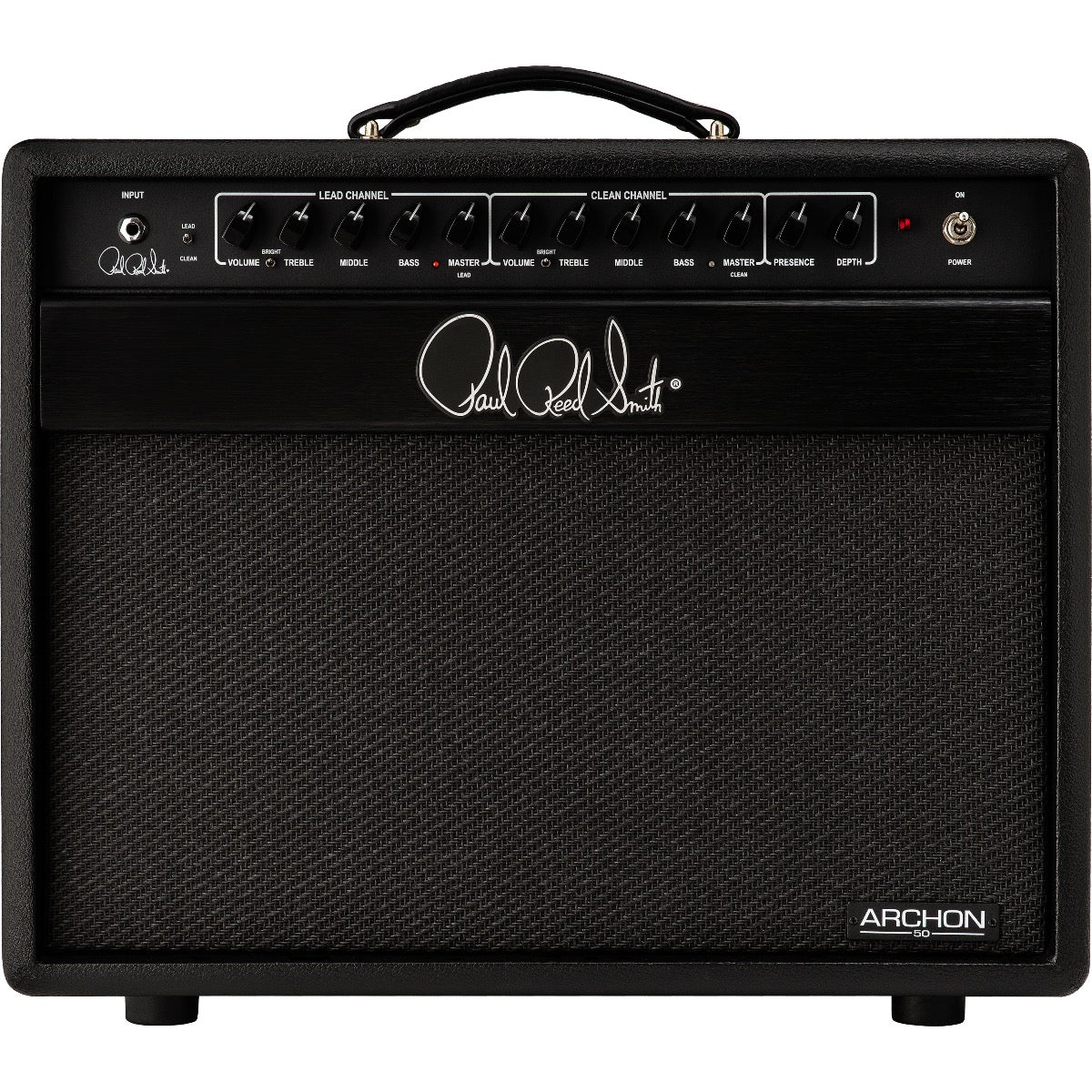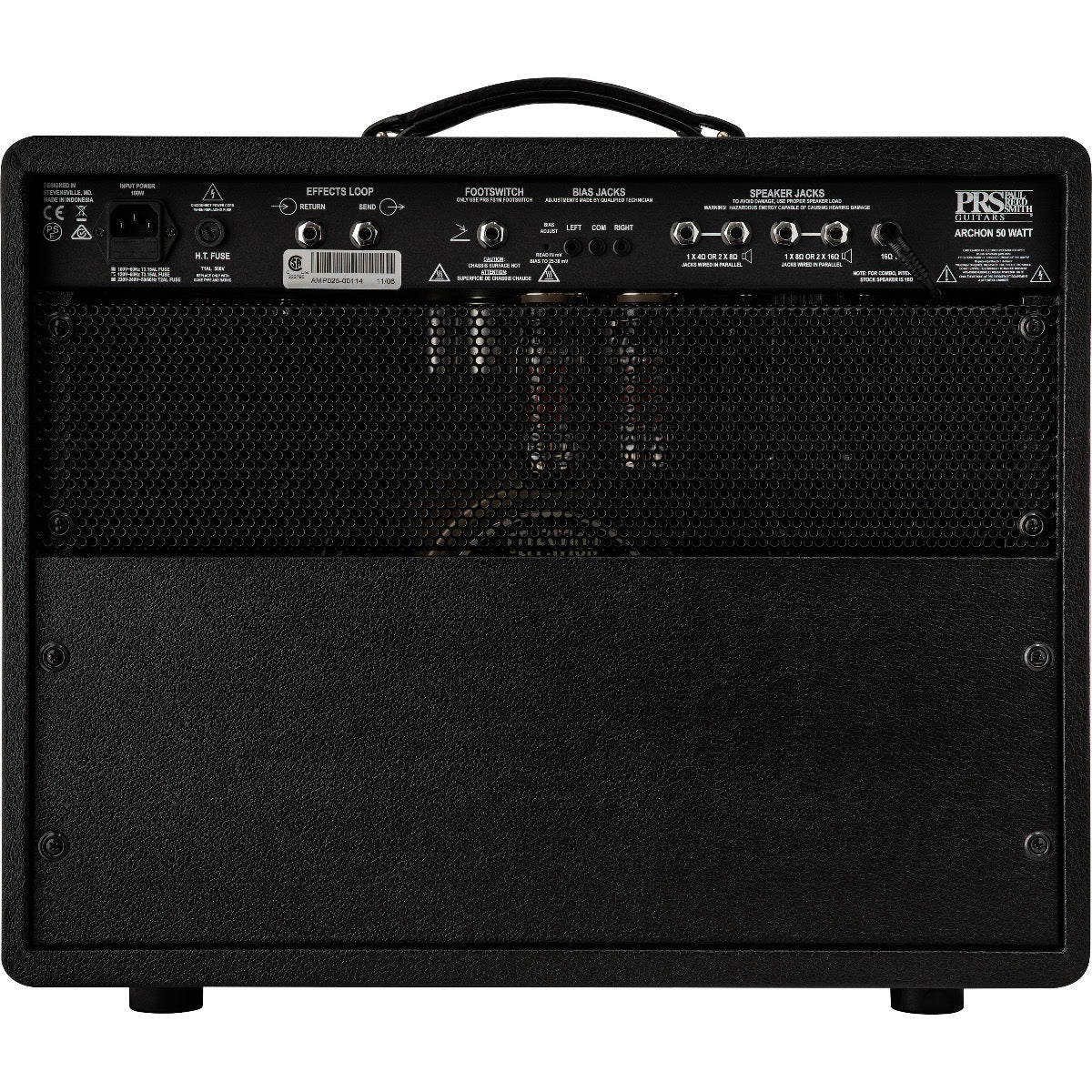 PRS Archon 50 Combo 1x12 50W Tube Guitar Amplifier with Celestion V-Type Speaker
Greek for 'ruler' or 'lord,' PRS Archon 50 Combo is a commanding 2-channel amp with versatile overdriven tones and sparkling cleans with plenty of headroom. Designed with five gain stages before the master volume, Archon's lead channel is voiced to cover everything from classic rock to metal with full, lush distortion. The clean channel provides rich tones that retain clarity even at high volume and there is ample headroom, creating an excellent platform for pedals. Archon has remarkably responsive tone with incredible note separation, whether you're playing on the clean channel or chugging on the lead.
PRS Archon is powered by two 6CA7 power tubes, which fall between EL34 and 6L6 tubes, offering the best of both worlds. 6CA7s are warm, full and articulate with smooth high end and tight low end. They chug, distort and get heavy without over-saturating, and they sing without becoming harsh. The 1×12 combo features a single Celestion V-type speaker, offering full, extended lows and sweet midrange. The compactness and portability of a 'grab and go' combo design is also great for players who bring their amp along to rehearsals, studio time and gigs.
Utilizing a 'no flash or trash' approach, Archon's control layout allows for detailed and intuitive tone shaping. Each channel features volume, treble, middle, bass and master volume controls as well as a bright switch. The 3-band EQ lets players better dial in their desired tone, while the volume and master controls work together to command the amp's distortion and loudness. The bright switch acts almost as a treble boost, putting a shine on the amp's high-end without going into icepick territory.
The global Presence and Depth controls in Archon's power amp section both work to modify the feedback network of the amp to unleash the potential of the high and low ends respectively. Turning up the Presence control releases more high-mid and treble frequencies, bringing the amp's tone forward. Depending on the tone stack and volume settings, the Presence can change the gain/texture and loudness of the high-end, making your tone wilder and more 3-dimensional or more 'present' sounding. In addition to adding low-end, Depth adds a resonance to those frequencies that more 3-dimensionally shapes Archon's tone.
Bottom line: PRS Archon 50 Combo delivers full, lush gain, a remarkable clean channel and a versatile control layout that players of all genres will appreciate.
SKU
PRS-ARCHON50C
MPN
Archon 50 Combo
Vendor
PRS
Amp Format
Combo
Amp Type
Tube
Included From Manufacturer
FS1M footswitch
Power cord
Mpn
108448::ST--:
Product Unique Features
Powered by 2 × 6CA7 power tubes
Speaker Config
1x12
Wattage
50 Watts
Amplifier Application
Electric Guitar
Number of Channels
2
Effects
Global Presence and Depth controls modify feedback network
Presence adds high-mid and treble frequencies
Depth adds low frequencies and resonance
Effects Loop
Yes
Equalization (EQ)
Separate bass, middle and treble knobs for clean and lead channels
Footswitch
Included FS1M footswitch for channel switching
Audio Inputs
1/4" mono main input
1/4" mono effects loop return input
Audio Outputs
1/4" mono 16Ω speaker output
2 × parallel 1/4" mono 8Ω speaker outputs
2 × parallel 1/4" mono 8Ω speaker outputs
1/4" mono effects loop sent output
Power
50W
Product Weight
42.8 lb
Speakers
12" Celestion V-Type
Width
21.5"
Depth
10"
Height
18"
PRS Guitars 5-Year Amplifier Warranty
For a period of five years from the original date of purchase, PRS warrants its amplifiers to be free from defects in materials and workmanship, subject to the limitations contained herein.
Amplifier tubes are warranted for 90 days.
Amplifier speakers are warranted for one year.
This warranty is extended to the original retail purchaser only and may not be transferred or assigned to subsequent owners. In order to validate your warranty and as a condition precedent to warranty coverage hereunder, you must return your warranty registration within thirty (30) days following the original date of purchase. Your proof of purchase or sales receipt must accompany all requests for warranty coverage.
This warranty does not cover:
Any amplifier on which the serial number has been removed or altered.
Any amplifier not purchased from an authorized dealer, or upon which unauthorized repair or service work has been carried out.
Any amplifier which has not been registered at the factory within one month of purchase, or whose warranty card has been altered or includes false or incomplete information.
Any amplifier that has been damaged due to an accident, negligence or misuse, including exposure to extreme humidity and temperature.
Shipping damage of any kind.
Normal 'wear and tear,' including but not limited to any discoloration, fading or damage to the covering or finish, or worn hardware, or any issues not related to the failure of the amplifier or any component part.
Component damage, including but not limited to transformers and output tubes, caused by misuse of speakers, improper speaker load, or absence of speaker load.
PRS makes no other express warranty of any kind whatsoever. All implied warranties, including warranties of merchantability and fitness for a particular purpose, exceeding the specific provisions of this warranty are hereby disclaimed and excluded from this warranty. Some states and/or countries do not allow the exclusion of implied warranties so that the above may not apply to you.
PRS shall not be liable for any special, indirect consequential, incidental or other similar damage suffered by the purchaser or any third party, including without limitation, damages for loss or profits or business or damages resulting from use or performance of the instrument, whether in contract or in tort, even if PRS or its authorized representative has been advised of such damages, and PRS shall not be liable for any expenses, claims or suits arising out of or relating to any of the foregoing.
If at any time during the warranty this amplifier malfunctions due to faulty materials and workmanship, PRS Guitars will, at its sole discretion, repair the defect without charge or replace it with a model of similar specification and value that does not exceed the original purchase price of the amplifier.
To obtain warranty assistance, this guitar must be taken to an authorized PRS Guitars dealer with a copy of the sales receipt to obtain a Return Authorization prior to return to the factory.
All shipping and insurance, including any perceived 'collector' value, are the sole responsibility of the original purchaser.
On arrival at the PRS factory, a determination will be made whether the defect is covered under the terms of the warranty. If the repair is covered under the terms of the warranty, it will be repaired at no cost to the original purchaser including return shipping. If the repair is not covered under warranty, an estimate of the cost of the repair to the original purchaser will be given.
This warranty applies to the United States and Canada. The terms of warranty in other countries are defined by the PRS Distributor in that country and may differ from the above terms, conditions and length.
Standard Shipping