Skip product carousel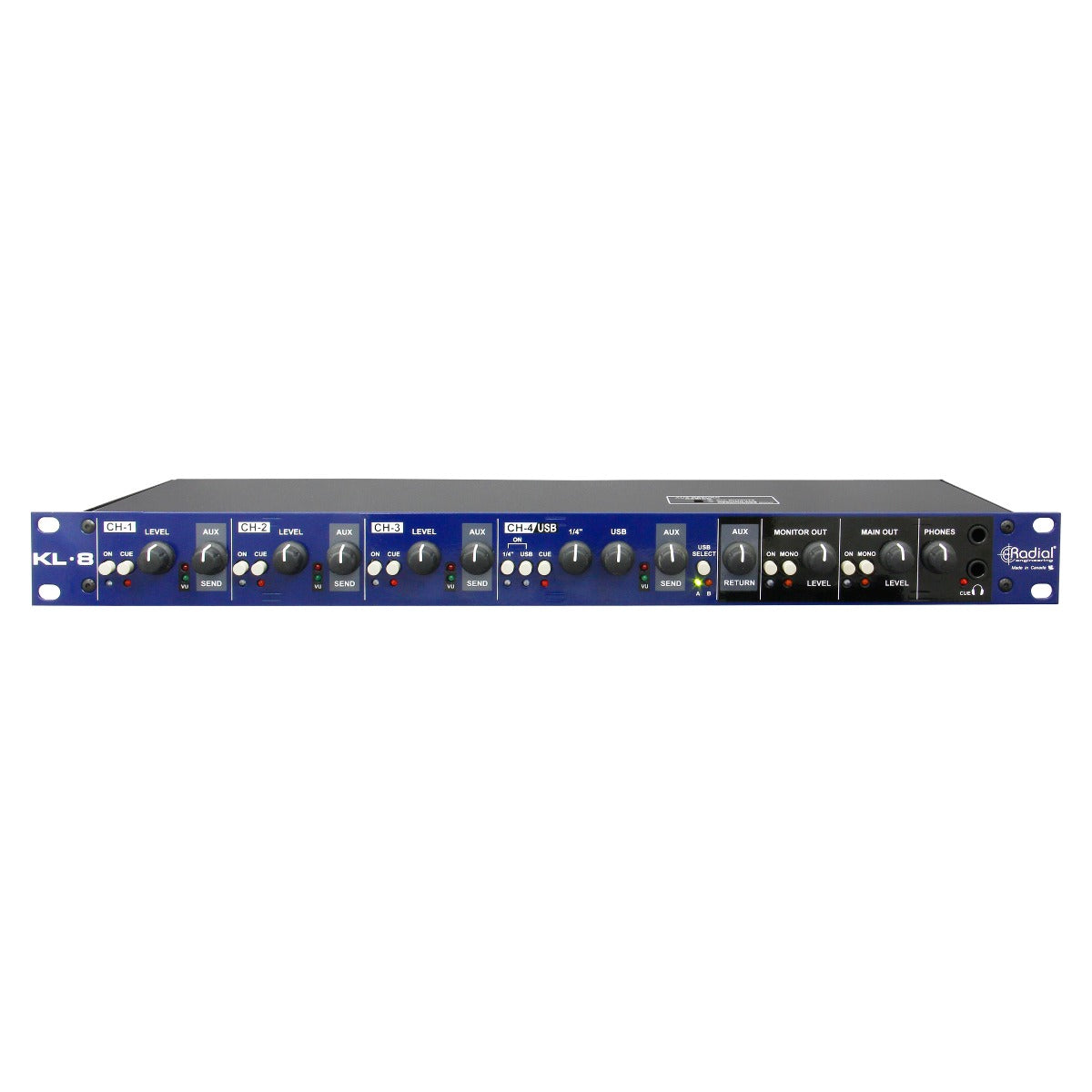 Radial KL-8 Rackmount Keyboard Mixer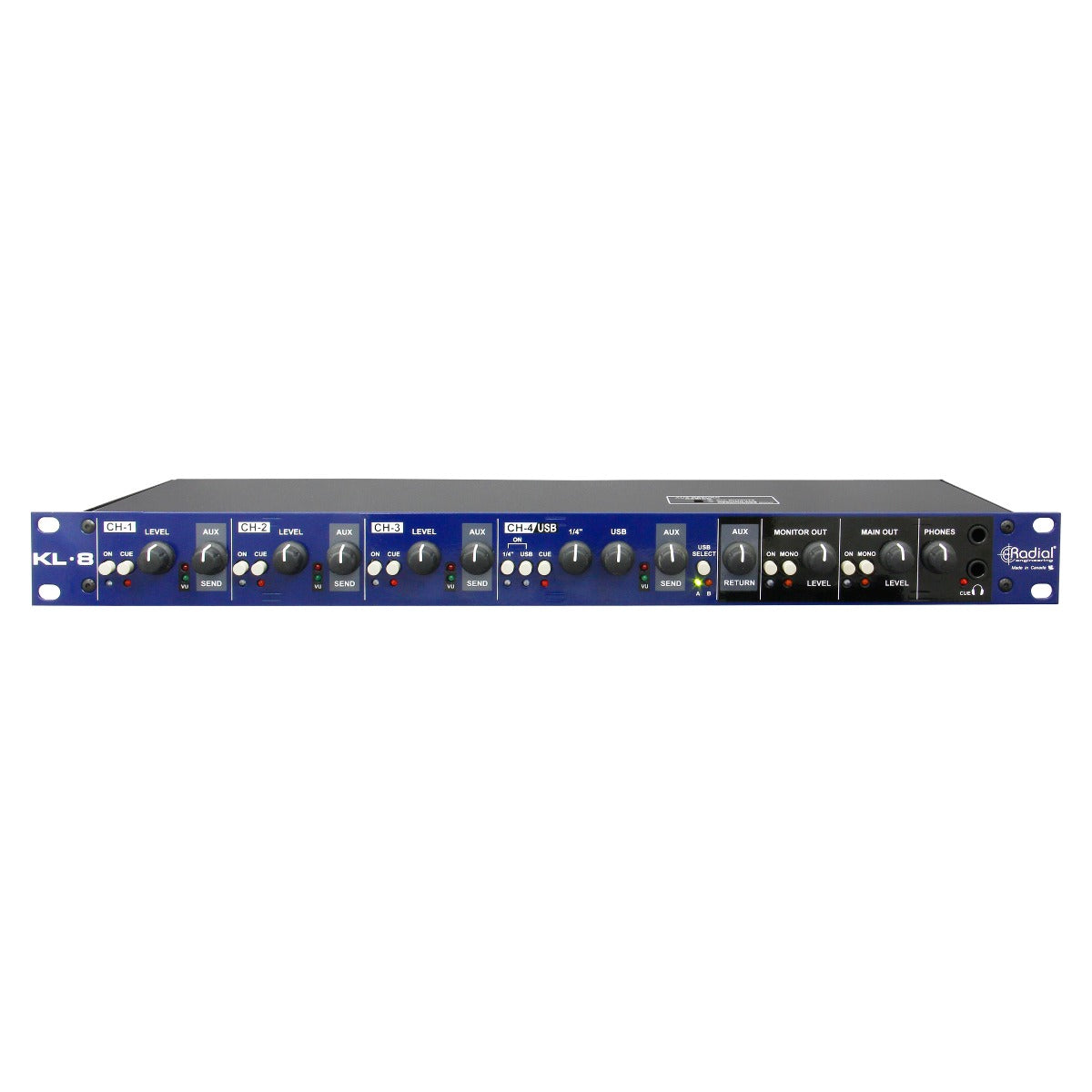 Radial KL-8 Rackmount Keyboard Mixer
The KL-8 is a powerful mixing station created with keyboard pros in mind, with a number of features designed specifically to streamline and enhance any keyboard setup. You can connect up to four keyboards in mono or stereo, with level controls, aux sends, and LED indicators for each. A stereo aux send/receive is available to feed rackmount reverbs and delays and effects pedals, or it can be used as an additional input for a fifth keyboard. MIDI and USB connections make it easy to control a laptop soft-synth, utilizing high quality 24bit/192kHz digital audio converters. The KL-8 also features multiple output options, with transformer-isolated XLR main outputs to feed the PA, monitor outputs for a set of speakers on stage, and dual headphone outputs for local monitoring and testing.
Four stereo analog inputs for keyboards
Redundant USB connections for laptop soft-synths
Stereo Aux Send/Receive with optional footswitch control
Headphone outputs and cue switches for silent monitoring
Link multiple KL-8s for larger setups
Redundant USB inputs
When you can't afford to have a break in the performance due to laptop failure, the KL-8 allows you to set up redundant laptop systems and seamlessly transition from one to another. A secondary USB input on the KL-8 allows you to keep your backup laptop at the ready - when failure occurs simply hit the USB select switch on the front panel or use the optional JR-1L remote footswitch to instantly switch to the backup system.
Silent cueing and monitoring via headphones
A built in headphone amp and dual 1/4" TRS outputs give you the option to practice and record silently, or cue up individual inputs on stage without feeding signal out to the audience over the PA system. Each input channel on the KL-8 is accompanied by a Cue switch that will remove that input from the main and monitor outputs and reroute it directly to the headphones, so you can easily adjust patch settings and test playback over USB without affecting the performance.
SKU
RDL-KL8
MPN
KL-8
Vendor
Radial
Audio Recording
Stereo over USB
Connectivity
USB and MIDI
Mixer Channel Filterable
4
Mixer Type
Analog
Mpn
KL-8
Aux/Effect Sends
Stereo 1/4" send/receive
Channel Inserts
1/4" send/receive
Audio Inputs
4 x Stereo 1/4"
Audio Outputs
Main Output - Isolated XLR (L+R)
Monitor Output - XLR (L+R)
Rackmountable
Yes
Radial Limited Warranty
This product comes with a 3-Year Transferable Warranty. This means that if you buy the product and decide to sell it, the warranty can be transferred to the person that buys it from you, thus providing continuous warranty support and added value. If you sell the product, you must provide the buyer with a copy of your original invoice so that he, in turn, may be able to submit this should a warranty claim be required.
The warranty does not cover any consequential or inconsequential damage or any losses. Specifically, if you have a problem due to defect, you must make the arrangements and cover the costs to return the product to Radial with a copy of the original sales invoice and Radial will repair the product and return it to you at its cost.
All warranty claims require a return authorization. Contact the Radial customer service department for details.
As with all typical warranties, only manufacturing defects are covered. Furthermore, parts that are subject to wear and tear such as switches, potentiometers and tubes are not covered under this warranty. This, however, does not mean that these will not be repaired or replaced free of charge. We pride ourselves in supporting the products we sell and will often exchange these parts free of charge pending the age of the device. This decision will be undertaken by RADIAL and in no way obliges the company to perform such tasks.
Ground shipping is FREE for all orders $99 and up.