Skip product carousel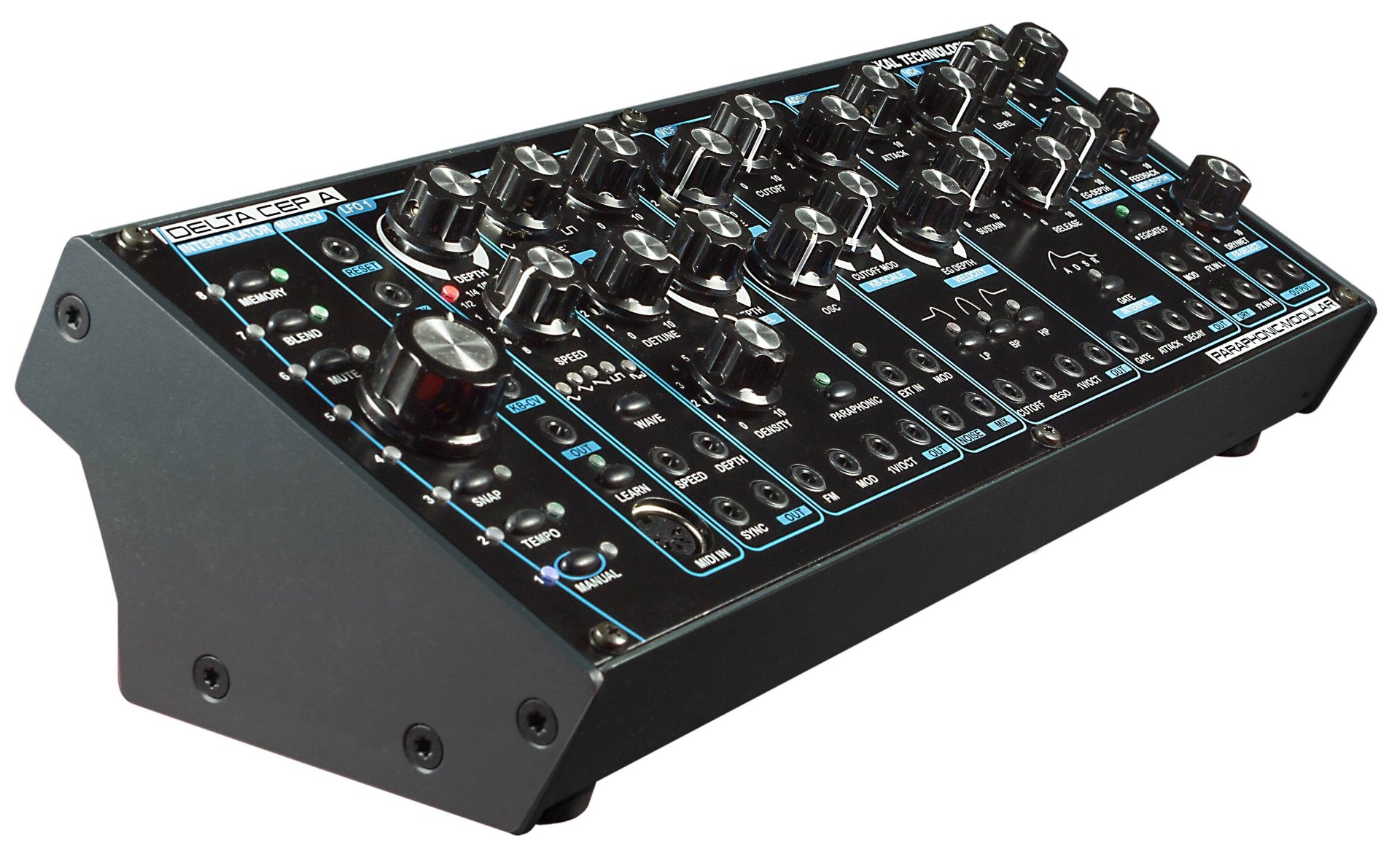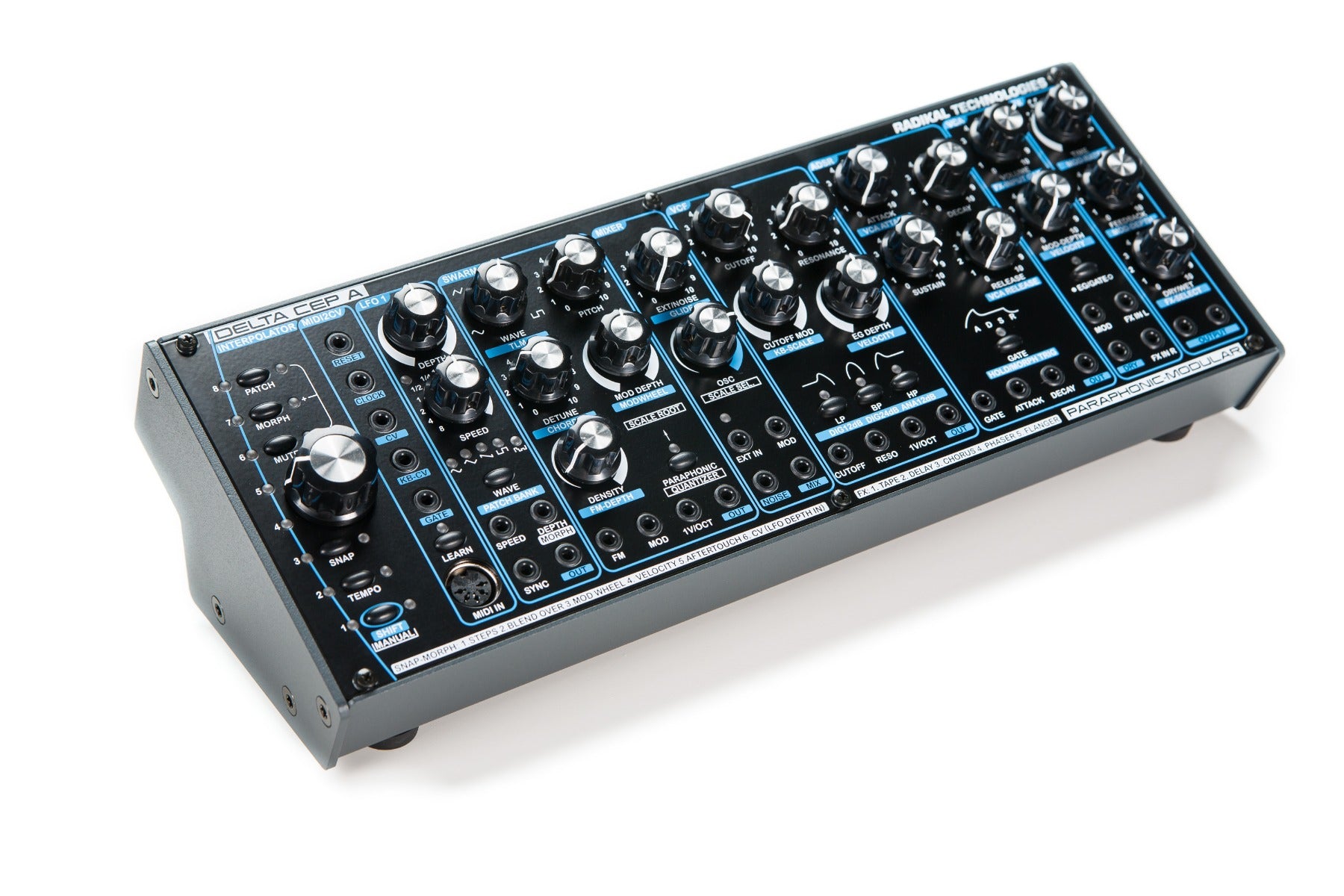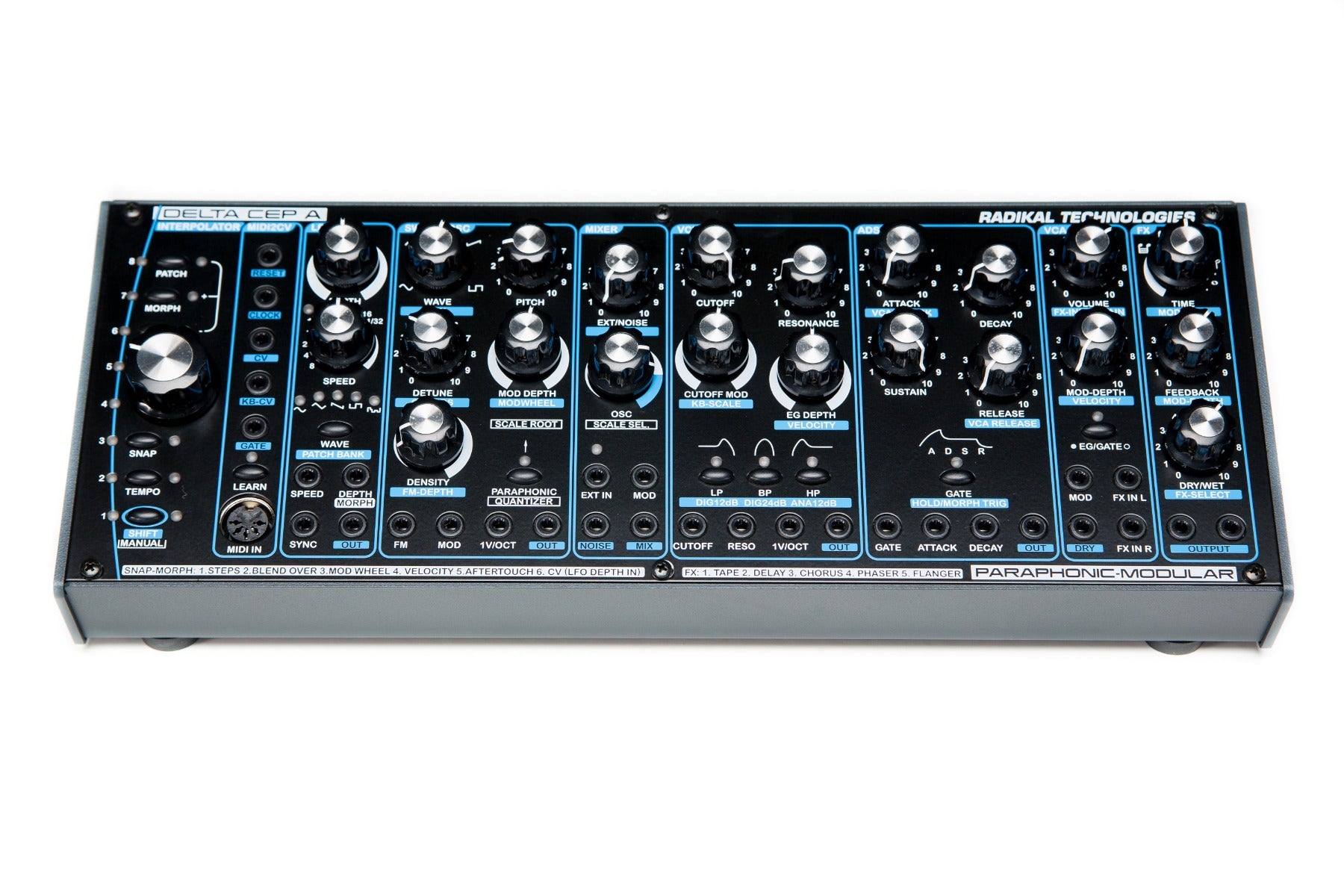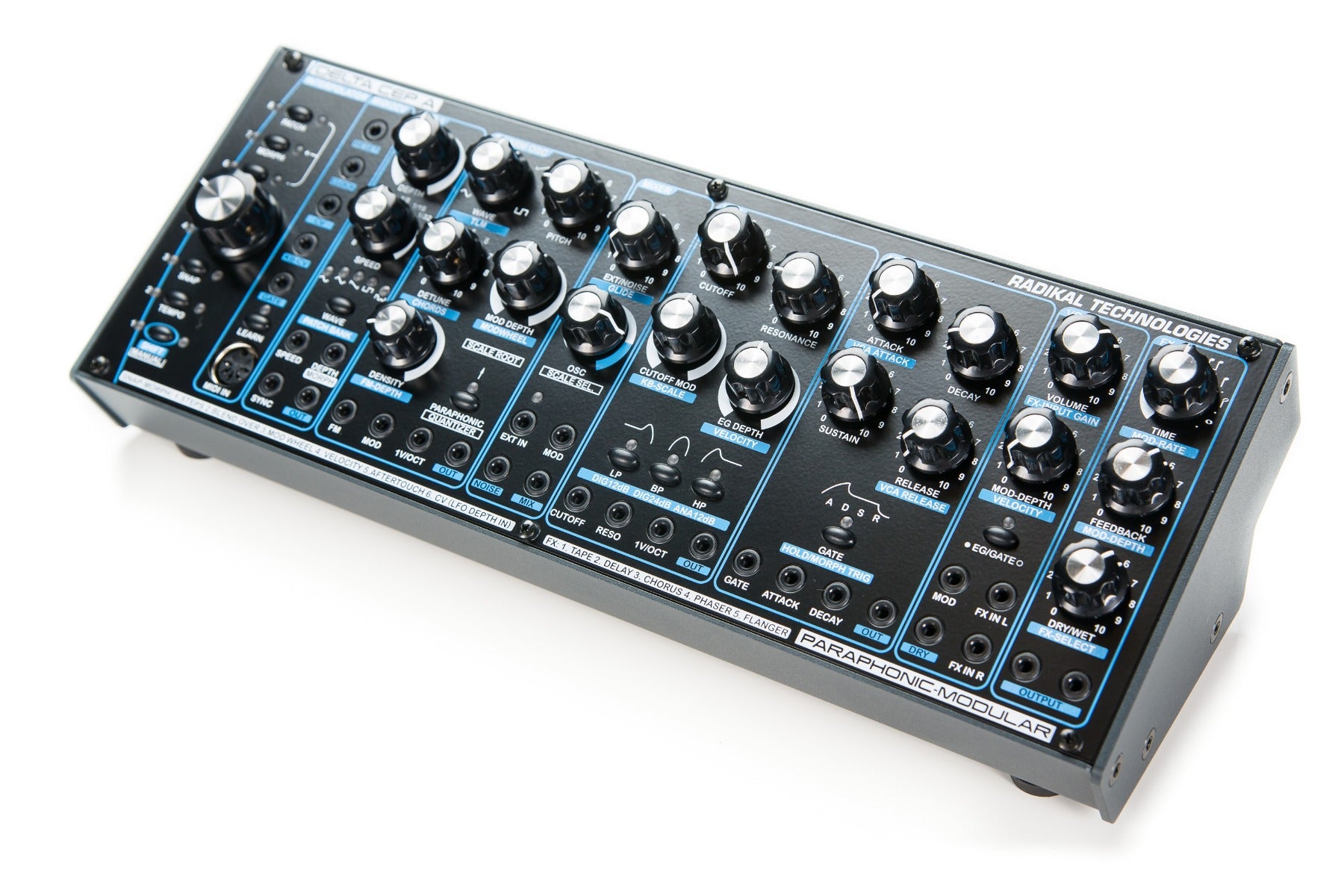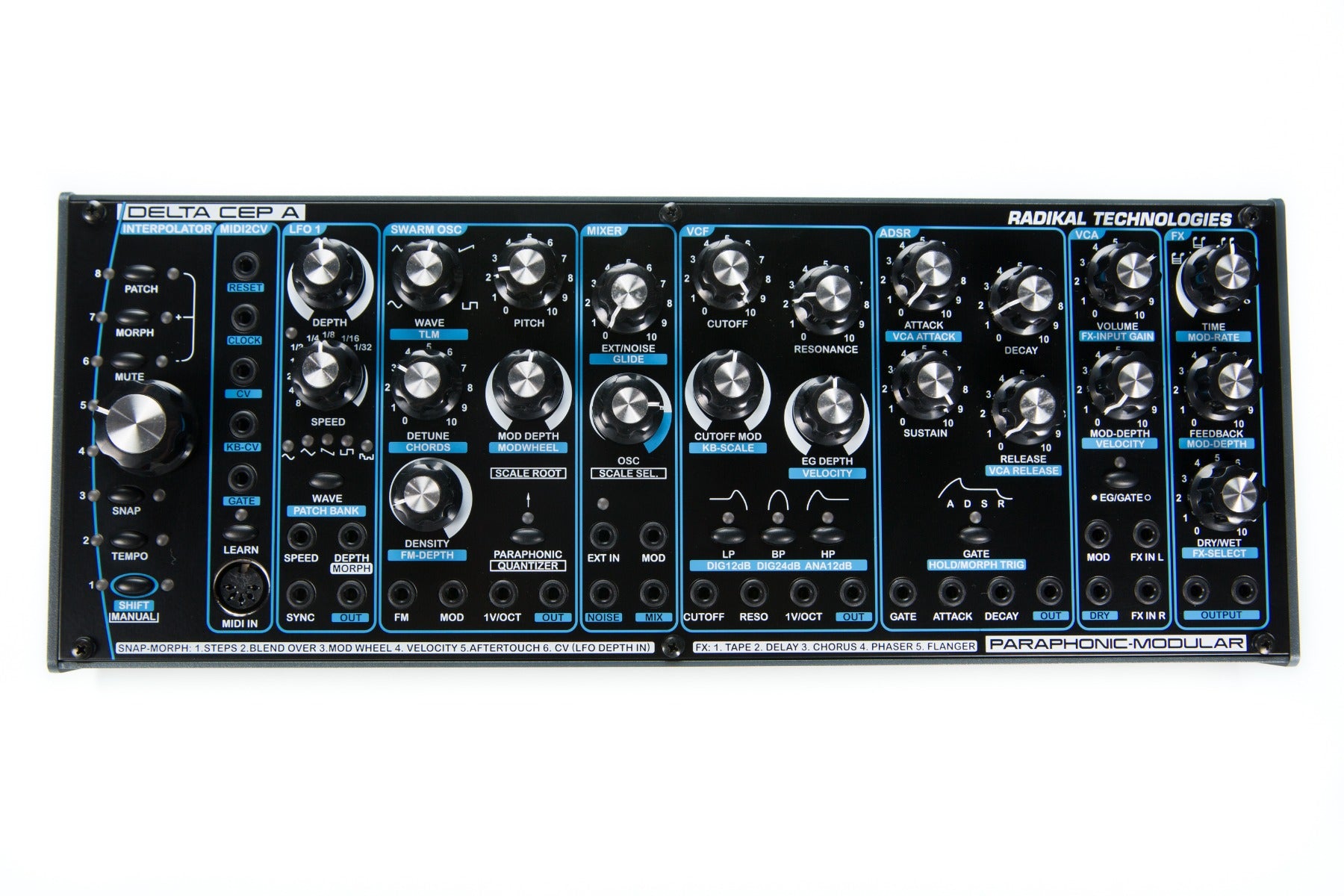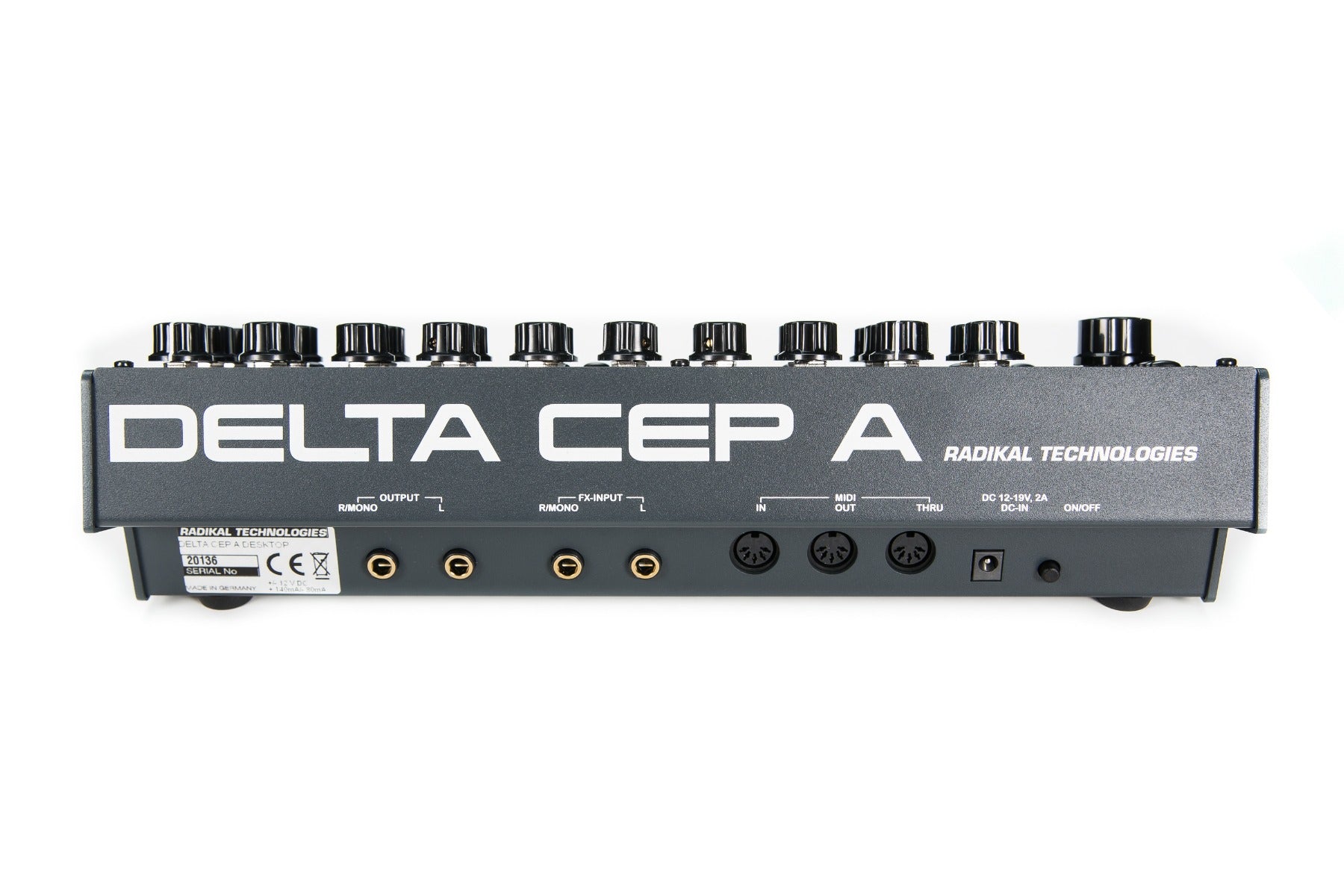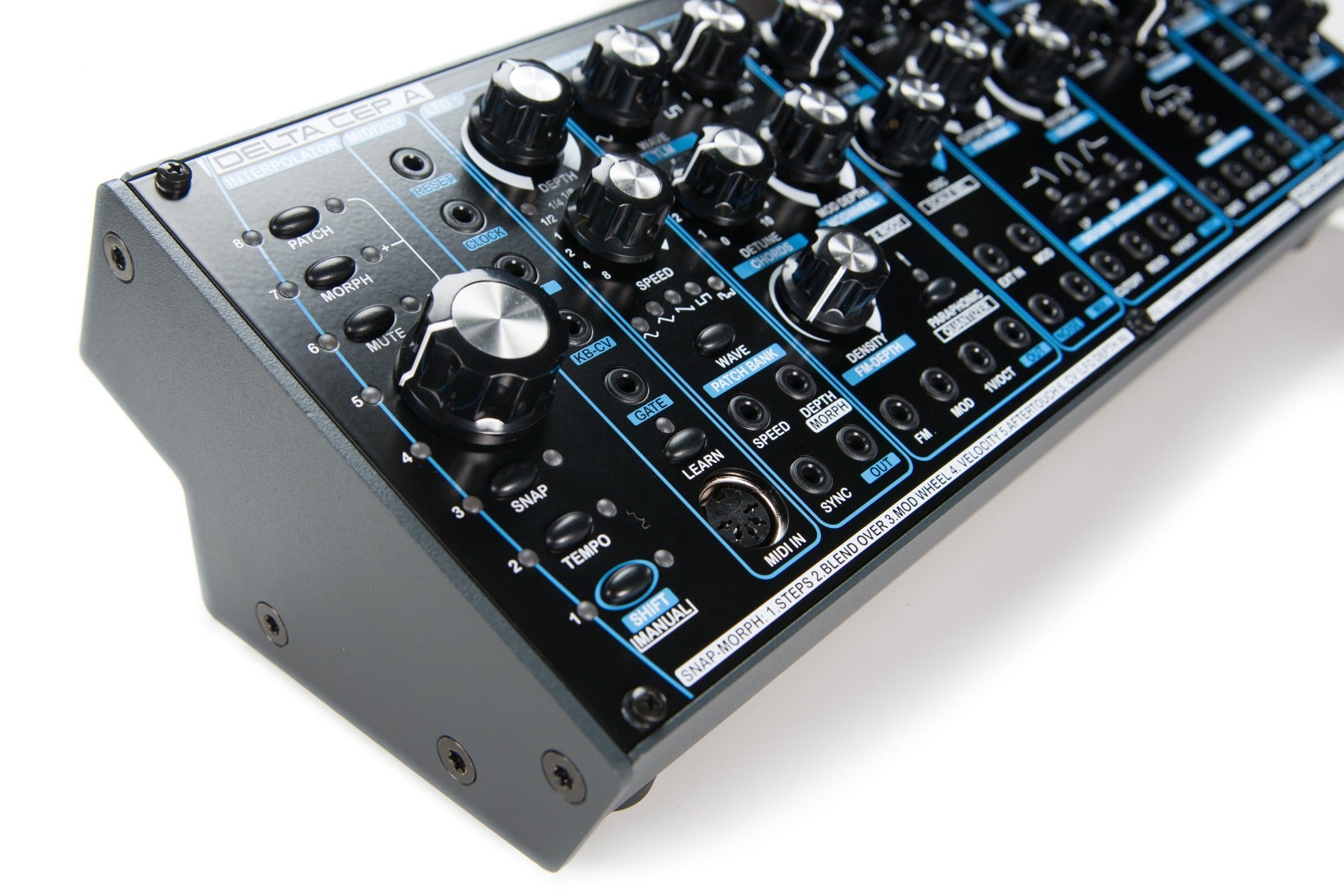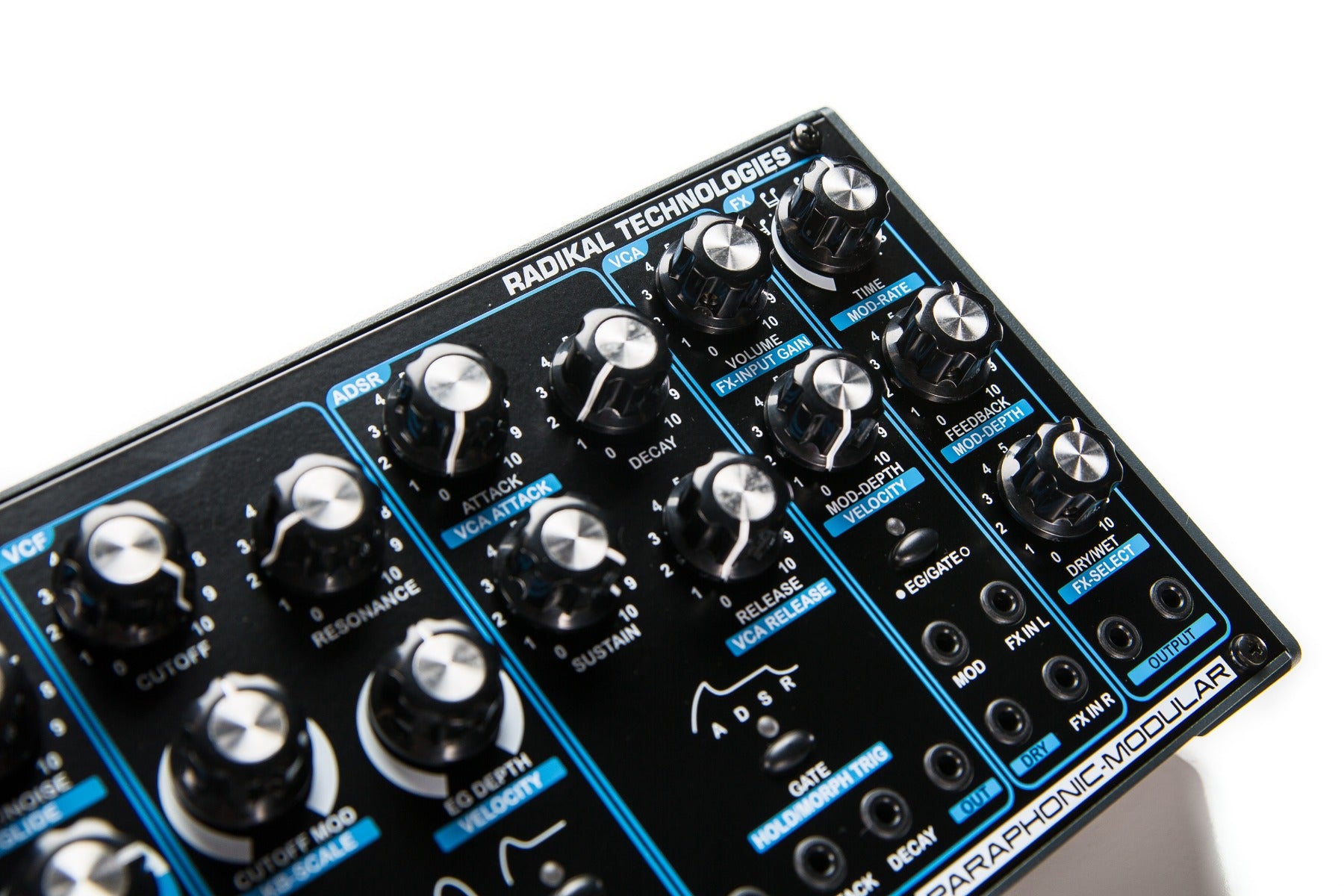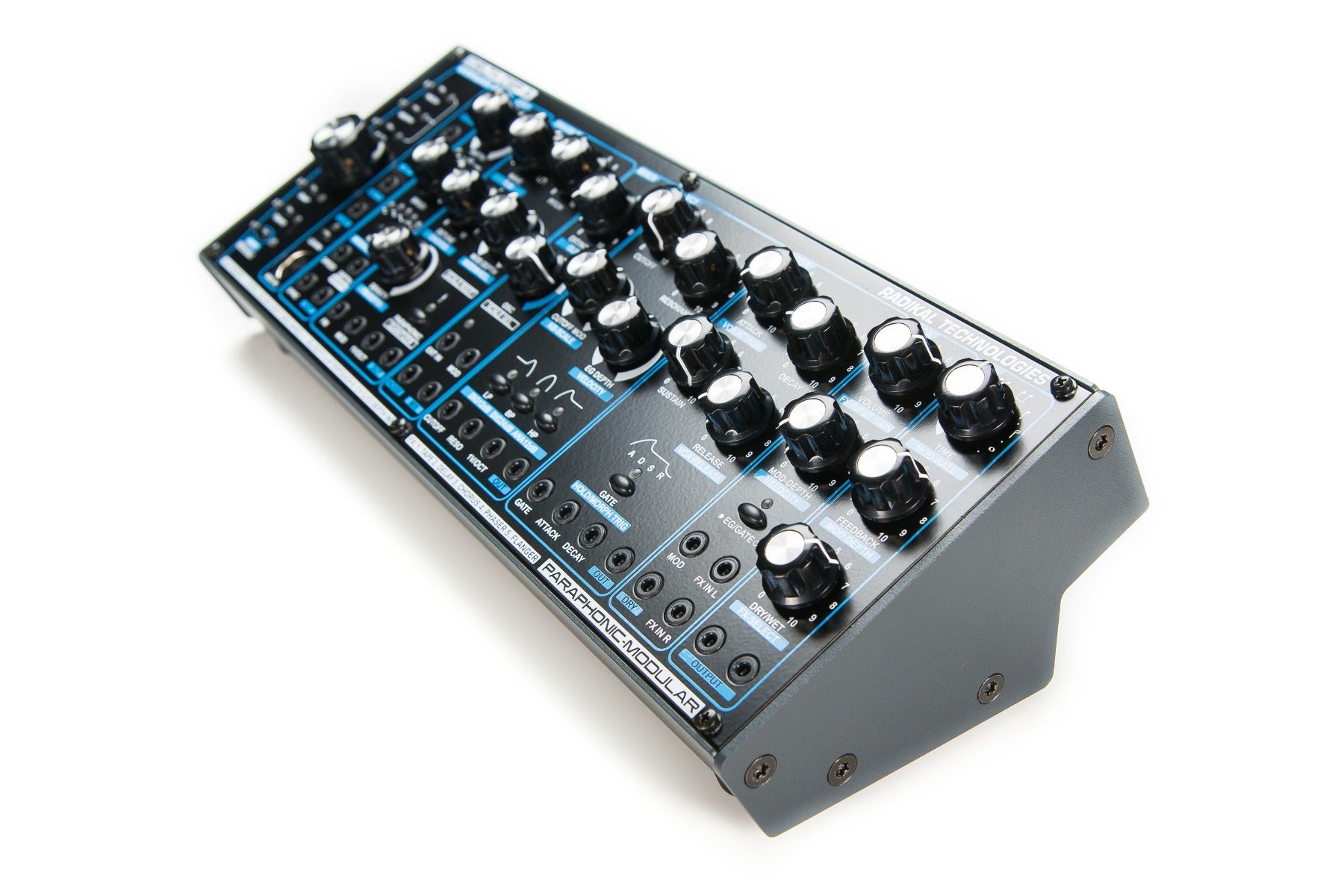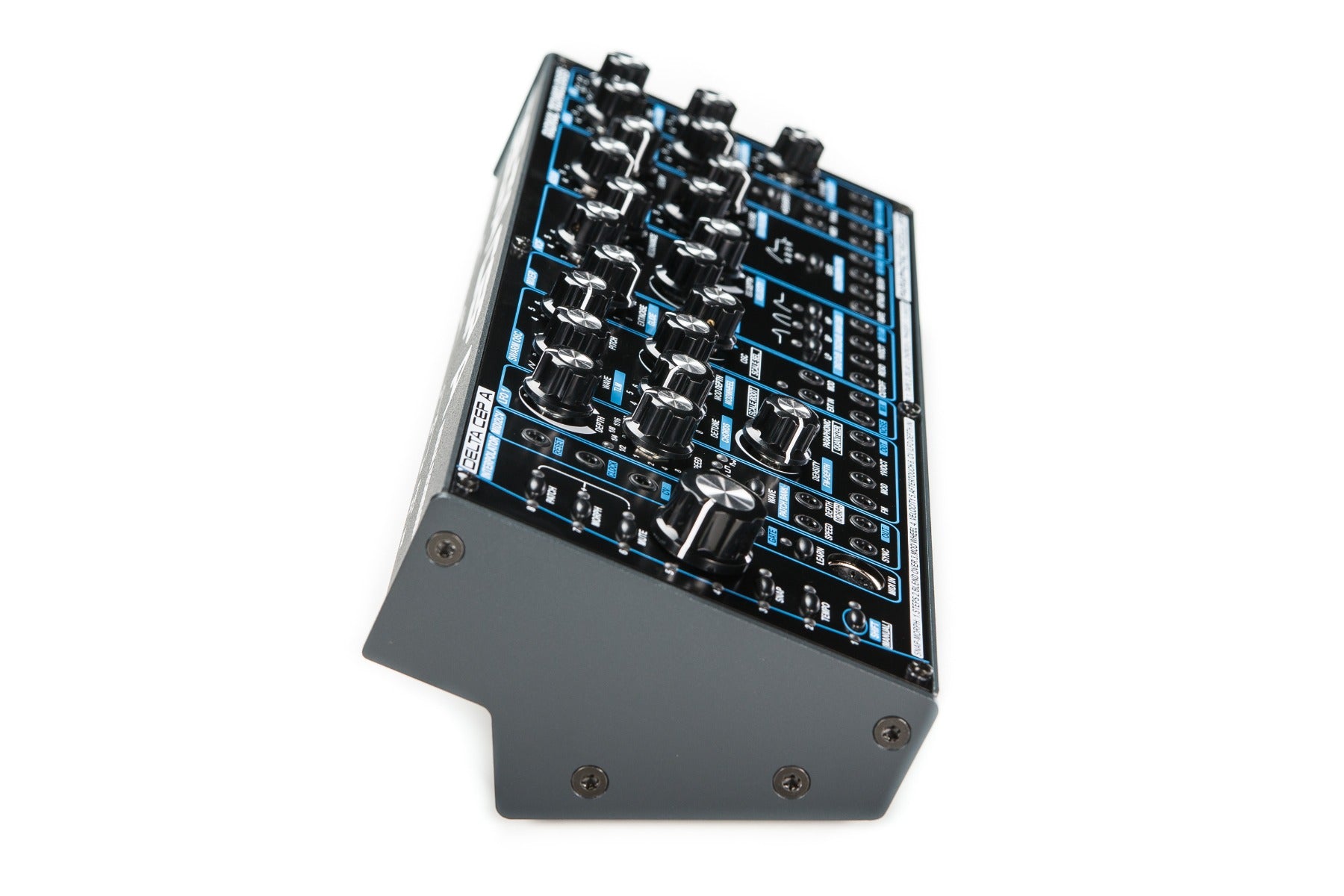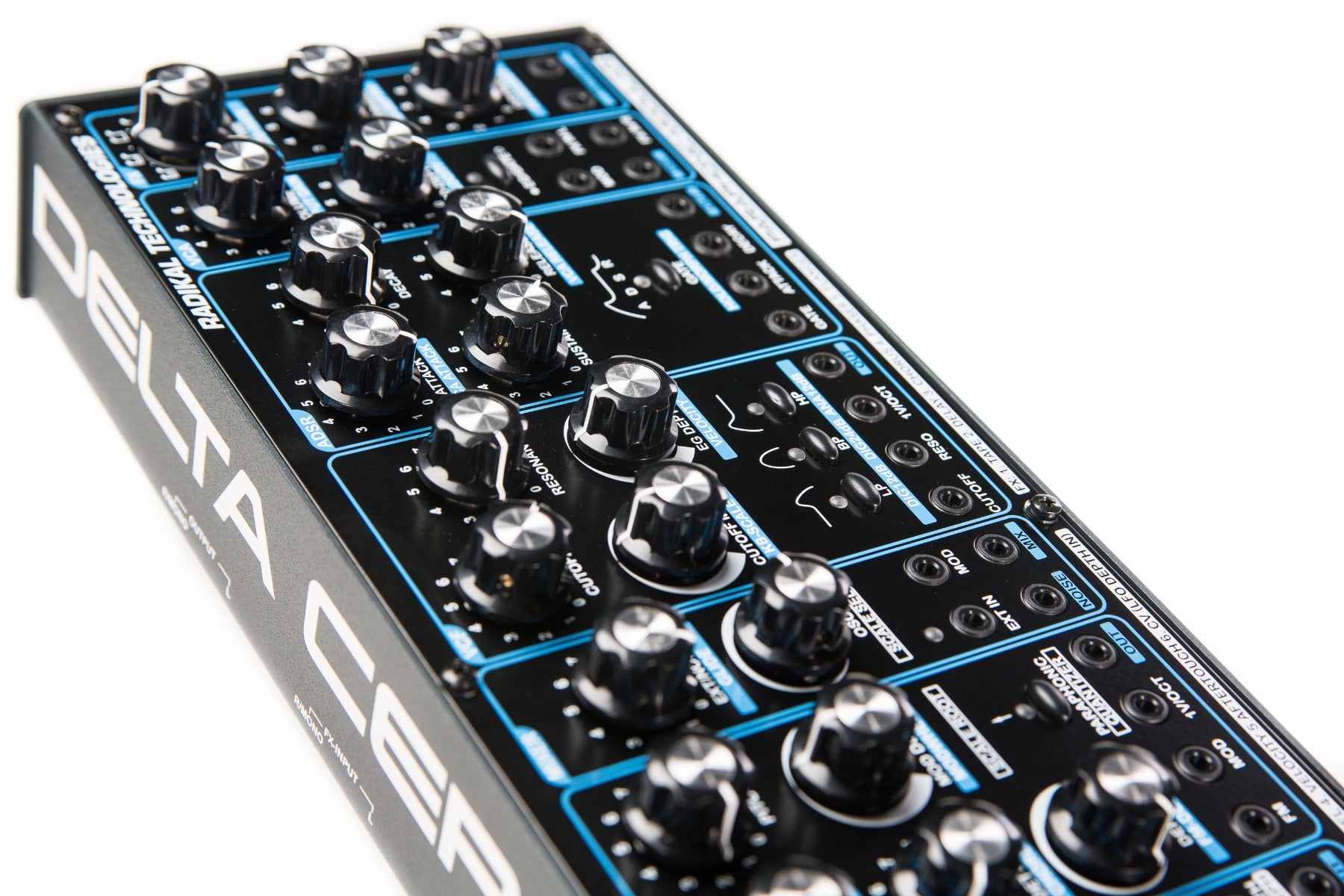 Radikal Technologies Delta Cep A Semi-Modular Desktop Synthesizer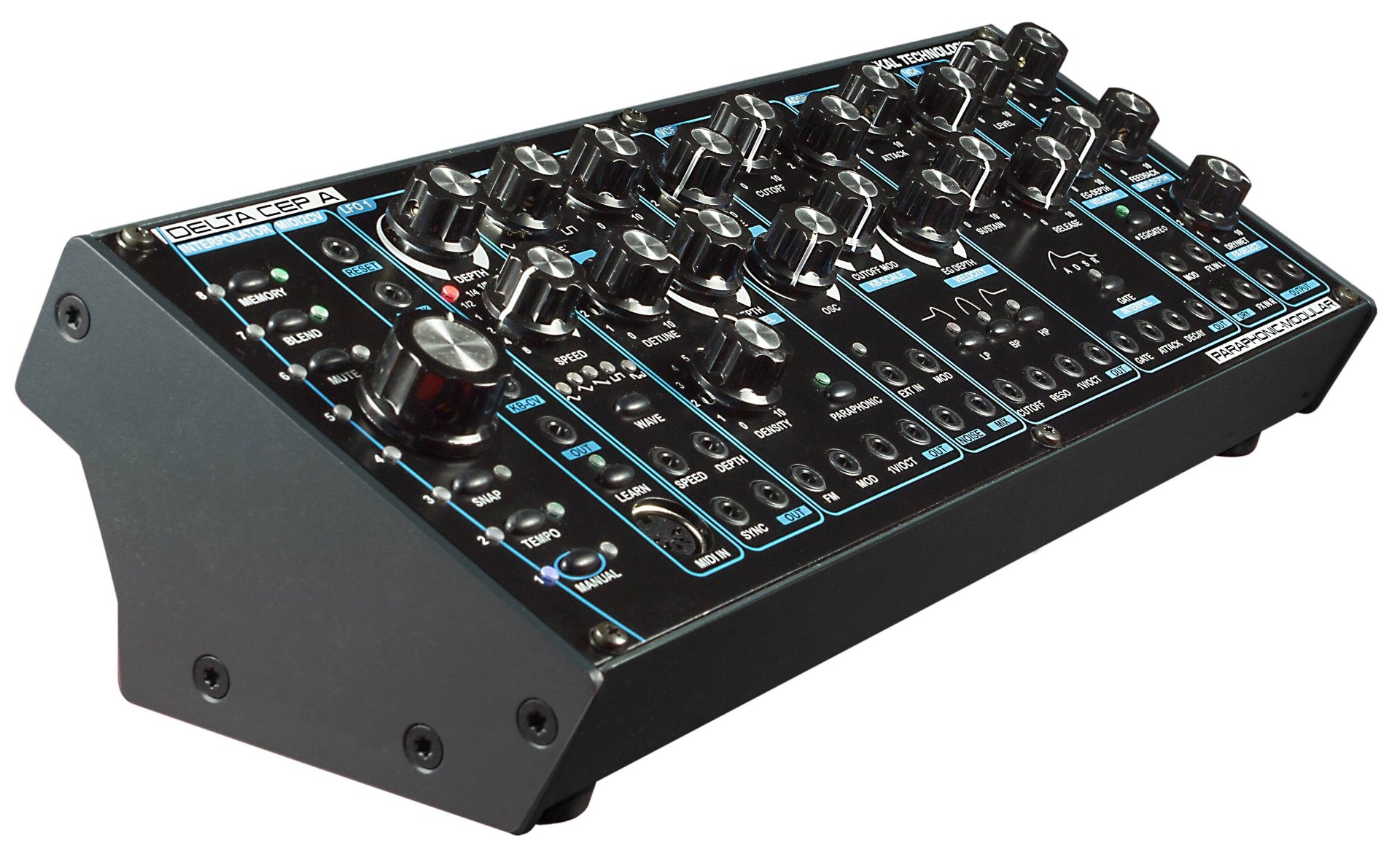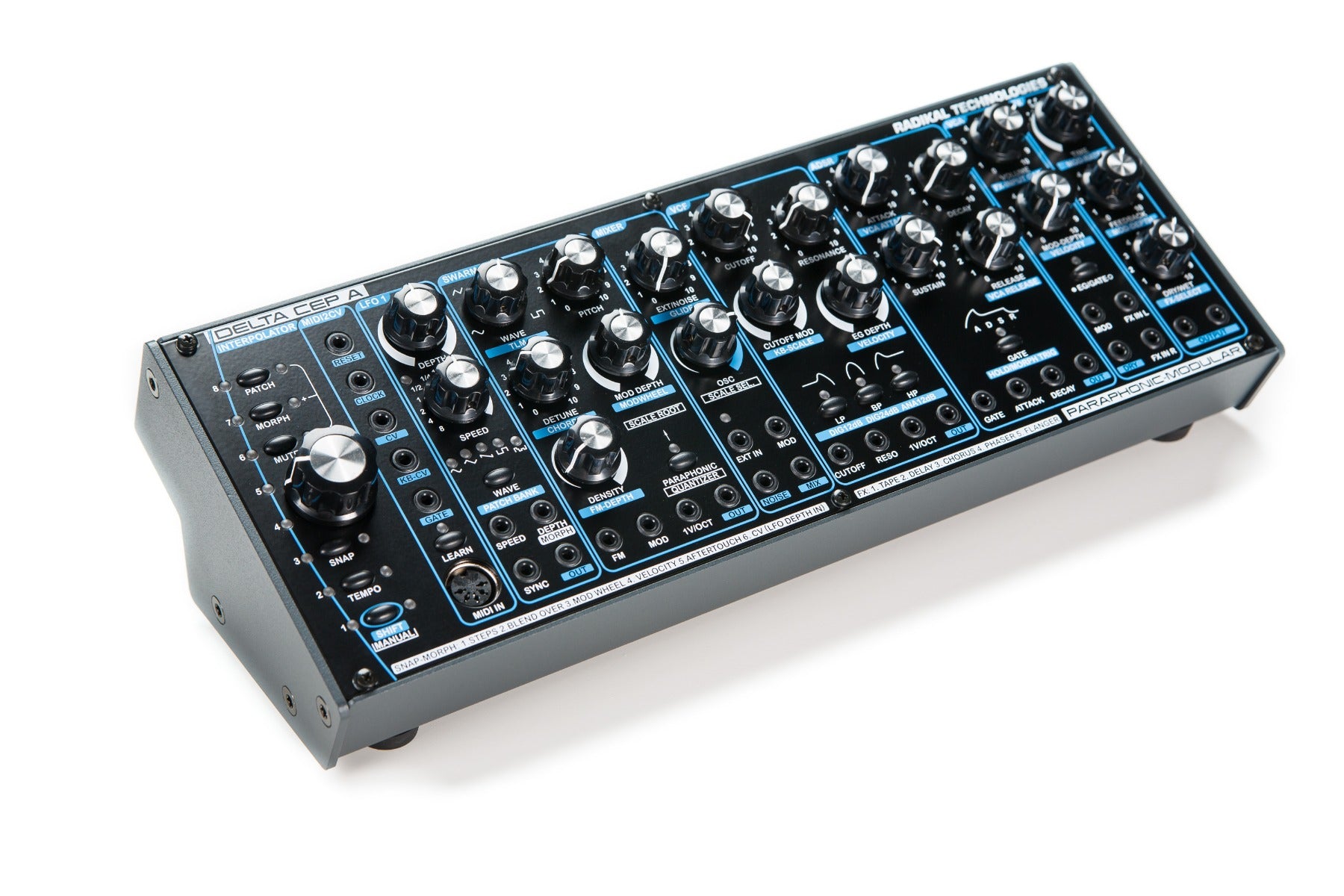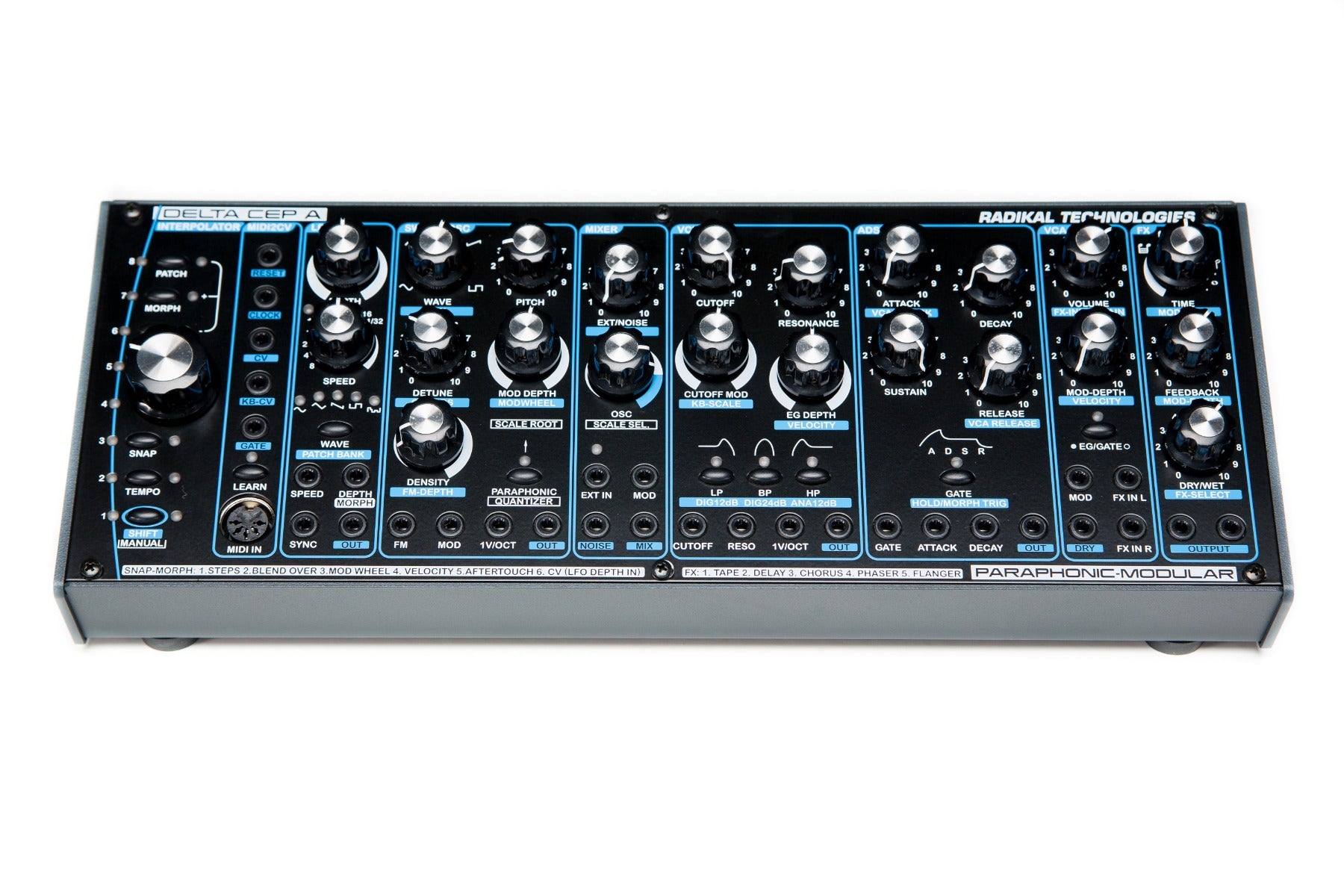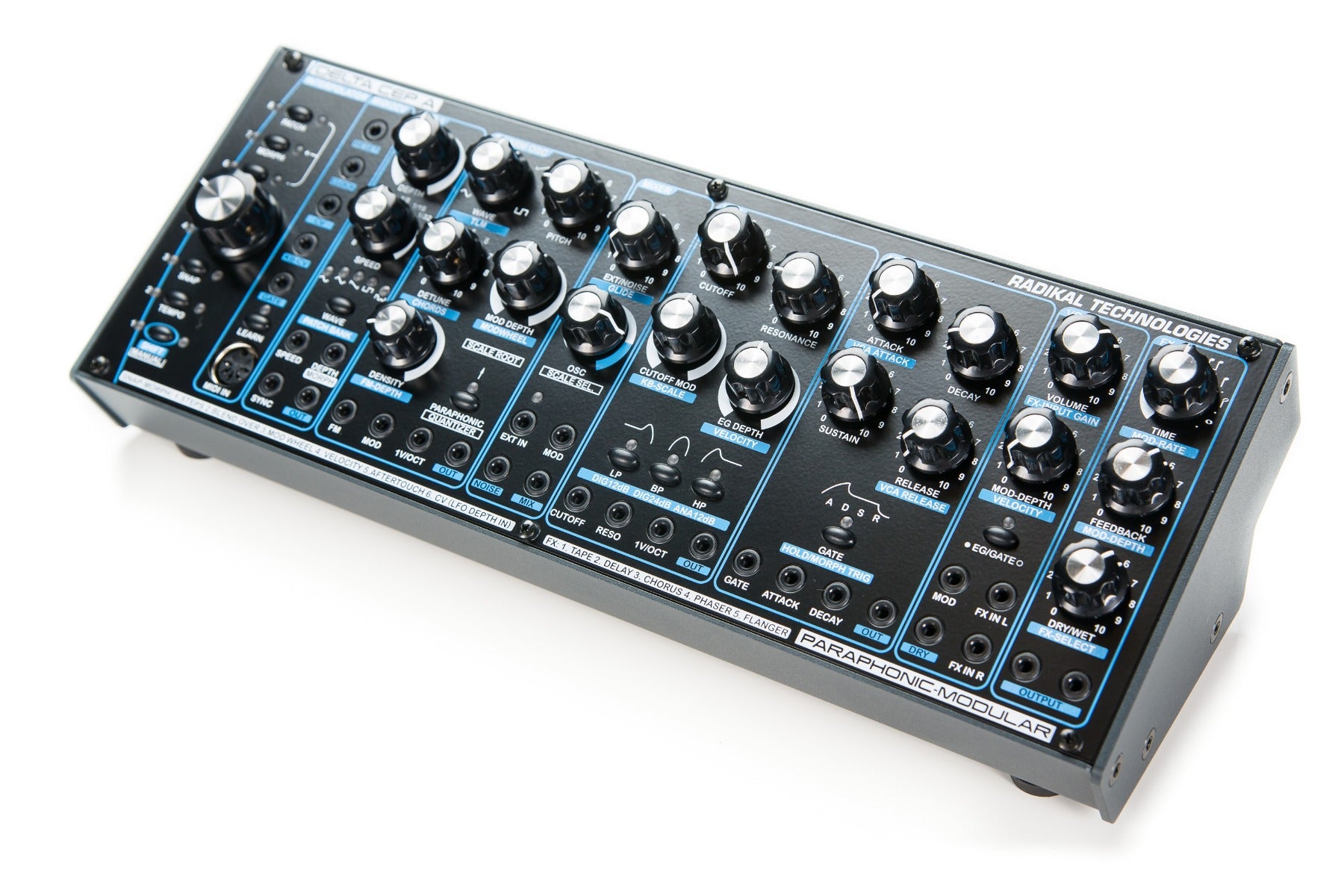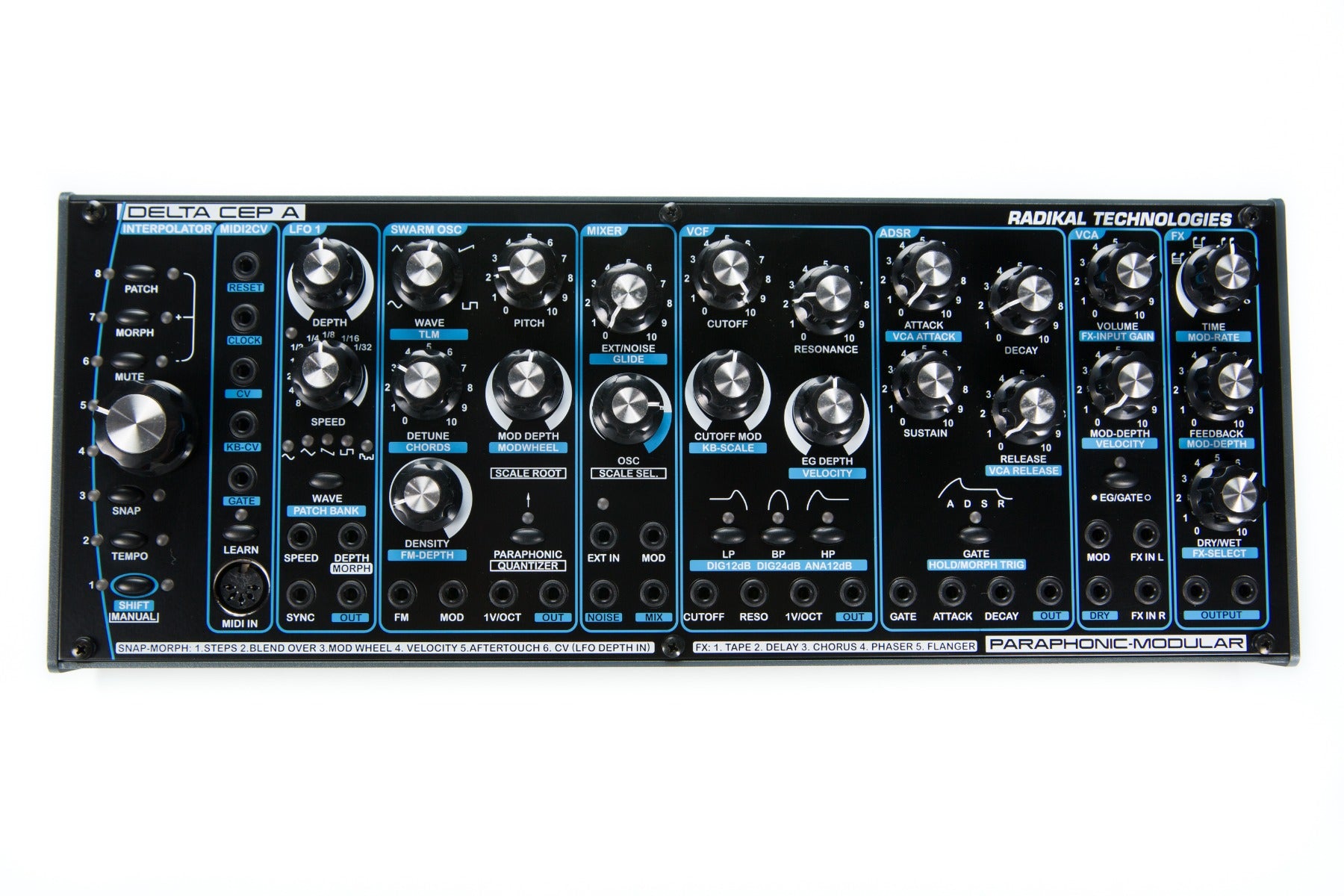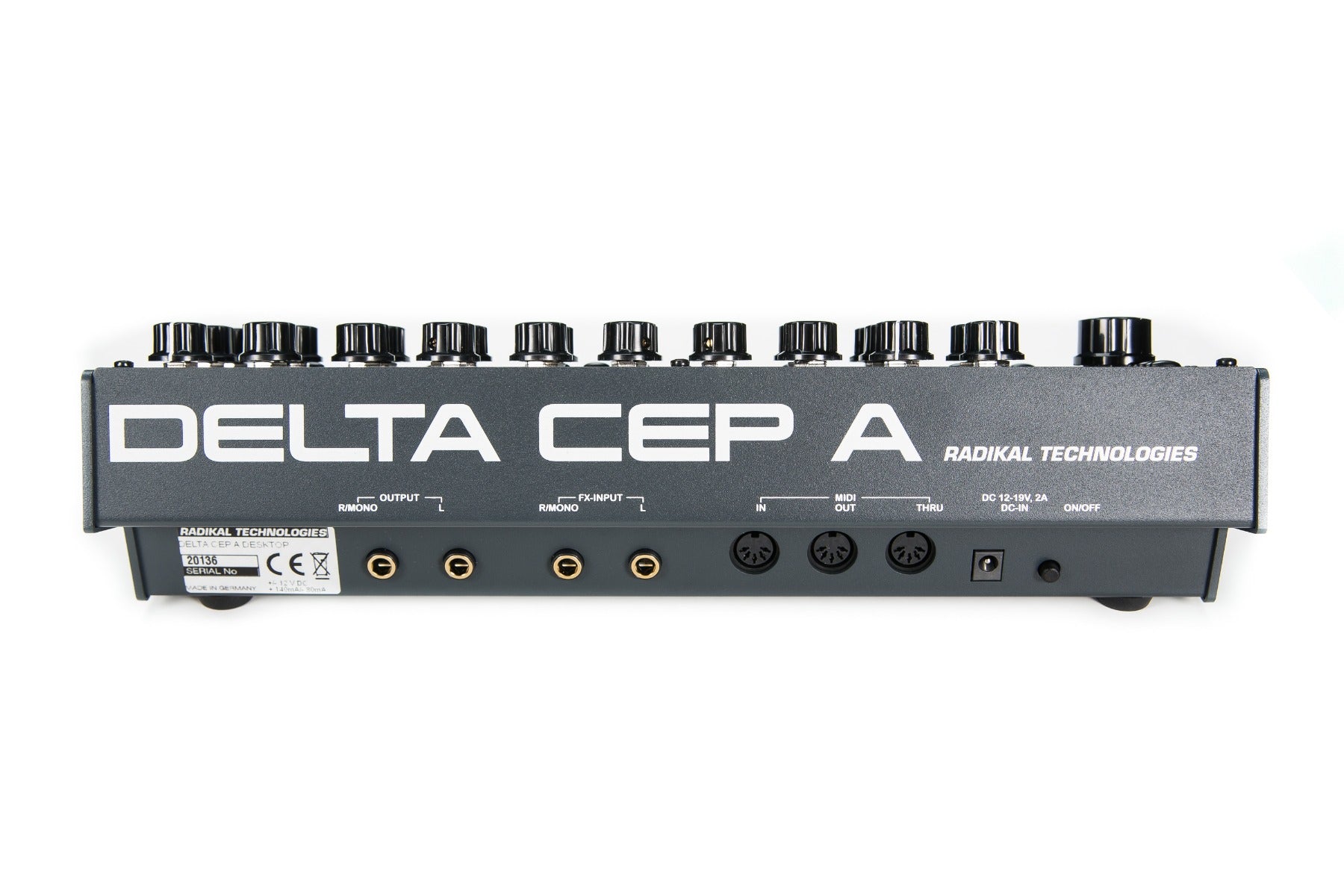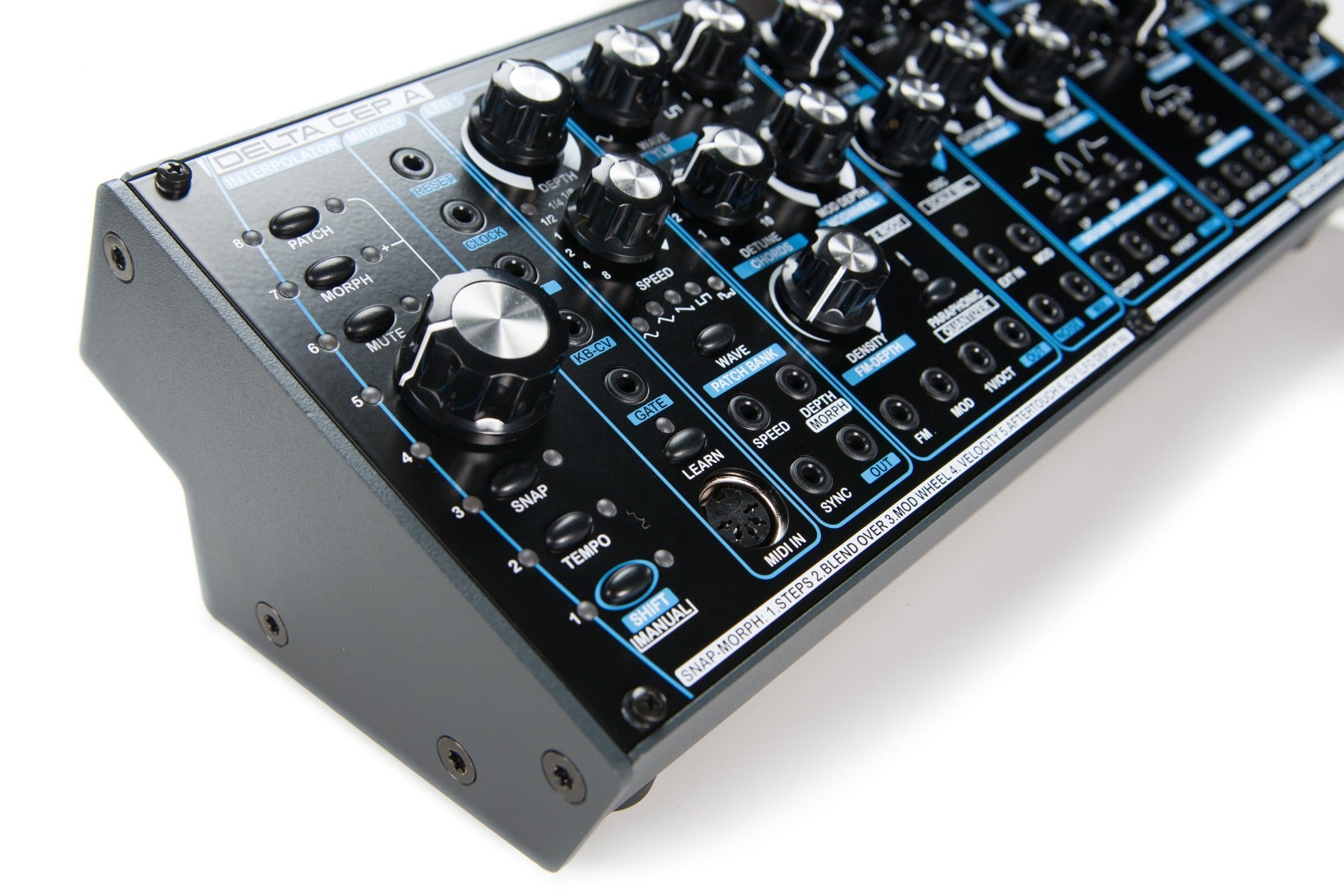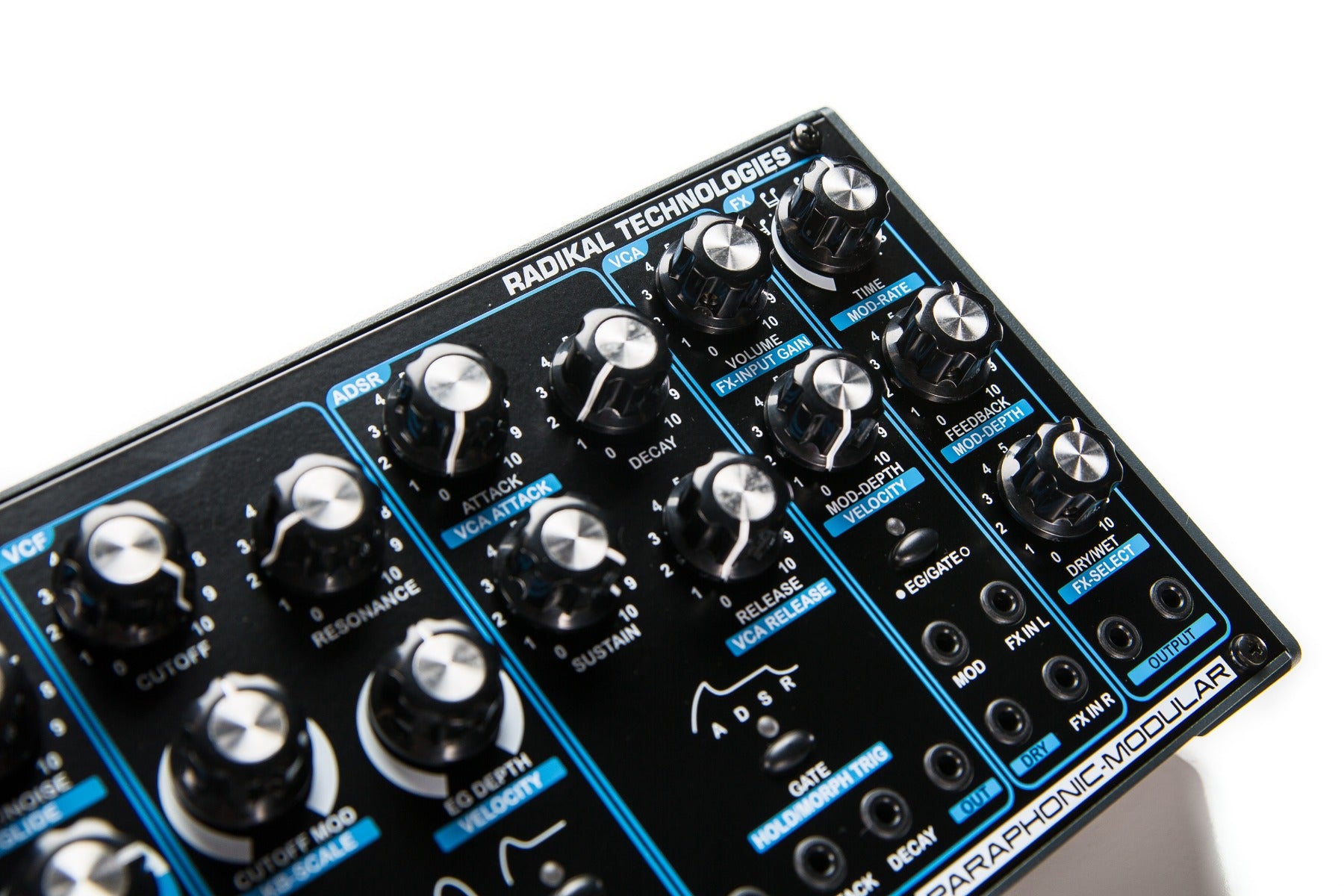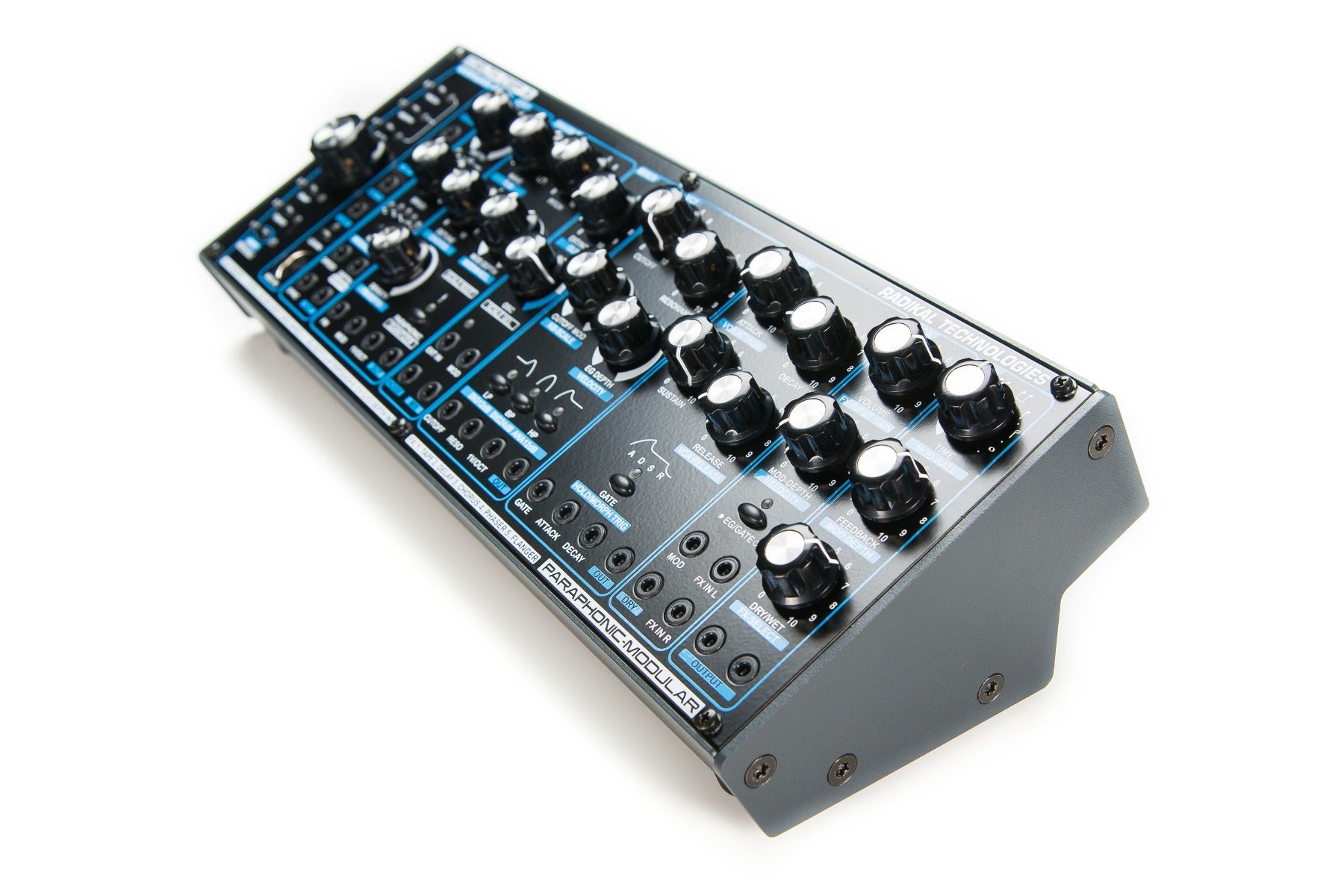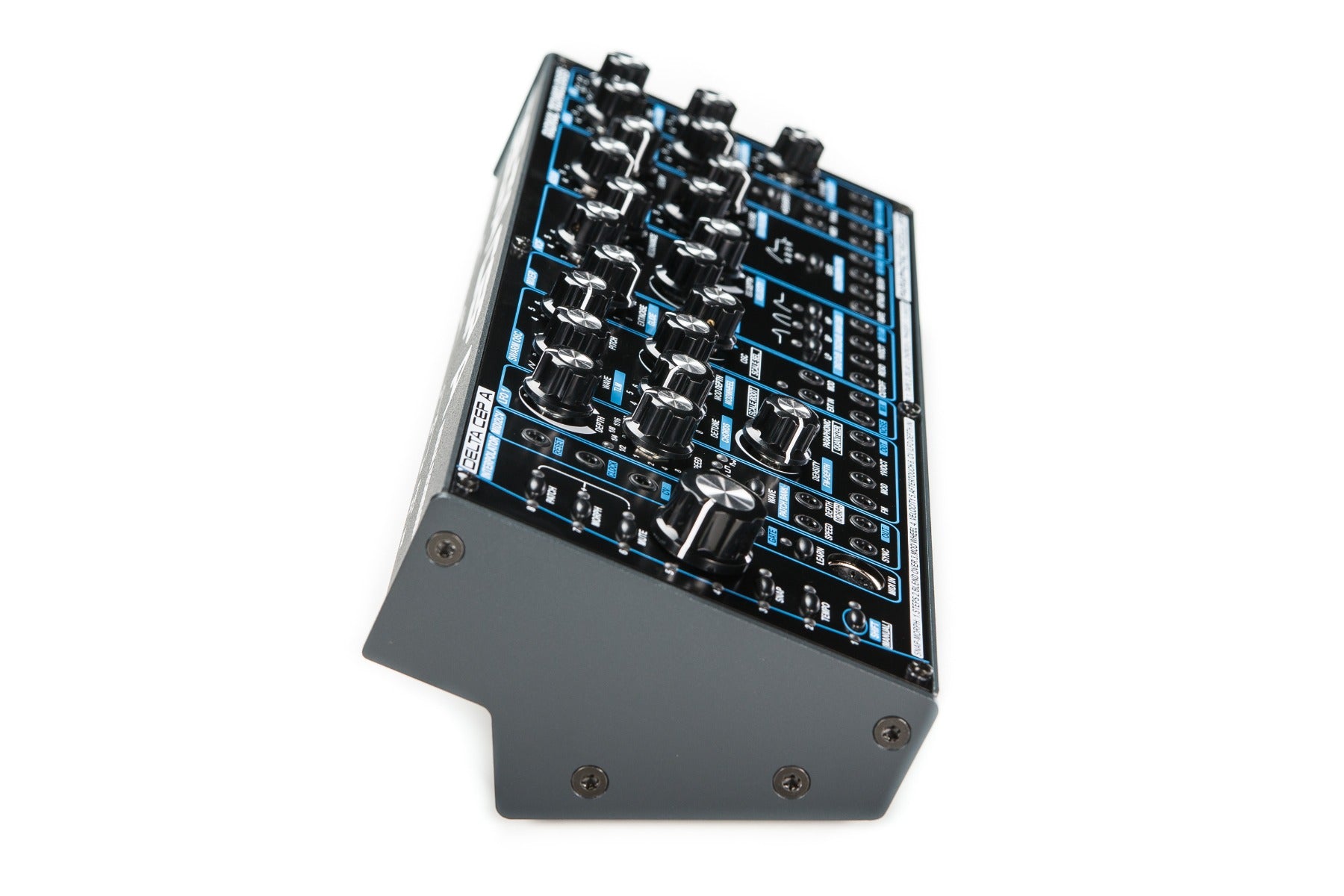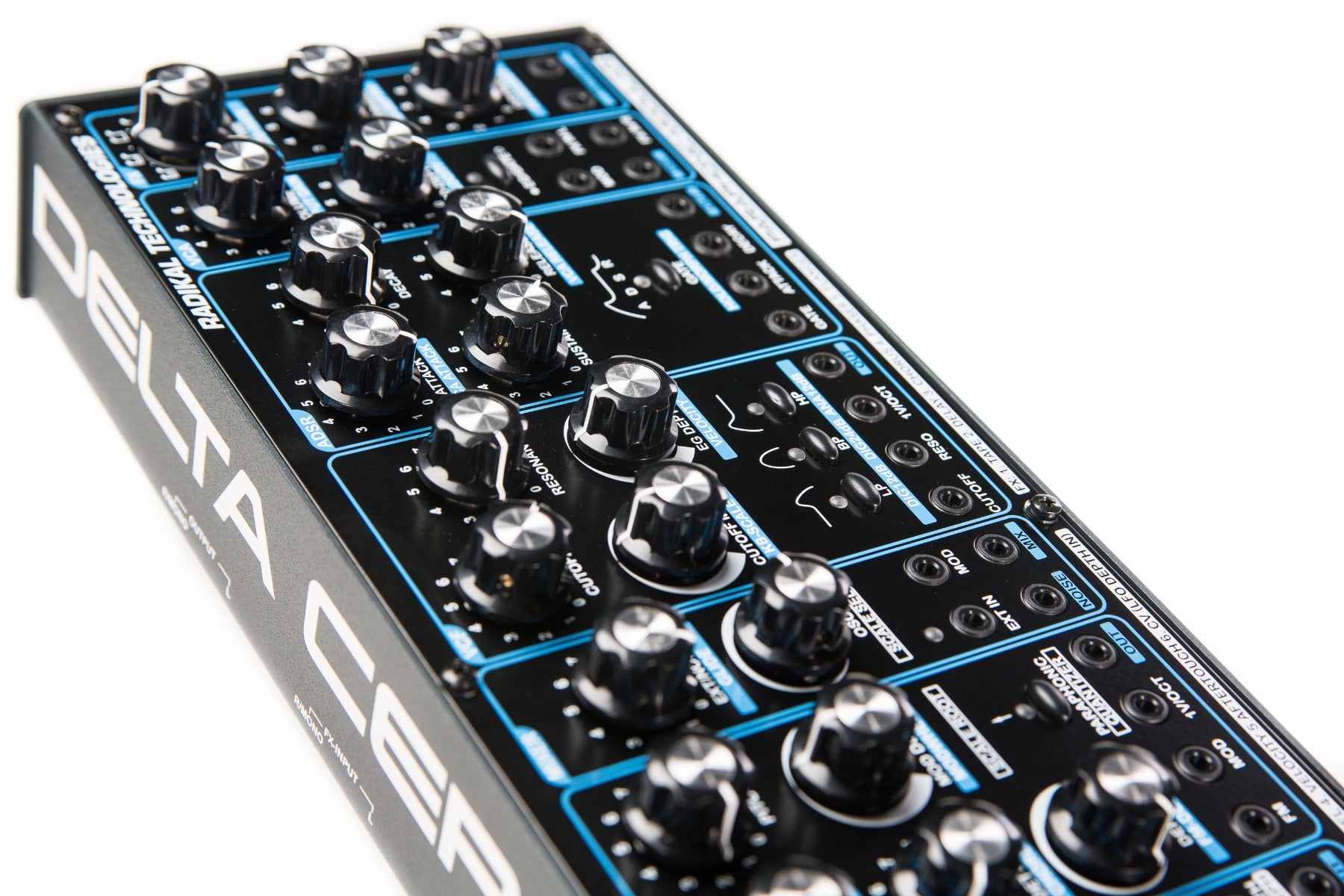 Radikal Technologies Delta Cep A Semi-Modular Desktop Synthesizer
Radikal Technologies Delta Cep A is the perfect starting point into the eurorack modular world, offering a MIDI-to-CV interface, oscillators, filters, LFO, envelope generator, mixer, VCA, an effects section and even a memory sequencer/interpolator for new incredible sounds. Each section has input and output patch points and adds a lot of power to any existing modular synth. Even without patching a single cable, Delta Cep A can be used as a powerful solo synthesizer and chords/pads machine.
This model of Delta Cep A comes in a desktop case with power supply so that it can be used as a standalone semi-patchable desktop synth, though it can be removed from the case and mounted in a eurorack enclosure if you prefer.
Interpolator
The Interpolator stores patch memories of the synthesizer and allows for automatic sequential recall and crossfading between these patches.
MIDI2CV
The MIDI-to-CV interface translates MIDI signals to control voltages to control the internal synthesizer and external synth modules.
Swarm Oscillator
The Swarm Oscillator is a bank of up to eight oscillators that can be tuned in chords, clusters or fat detuned multi-oscillator sounds.
Mixer
The mixer controls the balance between external signals, the Swarm Oscillator and the noise generator.
Filters
Delta Cep A has one analog and one digital multimode filter to choose from with low pass, high pass and band pass modes.
ADSR generator
The ADSR Generator creates fast, snappy envelopes and offers CV control over attack and decay times.
FX section
The FX section does delay effects and is the perfect addition to this synthesizer voice.
| | |
| --- | --- |
| SKU | RAD-DELTACEPAD |
| MPN | Delta Cep A Desktop |
| Vendor | Radikal Technologies |
| Aftertouch | N/A |
| Analog Digital | Digital |
| Built In Speakers | No |
| Keys Weighted | No |
| Number of Keys | None |
| Midi | In |
| Mono Poly | Duophonic/Paraphonic |
| Mpn | DELTACEPAD |
| Arpeggiator | No |
| Audio File Playback | No |
| Effects | Delay |
| Oscillators per Voice | Varies by Sound Engine |
| Voices of Polyphony | Monophonic, but up to (8) oscillators may be arranged in chords and played paraphonically |
Radikal Technologies Limited Warranty
Radikal Technologies warrants all electronic und mechanical components of this product, subjects to the conditions herein described, for a period of 12 months from purchase. If any covered malfunctions arise during the warranty period, the unit will either be repaired or replaced at the Manufacturer's election. The general business terms and conditions of Radikal Technologies GmbH Germany shall apply.
Radikal Technologies Deutschland GmbH reserves the right to perform warranty repairs or product replacement only subject to prior warranty registration by the customer. Such registration needs to be submitted together with a copy of dealer invoice or sales receipt. The final decision concerning validity of the warranty is made by Radikal Technologies GmbH.
In case of a justified warranty claim the submitted product will be repaired or replaced within 30 days of receipt at Radikal Technologies offices. Any physical damage to the instrument or unauthorized attempts to open or fix the unit will render the warranty null and void. Repair of non-registered products or products with a lapsed warranty will be performed at customer's expense.
Radkial Technologies strongly recommended that customers ask for an estimate of costs before sending in their instruments for repair. Cost of packaging and shipping will be charged additionally.
In case of covered warranty claims the product will be shipped back to the customer free of charge. Shipment to customers residing outside of Germany will take place at the cost of the customer.
This warranty is exclusive and personal to the original owner and may not be transferred. Other than Radikal Technologies Deutschland GmbH, no third party (retailer, etc.) is authorized to promise or perform warranty services. Services other than ones specified herein are not covered under this warranty.
Claims for additional damages of any kind, including all claims of financial damages as a result of malfunction of a product, are specifically excluded hereunder. The liability of Radikal Technologies Deutschland GmbH in all cases is expressly limited to the purchase price or the adjusted value of the product only. All warranty services and shipments are performed subject exclusively to Radikal Technologies Deutschland GmbH's general business terms and conditions.
Ground shipping is FREE for all orders $99 and up.