Skip product carousel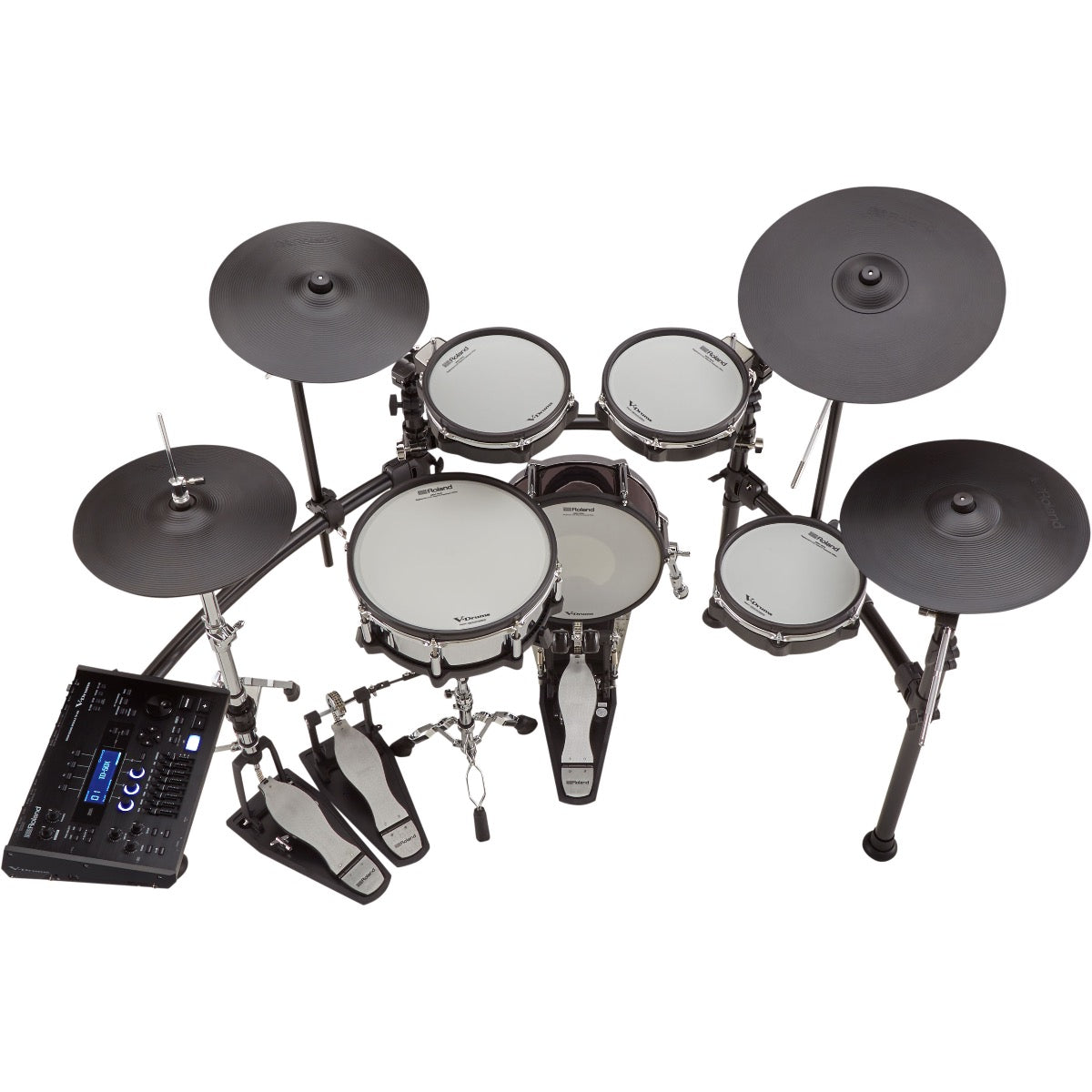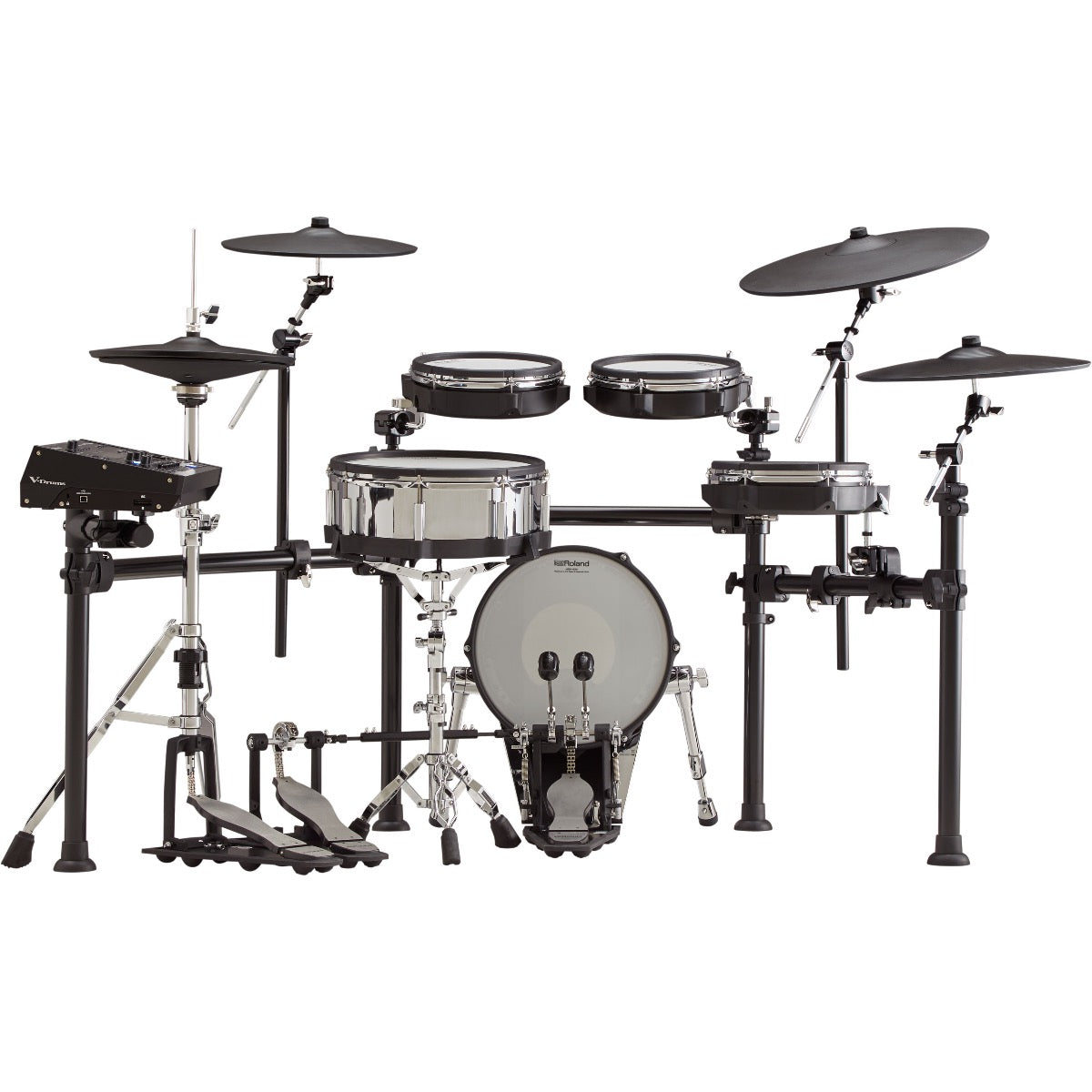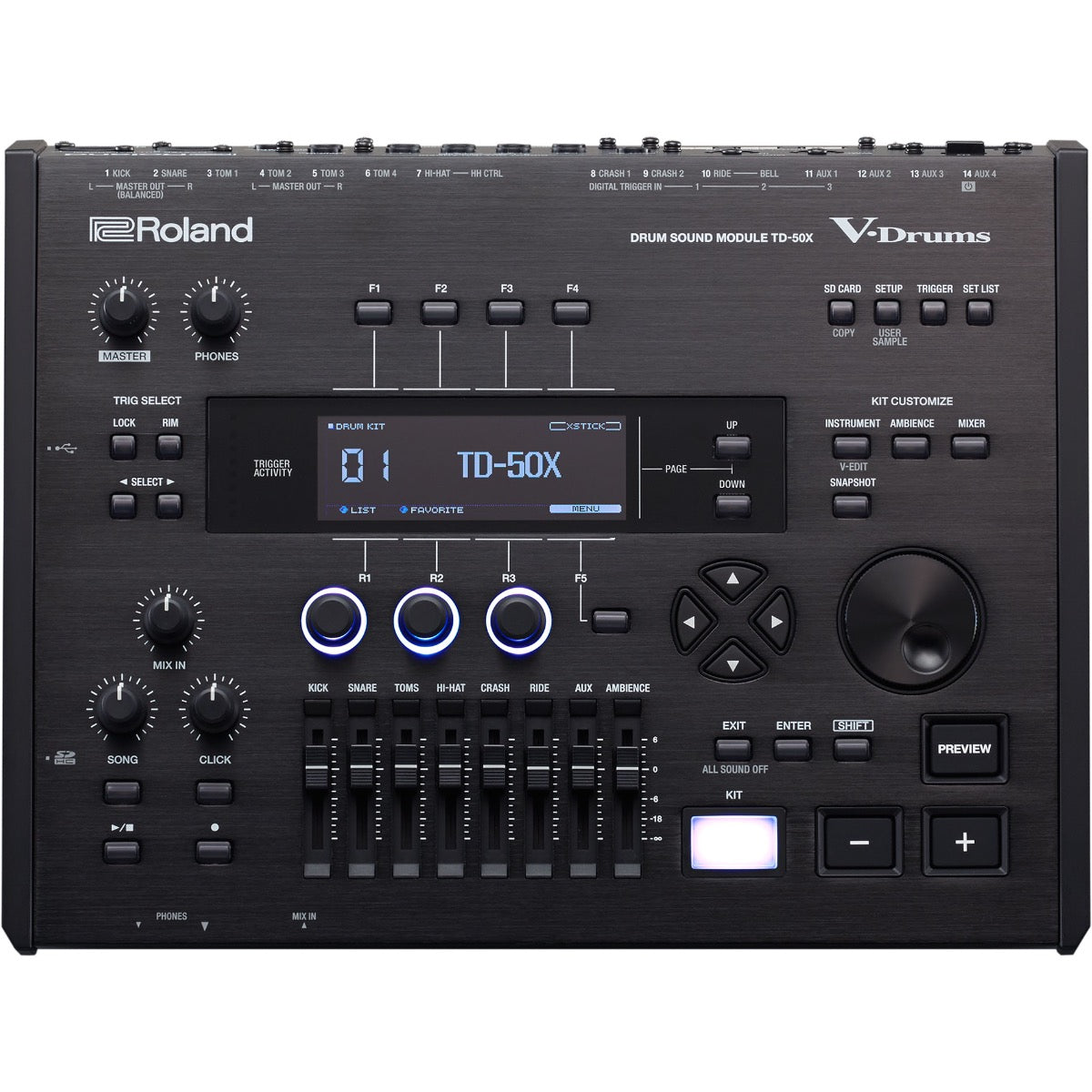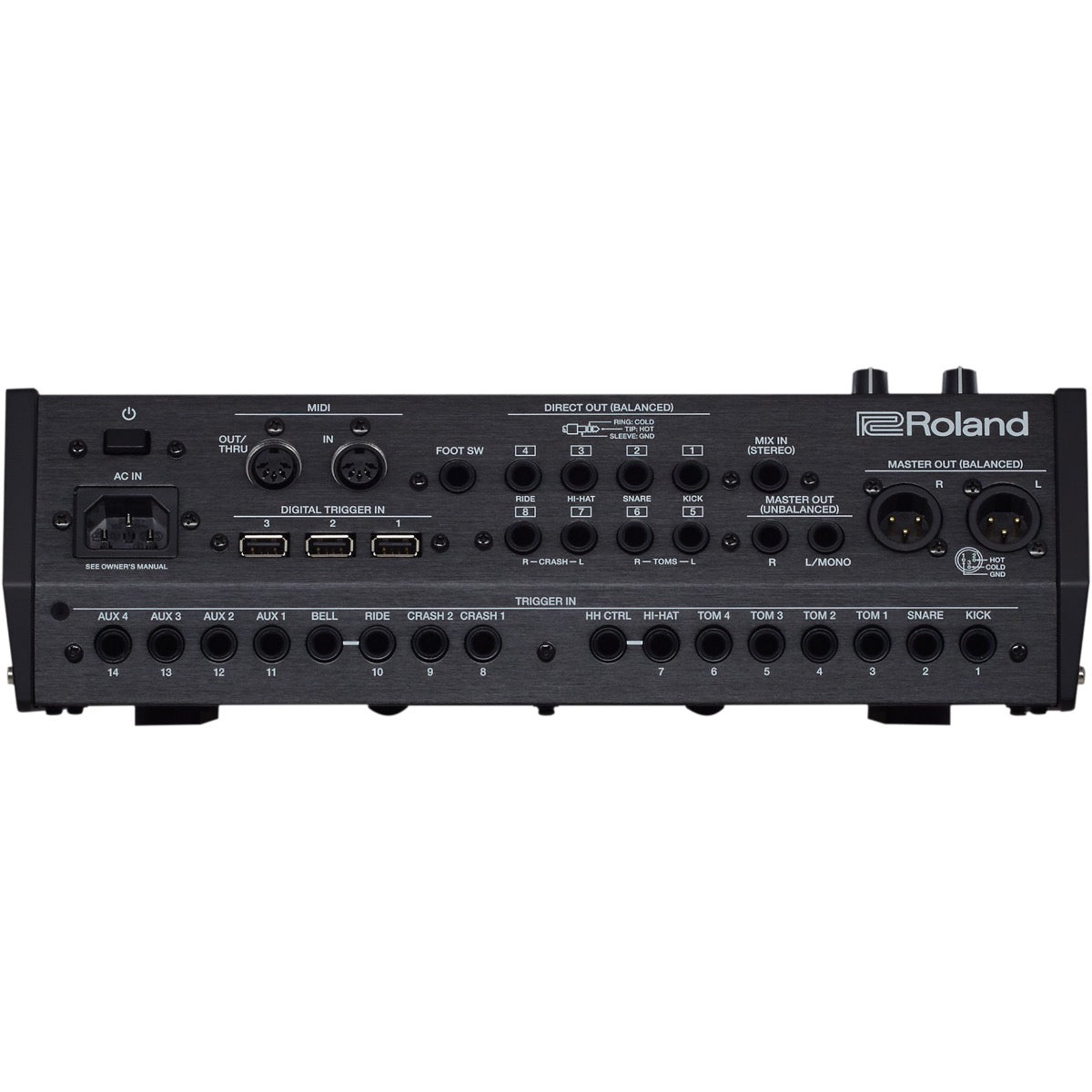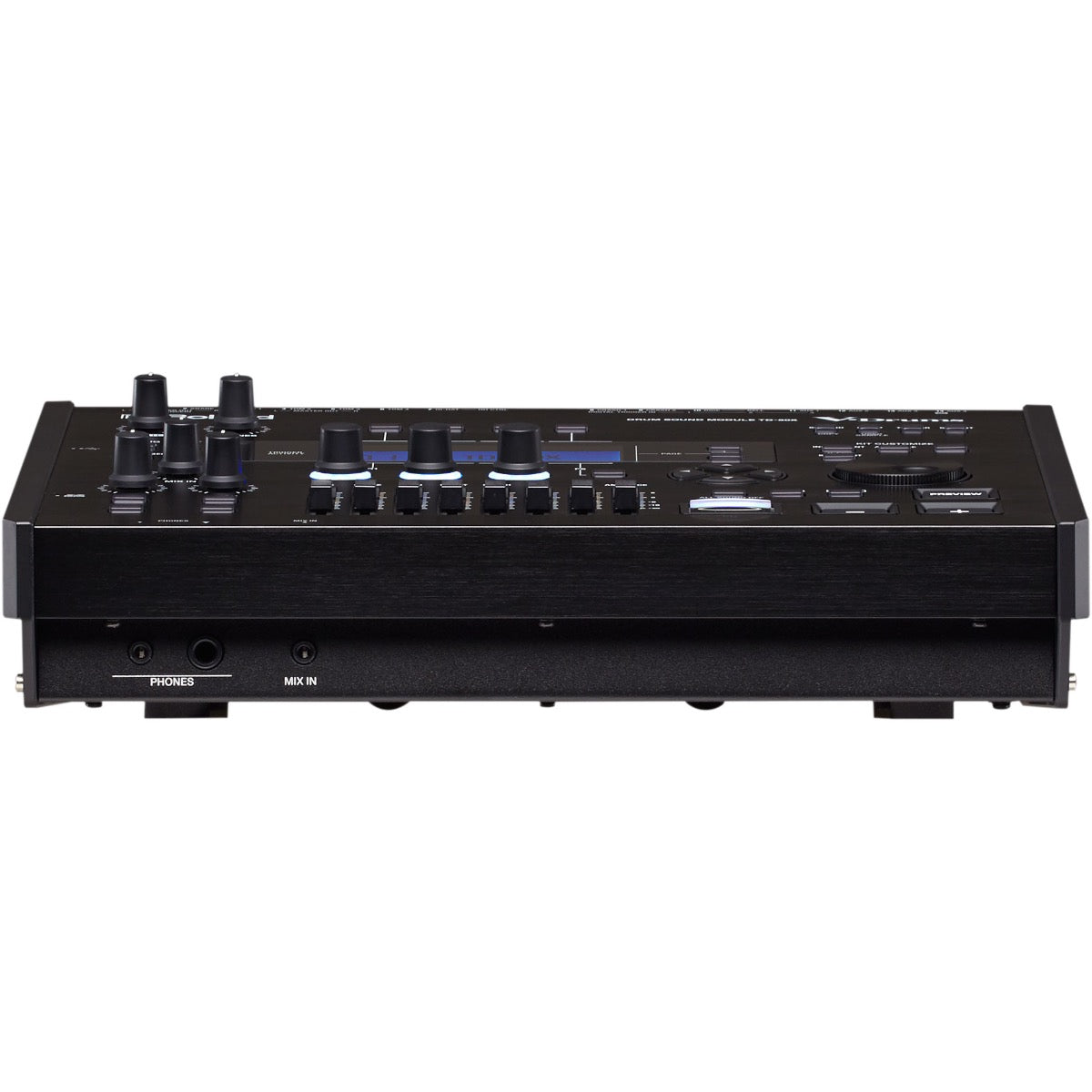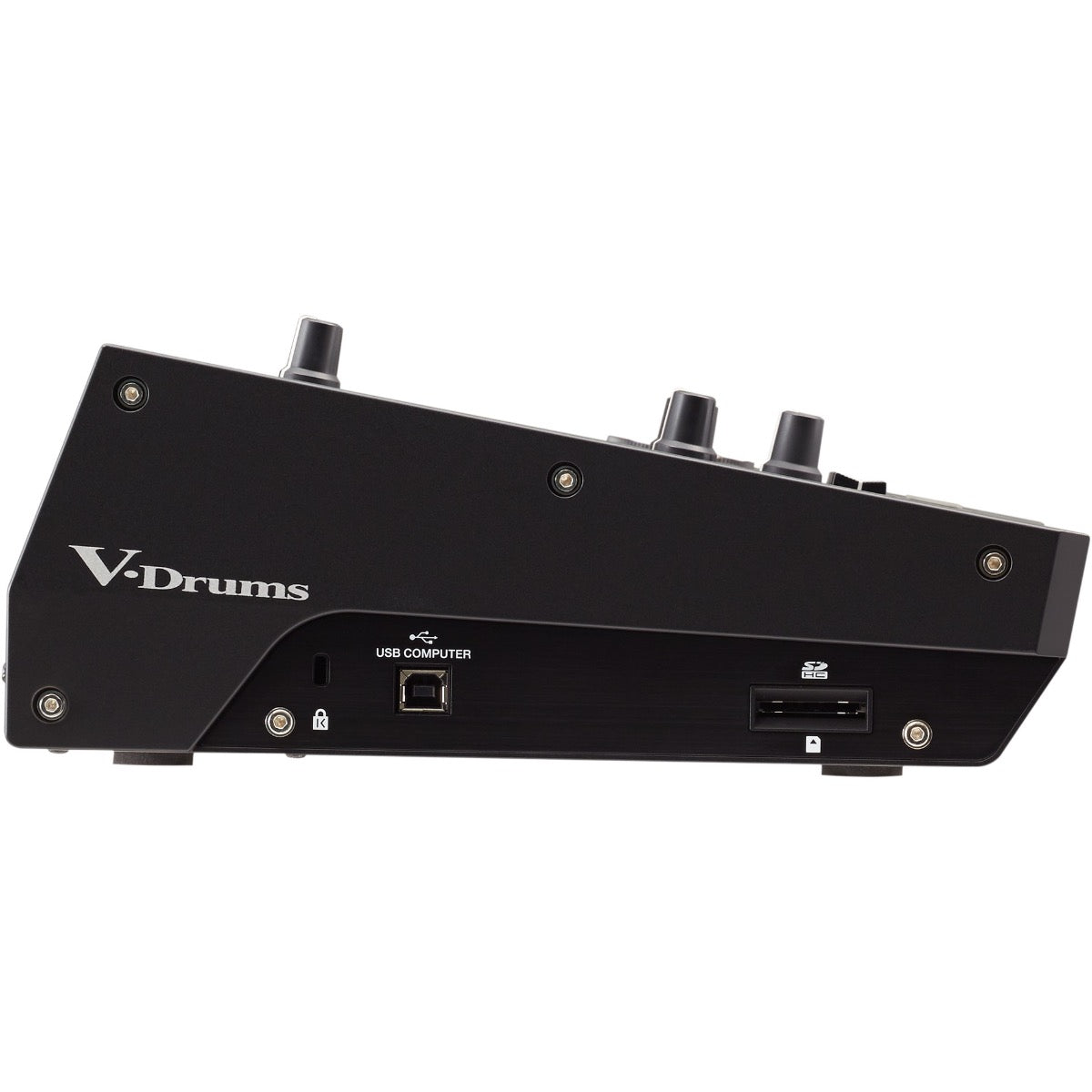 Roland TD-50K2 V-Drums Electronic Drum Set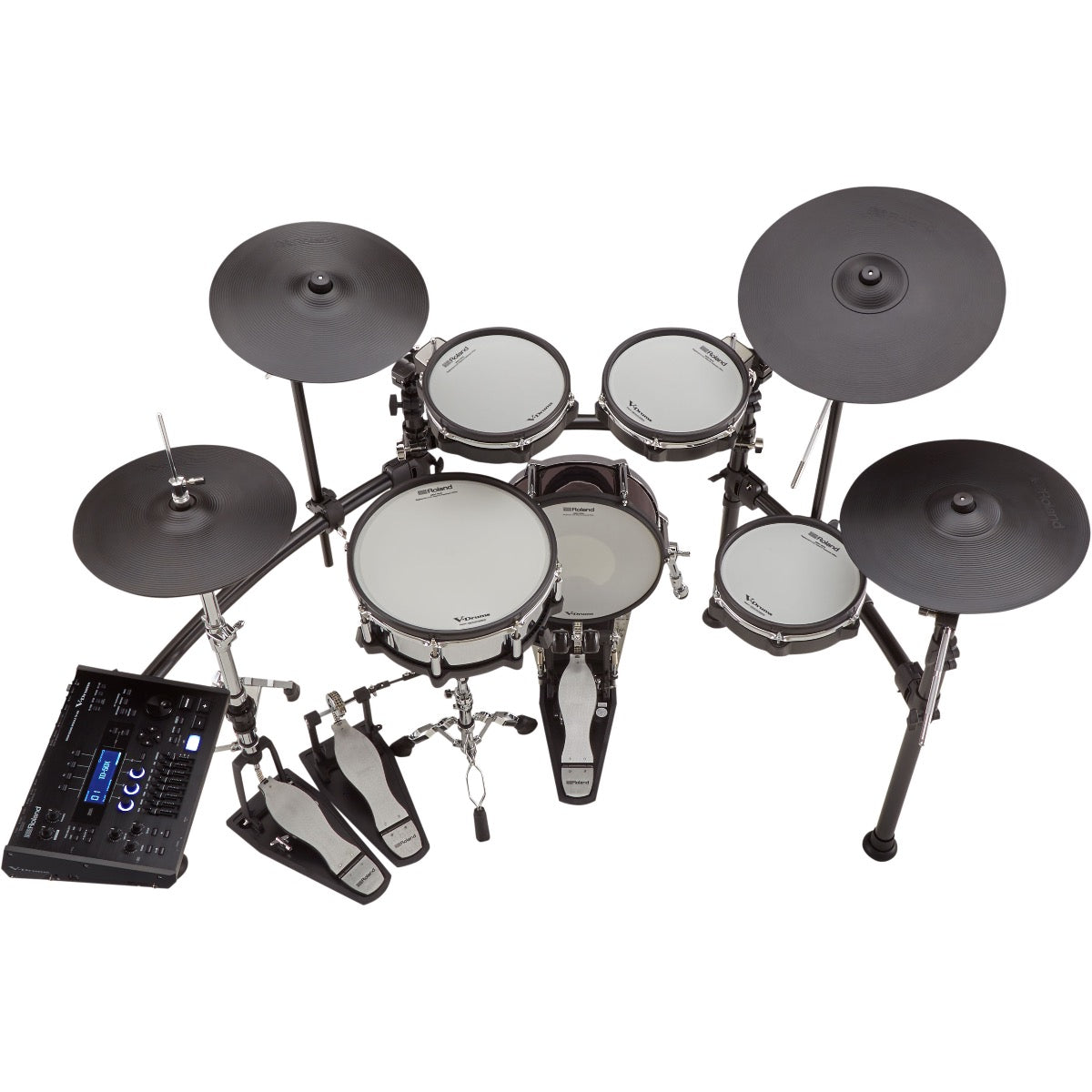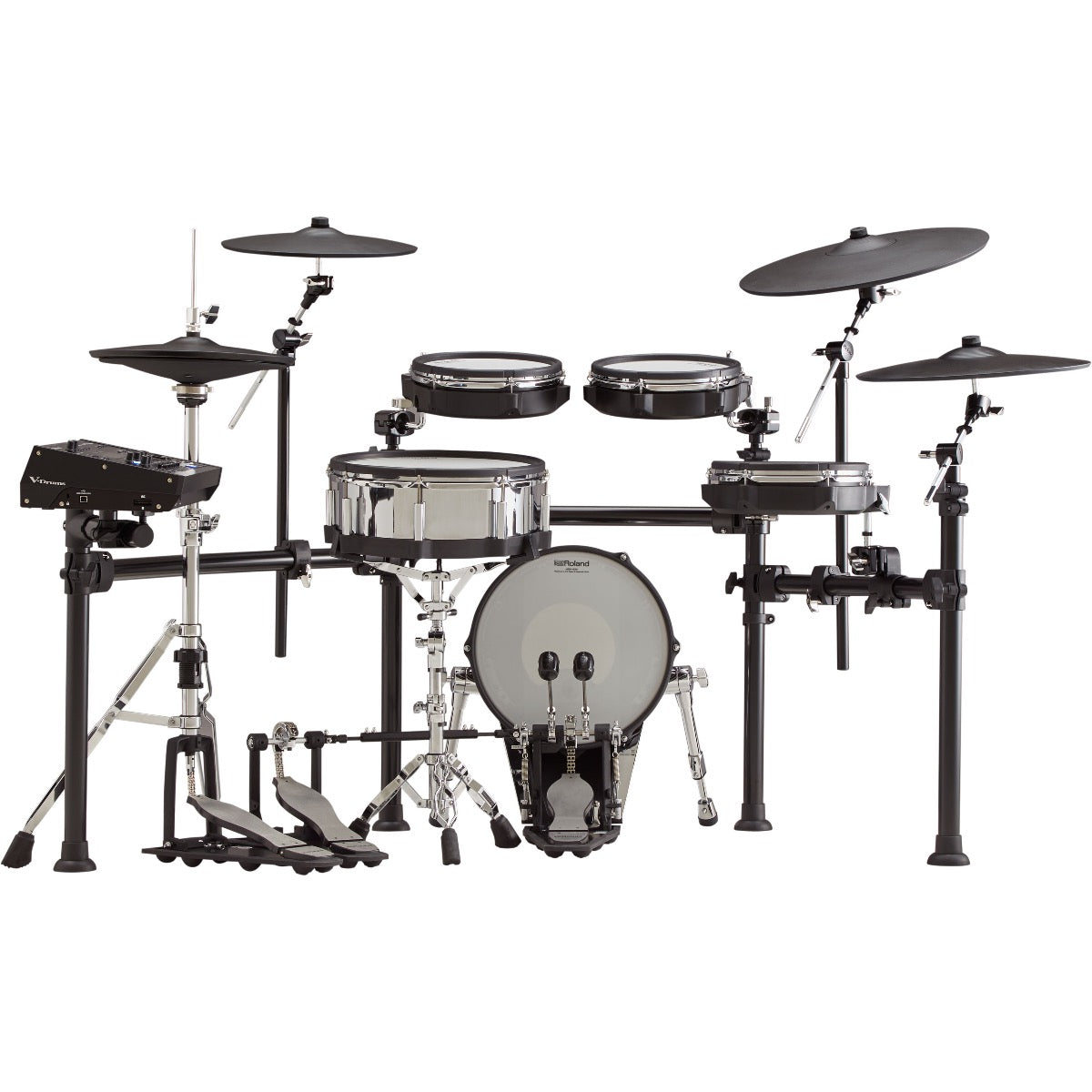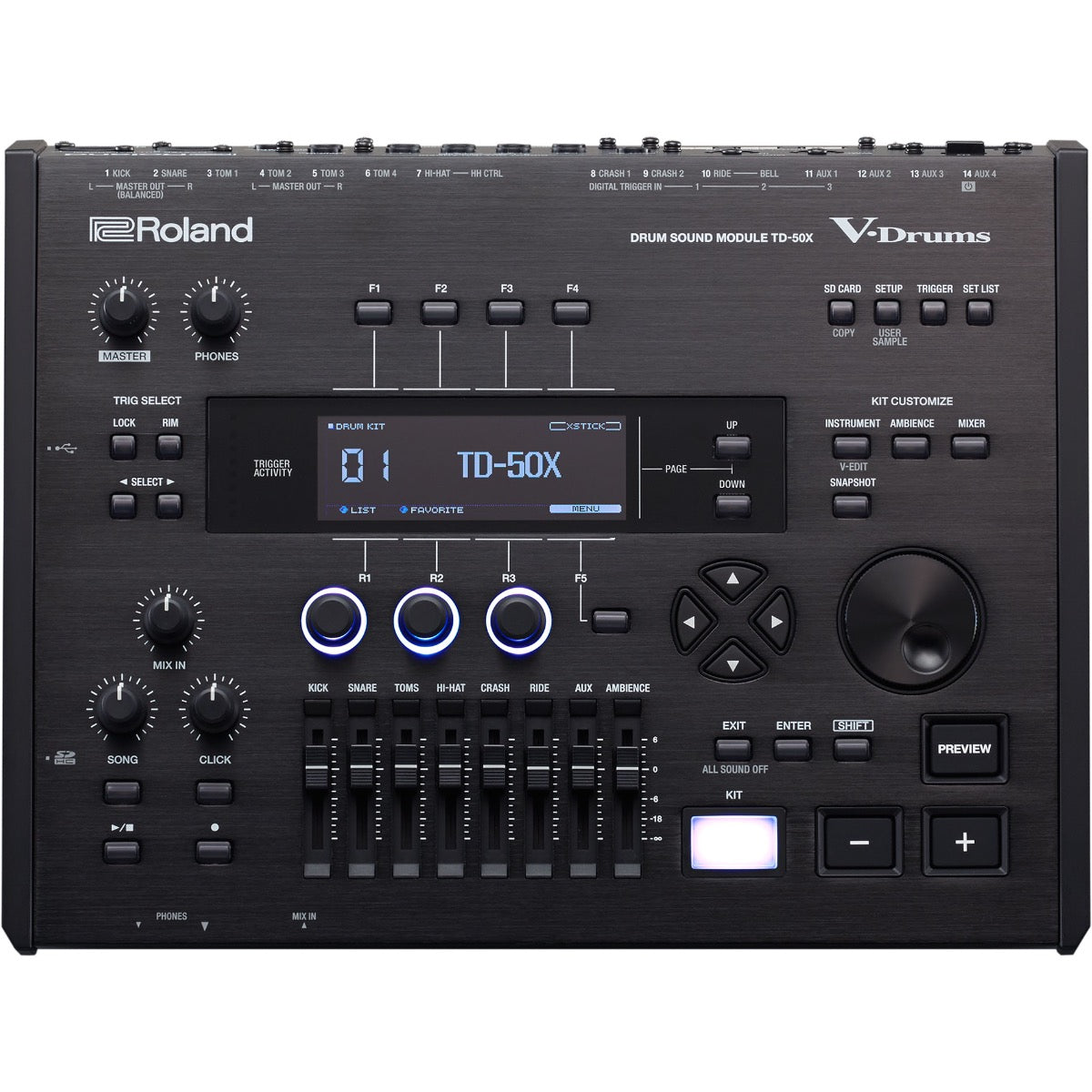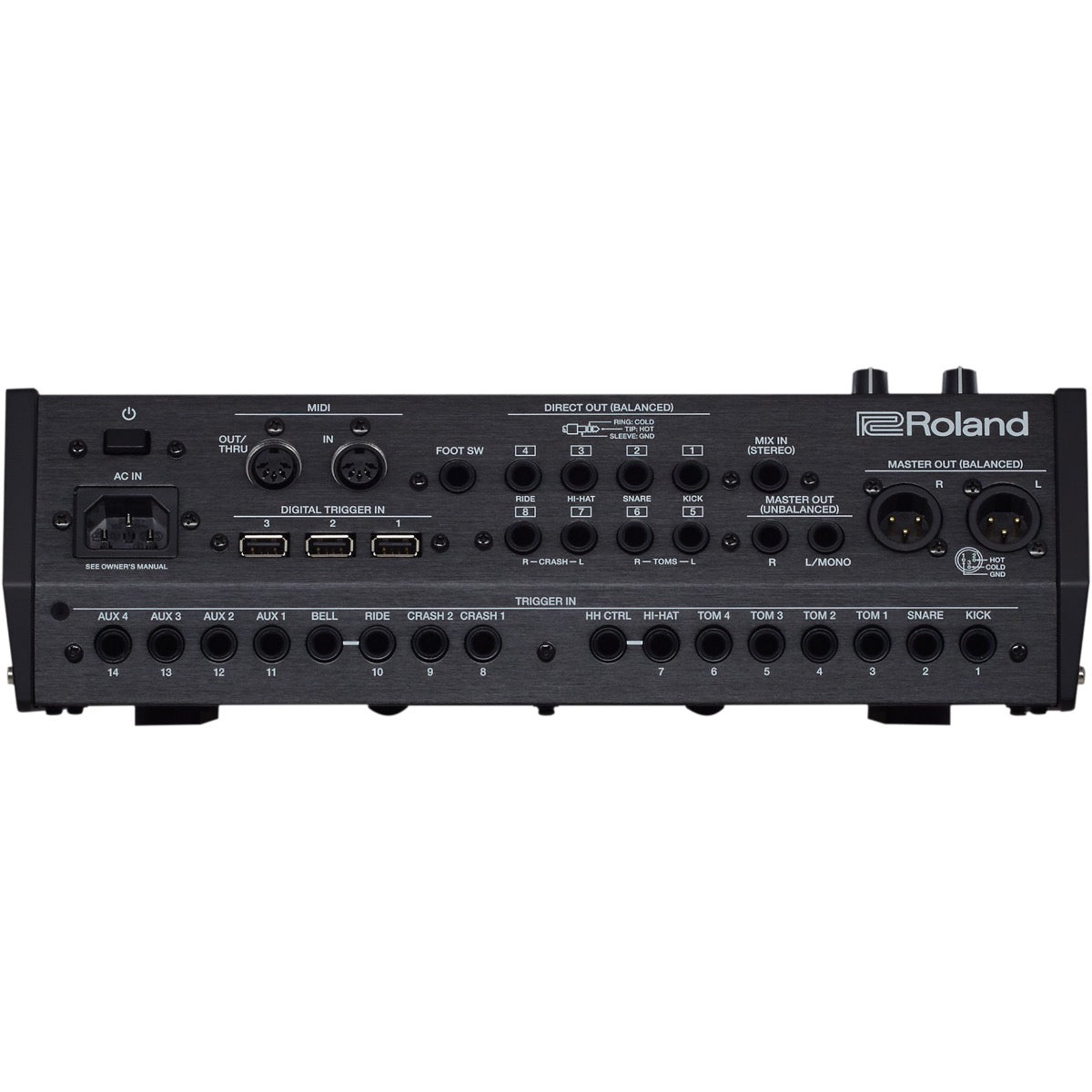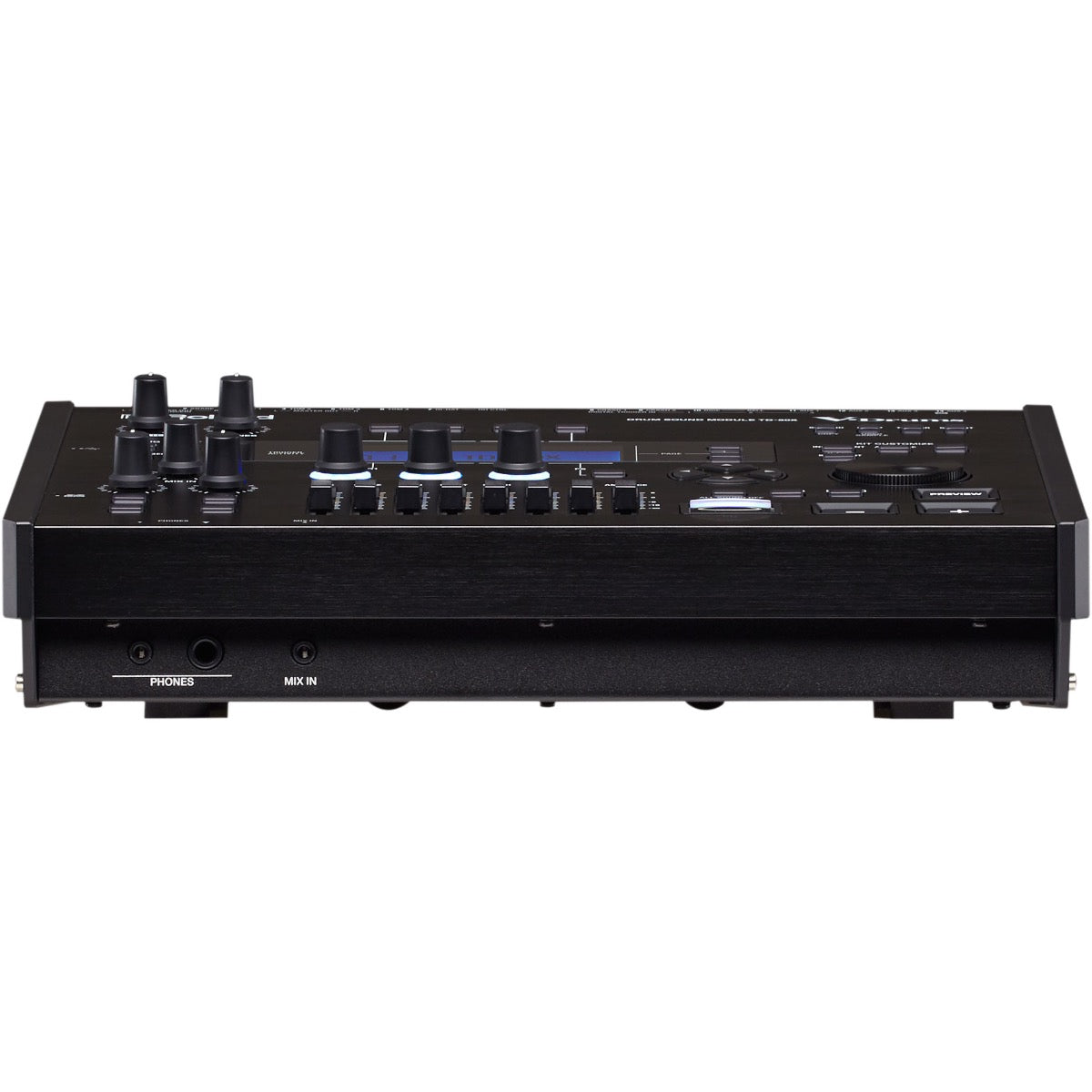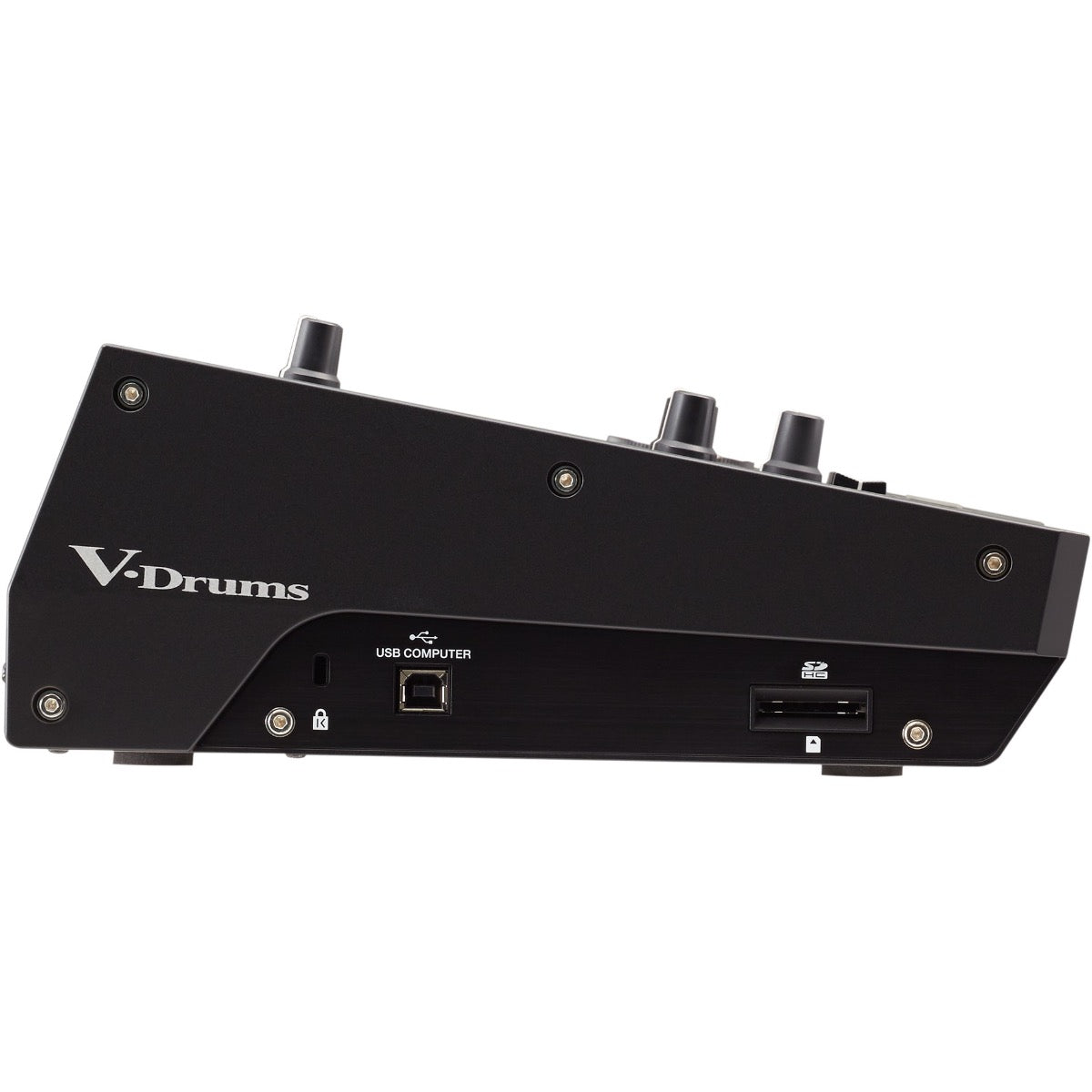 Roland TD-50K2 V-Drums Electronic Drum Set
Loaded with Roland's most expressive drum sounds and playing detection technologies to date, TD-50K2 delivers flagship-grade performance in a scaled-down size. Roland's groundbreaking digital snare, ride and hi-hat pads bring ultra-detailed playability to the three most nuanced pieces in the kit, complete with full-size playing surfaces for maximum drumming comfort. The next-generation TD-50X module provides unmatched tone, feel and response, plus deep editing tools to personalize your sound and pro connectivity to take on any playing situation. Compact tom and kick pads minimize the overall footprint without sacrificing playability, making this kit a great choice for home playing, small stages and anywhere that space is tight.
Flagship electronic drum kit with a space-saving footprint and Roland's most advanced V-Drums innovations
Next-generation TD-50X sound module with Prismatic Sound Modeling and PureAcoustic Ambience technologies
14" PD-140DS digital snare, 18" CY-18DR digital ride cymbal and 14" VH-14D digital hi-hat, all with high-res, multi-sensor triggering for unmatched performance
KD-140 kick trigger pad and three PDX-100 tom pads
14" CY-14C-T and 16" CY-16R-T crash cymbal pads, which feature a 40% thinner design than previous V-Cymbals for greater flex and swing
Over 900 premium sounds on board, including many new kick, snare, hi-hat, tom and cymbal selections
Ready-to-play presets based on legendary and contemporary drum kit sounds, purposefully tuned for full, punchy and dynamic sound
Hands-on interface with dedicated buttons and faders for selecting, customizing and mixing drum sounds
Massive selection of studio-grade effects, including EQs, compressors, reverbs, multi-effects and more
Stereo XLR master output and 8 TRS direct outs provide balanced connections to a PA mixer
Integrated 32-channel USB audio/MIDI interface for professional computer music production
4 auxiliary analog trigger inputs for easy kit expansion
Mix input for drumming with music from a smartphone or laptop
Import your own WAV samples via an SD card
Built-in practice functions for developing drumming skills
Compact MDS-Grand 2 drum stand
Kick pedal, snare stand and hi-hat stand are not included.
Prismatic Sound Modeling: feel the difference
Prismatic Sound Modeling technology in TD-50X makes electronic drums come to life like no other system can, infusing multi-layer samples recorded in world-class studios with sophisticated behavior modeling techniques refined over more than two decades. Inspired by a prism, which refracts a single ray of light into every color in the spectrum, Roland's revolutionary approach produces an unlimited array of sonic colors with every stick hit. The initial attack is followed by a complex mix of rich overtones, just like playing acoustic drums and cymbals. You can feel the sound changing in reaction to your expression, creating that magical, interactive bond that fully immerses you in the emotion of the moment. From subtle ghost notes and detailed articulations to the loudest and most intense playing, your drumming has no boundaries with TD-50X.
Roland digital pads: a revolution in electronic drumming
TD-50X features three special USB trigger inputs for Roland digital pads, allowing you to take full advantage of Prismatic Sound Modeling's vast expressive potential. Multi-sensor detection in PD140-DS snare, CY-18DR ride and VH-14D hi-hat pads works with lightning-fast processing in the module to bring authentic acoustic nuance and detail to these core kit pieces. All your playing techniques translate seamlessly, such as subtly touching the ride to mute the sound or switching at will among head, rimshot and cross-stick playing on the snare. The game-changing VH-14D completes the experience, offering touch sensitivity, tonal variation and open/closed resolution never available in electronic hi-hats until now.
Authentic mesh heads
TD-50K2 features Roland's famous multi-ply mesh heads, with a three-layer head on the snare and two-layer heads on the toms providing natural stick resistance and rebound for ultra-satisfying feel and response. Just like drumheads on acoustic drums, you can tweak the tension to your preference with a standard drum key. And since Roland's mesh heads produce very little acoustic noise, TD-50K2 is perfect for both quiet practice sessions with headphones and live performance setups that require complete volume control on stage.
Save space with no compromise
TD-50K2 is the ideal solution when you want the very best V-Drums performance in a space-saving footprint. With the TD-50X module and digital snare, ride and hi-hat pads, you get all the key components from the top-of-the-line TD-50KV2. Three 10" tom pads and the KD-140 kick strike the perfect balance of reduced size and authentic playability, while 14" and 16" crash cymbal pads provide large-diameter playing surfaces and thin profiles for natural feel and swinging motion. The MDS-Grand 2 stand is both streamlined and rugged and offers ample clearance if you ever want to upgrade to a full-size V-Drums kick like the KD-180 or KD-220 (both sold separately).
Instantly gratifying
Imagine acoustic drums that are mic'd, processed and mixed in a world-class studio: that's what you get when you call up a preset on TD-50X. Developed with top drummers and recording engineers, these inspiring kits let you take on any style at the touch of a button, from traditional jazz to full-throttle metal.
Make the sound your own
Going beyond the presets, TD-50X allows you to customize things at every level, just as you would with an acoustic kit. Make quick adjustments to tuning and muffling or dive deep and build a kit from the ground up by selecting shell depths, drumhead types, cymbal characteristics and much more. Then, put the kit in the space of your choice using PureAcoustic Ambience, with full control of room type, reverberation, stereo width and other parameters at your command.
A studio at your fingertips
After you've tweaked the details of your kit, bring it to mix-ready perfection with TD-50X's impressive array of pro studio tools. Adjust mic settings for various kit elements, then dial in sounds with EQs, compressors and other processing. And for spaciousness and color, tap into the wide selection of high-quality reverbs and multi-effects.
Mix outside the box
When performing with electronic drums, the ability to process sounds outside the kit is vital. TD-50X has ten fully assignable balanced outputs for sending the house engineer whatever drums they need, with or without effects. And via faders on the panel, you can easily control the mix from the stage when you're on your own. The module also excels at computer music production, with the ability to send up to 32 simultaneous channels of digital audio plus MIDI over USB for premium-quality transfer.
Your personal practice partner
TD-50X is loaded with practice features that make every session fun, productive and rewarding. Improve your timing with the metronome and Coach mode exercises, or simply jam along with music played from a smartphone or laptop. The onboard recorder lets you capture and review your playing at any time, complete with the ability to export audio (with or without backing music) for sharing with others. And you can extend your practice even further with Melodics, a free desktop app that comes with 40 lessons, plus unlimited access via a subscription when you're ready for more.
Grow your sound palette with Roland Cloud
Roland Cloud membership unlocks an expanding collection of premium V-Drums sounds and curated kits to further inspire your music. To get a taste of what's available, go to the Downloads tab and grab the TD-50X Free Kits. If you like what you hear, install Roland Cloud Manager on your computer and create a free Roland Account. Next, download the free TD-50X Session Collection 1 via Roland Cloud Manager and install it into your module. If you choose to join up for monthly membership, you'll have unlimited access to new releases the moment they arrive.
SKU
ROL-TD50K2
MPN
TD-50K2
Vendor
Roland
Connectivity
USB and MIDI
Included From Manufacturer
TD-50X drum sound module
PD-140DS digital snare
CY-18DR digital ride
VH-14D digital hi-hat
KD-140 kick pad
3 × PDX-100 toms
CY-14C-T crash
CY-16R-T crash
MDS-GND2 drum stand
Power cord
Ferrite core with fastening band

Kick pedal, snare stand and hi-hat stand are not included.
Mpn
TD-50K2
Product Unique Features
Integrated 32-channel USB audio/MIDI interface for professional computer music production
Built-in practice functions for developing drumming skills
Roland Prismatic Sound Modeling and PureAcoustic Ambience technologies
Massive selection of studio-grade effects, including EQs, compressors, reverbs, multi-effects and more
Cymbal Choke Capability
Yes
Number of Cymbal Zones
VH-14D digital hi-hat: high-resolution multi-sensor system
CY-18DR digital ride: high-resolution multi-sensor system
CY-16R-T crash: 3 zones
CY-14C-T crash: 2 zones
Number of Drum Kits
100 kit storage locations
50+ preset kits
Hi-Hat Stand Included
No
Audio Inputs
Dual 1/4" stereo mix input
Audio Outputs
Dual stereo XLR balanced master output
Dual stereo 1/4" unbalanced master output
8 × 1/4" mono balanced assignable direct outputs
Number of Instrument Sounds
900+
Internal Storage Capacity
500 total samples maximum
12 total minutes in stereo
24 total minutes in mono
Kick Pad Surface
Roland KD-140-BC kick drum pad head trigger
Kick Pedal Included
No
Metronome
Yes
Number of Pads
8
Sampling
Sample import via SD card
WAV format 44.1kHz, 16/24 bits
Sequencer/Recording
Yes
Snare Pad Zones/Surface
High-resolution multi-sensor system
Roland multi-ply 3-layer mesh head
Snare Stand Included
No
Number of Songs/Patterns
±40,000 notes total
Storage Type
SD Card;Internal
Throne Included
No
Tom Pad Zones/Surface
2 zones
Roland multi-ply 2-layer mesh heads
Trigger Inputs
3 × USB-A digital trigger inputs
14 × 1/4" TRS trigger inputs
Roland/Boss Consumer Limited Warranty
This limited warranty applies only to Roland and Boss products purchased in the United States of America.
Roland Corporation U.S. warrants to the first consumer only of a covered product purchased from an authorized Roland dealer in the U.S. that this product will be free from defects in materials for a period of one (1) year or defects in workmanship for a period of ninety (90) days. Please register this product online to establish the date of purchase (not a requirement for warranty service).
To exercise your rights under this Warranty as a purchaser, you must ship this product in appropriate packaging at your expense (insurance is recommended), together with proof of purchase, to Roland Corporation U.S., or to such other address as may be instructed by Roland Corporation U.S. (This shipping requirement shall not apply to those Roland products covered by in-home warranties). You should submit a new service request to obtain a Return Authorization number for the returned product. Any products shipped to Roland Corporation U.S. without a Return Authorization number shall be refused.
Roland Corporation U.S. will repair or replace this product at its sole option at no charge to you for parts or for labor within the warranty period; provided, however, that Roland Corporation U.S. reserves the right to determine whether the product is 'defective' for purposes of this Limited Warranty. This Warranty does not apply to damage to this product that occurred as a result of abuse or misuse, abnormal service or handling, battery leakage or failure, damage which may have been caused either directly or indirectly by another product, or if the product has been altered or modified in any way, or if the damage was caused by repairs or service provided or attempted by anyone other than Roland Corporation U.S. or a Roland Authorized Service Center.
In no event shall Roland Corporation U.S. be liable for any indirect, incidental, collateral, exemplary, punitive, consequential or special damages or losses arising out of your purchase of products and/or out of this warranty, including without limitation, loss of use, profits, goodwill or savings or loss of data, music, electronic files, or programs that may have been stored by a user of the product even if Roland Corporation U.S. has been advised of the possibility of such damages or claims. Some states do not allow the exclusion or limitation of incidental, punitive, or consequential damages, so the above limitation or exclusion may not apply to you.
Where applicable, if you qualify as a 'consumer' under the Magnuson-Moss Warranty Act, then you shall be entitled to any implied warranties allowed by law for the period of the Limited Warranty as set forth above. Some states do not allow limitations on how long an implied warranty lasts, so the above limitation may not apply to you. Except as stated above, the foregoing warranties are in lieu of all other conditions or warranties, express, implied or statutory, including without limitation, an implied condition or warranty of merchantability or fitness for a particular purpose and of any other warranty obligation on the part of Roland Corporation U.S.
Roland Corporation U.S. does not assume or authorize assumption of liability for it or any other warranty, either express or implied. This Limited Warranty gives U.S. purchasers specific legal rights, and you may also have other rights which vary from State to State.
Ground shipping is FREE for all orders $99 and up.