Skip product carousel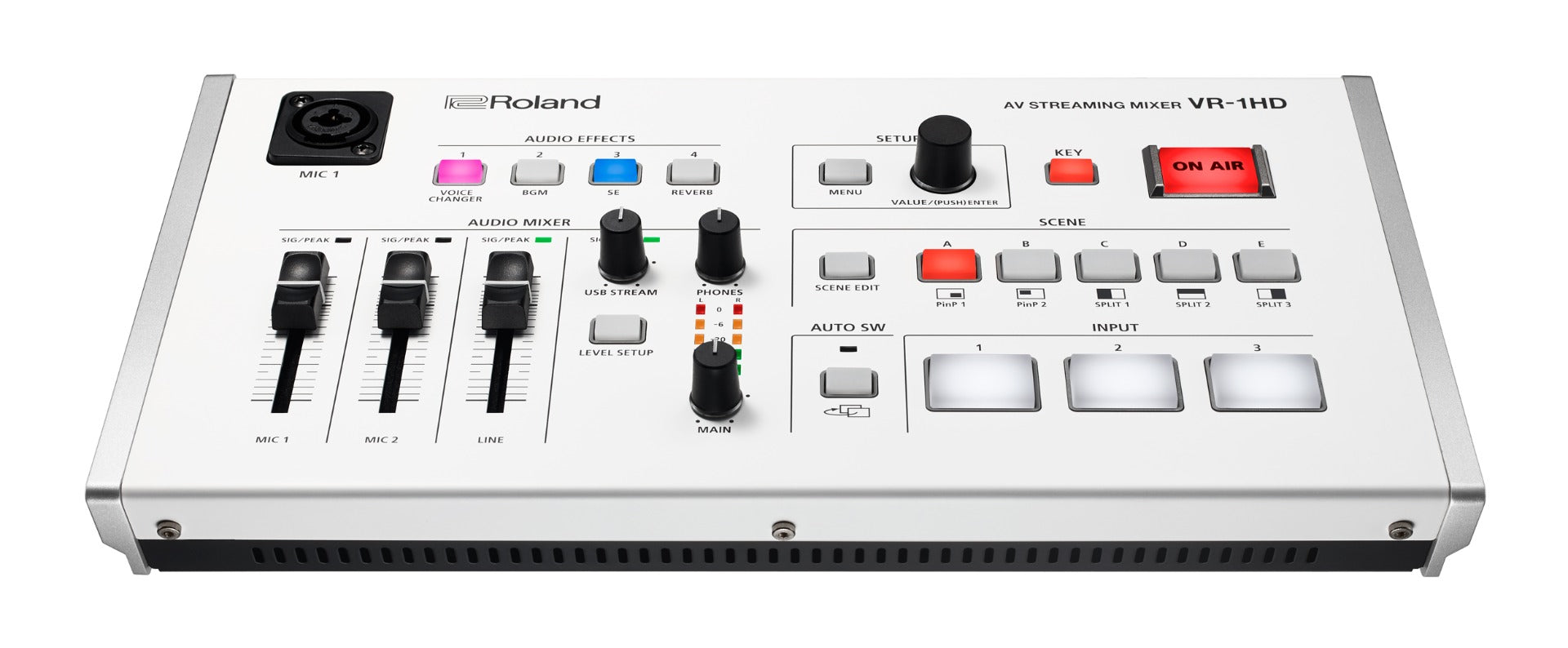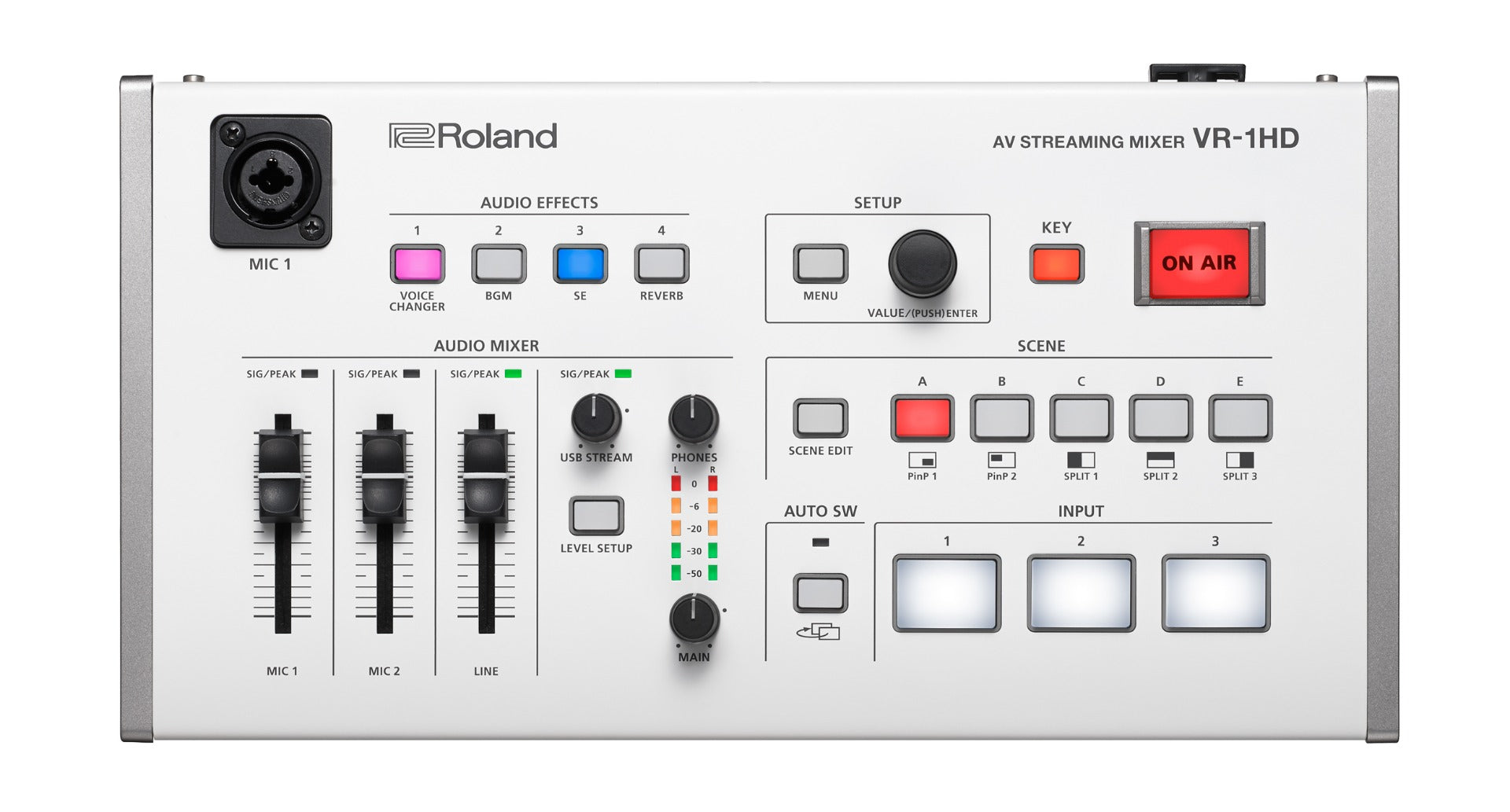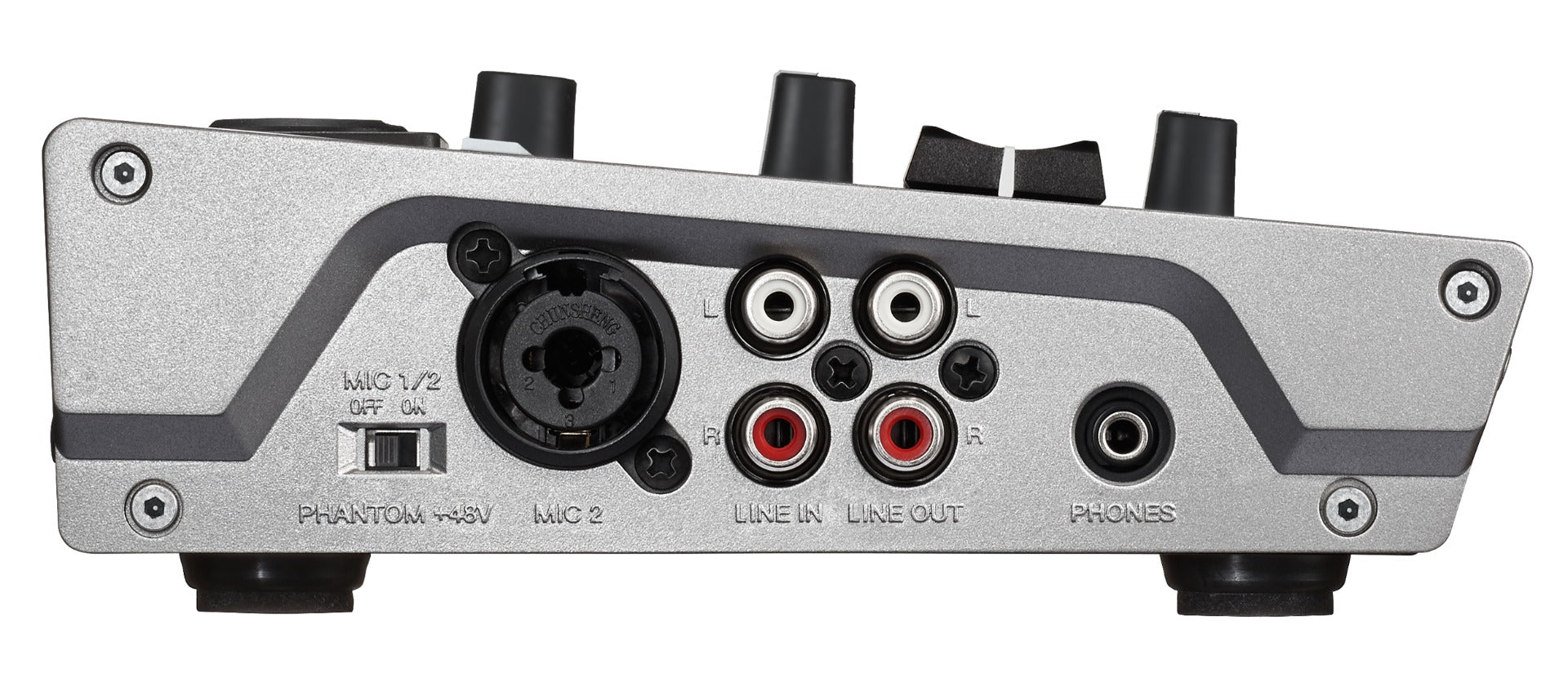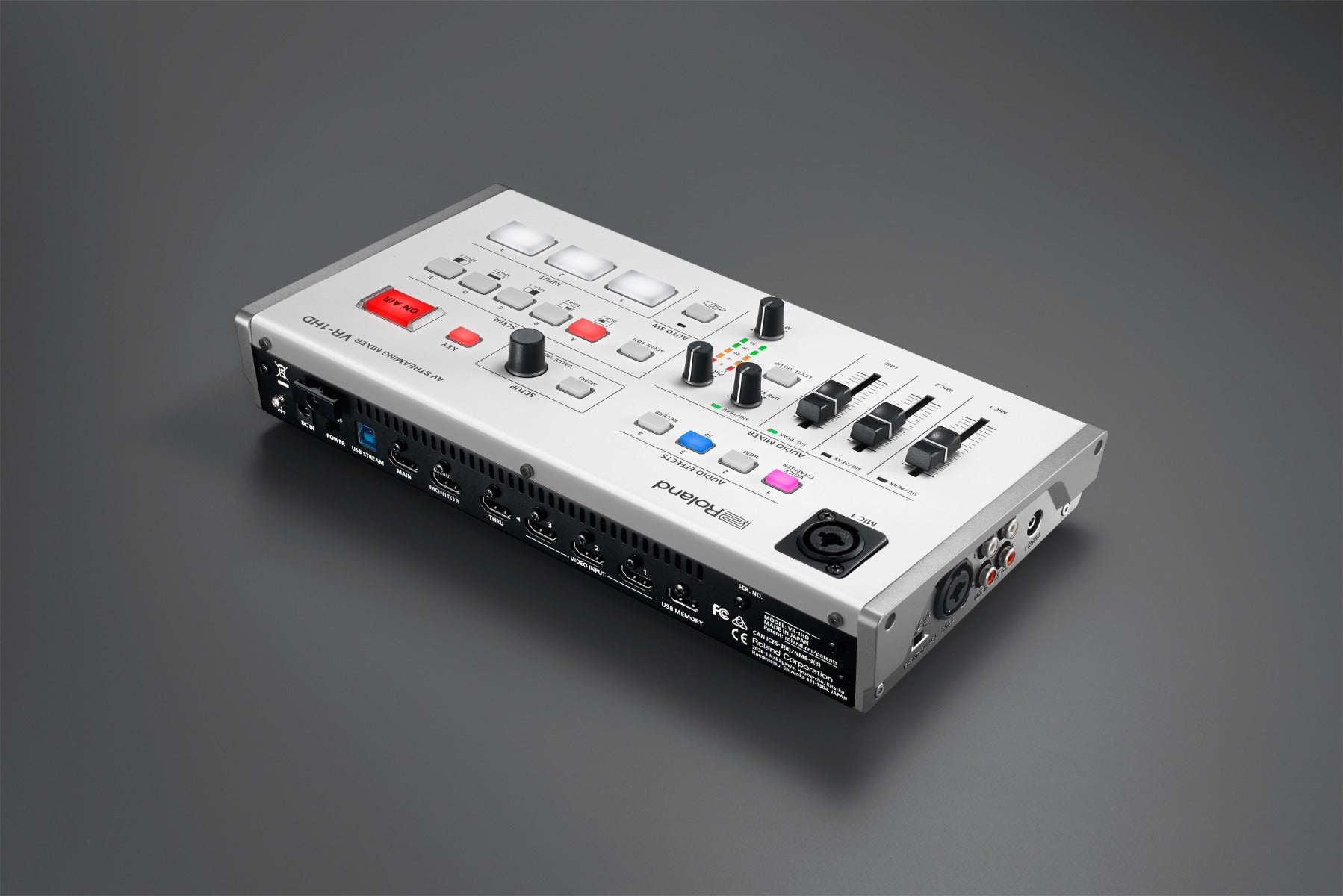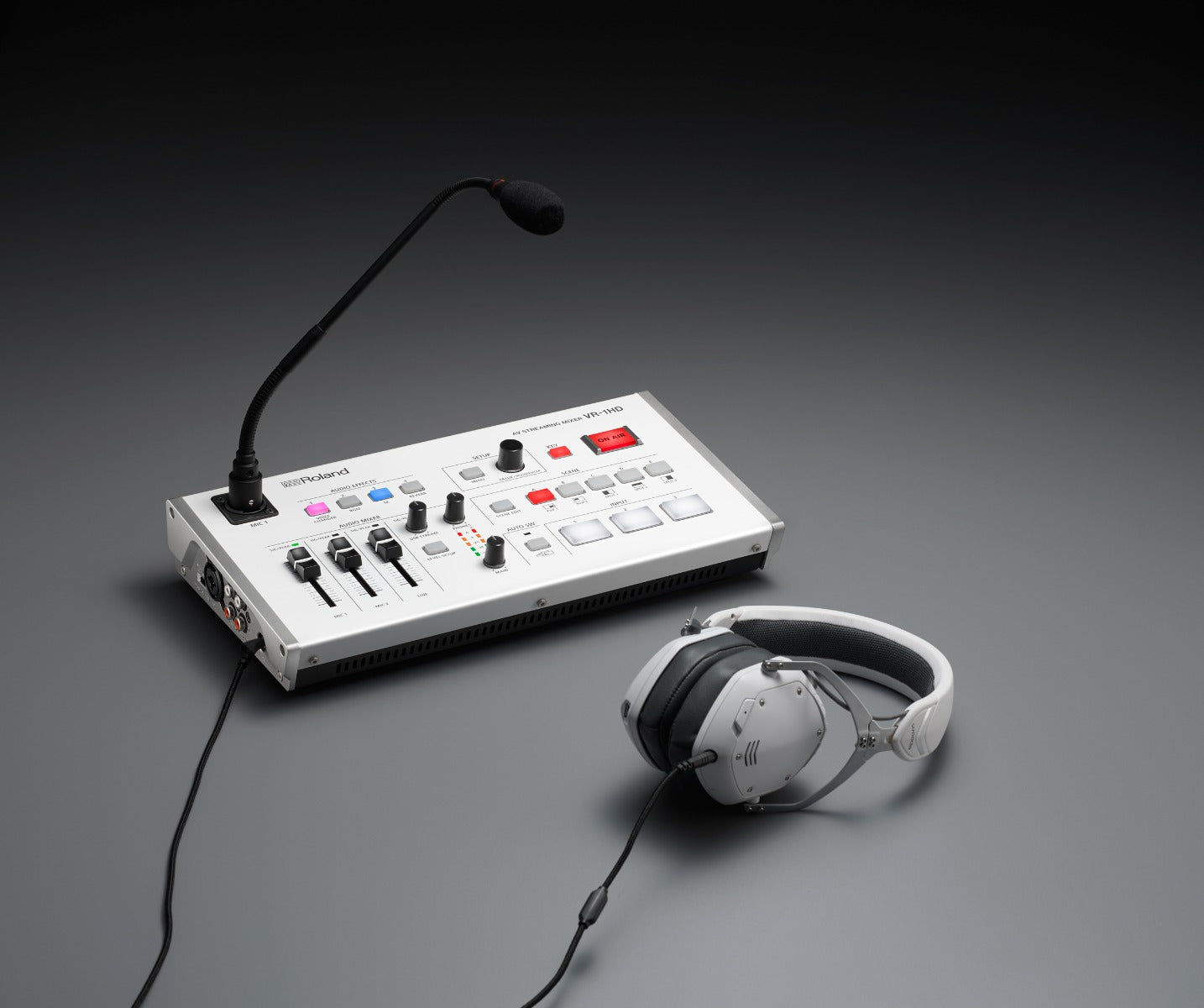 Roland VR-1HD A/V Streaming Mixer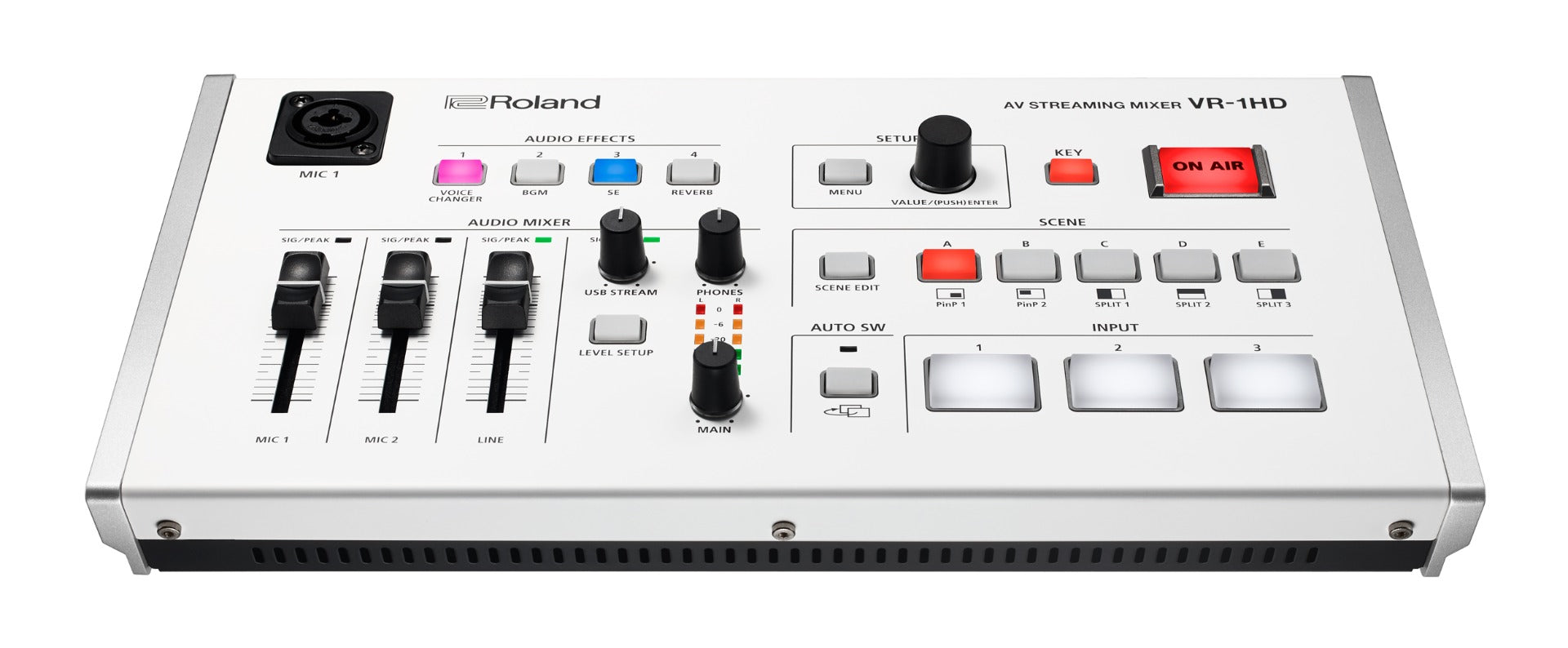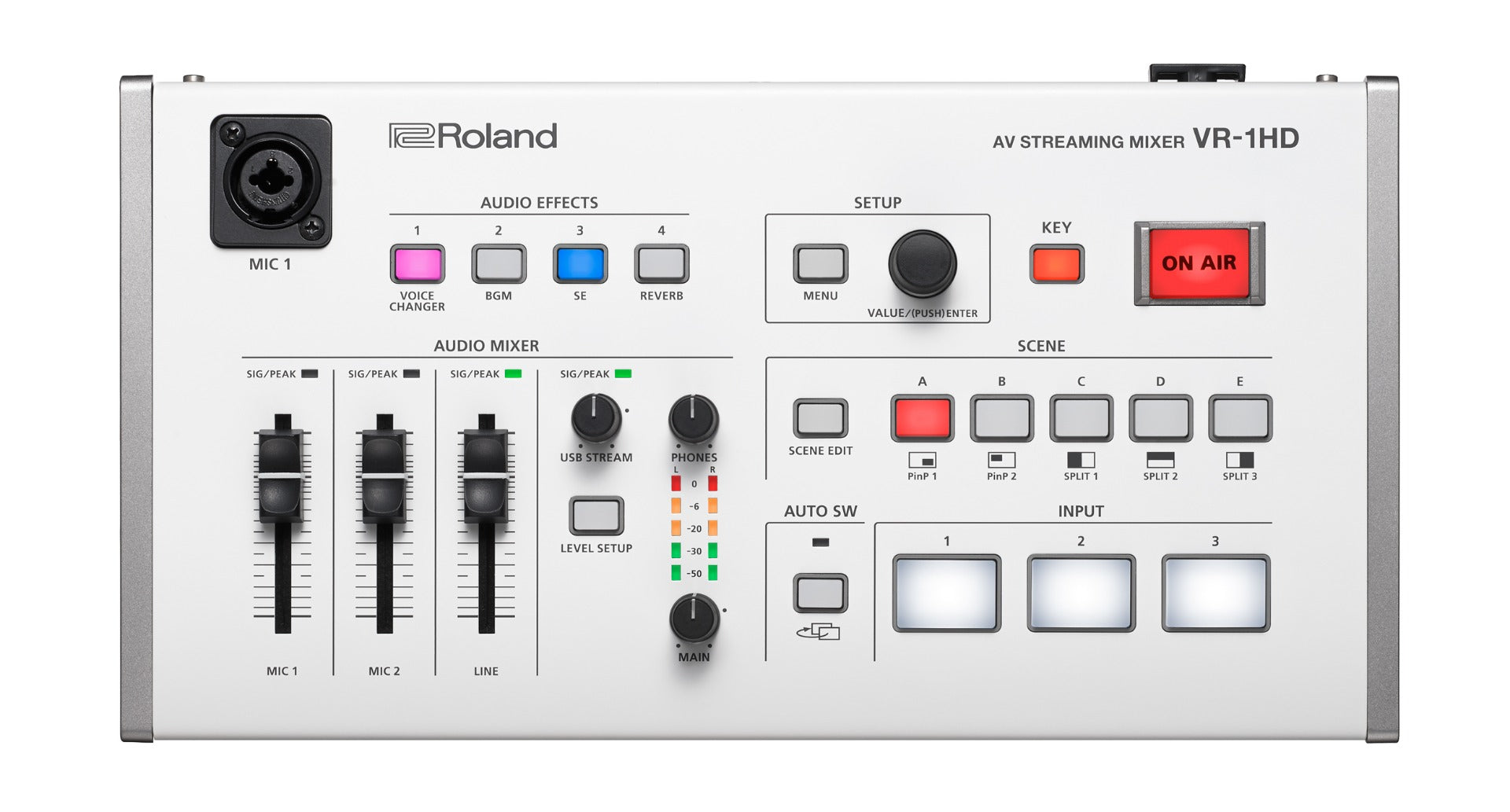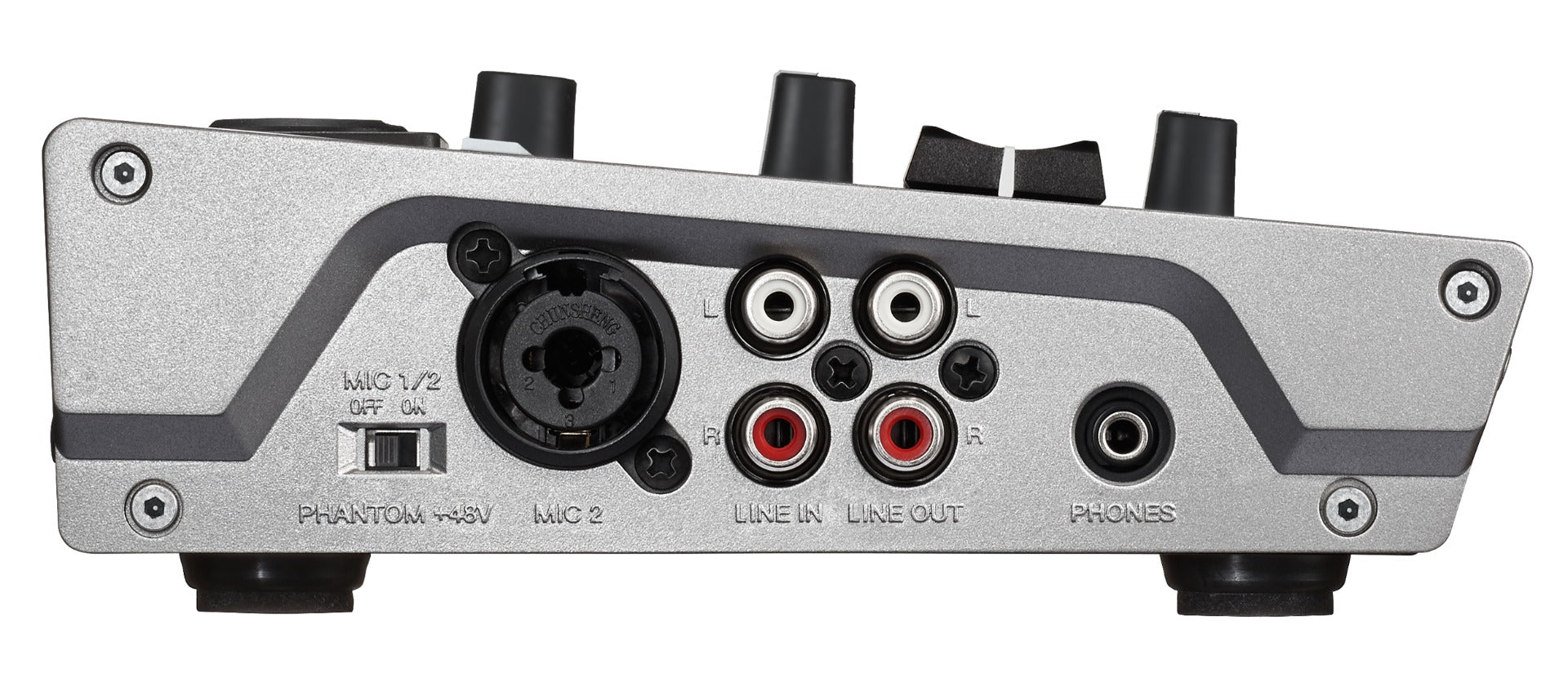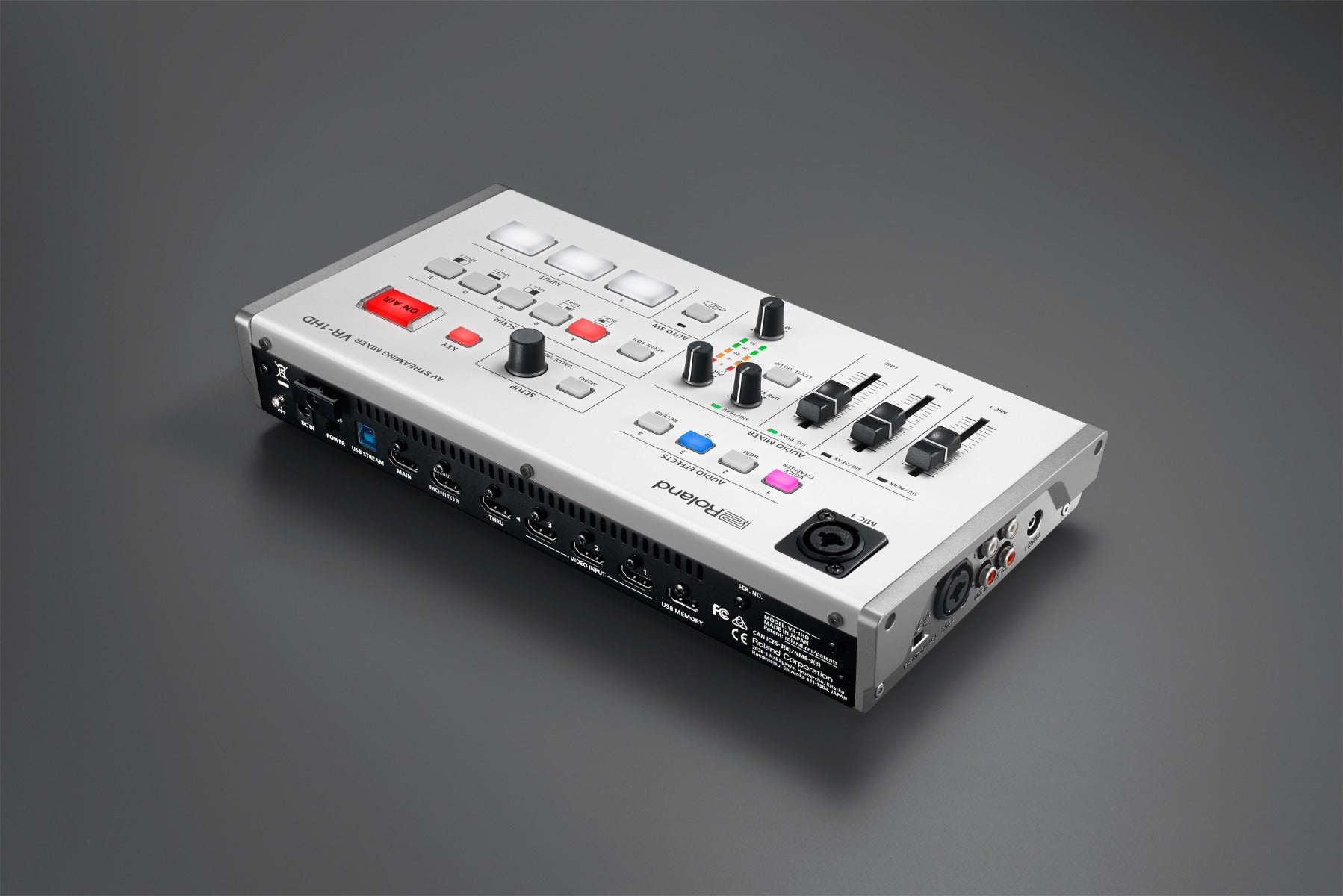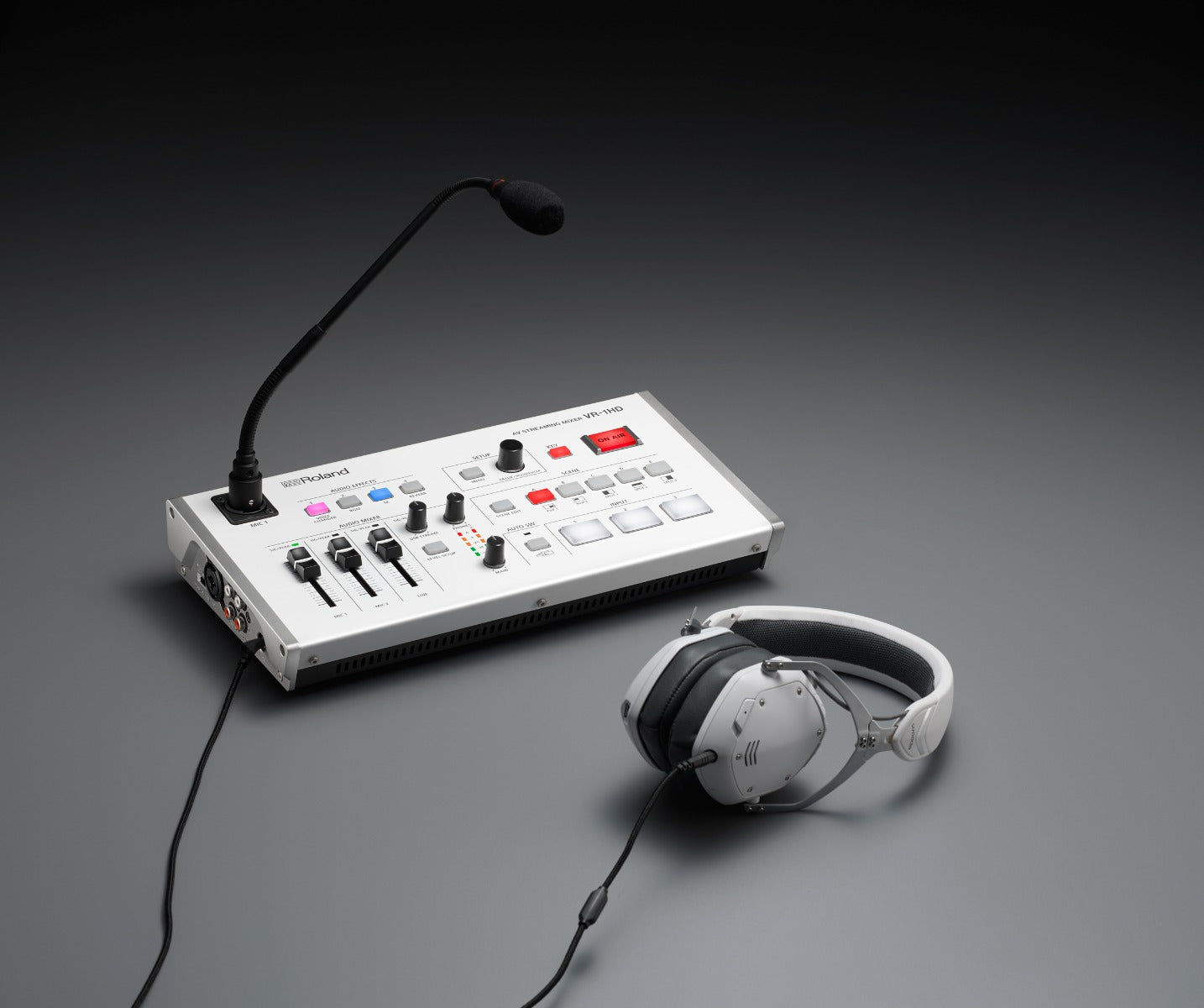 Roland VR-1HD A/V Streaming Mixer
If you're a content creator seeking maximum engagement, livestreaming outperforms uploaded video by a significant margin; audiences are larger, watch for longer and post more comments. Roland's VR-1HD lets you broadcast dynamic multi-camera livestreams, complete with amazing picture and sound that easily outshines 'standard' livestreams from a mobile phone or static webcam. Whether you're a creator, gamer, commentator or presenter, it's the easy way to livestream with high production standards. And since you're going to get more comments, ensure they're good ones with the VR-1HD.
3 HDMI inputs that accept a variety of HD video resolutions
Professional video transitions
Auto Switching modes that switch cameras without the need for an operator
Voice effects
Add your own custom sound effects via USB memory
Stream video via USB just like a webcam
Phantom power for microphones
Your 'plug and play' broadcast studio
The VR-1HD has three "worry-free" HDMI inputs, and each one accepts a variety of HD and computer-based video resolutions. This lets you connect, switch and stream different sources including cameras, presentations, gameplay and even smartphones and tablets without having to think about it. The audio from these sources can be blended with the two studio-quality XLR microphone inputs and dedicated line input. Best of all, as the VR-1HD is designed for live broadcasting, its dedicated controls and top-mounted mic input (with gooseneck mic) let you go hands-free and headset-free while livestreaming.
Switch to superior livestreams
When preparing a video for uploading, your editing software can add some impressive layering options, including professional transitions that make 'live-switched' videos look boring by comparison. The VR-1HD has built-in Scene Switching to instantly jump between scenes that contain preset arrangements of layered sources, displayed within customizable inset windows. Set-up the scenes in advance and recall them via the five scene preset buttons, to make your livestreaming way more interesting.
Video director inside
When you're presenting a livestreamed vlog or nailing a live music performance, you'd normally need another person to help switch cameras. The VR-1HD lets you go it alone with three Auto Switching modes that take the strain once the broadcast begins. It can switch cameras based on who's speaking into their microphone, synched to music, switch in a predefined order, or randomly at a chosen time interval. All these modes provide seamless transition for a professional feeling video stream without the need for a switchboard operator.
Audio engineer inside too
Put audio on auto-pilot and relax, thanks to the VR-1HD's Auto Mixing function. Just like having a sound engineer, you can ensure that different audio inputs aren't competing, while also checking that the sound remains balanced. You can even set certain inputs to take priority so when the host starts to speak, the other audio levels are automatically reduced. Audio from your input sources can automatically change when you switch video sources, by engaging the Audio Follows Video function – one less thing to worry about during your livestream.
Sound like your best self or not yourself
Nobody talks about good sound when watching a live stream but they sure notice when its bad. Pros use sound "equalizers" to balance the highs and lows of the audio, "gates" to keep open mics quiet unless someone is speaking and "compressors" to balance out changes in volume when speaking or singing. These are all in the VR-1HD to make sure everyone sounds their best on air along with reverb if someone is inspired to sing and needs a little ambience. You can also make use of voice transformers, used by creators, gamers and singers to radically change their voice in real-time. This technology means that a male can sound like a female, a female can sound like a male, and anyone can sound like a robot, a monster or an alien.
Sounds and stingers on-demand
Some of the greatest radio and video personalities incorporate a signature soundtrack and sound effects, known as stingers, that become part of their brand and image. The VR-1HD lets you add your own custom sound effects via USB memory, including jingles or even a theme song, and trigger them instantly via the four Audio Effects buttons on the VR-1HD's top panel.
Connect to your computer, connect to your audience
The VR-1HD uses the same connection technology as webcams, so just hook up to your computer via USB 3.0 and fire up the live casting or recording software. Then jump straight into a professionally produced, Full HD broadcast on your favorite platform, including Twitch, YouTube or Facebook Live.
SKU
ROL-VR1HD
MPN
VR-1HD
Vendor
Roland
Included From Manufacturer
Startup Guide

AC adaptor

Power cord

Mpn
VR-1HD
Finish
White
Audio Inputs
2 x XLR/1/4" Combo
1 x RCA
Audio Outputs
1 x RCA
1/8" Headphone Out
Product Weight
3 lbs 9 oz
Width
12 3/8"
Depth
6 11/16"
Height
2 5/8"
Roland/Boss Consumer Limited Warranty
This limited warranty applies only to Roland and Boss products purchased in the United States of America.
Roland Corporation U.S. warrants to the first consumer only of a covered product purchased from an authorized Roland dealer in the U.S. that this product will be free from defects in materials for a period of one (1) year or defects in workmanship for a period of ninety (90) days. Please register this product online to establish the date of purchase (not a requirement for warranty service).
To exercise your rights under this Warranty as a purchaser, you must ship this product in appropriate packaging at your expense (insurance is recommended), together with proof of purchase, to Roland Corporation U.S., or to such other address as may be instructed by Roland Corporation U.S. (This shipping requirement shall not apply to those Roland products covered by in-home warranties). You should submit a new service request to obtain a Return Authorization number for the returned product. Any products shipped to Roland Corporation U.S. without a Return Authorization number shall be refused.
Roland Corporation U.S. will repair or replace this product at its sole option at no charge to you for parts or for labor within the warranty period; provided, however, that Roland Corporation U.S. reserves the right to determine whether the product is 'defective' for purposes of this Limited Warranty. This Warranty does not apply to damage to this product that occurred as a result of abuse or misuse, abnormal service or handling, battery leakage or failure, damage which may have been caused either directly or indirectly by another product, or if the product has been altered or modified in any way, or if the damage was caused by repairs or service provided or attempted by anyone other than Roland Corporation U.S. or a Roland Authorized Service Center.
In no event shall Roland Corporation U.S. be liable for any indirect, incidental, collateral, exemplary, punitive, consequential or special damages or losses arising out of your purchase of products and/or out of this warranty, including without limitation, loss of use, profits, goodwill or savings or loss of data, music, electronic files, or programs that may have been stored by a user of the product even if Roland Corporation U.S. has been advised of the possibility of such damages or claims. Some states do not allow the exclusion or limitation of incidental, punitive, or consequential damages, so the above limitation or exclusion may not apply to you.
Where applicable, if you qualify as a 'consumer' under the Magnuson-Moss Warranty Act, then you shall be entitled to any implied warranties allowed by law for the period of the Limited Warranty as set forth above. Some states do not allow limitations on how long an implied warranty lasts, so the above limitation may not apply to you. Except as stated above, the foregoing warranties are in lieu of all other conditions or warranties, express, implied or statutory, including without limitation, an implied condition or warranty of merchantability or fitness for a particular purpose and of any other warranty obligation on the part of Roland Corporation U.S.
Roland Corporation U.S. does not assume or authorize assumption of liability for it or any other warranty, either express or implied. This Limited Warranty gives U.S. purchasers specific legal rights, and you may also have other rights which vary from State to State.
Ground shipping is FREE for all orders $99 and up.