Skip product carousel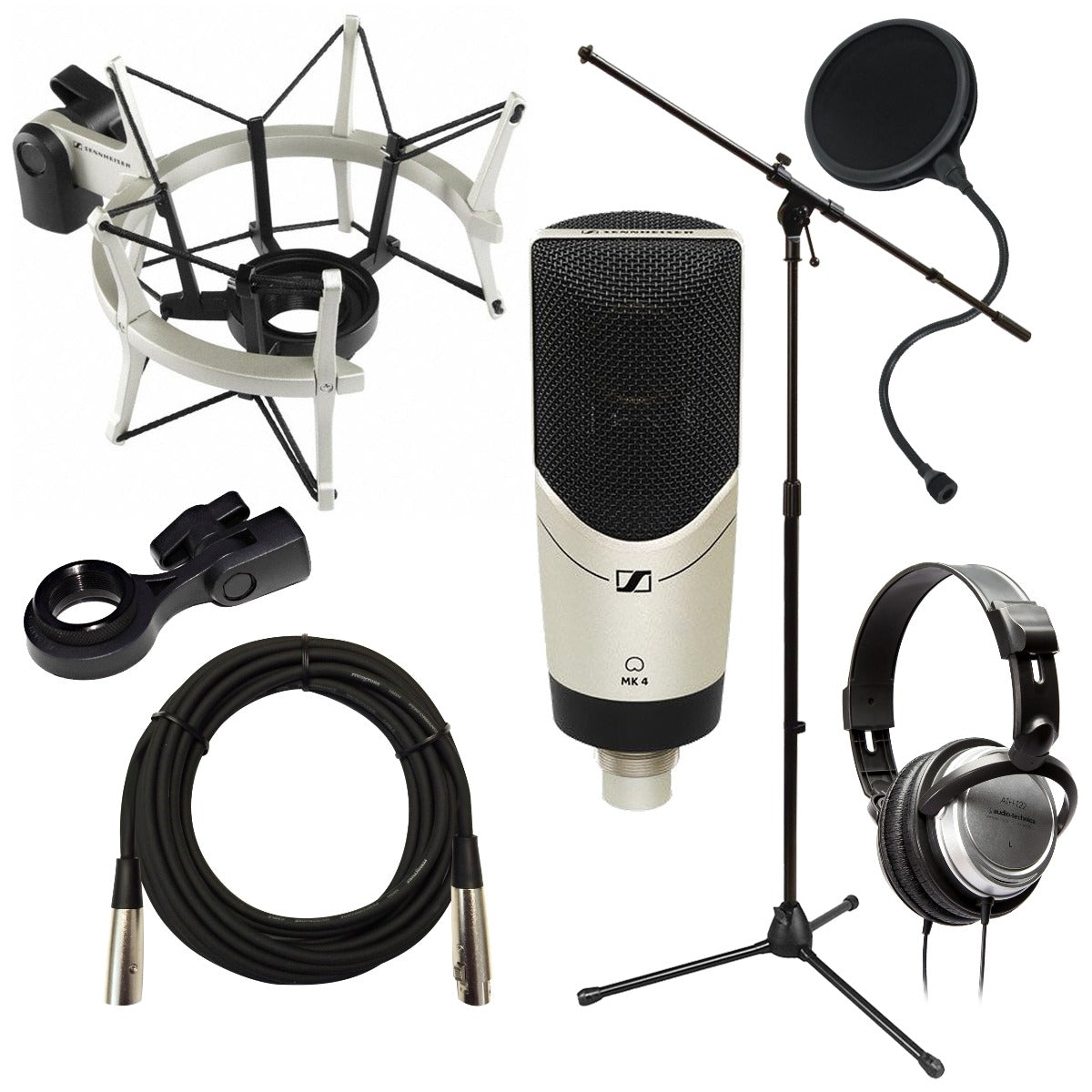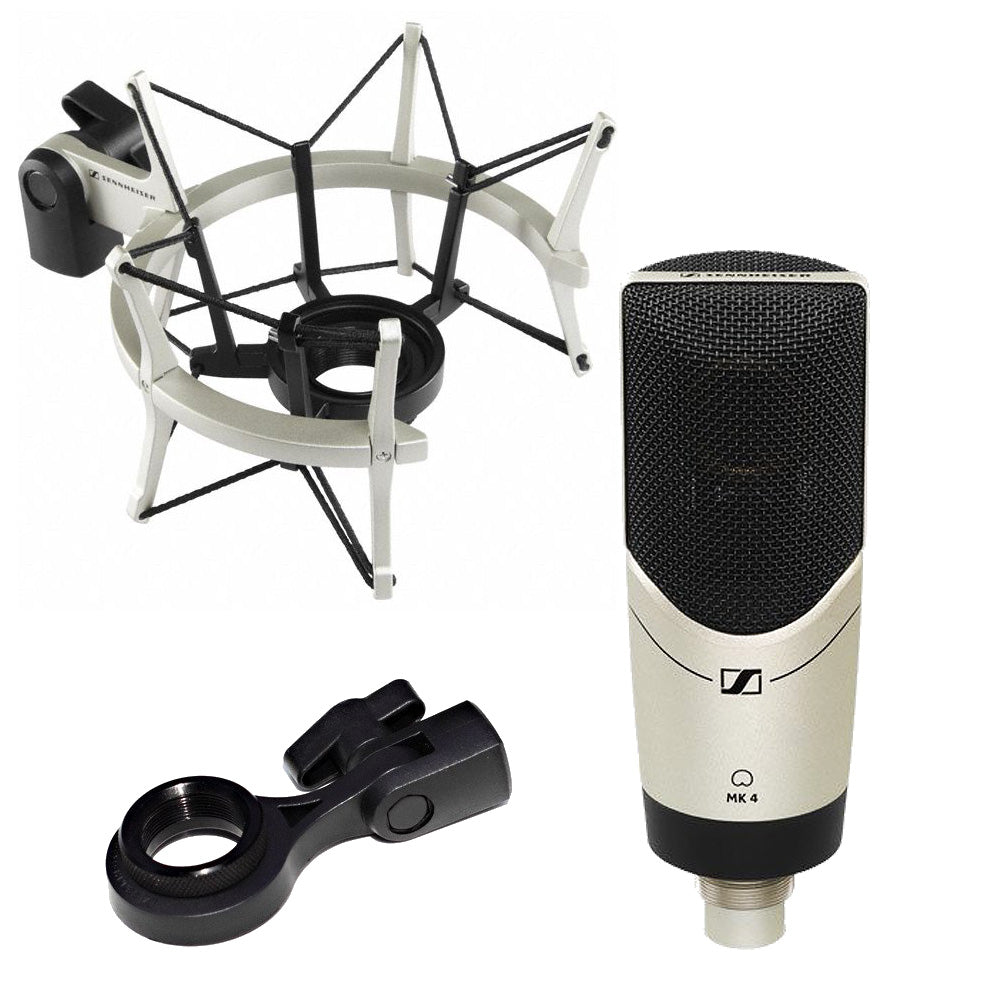 Sennheiser MK 4 Cardioid Condenser Microphone Set with Shockmount STUDIO PAK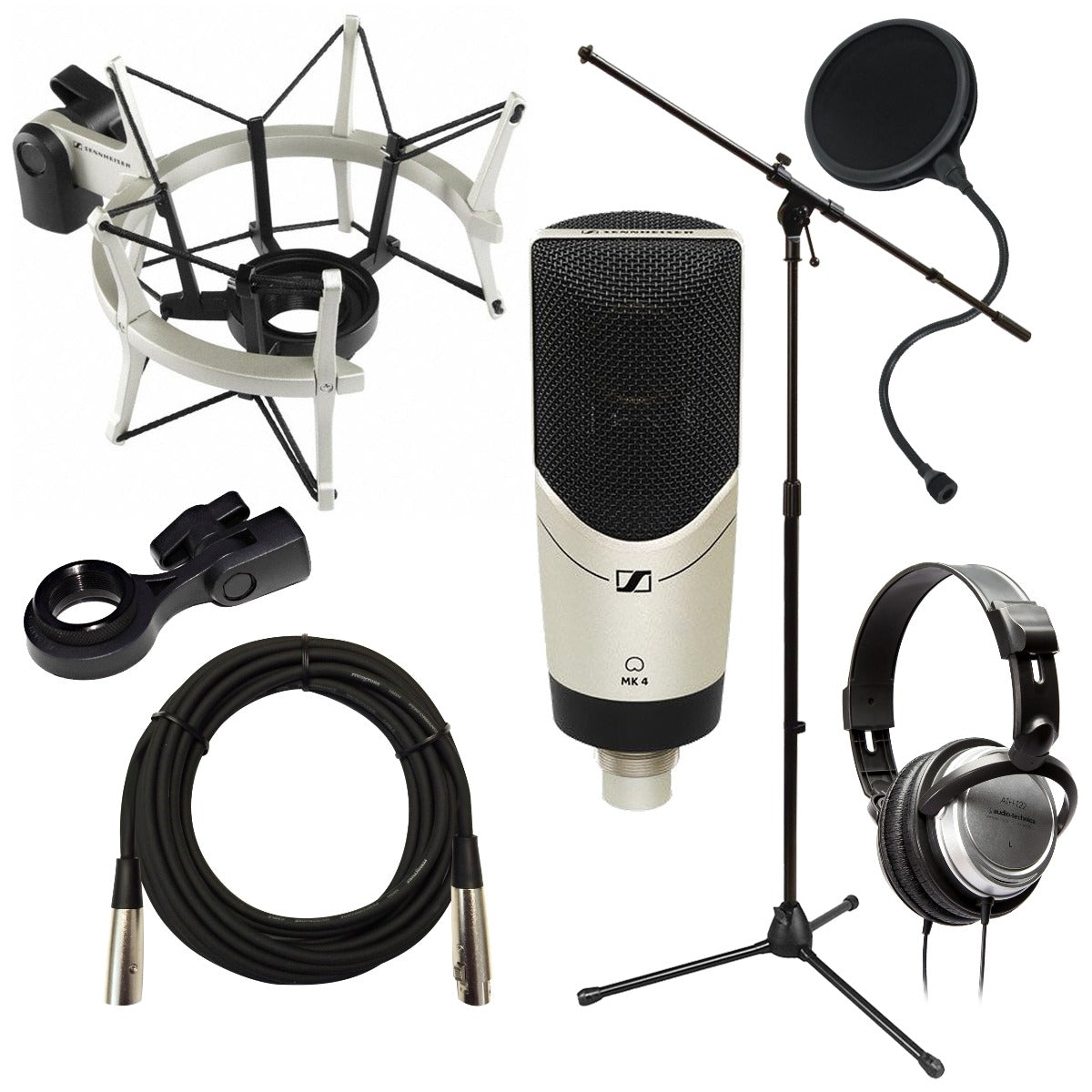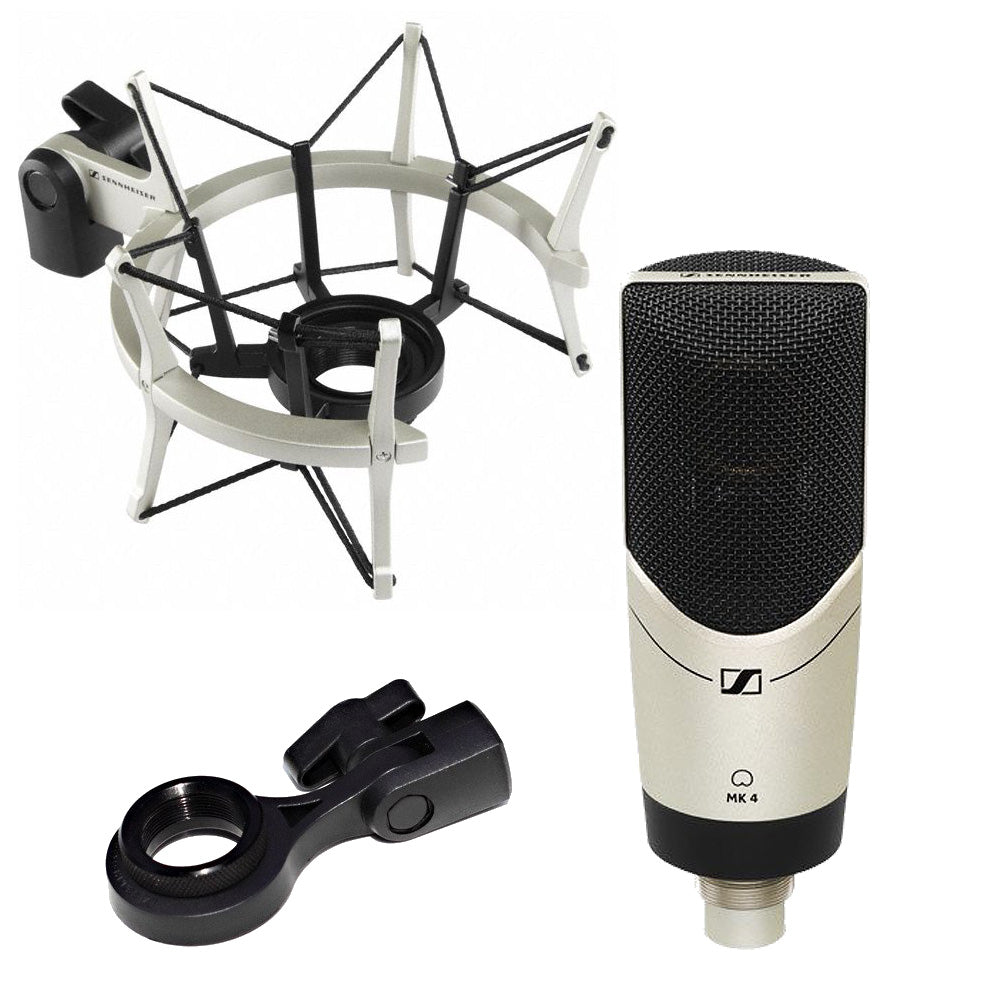 Sennheiser MK 4 Cardioid Condenser Microphone Set with Shockmount STUDIO PAK
5 items included
This Kraft Music Bundle Includes
$439.99
Regular price
$469.87
You Save $29.88
Click on a product to view more details.
Plug and Play: No Frills - Just Pure, Clear Sound
The MK 4 foregoes technical extravagance, instead focussing on providing the best possible sound quality. The true condenser, large-diaphragm microphone offers a powerful yet warm sound, which is both direct and tight with fine treble resolution.
MK 4 Set includes MKS 4 Shockmount
Large-diaphragm capsule (1")
True condenser design
24-carat gold -plated diaphragm
Full metal housing
Capsule shock-mounted internally to minimise structure-borne noise
Designed for project studios and stage use
Low inherent self-noise and high maximum SPL
Made in Germany
The MK 4 was developed for professional users in project studios. However, it is equally well-suited for other recording environments and is sufficiently resilient for use on stage. It is also a microphone that is affordable for home recordists and musicians, as it combines the key elements of a good studio microphone with an attractive price. The finest sound structures are well resolved, while sound coming from the sides is picked up without colouration, which means that it does not alter the overall sound quality. Furthermore, the microphone has a very harmonious presence, featuring vivid mids and is also highly detailed in the bass range. At the same time, typical cardioid cancellation is relatively frequency-independent, which is quite unusual for a large-diaphragm mic.
Pure and resilient
The combination of the elastic capsule mount and selectable filters reduces impact and structure-borne noise to an absolute minimum. The MK microphones feature a low inherent self-noise and a maximum sound pressure level of 140 dB. This transforms them into sophisticated listeners that deliver crisp signals, even with wide dynamics and loud sources.
Powerful warmth
Both MK microphones feature 24-carat, gold-plated 1" diaphragms that provide you with a sound that you can only obtain from a true condenser microphone.
A sound that is warm, powerful and finely resolved across the audio frequency spectrum. Consequently, the finest nuances of vocals, speech and instruments will retain their natural presence.
Sturdy companions
Despite their detailed and fine studio sound, the MK mics are incredibly rugged tools. Their compact electronics, superior materials and zinc die-cast casing ensure that they are the perfect partner for rough recording environments.
Featuring a 1 inch true condenser capsule based on the acoustics of the e 965 high-end vocal mic, optimised for recording. The MK 4 is made in Germany, its transducer being manufactured in the same clean room as all high-end Sennheiser condenser capsules.

SKU
SEN-MK4SETSTP
MPN
MK 4 Set
Vendor
Sennheiser
Included From Manufacturer
MKS 4 Shockmount
MZQ 4 microphone clamp
Pouch
Mic Style
Side Address
Mic Type
Condenser
Mpn
504298
Wired Wireless
Wired
Frequency Response
20 Hz - 20 kHz
On/Off Switch
No
Polar Pattern(s)
Cardioid
Requires Phantom Power
Yes
SENNHEISER'S LIMITED PRODUCT WARRANTY
The service policies and warranty statements on this page are relevant for all Sennheiser products and Sennheiser distributed brands. Sennheiser Electronic Corporation (referred to as SEC or Sennheiser for the duration of this document) warrants to the original purchaser that the product purchased will be free of defects related to manufacturing, parts, materials, and workmanship under normal and accepted use. Conditions under which the manufacturer's limited product warranty statement is no longer valid can be found below. Sennheiser offers a worldwide warranty on its products though it is strongly encouraged that all warranty returns be sent to the customer's local Sennheiser Authorized Service Center.
This limited product warranty is SEC's only warranty and the customer's only remedy concerning the product. All other representations, warranties or conditions, expressed or implied, written or oral, including but not limited to any warranties or guarantees of merchantability, fitness for a particular purpose, or non-infringement, are expressly excluded. As a result, except as set forth in the previous and following paragraphs, the product is sold "as-is" and the customer is assuming the entire risk as to the product's suitability to their needs, its quality and its performance.
Sennheiser Products: 2 Years
Wired Evolution Products: 10 Years
Neumann Products: 1 Year
Refurbished Products: Carry the standard warranty**
** Remanufactured product warranties are only valid when purchased from an authorized Sennheiser reseller. Excludes any remanufactured Headphone, TeleCom Headset, or Bluetooth® product, which carry a 90-day warranty. Out of warranty TeleCom headset replacements have a 1 year warranty.
Ground shipping is FREE for all orders $99 and up.