Skip product carousel
Instant Rebate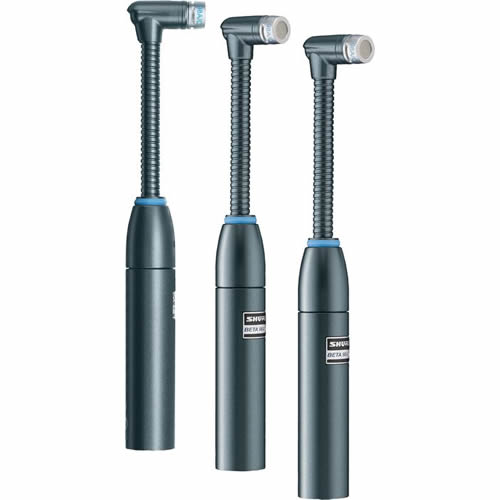 Shure Beta 98AMP/C Cardioid Condenser Drum Microphone Mount 3-Pack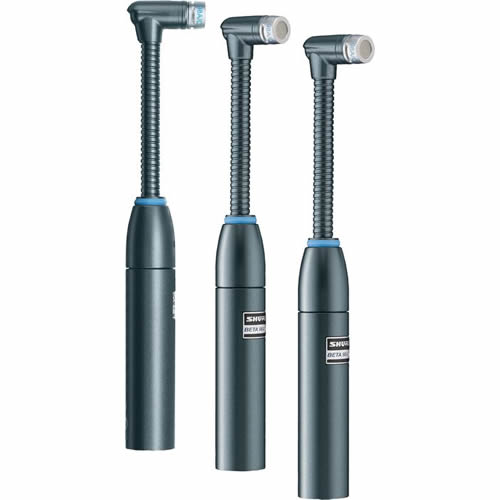 Shure Beta 98AMP/C Cardioid Condenser Drum Microphone Mount 3-Pack
This is a special three-pack deal on the Shure Beta 98AMP/C condenser microphones. You may need three of these mics for a horn section, or for use on a drum kit (the Beta 98 is an excellent choice for toms). Whatever your application, this three pack represents a great package deal on three Beta 98AMP/C mics. For an even better value, check out our Shure Beta98AMP/C TRIPLE PERFORMER PAK (click BUNDLE link above).The Shure Beta 98AMP is a precision-engineered miniature cardioid condenser microphone for professional sound reinforcement and studio recording. Features an integrated XLR preamplifier with a flexible gooseneck and the A75M Universal Microphone Mount for accurate placement in any configuration of toms, snares, or percussion. An extremely uniform cardioid polar pattern provides excellent gain-before-feedback, off-axis rejection of unwanted noise, and high maximum sound pressure level (SPL).
Uniform cardioid polar pattern provides maximum gain-before-feedback and rejection of off-axis sound for smooth high-end response and control
Precision-engineered design features integrated preamplifier and XLR connector to maximize setup efficiency while minimizing stage clutter
Frequency response tailored for drums and percussion applications with a wide dynamic range for use in high SPL environments
Flexible gooseneck for precise placement and easy adjustment
Ships with A75M Universal Microphone Mount with quick release, for versatile and secure instrument and/or stand mounting
Furnished with snap-fit windscreen and zipper pouch

SKU
SHU-BETA98AMPC3PK
Vendor
Shure
Included From Manufacturer
(3) Windscreen
(3) A75M Universal Microphone Mount
(3) Carrying Bag
Mic Style
Drum Mount
Mic Type
Condenser
Mpn
BETA98AMPC3PK
Wired Wireless
Wired
Frequency Response
20 - 20,000 Hz
On/Off Switch
No
Polar Pattern(s)
Cardioid
Recommended Uses
Percussion, Rack/Floor Toms, Snare Drum
Requires Phantom Power
Yes
Simultaneous Systems
N/A
Shure Limited Warranty
Every Shure product comes with a Limited Warranty that in normal use the product will be free of any defects in materials or workmanship for a period of one or two years from its original date of purchase. However, this is not intended as a complete statement of the actual Limited Warranty applicable to any product. The Limited Warranty includes other important terms, conditions, limitations, and exclusions. For the actual Limited Warranty applicable to any product, please refer to the warranty card issued by Shure and packaged with the product.
Shure Limited Warranty does not apply to Shure software products – please see the associated software license agreement for any warranty applicable to such products. Shure Limited Warranty does not apply to customized Shure products – please see the relevant custom product webpage(s) for any warranty applicable to such custom products. Shure Limited Warranty covers only Shure-branded products - for third party products distributed by Shure, please contact the manufacturer of such product for warranty information.
Ground shipping is FREE for all orders $99 and up.