Skip product carousel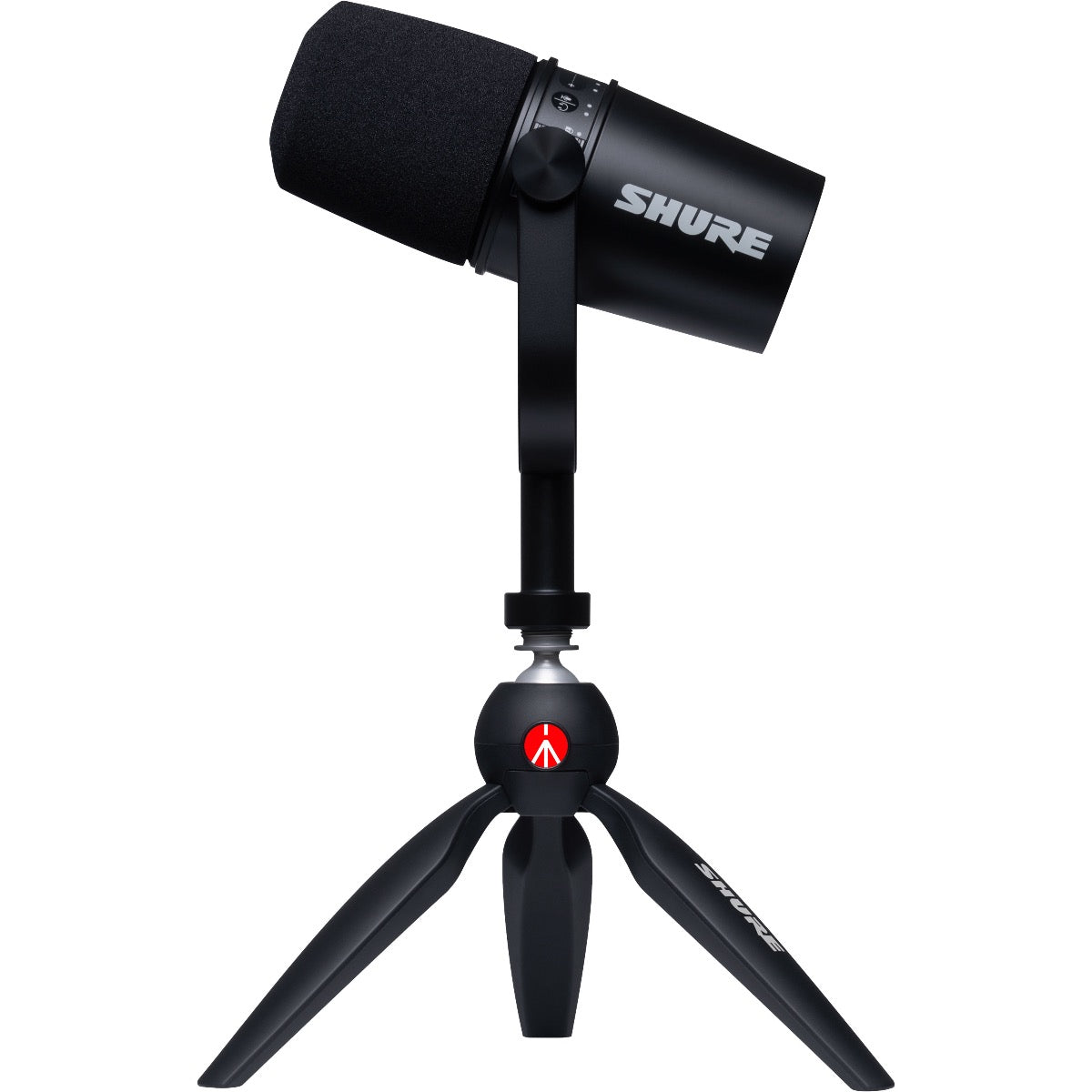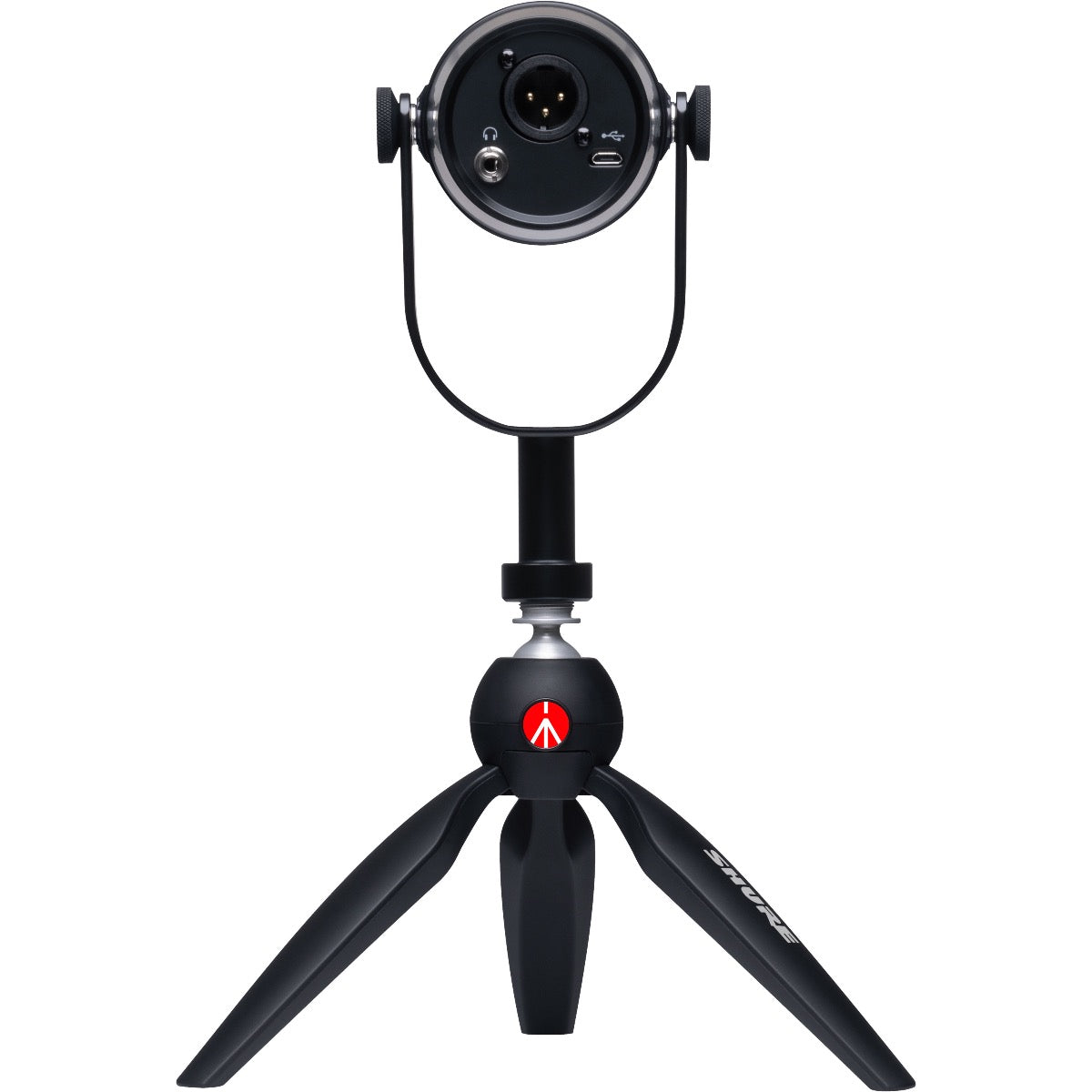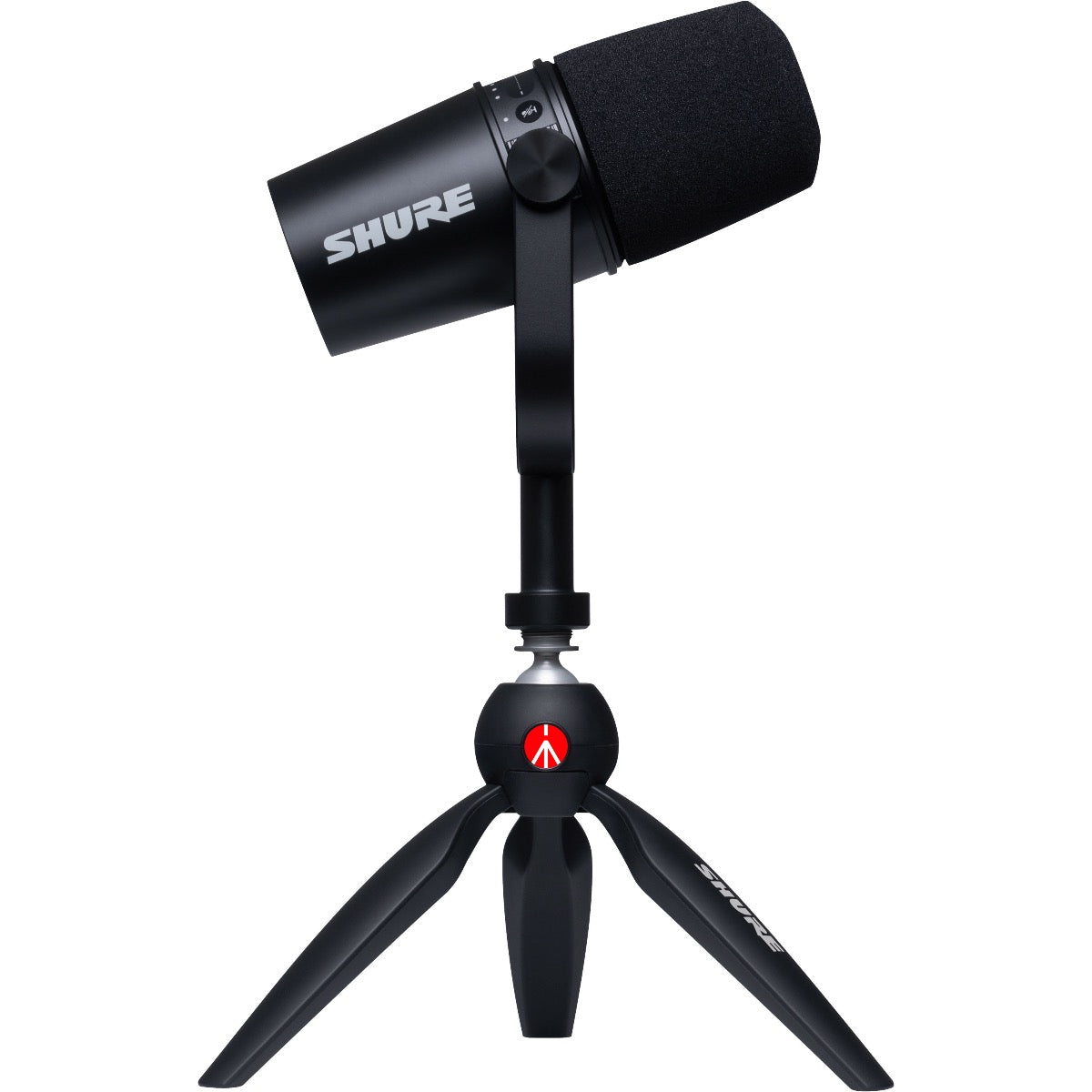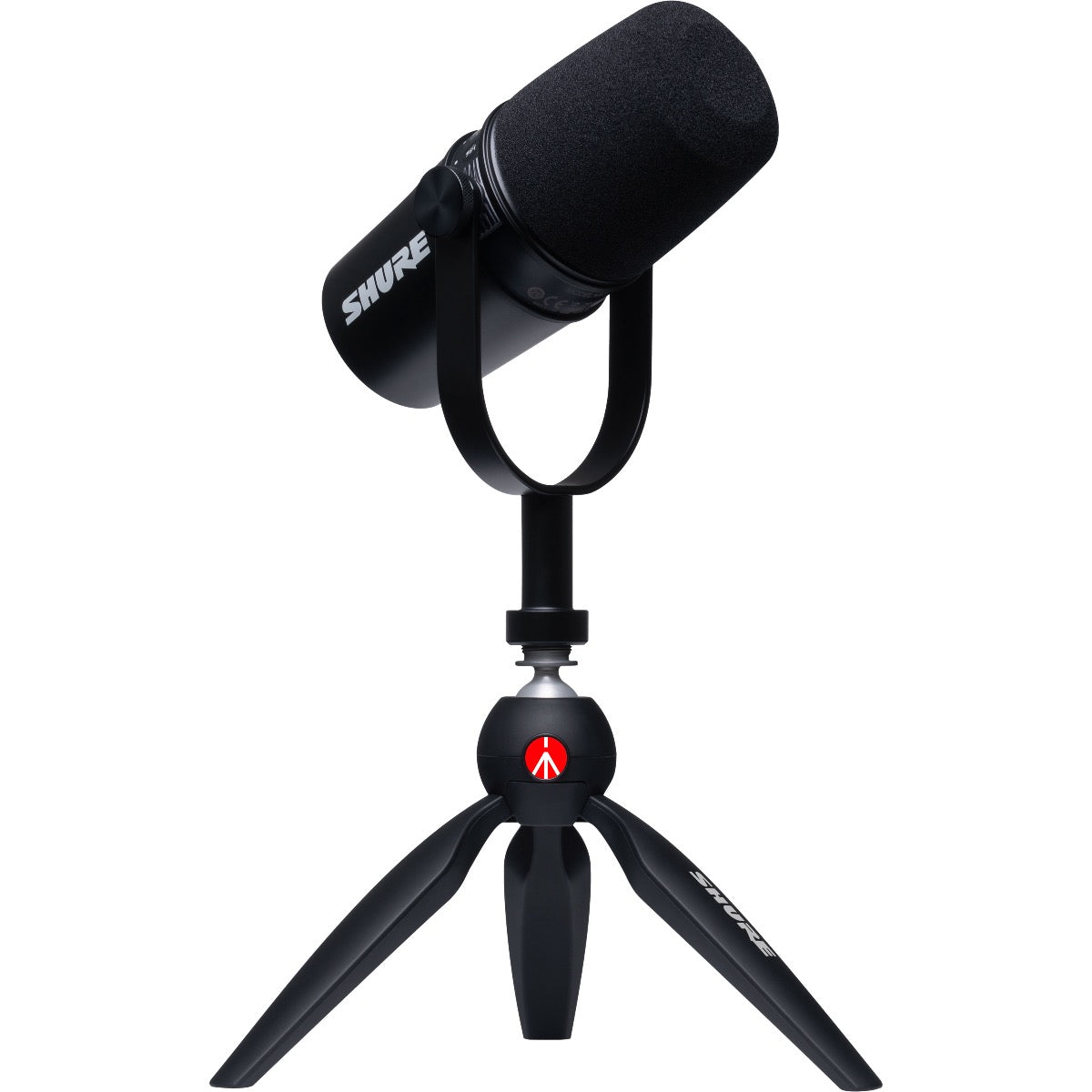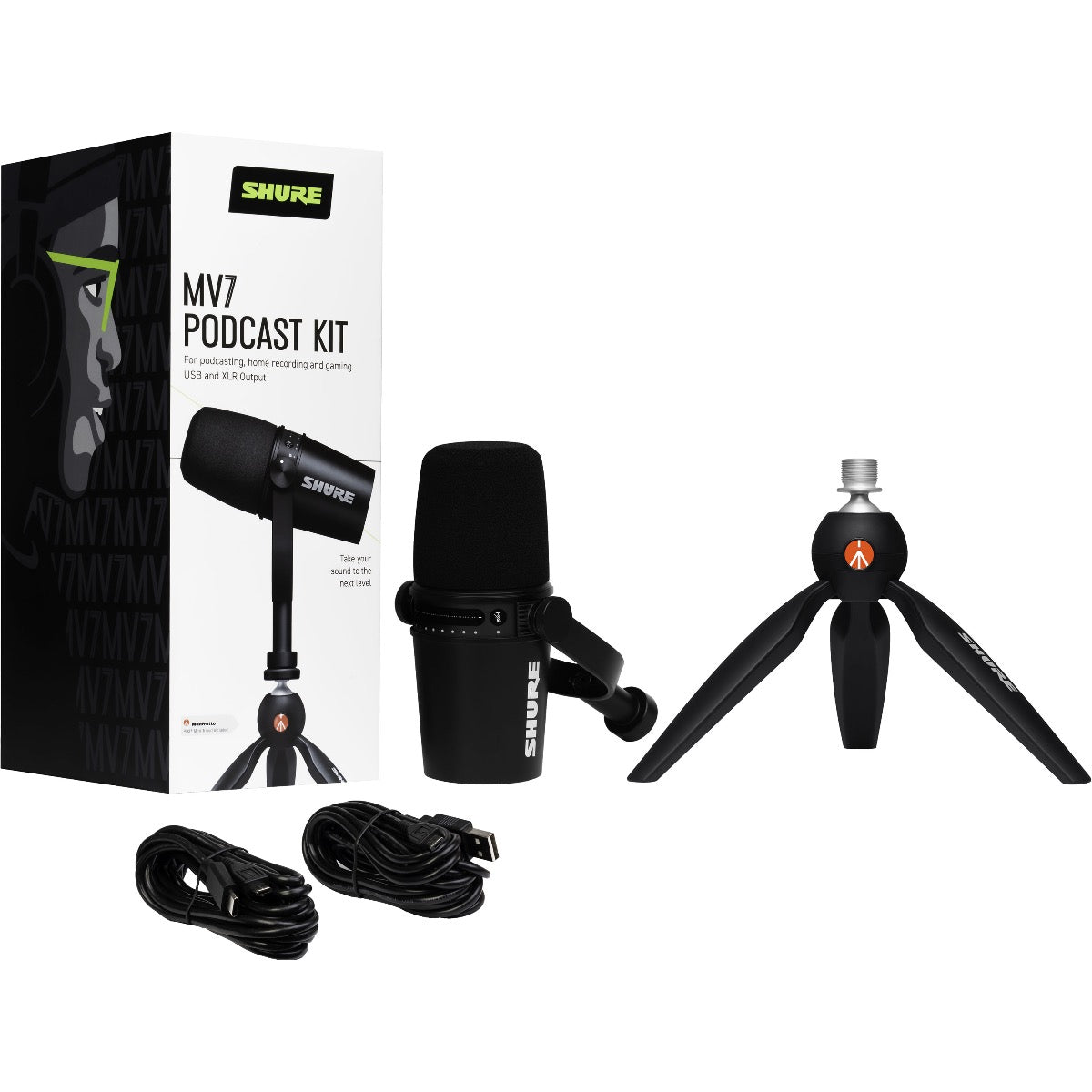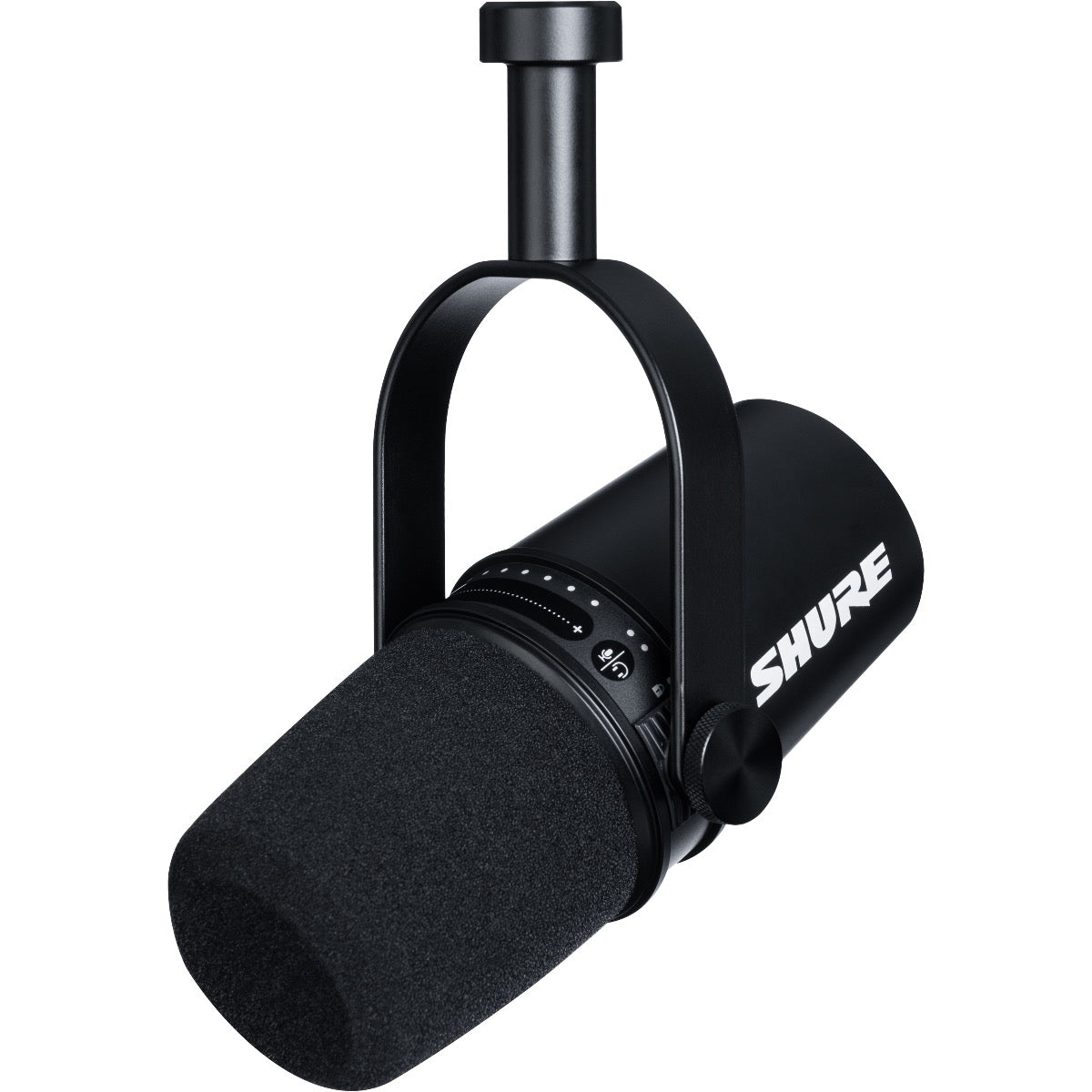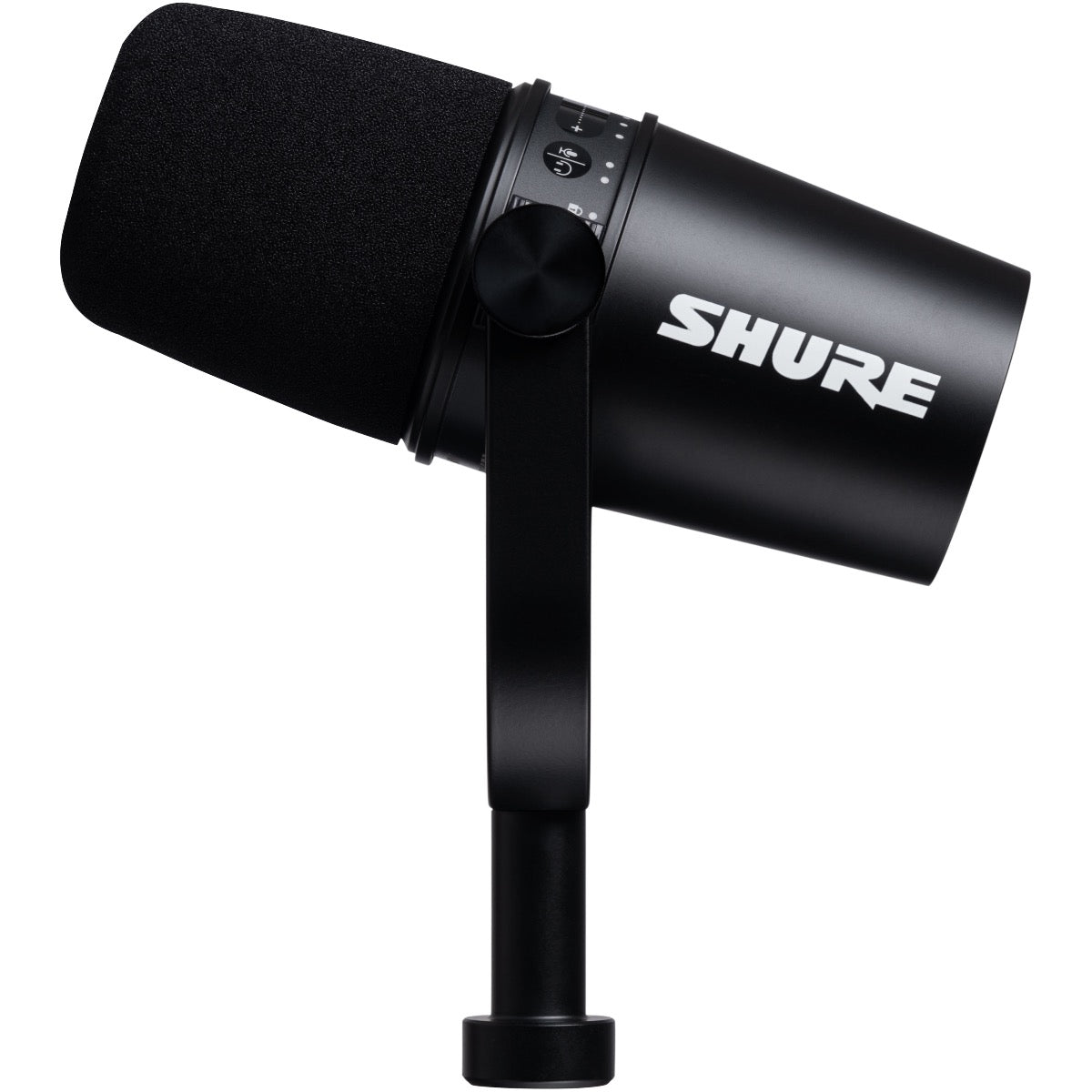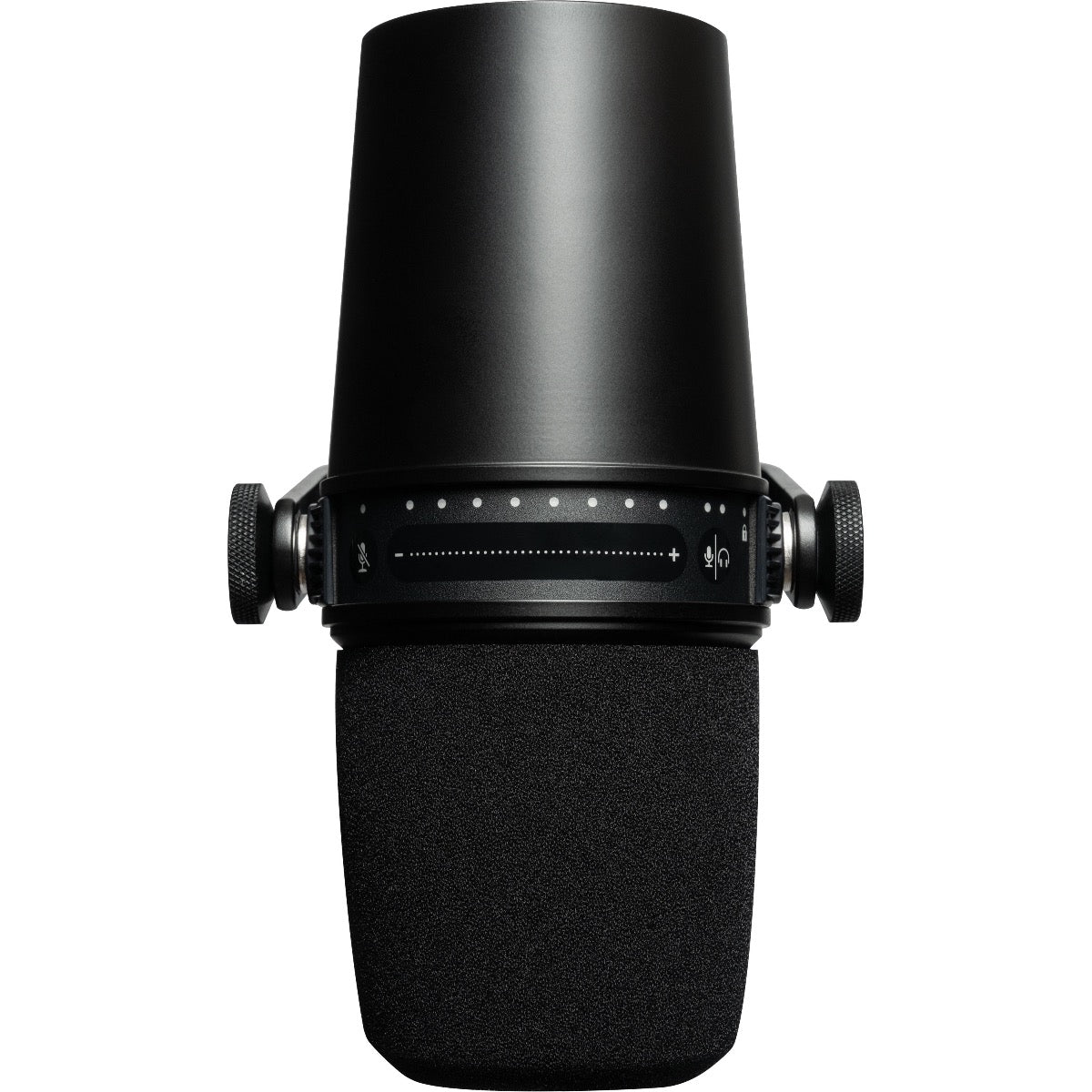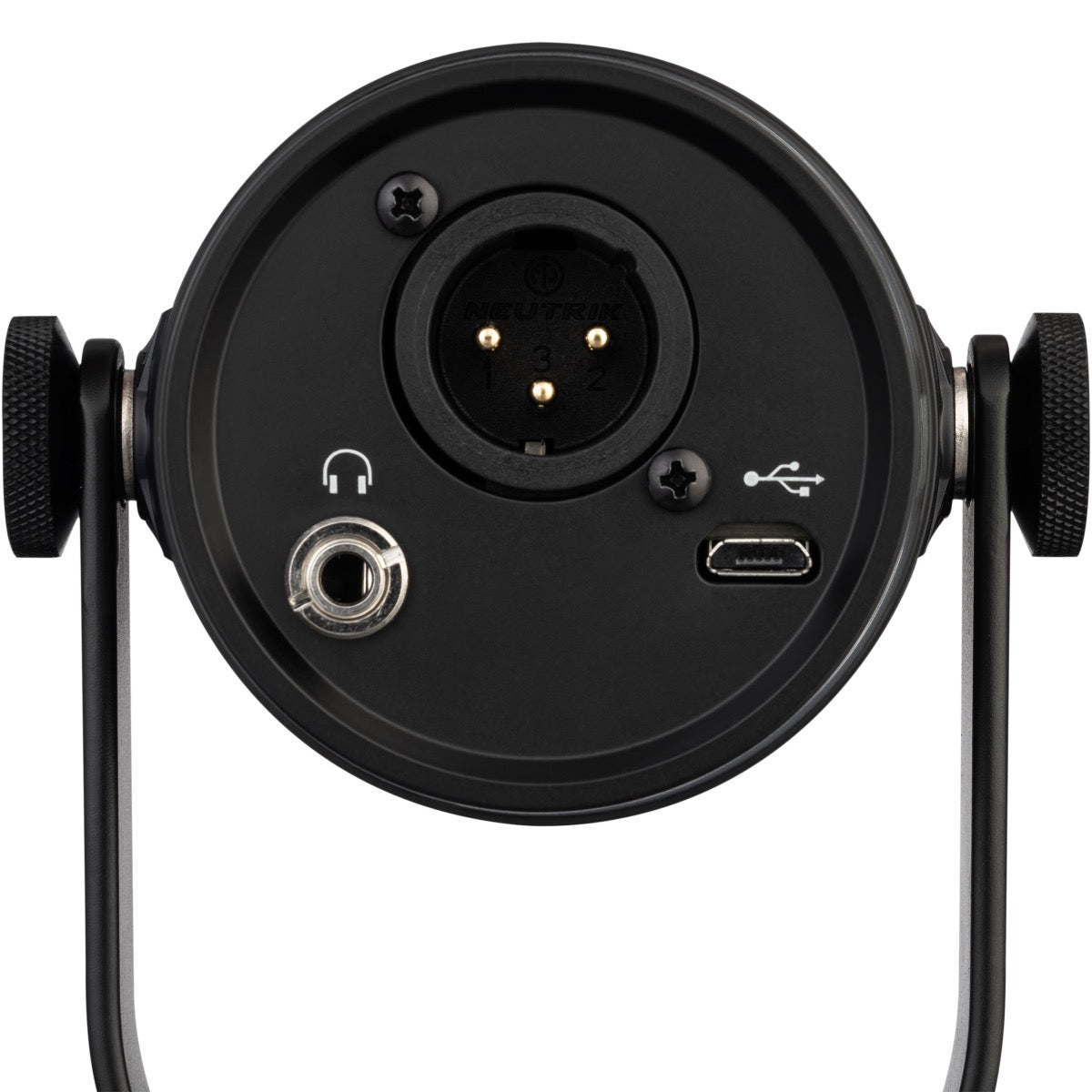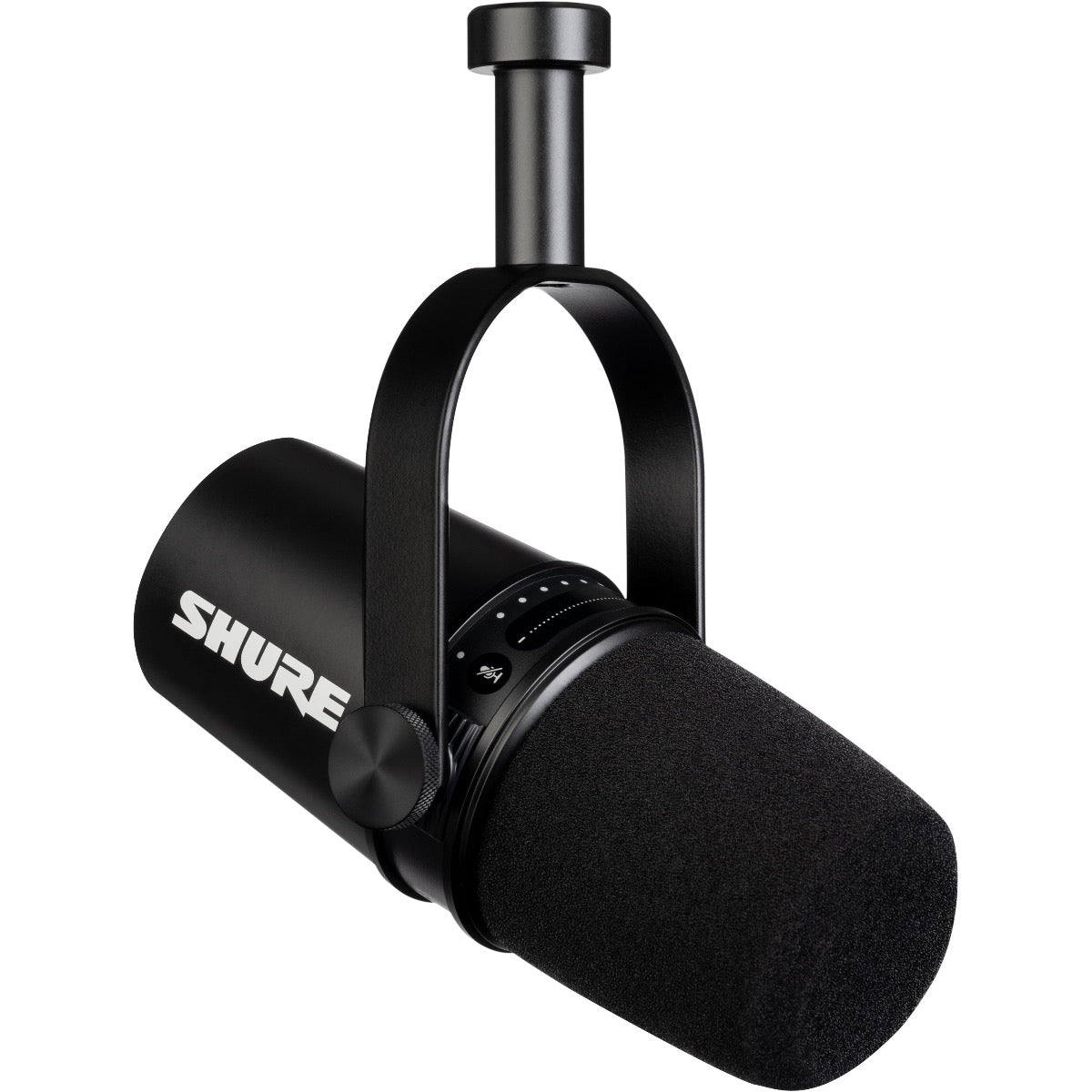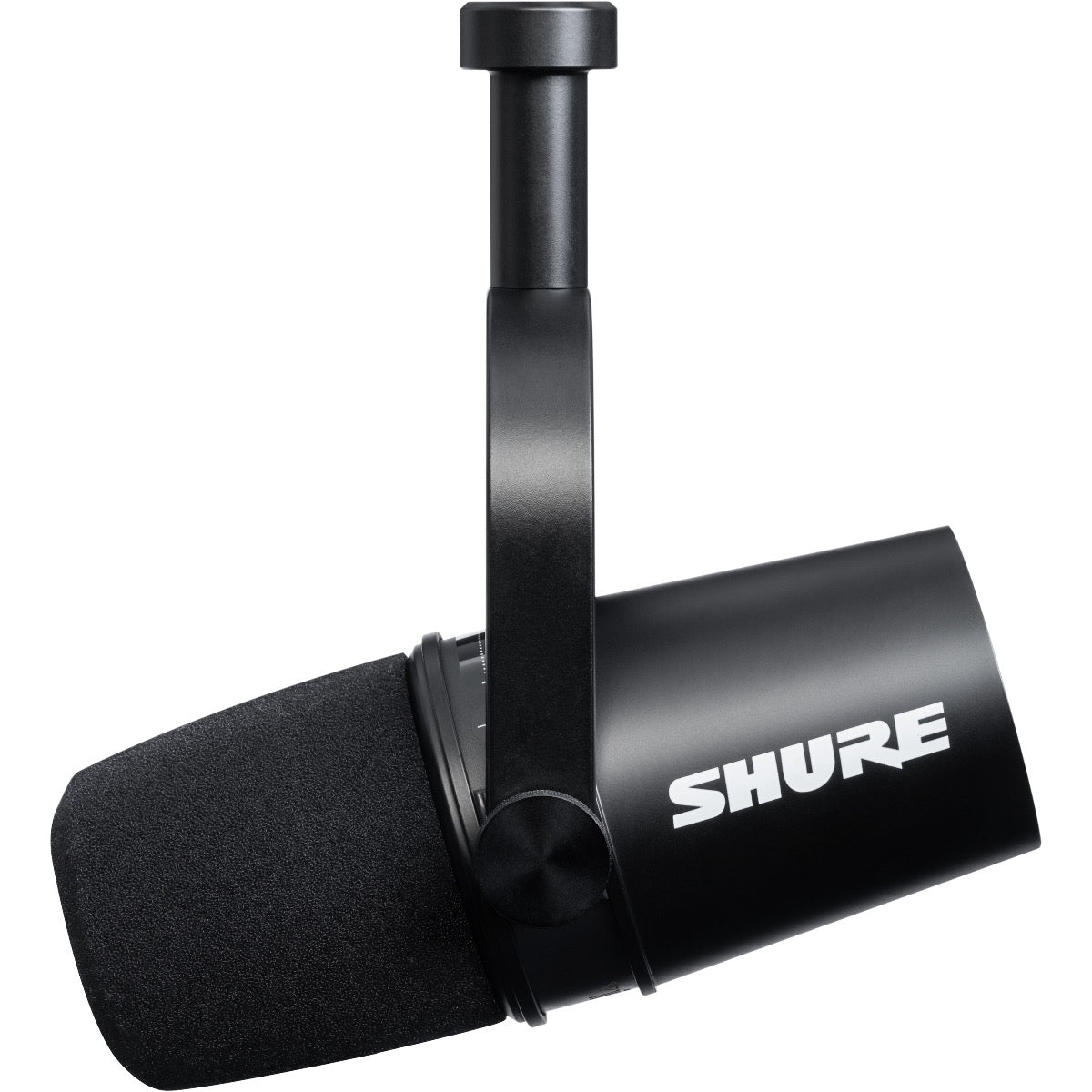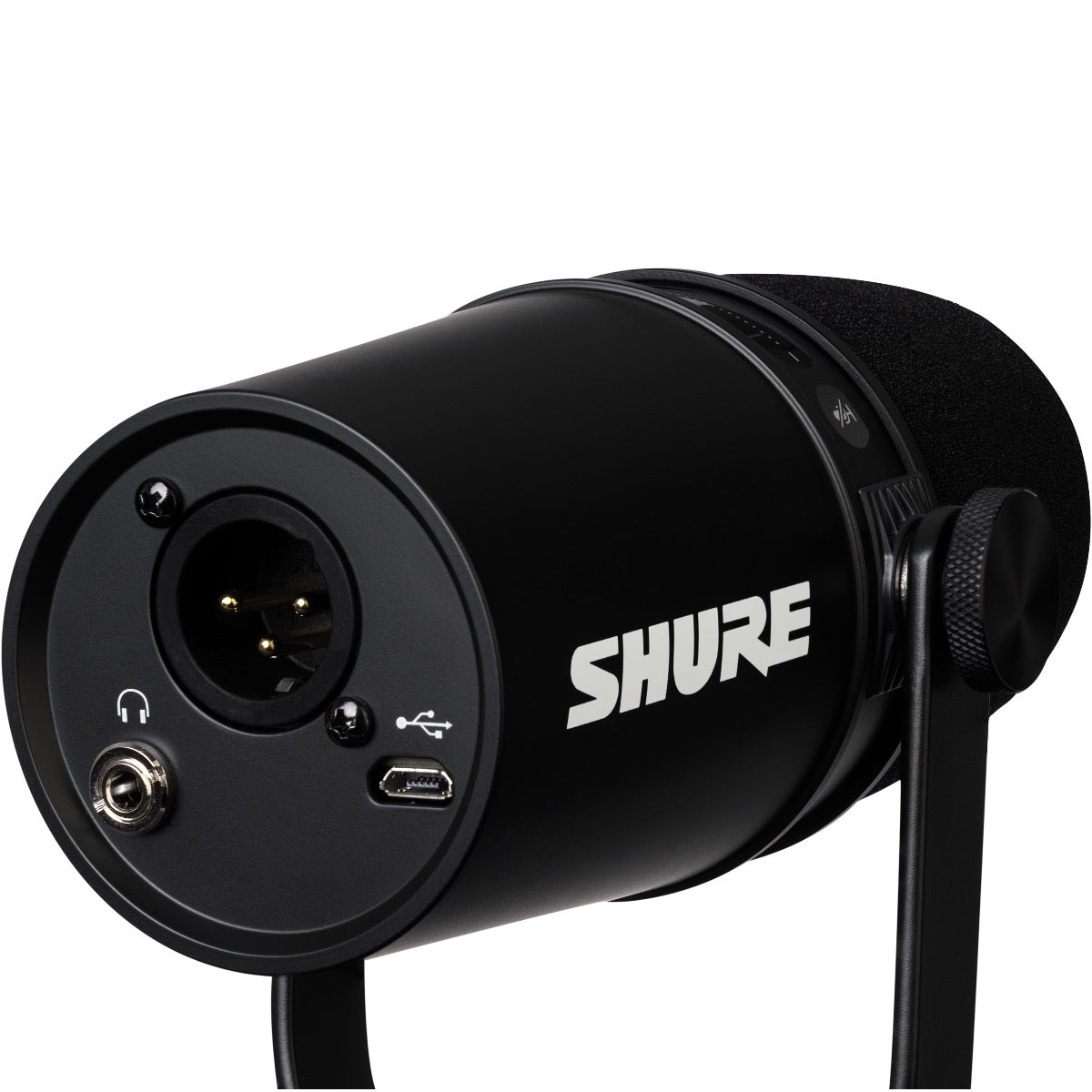 Shure MV7 Podcast Microphone Kit with Manfrotto Desktop Tripod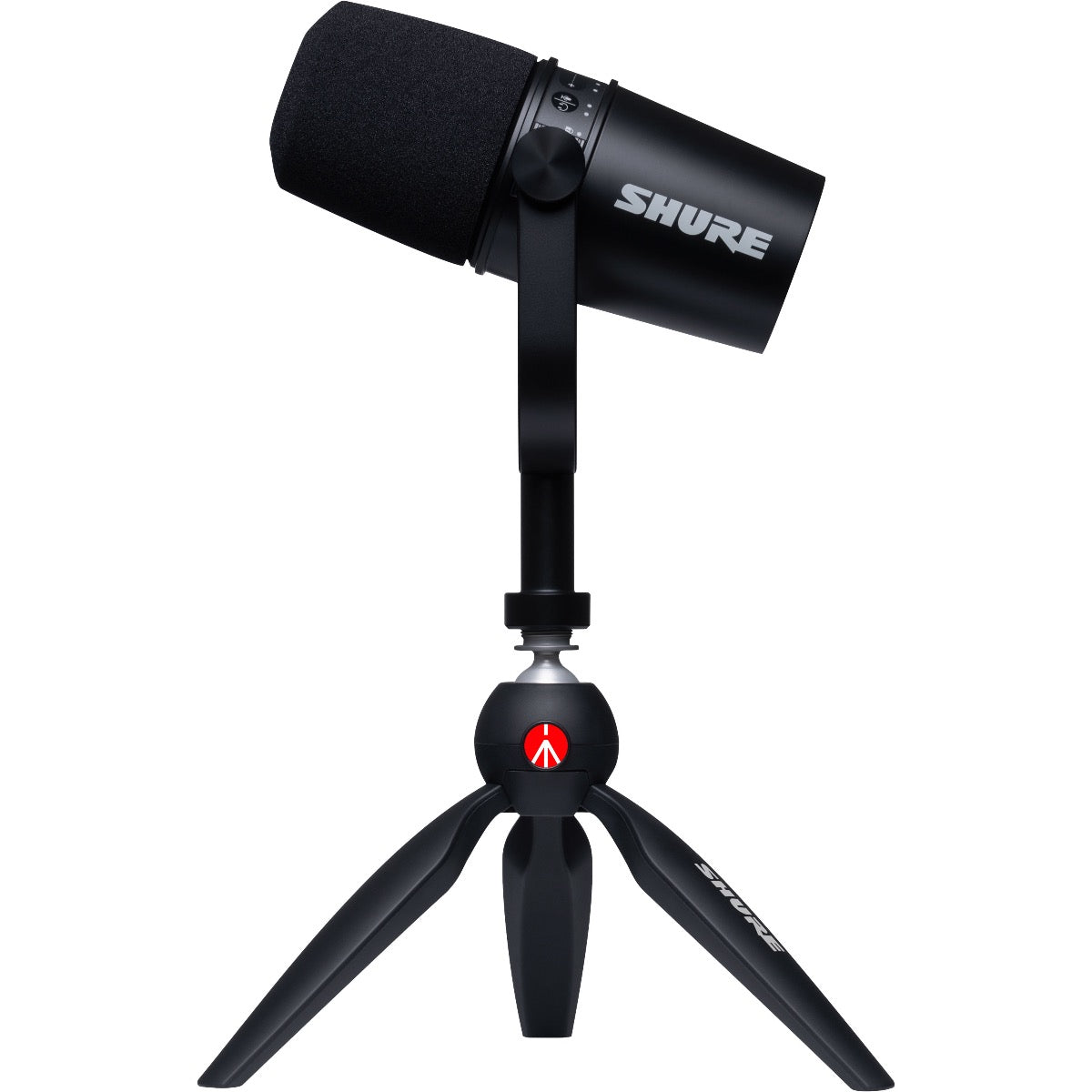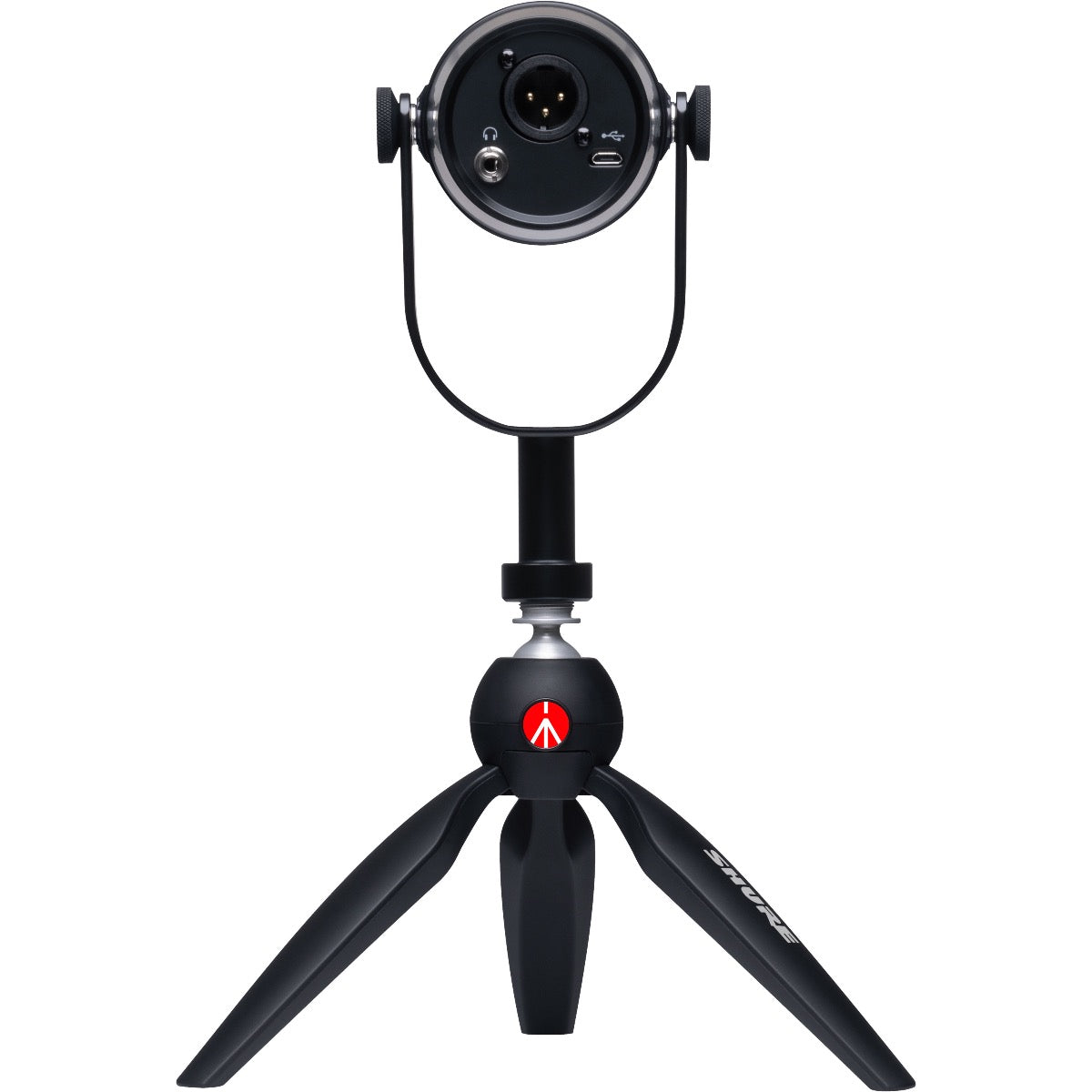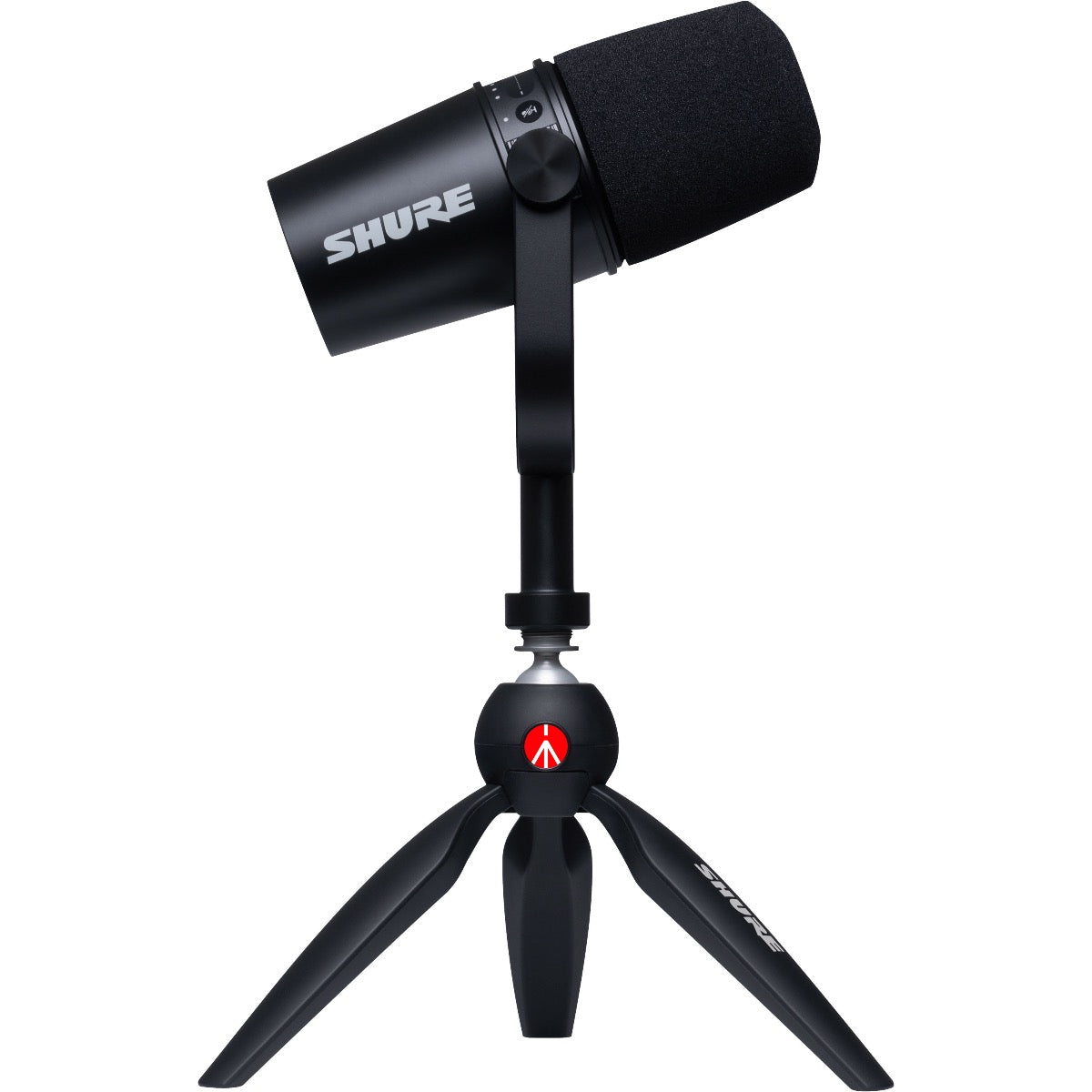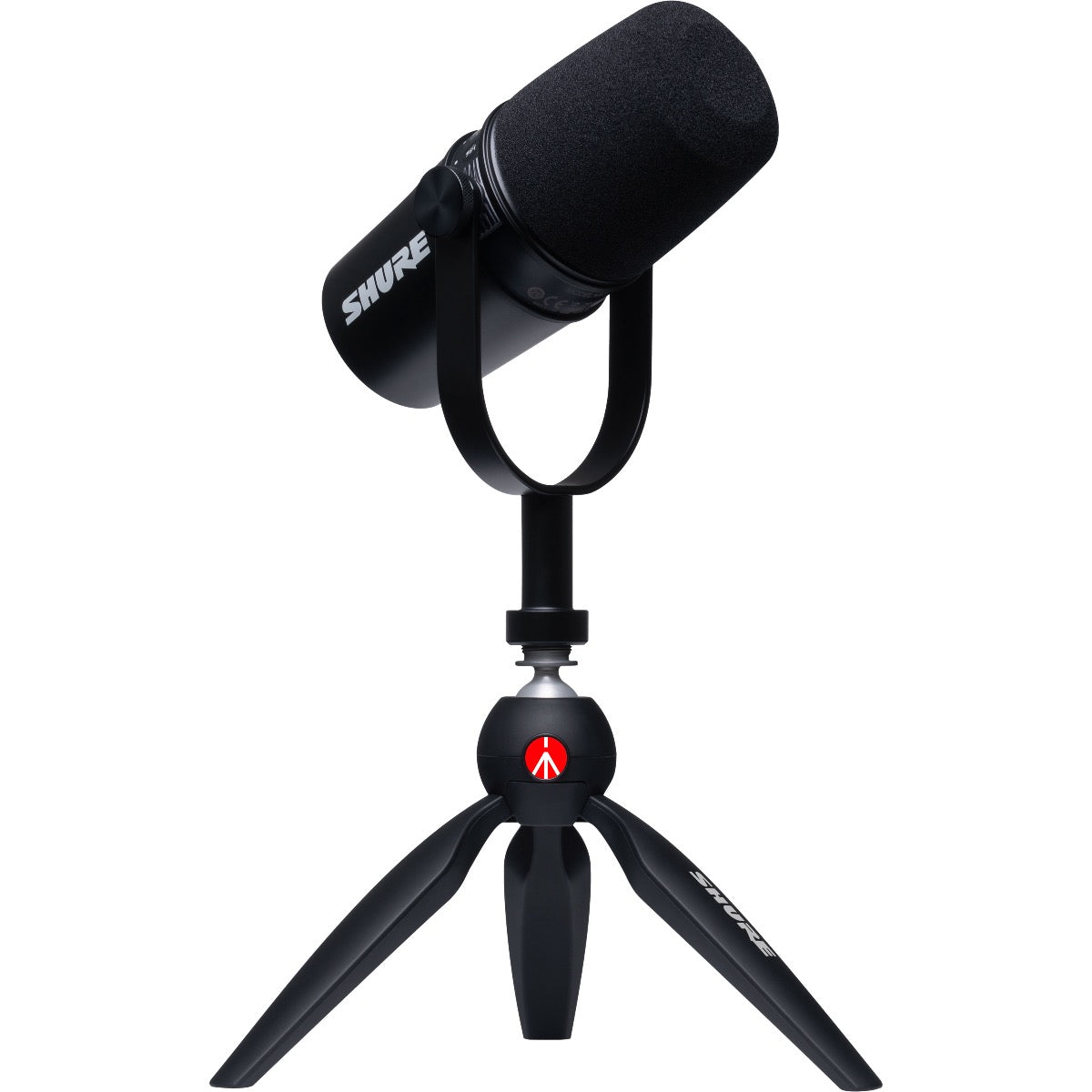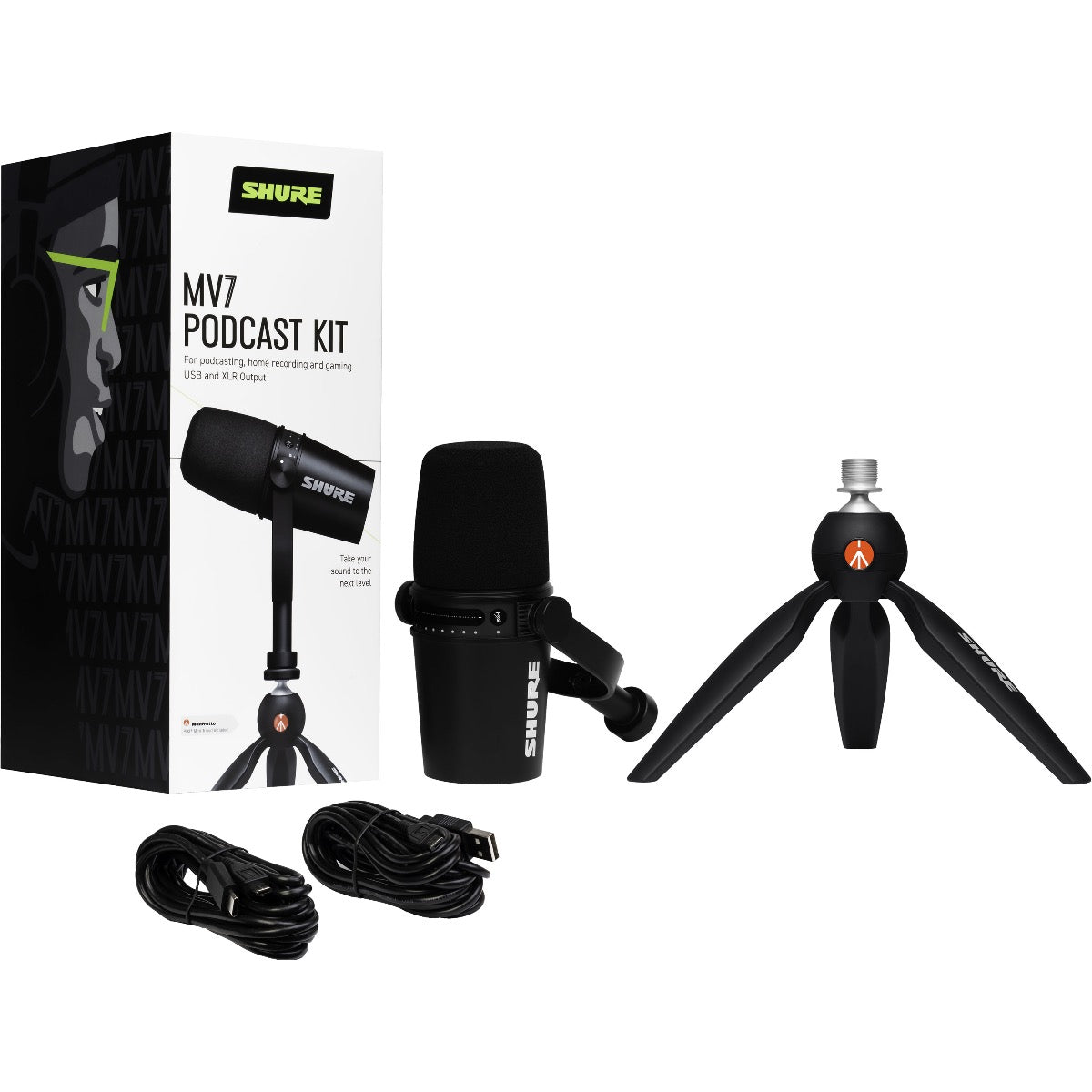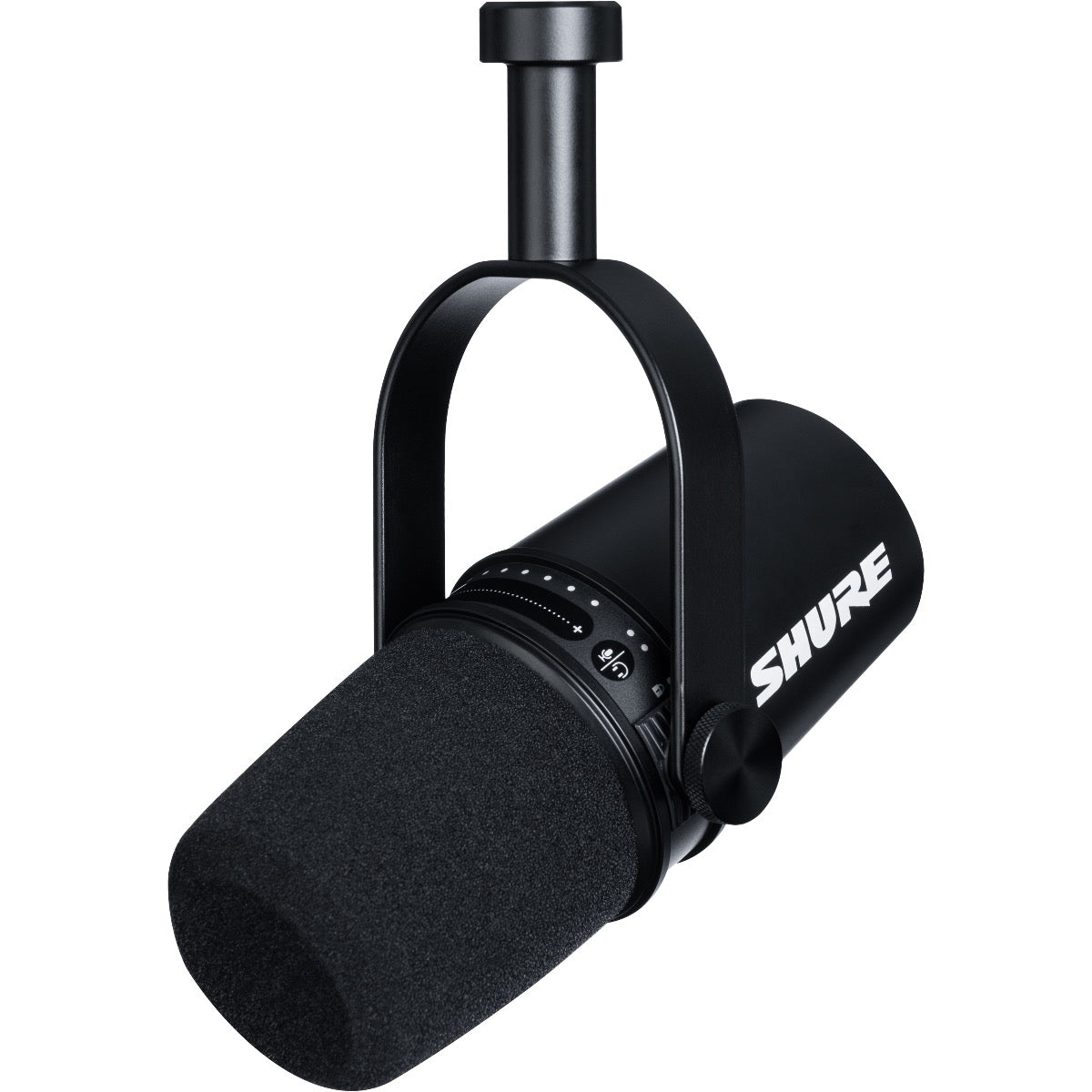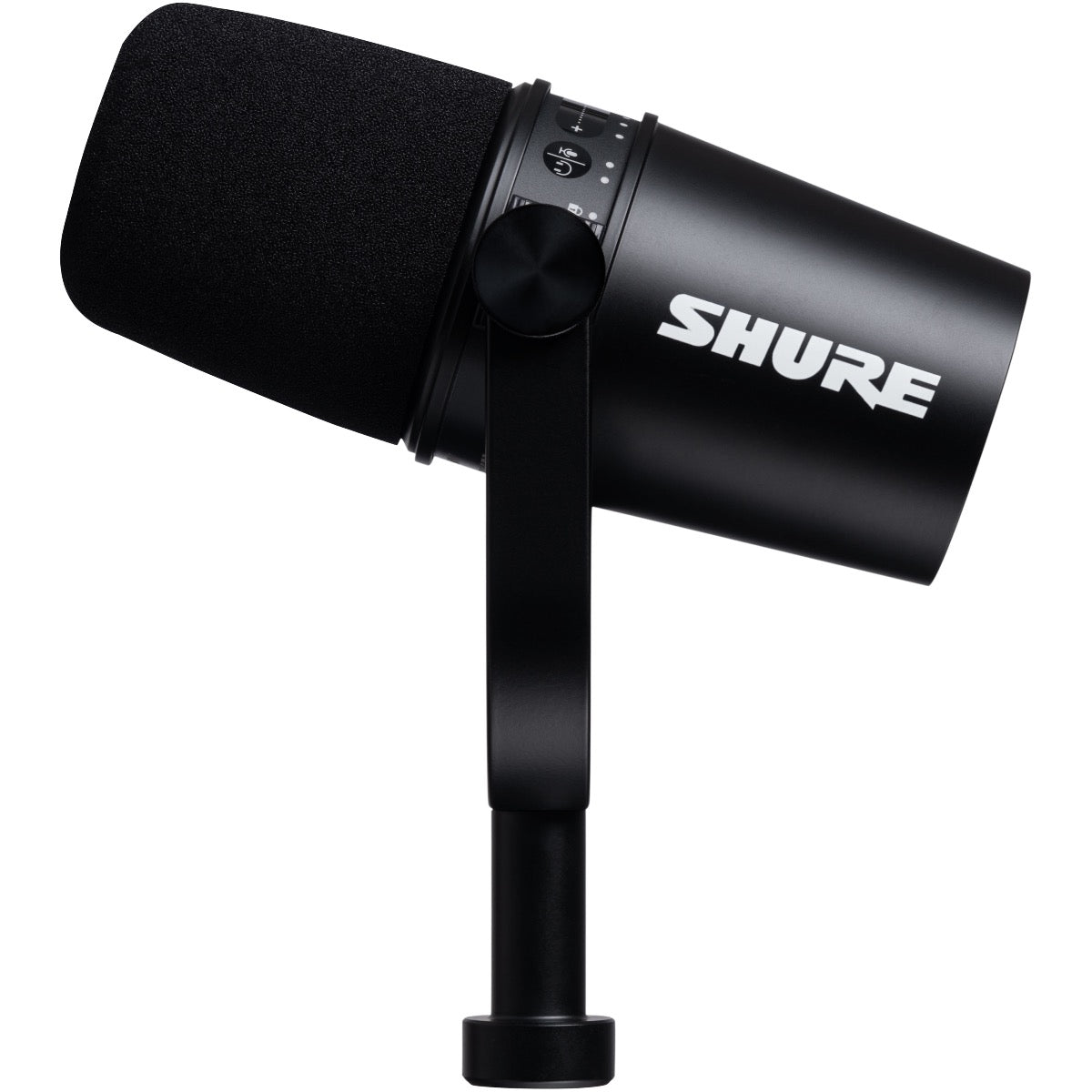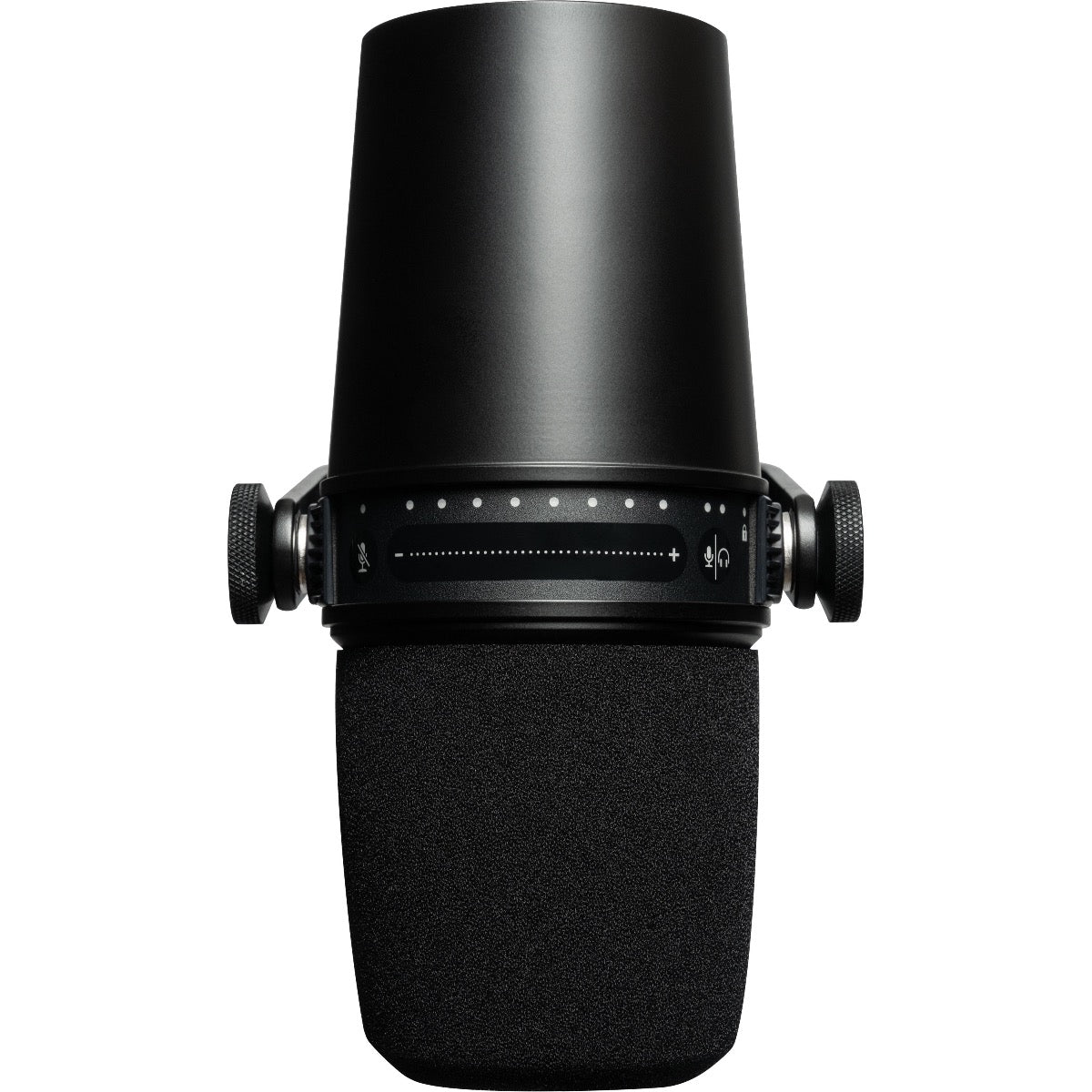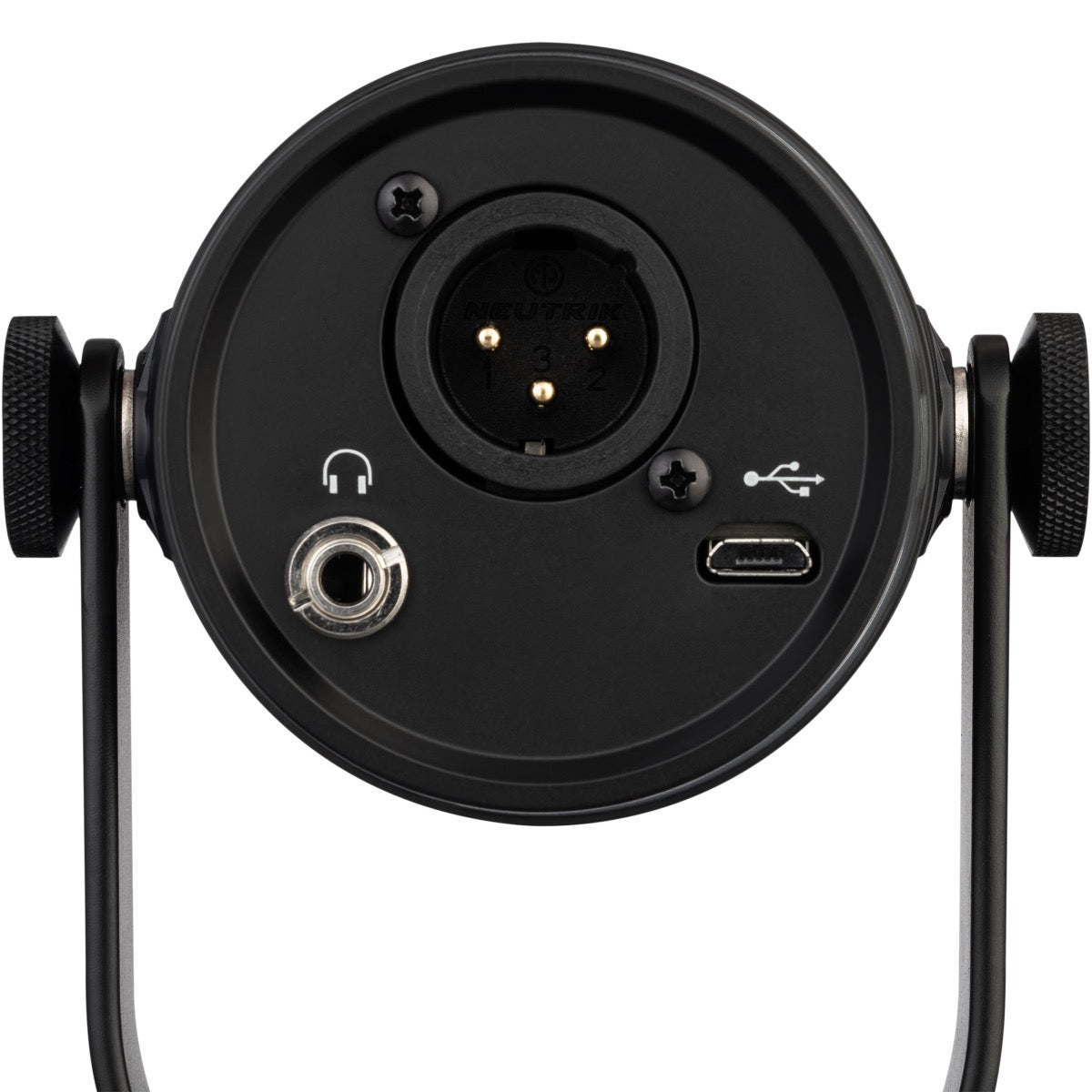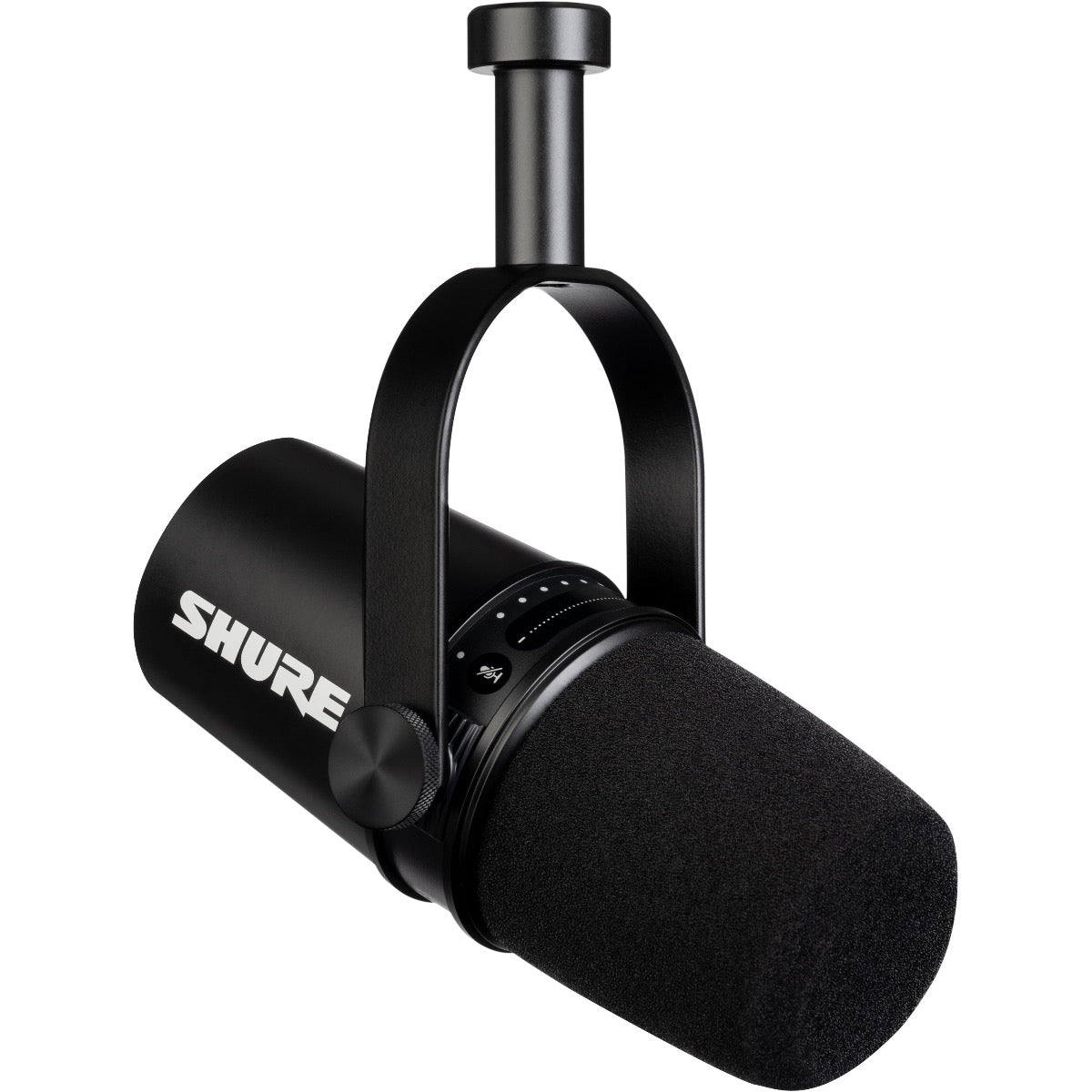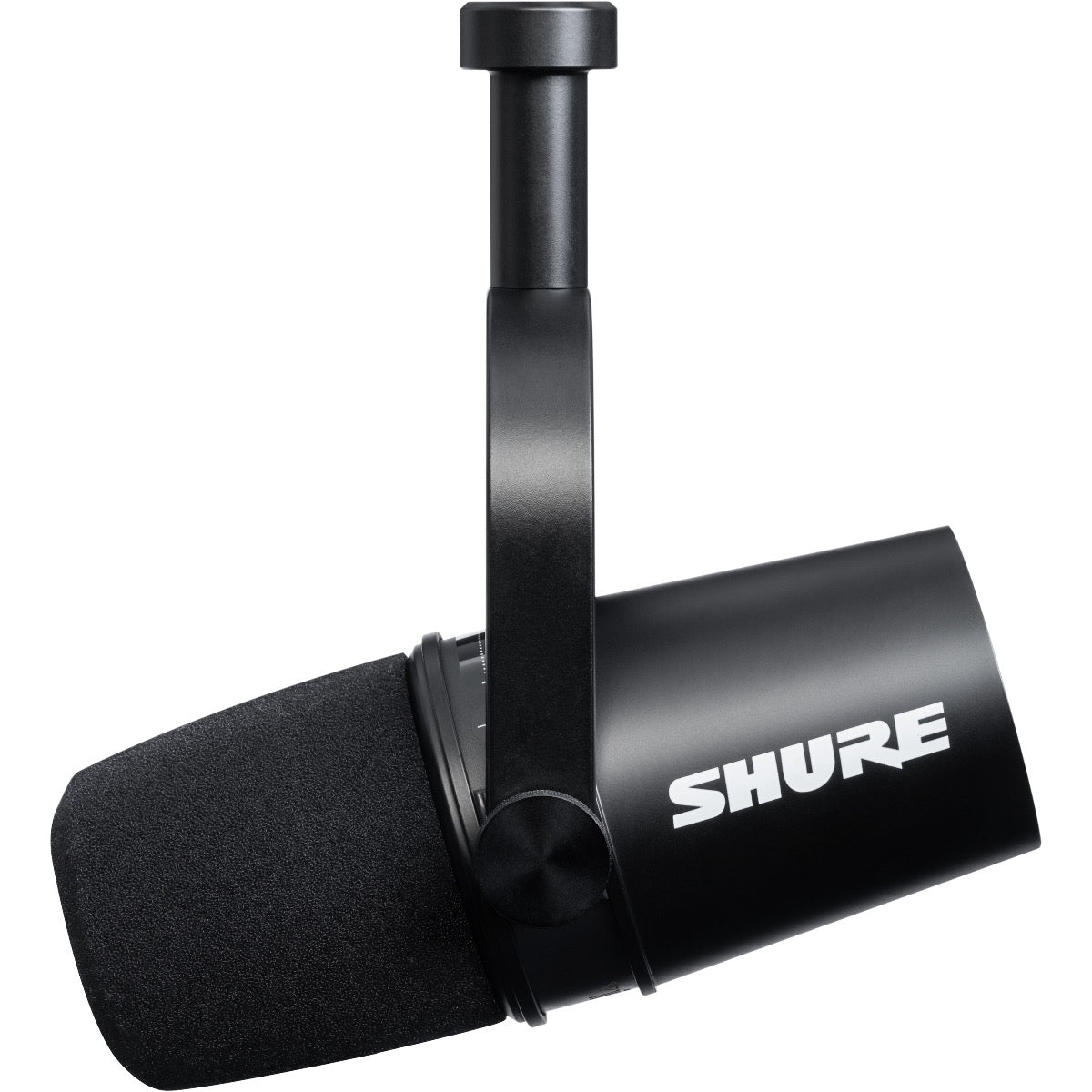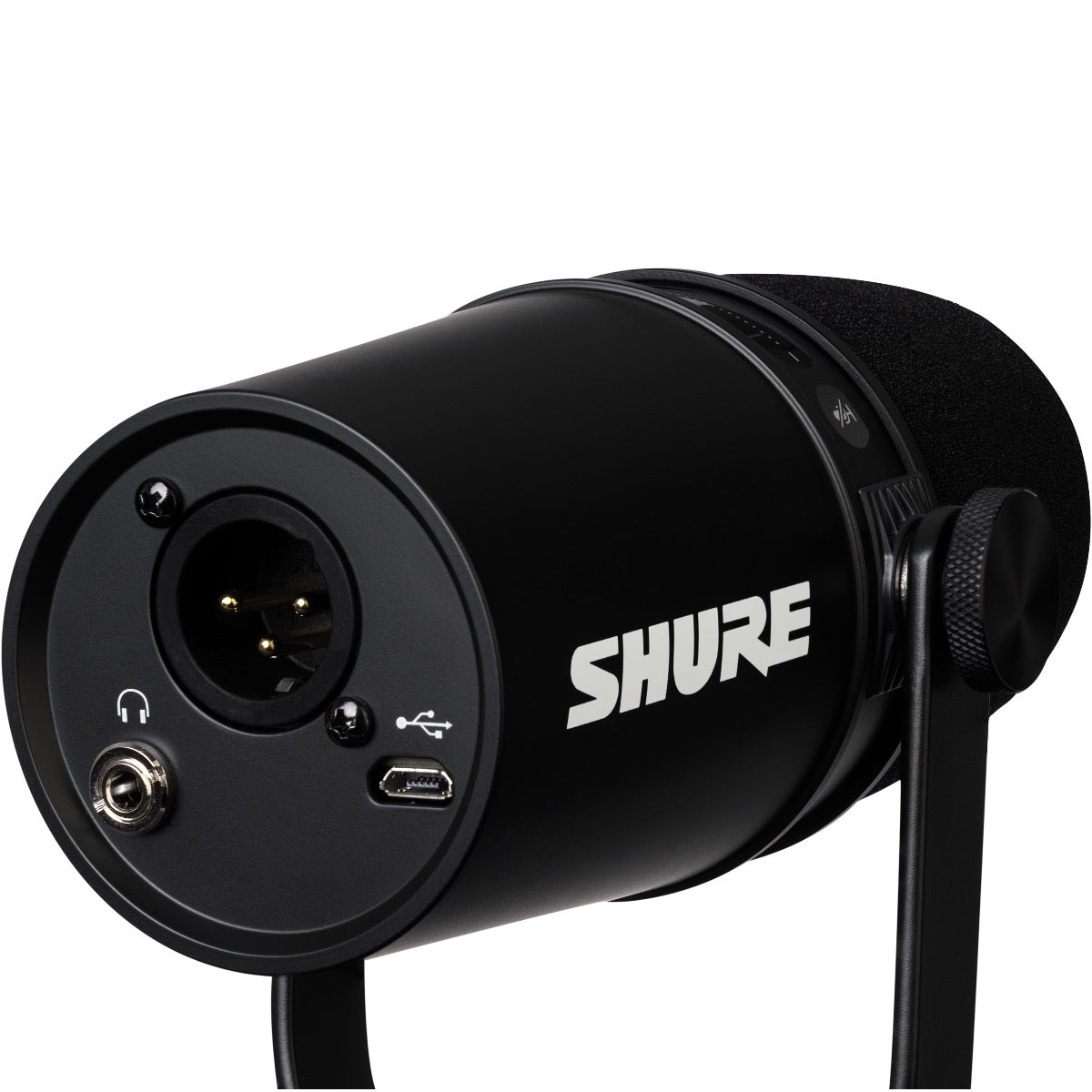 Shure MV7 Podcast Microphone Kit with Manfrotto Desktop Tripod
Shure MV7 Podcast Kit is a hybrid XLR/USB all-in-one podcasting and streaming solution that provides everything you need to make professional recordings with a Manfrotto Pixi Mini tripod also included in the box.
Shure MV7 is a professional-quality USB/XLR dynamic microphone ideal for close mic applications that require vocal intelligibility with a balanced tone. A touch panel interface on the microphone itself provides control over microphone gain, headphone level, monitor mix and muting, and the ShurePlus MOTIV desktop application allows users to save their own presets or enable auto-gain, compression and EQ presets for easy realtime audio processing. The attractive and durable all-metal design features an adjustable yoke that can be mounted onto a variety of microphone stands for flexible placement options.
Podcast Kit includes Manfrotto Pixi desktop mini tripod
Dual USB/XLR output allows digital or analog recording
Highly directional dynamic element and voice isolation technology
Intuitive touch panel for control over gain, monitoring volume, headphone mix and mic muting
Built-in headphone output allows for direct headphone monitoring while recording
Optimized frequency response for rich and natural vocal reproduction
Interfaces with ShurePlus MOTIV desktop application for access to audio processing

Auto Level Mode automatically adjusts gain and compression settings
Switchable EQ filters to adjust audio tone color

Options to save custom user presets
Rugged, all-metal construction for outstanding reliability
Adjustable integrated yoke for easy positioning on standard 5/8"-27 threaded stands or booms
XLR and USB hybrid microphone
Choose to connect your MV7 by XLR or USB, depending on your setup. When connecting via USB, you have access to the ShurePlus MOTIV app, which has a variety of additional controls such as mic gain, mic mute, EQ, monitor mix, limiter and compressor that can be adjusted. Alternatively, connect your MV7 via XLR to an audio interface if you are working with a professional recording setup.
Desktop tripod included
Manfrotto Pixi is the perfect mini tripod for your MV7 microphone, an ideal solution for podcasters searching for a lightweight, portable and easy-to-use support system. Pixi has a minimal Italian style and is manufactured from stainless steel for a high quality finish. With its solid construction, you're provided with a secure base for any recording situation, while the rubber feet guarantee a stable and slip-free foundation on any surface.
Auto Level Mode
Users that connect via USB will have access to Auto Level Mode, offering them adjustments for tone and mic position. Once enabled, this mode will allow the microphone to constantly adjust your level on the fly to ensure consistent output to your recording or stream. Save valuable editing time in post-production and keep your level consistent throughout – it's like having a virtual engineer by your side!
App control via integration with ShurePlus MOTIV apps (desktop and mobile)
Download the free ShurePlus MOTIV app(s) and configure the microphone to perform best for your chosen application. Select Auto Level Mode if you want a 'set it and forget it' microphone, or Manual Mode if you wish to get more hands on with features such as mic gain, mic mute, EQ, monitor mix, limiter and compressor. You can even save your favorite presets for another day.
Voice isolation technology
MV7's impressive combination of cartridge, pick-up pattern and shock mount brings your voice to the forefront of the recording and prevents any unwanted background or room noise from interrupting your sound.
Built-in touch panel
If you're on the go or want a slight adjustment just before you're set to record, the onboard touch panel allows you to quickly slide and adjust microphone gain, headphone volume or monitor mix as well as muting the microphone, locking the touch panel and even exiting Auto Level Mode to revert to Manual Mode.
Built-in headphone monitoring
Ensure that you are getting perfect audio at all times with the direct headphone monitoring output. Simply connect your favorite headphones or earphones via the 1/8" connector and set your desired monitor mix between microphone and device.
Optimized mic position presets
Whether you're a podcaster that likes to get up close and personal with the microphone or a streamer that likes a bit more breathing room, there is a setting to suit your needs. Choose between 'near' and 'far' modes within the ShurePlus MOTIV app to optimize MV7's output depending on your preferred mic position.

SKU
SHU-MV7KBNDL
MPN
MV7 Podcast Kit
Vendor
Shure
Included From Manufacturer
Manfrotto Pixi desktop tripod microphone stand
USB Micro-B to USB-A cable
USB Micro-B to USB-C cable
Mic Style
Desktop
Mic Type
Dynamic
Mpn
MV7-K-BNDL
Product Unique Features
Dual XLR and USB outputs
Built-in headphone output for direct monitoring
Touch panel for control over gain, monitoring volume, headphone mix and mic muting
Adjustable integrated yoke for easy positioning on standard 5/8"-27 threaded stands or booms
Wired Wireless
Wired
Frequency Response
50Hz to 16,000Hz
On/Off Switch
Yes
Polar Pattern(s)
Unidirectional (cardioid)
Recommended Uses
Podcasting
Home recording
Gaming
Livestreaming
Requires Phantom Power
No
Shure Limited Warranty
Every Shure product comes with a Limited Warranty that in normal use the product will be free of any defects in materials or workmanship for a period of one or two years from its original date of purchase. However, this is not intended as a complete statement of the actual Limited Warranty applicable to any product. The Limited Warranty includes other important terms, conditions, limitations, and exclusions. For the actual Limited Warranty applicable to any product, please refer to the warranty card issued by Shure and packaged with the product.
Shure Limited Warranty does not apply to Shure software products – please see the associated software license agreement for any warranty applicable to such products. Shure Limited Warranty does not apply to customized Shure products – please see the relevant custom product webpage(s) for any warranty applicable to such custom products. Shure Limited Warranty covers only Shure-branded products - for third party products distributed by Shure, please contact the manufacturer of such product for warranty information.
Standard Shipping