Skip product carousel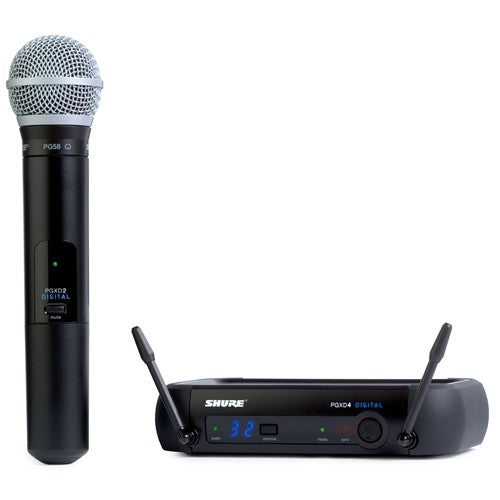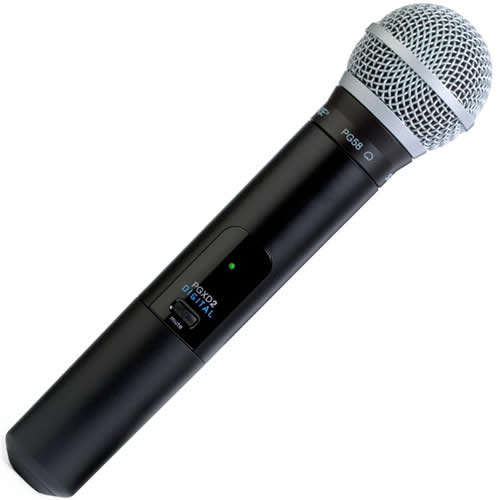 Shure PGXD24/PG58 Digital Wireless Handheld Dynamic Microphone System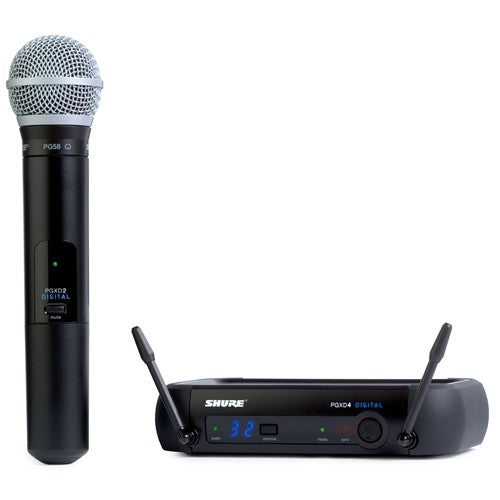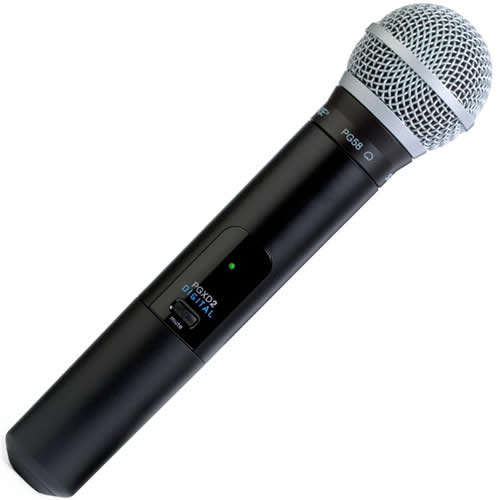 Shure PGXD24/PG58 Digital Wireless Handheld Dynamic Microphone System
PGX-D Digital Wireless, with state-of-the-art, 24-bit digital audio and trusted Shure microphones, delivers stunning sound and a strong, clean RF signal.
PGD4 receiver
The Shure PGXD4 receiver offers innovative 24-bit, 48 kHz digital audio technology for wireless that sounds like wired. True digital diversity means two antennas and two independent receivers are constantly working to provide rock-solid RF signal, and one touch scan finds a clear frequency instantly, making set up a snap. Features 24-bit / 48kHz digital technology, automatic frequency selection, and one-touch sync. Handles up to 5 compatible channels per frequency band
PGXD2/PG58 handheld transmitter
With an interchangeable PG58 microphone cartridge included, the PGXD2/PG58 transmits wireless audio with pure digital clarity and rock-solid reliability. The PG58 delivers excellent sound for lead and backup vocal performance.

SKU
SHU-PGXD24PG58
Vendor
Shure
Included From Manufacturer
PGXD4 Wireless Receiver
PGXD2 Handheld Transmitter with PG58 Capsule
Padded Carrying Case
Mic Style
Handheld/End Address
Mic Type
Dynamic
Mpn
PGXD24PG58
Product Unique Features
Up to 200 ft (~60m) range Mute Button on Handheld
Wired Wireless
Wireless
Frequency Response
60 - 15,000 Hz
On/Off Switch
No
Polar Pattern(s)
Cardioid
Recommended Uses
Live Vocals, Karaoke
Requires Phantom Power
No
Simultaneous Systems
5
Shure Limited Warranty
Every Shure product comes with a Limited Warranty that in normal use the product will be free of any defects in materials or workmanship for a period of one or two years from its original date of purchase. However, this is not intended as a complete statement of the actual Limited Warranty applicable to any product. The Limited Warranty includes other important terms, conditions, limitations, and exclusions. For the actual Limited Warranty applicable to any product, please refer to the warranty card issued by Shure and packaged with the product.
Shure Limited Warranty does not apply to Shure software products – please see the associated software license agreement for any warranty applicable to such products. Shure Limited Warranty does not apply to customized Shure products – please see the relevant custom product webpage(s) for any warranty applicable to such custom products. Shure Limited Warranty covers only Shure-branded products - for third party products distributed by Shure, please contact the manufacturer of such product for warranty information.
Ground shipping is FREE for all orders $99 and up.