Skip product carousel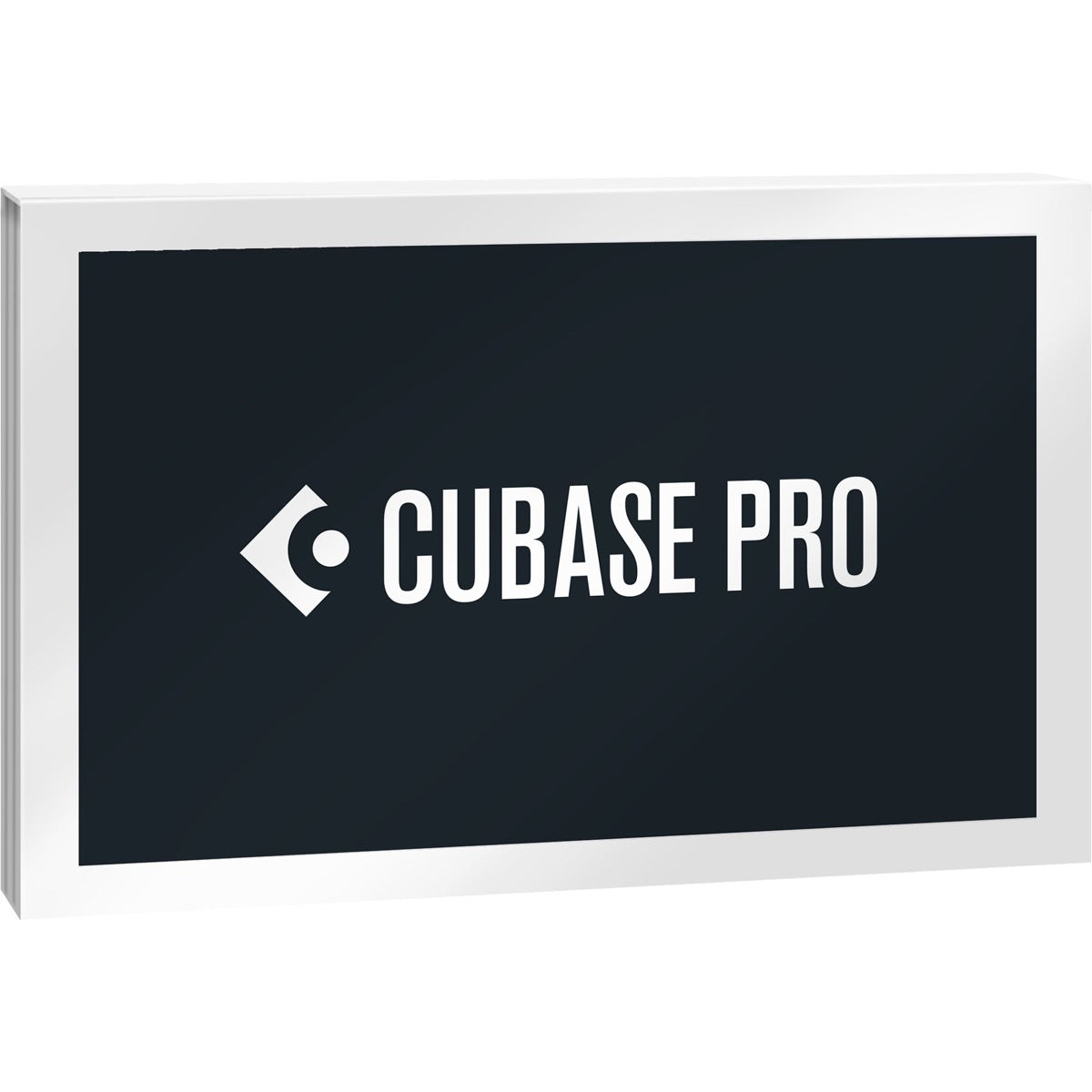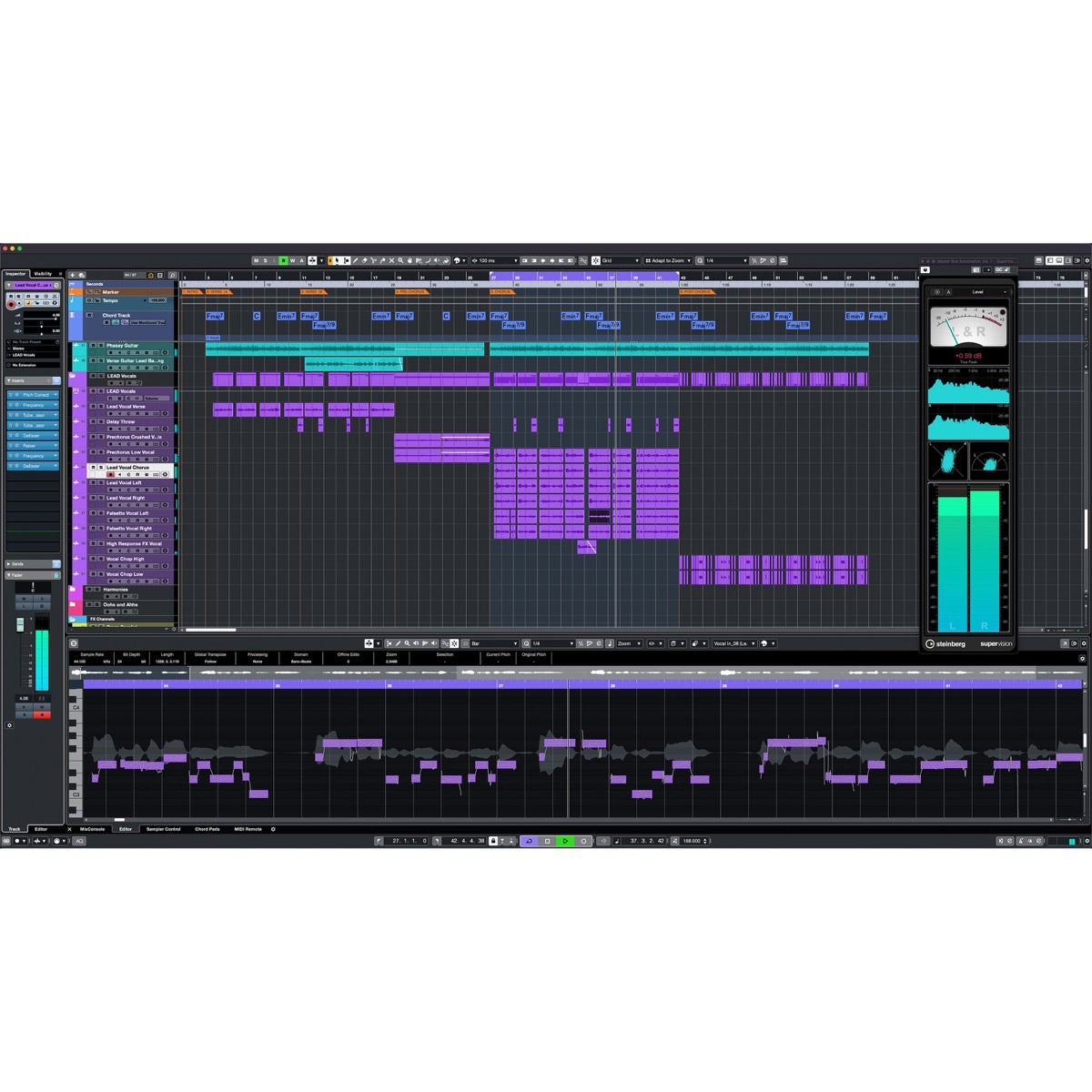 Steinberg Cubase Pro 12 Advanced Music Production System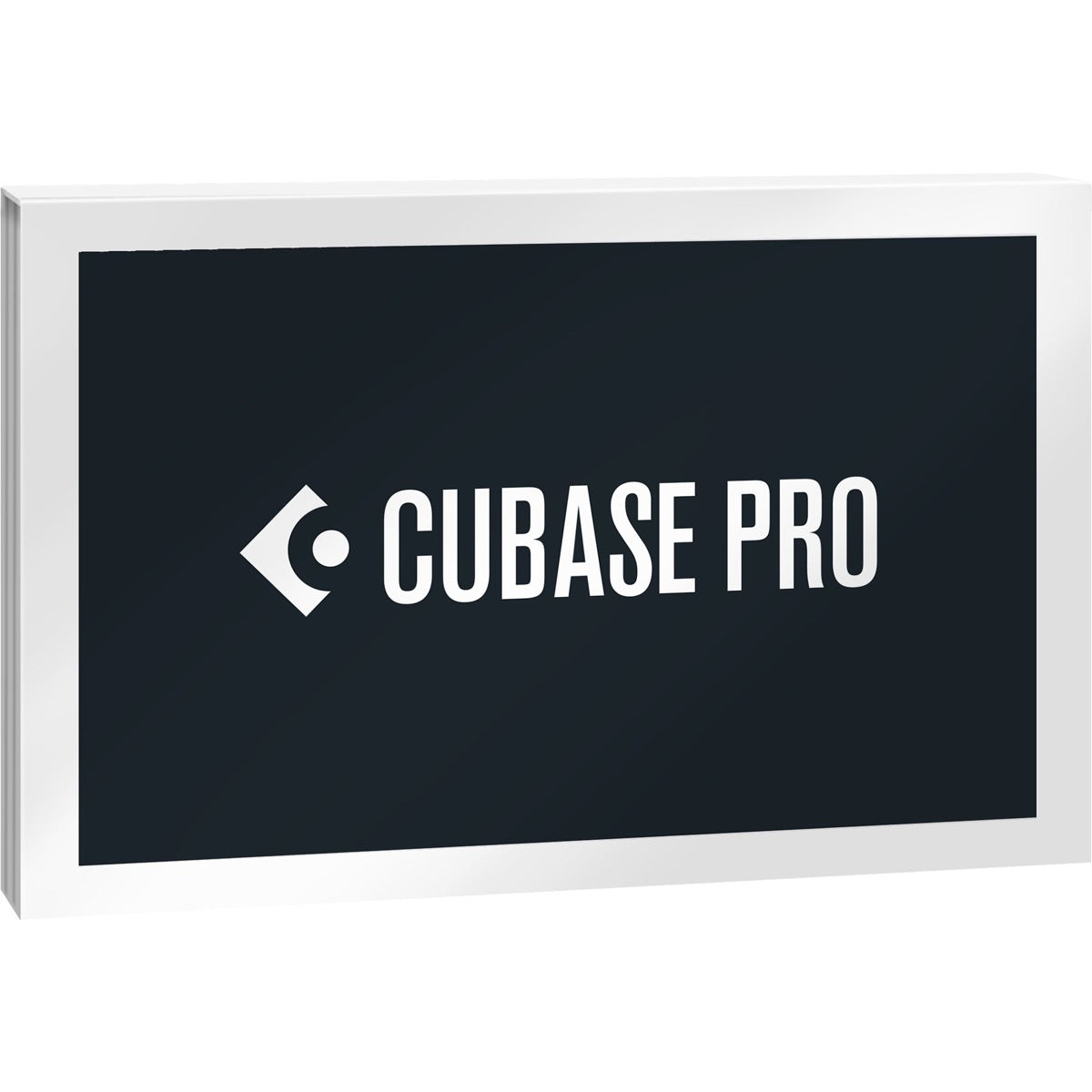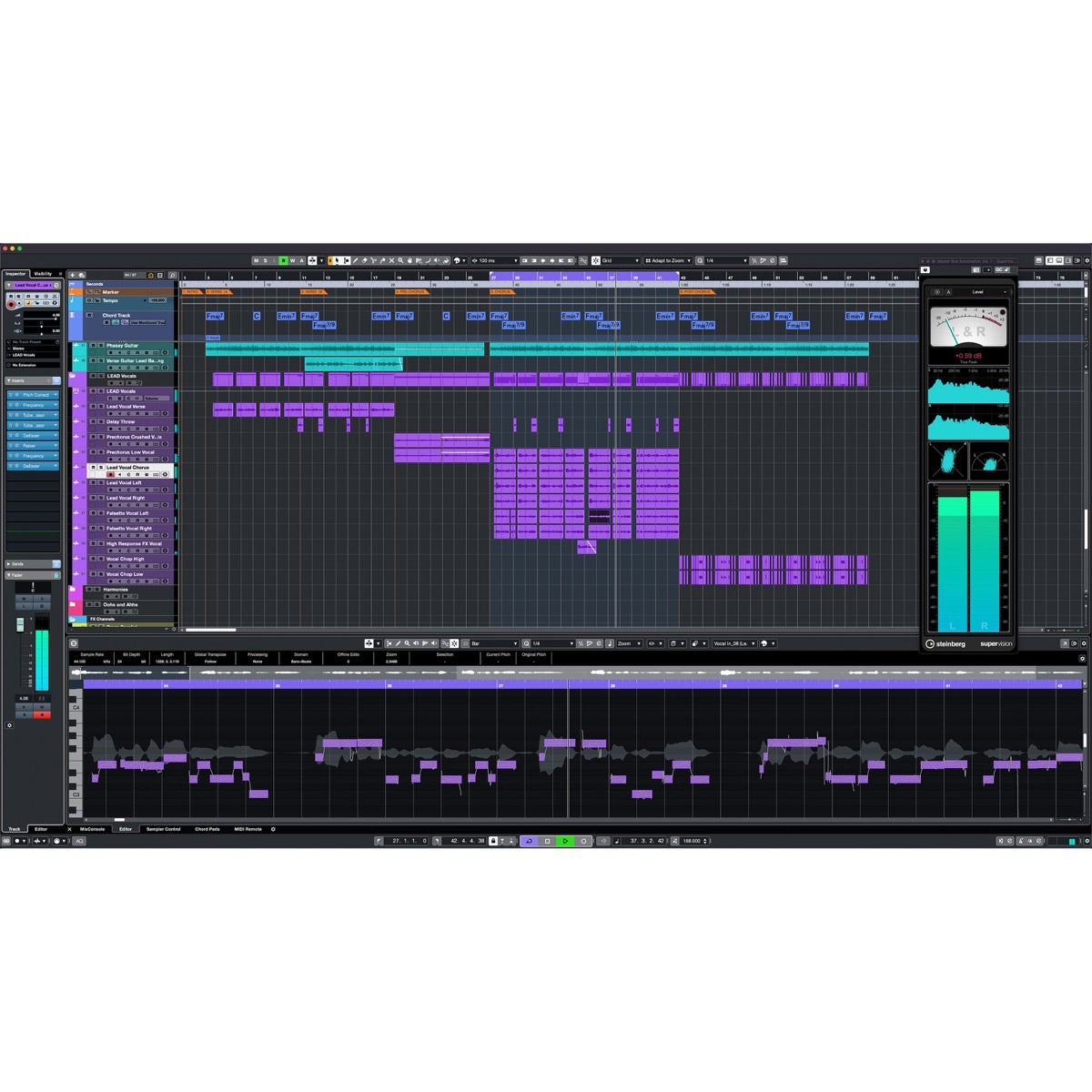 Steinberg Cubase Pro 12 Advanced Music Production System
Steinberg Cubase Pro 12 condenses decades of music software development experience into the most advanced and intuitive audio production environment available today. Used by star producers and musicians for composing, recording, mixing and editing music, Cubase Pro combines outstanding audio quality, flexible handling, state-of-the-art audio and MIDI tools with a range of inspirational VST instruments and effects in a way that cements your personal approach to music production. Uniting technical innovation and artistic inspiration, Cubase Pro 12 represents an awesomely powerful yet instantly accessible music production environment.
The reference standard for music production software
Produce tracks from start to finish
Suitable for all genres, levels and budgets
Fast, flexible and intuitive workflows
Goodbye dongle
For many years, the USB eLicenser has been ever-present for the Cubase community. But no longer: Cubase 12 ushers in a new era with a licensing system that doesn't need a physical copy protection device and also lifts many restrictions of the past.
Native Apple silicon support
For those using the latest Macintosh computers, Cubase 12 introduces native Apple silicon support.
Verve, a sonic masterpiece
A felt piano that is so beautiful and warm, so dreamy and melancholic, so detailed and pure: recorded at Yamaha Studios in LA, Verve was created to provide a sonic masterpiece that allows you to tell a new story with every single note you play. You can give Verve a new tone by layering it with additional textures, creating never-before-heard sounds for your compositions.
Raiser flexible limiter
Raiser is a dynamic processing tool, also called a limiter. Its ultra-fast attack times let you dramatically increase the loudness of your projects without compromising on transients or transparency. It excels in aggressive limiting for drums and guitars, as well as in smooth processing of vocals and even full mixes. Raiser is a versatile powerhouse that will add the final touch to your mix.
AudioWarp improvements
The Free Warp tool lets you edit your audio recordings and correct timings directly in the Project window. You can adjust multiple tracks at once in Group Editing, while the phase-coherent AudioWarp mode helps you avoid phase issues.
Editing workflow improvements
Nudge grid options let you edit independently from the project grid. Use key commands to the Range Selection tool for easier navigation. There are also key commands to slip event content, adding fades and sizing events with fades.
MIDI Remote
MIDI controllers are essential to every music production setup. MIDI Remote Scripts will help to automatically detect your device and map the controls. If there is no script for your device yet, you can easily create your own with the MIDI Controller Surface Editor. You can then conveniently connect controls and parameters with the Mapping Assistant.
FX Modulator
FX Modulator lets you breathe life into your sounds with advanced, multi-effect modulation. From classic ducking effects to exciting rhythmic patterns, it offers new ways to get creative. Create custom shaped LFOs and modulate up to six integrated effect modules at once. The LFO can also be triggered via MIDI or use one or more side-chain inputs, letting the LFO follow the incoming signals.
VariAudio with Scale Assistant
Whether you want to get creative with melodies or correct the pitch of your recordings, the Scale Assistant in VariAudio brings two powerful tools together to make pitch editing a breeze. Just set the scale and follow the Chord Track or let the Scale Assistant suggest the scale based on your recorded notes. You can then instantly quantize the pitch of your recording or snap the VariAudio pitch editing to the scale. Pitch editing has never been so easy!
Audio to MIDI chords
Convert audio to MIDI chord progressions by simply dragging your audio recordings to the Chord Track. And if the detection does not match your scale, Chord Assistant can suggest the nearest alternatives based on the following chords. The Create Chord Events from Audio feature blurs the borders between audio and MIDI, letting you focus on the music.
Import tracks from Project improvements
Track import functionality allows you to exchange data between projects. Import multiple track types from other projects (like Group, FX or Folder Tracks) and select the track attributes you want to import, including tempo and signature tracks. The Auto Map function even matches the imported tracks to existing tracks with the same name, e.g., for setting up identical drum mixes for multiple projects.
Audio export with sidechain support
Audio export of individual channels or stems now allows you to print audio, including taking sidechain input from tracks outside of the stem group into account.
Project Logical Editor improvements
Thanks to Cubase's powerful logical functions, you can customize and build your own workflows in many ways. Combine filter conditions with actions to create complex procedures. Use it for special track type operations on identically-named tracks, to delete all muted MIDI parts, to toggle the open state of all folder tracks in a project or for many other things.
Pro improvements
For audio professionals, Steinberg added several features from advanced post-production software Nuendo. These include the option to add a second video track, a fourth MixConsole and to export multiple selected events at once.
Smooth waveform drawing
Cubase 12 introduces smooth waveform drawing. It's easier on the eyes and makes it even easier for you to edit audio with pinpoint accuracy.
Sample accurate volume automation
Volume automation is now near sample accurate and completely independent from the buffer size. Create and edit smooth transitions for musical build-ups and provide detailed automation lanes while keeping mouse clicks to a minimum.
Bluetooth MIDI in Windows
Cubase now supports MIDI over Bluetooth in Windows 10.
Advanced crossfade editor
The advanced crossfade editor offers more control, new operations and advanced editing to help you create the perfect blend.
ARA improvements
ARA Extensions can now be applied at track level, letting you conveniently edit all events within that track.
SuperVision modules
Steinberg added several amazingly useful modules to SuperVision, including a VU meter, spectrum keyboard, phase balance, level and loudness histograms. Monitoring every aspect of your projects is now even better!
SKU
SB-DLCUBASEPRO12
MPN
Cubase Pro 12
Vendor
Steinberg
Mpn
91070
Delivery Method
Download
Licensing Method
Online Authorization
Mac/PC Compatibility
Both
Operating System Compatibility
macOS v11 Big Sur or higher
64-bit Windows 10 or higher
Plug-In Formats Supported
Supports VST
Does not support 32-bit plug-ins
VST 2 plug-ins only run in Rosetta 2 mode on Apple silicon-based Mac computers
Cubase does not support VST 2 when running natively on Apple silicon Macs
Software Type
DAW
Ground shipping is FREE for all orders $99 and up.