Skip product carousel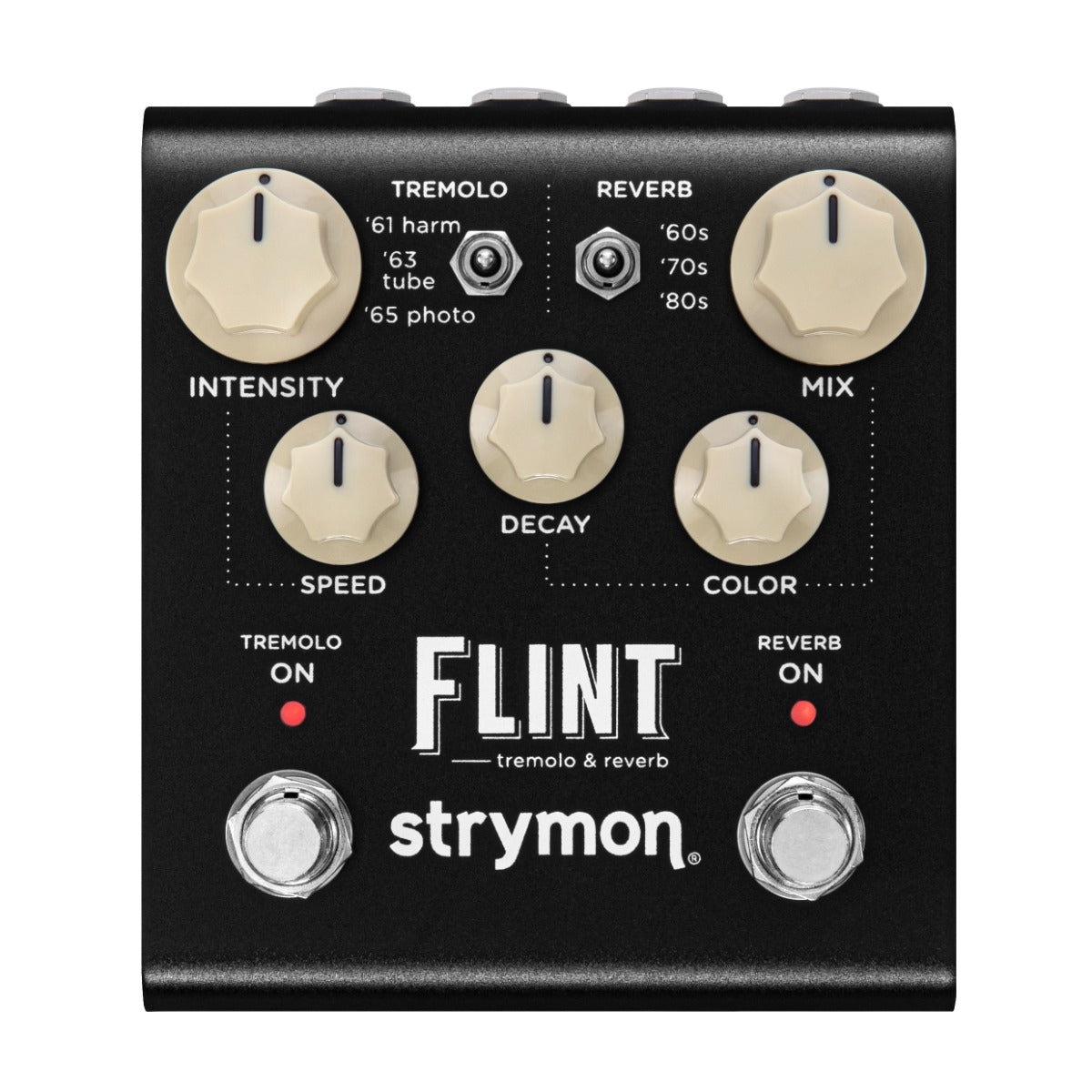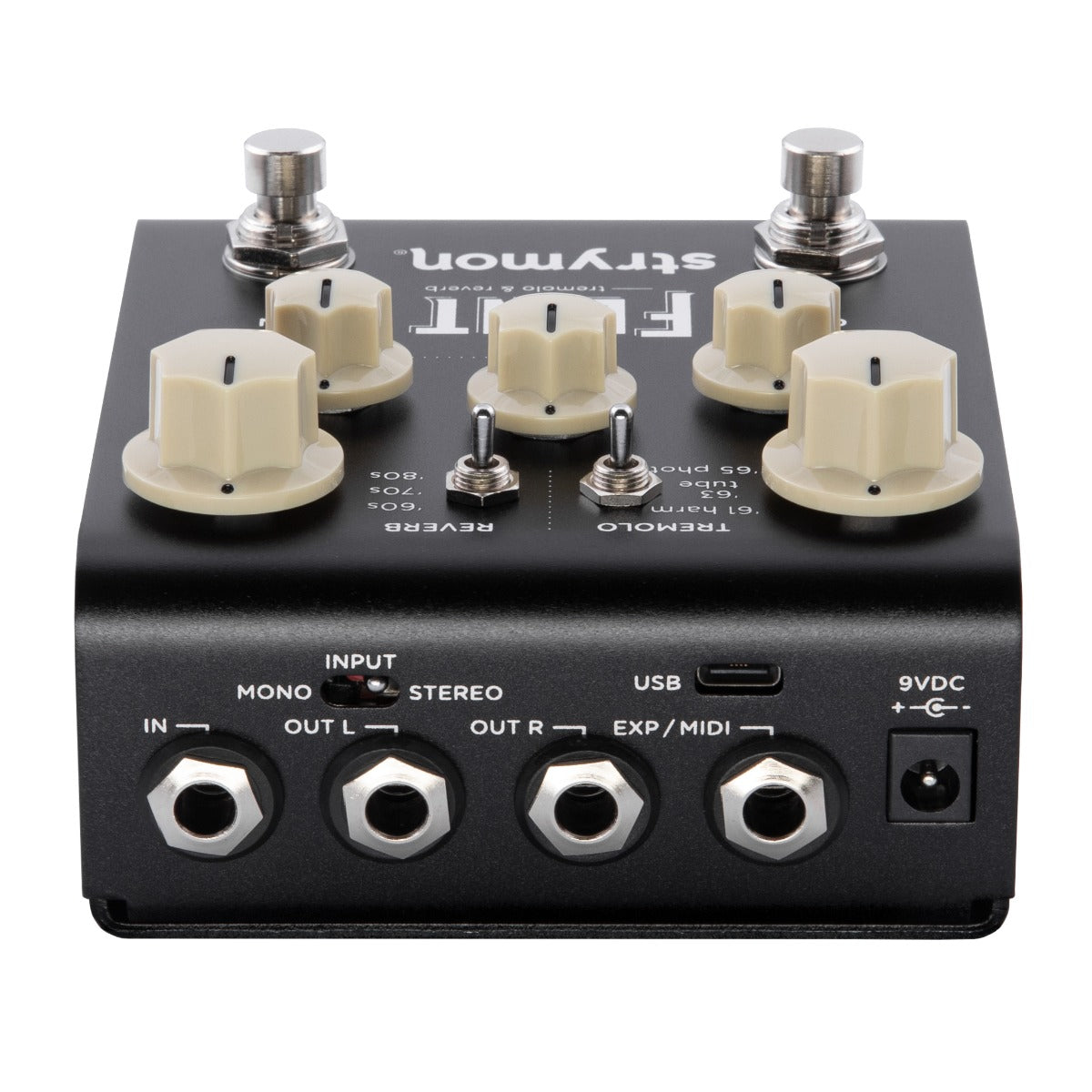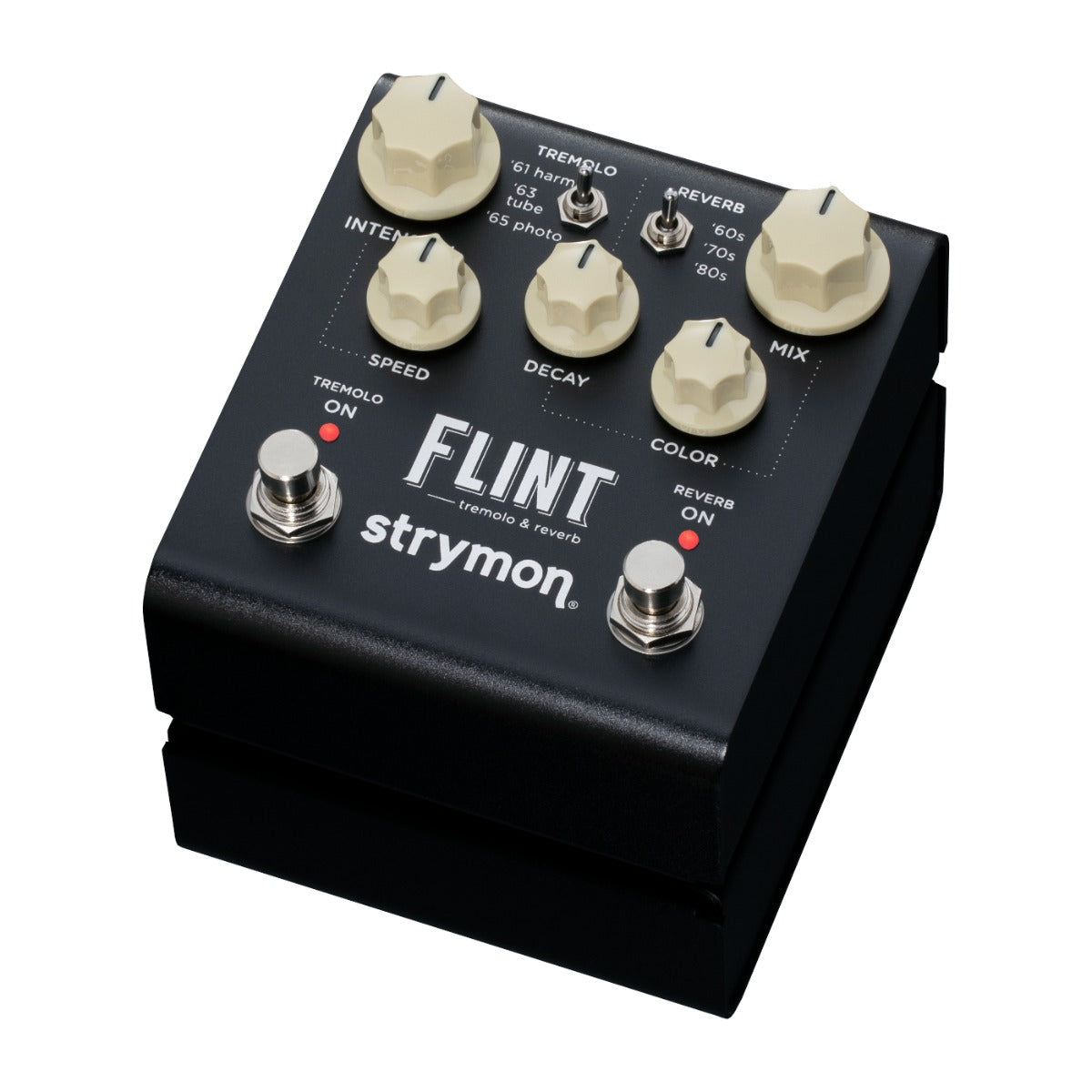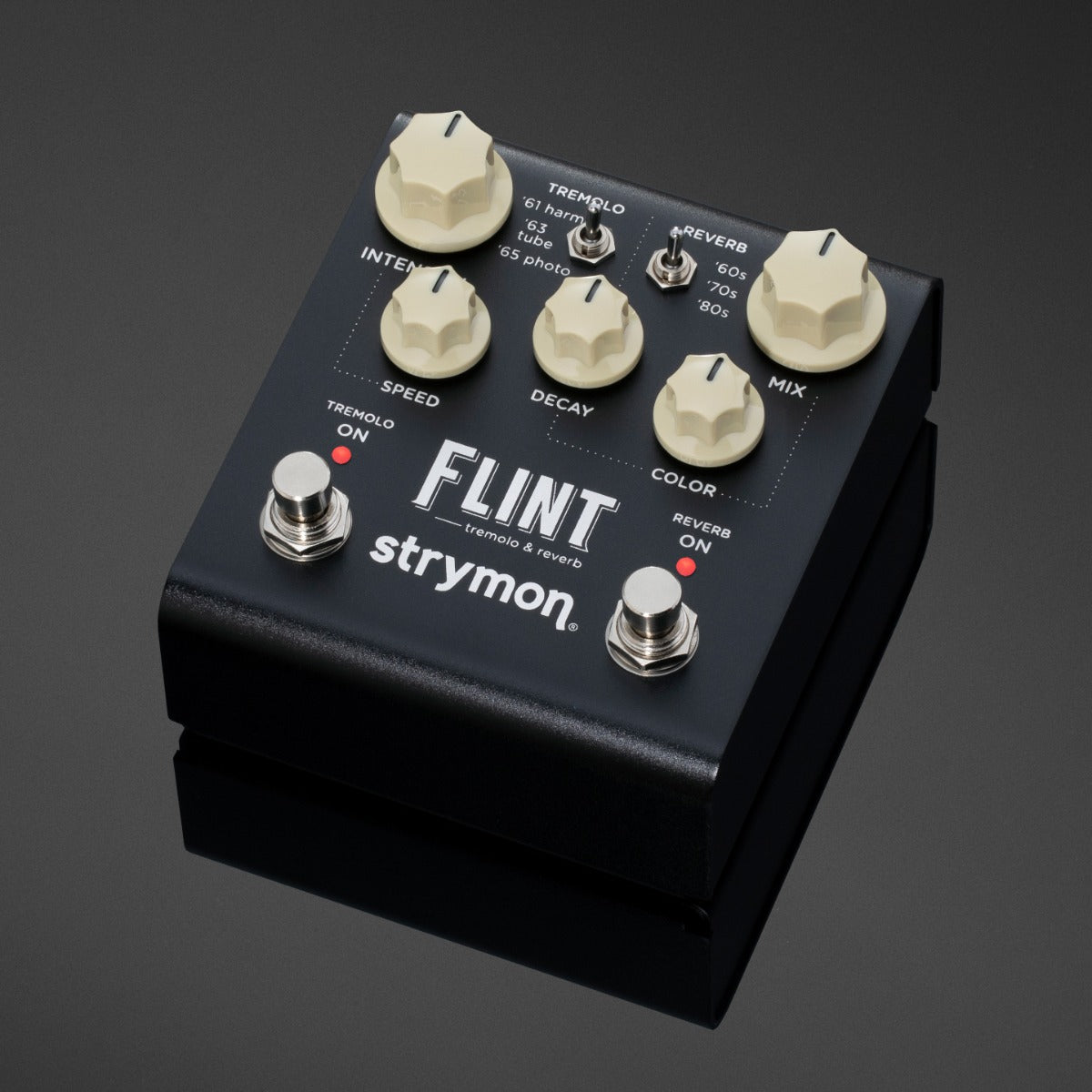 Strymon Flint V2 Tremolo & Reverb Pedal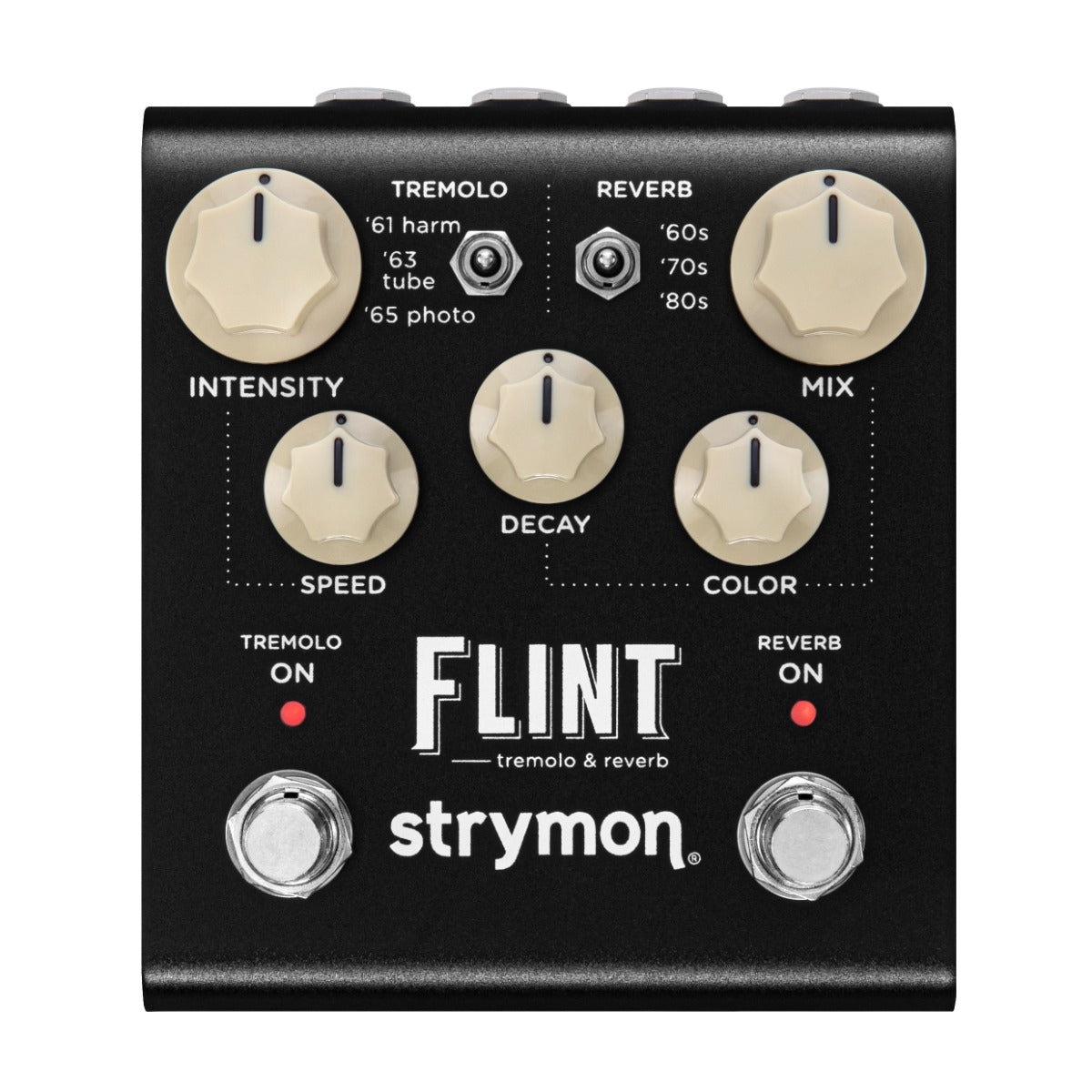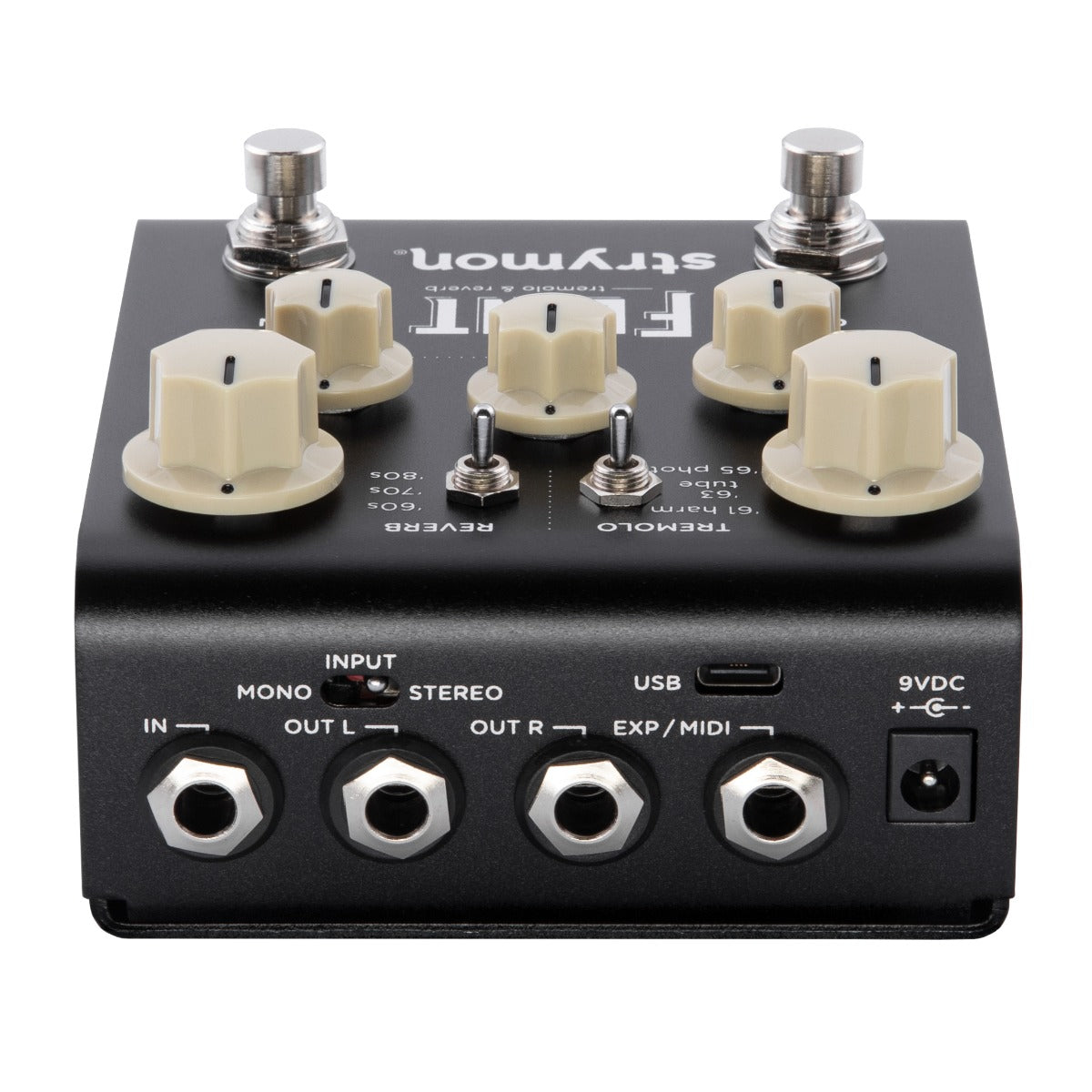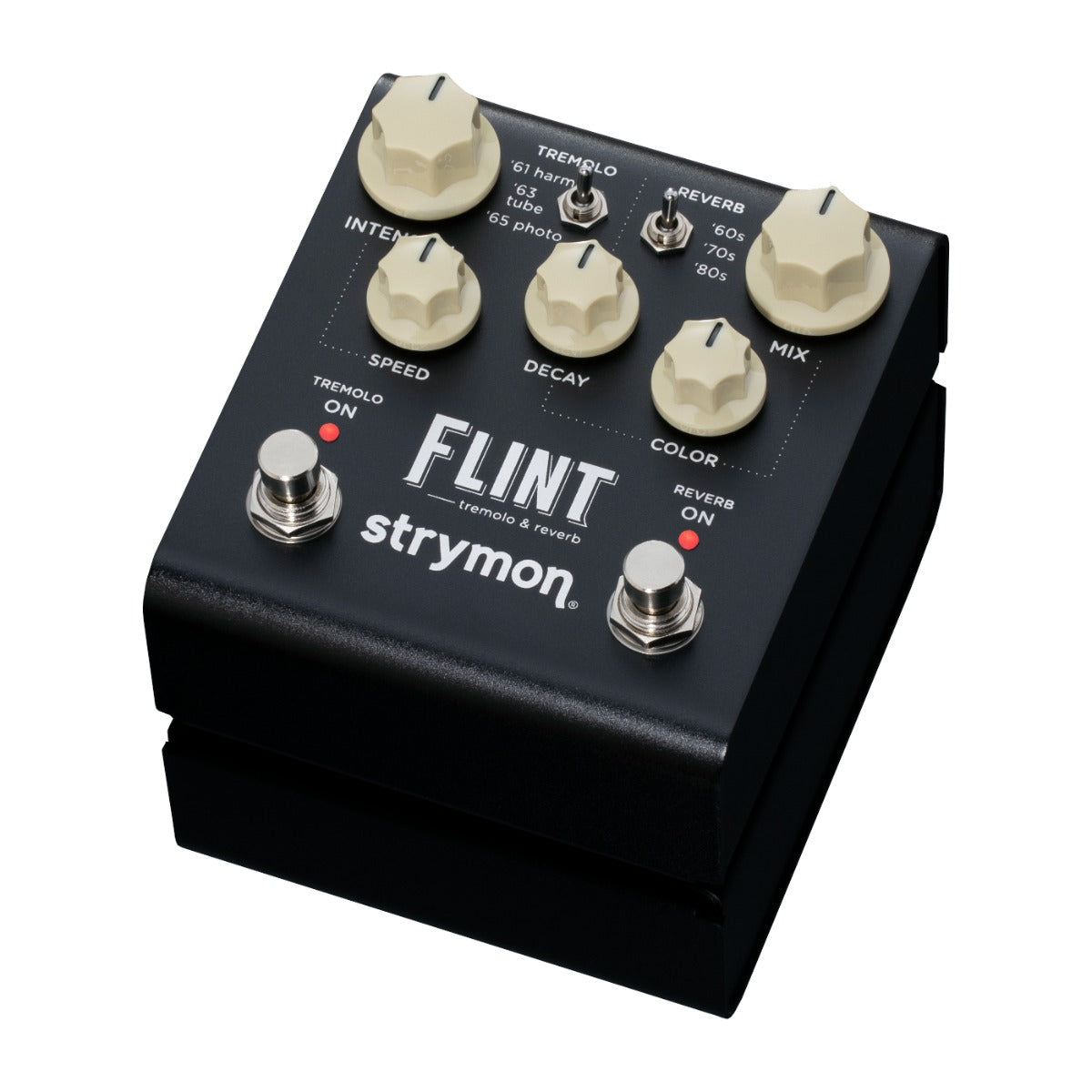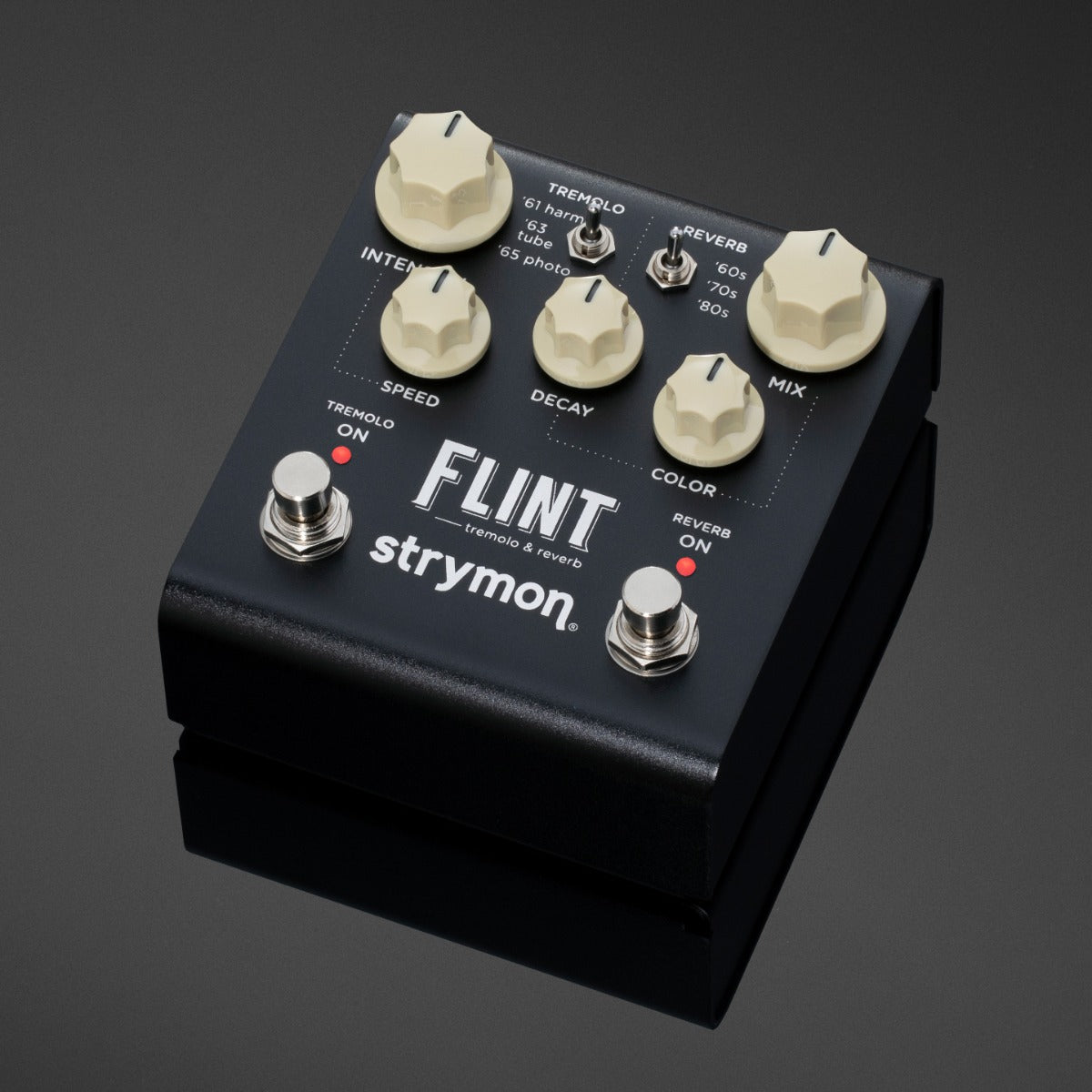 Strymon Flint V2 Tremolo & Reverb Pedal
A Perfect Gentleman.
The magical combination of tremolo and reverb is the earliest example of a perfect guitar effects marriage. First pioneered within historic amplifiers of the 1960s, this harmonious coexistence has made its way onto countless records and performances — from early surf, swampy bayou blues, spaghetti westerns and film noir soundtracks, to modern day indie rock. As music moves forward, guitarists continue rediscovering the inspiration provided by this perfect pair.
Flint is a studio-class effects pedal that delivers this classic combination. We carefully studied our favorite classic tremolo and reverb circuits, examined the sonic complexities and faithfully accounted for every detail in our hand-crafted algorithms. Flint is essentially two pedals in one, with tremolo on one half and reverb on the other.
From A Classic Era.
Flint gives you the pulsating, soothingly hypnotic effects pioneered in vintage amplifier tremolo circuits, along with three classic and completely unique reverb algorithms. On the tremolo side of the pedal you can choose between the sonically complex '61 Harmonic Tremolo, the swampy and sultry '63 Power Tube Tremolo, and the sharp and balanced '65 Photocell Tremolo. On the reverb side you can select the classic '60s Spring Tank Reverb, the inventive '70s Electronic Plate Reverb, or the nostalgic '80s Hall Rack Reverb.
With nine parameters to tweak, you get extensive control over the tremolo and reverb characteristics. Go from splashy, pulsing twang, to throbbing, swampy blues, all the way to ambient, trembling, and serene reverberated pads. Couple that with true bypass, and a premium quality analog front end and output section, and you have the history of tremolo and reverb in a pedalboard friendly format.
Vintage Sound, New Features.
Our second generation Flint gives you the same gorgeous tremolo and reverb sounds from our original and adds significant new features, incorporating technological advancements, hardware improvements and design enhancements to give you additional flexibility, power, and ease of use on stage and in the studio.
Extended Control - Love slow tremolo? The Speed knob range has been expanded to slow the tremolo down to nearly 1Hz at its minimum setting. On the reverb side, pre-delay time is now adjustable.
MIDI - Full MIDI implementation means you can control just about every switch, knob, and setting remotely by sending MIDI commands from your controller or DAW via El Flint's EXP/MIDI jack or USB-C connection. Tremolo speed can be synchronized via MIDI Clock Sync, and the sync setting can be saved for each preset. 300 MIDI preset locations are available for loading and saving your favorite settings.
Hardware Improvements - A premium analog JFET input circuit ensures superb responsiveness to your playing, and you can select mono or stereo input with the flick of a rear panel switch. All this, plus a new ARM DSP chip provides more processing power for every sonic nuance, with less energy consumption on your pedalboard
SKU
STRY-FLINTV2
MPN
Flint V2
Vendor
Strymon
Effect Type
Tremolo/Vibrato
Included From Manufacturer
Power supply
Mpn
Z12A-FLN2-1
Product Unique Features

Full MIDI implementation
USB jack for controlling via MIDI from a computer or firmware updates
Expression pedal input allows TRS expression pedal, MiniSwitch,
MultiSwitch Plus, or TRS MIDI connection.
Selectable mono or stereo input
Handcrafted tremolo algorithms faithfully deliver classic tremolo experiences
High impedance ultra low-noise discrete Class A JFET TRS stereo input.

Control Connections
EXP / MIDI (1/4" TRS)
Effects
'61 Harmonic tremolo
'63 Power Tube tremolo
'65 Photocell tremolo
'60s Spring Tank reverb
'70s Electronic reverb
'80s Hall Rack reverb
Audio Inputs
1/4" switchable mono/stereo input
Audio Outputs
Dual 1/4" stereo output
On-board Expression Pedal
No
Number of Pedal Switches
Tremolo bypass stomp switch
Reverb bypass stomp switch
Power Adaptor
Included 9VDC center negative power supply
Width
4"
Depth
4.5"
Height
1.75"
Strymon Non-Transferrable Limited Warranty
Strymon warranties its products and their varying components to be free from defects in material and workmanship for the following periods of time from the original date of purchase when purchased from an authorized Strymon dealer:
Effects pedals
2 years – Compadre, Iridium, NightSky, Riverside, Sunset, Volante, Zelzah
1 year – BigSky, blueSky, Brigadier, Deco, DIG, El Capistan, Flint, Lex, Mobius, OB.1, Ola, Orbit, TimeLine
Eurorack modules
2 years – AA.1, Magneto, StarLab
Power supplies
5 years – Zuma, Zuma R300, Ojai, Ojai R30
1 year – Factory power supplies for pedals
Accessories
2 years – Conduit
1 year – MiniSwitch, MultiSwitch Plus, original MultiSwitch, MIDI EXP Cables, DC Power Cables, EIAJ-05 Link Cables, 24V Power Adapter for Ojai/Ojai R30, Polarity Reversal Adapters, Voltage Doubler Adapters, Daisy-Chain Power Cables
If the product fails within the warranty period, Strymon will repair or, at its discretion, replace the product at no cost to the original purchaser.
Exclusions
This warranty covers defects in manufacturing discovered while using this product as recommended by Strymon. This warranty does not cover loss or theft, nor does the coverage extend to damage caused by misuse, abuse, unauthorized modification, improper storage, lightning, or natural disasters. Damage caused by any of the above circumstances may result in a non-warranty repair fee.
Products that were purchased from an unauthorized dealer are not covered under warranty. The warranty is non-transferrable and does not cover used or second-hand products.
Limits of liability
In the case of malfunction, the purchaser's sole recourse shall be repair or replacement, as described in the preceding paragraphs. Strymon will not be held liable to any party for damages that result from the failure of this product. Damages excluded include, but are not limited to, the following: lost profits, lost savings, damage to other equipment, and incidental or consequential damages arising from the use, or inability to use this product. In no event will Strymon be liable for more than the amount of the purchase price, not to exceed the current retail price of the product. Strymon disclaims any other warranties, express or implied. By using the product, the user accepts all terms herein.
How to obtain service under this warranty
Contact Strymon through its website for return authorization and information. Proof of original ownership may be required in the form of a purchase receipt.
Ground shipping is FREE for all orders $99 and up.