Skip product carousel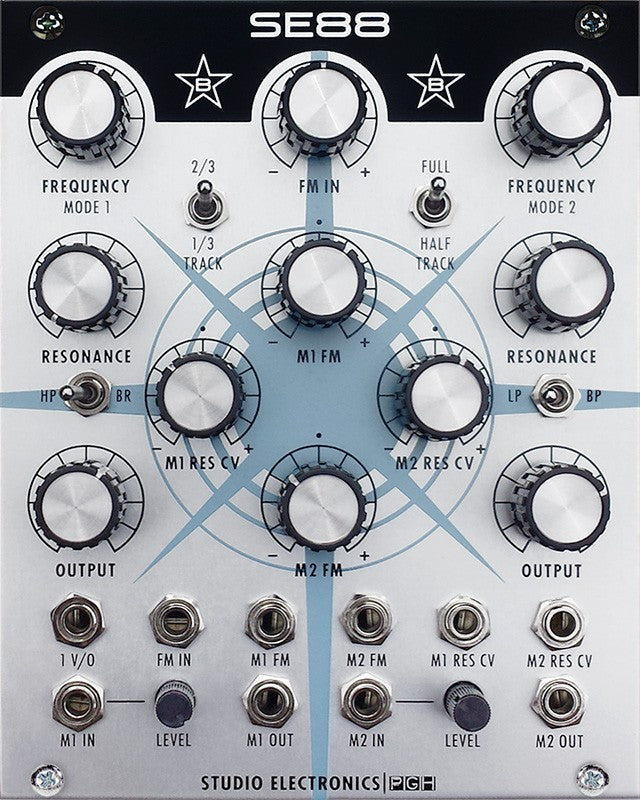 Studio Electronics Boomstar Modular System Modstar SE88 Filter Module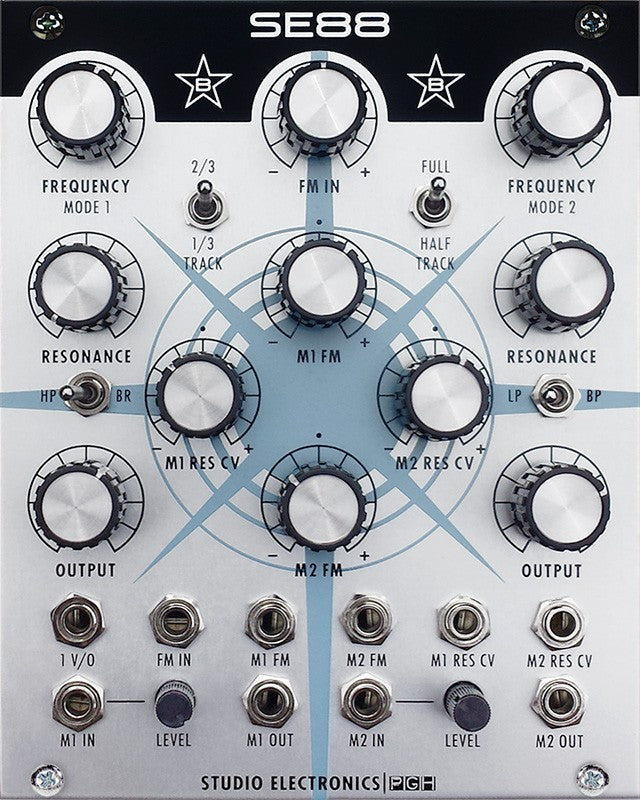 Studio Electronics Boomstar Modular System Modstar SE88 Filter Module
Originally debuted in their Omega Series synths and then repurposed for the Boomstar desktop modules, Studio Electronics SE88 is their version of the dual mode Yamaha CS-80 filter. They've twisted and turned the SE88 to 'unflatten the earth,' so to speak: the original CS-80 fed a high pass filter into a low pass filter, but with the SE88 you can select MODE 1's high pass or band reject to feed MODE 2's low pass or band pass, or patch it to reverse that path. The audio signal is completely controllable with input and output levels for each filter. Cherish and respect your filter's input gain stages for a smooth-yet-brassy sound, or shed your mercy to strike hard for boiling, snarling bite, even to the blackout/cutout point*; then — and only then — uniquely blend mode settings for the filter family values you prefer.
To get things merrily modulating, each filter employs attenuverters for frequency and resonance experimentation and decimation. While the SE88 does not self oscillate (Yamaha's didn't either), Studio Electronics did amp up the resonance level for full-throttle squelching. An additional master FM (frequency modulation) attenuverter-controlled level can feed both filters simultaneously, and tracking switches allow for individual keyboard response for each of the contrasting and complementary filter modes.
Of special note
Two audio paths are involved if you are running the '88 filter in series, so both input levels and the seeded output level of the first stage have to be taken into consideration if a clean sound is desired — either that or keep your resonance setting below 3:00 to avoid the fireworks. This beast's resonance is wide open, with no governor in place — hot-rodded — so expect voltaged chaos when you push it past its 'yama-clone' comfort zone.
Module controls

FREQUENCY MODE 1 knob: adjusts the frequency (cutoff) of Mode 1
FM IN knob: adjusts the master frequency modulation input
FREQUENCY MODE 2 knob: adjusts the frequency (cutoff) of Mode 2
FM IN knob: adjusts the master frequency modulation input
2/3 / 1/3 TRACK switch: toggles tracking options for Mode 1
FULL / HALF TRACK switch: toggles tracking options for Mode 2
RESONANCE knob (left): adjusts the resonance of Mode 1's filter
M1 FM knob: adjusts Mode 1's frequency modulation
RESONANCE knob (right): adjusts the resonance of Mode 2's filter
HP / BR switch: toggles between high pass and band reject filter modes for Mode 1
LP / BP switch: toggles between low pass and band pass filter modes for Mode 2
M1 RES CV knob: adjusts Mode 1's resonance control voltage
M2 RES CV knob: adjusts Mode 2's resonance control voltage
OUTPUT knob (left): Mode 1 audio attenuator
M2 FM knob: adjusts Mode 2's frequency modulation
OUTPUT knob (right): Mode 2 audio attenuator
LEVEL knob (left): Mode 1 audio input attenuator
LEVEL knob (right): Mode 2 audio input attenuator

Patch points

1 V/O input: one volt per octave control voltage input
FM IN input: frequency modulation control voltage input
M1 FM input: Mode 1 frequency modulation input
M2 FM input: Mode 2 frequency modulation input
M1 RES CV input: Mode 1 resonance control voltage input
M2 RES CV input: Mode 2 resonance control voltage input
M1 IN input: Mode 1 audio input
M1 OUT output: Mode 1 audio output
M2 IN input: Mode 2 audio input
M2 OUT output: Mode 2 audio output

Physical specifications

Size: 20hp
Module depth: 39.7mm (with ribbon cable attached)
Power usage: 42mA @ +12V, 42mA @ -12V
*BYSIB (Before You Send it Back)
This filter can be 'input driven' to the cutout/cutoff/blackout point, for angry, aggressive unpredictability and staggered, shell-shocked recovery. Studio Electronics wanted it that way; it's perfectly harmless OpAmp smashing, for smashing good fun. Think 'traumatic movie scene after which an actor's hearing momentarily disappears (extreme wooziness overtakes the balance of his senses—and camera work), high-pitched sounds follow, and then blessed normalcy of awareness and sensory perception gradually, grudgingly return.' That. No reboot necessary: just sweep the frequency counterclockwise until it snaps back to its 'right mind' and rein in the input and resonance levels—resonance levels below 9:00 are safe, unless of course you want 'that' to keep happening. Taunting the edge is entertaining, too!
SKU
SEL-EUROSBSSE88
Vendor
Studio Electronics
Module Type
Filter
Module Width
20hp
Mpn
SE88
Product Unique Features
Adjustable input level allows for intentional circuit destabilization
Module Power Usage
42mA @ +12V
42mA @ -12V
1U Module
No
+5V Required
No
Depth
39.7mm (with ribbon cable attached)
Studio Electronics / Analogia Inc. Limited Warranty
Studio Electronics / Analogia Inc. ('Analogia Inc.') warrants only to the original purchaser of this product from a Analogia Inc.-authorized reseller or distributor that this product will be free from defects in material and workmanship under normal use and service for one year after date of purchase.
Analogia Inc. reserves the right, before having any obligation under this limited warranty, to inspect the damaged Analogia Inc. product, and costs of shipping the Analogia Inc. product to Analogia Inc. for inspection shall be shared between purchaser and manufacturer: purchaser pays for shipping to Analogia Inc.; Analogia Inc. covers shipping costs back to purchaser.
In order to recover under this limited warranty, purchaser must make claim to Analogia Inc. within 30 days of occurrence of problem, and must present acceptable proof of original ownership: original receipt, warranty card registration, on-line registration, or other documentation Analogia Inc. deems acceptable. Analogia Inc., at its option, shall repair or replace the defective unit covered by this warranty. Please retain the dated sales receipt/invoice as evidence of the original purchaser's date of purchase. You will need it for warranty service. In order to keep this limited warranty in effect, the product must have been handled and used as carefully prescribed in the instructions accompanying the product.
This limited warranty does not cover any damage due to accident, misuse, abuse or negligence, whether willful or otherwise. This limited warranty is valid only if the product is used with the equipment specified in said equipment's manual or on the product box. Please check product manual or product box for details. This limited warranty is non-transferable and does not apply to any purchaser who bought the product from a reseller or distributor not authorized by Analogia Inc., including but not limited to purchases from internet auction sites. This warranty does not affect any other legal rights you may have by operation of law.
Except for the limited warranty provided herein, to the extent permitted by law, Analogia Inc. disclaims all warranties, express or implied, including all warranties of merchantability and/or fitness for a particular purpose. To the extent that any implied warranties may nonetheless exist by operation of law, any such warranties are limited to the duration of this warranty. Some states/provinces do not allow limitations on duration of warranty, so the above limitations may not apply to you.
Repair or replacement of this product, as provided herein, is your exclusive remedy. Analogia inc. shall not be liable for any special, incidental or consequential damages, including, but not limited to, lost revenues, lost profits, loss of use of software, loss or recovery of data, rental of replacement equipment, 'downtime,' damage to property, and third-party claims, arising out of any theory of recovery, including warranty, contract, statutory or tort. Notwithstanding the term of any limited warranty or any warranty implied by law, or in the event that any limited warranty fails of its essential purpose, in no event will Analogia Inc.'s entire liability exceed the purchase price of this product. Some states/provinces do not allow the exclusion or limitation of incidental or consequential damages, so the above limitation or exclusion may not apply to you. This warranty gives you specific legal rights and you may also have other rights that vary from state to state and province to province.
Ground shipping is FREE for all orders $99 and up.