Skip product carousel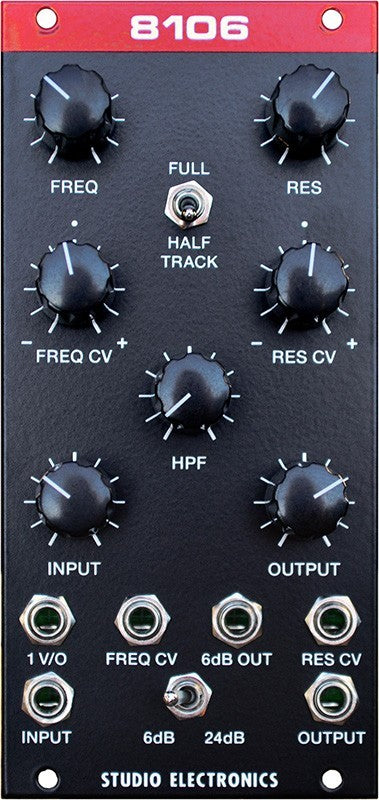 Studio Electronics Tonestar 8106 Filter Module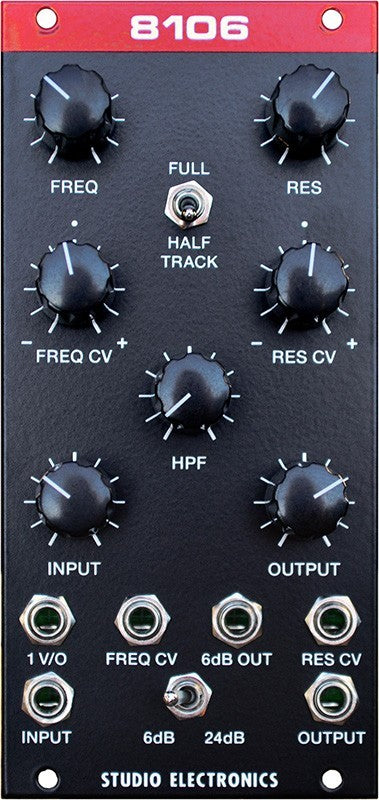 Studio Electronics Tonestar 8106 Filter Module
According to designer Tim Caswell, Studio Electronics Tonestar 8106 Filter 'is a 6dB/oct highpass filter followed by a recreation of the Roland IR3109 module, which is a 4-pole, 24dB/octave voltage-controlled lowpass filter with voltage-controlled resonance. Three dual OTAs with similar topology to the BA662 used in the Jupiter 8 (and the IR3109 module) were employed, one amp for the highpass filter, four (with added buffers) for the lowpass and one for the resonance. This filter takes a wide range of input signals and tracks control voltage extremely well. Although the topology is similar to the Studio Electronics Boomstar Modular System 4075 filter, the tonality, especially when overdriven, is distinct.'
Studio Electronics interface and feature maestro Greg St. Regis opted for the 6dB over the 12dB/18dB 'tap' for the second filter output due to its colorful and starkly contrasting character.
And yes, this input drive hits harder — much faster than the other Studio Electronics filters — so there is plenty of dirt to go around, but a familiar and comforting 'Roland-y' quality/tonality/flow is definitely home base.
Module controls

FREQ knob: frequency or cutoff attenuator
RES knob: resonance attenuator
FULL/HALF TRACK switch: full and half keyboard/voltage tracking switch
FREQ CV knob: cutoff frequency control voltage attenuator
RES CV knob: resonance control voltage attenuator
HPF knob: highpass filter attenuator
INPUT knob: audio input attenuator
OUTPUT knob: audio output attenuator
6dB/24dB switch: filter slope selector switch

Patch points

1 V/O input: main/tuning CV input
INPUT input: audio input
FREQ CV input: cutoff frequency control voltage input
6dB OUT output: 6dB/octave output
RES CV input: resonance control voltage input
OUTPUT output: main audio output

Physical specifications

Size: 12hp
Module depth: 38mm (including connectors)
Power usage: 40mA @ +12V, 35mA @ -12V
SKU
SEL-EURO8106
Vendor
Studio Electronics
Module Type
Filter
Module Width
12hp
Mpn
TS8106
Module Power Usage
40mA @ +12V
35mA @ -12V
1U Module
No
+5V Required
No
Depth
38mm (including connectors)
Studio Electronics / Analogia Inc. Limited Warranty
Studio Electronics / Analogia Inc. ('Analogia Inc.') warrants only to the original purchaser of this product from a Analogia Inc.-authorized reseller or distributor that this product will be free from defects in material and workmanship under normal use and service for one year after date of purchase.
Analogia Inc. reserves the right, before having any obligation under this limited warranty, to inspect the damaged Analogia Inc. product, and costs of shipping the Analogia Inc. product to Analogia Inc. for inspection shall be shared between purchaser and manufacturer: purchaser pays for shipping to Analogia Inc.; Analogia Inc. covers shipping costs back to purchaser.
In order to recover under this limited warranty, purchaser must make claim to Analogia Inc. within 30 days of occurrence of problem, and must present acceptable proof of original ownership: original receipt, warranty card registration, on-line registration, or other documentation Analogia Inc. deems acceptable. Analogia Inc., at its option, shall repair or replace the defective unit covered by this warranty. Please retain the dated sales receipt/invoice as evidence of the original purchaser's date of purchase. You will need it for warranty service. In order to keep this limited warranty in effect, the product must have been handled and used as carefully prescribed in the instructions accompanying the product.
This limited warranty does not cover any damage due to accident, misuse, abuse or negligence, whether willful or otherwise. This limited warranty is valid only if the product is used with the equipment specified in said equipment's manual or on the product box. Please check product manual or product box for details. This limited warranty is non-transferable and does not apply to any purchaser who bought the product from a reseller or distributor not authorized by Analogia Inc., including but not limited to purchases from internet auction sites. This warranty does not affect any other legal rights you may have by operation of law.
Except for the limited warranty provided herein, to the extent permitted by law, Analogia Inc. disclaims all warranties, express or implied, including all warranties of merchantability and/or fitness for a particular purpose. To the extent that any implied warranties may nonetheless exist by operation of law, any such warranties are limited to the duration of this warranty. Some states/provinces do not allow limitations on duration of warranty, so the above limitations may not apply to you.
Repair or replacement of this product, as provided herein, is your exclusive remedy. Analogia inc. shall not be liable for any special, incidental or consequential damages, including, but not limited to, lost revenues, lost profits, loss of use of software, loss or recovery of data, rental of replacement equipment, 'downtime,' damage to property, and third-party claims, arising out of any theory of recovery, including warranty, contract, statutory or tort. Notwithstanding the term of any limited warranty or any warranty implied by law, or in the event that any limited warranty fails of its essential purpose, in no event will Analogia Inc.'s entire liability exceed the purchase price of this product. Some states/provinces do not allow the exclusion or limitation of incidental or consequential damages, so the above limitation or exclusion may not apply to you. This warranty gives you specific legal rights and you may also have other rights that vary from state to state and province to province.
Ground shipping is FREE for all orders $99 and up.