Skip product carousel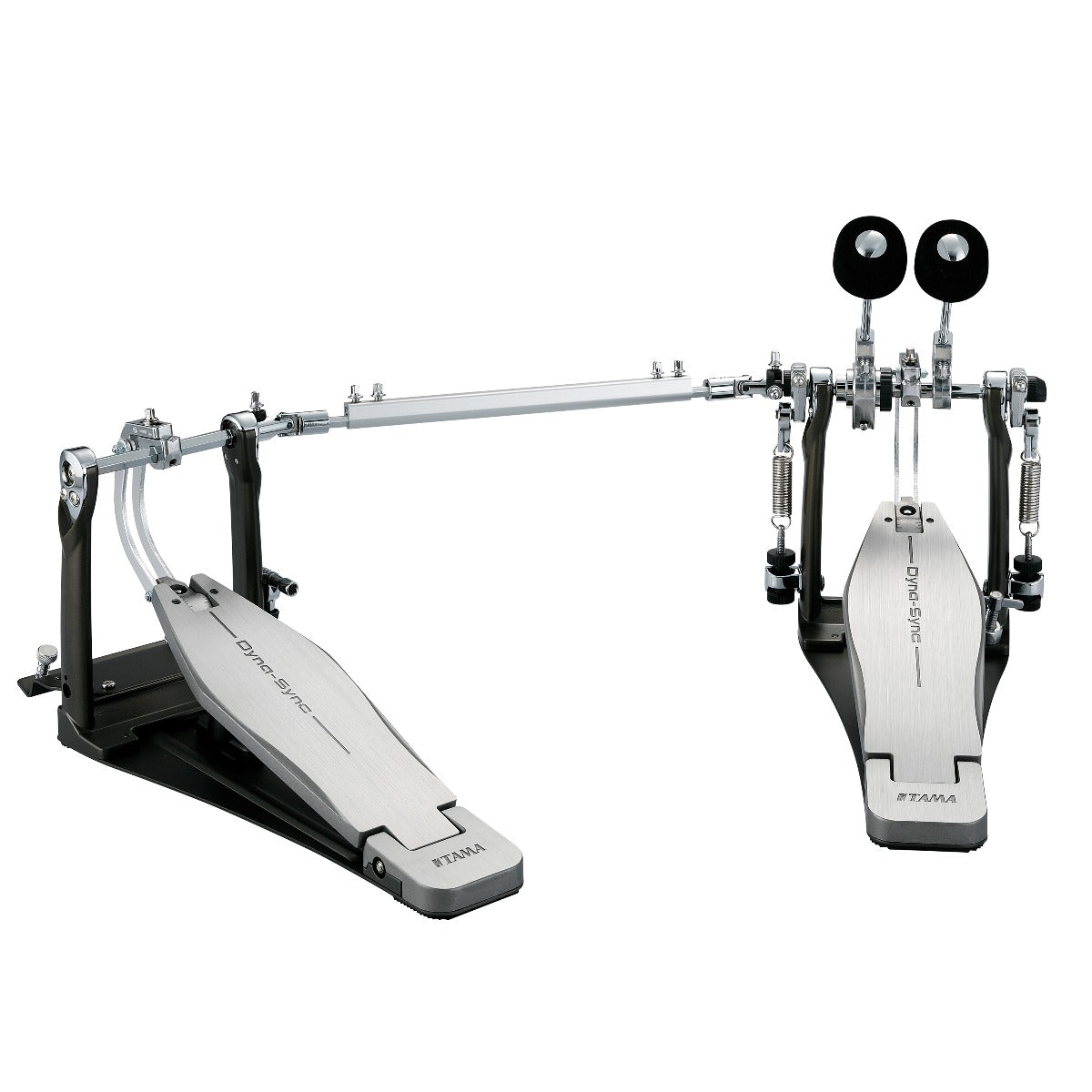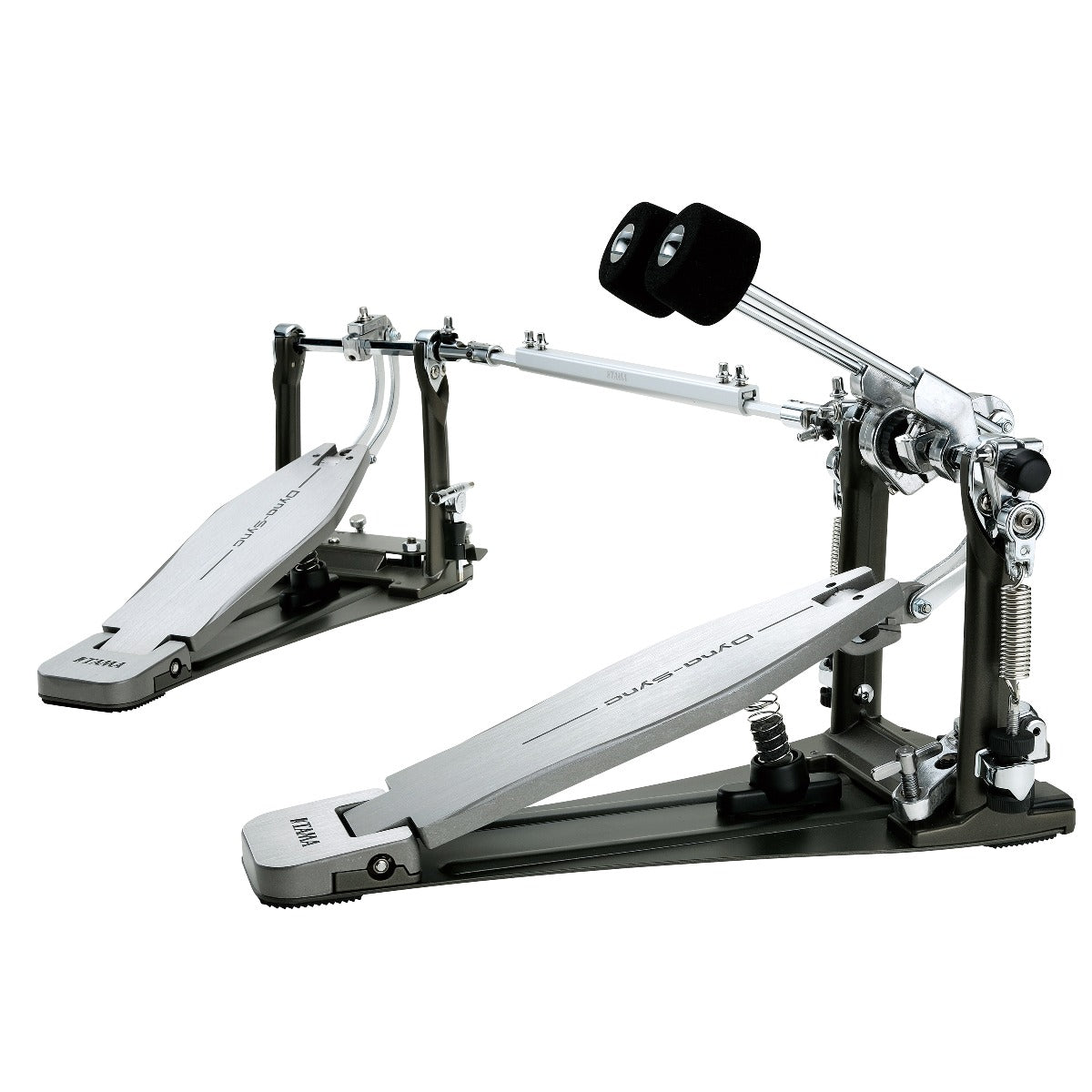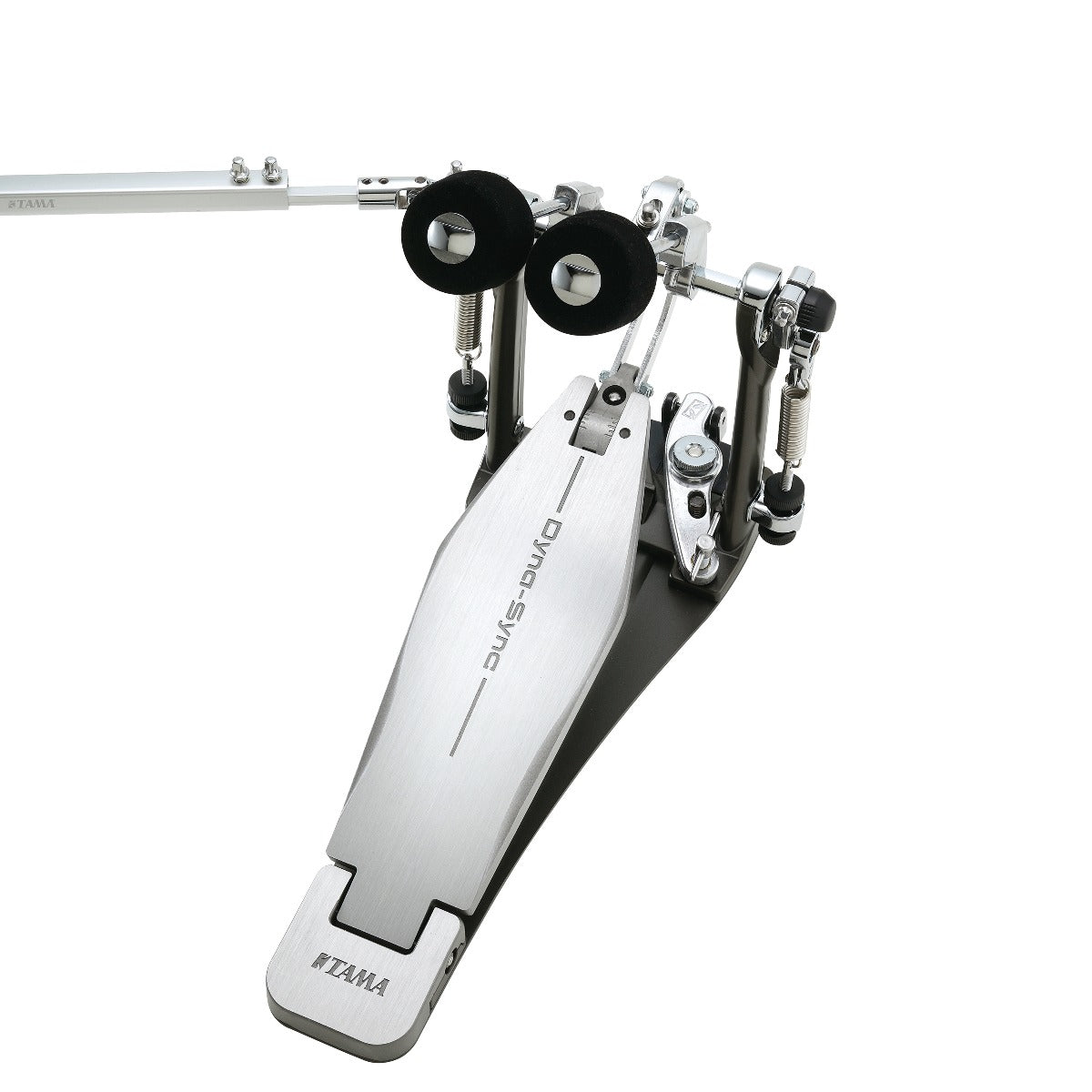 TAMA HPDS1TW Dyna-Sync Double Bass Drum Pedal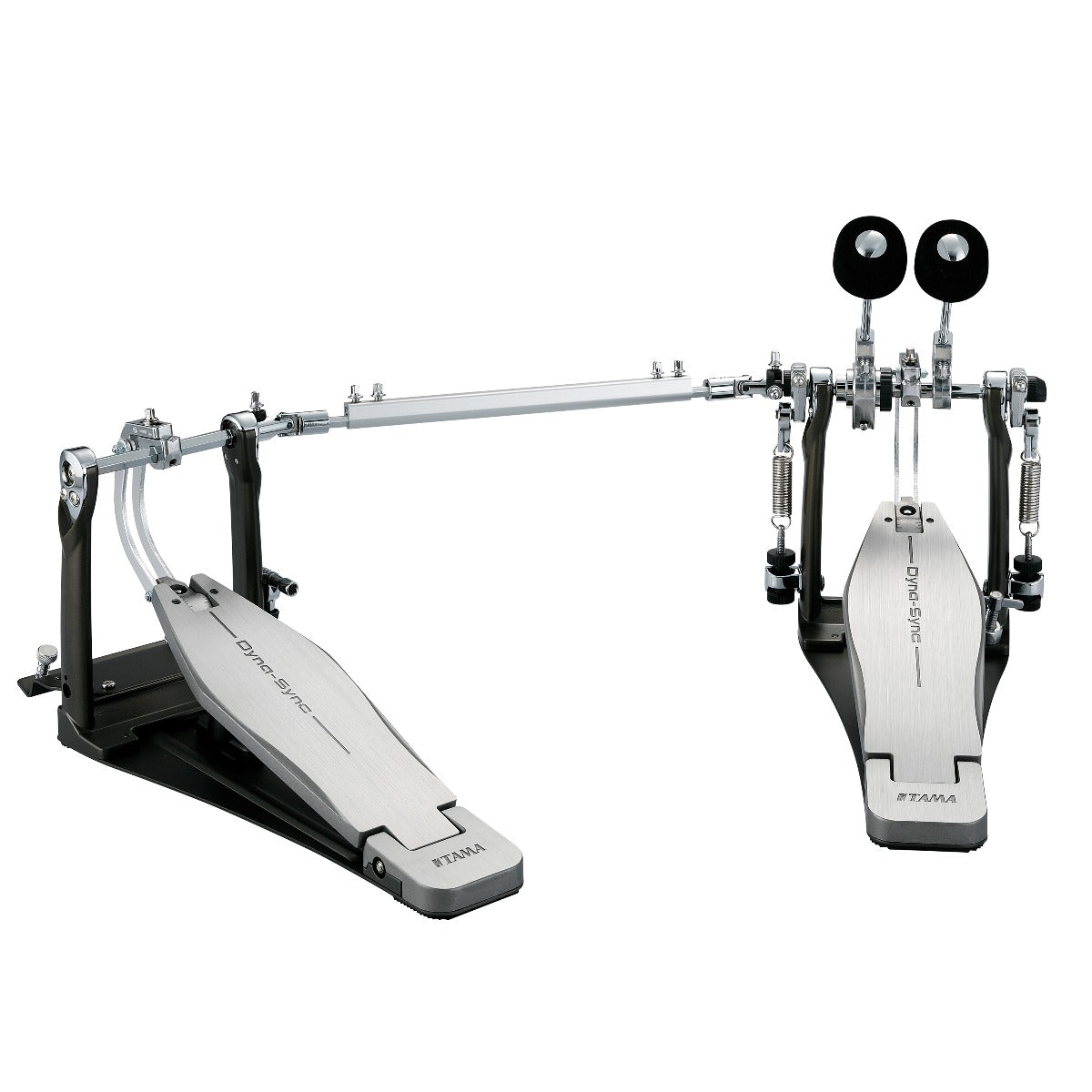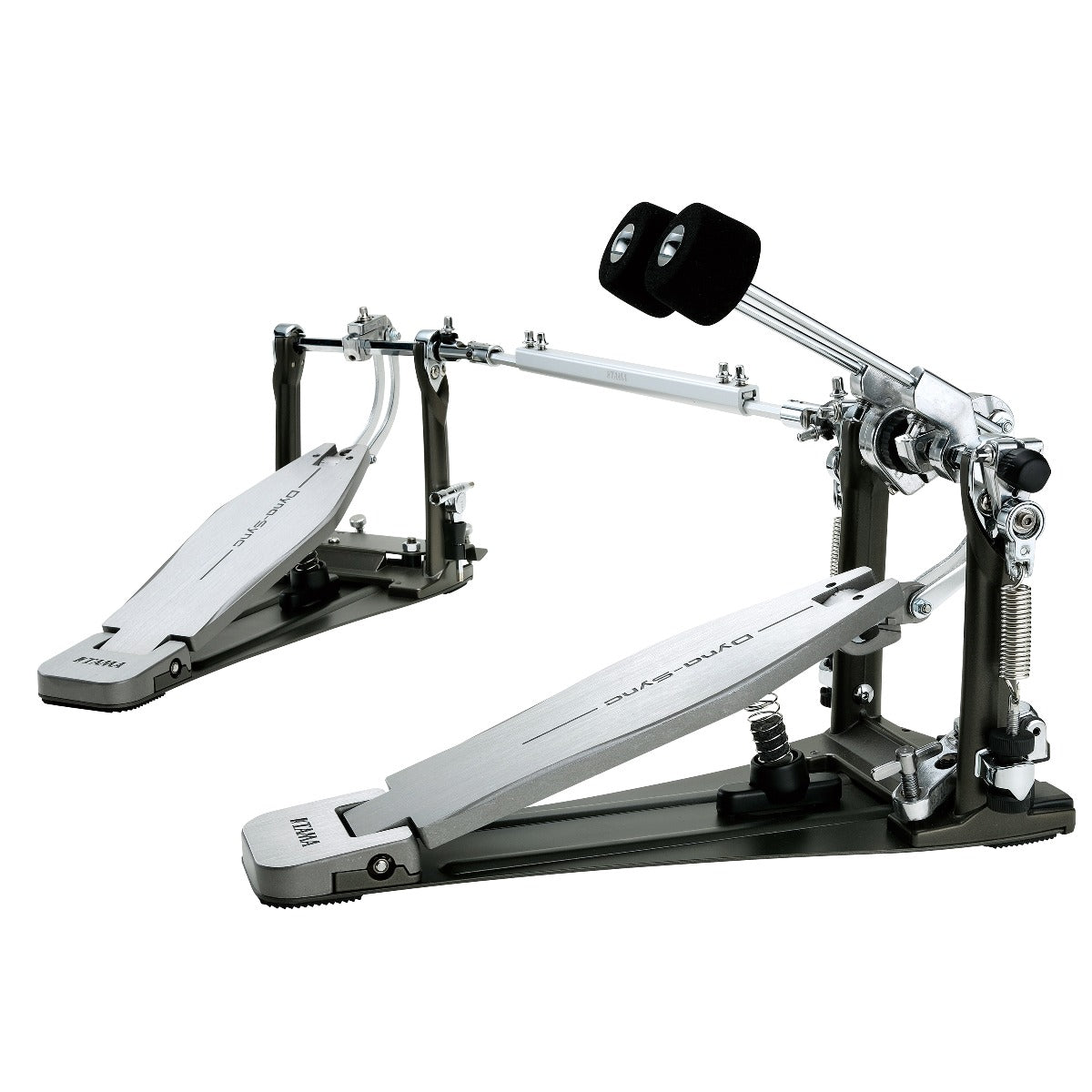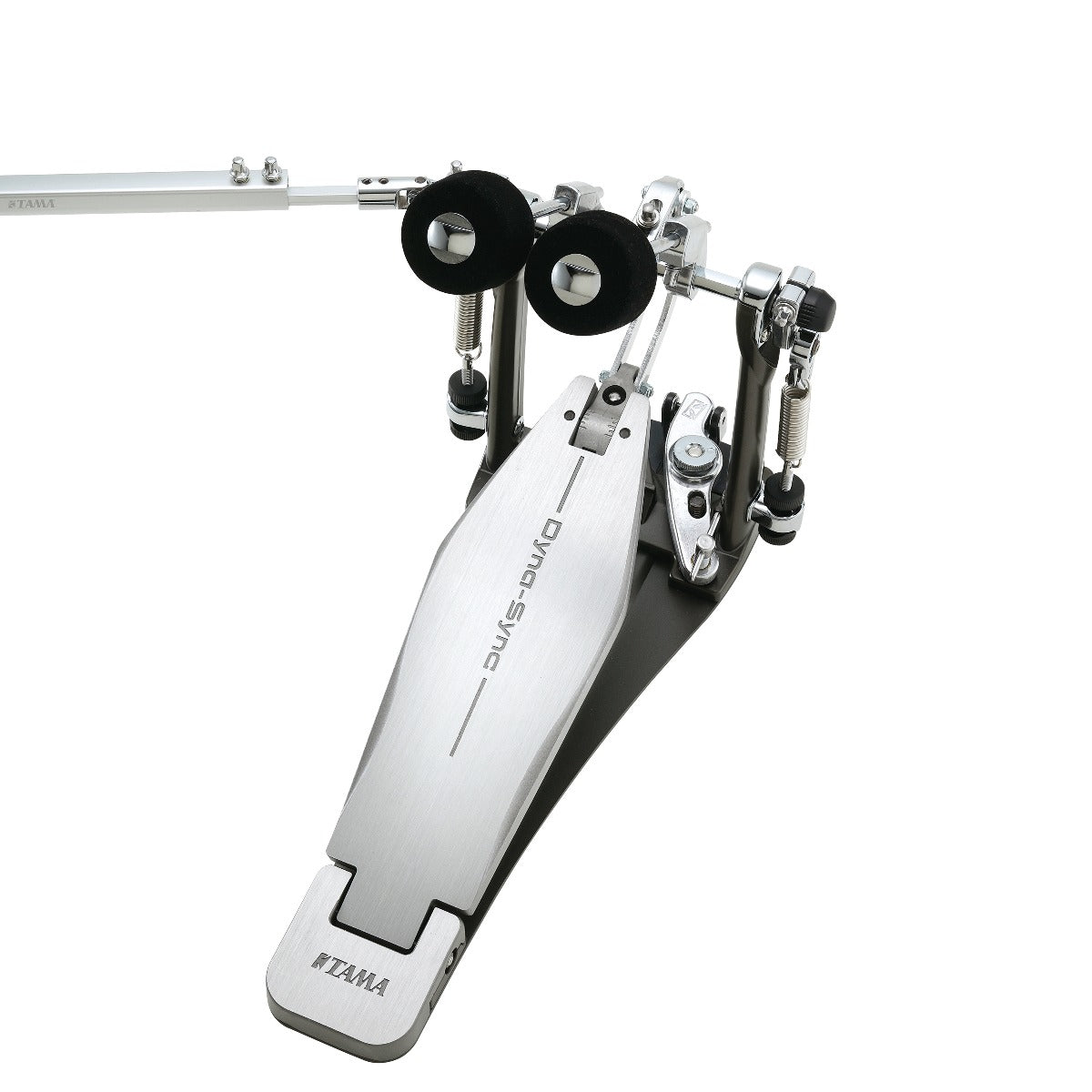 At TAMA, the tireless product team has immersed their activity in direct drive bass drum pedals. Direct drive pedals provide a unique benefit - immediate energy conversion and accelerated beater movement. However, the product team realized the opportunity to design a direct drive pedal with perfect balance and alignment of three critical performance elements: Power–Speed–Feel.
Optimized Transmission Design
Dual Linkage
Slidable Cam
Footboard Angle Adjustment
Dyna-Beater
Sync-Coil
Swivel Spring Tight
Speedo-Ring
Oiles Bearing
Hinge Guard Block
Para-Clamp II Pro
Dual Linkage
To convert rotational motion force from footboard to cam, we developed a sturdy double-link cam connection system that holds the rotation axis bearings equally from both sides. This produces almost perfect energy transfer from the footboard-to-cam and creates phenomenal reaction speed and power.
Slidable Cam
The upper cam section slides back and forth in a "non-step" action to adjust the cam-turning radius. A larger turning radius provides for a more linear motion between footboard and beater and results in a high-degree of sensitivity for nuanced performance. The smaller turning radius results in a more dynamic (non-linear) motion. The Slidable Cam promotes a highly personalized and "connected" feel tailored to widely diverse playing styles.
Footboard Angle Adjustment
Drummers have come to recognize and appreciate independent bass drum footboard angle adjustment as an important function to help customize a personal feel. This inspired us to focus on the Dyna-Sync design and create a completely new and unique footboard angle adjustment. The Dyna-Sync footboard angle design integrates into the clam-shaped connection point between linkage and footboard and is fully adjustable to deliver a totally personalized pedal angle adjustment.
Sync-Coil
The Sync-Coil is a 1.5x heavier gauge steel spring compared to our established Cobra Coil. The Sync-Coil assists the return of the footboard to the original position to provide an extra element of quickness to the pedal and slides on the bass plate so drummers can customize their own level of pedal return assistance.
Dyna Beater
Featuring black felt and a slightly tapered shape, this traditional style beater provides impact to the bass drum head surface evenly to maximize clear, dynamic articulation.
Swivel Spring Tight (US.PAT.NO.9236038)
The conventional approach to the spring assembly (including previous Iron Cobra Pedals) has been to anchor the bottom of the spring while the top of the spring is being pulled from various angles throughout the pedal's cycle. But a spring being pulled on at an angle represents wasted energy and causes turbulence. The Swivel Spring Tight assembly solves this problem, recapturing that lost energy and optimizing smoothness through the use of a contoured assembly that allows the base to swivel freely with the spring. This enables a straight spring pull during the pedal's entire cycle, resulting in the smoothest, lightest action ever found on a bass drum pedal.
Speedo-Ring
TAMA eliminated another source of friction by replacing the traditional nylon rocker cam with the Speedo-Ring, a rocker cam with a high quality built-in ball bearing rocker. The Quick-Hook not only allows for easy set up and tear down but provides a compact pedal that you can place in the hard case without taking off the beater.
| | |
| --- | --- |
| SKU | TAM-HPDS1TW |
| MPN | HPDS1 |
| Vendor | TAMA |
| Mpn | HPDS1TW |
| Manufacturer Part Number (MPN) | HPDS1TW |
Tama Drums and Hardware Original Purchaser Limited Warranty
Tama Drums, including attached hardware, ('Drum') and Tama separate accessory hardware which may be purchased with a Drum or as separate items ('Accessory Hardware') are warranted to be free from defects in materials and workmanship to the original owner, subject to all of the following terms and conditions.
The Warranty provided herein is for the following periods, measured in each case from the date of the original retail purchase: (A) five (5) years for the Drum shell itself, (B) one (1) year for the Drum hardware including Accessory Hardware and Drum shell finishes and (C) thirty (30) days for bass Drum wood hoops.
This Warranty is given by Hoshino (U.S.A.), Inc. by their Tama Service Divisions ('Tama') only to the original purchaser of a Drum or Accessory Hardware.
Tama will repair or replace the Drum shell itself if it proves defective under normal use and service during the five (5) year warranty Time Period stated above which Tama's examination shall disclose to its satisfaction to be thus defective.
Tama will repair or replace any part or parts of the attached Drum hardware and/or Accessory Hardware and Drum shell finishes which may prove defective under normal use and service during the one (1) year Warranty Time Period stated above which Tama's examination shall disclose to its satisfaction to be thus defective.
Tama will repair or replace any bass Drum wood hoops which may prove defective under normal use and service during the thirty (30) day warranty time period which Tama's examination shall disclose to its satisfaction to be thus defective.
Please record all serial numbers from all the drums for your records. Keep in a safe and secure place.
Standard Shipping