Skip product carousel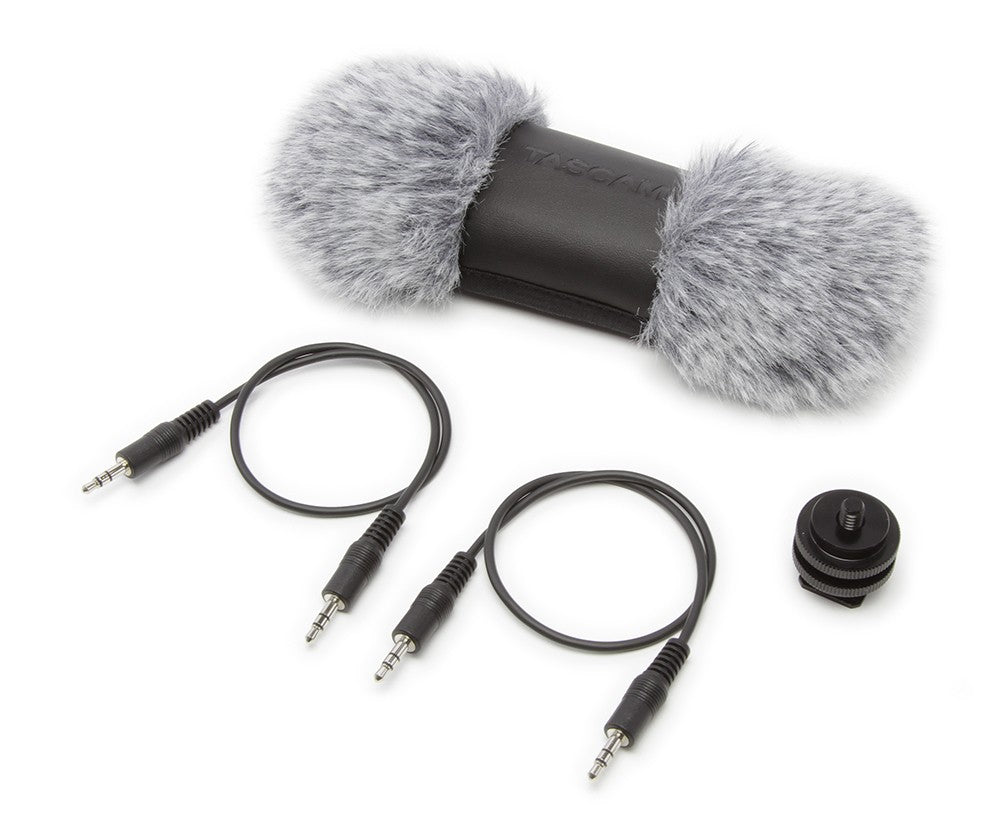 TASCAM AK-DR70C Accessory Pack for DR-70D and DR-701D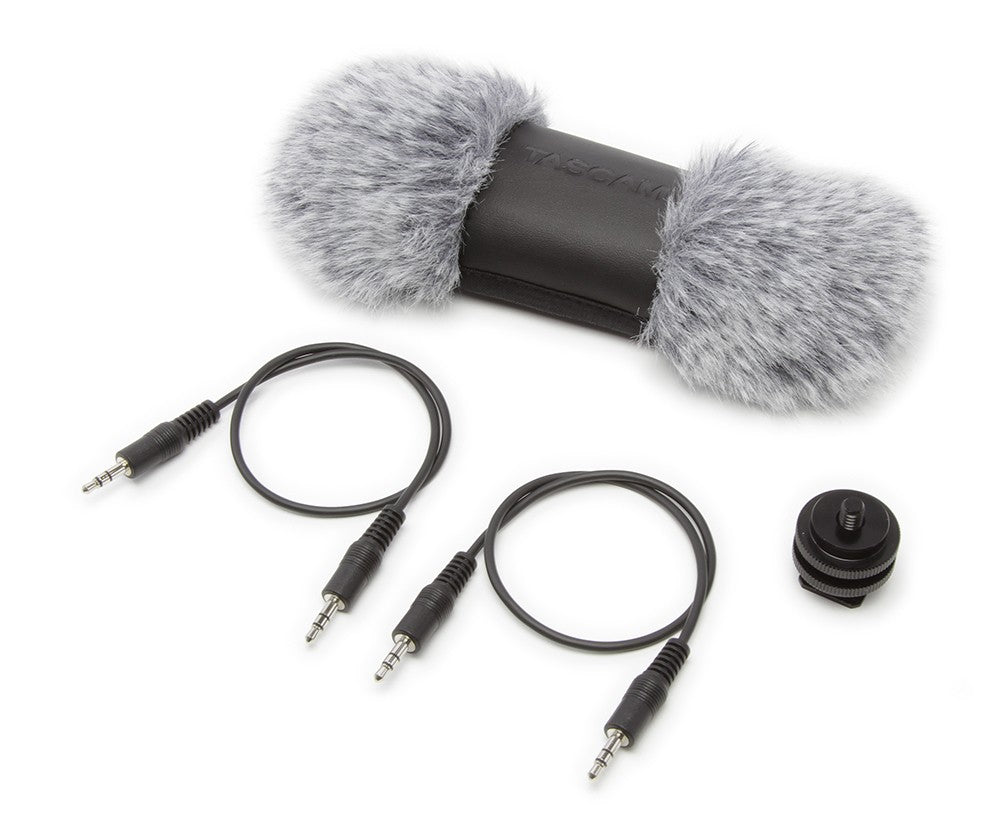 TASCAM AK-DR70C Accessory Pack for DR-70D and DR-701D
Fuzzy windscreen for reduction of wind noise
When filming outdoors, even slight breezes can cause mics to pick up wind noise. In order to physically prevent this noise, this package includes a fuzzy windscreen that fits the form of the DR-70D or DR-701D.
Shoe mount adapter
The bottom of the adapter can be mounted on a camera accessory shoe, and the top has a shoe mount adapter with a tripod screw. By using this adapter, the DR-70D or DR-701D can be attached to the accessory shoe of a digital SLR camera. When mounting the accessory shoe on the top of the DR-70D/701D case, you can use it to attach a shotgun mic or wireless mic transmitter. This makes a variety of set-ups possible.
3.5mm stereo mini jack cables for recording to - and monitoring from - a DSLR camera.
The DR-70D has a CAMERA OUT/LINE OUT jack that allows audio input to be recorded directly to the camera. By using the two 3.5mm stereo mini jack cables included in this package, you can monitor audio from both the DR-70D/701D and the camera with one set of headphones without the need to change connections. Simply connect one cable between the DR-70D/701D CAMERA OUT jack and the camera's AUX IN (or other audio input) jack, and the other between the camera's headphones output jack and the DR-70D/701D CAMERA IN jack.
SKU
TAS-AKDR70C
Vendor
TASCAM
Included From Manufacturer
Fuzzy Windscreen
Shoe Mount Adapter
(2) 1/8" Audio Cables
Mpn
AK-DR70C
Included from Manufacturer
Fuzzy Windscreen
Shoe Mount Adapter
(2) 1/8" Audio Cables
Manufacturer Part Number (MPN)
AK-DR70C
TASCAM/TEAC Limited Warranty
This warranty gives you specific legal rights, and you may also have other rights which vary from state to state. This warranty is only valid within the country the unit was originally purchased.
Except as specified below, this warranty covers all defects in material and workmanship in this product. The following are not covered by the warranty:
Damage to or deterioration of the external cabinet.
Damage resulting from accident, misuse, abuse, or neglect.
Damage resulting from failure to perform basic daily maintenance and/or calibration, or otherwise resulting from failure to follow instructions contained in your owner's manual.
Damage occurring during shipment of the product (claims must be presented by the carrier).
Damage resulting from repair or attempted repair by anyone other than TEAC or an authorized TASCAM service station.
Damage resulting from causes other than product defects, including lack of technical skill, competence, or experience of the user.
Damage to any unit which has been altered or on which the serial number has been defaced, modified, or removed.
This warranty may be enforced only by the original purchaser.
All parts except heads and disk drives are warranted for one (1) year from the date of original purchase for products not used for commercial purposes. For products used commercially, the warranty is ninety (90) days for magnetic heads & optical pickups, one (1) year for other parts, & ninety (90) days for labor.
TASCAM will pay all labor and material expenses for items covered by the warranty. Payment of shipping charges is discussed in the next section of this warranty.
Your unit must be serviced by an authorized TASCAM service station in the United States. (This warranty is not enforceable outside the U.S.) If you are unable to locate an authorized TASCAM service station in your area, please contact TASCAM. TASCAM either will refer you to an authorized service station or instruct you to return the unit to the factory.
Whenever warranty service is required, you must present both the original dated sales receipt and this warranty statement as proof of warranty coverage.
You must pay any shipping charges if it is necessary top ship the product for service. However, if the necessary repairs are covered by the warranty, we will pay return surface shipping charges to any destination within the United States.
Any implied warranties, including warranties of merchantability and fitness for a particular purpose, are limited in duration to the length of this warranty.
TEAC's liability for any defective product is limited to repair or replacement of the product, at TEAC's option. TEAC shall not be liable for:
Damages bases upon inconvenience, loss of use of the product, loss of time, interrupted operation or commercial loss
Any other damages, whether incidental, consequential or otherwise
Some states do not allow limitations on how long an implied warranty lasts and/or do not allow the exclusion or limitations of incidental or consequential damages, so the above limitations and exclusions may not apply to you.
Standard Shipping