Skip product carousel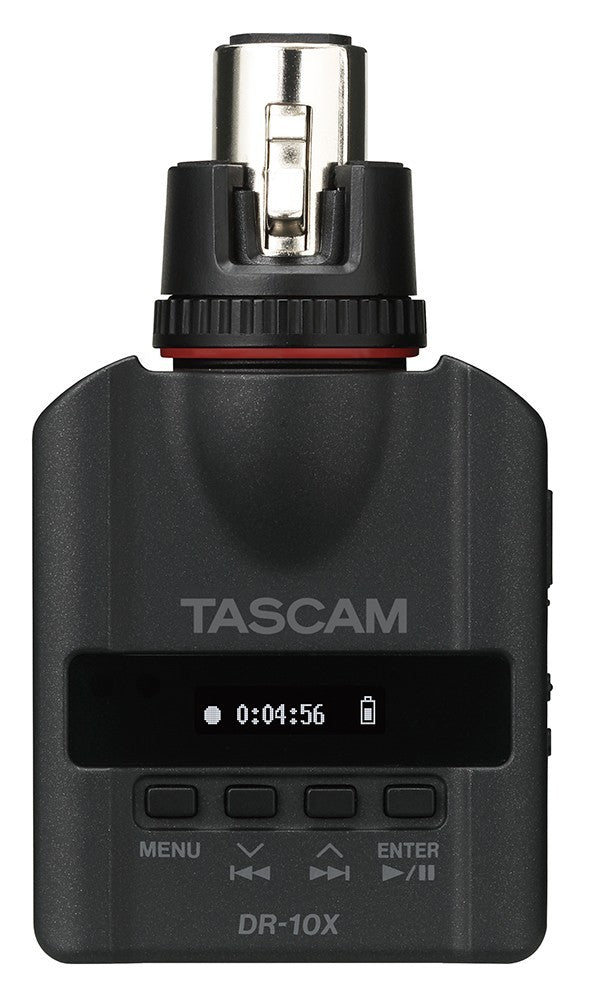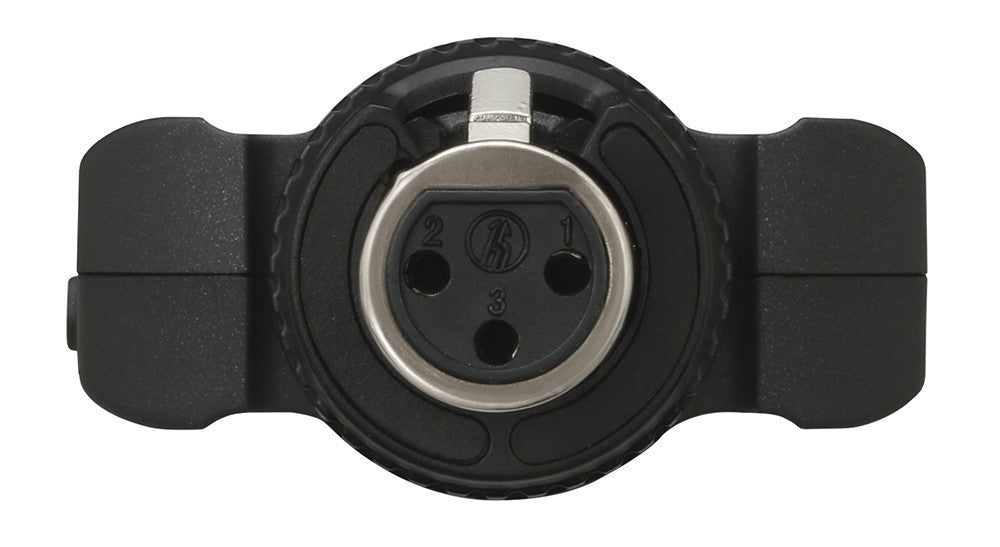 TASCAM DR-10X Mini Portable Recorder for XLR Microphone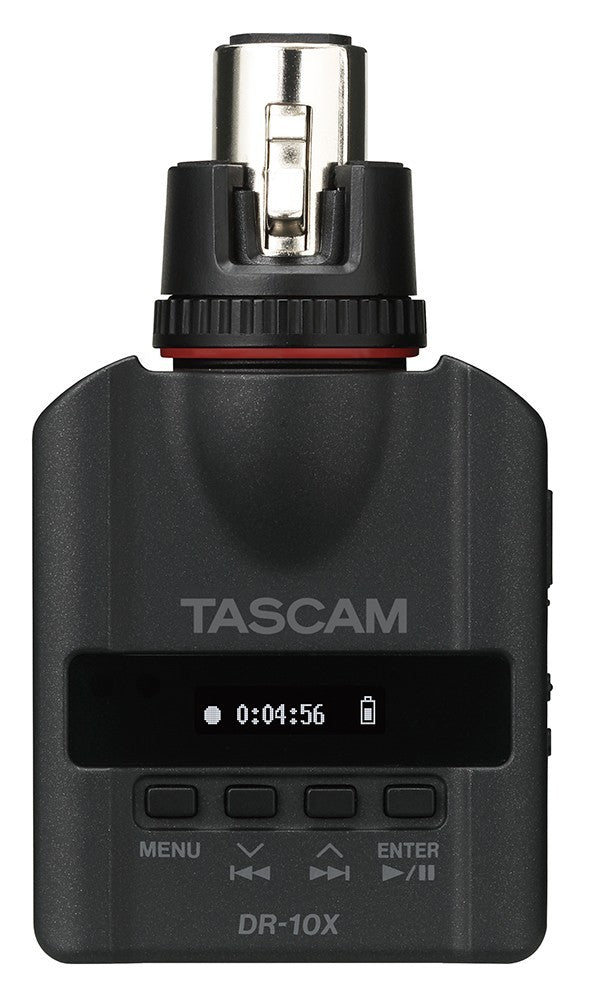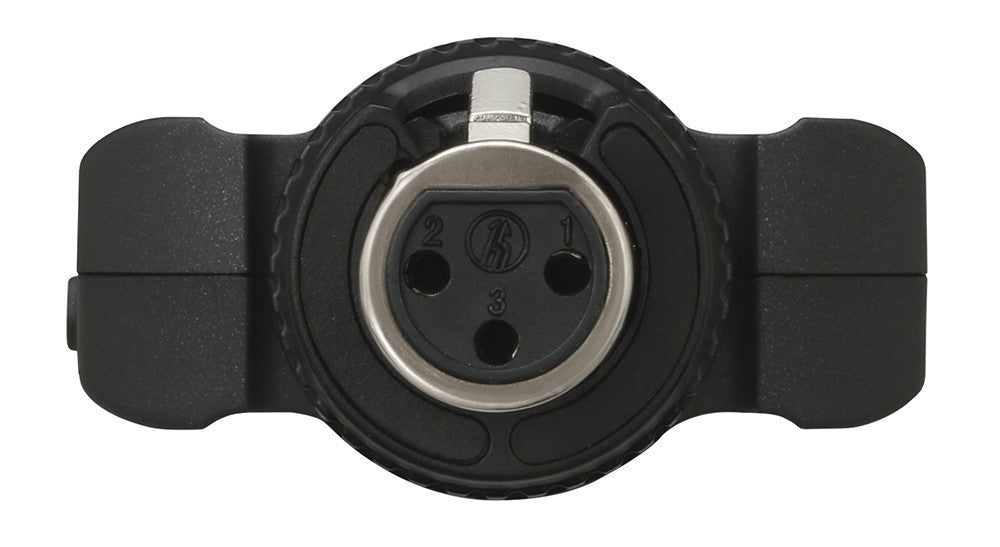 TASCAM DR-10X Mini Portable Recorder for XLR Microphone
Capture audio during interviews, press conferences and meetings with this compact PCM recorder. Simply attach the DR-10X to a dynamic or battery-powered condenser microphone with XLR output.
TASCAM's compact DR-10X attaches to a handheld microphone for the ultimate compact news gathering recording system. A captive XLR connector attaches firmly to your microphone, capturing interviews at 48kHz/24-bit Broadcast WAV resolution. Offload recordings through the microUSB connection or by removing the microSD card.
The DR-10X has both manual and automatic gain settings, with a low cut filter and limiter to prevent overloads. The Dual Recording mode captures a copy of the audio at a lower level, so if there is distortion you have a backup safety. Recording can begin instantly by holding the record side switch while turning the unit on.
XLR plug-on connection
Compatible with dynamic mics as well as bettery-powered condenser mics
48kHz/24-bit linear PCM mono recording
WAV files (compatible with BWF format)
Media: microSD/SDHC cards (supports 32GB capacities)
Sliding record switch and hold function to prevent misoperation during recording
Dual recording function
automatic file closing function to prevent the loss of already recorded data
XLR connector also can use as external input for external input
High/Mid/Low recording level settings
Low-cut filter
Limiter
Automatic level function
With a built-in clock function, supports BWF files that can have time information added, which is convenient for editing and searching
Time track incrementing function can create new files at regular intervals (every 15 minutes) during recording
Playback function allows recorded data to be checked immediately
Headphone output
Locking mechanism assure a tight connection with the microphone body
Easy-to-read organic EL display
micro USB B port enables easy data exchange with computers
Records at least 10 hours on a single AAA battery by using alkaline batteries (EVOLTA)
Unit settings can be created and transferred as a computer text file
Settings can be transferred between multiple DR-10X units using the infrared transmission function
Firmware can be updated using a microSD card
RoHS-compliant product
SKU
TAS-DR10X
Vendor
TASCAM
Max Sample Bit
48 kHz / 24-bit
Mpn
DR-10X
Batteries
1 AAA
File Formats Supported
WAV
Audio Inputs
1
Audio Outputs
1/8" Stereo Headphone
Maximum Storage Capacity
32 GB
Product Weight
.124 lbs
Recording Format Details
WAV - 48kHz at 24bit
Reference Speaker
No
Storage Format Details
microSD (64MB to 2GB)
microSDHC (4GB to 32GB)
Storage Format
microSD Card
Number of Tracks
1
USB Functionality
File Transfer/Storage
Width
2.05"
Depth
1.1"
Height
3.72"
TASCAM/TEAC Limited Warranty
This warranty gives you specific legal rights, and you may also have other rights which vary from state to state. This warranty is only valid within the country the unit was originally purchased.
Except as specified below, this warranty covers all defects in material and workmanship in this product. The following are not covered by the warranty:
Damage to or deterioration of the external cabinet.
Damage resulting from accident, misuse, abuse, or neglect.
Damage resulting from failure to perform basic daily maintenance and/or calibration, or otherwise resulting from failure to follow instructions contained in your owner's manual.
Damage occurring during shipment of the product (claims must be presented by the carrier).
Damage resulting from repair or attempted repair by anyone other than TEAC or an authorized TASCAM service station.
Damage resulting from causes other than product defects, including lack of technical skill, competence, or experience of the user.
Damage to any unit which has been altered or on which the serial number has been defaced, modified, or removed.
This warranty may be enforced only by the original purchaser.
All parts except heads and disk drives are warranted for one (1) year from the date of original purchase for products not used for commercial purposes. For products used commercially, the warranty is ninety (90) days for magnetic heads & optical pickups, one (1) year for other parts, & ninety (90) days for labor.
TASCAM will pay all labor and material expenses for items covered by the warranty. Payment of shipping charges is discussed in the next section of this warranty.
Your unit must be serviced by an authorized TASCAM service station in the United States. (This warranty is not enforceable outside the U.S.) If you are unable to locate an authorized TASCAM service station in your area, please contact TASCAM. TASCAM either will refer you to an authorized service station or instruct you to return the unit to the factory.
Whenever warranty service is required, you must present both the original dated sales receipt and this warranty statement as proof of warranty coverage.
You must pay any shipping charges if it is necessary top ship the product for service. However, if the necessary repairs are covered by the warranty, we will pay return surface shipping charges to any destination within the United States.
Any implied warranties, including warranties of merchantability and fitness for a particular purpose, are limited in duration to the length of this warranty.
TEAC's liability for any defective product is limited to repair or replacement of the product, at TEAC's option. TEAC shall not be liable for:
Damages bases upon inconvenience, loss of use of the product, loss of time, interrupted operation or commercial loss
Any other damages, whether incidental, consequential or otherwise
Some states do not allow limitations on how long an implied warranty lasts and/or do not allow the exclusion or limitations of incidental or consequential damages, so the above limitations and exclusions may not apply to you.
Ground shipping is FREE for all orders $99 and up.