Skip product carousel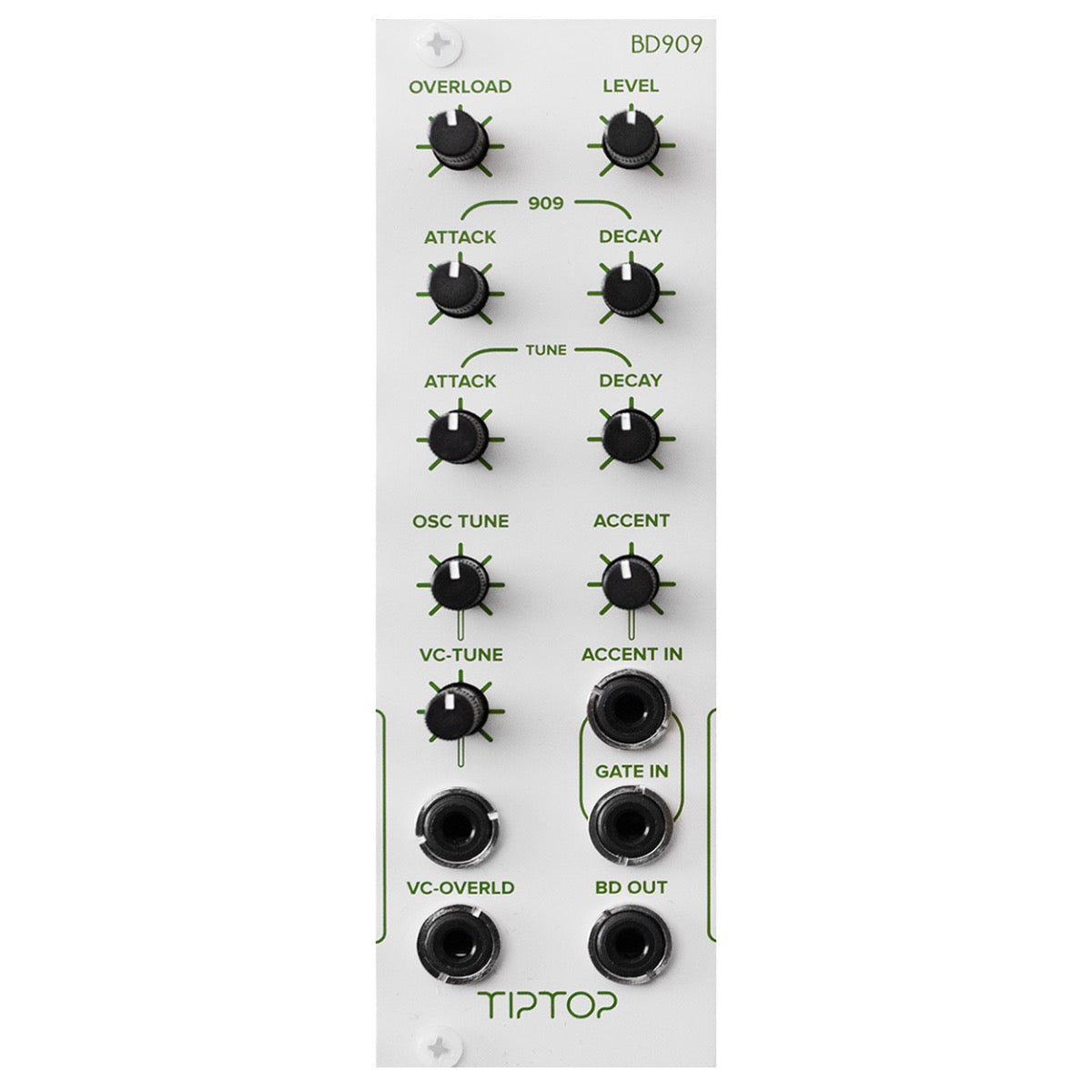 Tiptop Audio BD909 Analog Bass Drum Module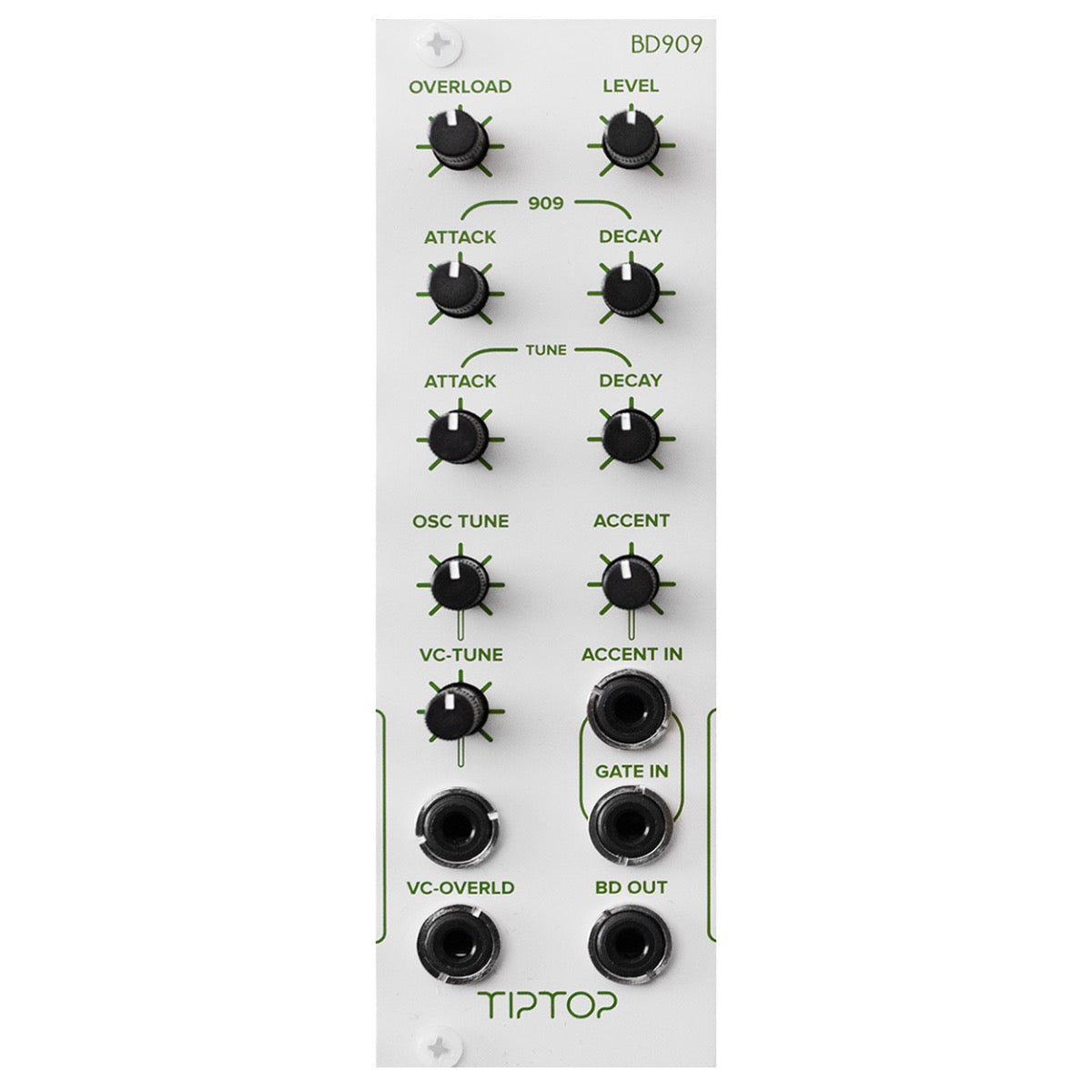 Tiptop Audio BD909 Analog Bass Drum Module
Reverse-engineered from the original machine, Tiptop Audio BD909 is an identical recreation of the original all-analog drum circuit from the Roland TR-909. Additional controls and synthesis features have been added that turn this classic circuit into a chest-pounding analog bass drum laboratory, all tightly packed into an 8hp module. The BD909 sound differs from BD808 in that the main sonic energy is centered in the mid to low frequency range, as opposed to the strictly low frequency range of BD808. This frequency range gives the needed headroom that allows your basslines to deeply fill up the low end while the kick drum rides on top, creating a clear and punchy mix.
BD909 includes all the controls found in the original: attack, decay, tune decay, accent and level. Tiptop Audio went beyond that and added controls that further increase the palette of sound this circuit is capable of. First off, they added a tuning control knob for the oscillator and included its own CV input and attenuator that let you tune your 909 kick with your basslines. Next, they added control knobs for the tuning attack and extending tuning decay. Each one affects the other, allowing for very intuitive and interactive sound shaping — this feature opens up numerous 'sweet spots,' and provides the ability to center the energy peak at different parts of the sound. Finally, BD909 offers additional punch and distortion by giving complete control over the internal waveshaper, which allows you to overload the waveform manually or with voltage control.
Beginning with the classic and pure sound of the 909 kick, these additional functions greatly expand BD909's flexibility and let it create powerful analog bass drums that range from soft and smooth to punchy and aggressive — and everything in between.
Module controls

OVERLOAD knob: overload control for waveshaper circuit, adds more odd harmonics to waveshape
LEVEL knob: master output gain level
909 ATTACK knob: amp envelope attack stage time
909 DECAY knob: amp envelope decay stage time
TUNE ATTACK knob: tuning envelope attack stage time
TUNE DECAY knob: tuning envelope decay stage time
OSC TUNE knob: oscillator pitch
ACCENT knob: accent level control, affects loudness and attack levels
VC-TUNE knob: attenuator for tuning CV input

Patch points

ACCENT IN input: gate trigger input to trigger accent
VC-TUNE input: CV control over oscillator tuning
GATE IN input: gate trigger input to trigger bass drum sound
VC-OVERLD input: CV control over overload
BD OUT output: audio output

Physical specifications

Size: 8hp
Module depth: 36mm
Power usage: 34mA @ +12V, 21mA @ -12V
SKU
TIP-BD909
MPN
BD909
Vendor
Tiptop Audio
Module Type
Drum/Percussion
Module Width
8hp
Mpn
BD909
Module Power Usage
34mA @ +12V
21mA @ -12V
1U Module
No
+5V Required
No
Depth
36mm
Tiptop Audio Limited Warranty
Tiptop Audio offers the most extensive product warranty on the analog synthesizer market.
The warranty fully covers any defects or malfunction of their modules for one full year.
Ground shipping is FREE for all orders $99 and up.