Skip product carousel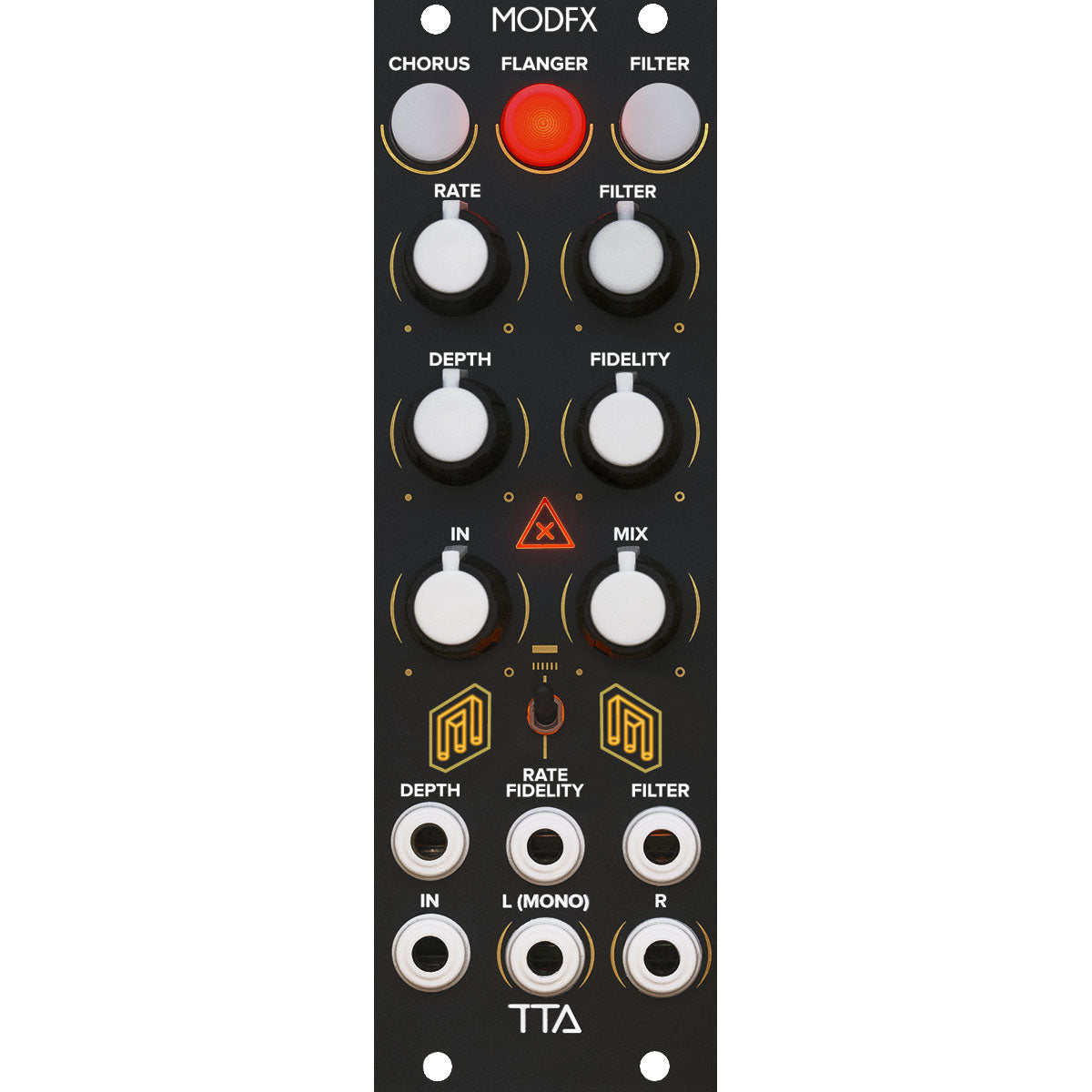 Tiptop Audio ModFX Modulation Effects Module - Black Panel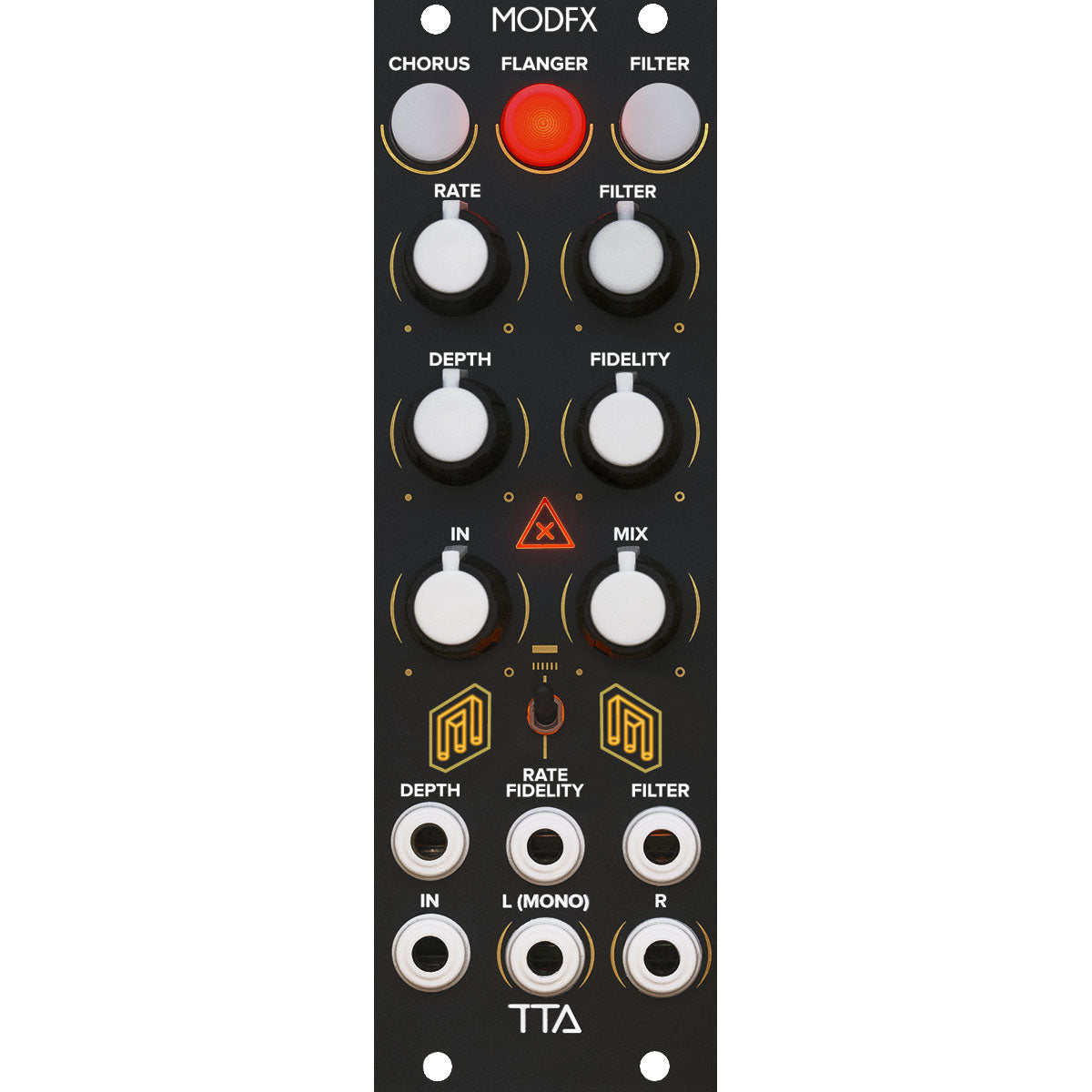 Tiptop Audio ModFX Modulation Effects Module - Black Panel
Tiptop Audio ModFX offers three banks of modulations effects ranging from classic stompbox and rack effects to more experimental processing not found in any other hardware. One of the strengths of this module is the creative ways it moves static mono sources into expansive stereo sound fields. Built on the same platform as ECHOZ, ZVERB and Z5000, ModFX has the same easy-to-use and compact UI with CV control over all three DSP parameters and FIDELITY control over the DSP clock.
The CHORUS bank has effects essential to electronic music production. Many classic synths like the Solina or Juno series used chorus as part of their trademark sounds. While Chorus is often a subtle process that widens and deepens the source sound – one that you almost don't notice until it's turned off – these eight programs include some more esoteric options that can create wobbly ambiences or deep detuned rooms, particularly when combined with the FIDELITY control.
FLANGER effects come from the modulation of very short delay times and this bank expands on that to include Karplus and Resonant pitch effects and panning using the Haas effect. Programs like Chord Resonator can turn percussive tracks into harmonic material, while Haas panning creates wide stereo spreads without pitch or amplitude modulation.
ModFX's FILTER bank doesn't have the typical high and low pass options common to synths and instead features a set of highly modulated and unusual filtering options. Programs include a couple of vintage inspired all pass filter-based phasers, filter-based panning and some vocal formant options.
Module controls

CHORUS, FLANGER, FILTER buttons: select effects bank, 8 programs per bank
RATE knob: set the rate of modulation LFOs
FILTER knob: set cutoff frequency of a filter or the amount of feedback
DEPTH knob: set how much the modulation sweeps through the range
FIDELITY knob: control over DSP clock, effect varies per program
IN knob: set input gain
MIX knob: set mix between dry input signal and wet processed sound

Patch points

DEPTH input: CV control over how much the modulation sweeps through the range
FIDELITY input: CV control over FIDELITY parameter
FILTER input: CV control cutoff frequency of a filter or the amount of feedback
IN input: audio input
L and R outputs: mono/stereo audio output

Physical specifications

Size: 8hp
Module depth: 40mm
Power usage: 130mA @ +12V, 20mA @ -12V
SKU
TIP-MODFXB
MPN
ModFX - Black Panel
Vendor
Tiptop Audio
Module Type
Effect
Module Width
8hp
Mpn
ModFX Black
Module Power Usage
130mA @ +12V
20mA @ -12V
1U Module
No
+5V Required
No
Depth
40mm
Tiptop Audio Limited Warranty
Tiptop Audio offers the most extensive product warranty on the analog synthesizer market.
The warranty fully covers any defects or malfunction of their modules for one full year.
Ground shipping is FREE for all orders $99 and up.