Skip product carousel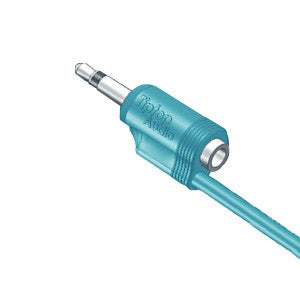 Tiptop Audio Stackcable 40cm Cyan Patch Cable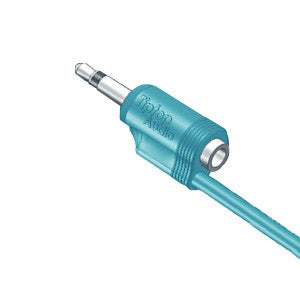 Tiptop Audio Stackcable 40cm Cyan Patch Cable
The revolutionary Stackcable is the world's first cable that combines low-noise shielded performance with the convenience of stackable banana cables. The patented Stackcable provides signal splitting directly on the back of the plug, giving you the flexibility to distribute signals without a multiple module. The Stackcable opens up a whole new approach to the art of synthesizer patching. Complex signal flow is more visible, easier to follow, and you'll never again have to interrupt your workflow and insert a multiple. Let's just concentrate on music making and less on figuring out how to run multiple signals. Stackcables are also cheaper, providing more mult points, dynamic patching, and flexible system configuration, all without compromising rack space.
Compared to regular patch cables, Stackcables keep your jacks available no matter how many connections are running to or from a jack. Standard patch cables block a jack once patched in, a major limitation in the dynamic workflow of a modular synthesizer. And when it comes to carrying your audio signals, Stackcables are made with heavy-gauge signal conductor and signal shielding, providing low capacitance, low impedance, and excellent noise rejection. These features make Stackcables superior to both low-cost patch cables and banana cables at handling audio and control signals in a professional studio environment and provide the shielding you need to keep your studio quiet and modular synth signals clean.
The Stackcable's elegant connectors hide a complex sub-miniature electromechanical design that tightly integrates a 3.5mm plug and a 3.5mm jack at each end of the cable, all while handling both ground and signal. This innovative mechanism is what makes the Stackcable possible and allows it to be more compact than a single-conductor banana cable.
If you have ever never experienced stackability, then get ready to feel how smooth, creative, and mind-blowing your patching will become with out stackcables.
| | |
| --- | --- |
| SKU | TIP-STCKBL40CMCY |
| Vendor | Tiptop Audio |
| Mpn | STCKBL40CMCY |
| Manufacturer Part Number (MPN) | STCKBL40CMCY |
Tiptop Audio Stackcables 2 Year Warranty
Stackcables warranty covers defects in manufacturing. If you experience any of the following defects during the 2 year warranty period please contact Tiptop Audio or the shop you bought them from for replacement. The following defects are covered:
The wire end comes out of the molded head of the Stackcable.
Loss of electrical connection. If your Stackable does not pass a signal through its plugs or jacks it is most likely the internal wiring breaking.
The following are not covered by warranty:
Damage to the cable the plug or contacts by abuse are not covered: Please use your Stackcables gently and avoid excess pressure on them. When un-patching or when pulling a Stackcable from a pile of cables please do not pull the Stackcable by its wire. Always handle the Stackcable by plug/jack only.
Contact oxidation: Stackcables stored in a humid environment or that have been stored unused for long period of time might develop a discontinuity issue due to oxidation growing on the contacts. Unless the damage is extreme, this problem can be solved by gently brushing the plug with an iron brush to remove the layer of oxidation and plugging into the back jacks several times, which will help remove the layer of oxidation from the internal contacts.
Ground shipping is FREE for all orders $99 and up.