Skip product carousel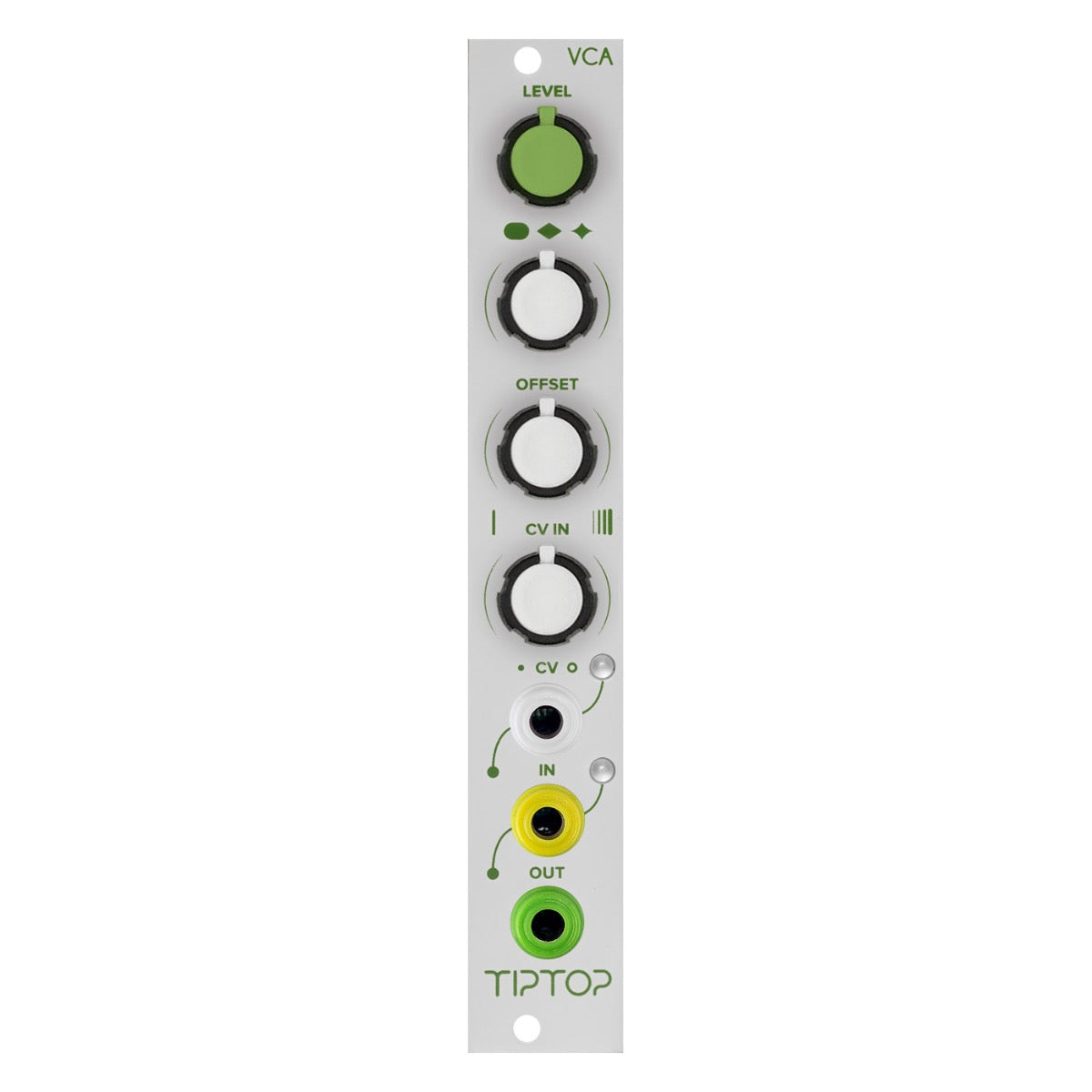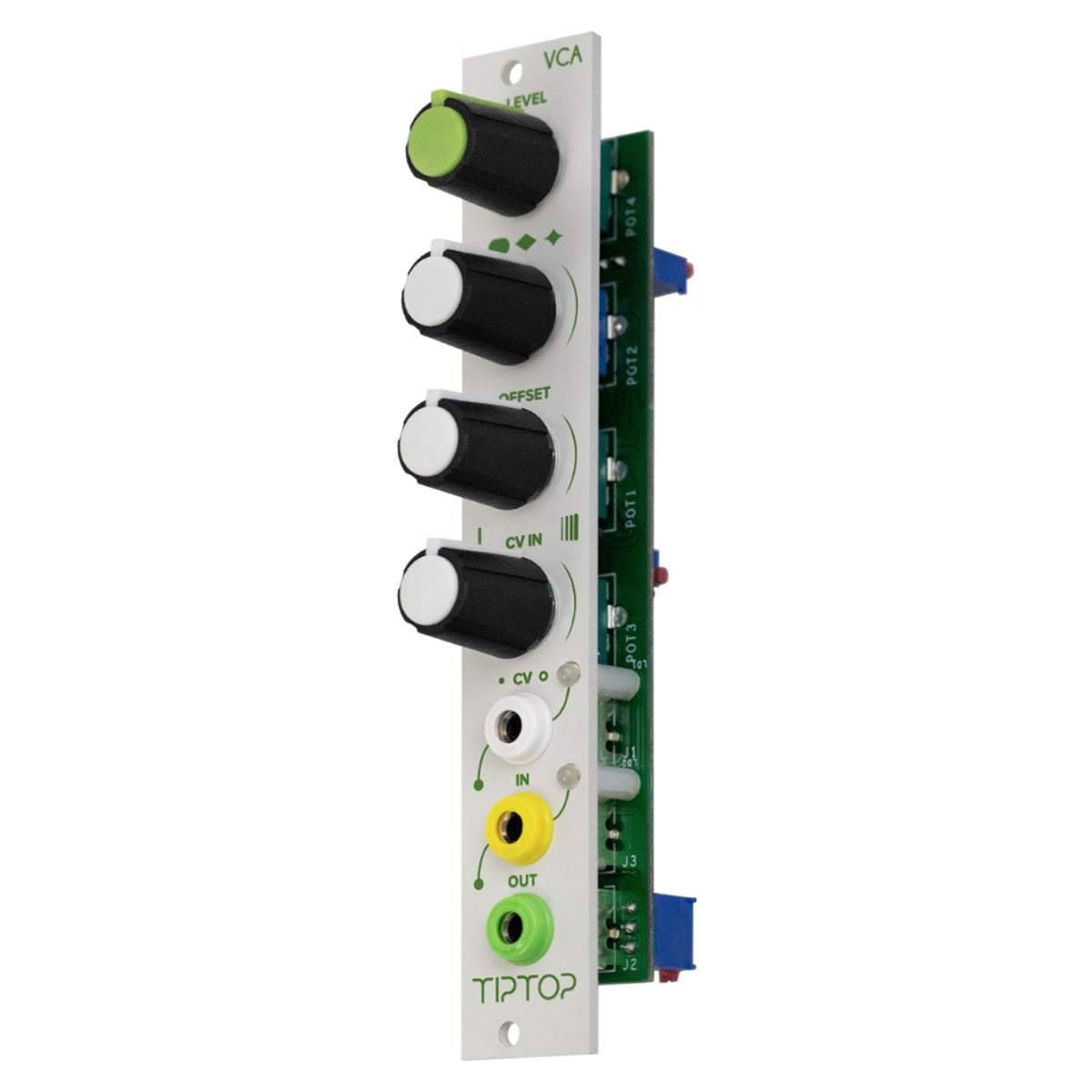 Tiptop Audio VCA Voltage Controlled Amplifier Module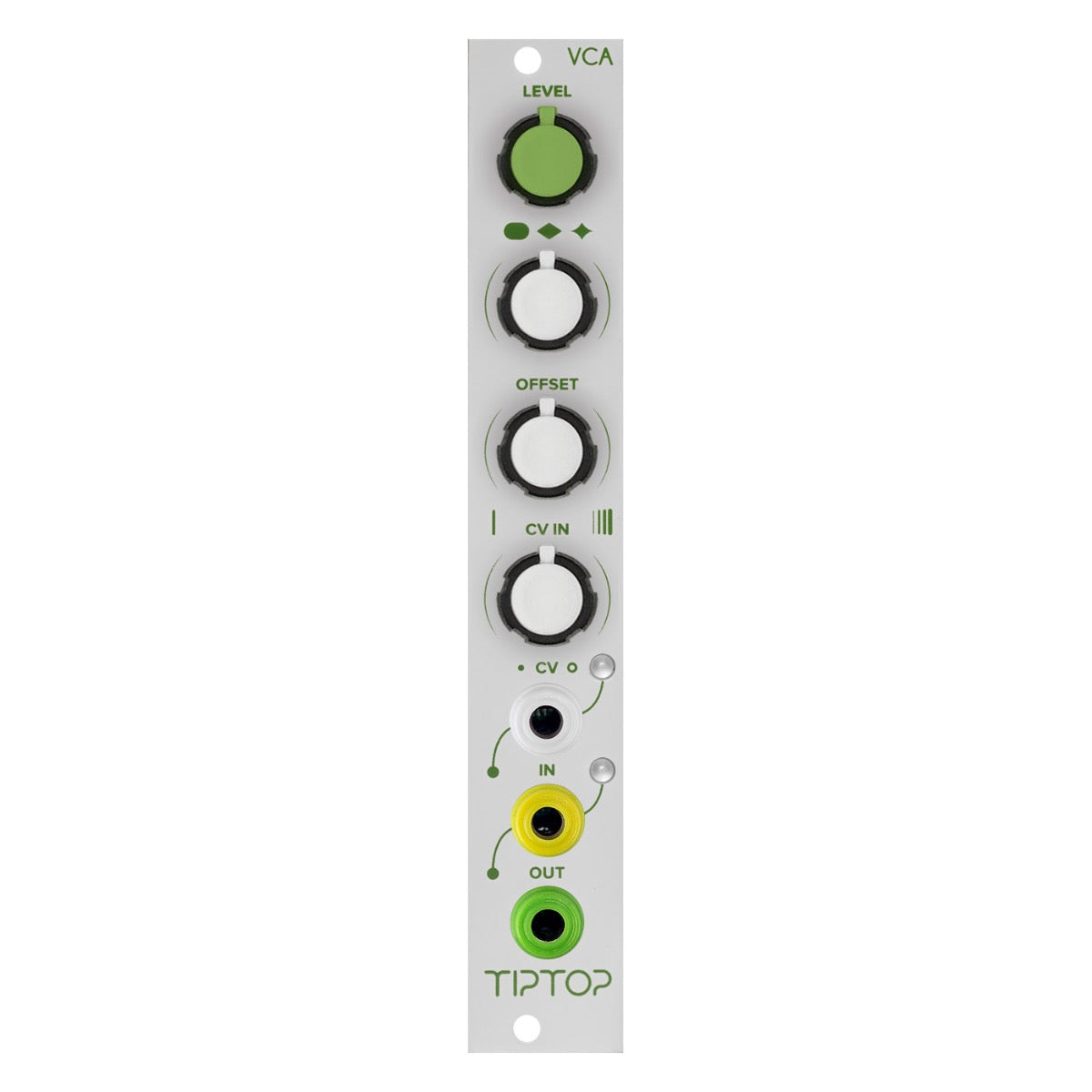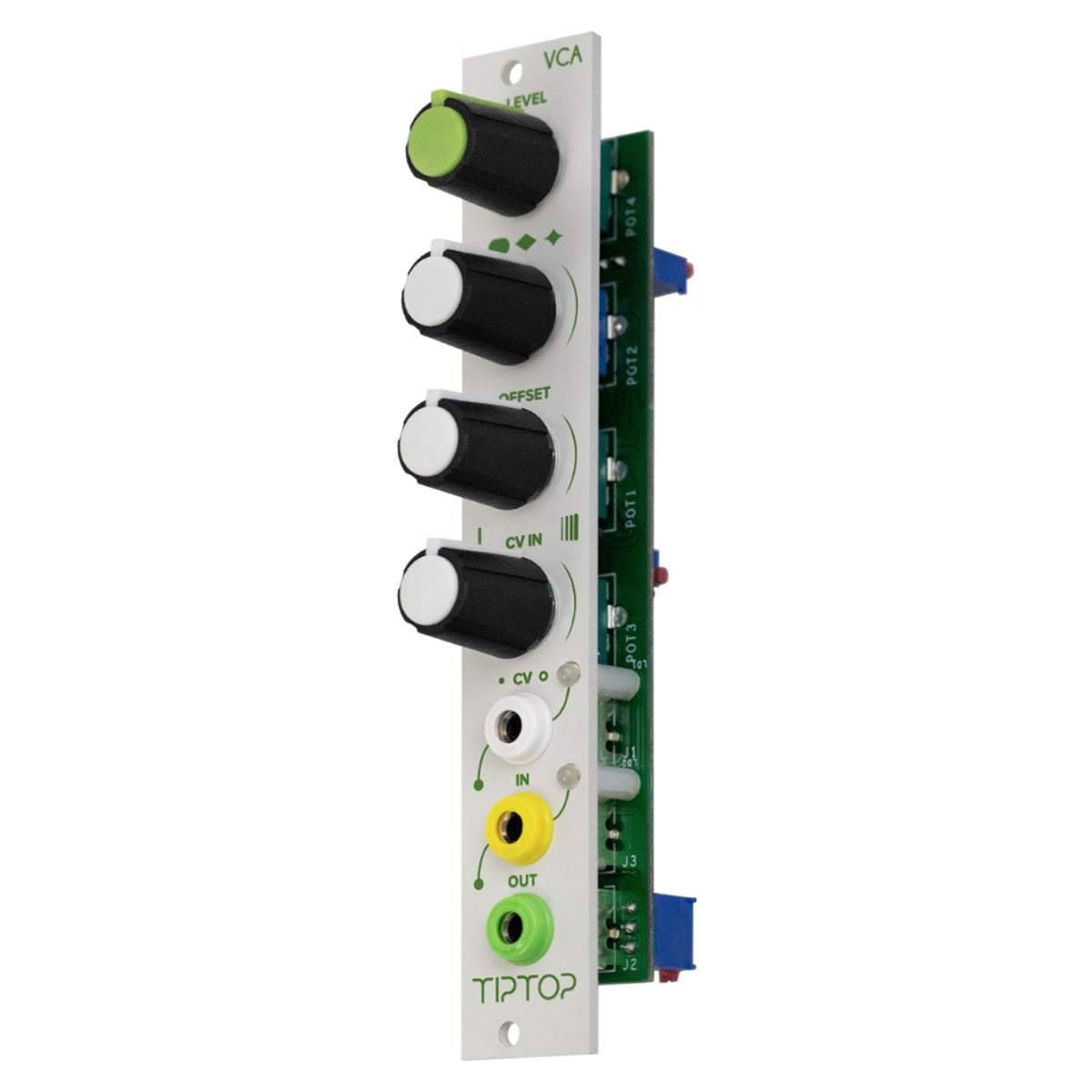 Tiptop Audio VCA Voltage Controlled Amplifier Module
Tiptop Audio VCA is a full-featured, precision-calibrated analog voltage controlled amplifier. At its heart is a novel design of control circuitry, a function that lets you sweep continuously through three different response curves – logarithmic, linear, exponential – giving you all three shapes in a single module.
This special control circuitry design by Mr. Osamu Hoshuyama was adopted into the VCA module to make it a great-sounding synthesizer VCA with flexibility to address all duties: level control for both audio and CV modulation, gating audio into silence and amplitude modulation effects.
A VCA, sometimes referred to as an audio gate, is an essential module to any eurorack rig and no system is complete without one. The concept is an input, an output and a control that sets how much of the input signal passes through to the output.
A great VCA means minimal feedthrough of the control signal bleeding into the passing signal and minimal distortion applied to the passing signal. An excellent audio gate means minimal leakage of signal from IN to OUT when the control tells the VCA to fully close. These are the most critical conditions for a good sounding, good responding VCA and are what the Tiptop Audio design carefully addresses.
Two LED peak indicator lights on the front panel light up with incoming CV or audio signals. While a clipping indicator for audio is expected, clipping of CV is often overlooked and it's included here to visually maintain the full dynamic range of an envelope driving the VCA.
Tiptop Audio VCA lets you concentrate on creative uses rather than figuring out the module's anomalies. The result is an excellent sounding synthesizer VCA that's a joy to use and pleasing to hear.
Features

Analog VCA with a great sound
Special control circuitry designed by Mr. Osamu Hoshuyama
Sweep continuously through three response curves: logarithmic, linear and exponential
Minimal leakage of signal from IN to OUT when the VCA is closed
High-speed processing for amplitude modulation effects
Clean and natural analog response, low distortion
CV modulation as well as audio level controls
Gating audio down to silent and sidechaining
Peak indicator lights to detect audio and CV signal clipping
Use lights to visually maintain the full dynamic range of an envelope driving the VCA

Module controls

LEVEL knob: sets output volume
SHAPE knob: varies the response of incoming CV among logarithmic, linear and exponential curves
OFFSET knob: opens and closes the VCA by adding CV offset
CV IN knob: attenuates signals coming through CV IN jack

Patch points

CV input: input for voltage control over VCA level, attenuated by CV IN knob
IN input: audio/CV input
OUT output: main output of the VCA

Physical specifications

Size: 4hp
Module depth: 31mm
Power usage: 35mA @ +12V, 25mA @ -12V
SKU
TIP-VCA
MPN
VCA
Vendor
Tiptop Audio
Module Type
Amplifier
Module Width
4hp
Mpn
VCA
Product Unique Features
Continuously variable response curve sweeps continuously across logarithmic, linear and exponential slopes
Module Power Usage
35mA @ +12V
25mA @ -12V
1U Module
No
+5V Required
No
Depth
31mm
Tiptop Audio Limited Warranty
Tiptop Audio offers the most extensive product warranty on the analog synthesizer market.
The warranty fully covers any defects or malfunction of their modules for one full year.
Ground shipping is FREE for all orders $99 and up.