Skip product carousel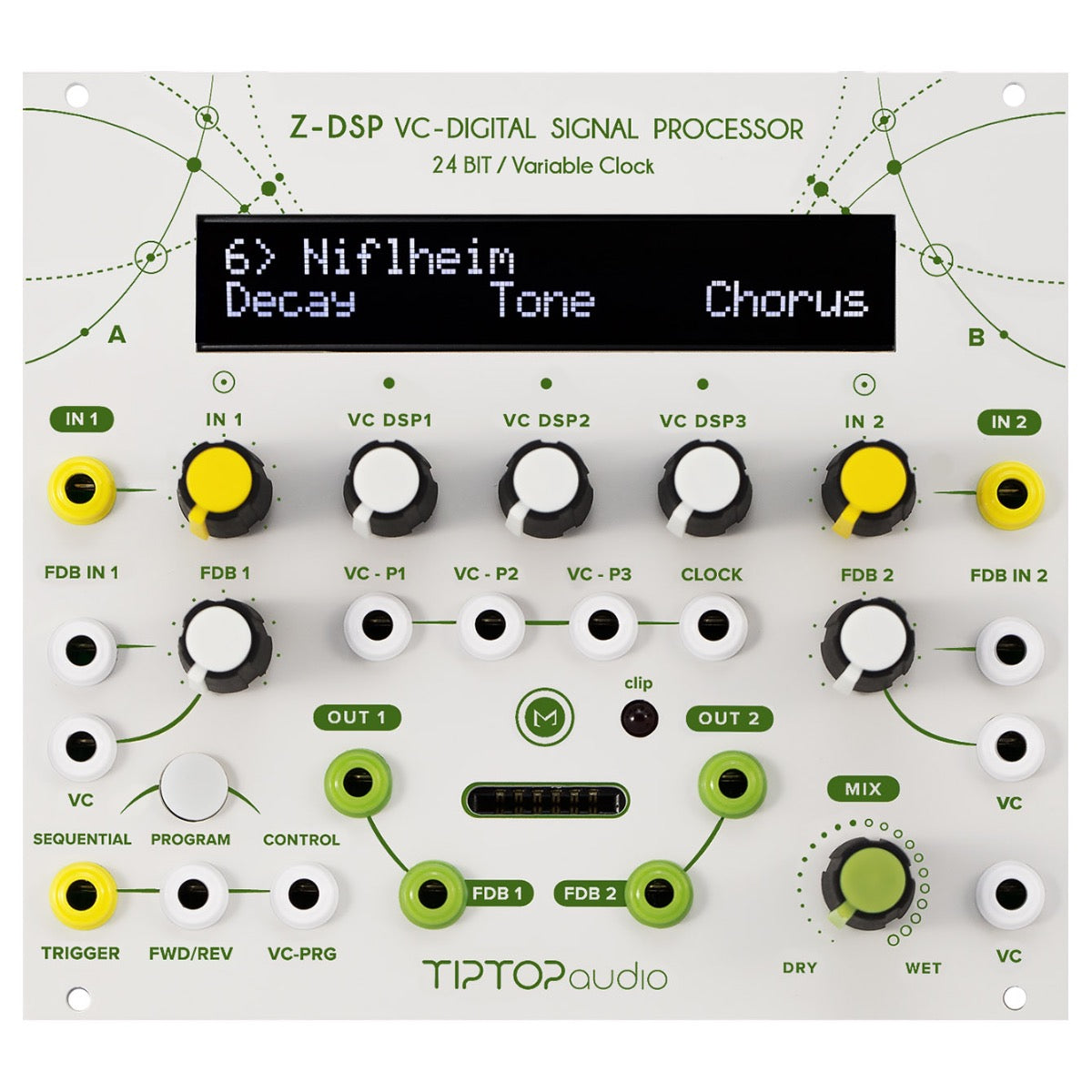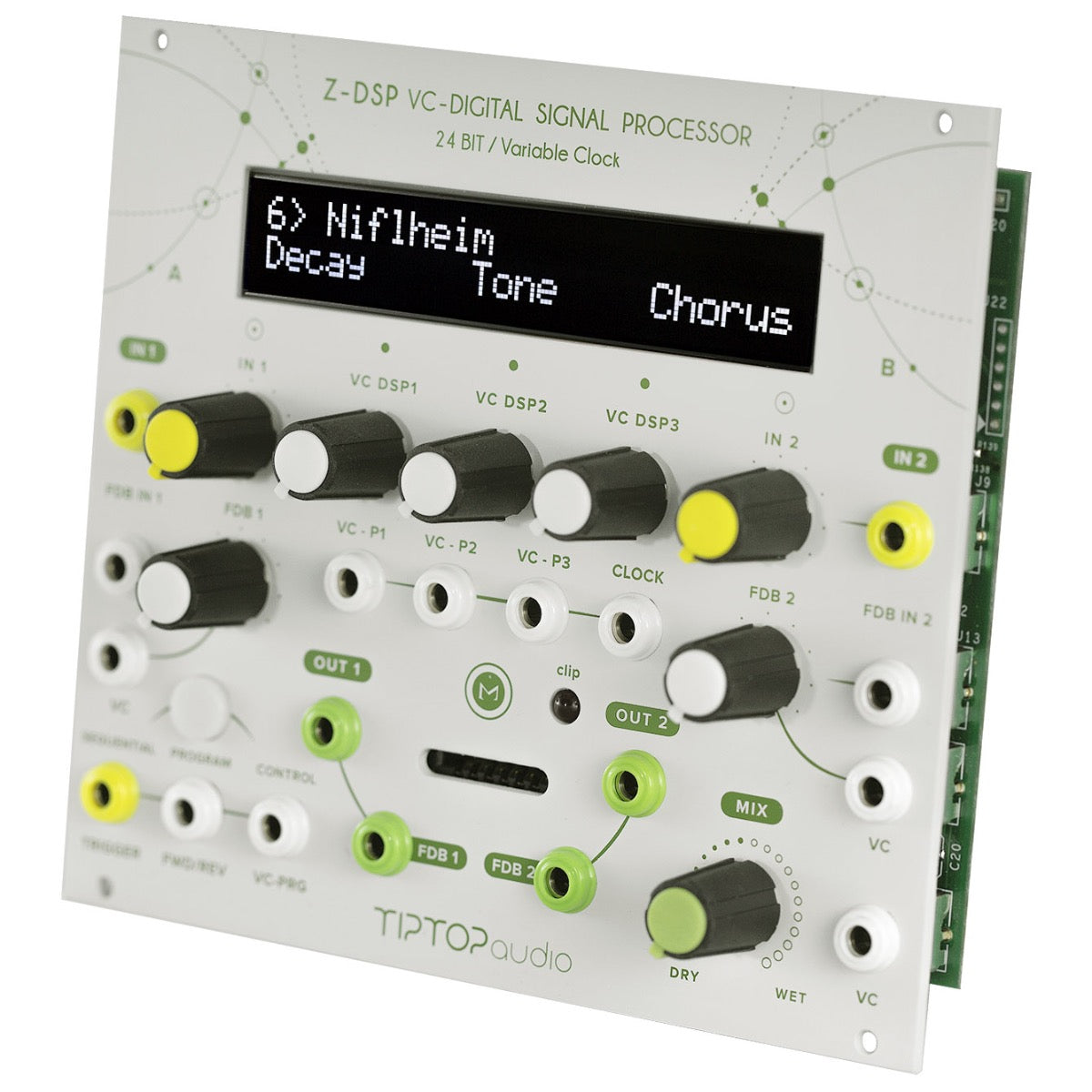 Tiptop Audio Z-DSP NS VC-Digital Signal Processor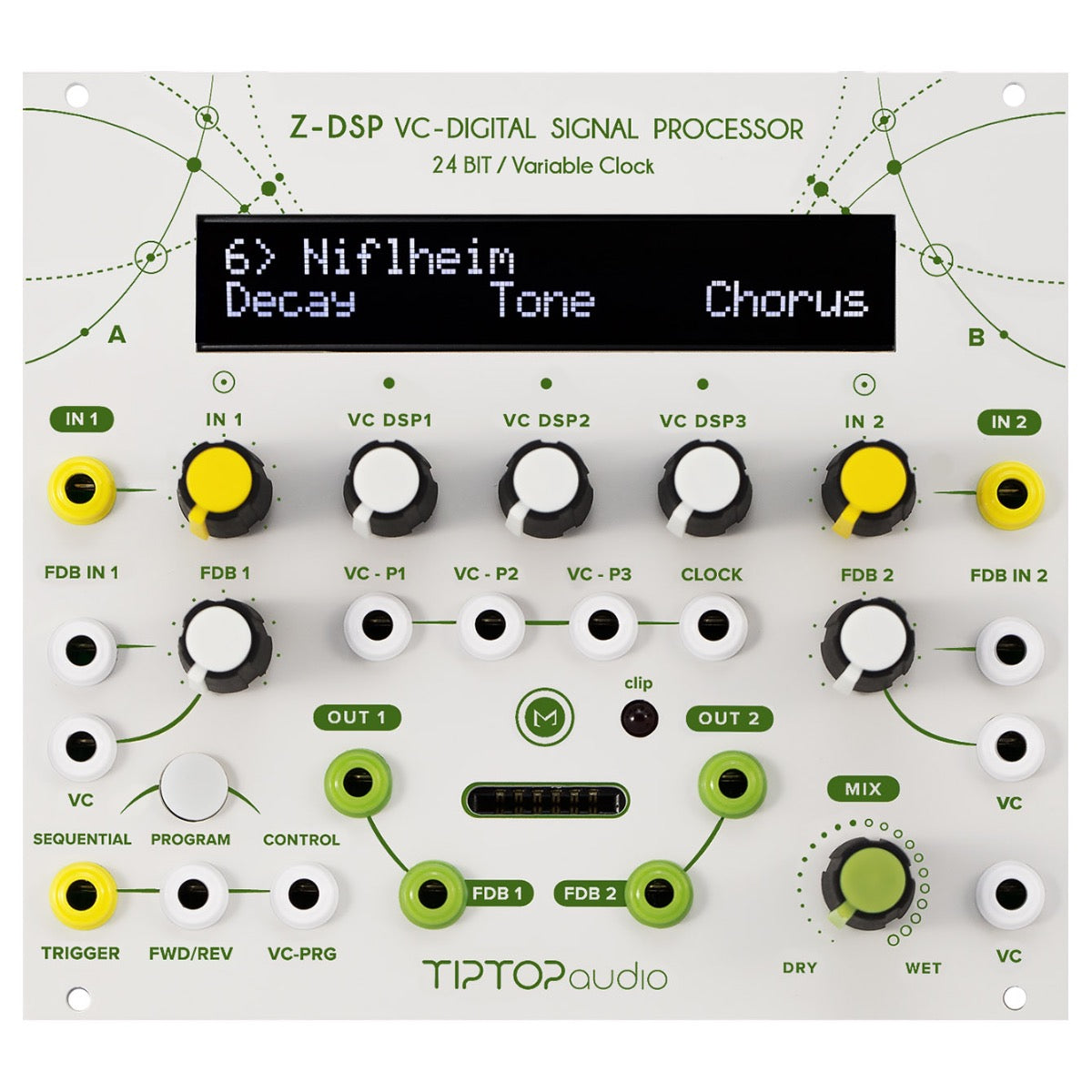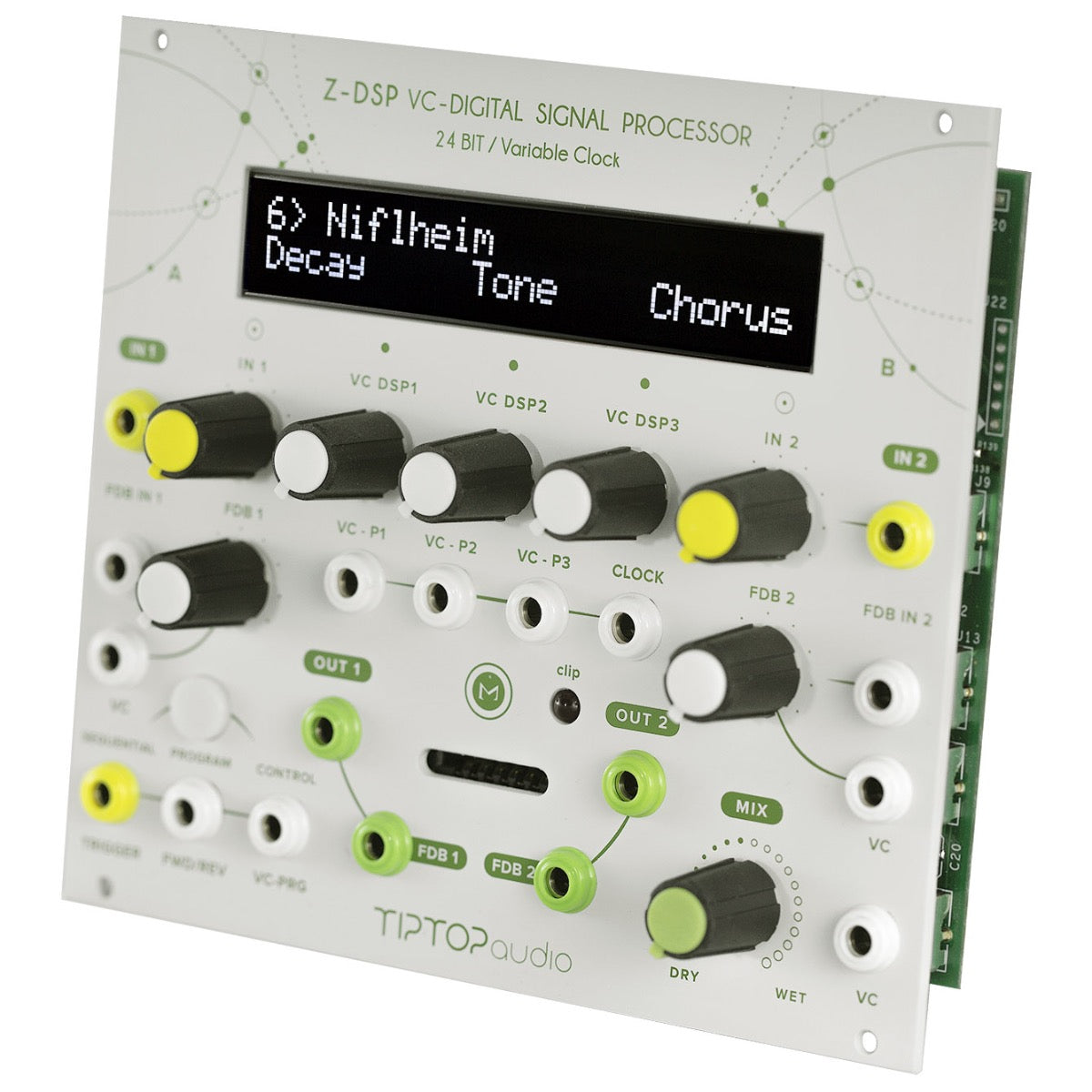 Tiptop Audio Z-DSP NS VC-Digital Signal Processor
Tiptop Audio Z-DSP is a cartridge-based open source digital sound processing and effects generating platform for your modular synthesizer. Lush audio processing, greater stereo depth and unique digital synthesis is what Z-DSP is all about.
Z-DSP has a stereo digital sound processor with 24-bit sampling, 15kHz of bandwidth, voltage-controlled parameters of stereo feedback, program switching, DSP parameters, equal power crossfading dry/wet mixing, as well as sequential program control switching and a clear display – all in eurorack format. A dedicated clocking input for the DSP chip does wonders to passing sound by bending the algorithms in an unexpected way, a hardware technique computer plug-ins can't do that is unique to Z-DSP.
Z-DSP has revamped analog circuitry, contributing to a lower noise signal path, clearer sound of the entire frequency range, lower distortion and better immunity to noise emitted by other modules sharing the same power supply. An analog dry/wet circuit has been implemented to remove a 3dB gain drop when the mix knob passes through the center of the dial, making the use of this function more practical in a live application. A reverse polarity protection has been added, as well. The front panel matches Tiptop's colorful modern design and a single printed circuit board and surface mount technology improve reliability during production and use. The powerful Z-DSP engine remains the same as the original Z-DSP module and all cards are compatible across both versions.
An assortment of interchangeable cards programmed by Tiptop Audio and specialists like Valhalla DSP provide a wide range of boutique effects algorithms such as Halls of Valhalla, Time Fabric, Clocked Delays and Grain De Folie. Tiptop Audio also offers blank Z-DSP cartridges and a development tool called NumberZ (both sold separately) for developers, students and power users who want to design their own effects and cards with the FV-1 DSP chip programing language. Blank cards can be loaded using programs that are freely available for non-commercial use and can be found in the modular community through online forums. With each card swap Z-DSP takes on new effect algorithms, changing like a digital chameleon and bringing colorful digital effects processing to your eurorack setup.
Z-DSP comes with two cards included: Halls of Valhalla and Dragonfly Delay MKII. Other cards are sold separately.
Effects-generating platform for modular synthesizers
Interchangeable cartridges with an exclusive array of boutique effects like chorus, reverb, delay, pitch shifting and granular, to name a few
24-bit sampling, 15kHz of bandwidth
Dedicated audio processing hardware
Dedicated clocking of DSP chip
CV parameters for stereo feedback, program switching and DSP features
Clear display for easy reading and tracking
SKU
TIP-ZDSP18
MPN
Z-DSP
Vendor
Tiptop Audio
Included From Manufacturer
Halls of Valhalla cartridge
Dragonfly Delay cartridge
Module Type
Effect
Module Width
28hp
Mpn
ZDSPNS
Product Unique Features
Dedicated clocking of DSP chip with voltage control
Module Power Usage
200mA @ +12V
87mA @ -12V
1U Module
No
+5V Required
No
Depth
25mm
Tiptop Audio Limited Warranty
Tiptop Audio offers the most extensive product warranty on the analog synthesizer market.
The warranty fully covers any defects or malfunction of their modules for one full year.
Ground shipping is FREE for all orders $99 and up.