Skip product carousel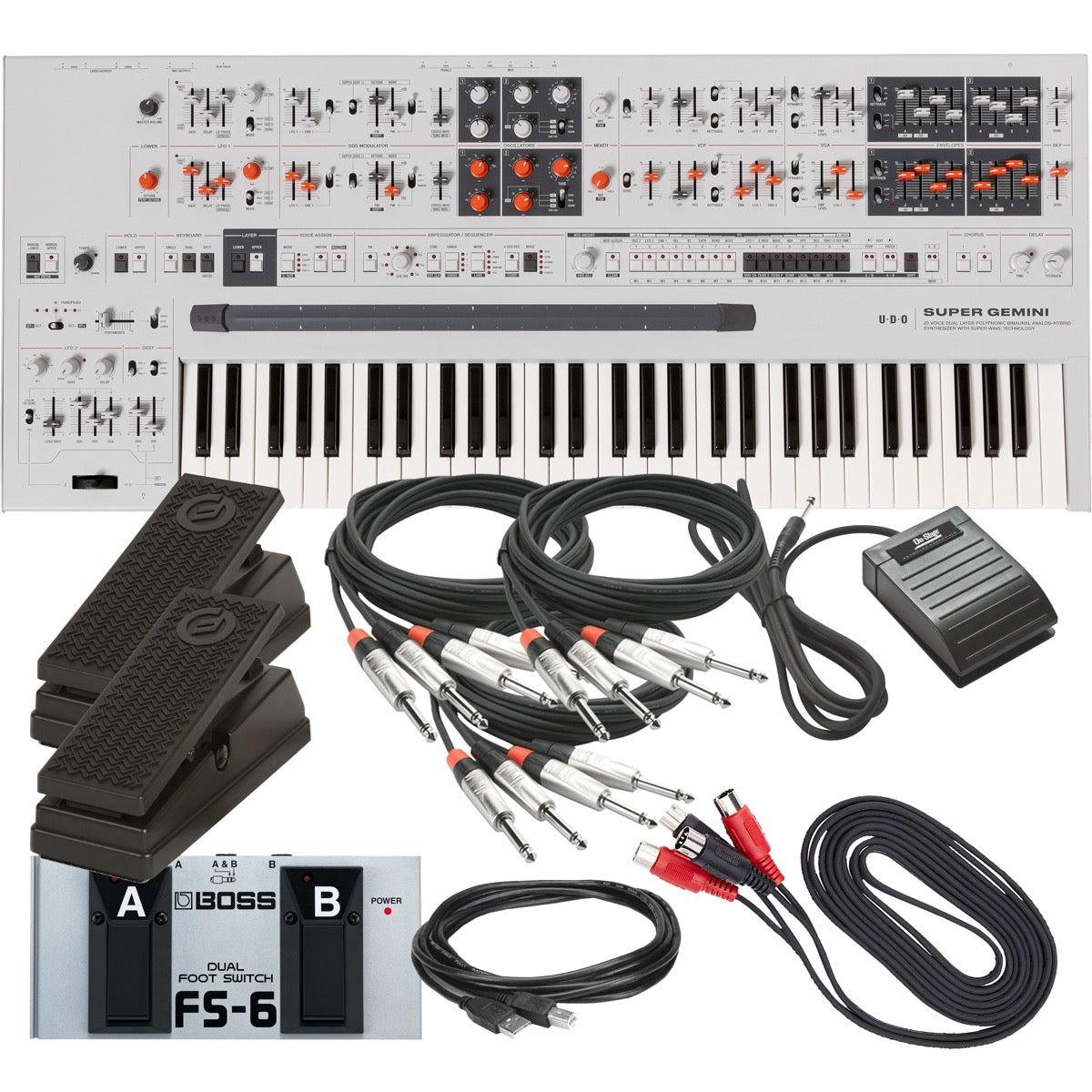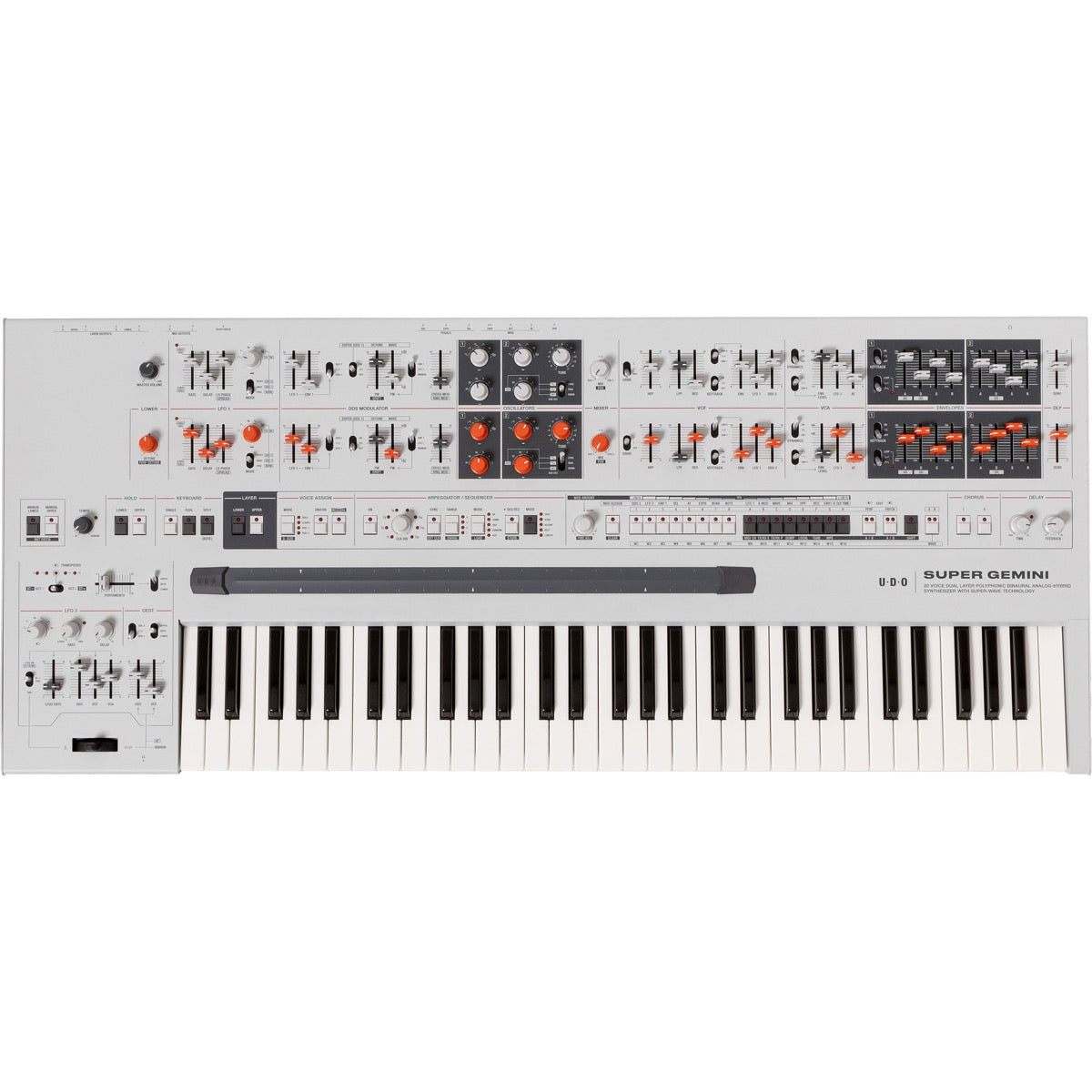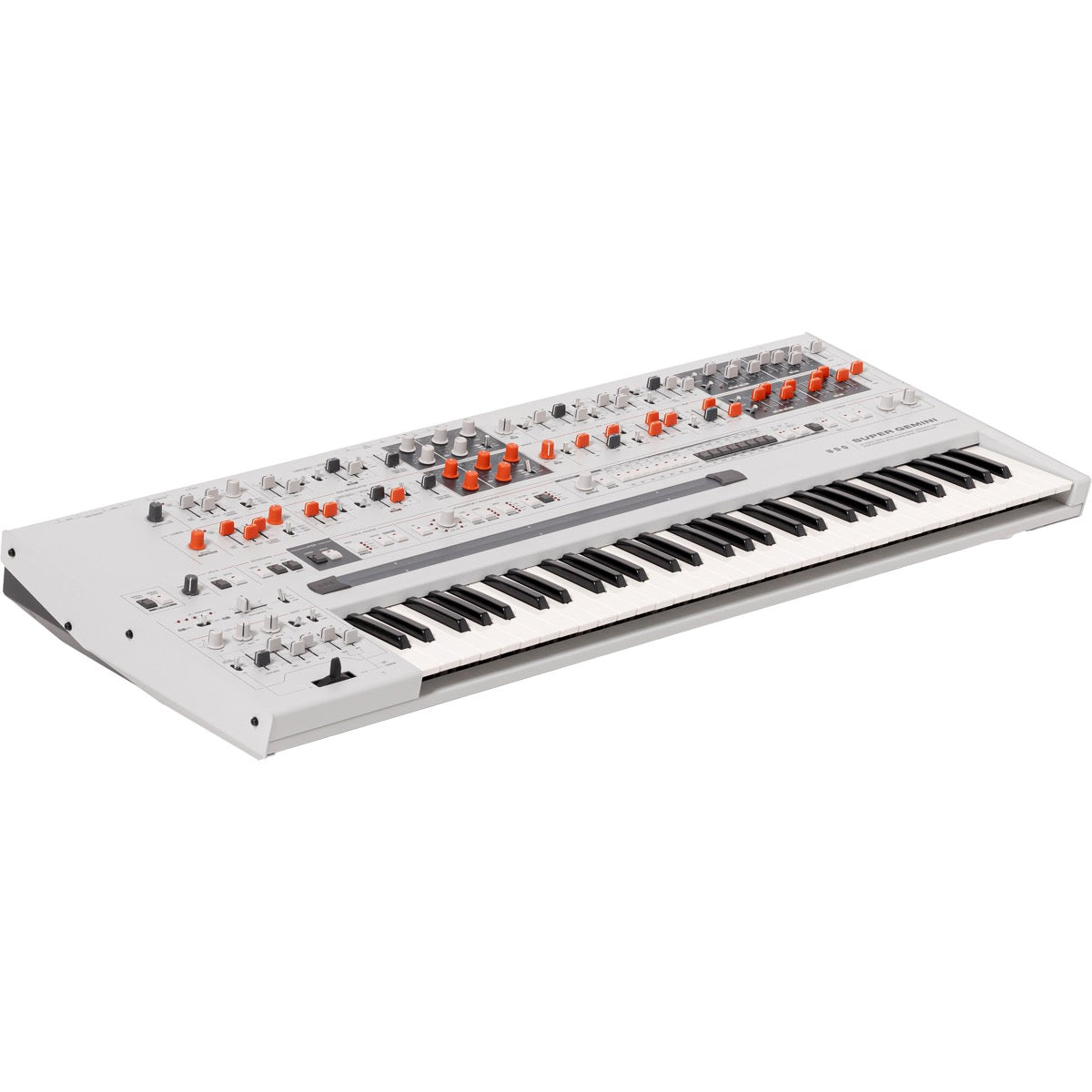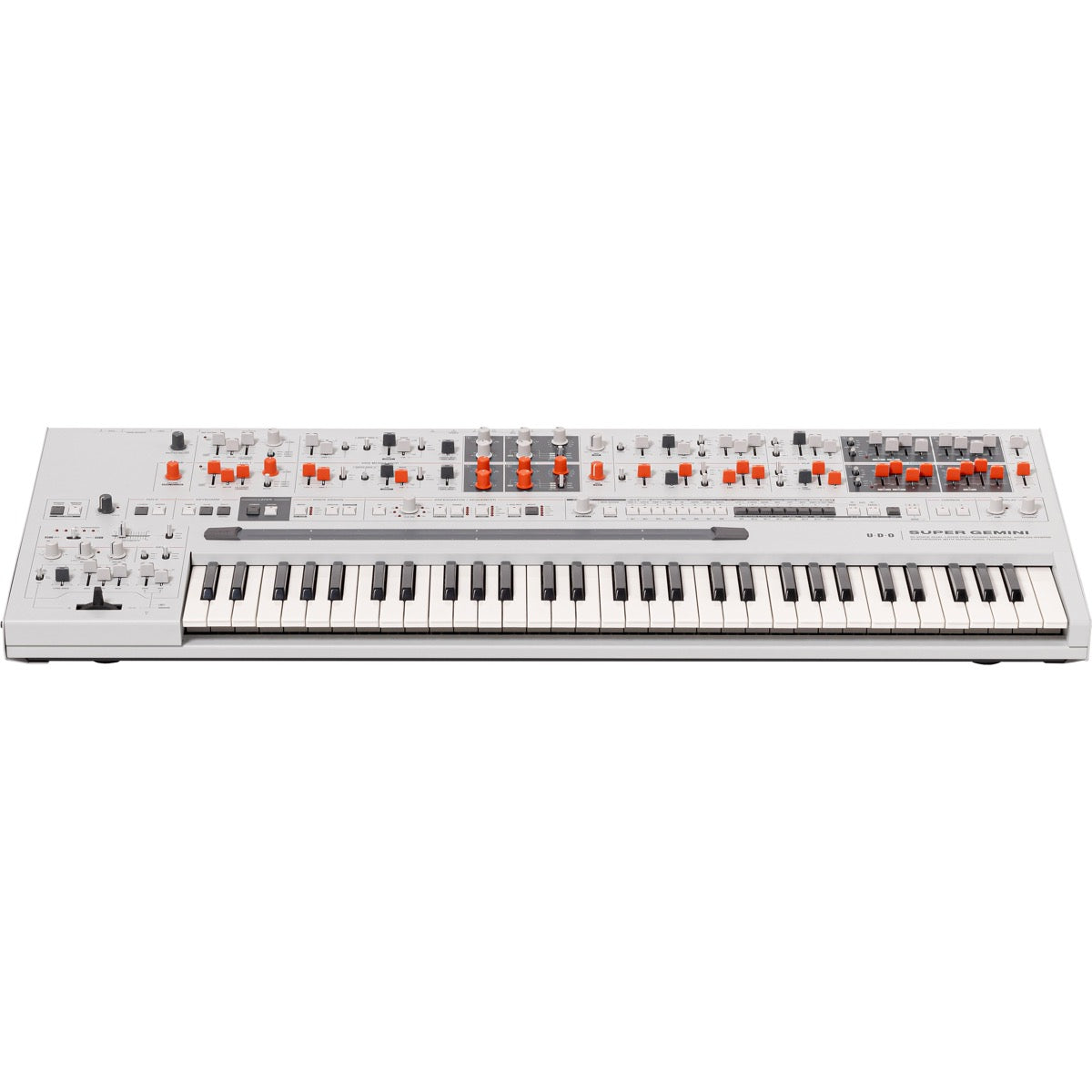 UDO Audio Super Gemini 20-Voice Bi-Timbral Keyboard Synthesizer CABLE KIT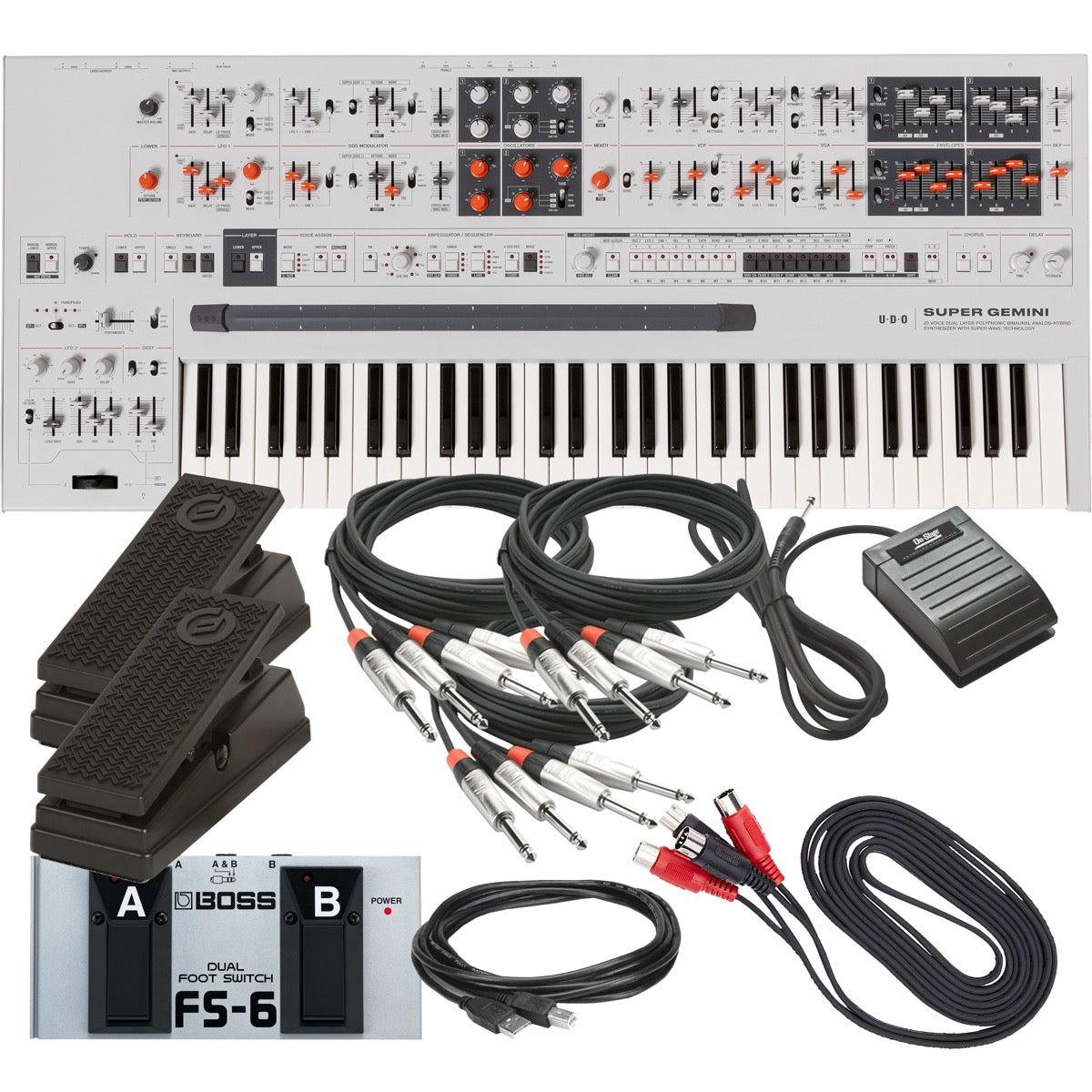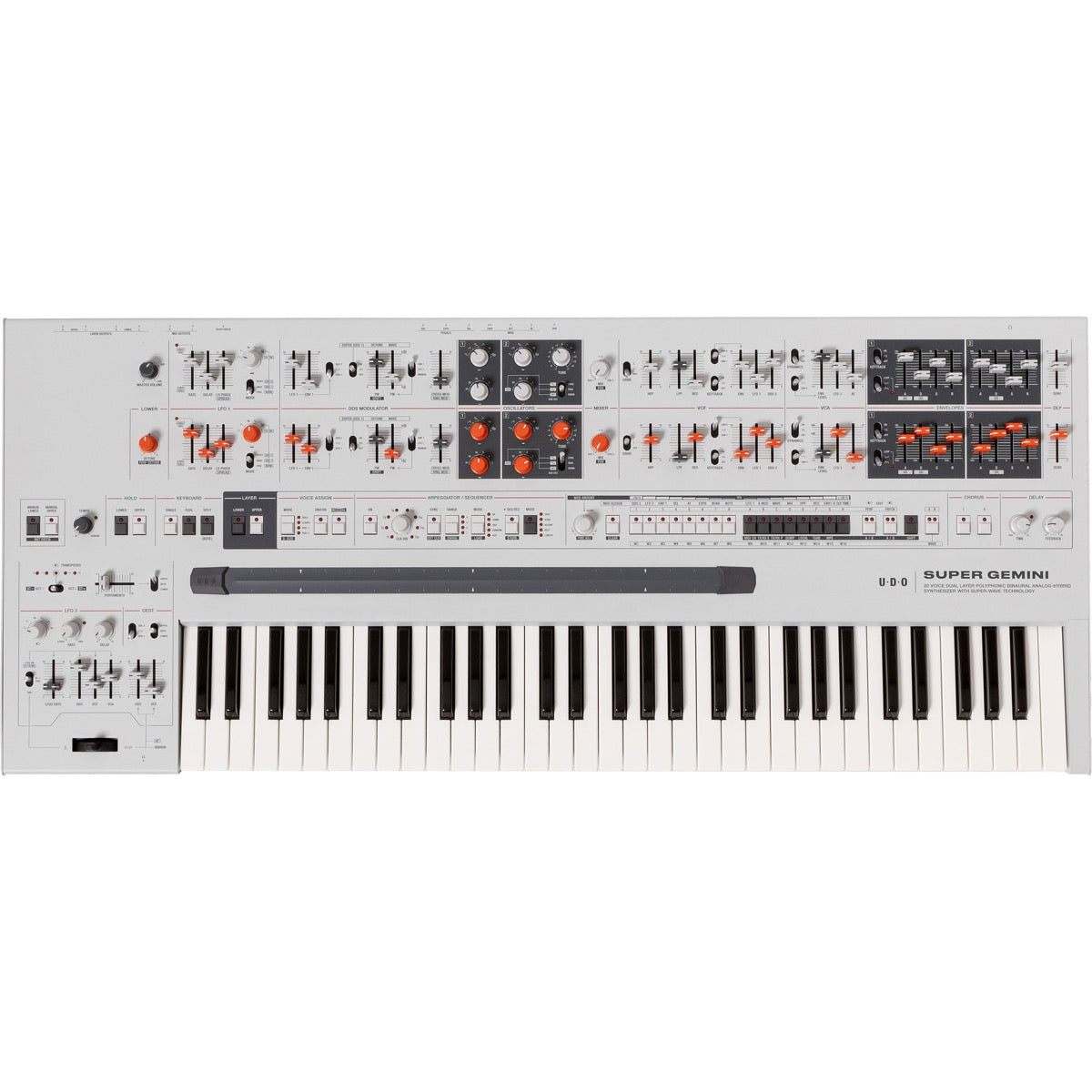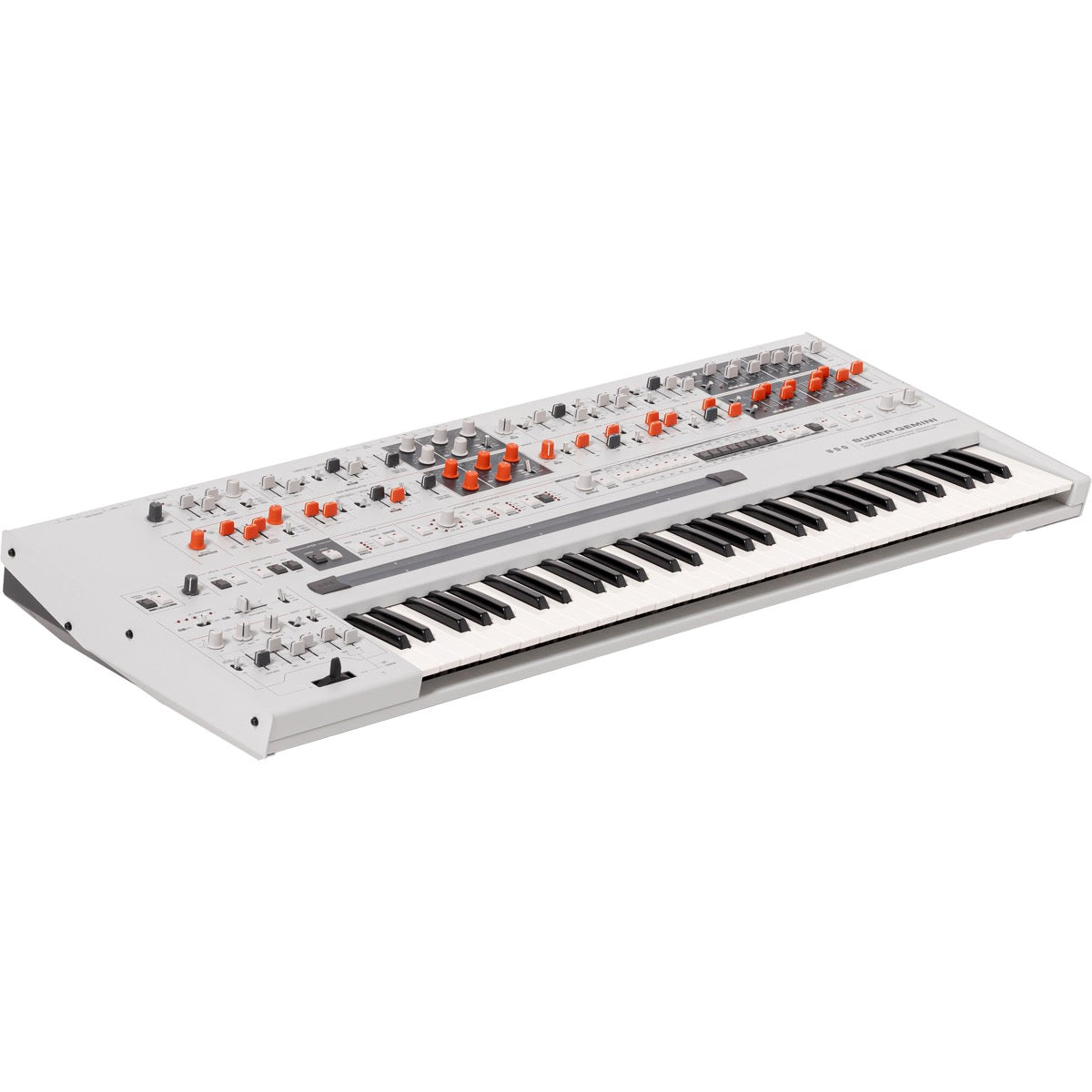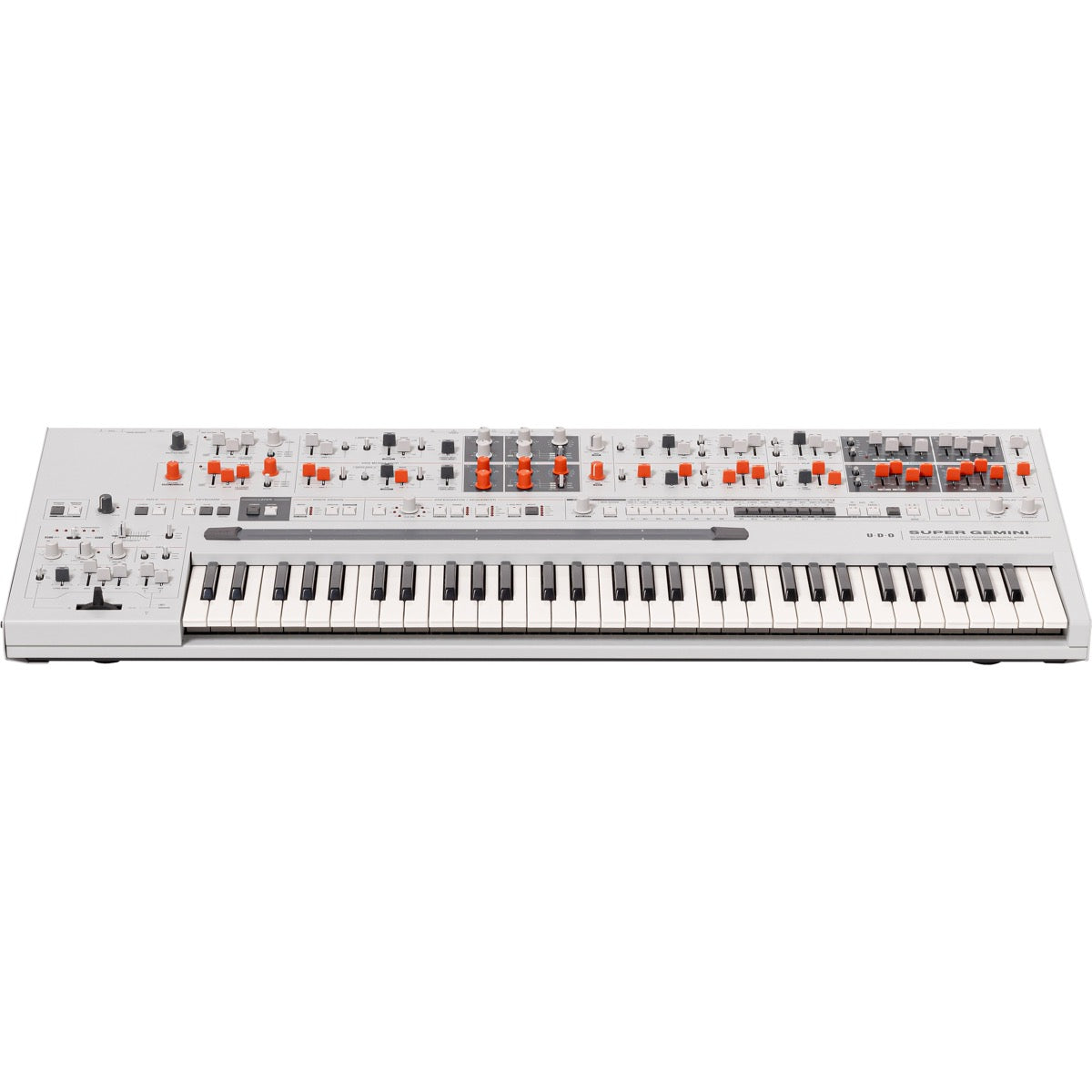 UDO Audio Super Gemini 20-Voice Bi-Timbral Keyboard Synthesizer CABLE KIT
7 items included
This Kraft Music Bundle Includes
$4,495.00
Regular price
$4,822.73
You Save $327.73
Click on a product to view more details.
UDO Audio Super Gemini is a 20-voice polyphonic, bi-timbral analog-hybrid powerhouse. Employing an unprecedented dual-layer design, Super Gemini gives you immediate, comprehensive control over both timbral layers, allowing you to tweak, mold and bend your performances with unparalleled sonic possibilities.
Stacked with up to 20 voices of polyphony, Super Gemini boasts an immensely powerful sound engine where a performance isn't just a single sound but an entire spectrum of sonic opportunity in which voices and timbral layers can be split, dualled, sequenced all at the touch of a single control. Spectrally rich digital hardware oscillators of unique construction, decorated with a plethora of expansive tonal features such as wave morphing, cross/ring modulation, bi-directional sync and more, all fed into an all-analog signal path inspired by classic vintage instruments. The result is a core sound that is rich, evolving, engaging and addictive.
Matching sonic innovation with tactility, Super Gemini is equipped with a 61-note semi-weighted keybed with polyphonic aftertouch, in addition to a custom-engineered ribbon sensor for individual note articulation and a gestural approach to exploring sound. With 256 performance and patch slots, 64 interchangeable waveforms and 16 sequences, you can safely store and edit your sounds without concern.
As the second synth in the 'Super' series, Super Gemini represents a quantum leap in UDO's technology, building on the acclaimed rich sound pioneered by George Hearn and Super 6. Adopting a true stereo binaural signal path with dual FPGAs and twin effects processors, Super Gemini will take you on an adventure of spectral dynamics, of glittering frequency and shattering subharmonics, of comfort and discord, expectations and surprises.
Dual synth control levels
20 hybrid voices
State-of-the-art FPGA digital architecture
Classic analog meets modern technology in a powerful, flexible and reliable instrument
Made entirely from aluminum and steel
61-note semi-weighted keyboard with polyphonic aftertouch
True stereo signal patch with 20 voices to form 10 super voices
Left and right channels can be assigned a complete synthesizer voice
Duality in control
Equipped with dual synth control levels, Super Gemini gifts you with comprehensive and immediate control over multiple timbral layers, calling out for you to tweak, mold, bend your performances in an unprecedented realtime form. This is a synth that opens new heights of powerful and immediate play.
The power of play
Boasting an enormous 20 analog voice count, Super Gemini equips the player with an uncompromisingly powerful sound engine, freeing your sound from physical limitations and empowering the player to explore the celebrated UDO sound to its absolute fullest.
Inspired by the classics, built for today
Super Gemini fuses a state-of-the-art FPGA digital architecture with archetypal voltage-controlled synthesizer technology. This harmonious marriage of old and new encompasses all that is great from the era of classic analog polyphonic synthesizers, yet in an unparalleled form factor which is immensely powerful, flexible and reliable.
Premium build quality
Forged entirely from aluminum and steel, Super Gemini is undeniably robust. Equipped with an array of superior quality mechanical controls, Super Gemini is engineered for reliability and service. As a loyal workmate and companion, this instrument is designed to stand the test of time.
Expression
Featuring a custom-engineered ribbon controller and a 61-note semi-weighted keyboard with polyphonic aftertouch, Super Gemini will enhance your musicianship from the first touch, teasing out new ways and gestures for you to explore and express your sound.
Binaural synthesis
Employing a true stereo signal path, Super Gemini twins its 20 voices to form 10 'super voices.' As a result, the left and right channels and each ear are assigned a complete synthesizer voice. Not only does this allow for the warm analog tone that UDO is championing, it also empowers you to create extremely dynamic spatial sounds.
SKU
UDO-SUPERGEMINICK
Vendor
UDO Audio
Aftertouch
Yes
Analog Digital
Hybrid
Built In Speakers
No
Included From Manufacturer
Power cord
Keys Weighted
Semi-Weighted
Number of Keys
61
Key Size
Full Size Keys
Midi
In, Out, Thru, and USB
Mono Poly
Monophonic
Mpn
SUPERGEMINI
Product Unique Features
Binaural analog signal path for stereo movement and spatial effects
Flexible, hybrid FPGA and analog voice architecture
SSI2144 resonant low pass analog filter based on Solid State Micro SSM2044
Arpeggiator
Yes
Control Connections
1/4" expression pedal input
1/4" volume pedal input
1/4" sustain footswitch input
1/4" single- or dual-footswitch input for delay freeze
Onboard Controllers
Custom-engineered ribbon sensor for individual note articulation and a gestural modulation
Two-axis bender with LFO trigger
Playable spring-lever keyboard octave selector
Effects
Dual-mode stereo chorus using 24-bit / 192 kHz processing
Syncable and modulatable stereo delay with 24-bit / 192 kHz processing
Separate effect sends per layer
Audio Outputs
Dual 1/4" stereo output
Individual dual 1/4" stereo outputs for upper and lower layers
1/4" headphone output
Key Action
Fatar mechanism with velocity and polyphonic aftertouch
Multitimbral Capability
Bi-timbral with dual and split modes
Oscillators per Voice
2
Programs/Presets
256 performance and patch slots
64 interchangeable waveforms
16 sequences
Sequencer
MIDI-syncable 64-step sequencer with programmable note, rest, slide, accent and length tracks
16 rewritable memory locations for storing sequences
USB Port (to Host)
MIDI;System Updates
Voices of Polyphony
20
Width
41.1"
Depth
17.36"
Height
4.37"
UDO Limited Warranty
UDO warrants that its products will be free from defects in materials and workmanship for a period of one year from the date of purchase.
Please register your UDO product at the manufacturer's website to provide them with all the relevant purchase information. Registering your product is not a prerequisite for our warranty service, but it will help in speeding up the process.
If you're experiencing a problem with your UDO product that may require a repair, please email the technical support team through the manufacturer's website and one of its representatives will determine the best course of action for getting your issue resolved. For your own protection, please do not return any product to UDO or an authorized service centre without prior consultation with the UDO support team.
If it is deemed necessary for your instrument to be repaired under warranty, the dealer from whom you purchased the unit will organize the collection from your appropriate address. We highly recommend that you pack your instrument in its original packaging. Please note that the warranty does not cover return shipping damage resulting from insufficient packaging.
Ground shipping is FREE for all orders $99 and up.