Skip product carousel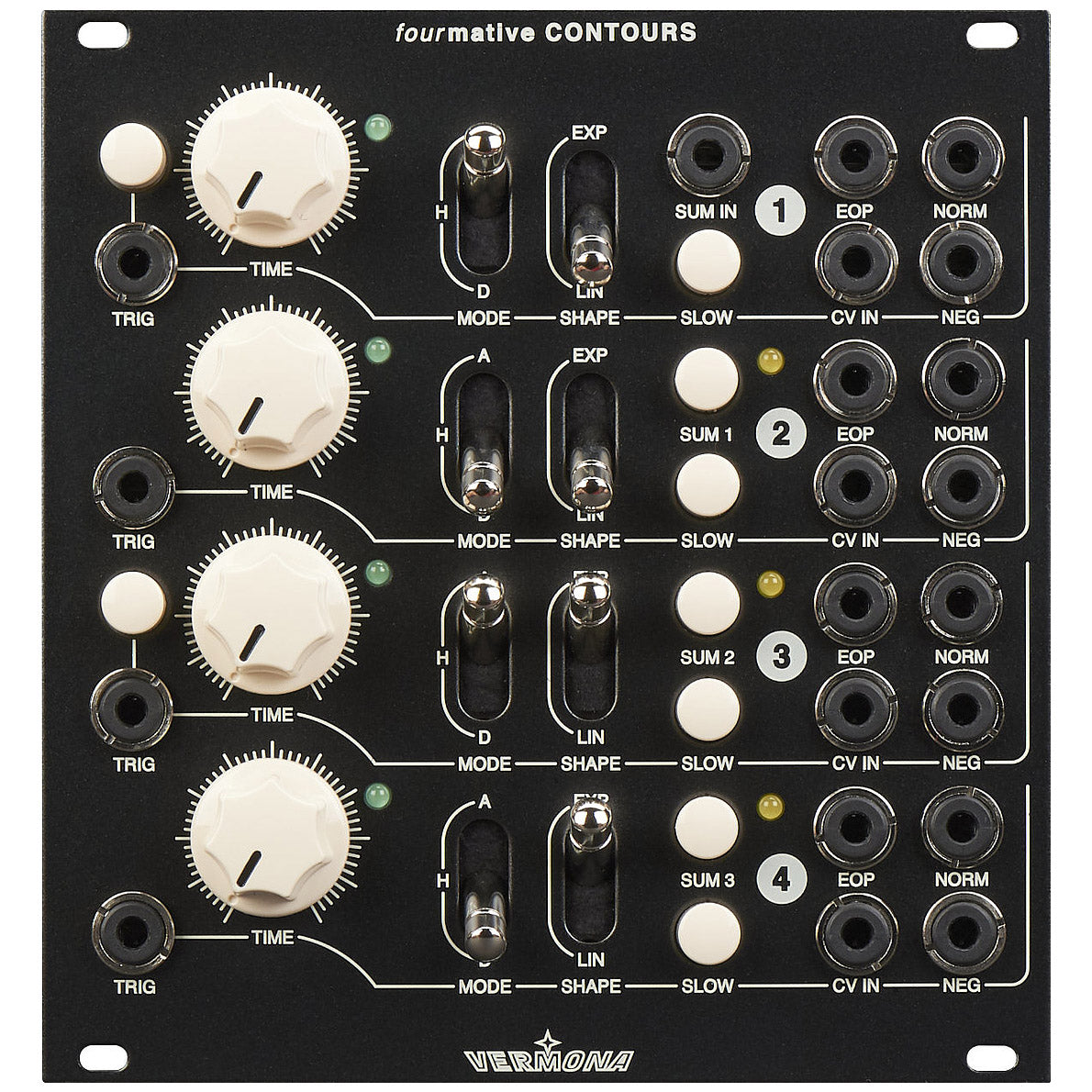 Vermona fourMative CONTOURS Envelope Generator Eurorack Module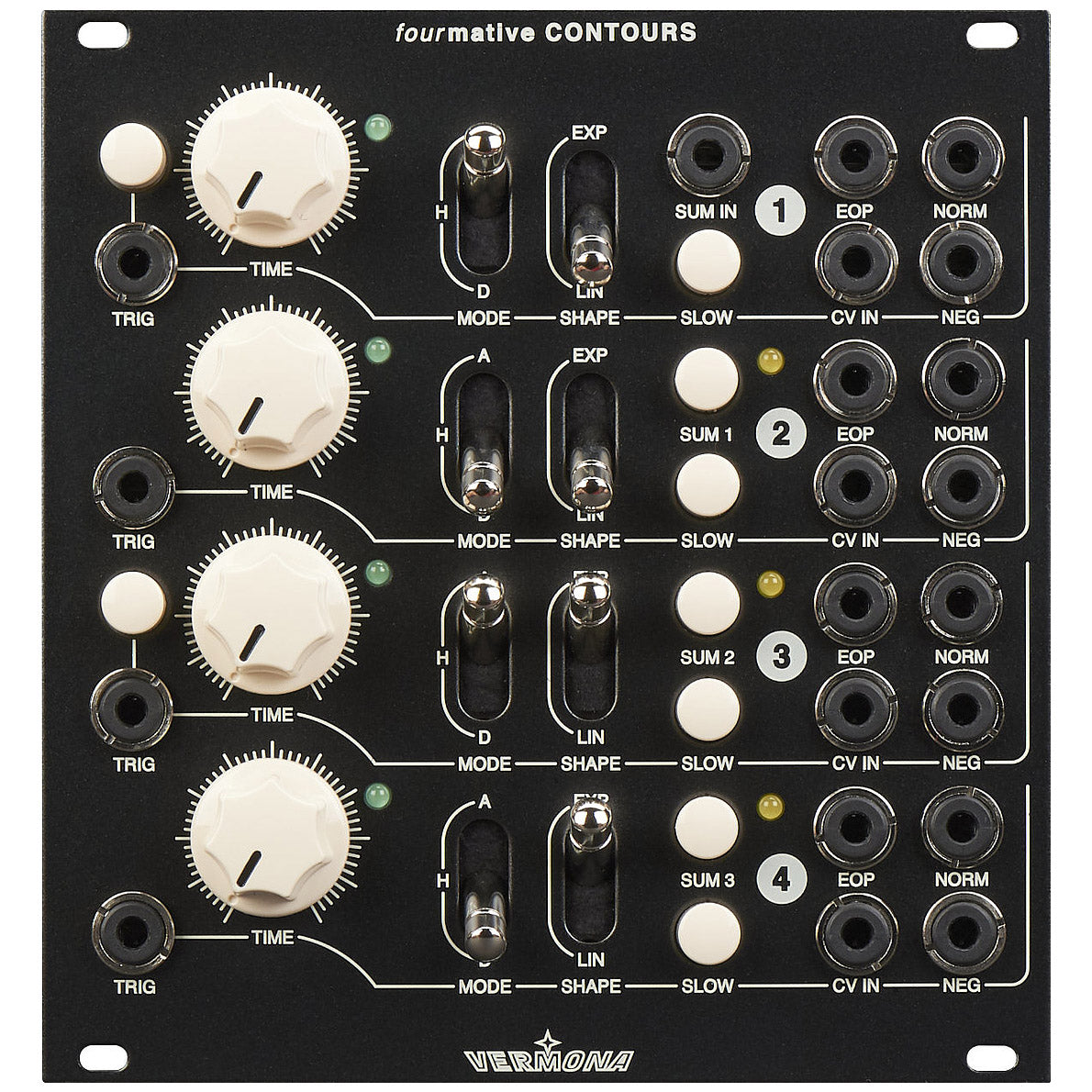 Vermona fourMative CONTOURS Envelope Generator Eurorack Module
In the end, there is just one big topic when it comes to modular systems: modulation. Modulation brightens up static patches, arouses interest and is in most cases the foundation for living soundscapes and rhythmicity. Beside LFOs, envelope generators are the most relevant modulation sources in the world of modular. Vermona already offers a very talented LFO module called fourMULATOR and now it gets the perfect envelope generator counterpart: Vermona fourMative CONTOURS.
Structure
fourMative CONTOURS has four individual channels that Vermona calls 'units.' Each of these units can work as an attack, decay or hold phase, the first two with a linear or exponential response. Units can be used individually or in any combination. With these features alone, fourMative CONTOURS forms a strong base for many many different modulation tasks.
Thrill of speed
Each unit can run within a time range from half a millisecond up to 30 seconds. To ensure sensitive adjustments you can choose between SLOW and FAST speed range settings, the latter specialized for crisp and percussive sound applications.
However, that's only half the truth: fourMative CONTOURS' units are equipped with CV inputs, not only allowing you to modulate the times but also extending them in both directions. If you have the task for a two-hour envelope, fourMative CONTOURS can deliver it!
Good vibrations
With simple internal patching, you can loop individual or combined units. Thanks to its high rates fourMative CONTOURS can work not only as an LFO but also as an audio source.
fourMative CONTOURS goes far beyond the capabilities of standard envelope generators. If you are looking for a versatile modulation source, give it a try. There are more situations where fourMative CONTOURS fills in the blanks than you might imagine.
Size: 24hp
Module depth: ±40mm
Power usage: 130mA @ +12V, 80mA @ -12V
SKU
VER-FOURMATIVECON
MPN
fourMative CONTOURS
Vendor
Vermona
Module Type
Envelope
Module Width
24hp
Mpn
805013
Module Power Usage
130mA @ +12V
80mA @ -12V
1U Module
No
+5V Required
No
Depth
±40mm
Vermona Limited Warranty
The manufacturer warrants this product to be free of defects in material and/or workmanship for a period of one (1) year from the date of purchase.
The manufacturer's warranty does not apply to products that have been damaged due to and/or subjected to improper handling by shipping companies (forwarders), negligence, accidents, improper use or alteration not authorized by the manufacturer.
This warranty is in lieu of and excludes all other warranties, expressed or implied. The manufacturer will not be liable for incidental or consequential loss or damage whatsoever, whether based upon allegations or negligence, breach of warranty, or otherwise. This disclaimer of incidental or consequential damages includes, but is not limited to, property damages, loss of profits, loss of time or other losses or inconvenient resulting from any defect in the material or workmanship of this product or any other connection with the purchase, operation or use of this product.
Standard Shipping