Skip product carousel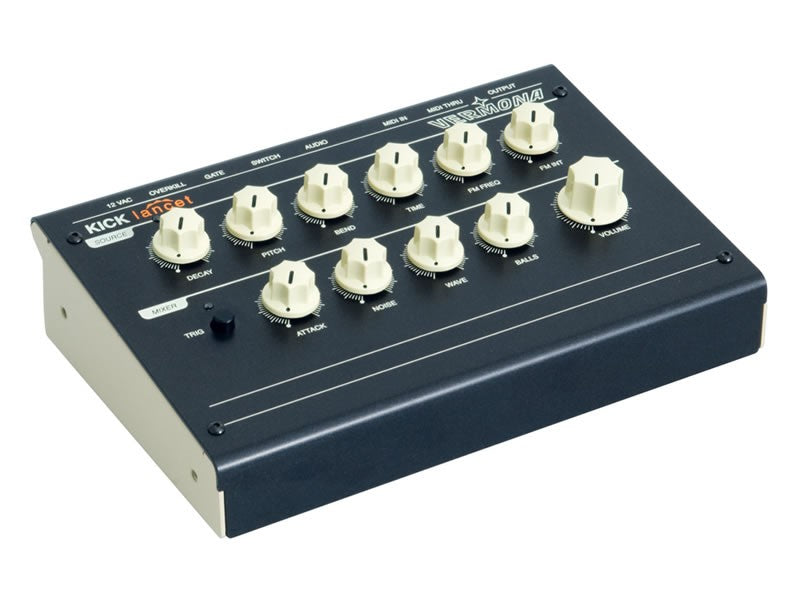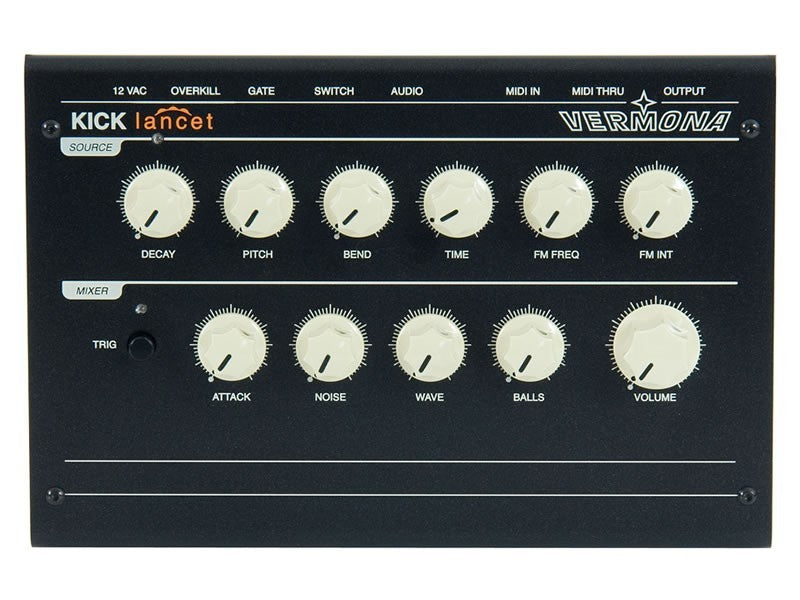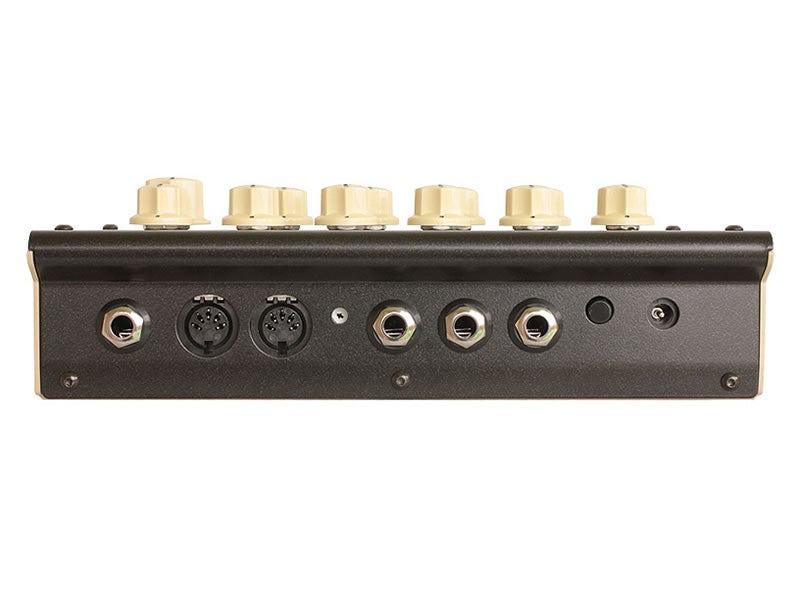 Vermona Kick Lancet Desktop Analog Kick Drum Generator Module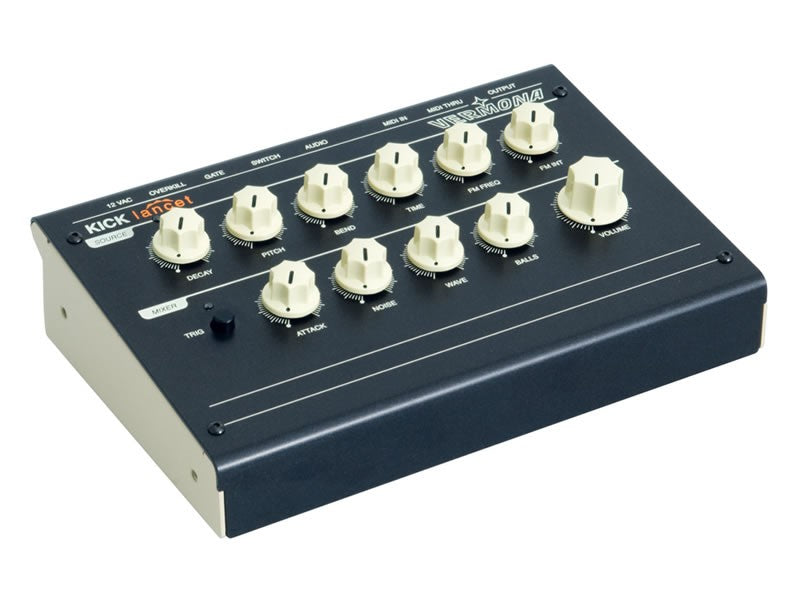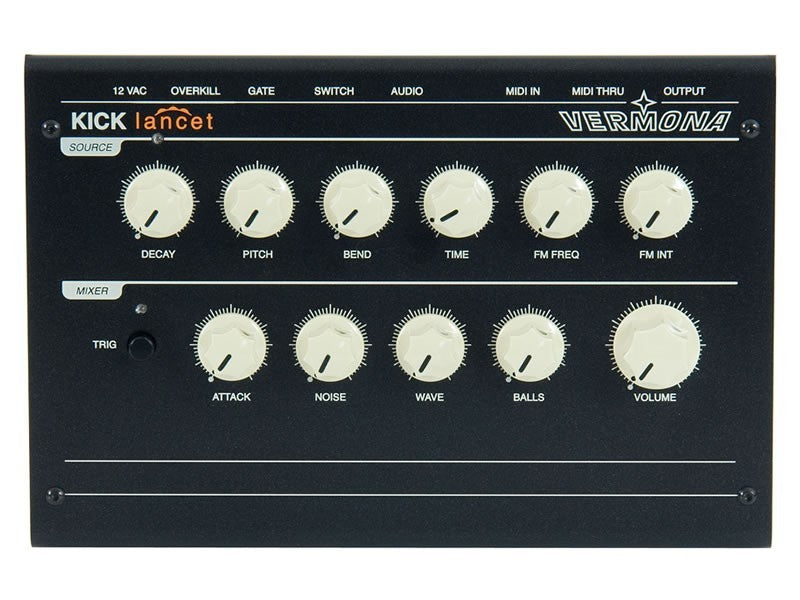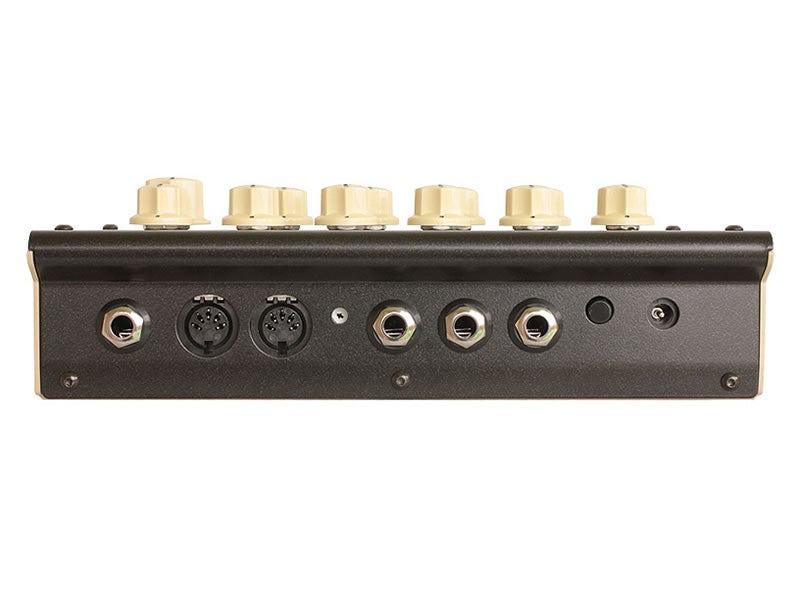 Vermona Kick Lancet Desktop Analog Kick Drum Generator Module
Vermona Kick Lancet is a handy analog percussion synthesizer with focus on kick drum sounds — you might have expected this.
The heart of the Kick Lancet's sound structure is an analog oscillator that produces sine and square waves, which can be blend seamlessly from one to the other. Two independent envelope generators with a decay/release phase can modulate the oscillator's frequency and the VCA. Additionally, the VCO pitch can be modulated by the fast LFO (3Hz to 3kHz, triangle). Noise and a pulse signal can be added in the MIXER section. Vermona even has a BALLS parameter for making it really big.
Compact dedicated analog kick drum module for your desktop
Kick Lancet can be triggered by MIDI and also offers the following trigger inputs:

GATE: A gate impulse can trigger Kick Lancet in the normal way, with additional accent or completely dynamic depending on the incoming voltage.
SWITCH: Simple short current trigger (i.e., momentary foot switch).
AUDIO: Offers the option to trigger Kick Lancet by an audio signal, static or dynamically. Drum pads can be connected here.

The controls on Kick Lancet are as follows:

DECAY: controls decay time of VCA
PITCH: oscillator frequency
BEND: envelope intensity (pitch)
TIME: envelope speed for BEND
FM FREQ: LFO frequency
FM INT: LFO intensity (pitch)
ATTACK: adds a pulse to the signal
NOISE: adds noise to the signal
WAVE: mixes between sine and square waveforms
BALLS: more fatness!
SKU
VER-KICKLANCET
Vendor
Vermona
Analog Digital
Analog
Built In Speakers
No
Included From Manufacturer
Power Supply
Number of Keys
None
Midi
In and Thru
Mpn
801004
Product Unique Features
Fast LFO to modulate VCO pitch
Arpeggiator
No
Audio File Playback
No
Control Connections
GATE trigger input
SWITCH trigger input (for momentary footswitch)
AUDIO trigger input
Onboard Controllers
TRIG button to audition sound without using MIDI/trigger inputs
Effects
None
Expansion Options
None
Audio Outputs
1/4" mono
Internal Storage Capacity
None
Key Action
None
Oscillators per Voice
1
Product Weight
1.32 lbs
Programs/Presets
1
Sampling
None
Sequencer
None
Speakers
None
Voices of Polyphony
1
Width
8.27"
Depth
5.70"
Height
2.17"
Vermona Limited Warranty
The manufacturer warrants this product to be free of defects in material and/or workmanship for a period of one (1) year from the date of purchase.
The manufacturer's warranty does not apply to products that have been damaged due to and/or subjected to improper handling by shipping companies (forwarders), negligence, accidents, improper use or alteration not authorized by the manufacturer.
This warranty is in lieu of and excludes all other warranties, expressed or implied. The manufacturer will not be liable for incidental or consequential loss or damage whatsoever, whether based upon allegations or negligence, breach of warranty, or otherwise. This disclaimer of incidental or consequential damages includes, but is not limited to, property damages, loss of profits, loss of time or other losses or inconvenient resulting from any defect in the material or workmanship of this product or any other connection with the purchase, operation or use of this product.
Ground shipping is FREE for all orders $99 and up.