Skip product carousel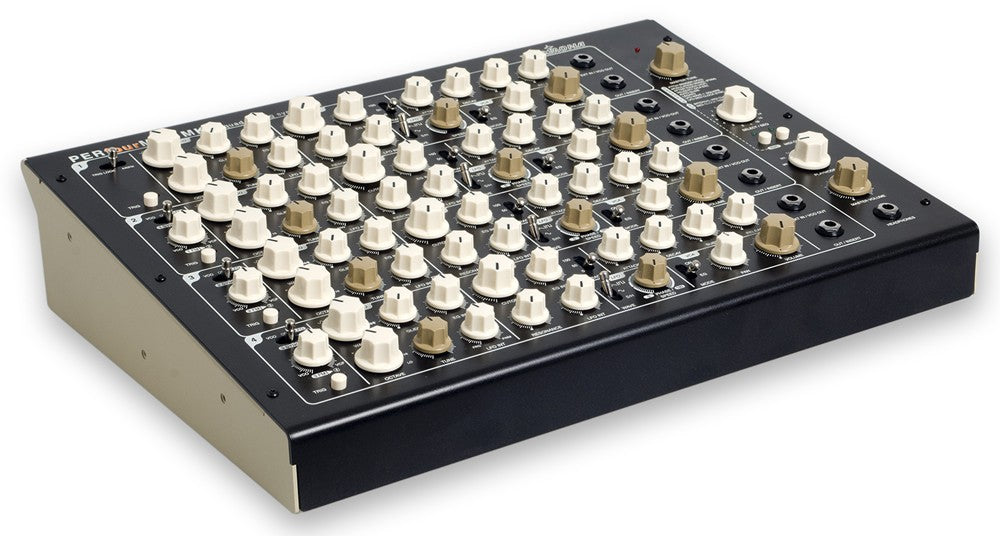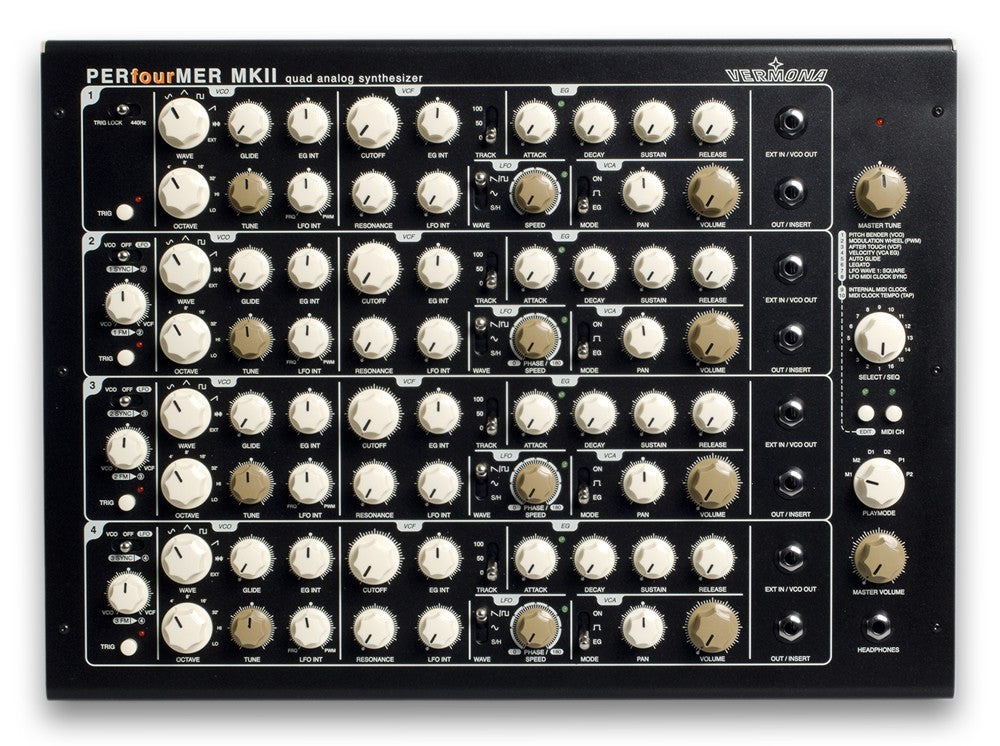 Vermona PERfourMER MKII Quad Analog Synthesizer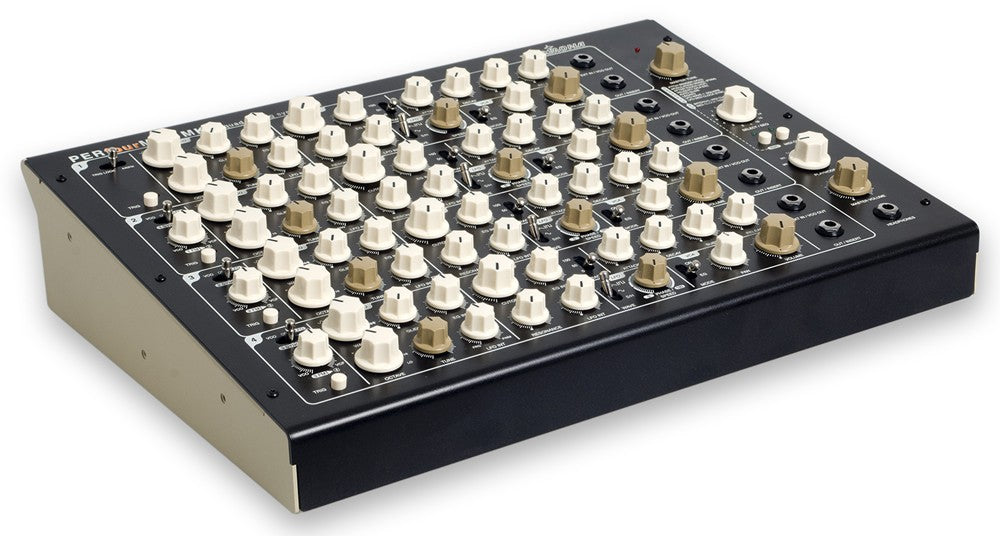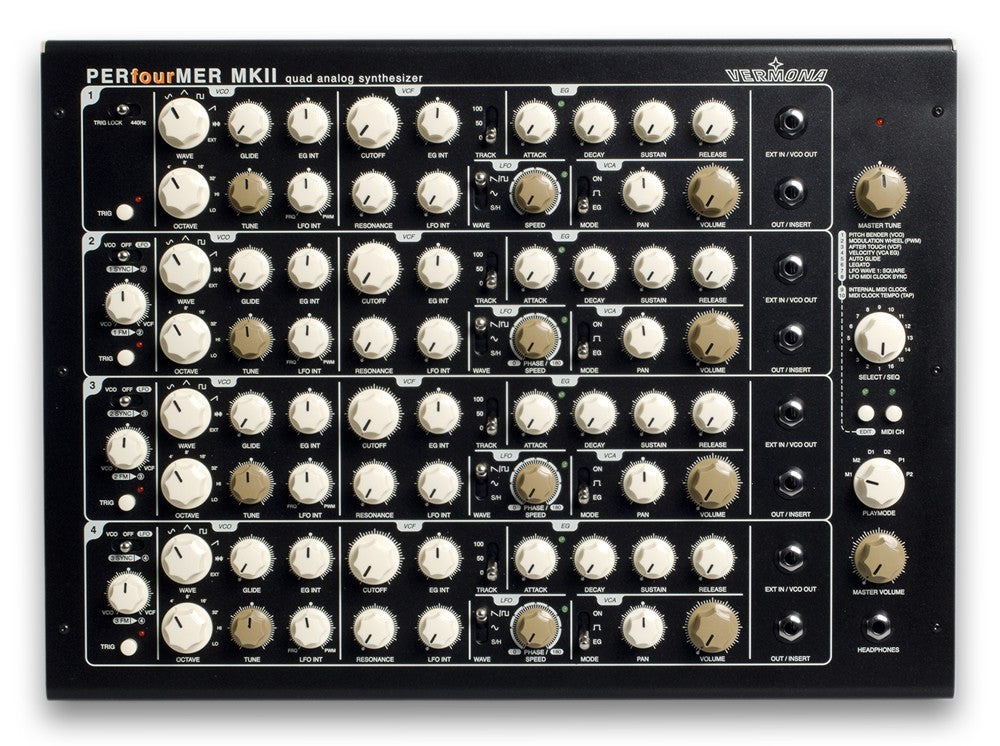 Vermona PERfourMER MKII Quad Analog Synthesizer
Vermona's original PERfourMER has long been admired, both conceptually and for its unique sound. Always iterating on their successful synthesizer designs, Vermona added a few extra ingredients and a little more spice and cooked up PERfourMER MKII — give it a try!
The concept
PERfourMER MKII combines four discrete built monophonic analog synthesizers into a single rackmountable desktop unit. What sounds simple will surprise you with its large sound variety. The individual synthesizer channels can be coupled in different ways and played monophonically or polyphonically. At the same time, the synthesizer channels can interact with one another via oscillator synchronization or frequency modulation.
The synthesizer channel
All four synthesizer channels are based upon the classic structure of VCO, VCF and VCA. The oscillator offers sine, triangle, square and sawtooth waveforms or a noise generator. In addition, the square waveforms' pulse width can be modulated using a LFO or MIDI control data. The resonant low pass filter that follows offers a slope of 24 dB per octave and is followed by the voltage controlled amplifier. A flexible LFO and an ADSR envelope generator allow for modulations of the oscillator's pitch as well as the filter's cutoff frequency.
FM and sync
PERfourMER MKII's synthesizer channels can interact with one another. For example, a frequency modulation of oscillator or filter will significantly expand the available spectrum of sounds. Another possible interaction is the synchronization of adjacent oscillators. SYNC and FM can even be used at the same time! However, it's not just the oscillators that can be synchronized: in addition, the LFOs can be synced either to each other or to an internal or external (MIDI) clock source.
Play modes
PERfourMER MKII's clever voice assignment lets you choose among six operational modes. Coupled synthesizer channels can be played polyphonically, duophonically or monophonically. This way you can create expressive, lively sequences that may use a rotating/cycling voice assignment where each note addresses a successive individual synthesizer channel.
Filter bank
Each synthesizer channel has an external audio input to replace the oscillator waveform as sound source. This way, PERfourMER MKII also makes a versatile and complex filter bank with four filter sections, four VCAs, four envelopes and four LFOs.
Belying its immense flexibility, PERfourMER MKII was carefully designed to be used effortlessly and in a straightforward way. Its no-compromise, hands-on, direct-access design to all relevant parameters was an imperative for the development team at Vermona.
Subtractive analog synthesis engine
Single output/insert per channel
VCO output and external input per channel
6 different play modes: 2 × monophonic, 2 × duophonic and 2 × polyphonic
24dB/octave resonant low pass filters
External inputs for each individual voice for use as filterbank
LFO sync to internal or external MIDI clock
MIDI in and thru
Individual output per voice as well as stereo output with pan control
Advanced editing menu for even more possibilities
SKU
VER-PER4MERMKII
Vendor
Vermona
Analog Digital
Analog
Built In Speakers
No
Included From Manufacturer
Power cable
Number of Keys
None
Midi
In and Thru
Mono Poly
Polyphonic
Mpn
800000
Product Unique Features
6 different play modes: 2 x monophonic, 2 x duophonic and 2 x polyphonic
External inputs for each individual voice for use as filterbank
Arpeggiator
No
Audio Inputs
(4) external audio inputs, one per synthesizer channel
Audio Outputs
1/4" left/right stereo output
(4) individual mono outputs, one per synthesizer channel
1/4" stereo headphone output
Multitimbral Capability
4 parts
Oscillators per Voice
1
Programs/Presets
(4) discrete monophonic synthesizers that can be played monophonically, duophonically or polyphonically
Voices of Polyphony
4
Width
19"
Height
7U
Vermona Limited Warranty
The manufacturer warrants this product to be free of defects in material and/or workmanship for a period of one (1) year from the date of purchase.
The manufacturer's warranty does not apply to products that have been damaged due to and/or subjected to improper handling by shipping companies (forwarders), negligence, accidents, improper use or alteration not authorized by the manufacturer.
This warranty is in lieu of and excludes all other warranties, expressed or implied. The manufacturer will not be liable for incidental or consequential loss or damage whatsoever, whether based upon allegations or negligence, breach of warranty, or otherwise. This disclaimer of incidental or consequential damages includes, but is not limited to, property damages, loss of profits, loss of time or other losses or inconvenient resulting from any defect in the material or workmanship of this product or any other connection with the purchase, operation or use of this product.
Ground shipping is FREE for all orders $99 and up.