Skip product carousel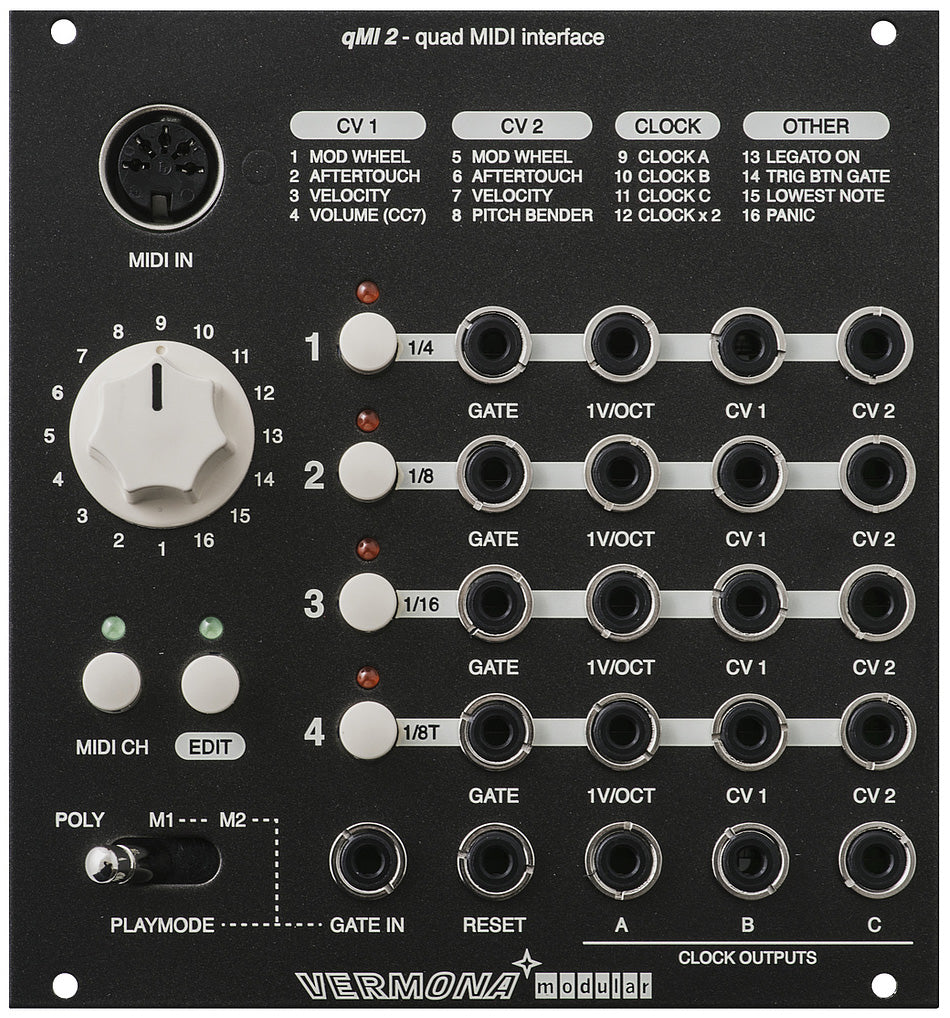 Vermona qMI 2 Quad MIDI Interface Eurorack Module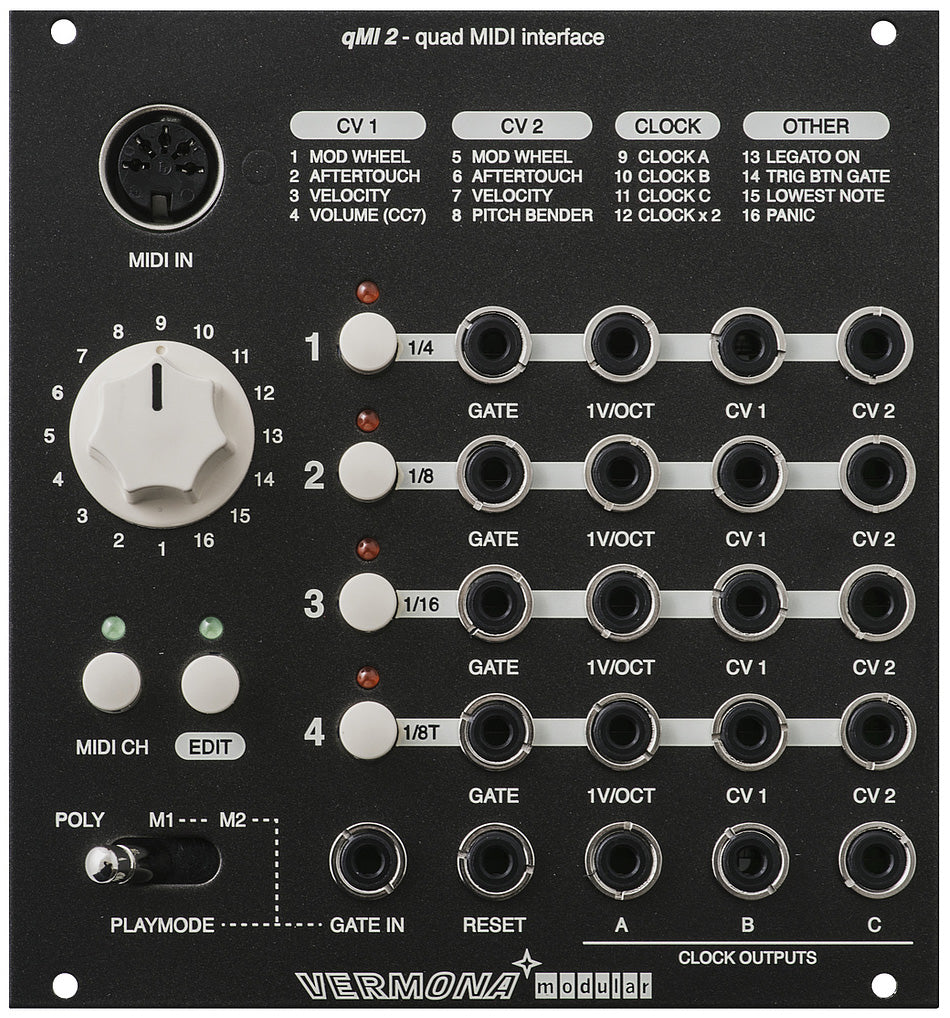 Vermona qMI 2 Quad MIDI Interface Eurorack Module
Vermona qMI 2 quad MIDI interface adopts the flexible voice assignment of Vermona PERfourMER MKII to provide a four-way MIDI-to-CV/gate converter for eurorack modular systems. This way, you can play your modular synthesizer in different monophonic modes or even polyphonically using MIDI.
More than just pitch
Each of the four output channels offers a 1V/octave CV output, a gate output and two additional control voltage outputs. These can easily be addressed by MIDI controllers such as the modulation wheel or pitch bender.
The output channels can be freely combined or be used with independent MIDI channels. Combined output channels can be used in unison, monophonically with rotating voice assignment or even polyphonically.
qMI 2 also offers four clock divider outputs. These convert incoming MIDI clock signals into analog gate voltages. A reset output allows sequencers with a reset input to run in sync with MIDI start/stop commands.
qMI 2 can switch between its monophonic voice assignment modes via a dedicated gate input.
Easy access to functionality
An important part of the modular concept is easy access to every parameter without using displays or complicated menu structures. Vermona qMI 2 will help you integrate your modular system with your MIDI setup straightforwardly!
Physical specifications

Size: 24hp
Module depth: 25mm
Power usage: 60mA @ +12V, 2mA @ -12V
SKU
VER-QMI2
Vendor
Vermona
Module Type
MIDI
Module Width
24hp
Mpn
805005
Module Power Usage
60mA @ +12V
2mA @ -12V
1U Module
No
+5V Required
No
Depth
25mm
Vermona Limited Warranty
The manufacturer warrants this product to be free of defects in material and/or workmanship for a period of one (1) year from the date of purchase.
The manufacturer's warranty does not apply to products that have been damaged due to and/or subjected to improper handling by shipping companies (forwarders), negligence, accidents, improper use or alteration not authorized by the manufacturer.
This warranty is in lieu of and excludes all other warranties, expressed or implied. The manufacturer will not be liable for incidental or consequential loss or damage whatsoever, whether based upon allegations or negligence, breach of warranty, or otherwise. This disclaimer of incidental or consequential damages includes, but is not limited to, property damages, loss of profits, loss of time or other losses or inconvenient resulting from any defect in the material or workmanship of this product or any other connection with the purchase, operation or use of this product.
Standard Shipping