Skip product carousel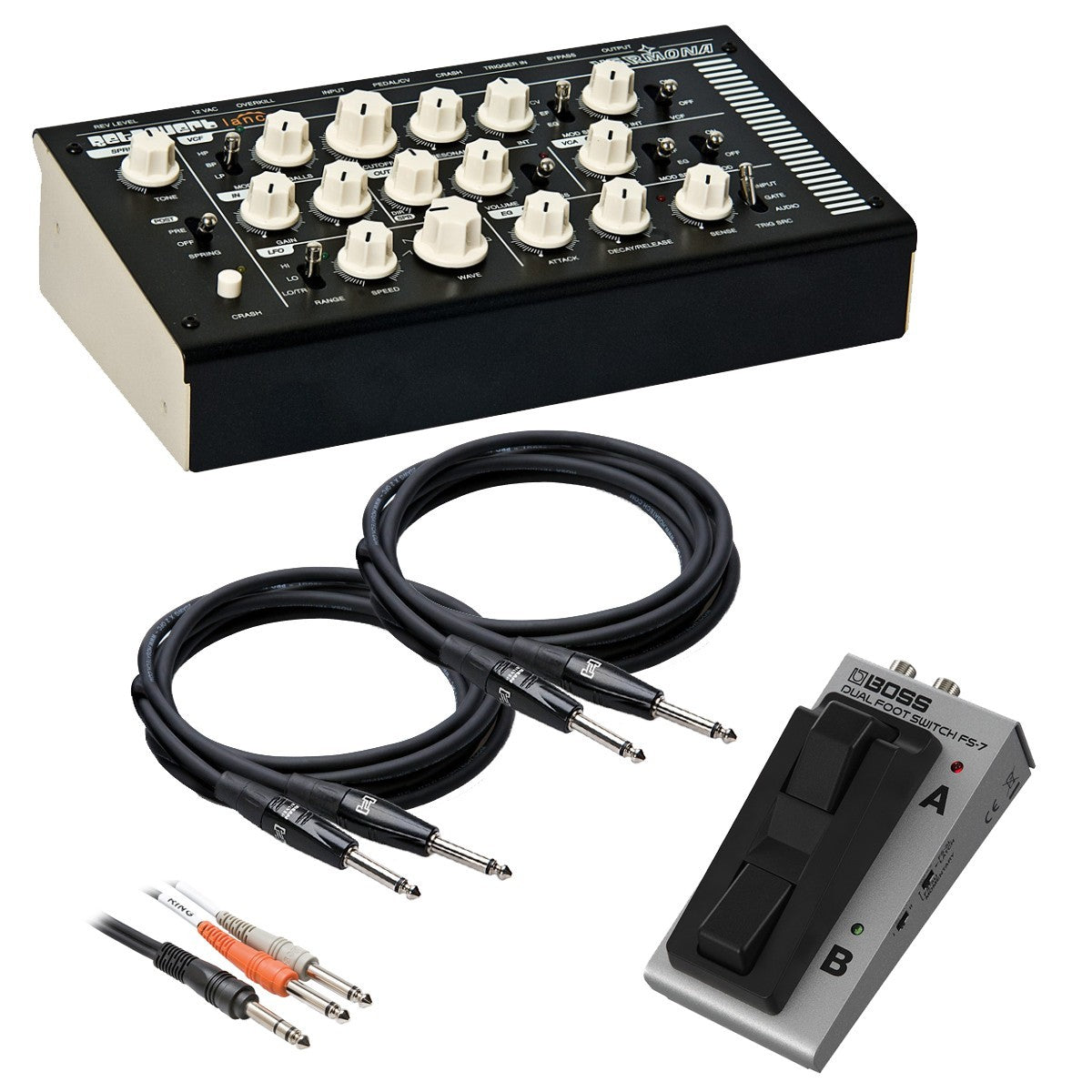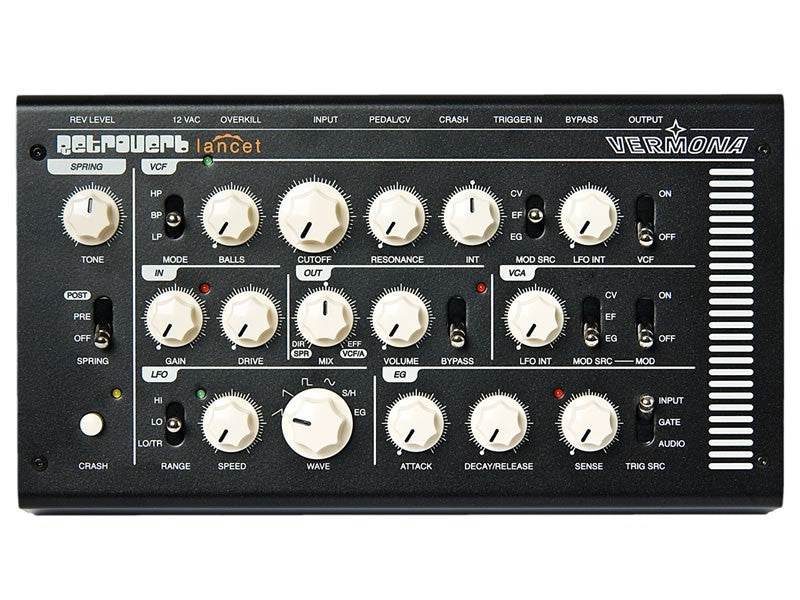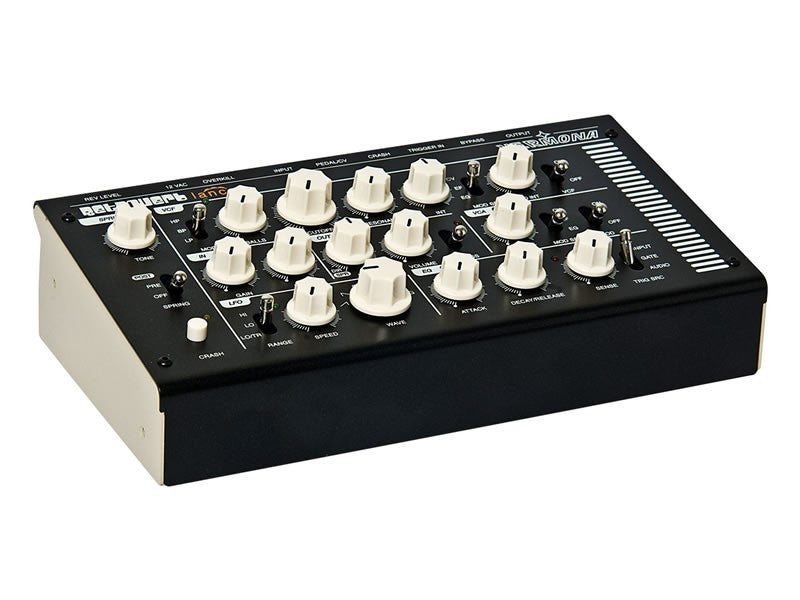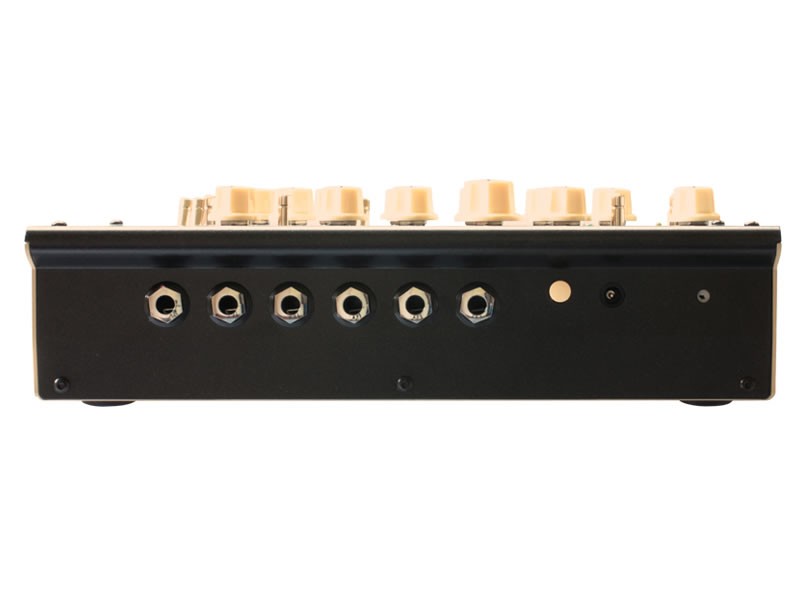 Vermona Retroverb Lancet Desktop Spring Reverb Module CABLE KIT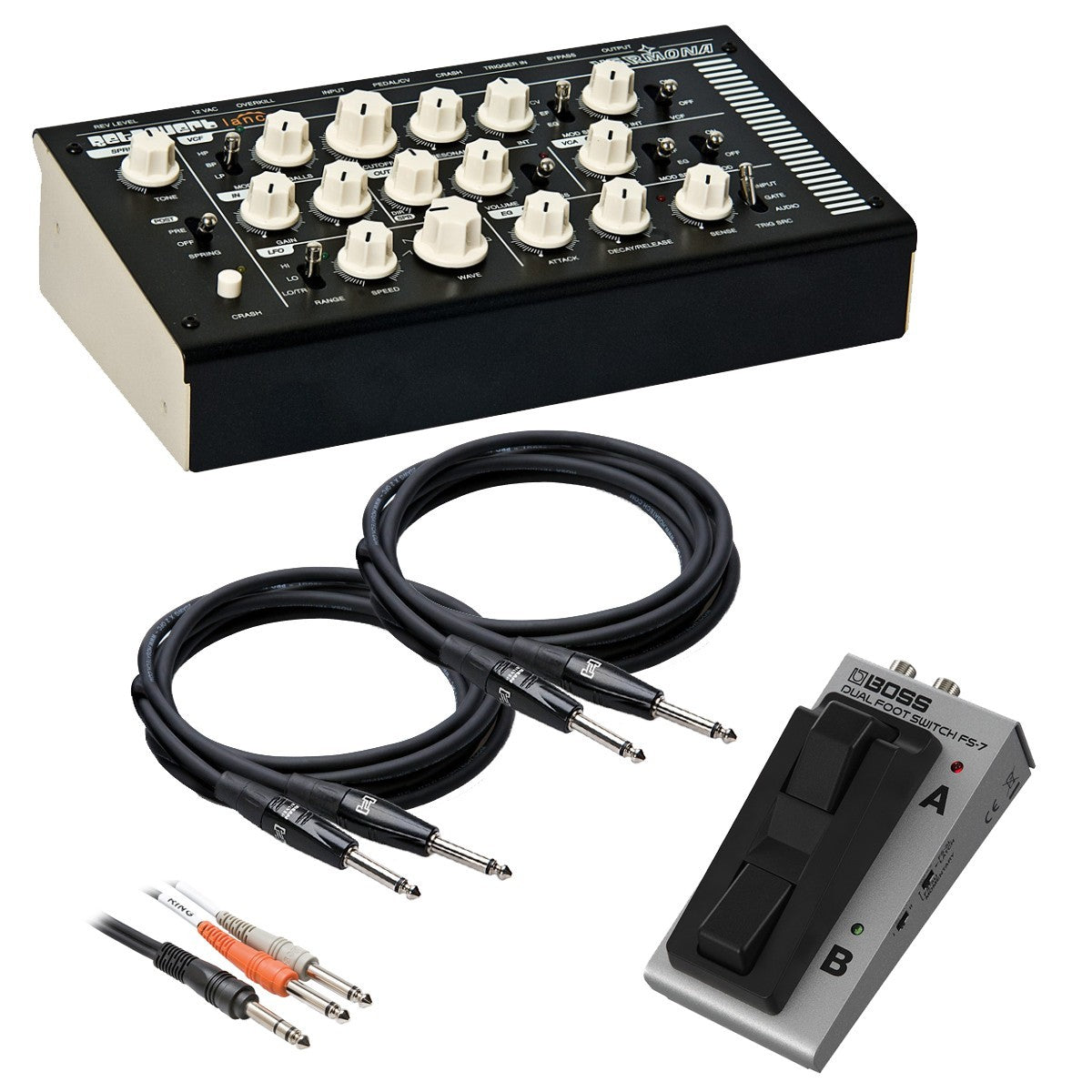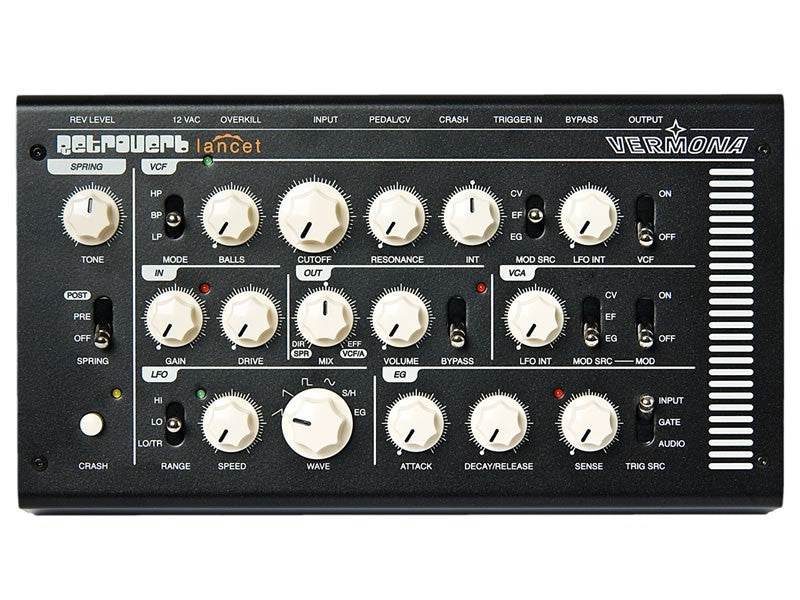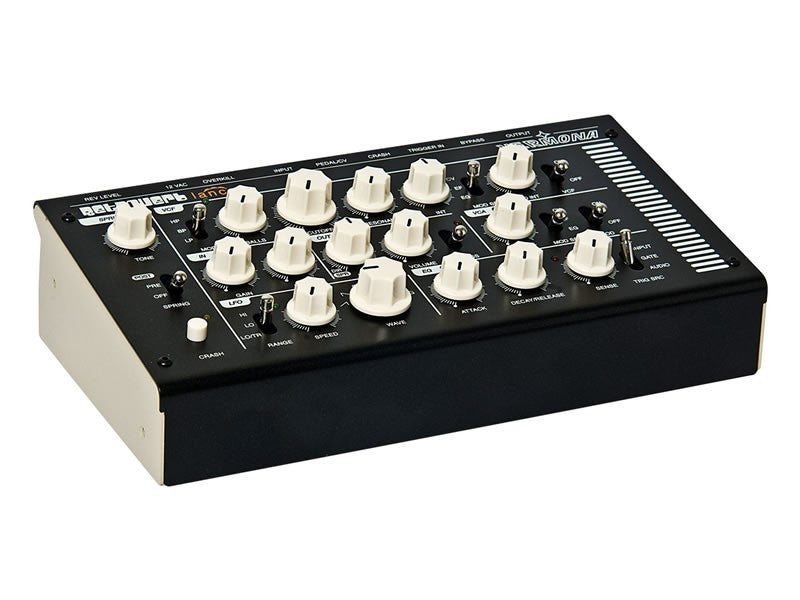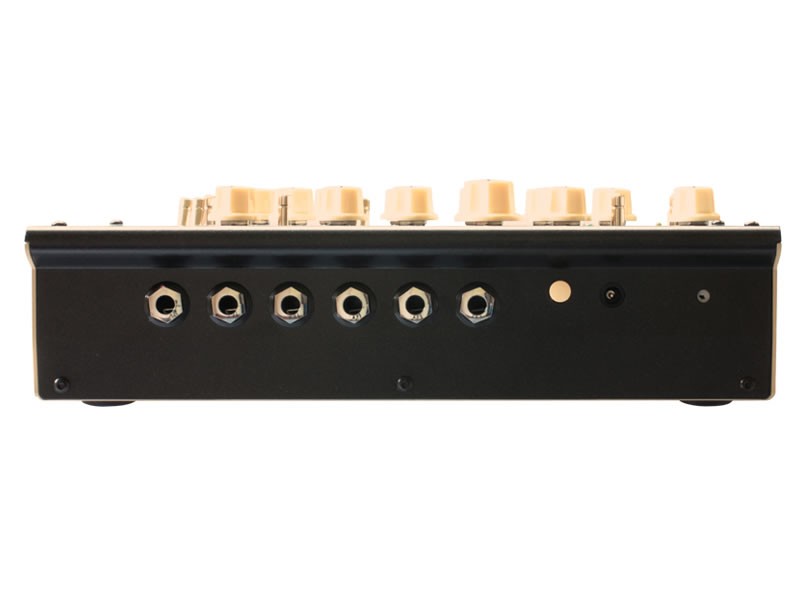 Vermona Retroverb Lancet Desktop Spring Reverb Module CABLE KIT
4 items included
This Kraft Music Bundle Includes
$579.00
Regular price
$701.84
You Save $122.84
Click on a product to view more details.
Today's digital effects and plug-ins can create almost perfect room simulations. However, when it comes to characteristic and charismatic reverb, analog effect processors are yet to be beat. The reverberating sound of a spring is so lively and unique that its sound is almost impossible to recreate in the digital domain. In addition to this, Retroverb Lancet is not just a spring reverberation system; it is also an analog multi-effects-processor. It offers overdrive, filtering, VCA, envelope and LFO to manipulate the spring sound and create different sounds like auto-wah, tremolo, distortion, delay, gater and, of course, reverb.
The typical spring reverb sound is generated by a Belton/Accutronics type 4 spring tank with three individual springs. It can be placed pre or post the VCF/VCA section and equalized by the TONE parameter.
The CRASH function generates the popular 'thunder' effect that occurs when kicking an amplifier with spring tank. You don't have to kick Retroverb Lancet; you can achieve this effect simply by pressing the CRASH button. It can also be triggered by a GATE voltage.
Compact tabletop analog spring reverb
Belton/Accutronics type 4 spring tank with three individual springs
Spring reverb effect can be placed pre- or post-VCF/VCA
Multimode filter works as lowpass or highpass with a slope of 24dB per octave, or as bandpass with 12dB per octave. It is followed by a voltage controlled amplifier
Filter and amplifier can be modulated individually by different sources
Retroverb Lancet offers three internal modulation sources:

Envelope follower: converts the amplitude characteristic of the audio input signal into a control voltage
Envelope generator: can be triggered by the input signal itself, a second audio signal or a gate voltage. Depending on the trigger source it works as attack/decay or as attack/sustain/release envelope
LFO: offers saw up and saw down, square, sine as well as sample and hold. Additionally, it can use the envelope generator's settings as its waveform. It can oscillate freely or be reset by different trigger sources

CV/pedal input for control via external control voltage sources or expression pedals.
SKU
VER-RETROVERBLANCTCK
Vendor
Vermona
Effect Type
Reverb
Included From Manufacturer
Power Supply
Mpn
802000
Product Unique Features
Modulation: LFO, envelope generator, envelope follower
Spring reverb can be placed pre- or post-VCF/VCA section
Control Connections
Pedal/CV
Crash
Trigger in
Bypass
Effects
Spring reverb with overdrive, multimode filter, envelope generator, LFO
Audio Inputs
1/4" mono
Audio Outputs
1/4" mono
On-board Expression Pedal
No
Power Adaptor
Included
Product Weight
3.1 lbs.
Width
10.24"
Depth
5.43"
Height
2.6"
Vermona Limited Warranty
The manufacturer warrants this product to be free of defects in material and/or workmanship for a period of one (1) year from the date of purchase.
The manufacturer's warranty does not apply to products that have been damaged due to and/or subjected to improper handling by shipping companies (forwarders), negligence, accidents, improper use or alteration not authorized by the manufacturer.
This warranty is in lieu of and excludes all other warranties, expressed or implied. The manufacturer will not be liable for incidental or consequential loss or damage whatsoever, whether based upon allegations or negligence, breach of warranty, or otherwise. This disclaimer of incidental or consequential damages includes, but is not limited to, property damages, loss of profits, loss of time or other losses or inconvenient resulting from any defect in the material or workmanship of this product or any other connection with the purchase, operation or use of this product.
Ground shipping is FREE for all orders $99 and up.