Skip product carousel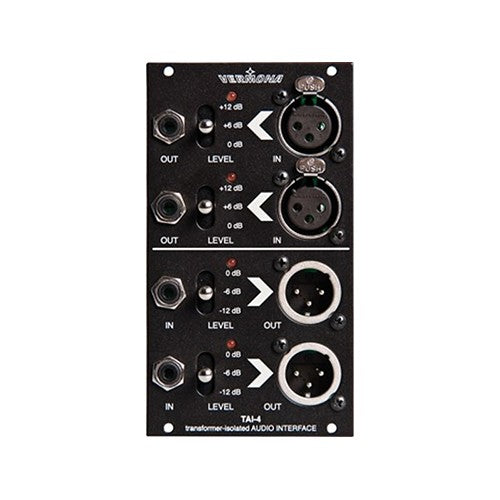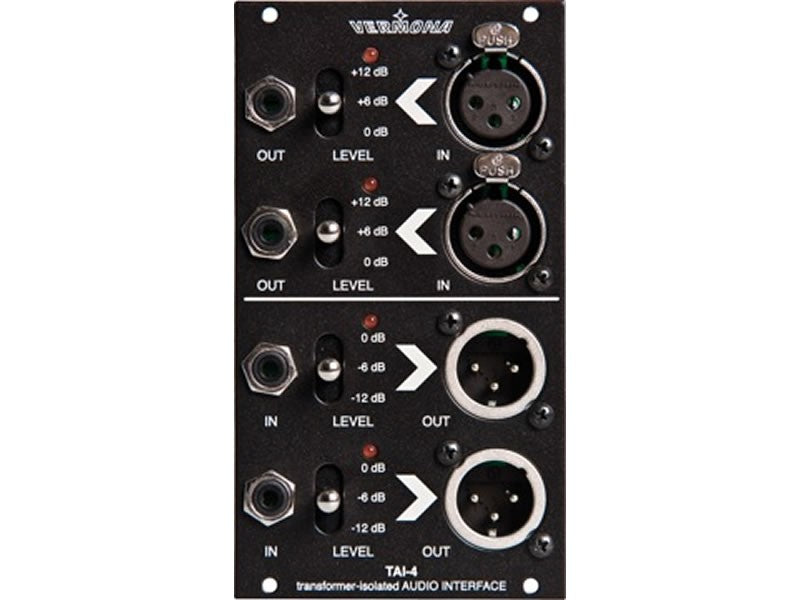 Vermona TAI-4 Transformer-Isolated Audio Interface Eurorack Module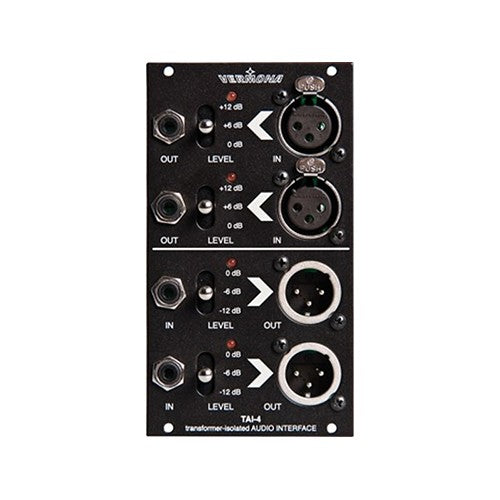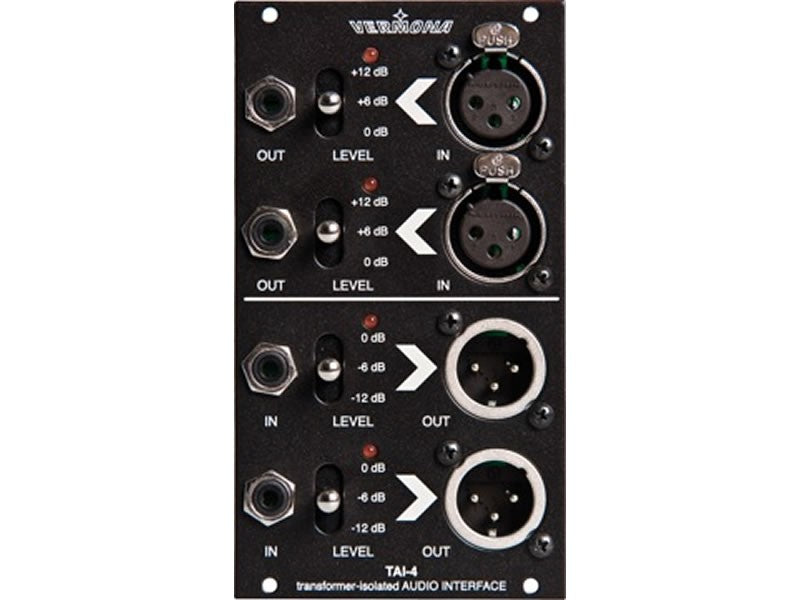 Vermona TAI-4 Transformer-Isolated Audio Interface Eurorack Module
Vermona TAI-4 is a 2x2 channel audio interface module for balancing signals coming from a modular system and for un-balancing audio signals that are sent to a modular system. Unlike similar modules that work with electrical balancing, TAI-4 has isolating transformers and thus features true balancing.
The upper section of the module consists of two identical channels with balanced XLR female connectors as inputs and 1/8" jacks as outputs. Rocker switches are provided for adjusting levels (0dB, +6dB, +12dB). The bottom section has two output channels with 1/8" jacks as inputs and XLR males as outputs. There are rocker switches for adjusting levels here as well (-12dB, -6dB, 0dB).
Size: 14hp
Module depth: 42mm
Power usage: 20mA @ +12V
| | |
| --- | --- |
| SKU | VER-TAI4 |
| Vendor | Vermona |
| Included From Manufacturer | Rack Screws |
| Module Type | I/O |
| Module Width | 14hp |
| Mpn | 805001 |
| Module Power Usage | 20mA @ +12V |
| 1U Module | No |
| +5V Required | No |
| Depth | 42mm |
Vermona Limited Warranty
The manufacturer warrants this product to be free of defects in material and/or workmanship for a period of one (1) year from the date of purchase.
The manufacturer's warranty does not apply to products that have been damaged due to and/or subjected to improper handling by shipping companies (forwarders), negligence, accidents, improper use or alteration not authorized by the manufacturer.
This warranty is in lieu of and excludes all other warranties, expressed or implied. The manufacturer will not be liable for incidental or consequential loss or damage whatsoever, whether based upon allegations or negligence, breach of warranty, or otherwise. This disclaimer of incidental or consequential damages includes, but is not limited to, property damages, loss of profits, loss of time or other losses or inconvenient resulting from any defect in the material or workmanship of this product or any other connection with the purchase, operation or use of this product.
Ground shipping is FREE for all orders $99 and up.