Skip product carousel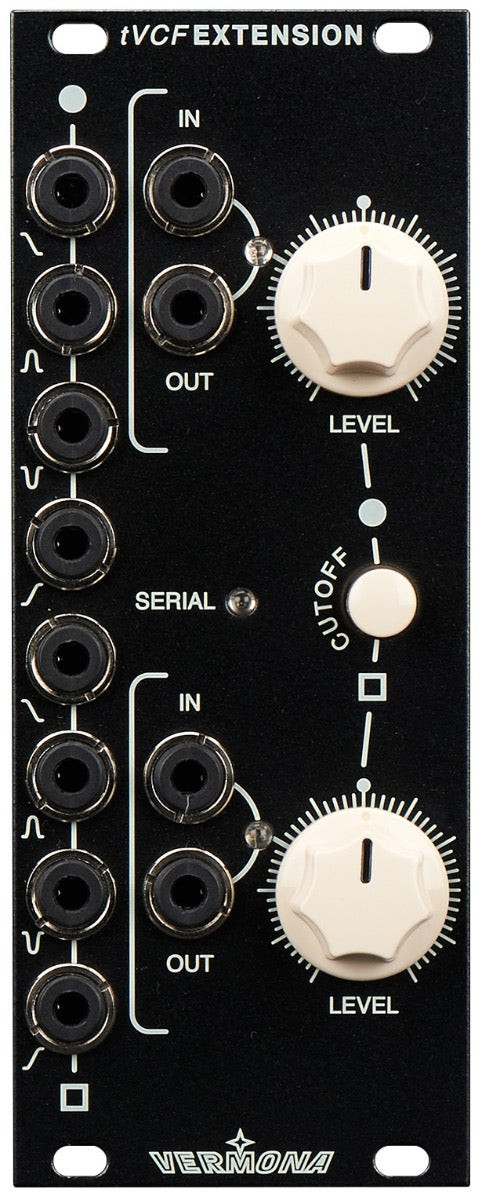 Vermona tVCF-Extension for twinVCFilter Eurorack Module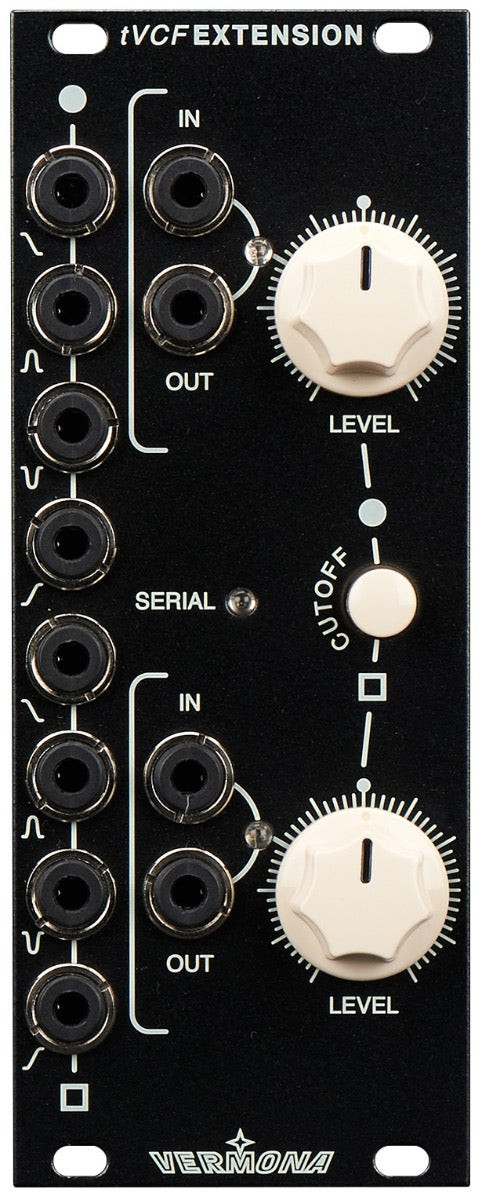 Vermona tVCF-Extension for twinVCFilter Eurorack Module
Vermona twinVCFilter is a versatile filter module on its own, but there are times when you need some additional features like a notch filter. In this case, Vermona tVCF-Extension is your friend!
Individual filter outputs
tVCF-Extension has individual outputs for each filter type available on twinVCFilter and even adds notch outputs. You can use all outputs at the same time.
Polarizers
As you may know, twinVCFilter already has two CV inputs per filter section. Vermona realized that might not be enough for complex patches, so tVCF-Extension has additional CV inputs to modulate the cutoff frequencies, each with a dedicated polarizer for attenuating and inverting incoming voltages. With these you will get new modulation possibilities, like controlling both cutoff frequencies at the same time in parallel or in opposite directions.
To get even more out of the module, you can separate the polarizer section from the cutoff frequencies and use them independently of twinVCFilter. They, too, can generate a voltage on their own.
tVCF-Extension is an elegant and compact way to extend the vast possibilities of twinVCFilter.
Physical specifications

Size: 10hp
Module depth: 30mm
Power usage with twinVCFilter (sold separately): 105mA @ +12V, 75mA @ -12V
SKU
VER-TVCFEXTENSION
Vendor
Vermona
Module Type
Misc/Other
Module Width
10hp
Mpn
805009
Module Power Usage
105mA @ +12V with twinVCFilter (sold separately)
75mA @ -12V with twinVCFilter (sold separately)
1U Module
No
+5V Required
No
Depth
30mm
Vermona Limited Warranty
The manufacturer warrants this product to be free of defects in material and/or workmanship for a period of one (1) year from the date of purchase.
The manufacturer's warranty does not apply to products that have been damaged due to and/or subjected to improper handling by shipping companies (forwarders), negligence, accidents, improper use or alteration not authorized by the manufacturer.
This warranty is in lieu of and excludes all other warranties, expressed or implied. The manufacturer will not be liable for incidental or consequential loss or damage whatsoever, whether based upon allegations or negligence, breach of warranty, or otherwise. This disclaimer of incidental or consequential damages includes, but is not limited to, property damages, loss of profits, loss of time or other losses or inconvenient resulting from any defect in the material or workmanship of this product or any other connection with the purchase, operation or use of this product.
Ground shipping is FREE for all orders $99 and up.