Skip product carousel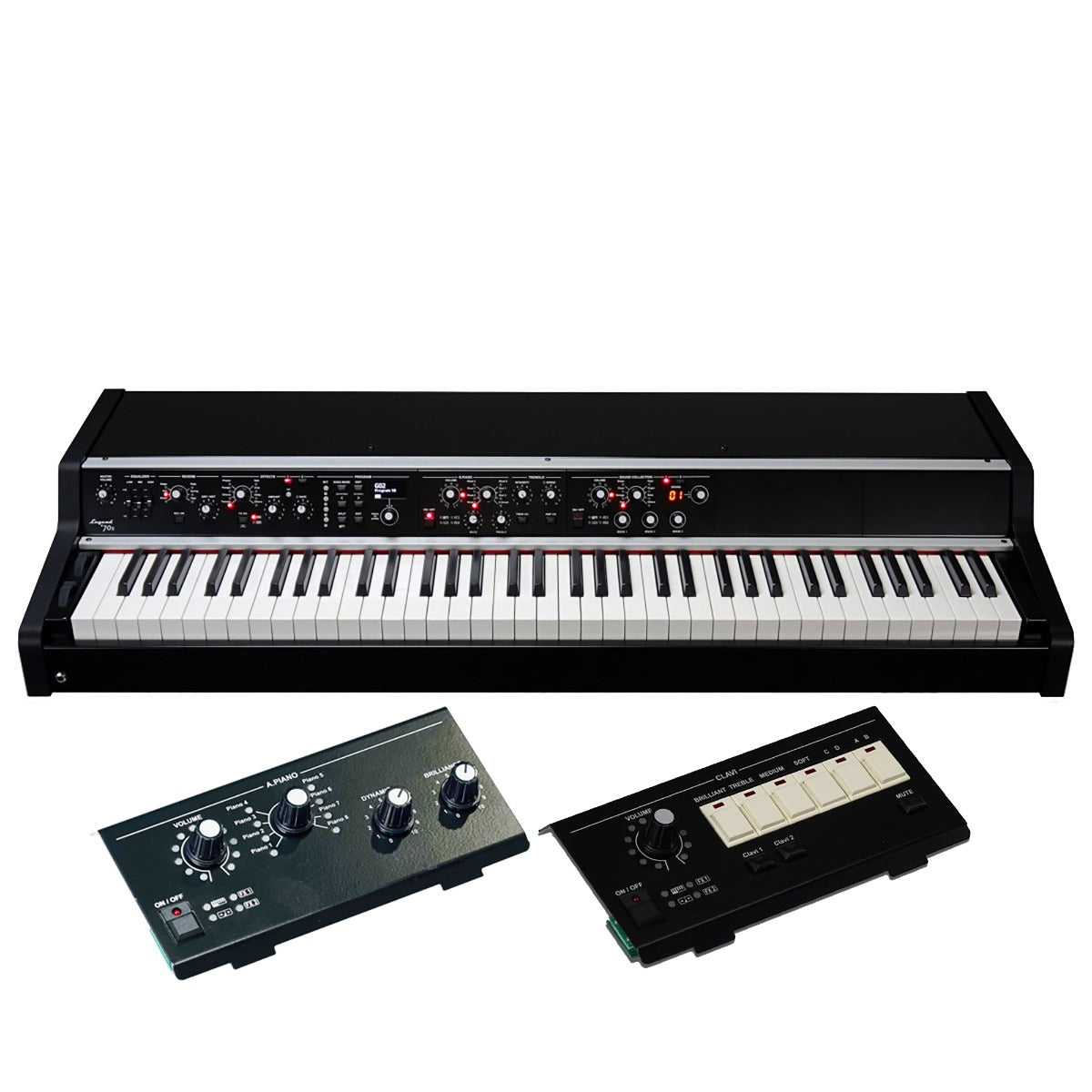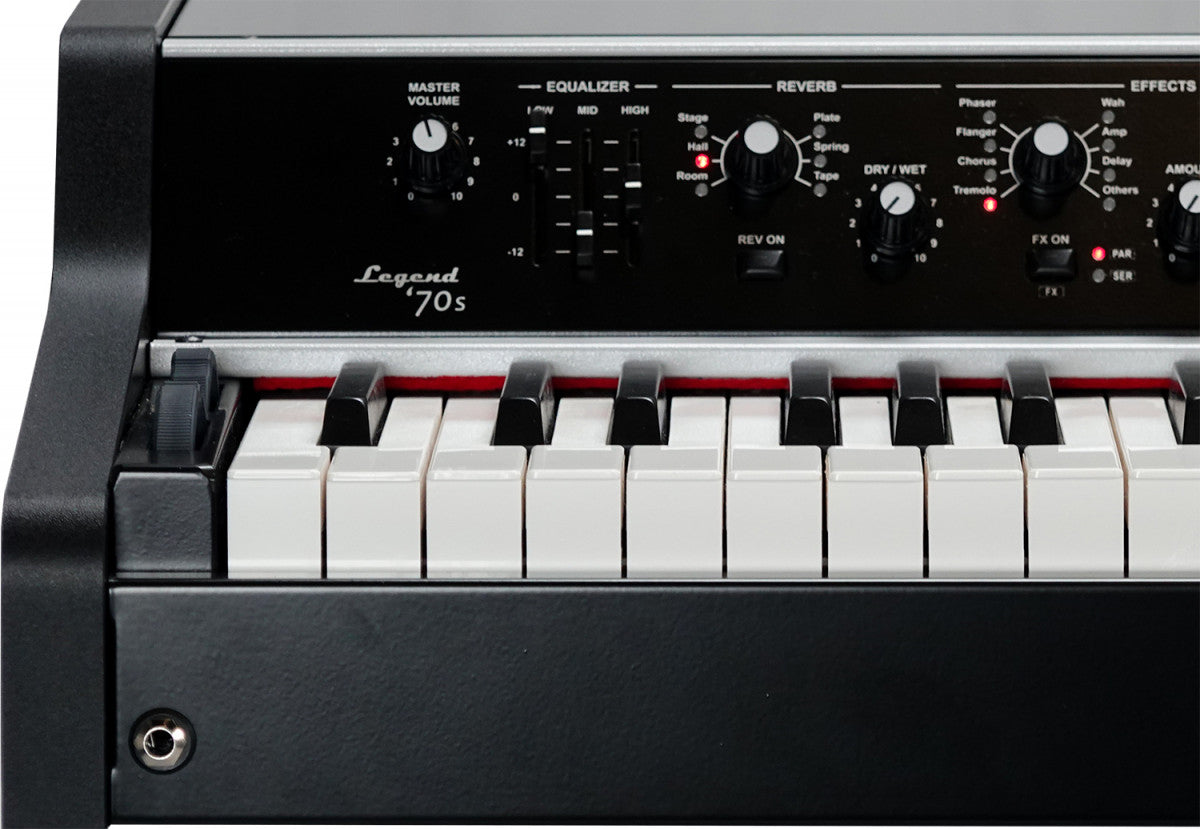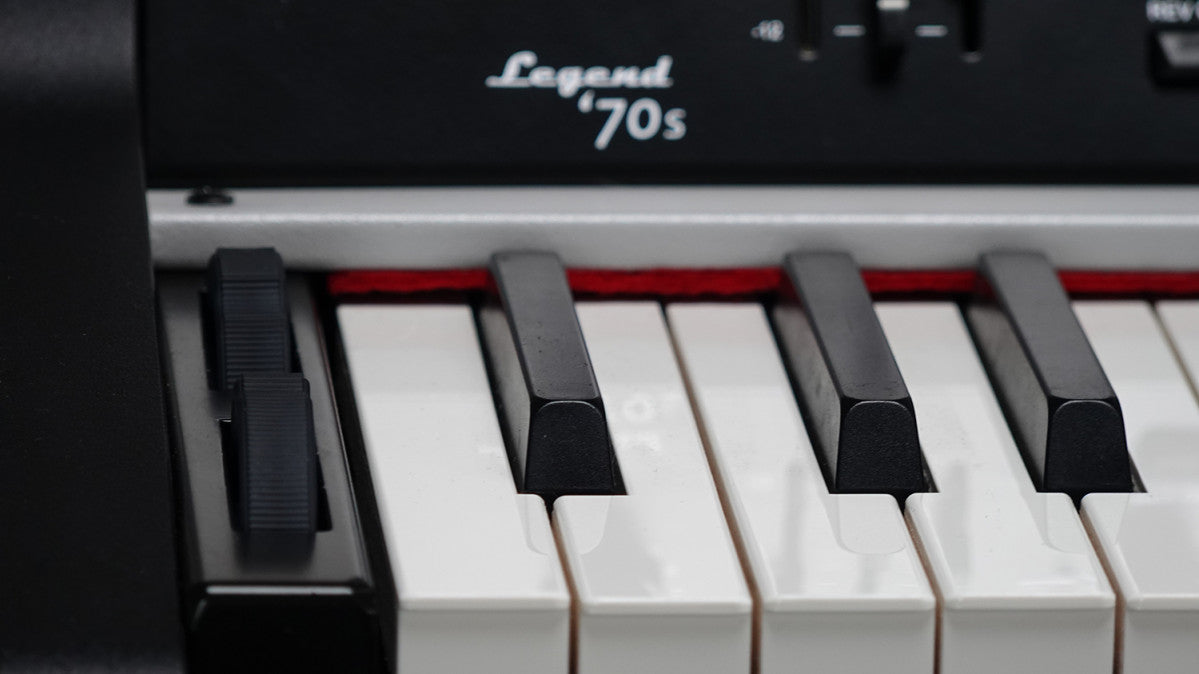 Viscount Legend '70s Compact Extended Stage Piano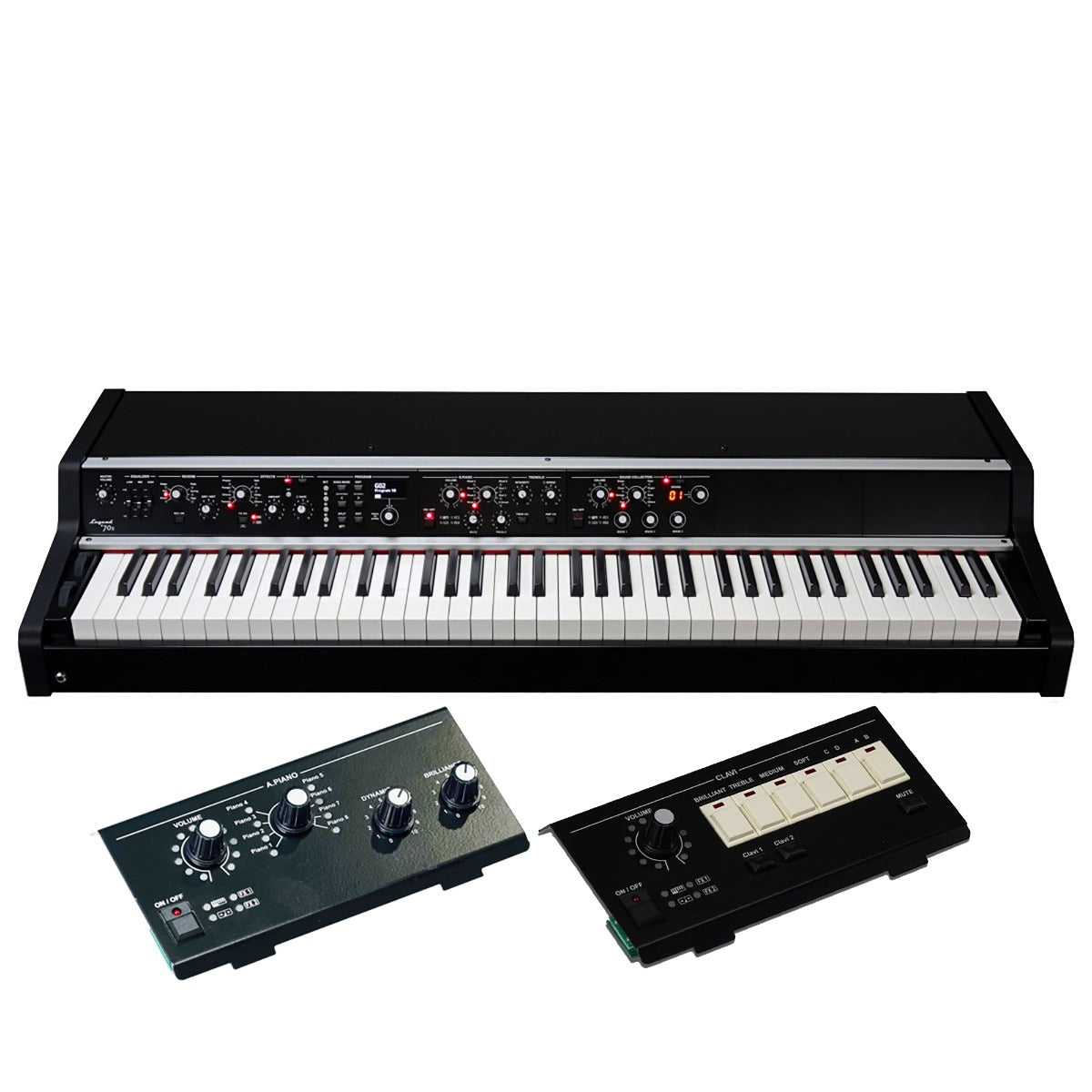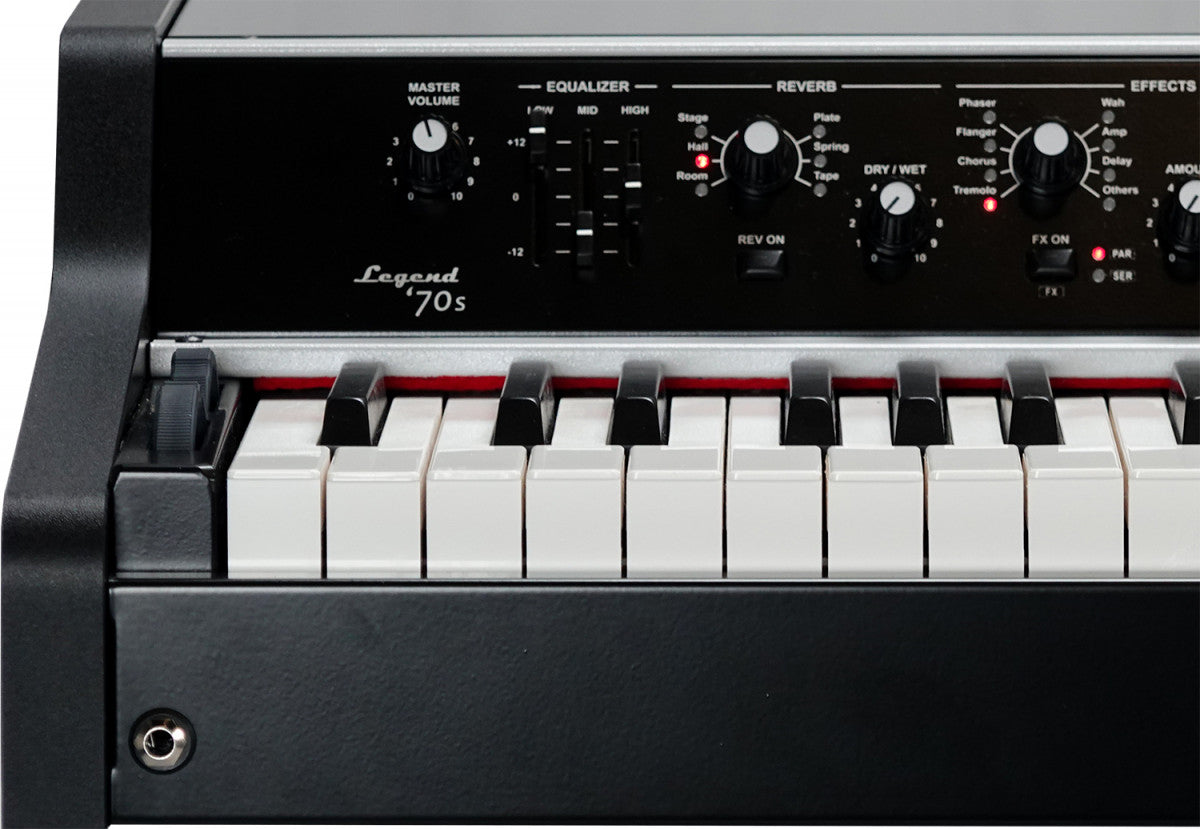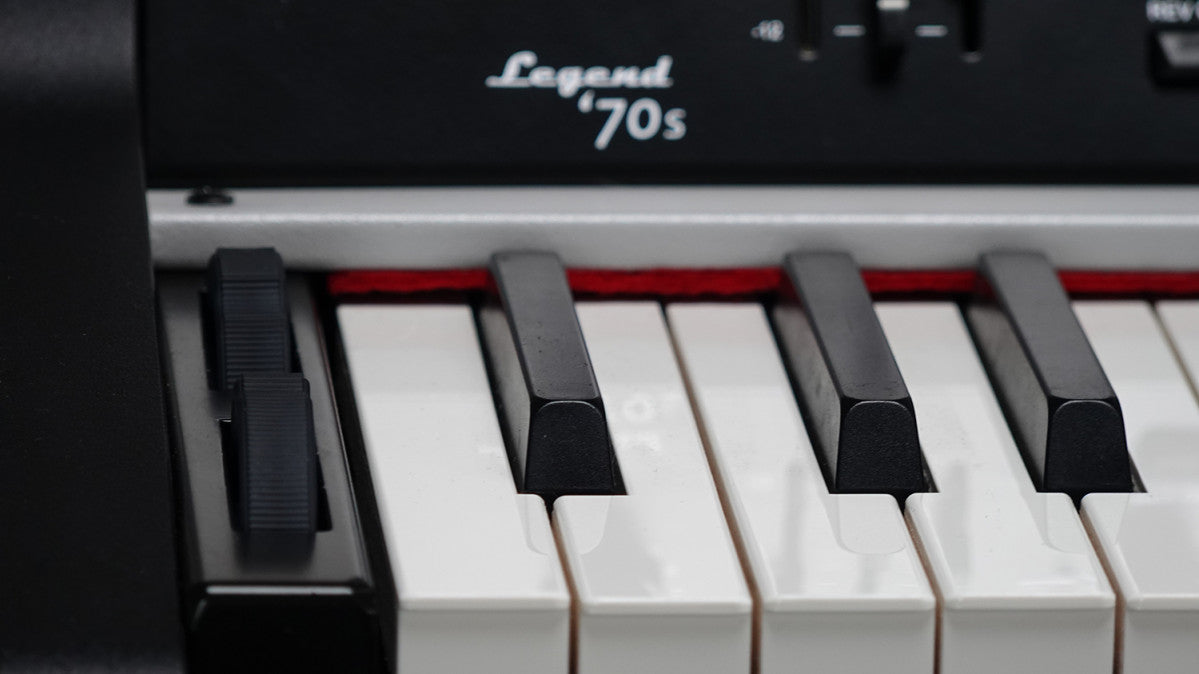 Viscount Legend '70s Compact Extended Stage Piano
Viscount Legend '70s stage pianos offer an unprecedented ability to customize your instrument with several sound modules equipped with state-of-the-art sound generators, including physical modeling. The modules can be easily positioned and swapped on the front panel according to your personal musical needs. Viscount Legend '70s Compact Extended includes the Electric Piano, Acoustic Piano, Clavi and Sound Collection modules.
Unique modular design lets you design your own custom stage piano to meet your needs
Modules use Dexibell's Physical Modeling and High-Definition Sampling technologies for superior sound
Keyboard chassis provides wide variety of onboard effects regardless of module selection
Free software editor allows deep access to parameters and extensive customization
Compact Extended model includes Electric Piano, Acoustic Piano, Clavi and Sound Collection modules
Design
Designed and engineered in Italy, Viscount Legend '70s provides incredible expressive capabilities with a customizable interface in a perfect portable solution. The combinations of easy-to-use powerful sound modules in a compact and vintage cabinet offers demanding musicians an instrument without compromise.
Modular interface
Legend '70s introduces, for the first time, the concept of a modular stage piano. According to your needs, you can now choose the right combination of sound-generating modules with dedicated knobs and buttons, including Electric Piano, Acoustic Piano, Clavi, Sound Collection and External (sold separately). Many other modules will be available in the future within this ever-growing family.
Keyboard
The design of the Legend '70s hammer action keyboard perfectly matches the instrument's sound generators, with three three contact sensors under each key to detect every nuance of your playing at a high level of precision.
Connections
Legend '70s is equipped with a full complement of connections, including 5-pin MIDI, USB to host/device and several foot controller inputs.
Controls
The Legend '70s controls are powerful and easy to use. There is the Effects section, where you can control the reverb and a wide range of modulation effects, while in the Program section, with the support of a clear display, you can change different functions of the instrument. Moreover, in the Artist Extended models, an External module is included as interface for external devices such as another sound module or a computer with virtual instruments.
Sound generation
Each module installed in Legend '70s has its own sound generator specially designed to reproduce its sound set. This arrangement gives a great advantage over the whole instrument's polyphony, avoiding the 'sound generator processor share' that affects all competitors' sampled pianos when many sounds are played in at the same time. The Acoustic Piano and Sound Collection modules are powered by High-Definition Sampling technology that provides detailed sampling of acoustic instruments and the ability to reproduce the entire dynamic range of each instrument.
The Electric Piano and Clavi modules are powered by Viscount's patented Physical Modeling (PM) technology which through complex mathematical algorithms is able to reproduce with absolute fidelity the dynamic and physical/acoustic phenomena of the electric piano, giving you the most expressive and authentic performing experience. Experienced musicians know very well that almost all pianos on the market using sampling technology suffer from a 'slicing' problem, because for specific groups of keys and dynamic range they use the same sample! This approximation causes an annoying timbre discontinuity. Viscount PM technology does not have this problem at all, since for each key and dynamic level the sound is perfectly calculated through a precise mathematical model of the real instrument.
Software editor
Legend '70s Editor is a free software program that makes programming all the parameters of the instrument easier and faster, allowing the most demanding users access to parameters that are not available on the instrument. It is also possible to save your settings and reload them whenever you want. Moreover, it provides dedicated environments for the use of the instrument during live performance. The software is available for both macOS and Windows operating systems and works with all models of Legend '70s.
SKU
VIS-LEGEND7073EX
MPN
Legend '70s Compact Extended
Vendor
Viscount
Built In Speakers
No
Included From Manufacturer
Electric Piano module
Acoustic Piano module
Clavi module
Sound Collection module
Power cord
Music rest
Keys Weighted
Hammer Weighted
Key Num
73
Midi
In, Out, and USB
Mpn
9A13LEGEND70T73EX
Product Unique Features
Customizable with an ever-growing family of different sound modules
Accompaniments
Yes
Control Connections
(2) 1/4" foot controller inputs
(2) 1/4" footswitch inputs
1/4" sustain input
1/4" program change input
Onboard Controllers
Pitch bend wheel
Mod wheel
Duet Mode
No
Effects
Reverb
Finish
Black
Audio Inputs
1/8" stereo audio input
Audio Outputs
Dual 1/4" stereo main output
Dual 1/4" stereo aux output
Key Action
Hammer action with velocity sensitivity and triple sensor
Layer Feature
No
Product Weight
35.7 lb
Programs/Presets
256 (16 banks × 16 programs each)
Number of Songs
(9) lists of 40 songs
(4) sets for each song
Split Feature
Yes
Transpose Feature
Yes
USB Flash Drive Port (to Device)
Program/Preset Storage
USB Port (to Host)
MIDI;Audio
Voices of Polyphony
Electric Piano module
Width
44"
Depth
18.7"
Height
7"
Viscount Legend Limited Warranty
Viscount Legend, Legend Pedalboard 25, Legend Wooden Stand, Legend Wooden Bench, Legend Transport Bag, Legend Live, Legend Live Pedalboard 18, Legend Live Metal Stand, and Legend Live Transport bag are warranted against normal use and manufacturing defects for one year on parts and 90 days on labor from date or purchase.
Owner must supply copy of dated sales receipt for this warranty to be honored.
Standard Shipping