Skip product carousel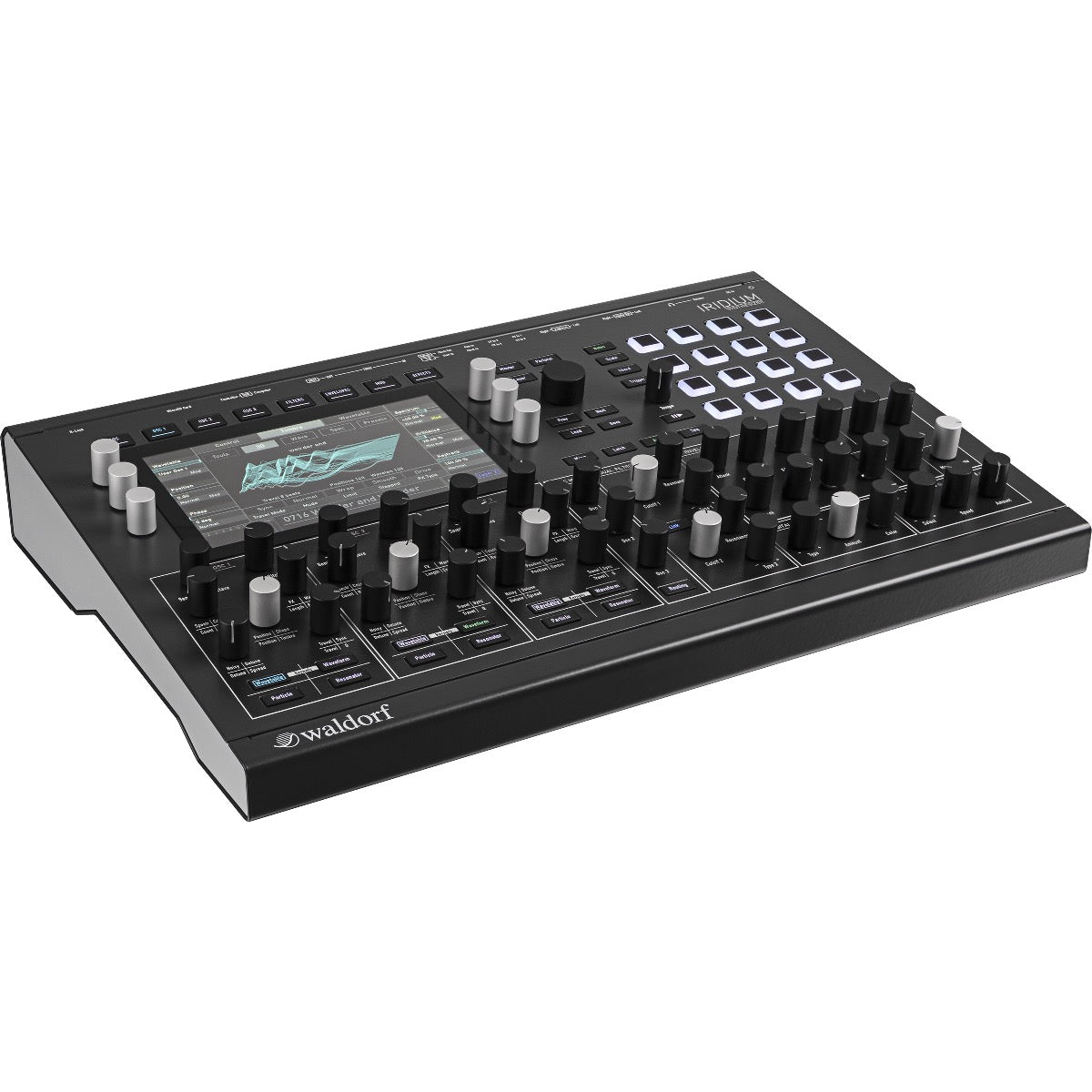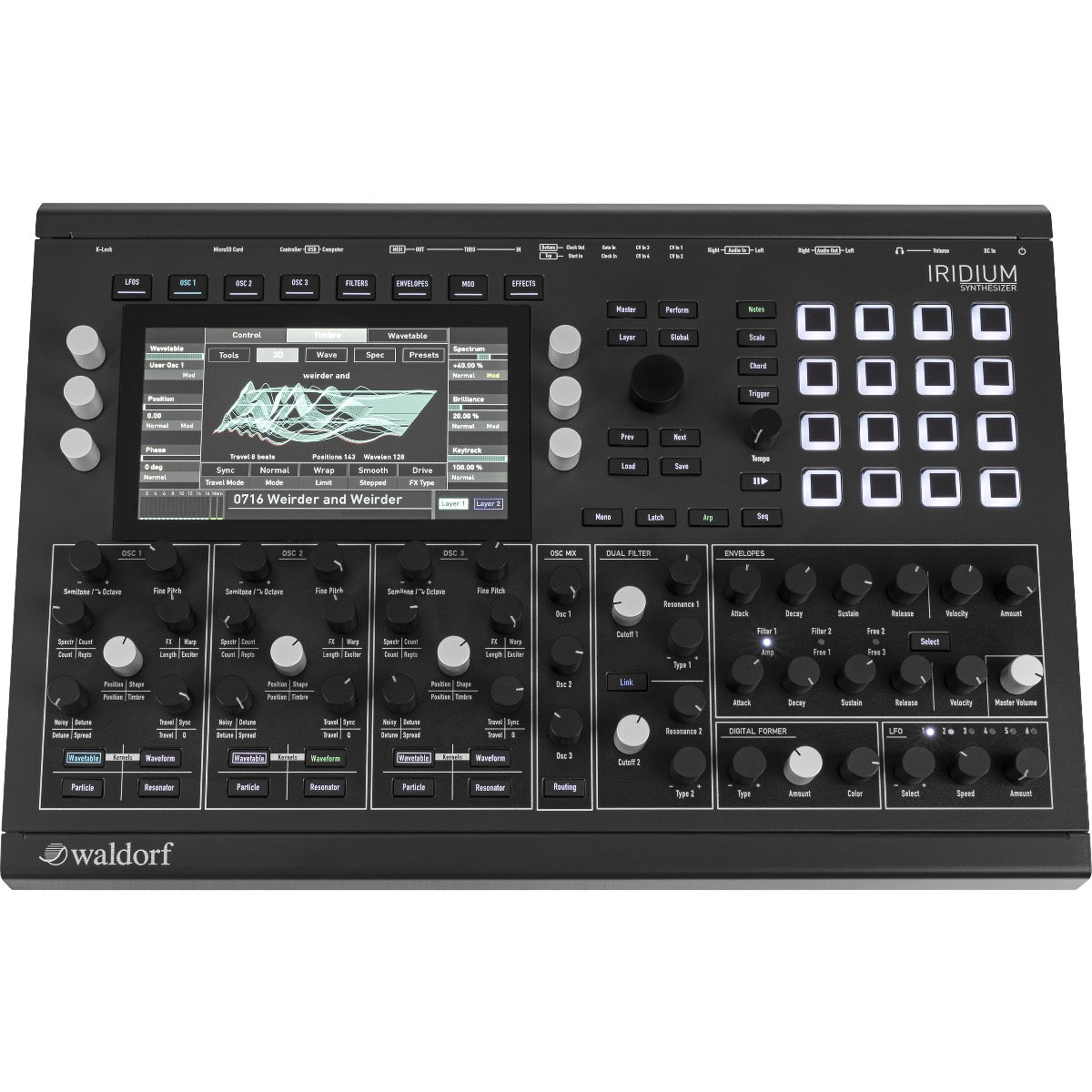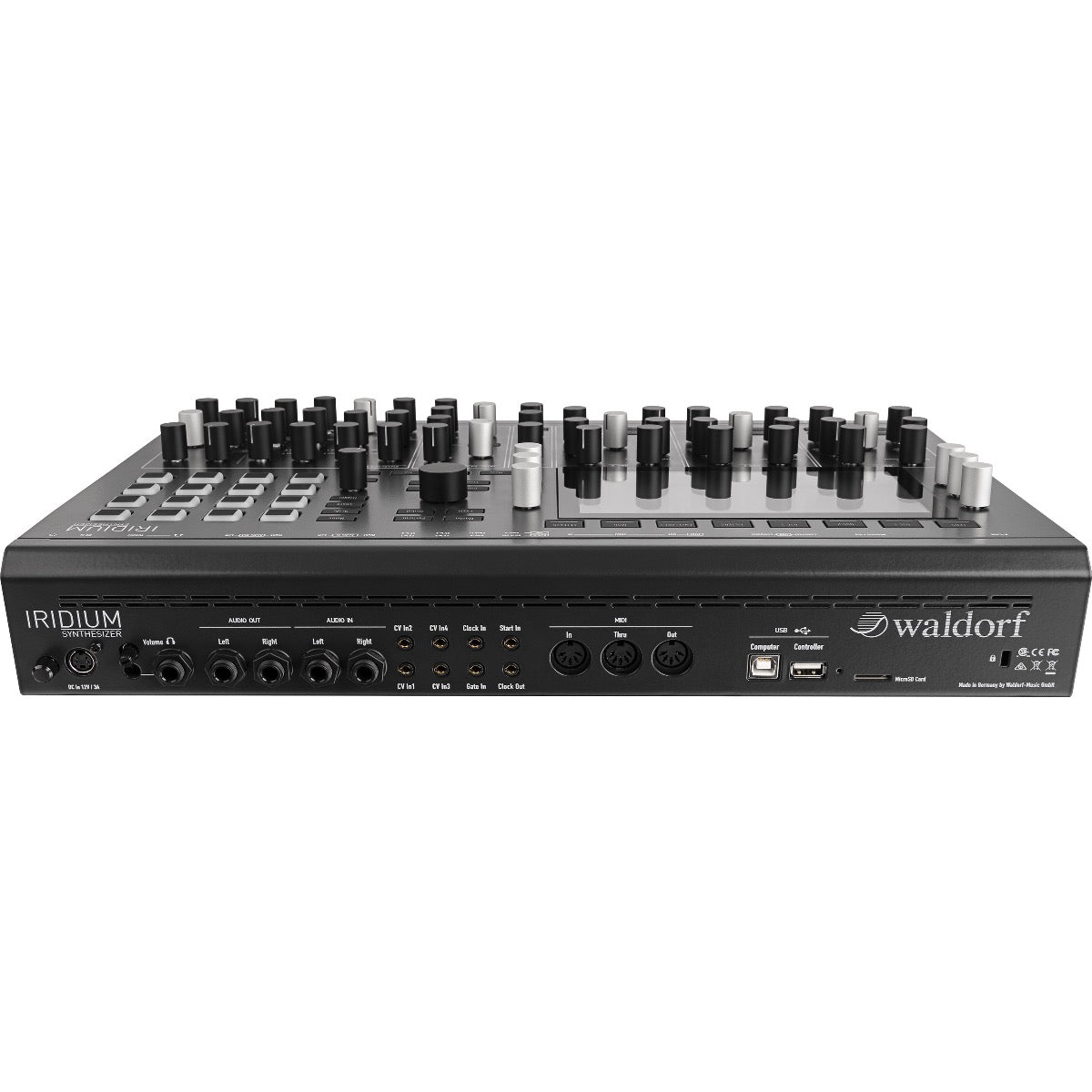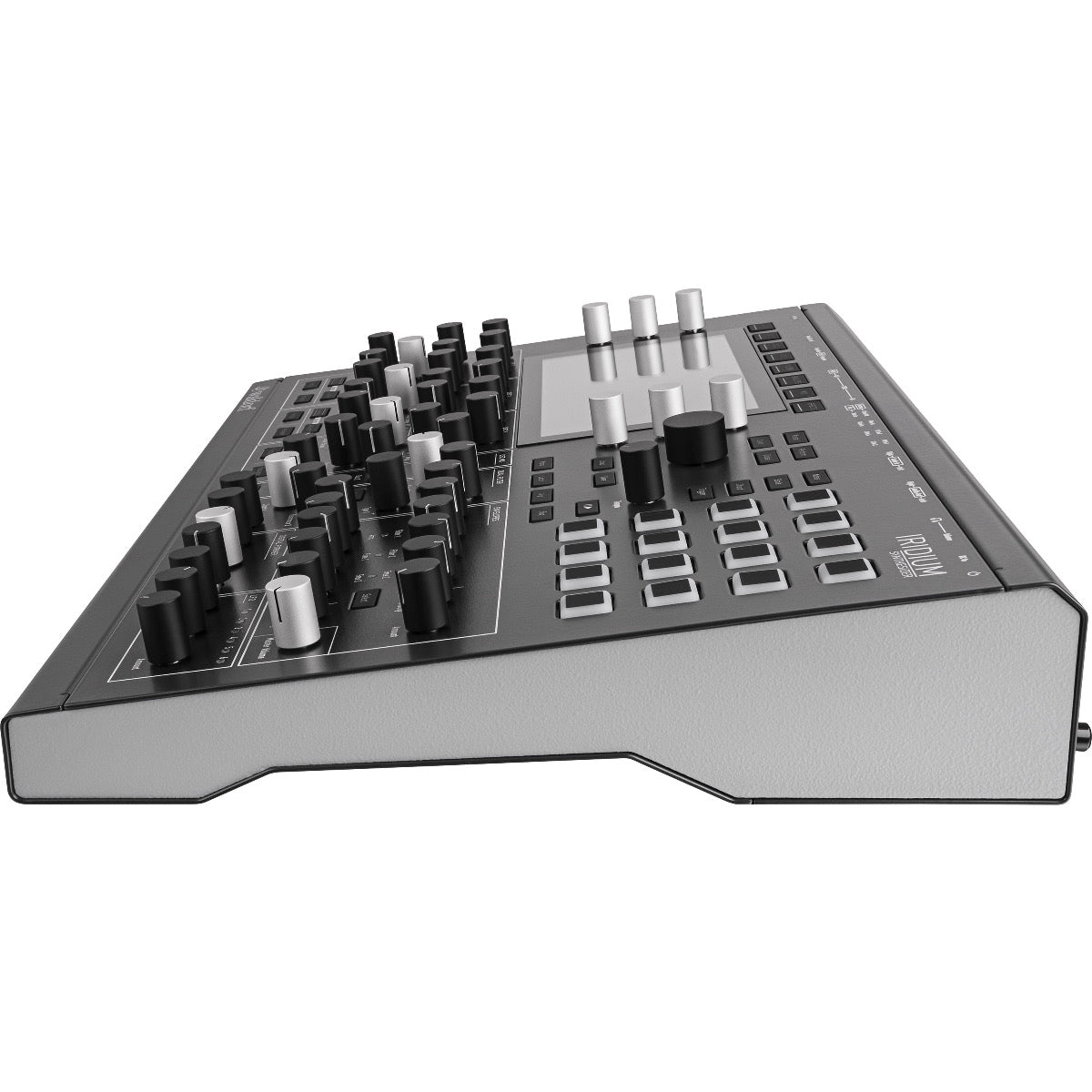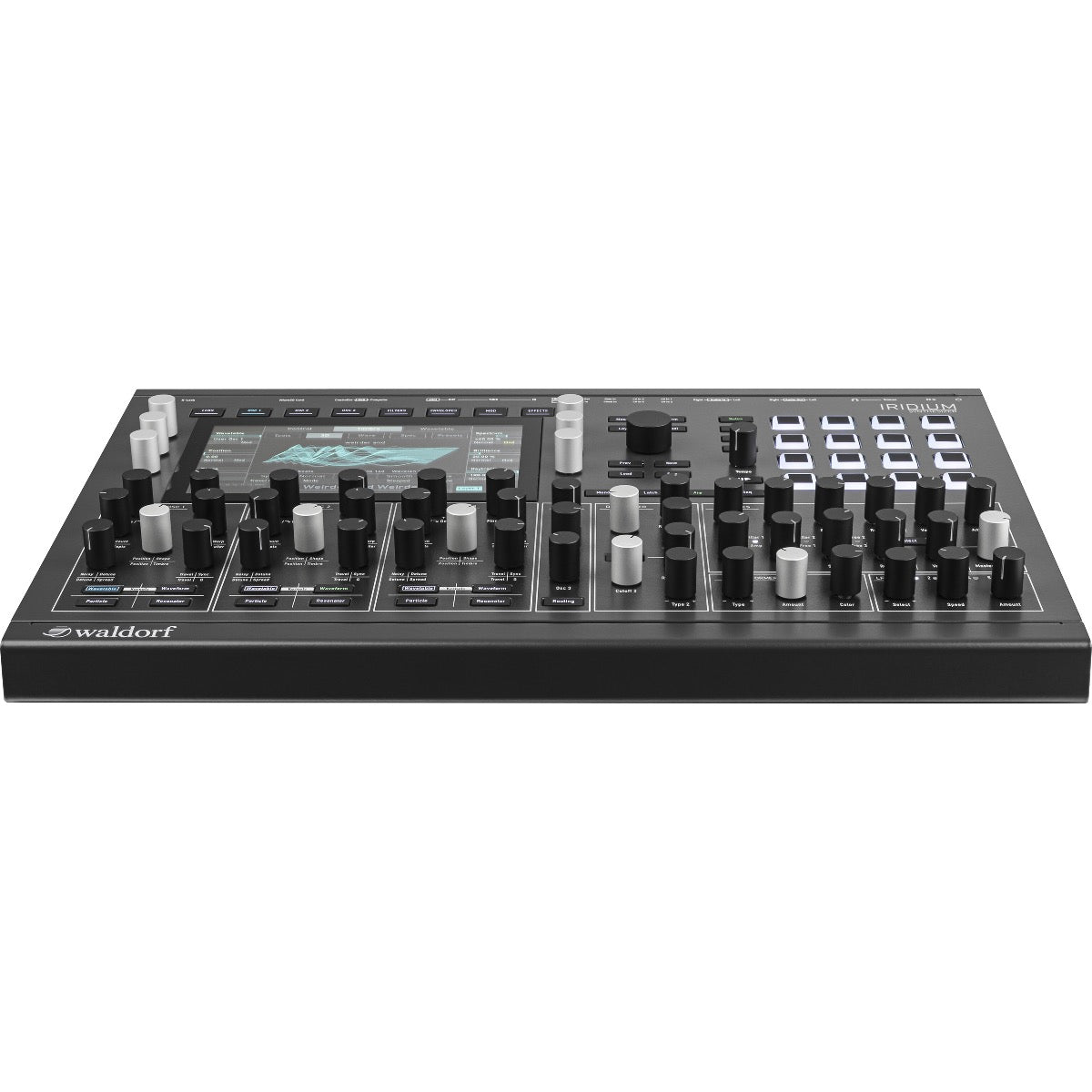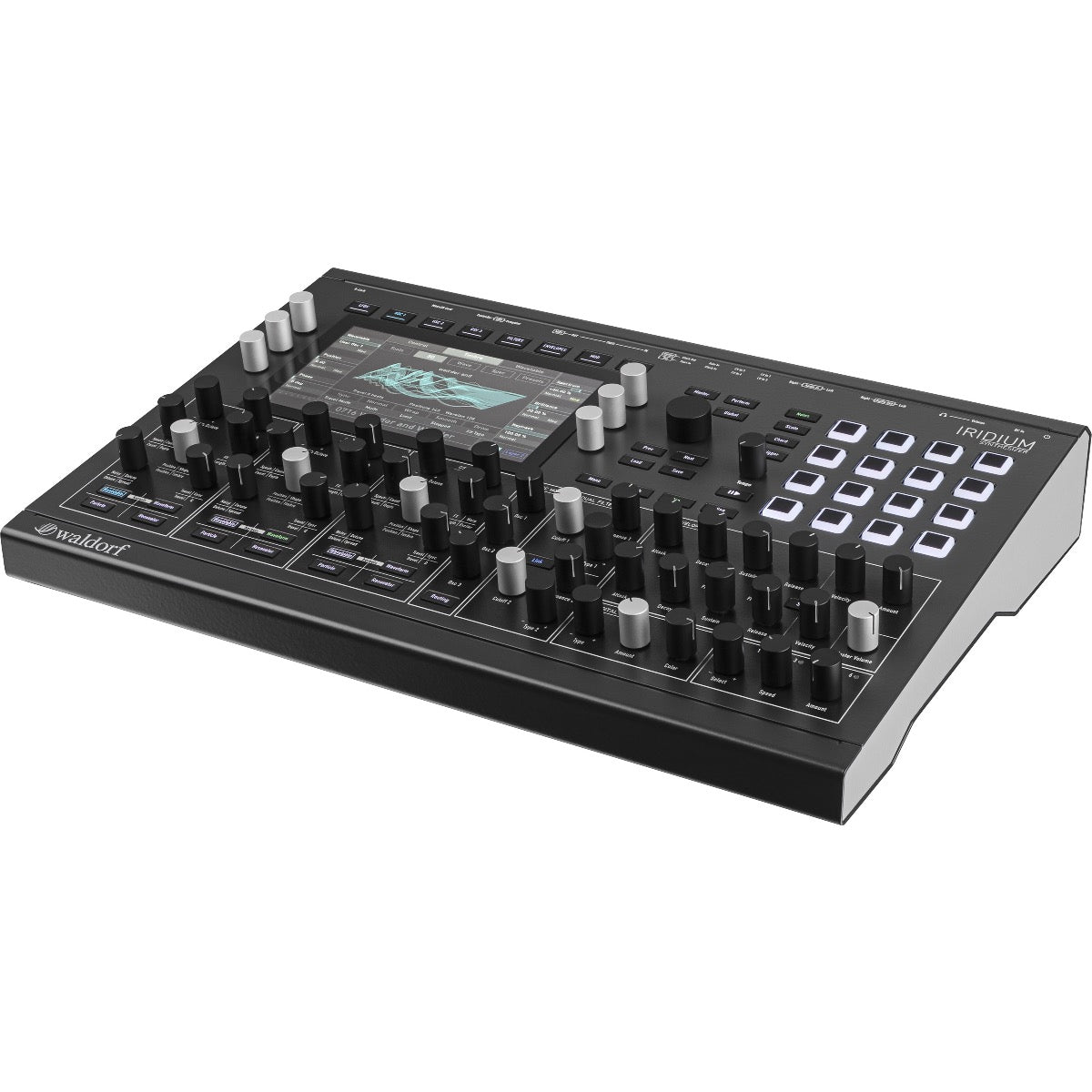 Waldorf Iridium Digital Polyphonic Desktop Synthesizer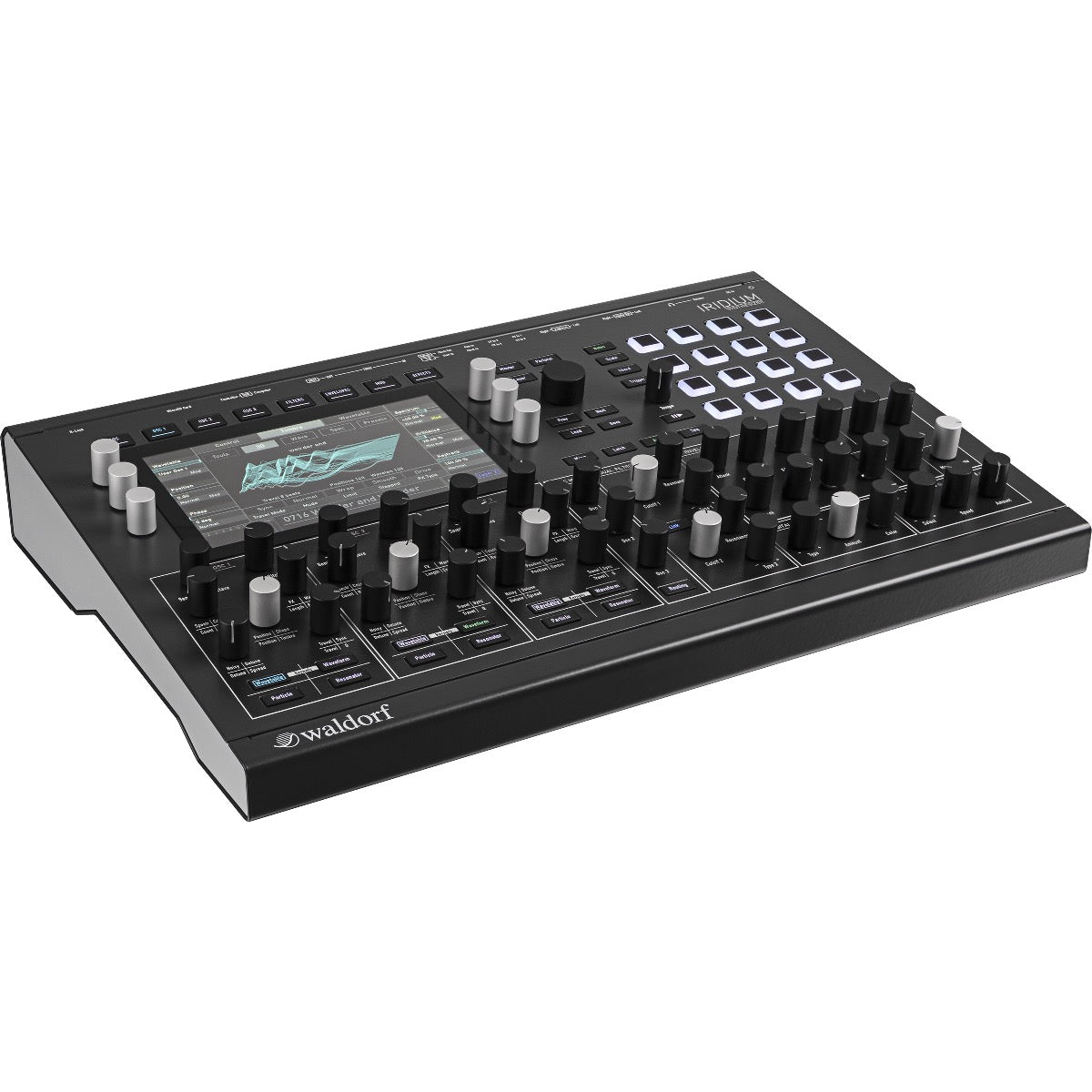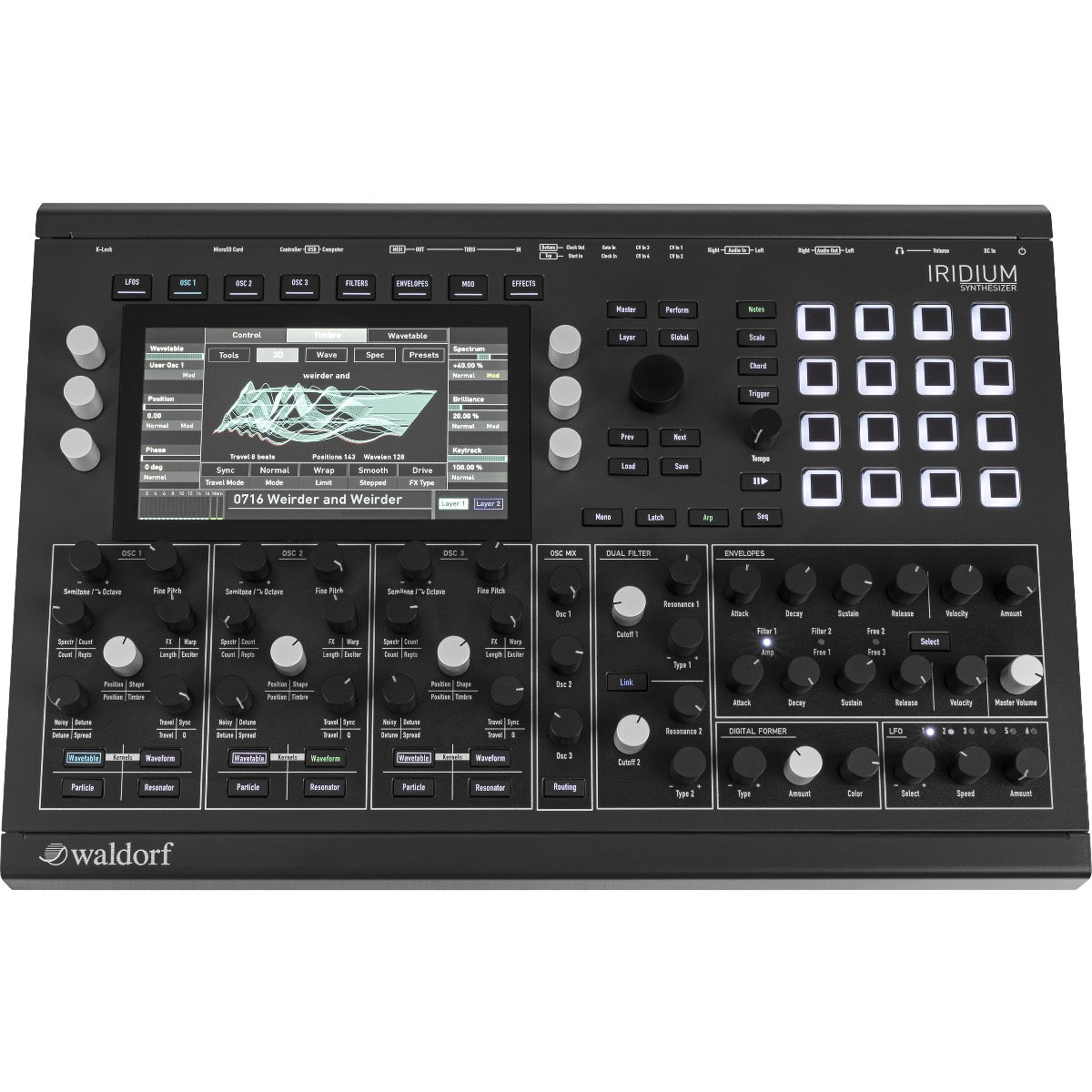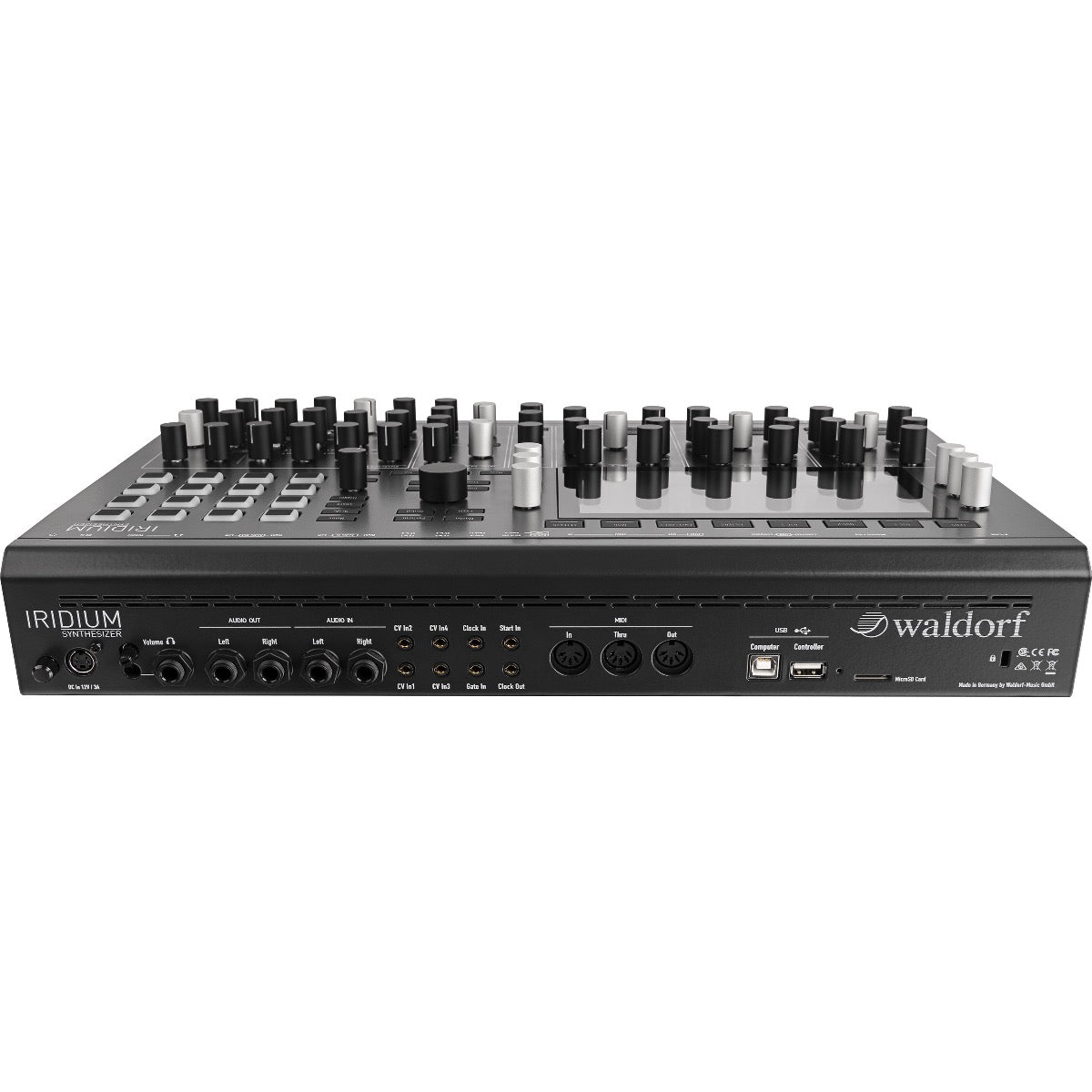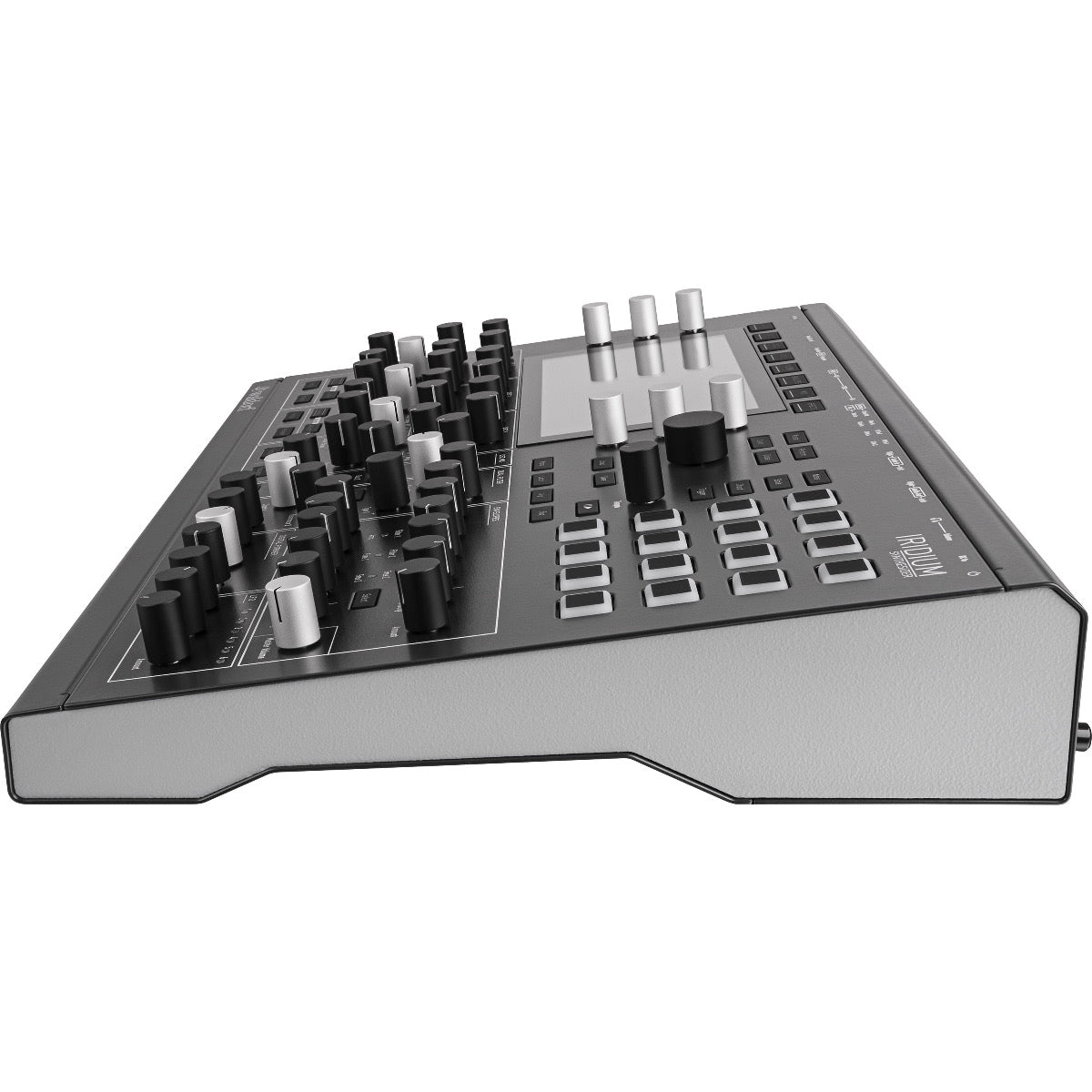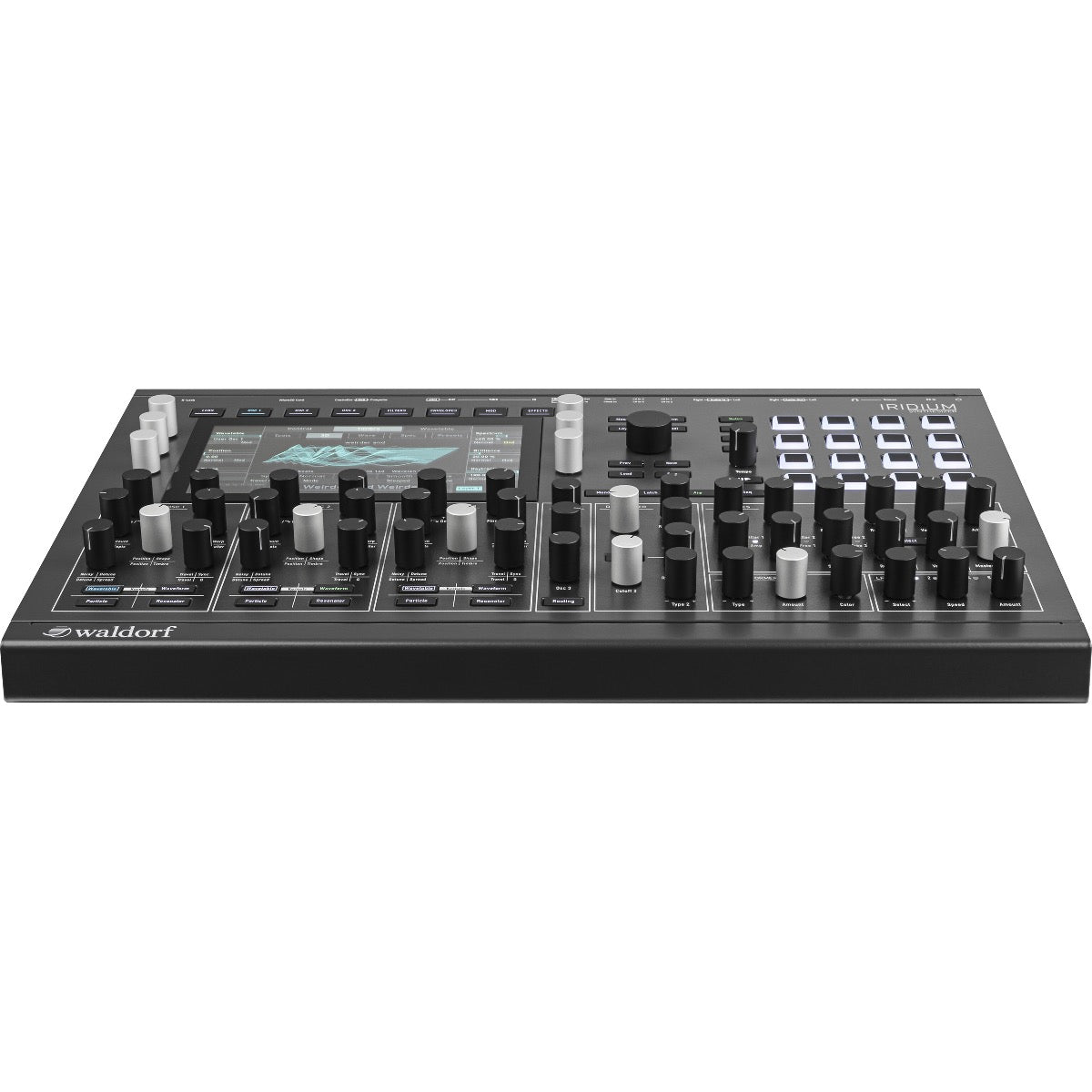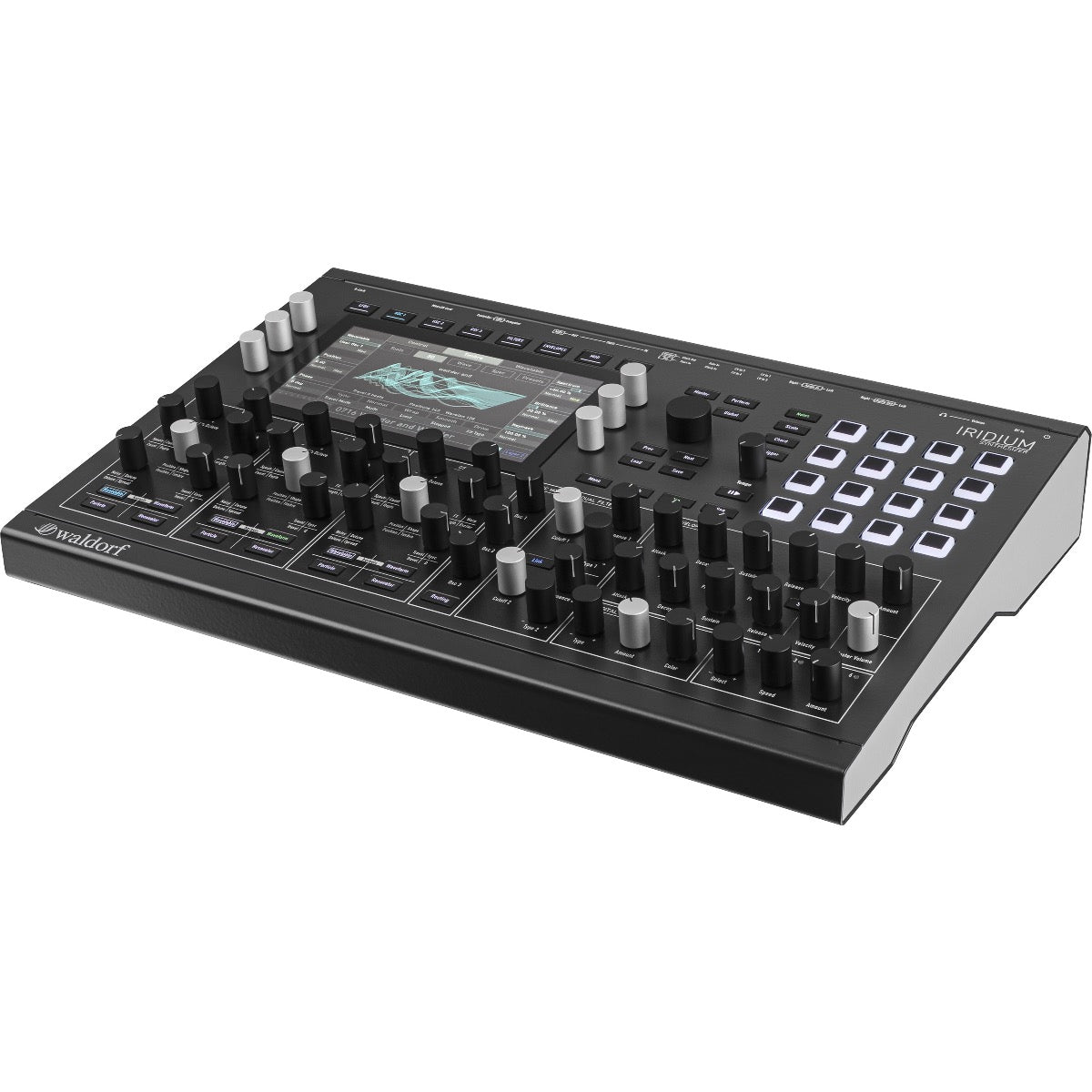 Waldorf Iridium Digital Polyphonic Desktop Synthesizer
Waldorf Iridium is a 16-voice, duo-timbral desktop/rackmount synthesizer with 3 oscillators and 3 stereo filters per voice plus a robust selection of onboard effects. Patches can be transferred between Iridium and Waldorf's flagship Quantum keyboard synthesizer, and within a single patch each oscillator can be assigned any of 5 digital synthesis engines shared with Quantum: Wavetable, Waveform, Particle, Resonator and Kernel. A high-resolution color touchscreen greatly enhances the sound design process, providing rich visual feedback and allowing direct manipulation of synthesis parameters, while a 4×4 matrix of assignable, RGB-backlit, pressure-sensitive pads offsets the absence of a traditional keyboard with novel new performance possibilities.
Sound structure
An Iridium patch starts with its 3 oscillators, each of which can be assigned any of the 5 synthesis modes described below. The oscillators' output then passes through Iridium's filters, Digital Former, amplifier and up to 5 assignable effects, maintaining a true stereo signal throughout. Parameters across the entirety of this signal path can be affected by a variety of modulation sources, including traditional envelopes and LFOs as well as the Komplex Modulator and a 40-slot mod matrix.
Wavetable Oscillator
In addition to deep controls for assigning and sweeping factory or custom user wavetables, Iridium's Wavetable Oscillator also offers parameters for wavetable signal saturation/gain, pitch-independent spectral envelope control and a 'noisy' parameter to add character without affecting spectrum.
Waveform Oscillator
Here you'll find traditional analog synthesizer waveforms, including sawtooth, triangle, square/pulse and sine. Individual oscillator waveforms can be synced, detuned and spread across the stereo spectrum, while their actual waveshapes can be further affected and mangled by sweep-able, modulate-able Shape and Warp parameters.
Particle Generator
While at a basic level the Particle Generator makes sound by playing back audio samples, it's no mere 'sampler,' deriving its name from its optional granular playback capabilities. In Granular Mode, parameters are provided for grain count, grain pitch spread, grain pitch jitter, playback start position, playback length and playback position travel speed. Traditional sample playback is also available.
Resonator
Derived from the principles of physical modeling synthesis, Iridium's Resonator starts with an 'exciter,' which can be a noise impulse of varying length or even an audio sample, and then sends that impulse into a bank of resonant bandpass filters. Extensive controls are provided for both sections, including exciter source/length and resonator Q, Q curve and spectrum skew.
Kernel
This oscillator mode provides a modular approach to synthesis in which up to 6 audio 'kernels' can be combined into a single oscillator, with each kernel effectively an oscillator in its own right that can be assigned traditional waveforms, sine waves, wavetables, noise or samples. Kernels are not only layered together to create a unique timbre, they can also modulate one another at audio rates using amplitude modulation, frequency modulation, ring modulation, phase distortion and even audio rate wavetable position modulation.
Sampling and sample playback
As noted in the sections above, Iridium's Particle Generator, Resonator and Kernel oscillator modes can all work with audio samples in various ways. Iridium comes loaded with a wide variety of samples in its 2GB onboard memory and you can load your own from a microSD card or USB storage device. New samples can be recorded directly from Iridium's stereo 1/4" inputs, analyzed, edited and looped using the color touchscreen and then saved to memory for immediate use.
Filters and Digital Former
Iridium has two slots for traditional stereo filters that can be assigned a variety of slopes across high pass, low pass and band pass modes; these two filters can be run in parallel or combined with one another in various interesting ways. The Digital Former, meanwhile, provides even more signal-shaping and -enhancement options including drive, bit crushing, and ring modulation as well as additional digital filter models borrowed directly from Waldorf Nave, PPG and Largo.
Effects
Each patch can use up to 5 effects slots, with each assigned effect offering a deep selection of parameters that can be visualized and edited on Iridium's color touchscreen. Available options include chorus, reverb, delay, phaser, flanger, parametric EQ and compressor.
Envelopes, LFOs, mod matrix and Komplex Modulator
In the modulation department, Iridium offers an amp envelope, 2 filter envelopes and 3 freely assignable envelopes along with 6 LFOs and the unique Komplex Modulator, a special LFO with two different curves that can optionally be mixed together. Any of these modulators can be assigned as sources in Iridium's 40-slot, 96-destination mod matrix. Additional modulation sources include Iridium's CV/gate inputs, an onscreen X/Y pad with assignable axes and a variety of MIDI messages including pitch bend, mod wheel, keyboard velocity/pressure, breath controller and 10 CCs.
Panel and touchscreen
Iridium makes the most of its top panel real estate with dedicated controls for various parameters across its 3 oscillators, dual filters, mixer and Digital Former along with shared controls for its multiple envelopes and LFOs. Surrounding its color touchscreen are 8 dedicated buttons to select modes and 6 soft knobs to control adjacent onscreen parameters, while the touchscreen itself provides tremendous visual feedback for various waveform and spectrum displays and allows direct touch manipulation of numerous parameters in its rich onscreen graphical representations.
RGB pads, arpeggiator and step sequencer
As a tabletop module, Iridium eschews a traditional black and white keyboard for a smaller physical footprint and reduced price, but nevertheless provides extensive play and performance options via its novel 4×4 matrix of RGB-backlit, pressure-sensitive pads. Used in conjunction with adjacent dedicated play mode buttons, the 16 pads can be played in note, scale, chord and arpeggiator modes or used to edit step values in the powerful onboard sequencer.
MIDI and CV/gate
In addition to a robust MIDI implementation that allows various CCs to act as mod matrix sources, Iridium also exposes the mod matrix and various parameters to input from its 4 CV inputs and gate input. Additional clock in/out and start in connections allow you to control and clock Iridium's arpeggiator and sequencer from external analog sources.
USB and microSD
Iridium provides the MIDI-over-USB functionality you'd expect from a modern instrument via its USB-B USB to host port, but goes one step further by also including a USB-A MIDI to device port, which can accept MIDI input directly from class-compliant controllers and connect to USB storage devices for easy patch/sample data transfer and OS updates. Samples and patch data can also be loaded via Iridium's microSD card slot.
Patch compatibility with Quantum
Besides the obvious physical differences in size and onboard control, Iridium also differs from Waldorf's flagship Quantum keyboard synthesizer in areas like voice count and onboard filter design, but the fact is they have more commonalities than differences, sharing their basic sound structure as well as the 5 synthesis engines, which means that differences notwithstanding patches may be freely transferred between Iridium and Quantum with full compatibility.

SKU
WAL-IRIDIUM
MPN
Iridium
Vendor
Waldorf
Aftertouch
Yes
Analog Digital
Digital
Included From Manufacturer
Power supply
Key Num
None
Midi
In, Out, Thru, and USB
Mono Poly
Polyphonic
Mpn
IRIDIUM
Product Unique Features
Mount in 19" rack with optional rackmount hardware kit (sold separately)
Arpeggiator
Yes
Control Connections
(4) 1/8" CV inputs
1/8" gate input
1/8" start/reset input
1/8" clock input
1/8" clock output

Onboard Controllers
16 assignable RGB-backlit pressure-sensitive performance pads
Effects
5 effects slots per patch
Assignable effects include chorus, reverb, delay, phaser, flanger, parametric EQ and compressor
Expansion Options
microSD card slot for sample import, OS updates and patch transfer
Audio Inputs
Dual 1/4" stereo external audio inputs for processing or sampling
Audio Outputs
Dual 1/4" stereo outputs
Internal Storage Capacity
2GB sample memory
Multitimbral Capability
Duo-timbral
Oscillators per Voice
3
Product Weight
11.91 lb
Programs/Presets
1,000+ factory preset patches
7,000 patch storage locations
Patch compatible with Waldorf Quantum (sold separately)
Sampling
Generous selection of factory samples
User samples may be loaded from microSD or USB storage
Built-in sample recording/editing engine using stereo 1/4" audio inputs
Sequencer
32 steps per measure
Sequence note, velocity and length per step
Create up to 4 additional sequences as parameter modulation sources
USB Flash Drive Port (to Device)
Program/Preset Storage;Sample Import;System Updates
USB Port (to Host)
MIDI
Voices of Polyphony
16
Width
17.32"
Depth
12"
Height
3.35" including knobs
Waldorf Limited Warranty
This warranty covers all defects in material and workmanship for a period of one year from the date of original purchase.
During this time, Waldorf Music will repair or replace the product without charge for materials or labor, provided the product was first inspected and found faulty by Waldorf Music or an authorized service center.
You must first contact your dealer or distributor by telephone. Products that were mailed without prior agreement cannot be exchanged or repaired free of charge. The unit must be insured and sent prepared in its original package. Please include a detailed description of the defect. Products that were not send prepared or in the original package will be returned unopened. Waldorf Music reserves the right to upgrade the unit with the latest technological advances if necessary.
This warranty does not cover defects due to abuse, operation under other than specified conditions, or repair by unauthorized persons. The warranty covers only those malfunctions caused by material or workmanship defects that occur during normal operation.
Standard Shipping