Skip product carousel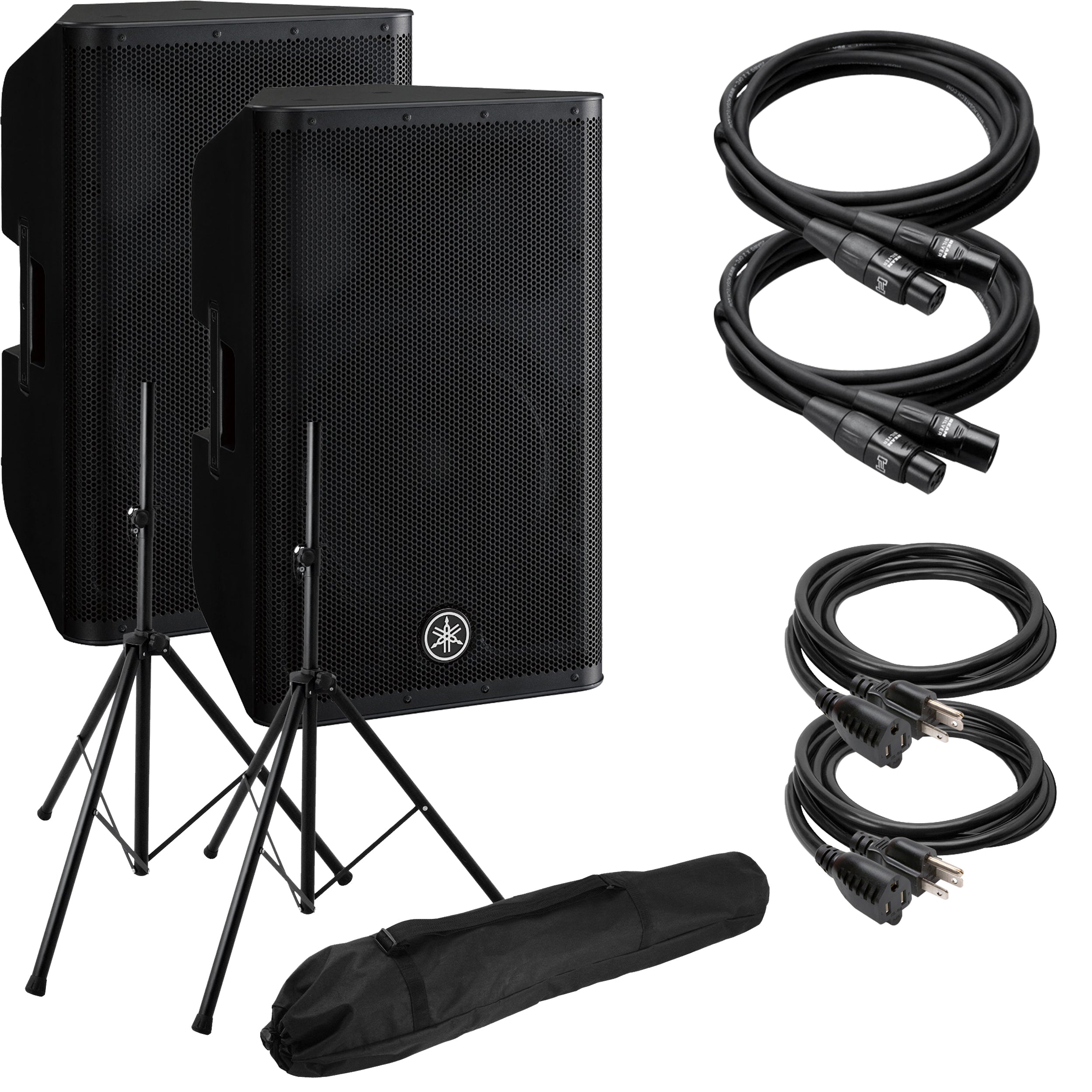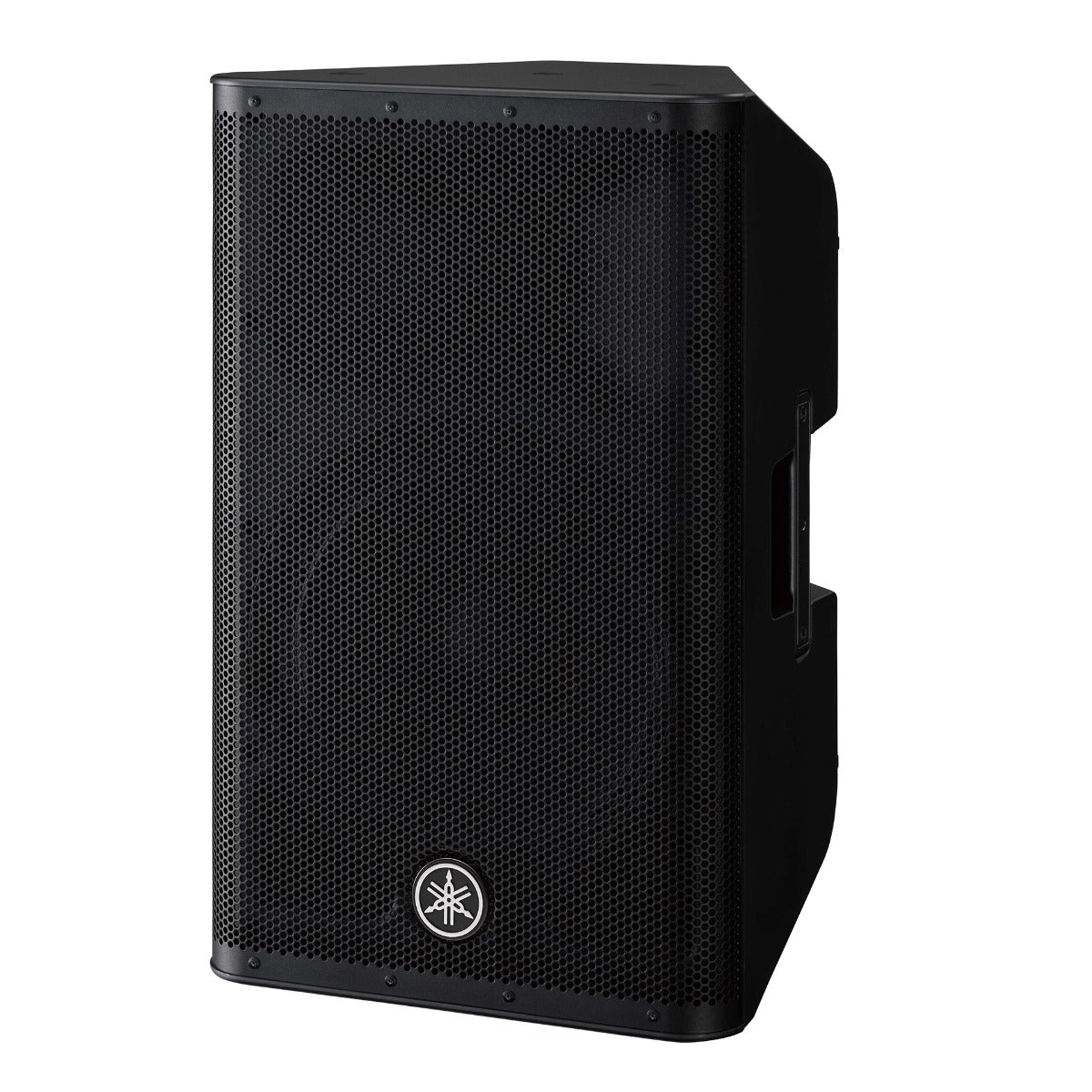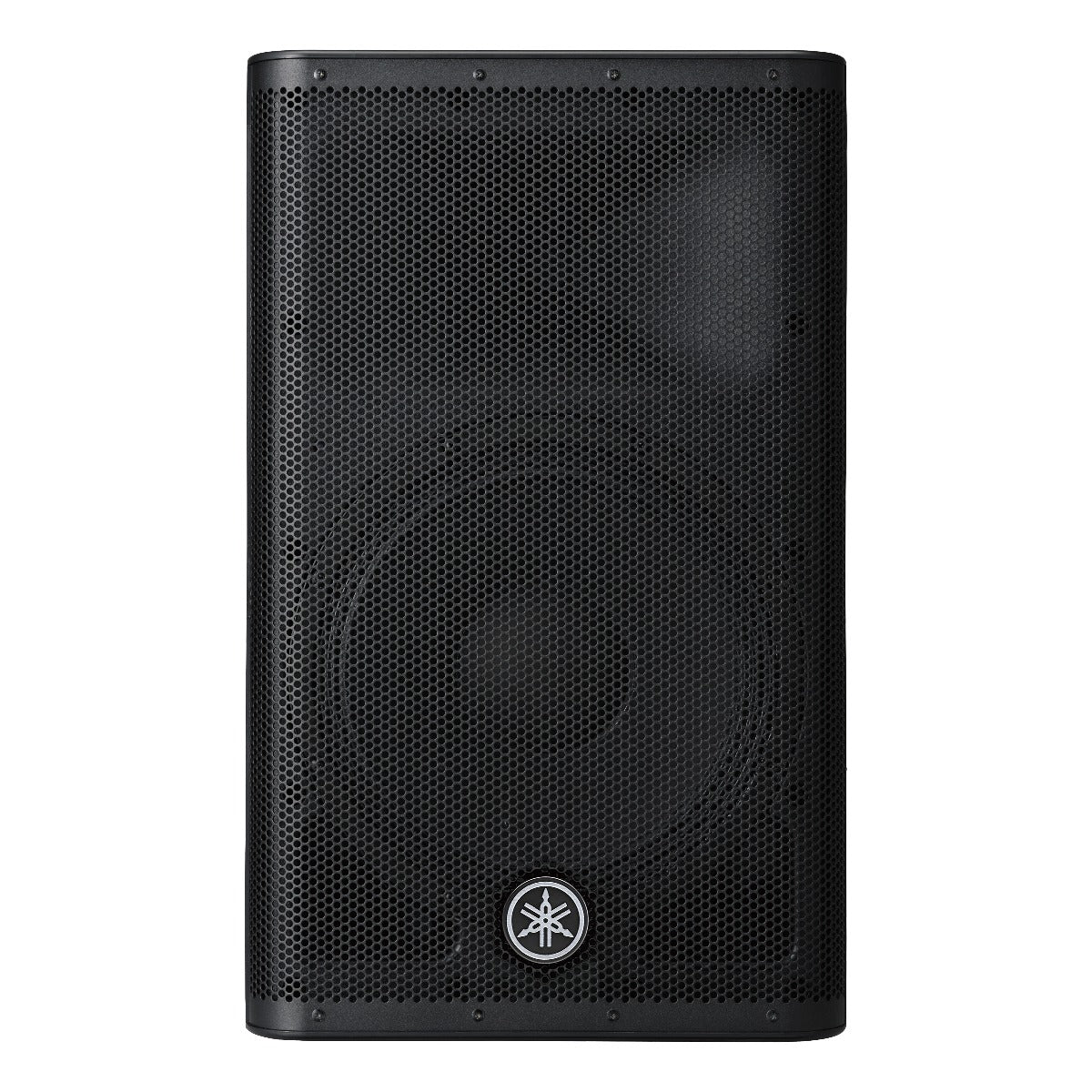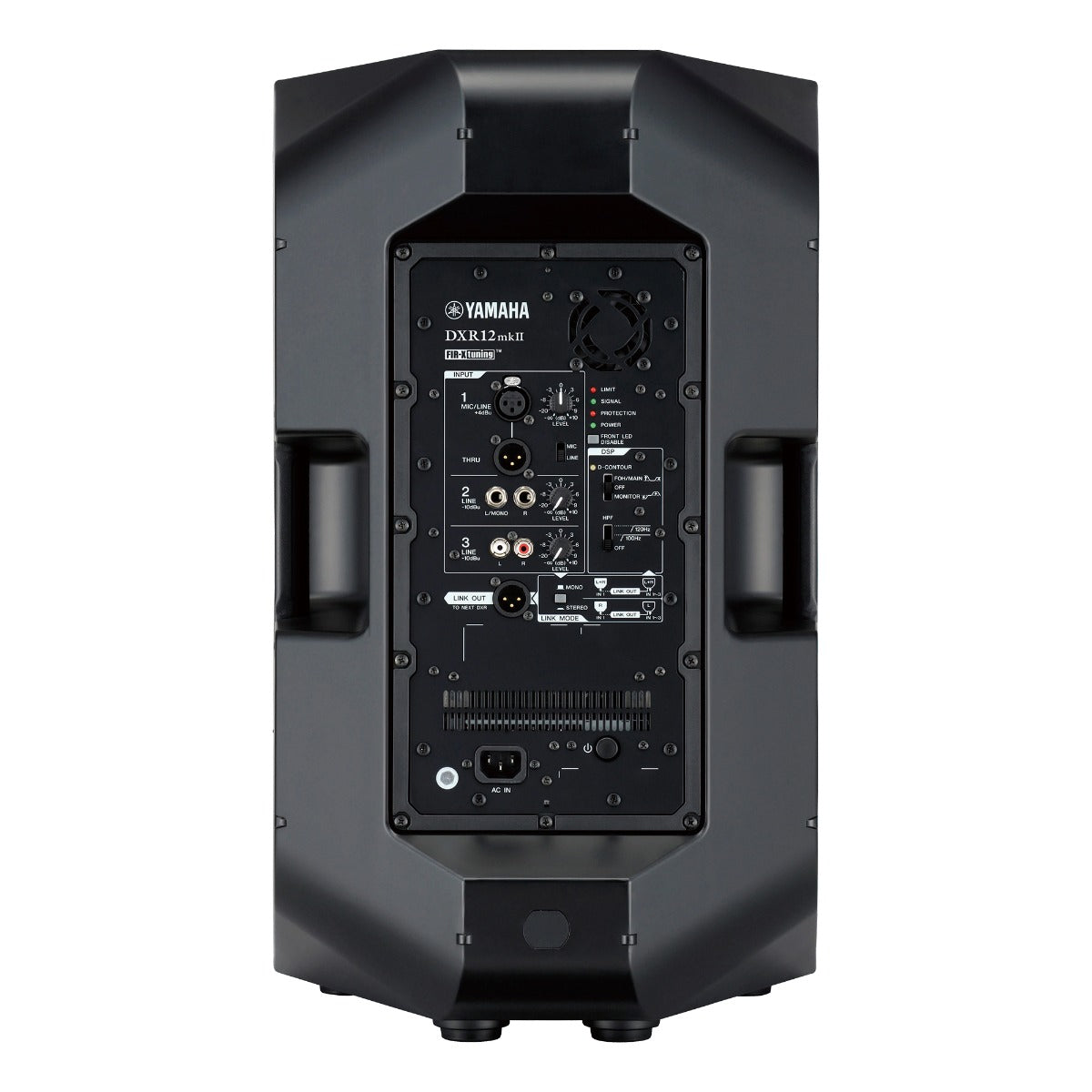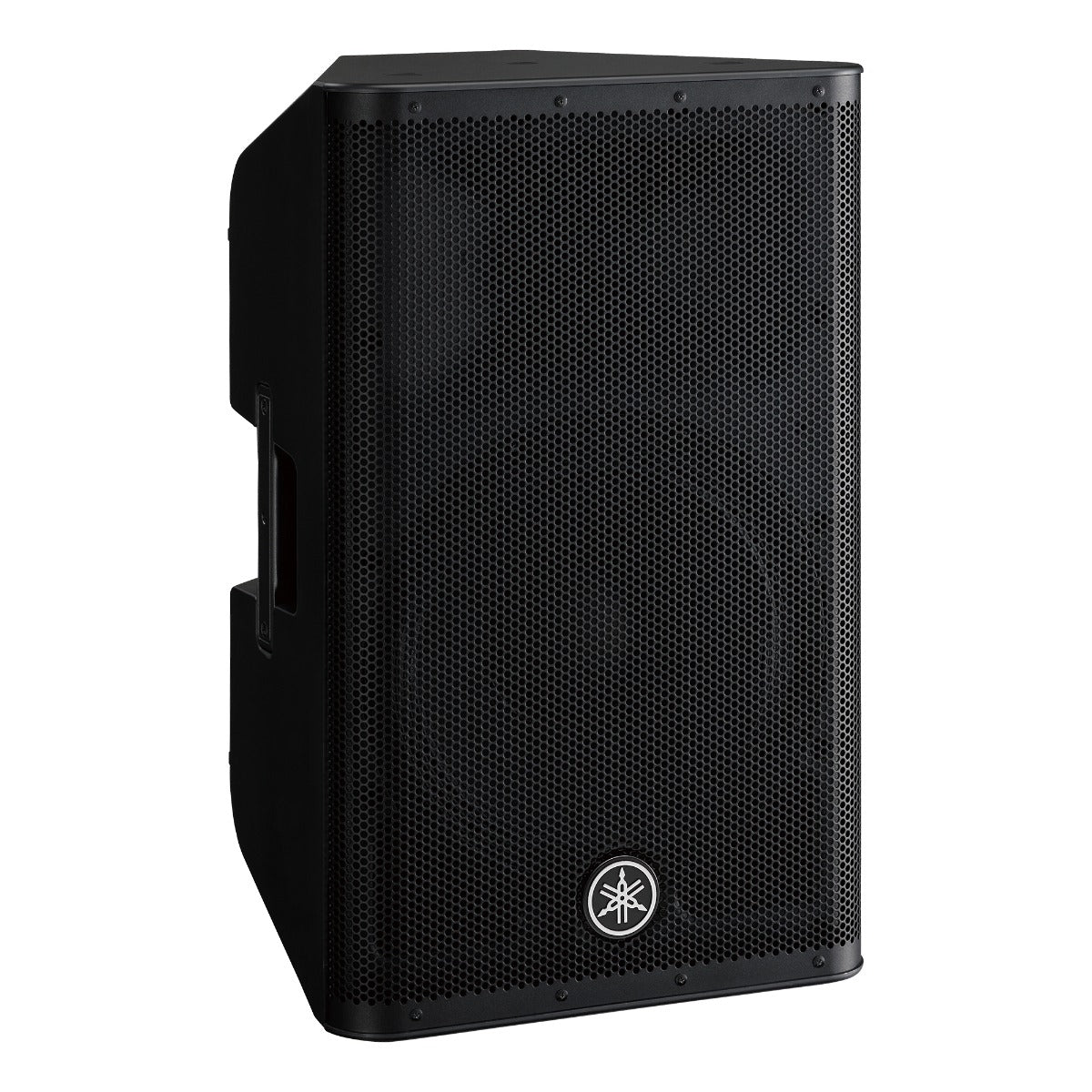 Yamaha DXR12 MKII Powered PA Speaker AUDIO ESSENTIALS BUNDLE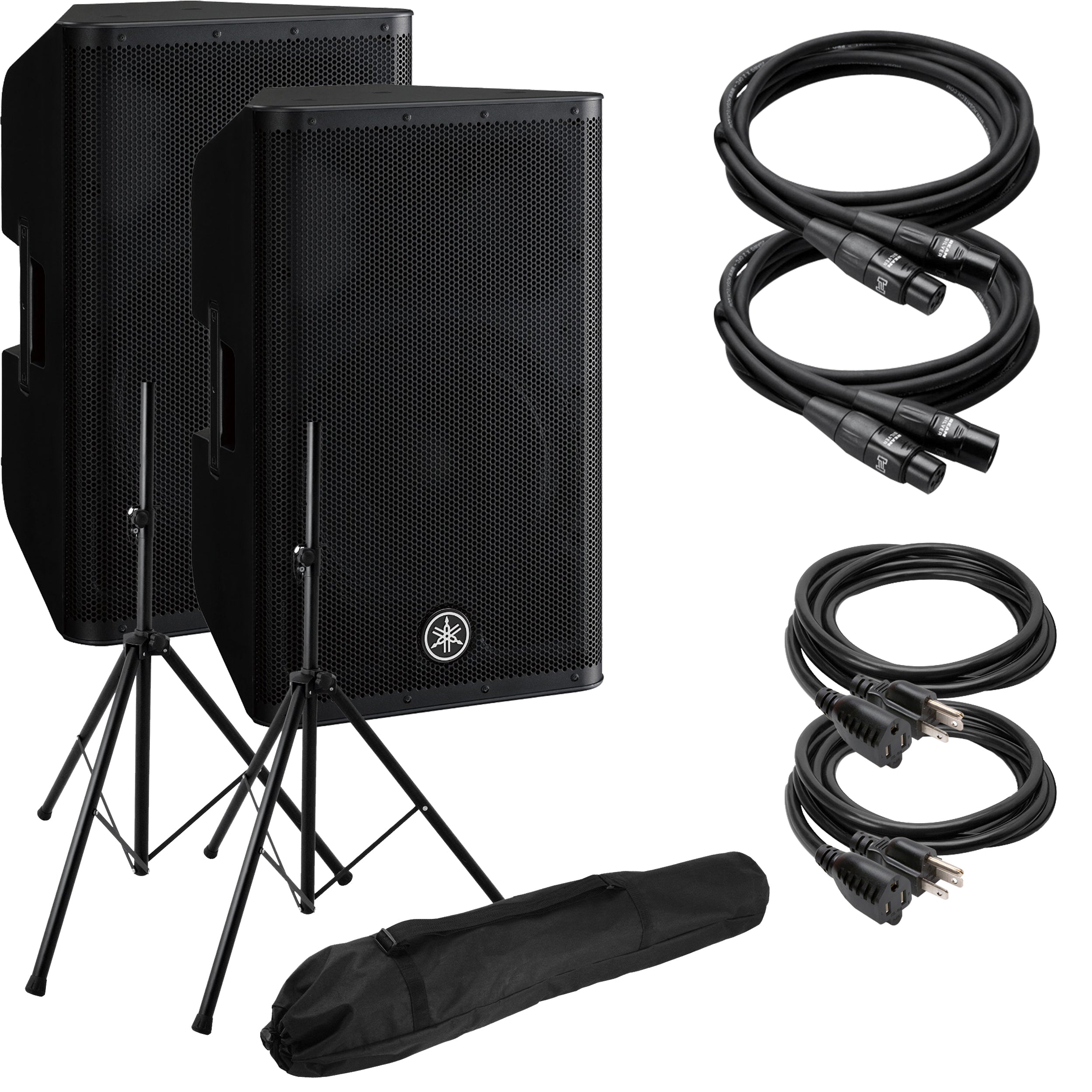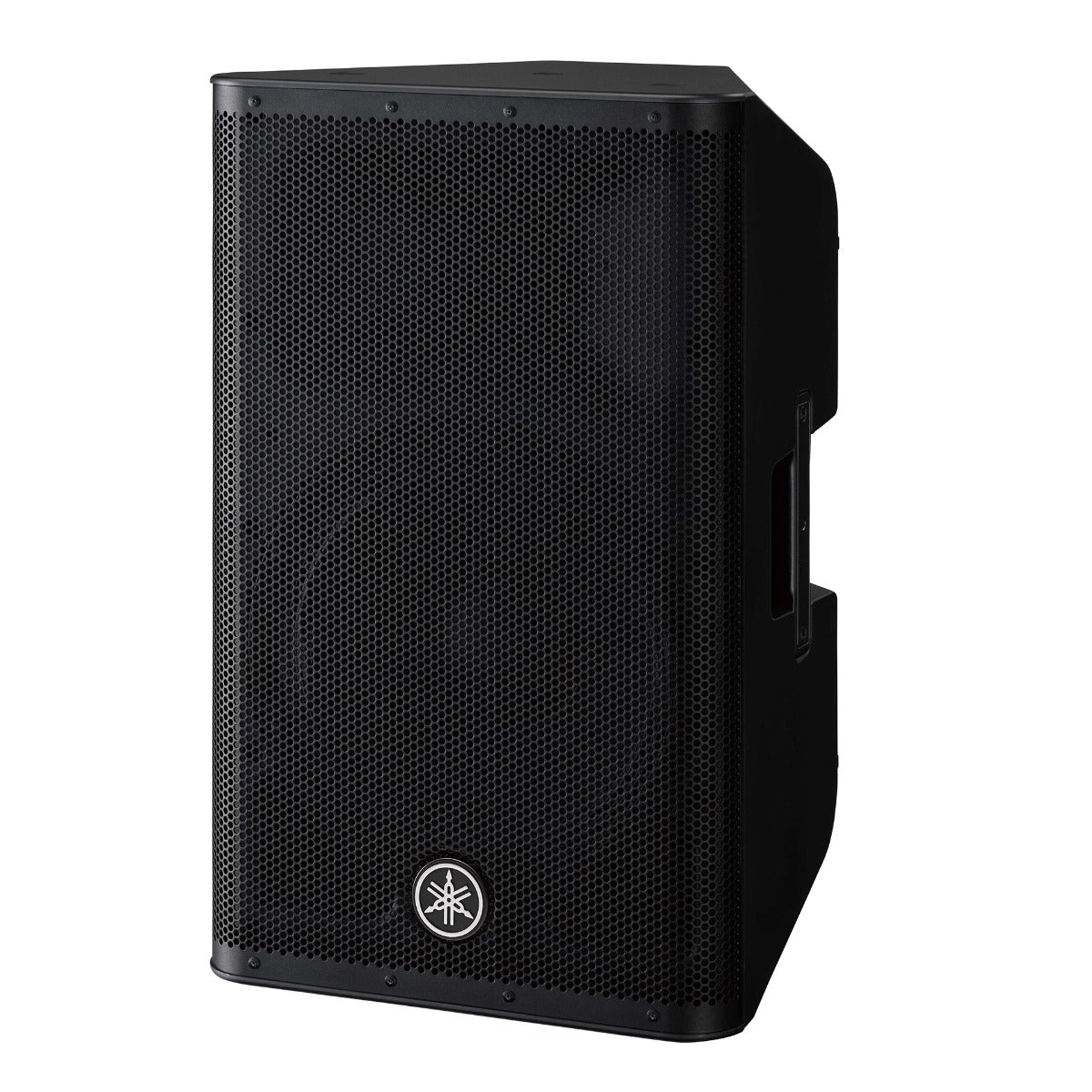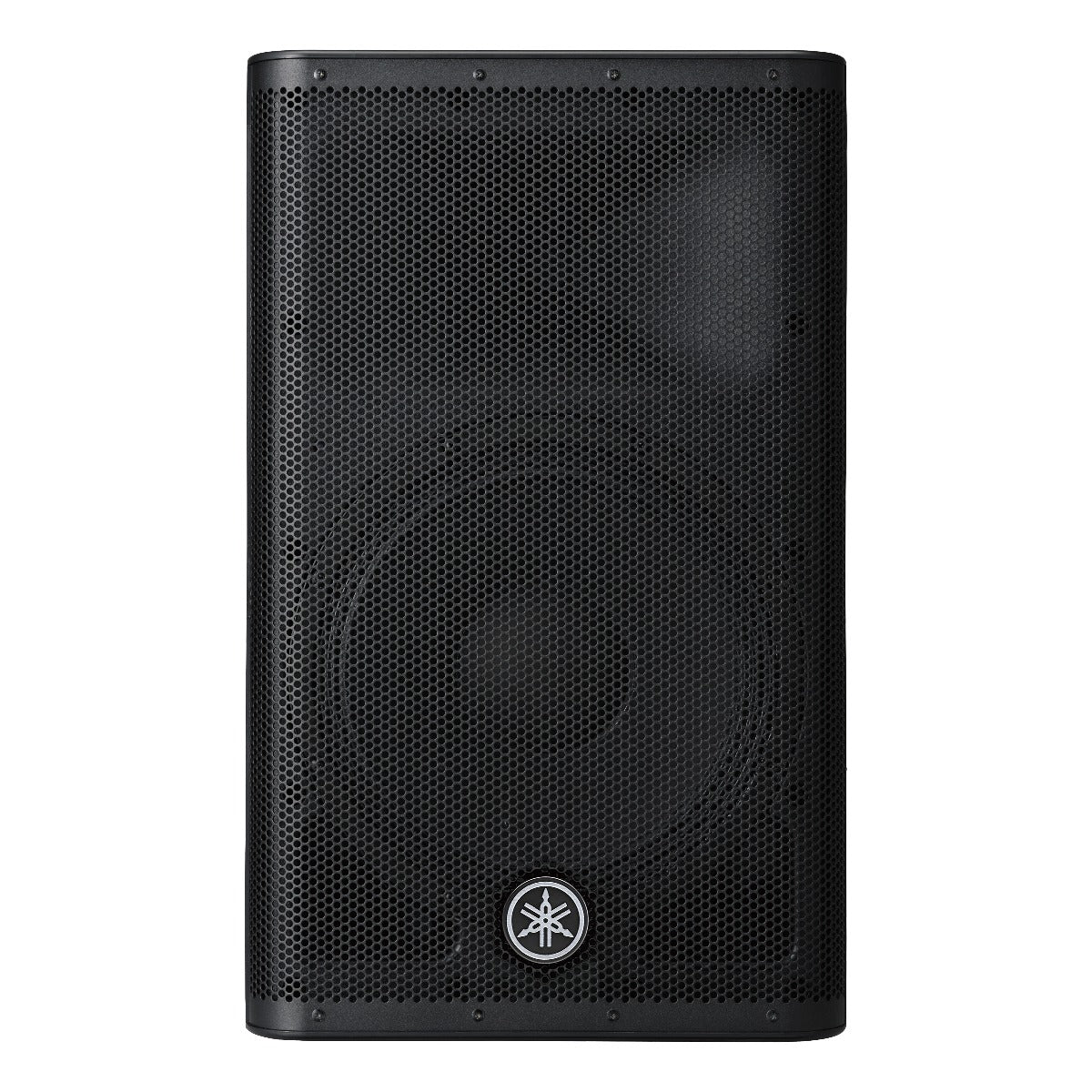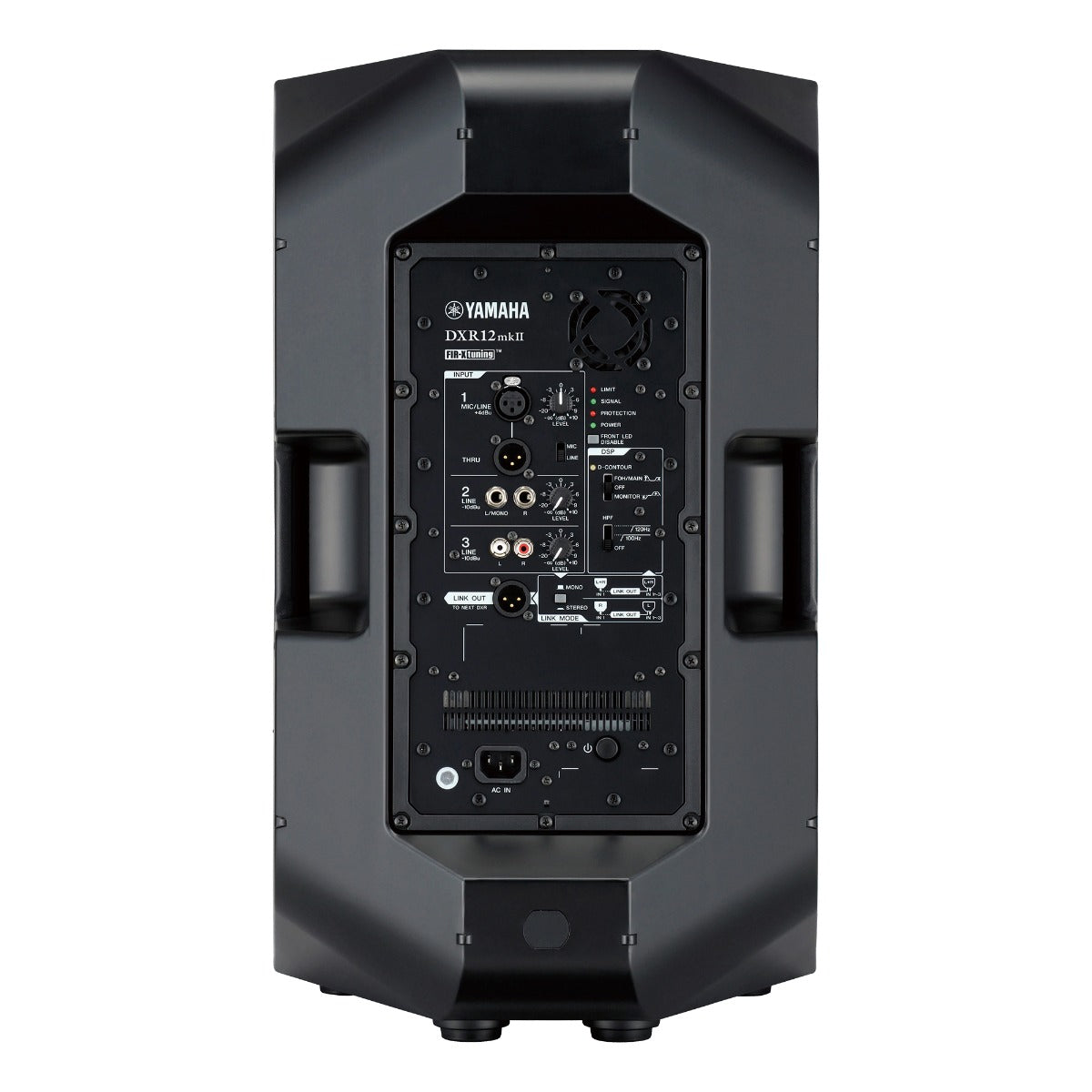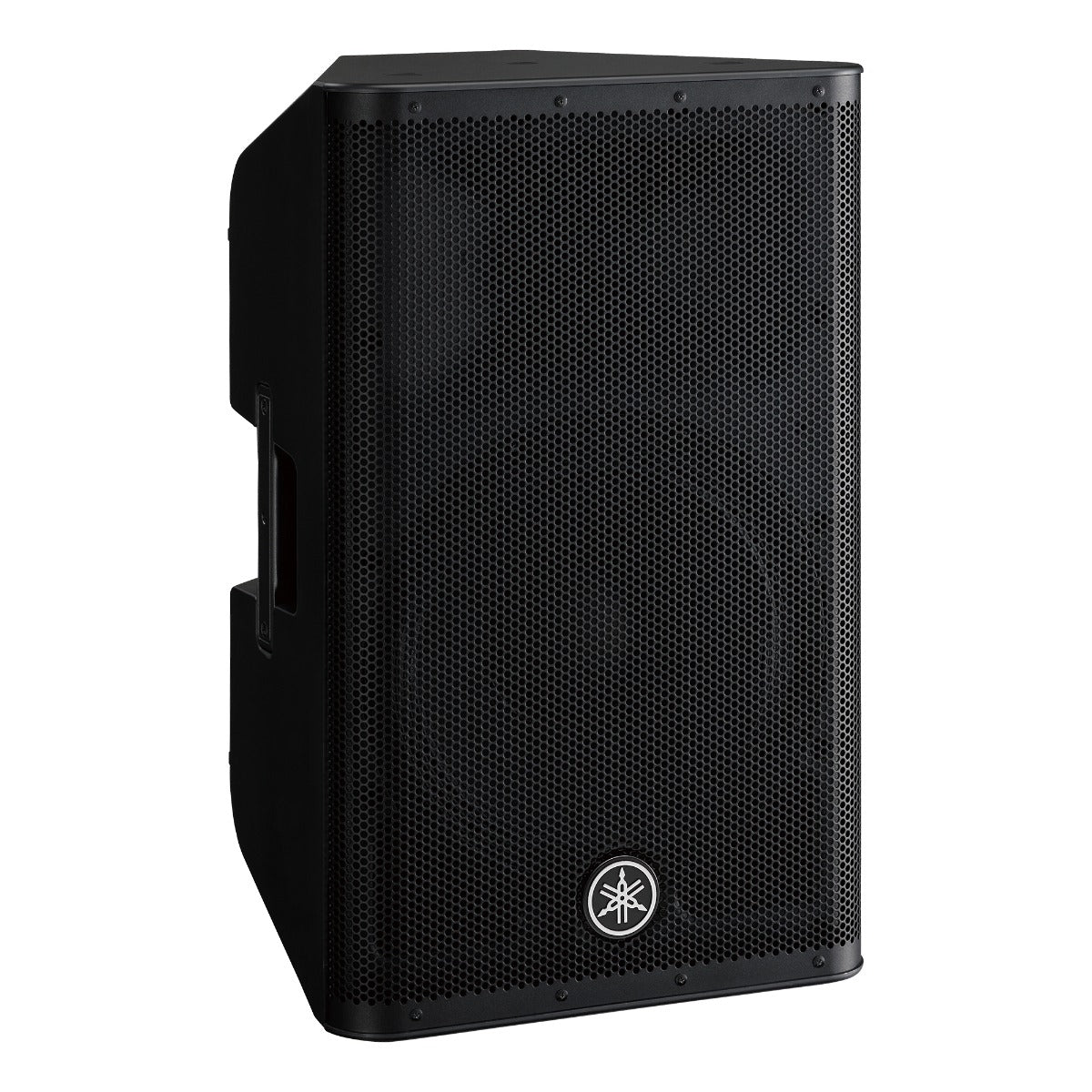 Yamaha DXR12 MKII Powered PA Speaker AUDIO ESSENTIALS BUNDLE
4 items included
This Kraft Music Bundle Includes
$1,971.99
Regular price
$2,022.77
You Save $50.78
Click on a product to view more details.
The DXR12mkII is an extremely high-power loudspeaker that is capable of producing a maximum SPL of 134dB with its impressive 1100W of power. It is the perfect solution for live sound applications that demand wide bandwidth and extremely high-resolution sound.
Power To The People
DXR Series loudspeakers offer superb high-definition sound and class-leading sound pressure levelsyet in a more compact and extremely functional design that provides a level of versatility unmatched by any speaker in its class today. The DXR Series is comprised of four full-range models perfectly suited for front-of-house sound, monitors, simple amplification, rigged applications and more. Combining the series with our newly designed DXS subwoofers will further elevate your system's performance, giving you versatile control of its thunderous bottom end. With the perfect balance of raw power and innovative speaker technologies, you can depend on DXR Series speakers to deliver the full power of your performance to every member of your audience.
The Power of "D"
Everything from the detailed management of crossover, EQ and time alignment to the limiter settings, protection functions and precise dynamic control of the sound, was subjected to endless simulation, in-house and field testing to ensure that these speakers produce the highest level of sound quality at the highest output levels possible. Combined with Yamahas advanced analog signal processing and acoustic technologies, the Power of D delivers ultimate performance.
Ultra-Precise 48Bit DSP Processing for High-Definition Sound
All full range models feature Yamaha's proprietary FIR-X tuning utilizing linear phase FIR* filters for the crossover network. FIR-X tuning simultaneously optimizes frequency and phase response while adjusting the time alignment between the HF and LF transducers. This creates a very smooth response around the crossover point, providing much better clarity and imaging than what is possible with typical crossovers. All signals are precisely processed by a 48bit (76bit accumulator) high-performance processor for high definition sound quality. All full-range models employ high-precision 24bit discrete A/D and D/A converters with superior S/N ratio and dynamic range.
Intelligent Dynamic Control for Consistent Clarity at Any Output Level
D-CONTOUR is an intelligent multi-band compressor that gives you powerful and consistent sound throughout all output levels. By constantly monitoring the output of multiple frequency bands and calculating the optimum EQ adjustments for each, even the maximum sound output maintains outstanding clarity and musicality. With the DXR Series, D-CONTOUR provides a more detailed tuning of your sound with two different settings: FOH/ MAIN mode or MONITOR mode. FOH/MAIN mode boosts low-frequency to compensate for low-end that is typically missing when speakers are used in suspended applications or mounted on a speaker stand. MONITOR mode is completely optimized for floor monitor application by intelligently taming down the low-frequency that adds up due to floor reflection, smoothing out a wide range of frequency bands to give you stunning clarity for monitoring your sound. Both of these presets were perfected by performing countless listening tests with skilled sound engineers, giving you a multi-band compressor that performs dynamically, delivering consistent sound with low distortion at any output level.
Extensive DSP Protection Functions for Maximum Output
In a typical system comprising passive loudspeakers, power amps and signal processors, trying to match optimal parameters for each component can be a daunting task. One of the advantages of active loudspeakers is that the combination of transducers and amps can be perfectly optimized. During the development of the DSR, DXR and DXS series, we measured and tested the durability of each transducer and the overall amp output through countless indoor and outdoor listening tests. Based on the test results, we were able to set the optimal limiter point for each model using precise DSP control. In addition to the optimal limiting, our speakers employ many of the same protection functions used in our top-class TXn Series professional power amplifiers. A microprocessor and high-power DSP monitor the status of the power supply, power amplifiers, transducers and ongoing signals to protect all aspects of each component. As a result, these speakers can perform to their full potential while ensuring reliable operation in even the most severe conditions. - Switchable White Front LED Each of the full-range models and DXS speakers has a white LED behind the front grille that illuminates when powered and varies in brightness depending on the amount of system limiting.
High-Efficiency 1100W Class-D Amplifiers
All-New Compact, High-Power DXR Amp Modules All DXR Series loudspeakers are equipped with highly efficient Class-D amplifiers that were optimally designed to match the DXR's HF and LF transducers. These high-performance amplifiers deliver the highest sound output in their class with 1100W of power, producing an impressive SPL up to 133dB. They also provide very fast attack and superior transient response, which greatly contribute to these speakers' incredible audio performance. - Universal Switching-Mode Power Supply The DXR Series employs an all-new, high-efficiency switching-mode power supply for its outstanding performance. The power supply is also suitable for use worldwide with its multi-voltage design.
Intelligent Onboard 3-Channel Mixer
The DXR Series features a flexible onboard mixer with a variety of input, making it ideal for simple vocal/ instrument amplification. With its flexible IN/OUT, the DXR Series can comprise a full sound reinforcement system, or seamlessly integrate into a setup utilizing DSR or DXS Series speakers. - Versatile Mic and Line Level Input Capability The DXR onboard mixer can handle up to three simultaneous inputs. It accepts both Mic and Line level input, giving you the flexibility to connect to a variety of sources from microphones to line level instruments and portable audio devices. When in MIC position, a HPF is automatically activated to roll off unwanted low frequency. - Flexible HPF Control All DXR loudspeakers feature flexible HPF control to perfectly match with DSR and DXS subwoofers. You can choose either 100Hz or 120Hz depending on which subwoofer you are using in combination with the DXR. DXS Series subwoofers feature flexible LPF settings allowing you to find the optimal HPF/LPF balance for your sound. - Smart Mixing / Linking Function Each channel has an individual volume control, letting you mix three discrete audio sources. THRU out passes the input signal from Channel 1 and LINK OUT sends mixed signal from all channels.ideal for daisy-chaining or routing the signal to another destination. LINK OUT is very useful for configuring a compact SR system with another DXR, while LINK MODE allows you to easily switch between stereo or dual-mono configurations.
Superior Components-Unequaled Performance.
Custom-Designed DXR Transducers
All DXR Series transducers were meticulously selected and thoroughly customized to deliver ultimate performance. The detailed characteristics and behaviour of each transducer was fully analyzed and evaluated with sophisticated computer simulations in order to help realize their full performance potential. The high power output woofers deliver very low distortion and defined, deep bass, while the 1.4 precision compression drivers produce accurate midrange and high frequencies up to 20 kHz. - DXR Wide Dispersion Constant-Directivity Horn The HF transducer is mounted to an all-new 90x 60constant-directivity horn, designed with the goal of minimizing radiation pattern deterioration in oblique directions as more conventional horns are prone to doing. This can help to achieve a more ideal coverage area without irregularities. With the new wide dispersion constant-directivity horn, sound expands in a more rectangular pattern providing 90 horizontal x 60 vertical coverage, with wide-frequency sound projected to the edges of the coverage area.
Durable, Compact ABS Enclosures
Full-range models are moulded in rugged, non-resonant ABS enclosures and are designed to dampen down vibrations caused by high output levels, producing less distortion and superior sonic quality. The road-tested enclosures are equipped with heavy-duty steel grilles and ergonomic, gripped aluminum handles that greatly improve durability and portability.
Symmetrical Enclosure Design for Mirror-Mode Floor Monitoring
The DXR12 and DXR15's enclosure design enables mirror-mode monitor placement that creates a symmetrical sound field for the performer with a larger, more defined sweet spot. Used in either a balanced dual-mono configuration or a stereo monitor mix setup, mirror-mode floor monitoring can enhance your performance considerably.
Dual-Angle Pole Mount Socket
Depending on the venue, sometimes your mix can fall prey to low ceilings or other room attributes that can impede a clear, even mix and detract from the audiences' listening experience significantly. The DXR's pole mount socket offers two positions0 and 7to direct the acoustic energy away from reflective surfaces and on to your audience where it belongs.
Rigging Points for Standard Eye-Bolts and Optional U-Brackets
DXR Series loudspeakers come equipped with rigging points, allowing for rigged application with standard eyebolts*. When more versatility is required, optional U-brackets allow simple and easy rigging in both horizontal and vertical configurations.
| | |
| --- | --- |
| SKU | YAM-DXR12MKIIAE |
| MPN | DXR12 MKII |
| Vendor | Yamaha |
| Mpn | DXR12mkII |
| Speaker Size Filterable | 12 |
| Manufacturer Part Number (MPN) | DXR12mkII |
Yamaha Live Sound Products Limited Warranty
Thank you for selecting a Yamaha product. Yamaha products are designed and manufactured to provide a high level of defect-free performance. Yamaha Corporation of America ('Yamaha') is proud of the experience and craftsmanship that goes into each and every Yamaha product. Yamaha sells its products through a network of reputable, specially authorized dealers and is pleased to offer you, the Original Owner, the following Limited Warranty, which applies only to products that have been (1) directly purchased from Yamaha's authorized dealers in the fifty states of the USA and District of Columbia (the 'Warranted Area') and (2) used exclusively in the Warranted Area. Yamaha suggests that you read the Limited Warranty thoroughly, and invites you to contact your authorized Yamaha dealer or Yamaha Customer Service if you have any questions.
This warranty covers the listed products against defects in materials or workmanship for the following periods:
DBR series powered loudspeakers: seven (7) years
DSR series powered loudspeakers: seven (7) years
DXR series powered loudspeakers: seven (7) years
DXS series powered subwoofers: seven (7) years
BR series passive loudspeakers: three (3) years
CBR series passive loudspeakers: three (3) years
Club series passive loudspeakers: three (3) years
P series power amplifiers: three (3) years
MSR series powered loudspeakers: three (3) years
MG series mixers: one (1) year
EMX series powered mixers: one (1) year
STAGEPAS series PA system: one (1) year
SPX/Q signal processors: one (1) year
Loudspeaker accessories: one (1) year
Other Yamaha live sound products: one (1) year
Yamaha will, at its option, repair or replace the product covered by this warranty if it becomes defective, malfunctions or otherwise fails to conform with this warranty under normal use and service during the term of this warranty, without charge for labor or materials. Repairs may be performed using new or refurbished parts that meet or exceed Yamaha specifications for new parts. If Yamaha elects to replace the product, the replacement may be a reconditioned unit. You will be responsible for any installation or removal charges and for any initial shipping charges if the product(s) must be shipped for warranty service. However, Yamaha will pay the return shipping charges to any destination within the USA if the repairs are covered by the warranty.
This warranty does not cover (a) damage, deterioration or malfunction resulting from accident, negligence, misuse, abuse, improper installation or operation or failure to follow instructions according to the Owner's Manual for this product; any shipment of the product (claims must be presented to the carrier); repair or attempted repair by anyone other than Yamaha or an authorized Yamaha Service Center; (b) any unit which has been altered or on which the serial number has been defaced, modified or removed; (c) normal wear and any periodic maintenance; (d) deterioration due to perspiration, corrosive atmosphere or other external causes such as extremes in temperature or humidity; (e) damages attributable to power line surge or related electrical abnormalities, lightning damage or acts of God; or (f) RFI/EMI (Interference/noise) caused by improper grounding or the improper use of either certified or uncertified equipment, if applicable.
Any evidence of alteration, erasing or forgery of proof-of-purchase documents will cause this warranty to be void. This warranty covers only the Original Owner and is not transferable.
Warranty service will only be provided for defective products within the Warranted Area. Contact your local authorized Yamaha dealer who will advise you of the procedures to be followed. If this is not successful, contact Yamaha directly. Yamaha may request that you send the defective product to a local authorized Yamaha Servicer or authorize return of the defective product to Yamaha for repair. If you are uncertain as to whether a dealer has been authorized by Yamaha, please contact Yamaha's Service Department or check Yamaha's website.
Product(s) shipped for service should be packed securely and must be accompanied by a detailed explanation of the problem(s) requiring service, together with the original or a machine reproduction of the bill of sale or other dated, proof-of-purchase document describing the product, as evidence of warranty coverage. Should any product submitted for warranty service be found ineligible therefore, an estimate of repair cost will be furnished and the repair will be accomplished only if requested by you and upon receipt of payment or acceptable arrangement for payment.
Any implied warranties, including warranties of merchantability and fitness for a particular purpose shall be limited in duration to the applicable period of time set forth above. Yamaha shall not be responsible for incidental or consequential damages or for damages based upon inconvenience, loss of use, damage to any other equipment or other items at the site of use or interruption of performances or any consequences. Yamaha's liability for any defective product is limited to repair or replacement of the product, at Yamaha's option.
Some states do not allow limitations on how long an implied warranty lasts or the exclusion or limitation of incidental or consequential damages, so the above limitation or exclusion may not apply to you. This Warranty gives you specific legal rights, and you may also have other rights which vary from state to state. This is the only express warranty applicable to the product specified herein; Yamaha neither assumes nor authorizes anyone to assume for it any other express warranty.
Ground shipping is FREE for all orders $99 and up.