Skip product carousel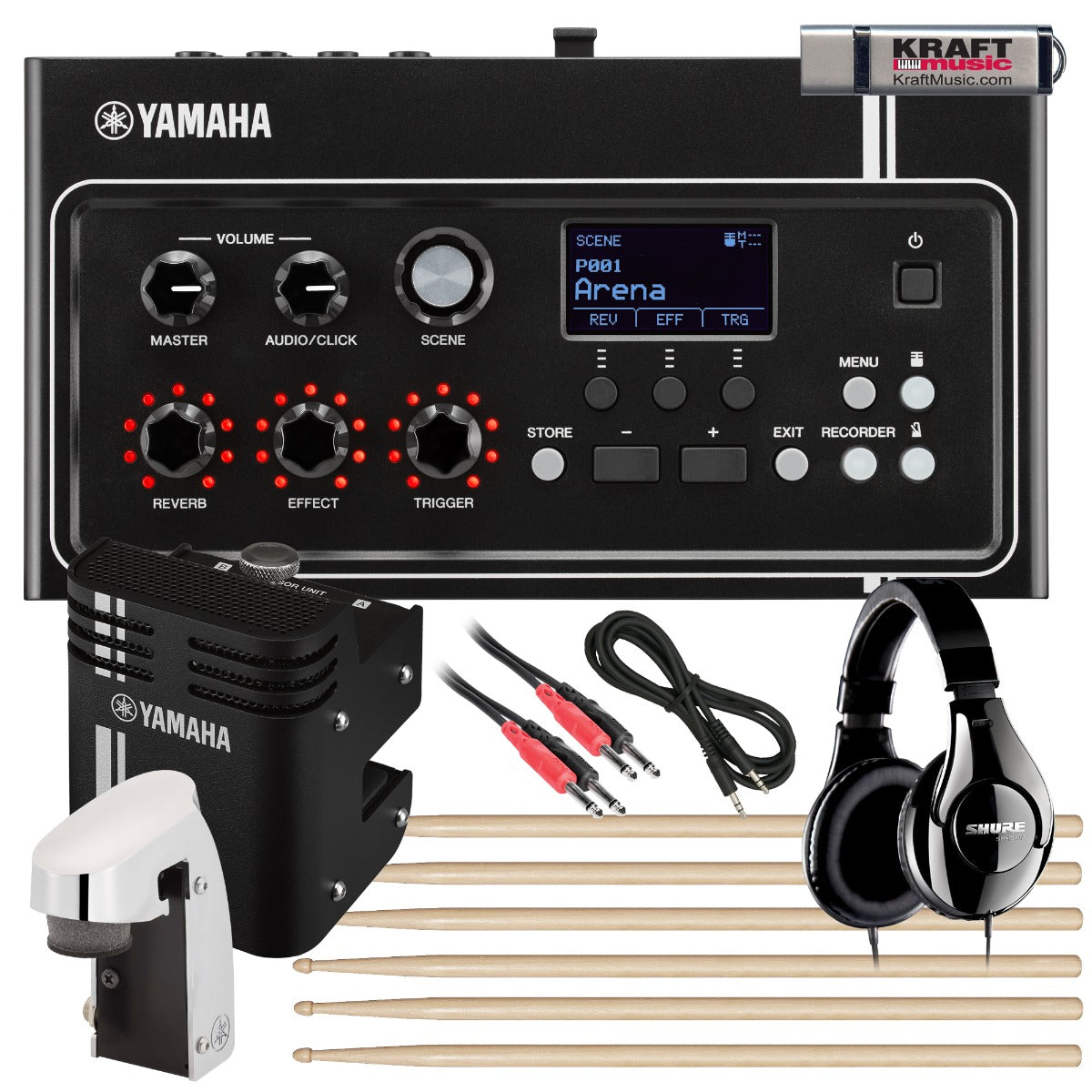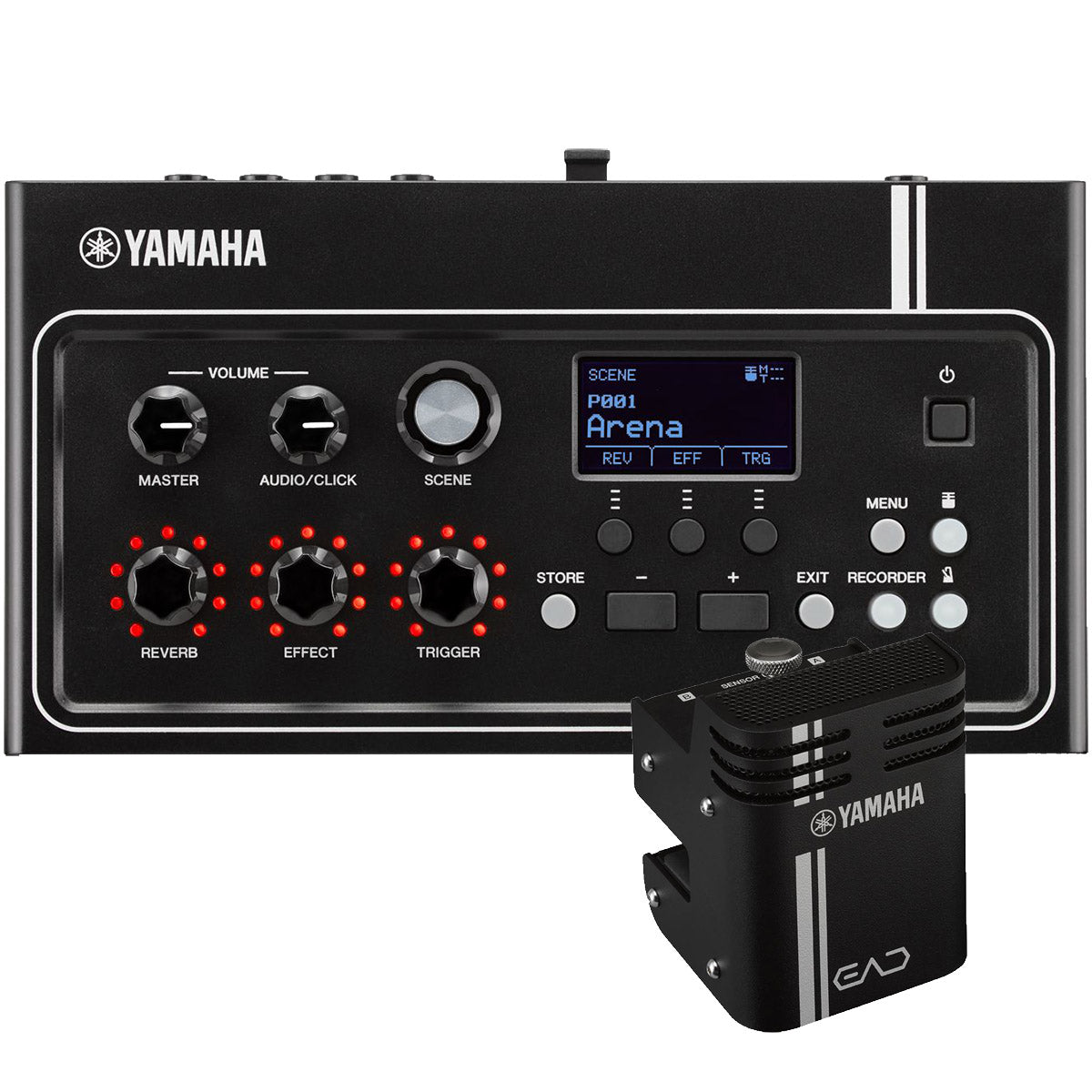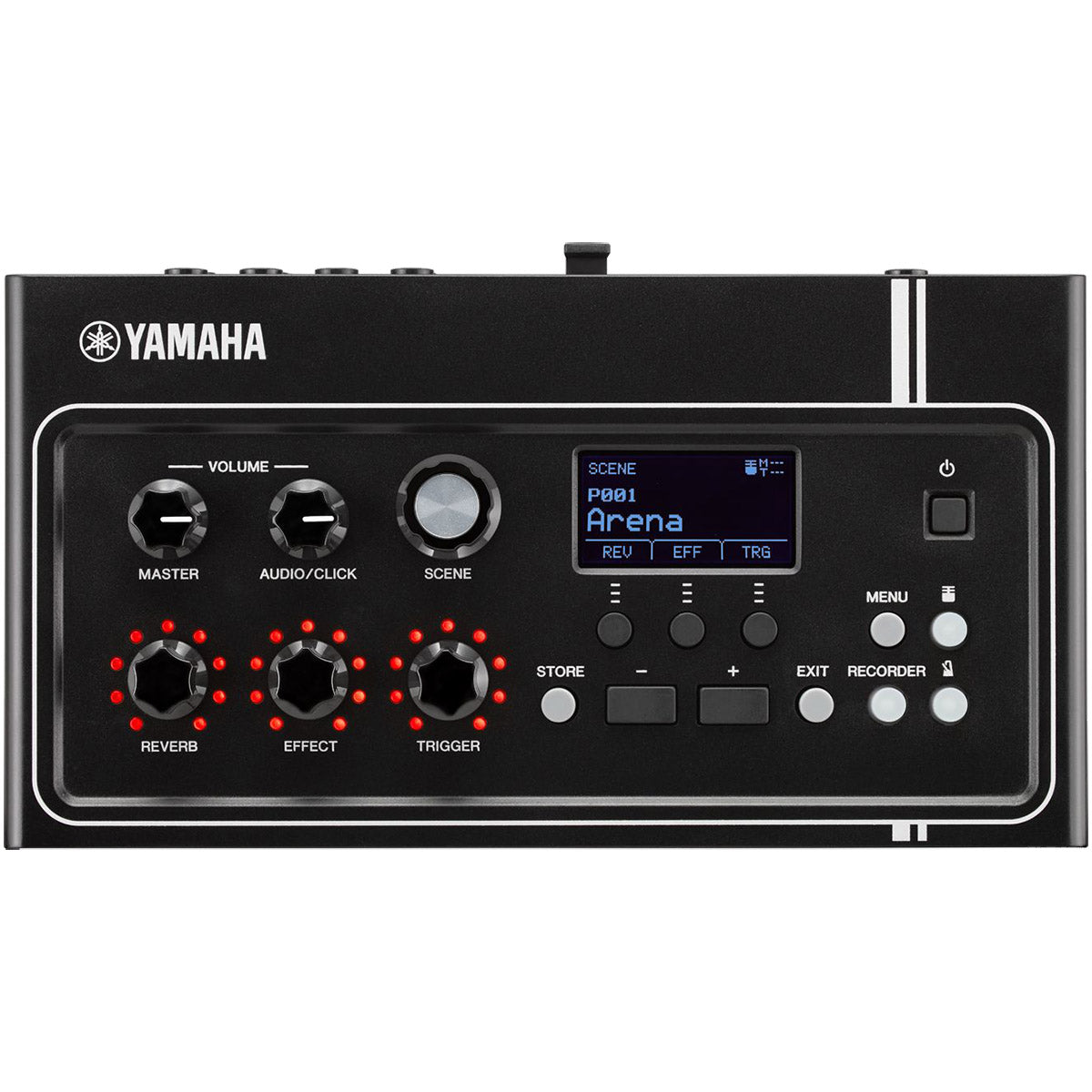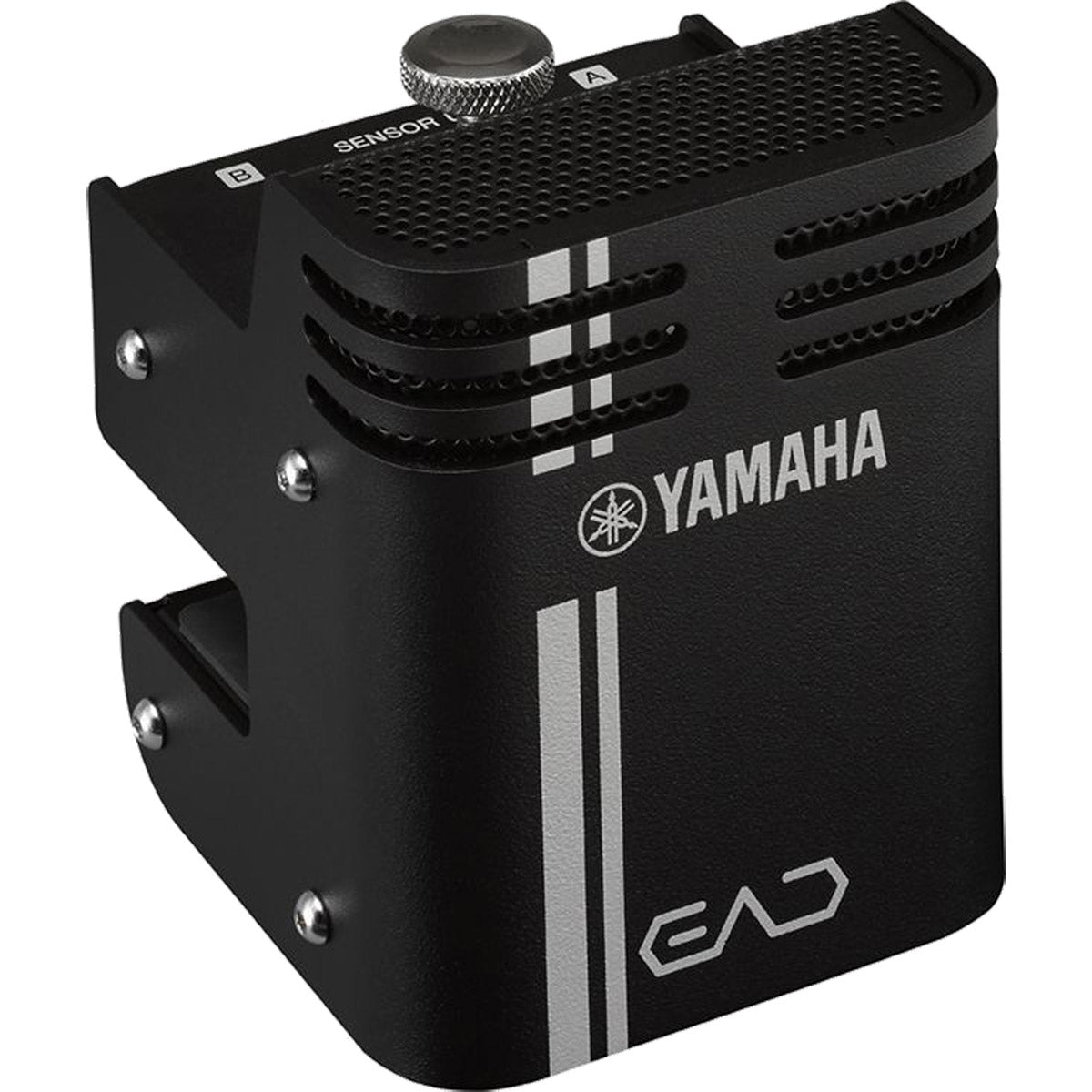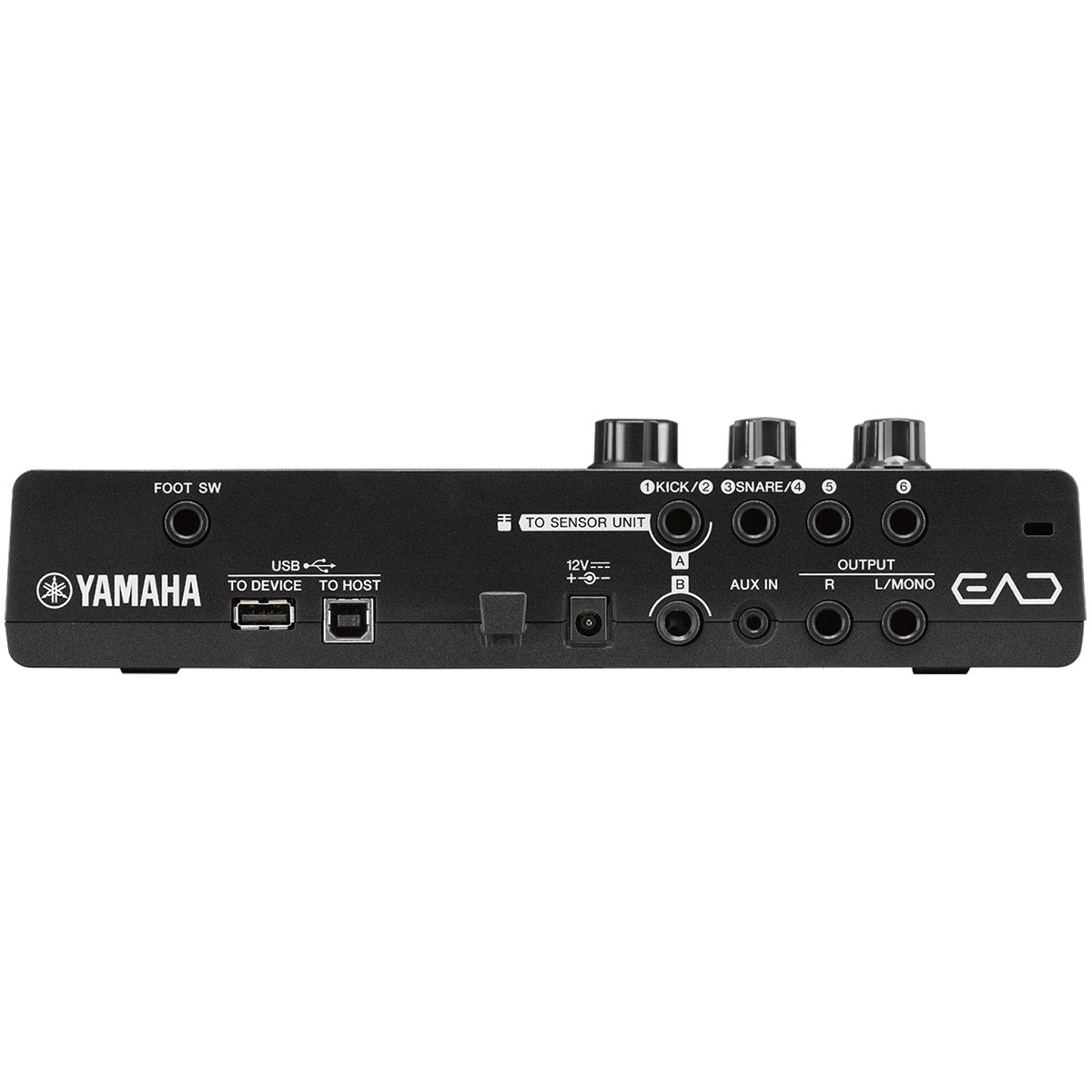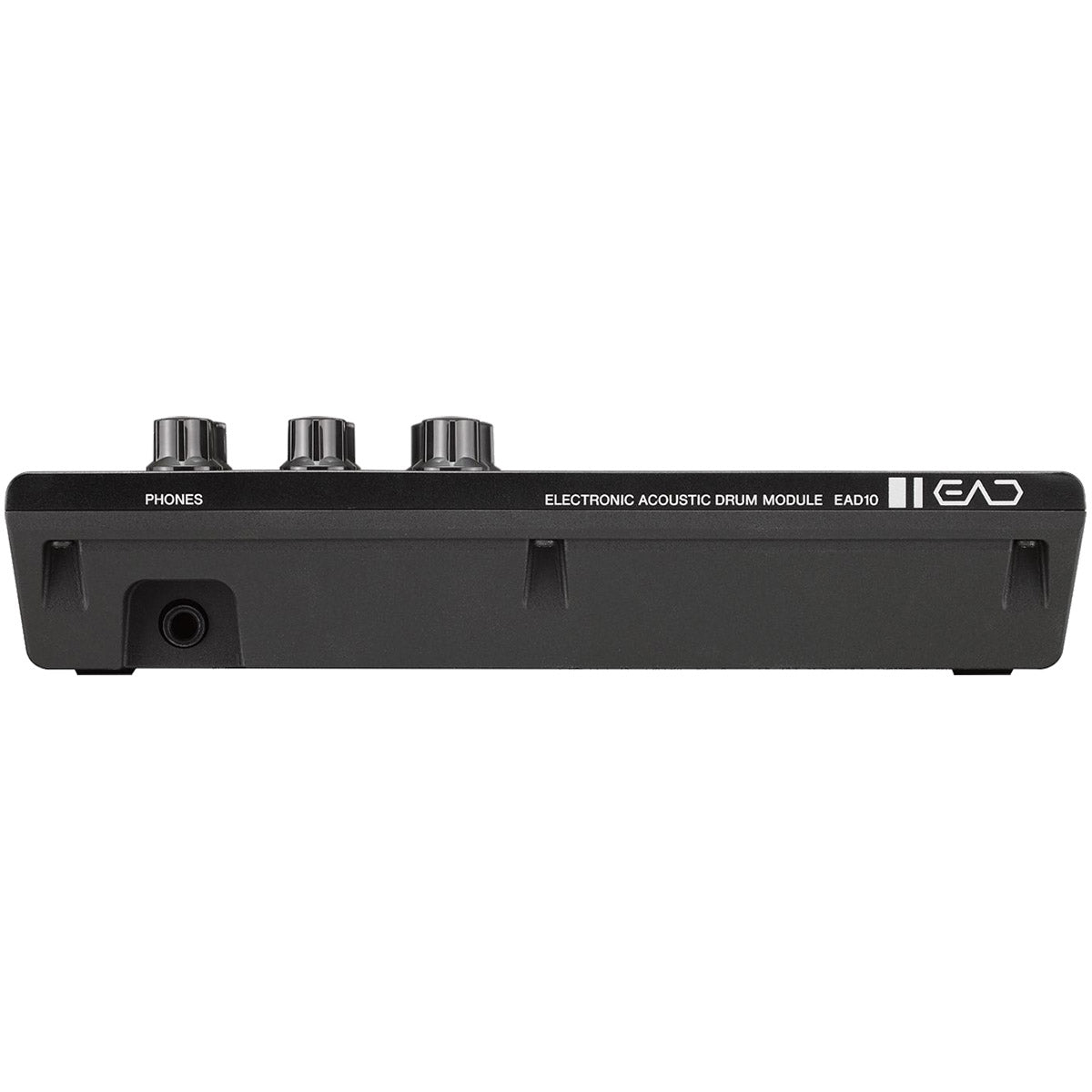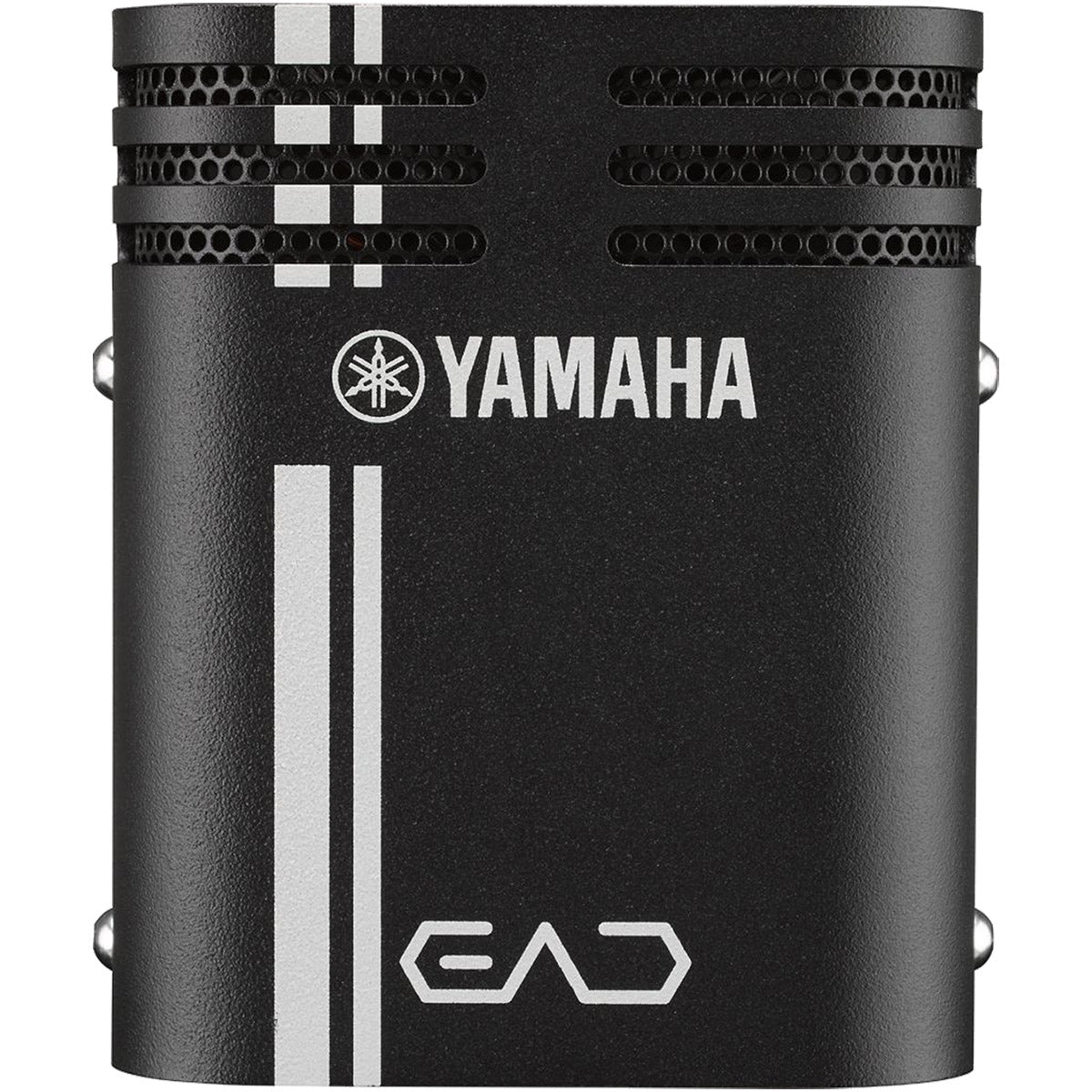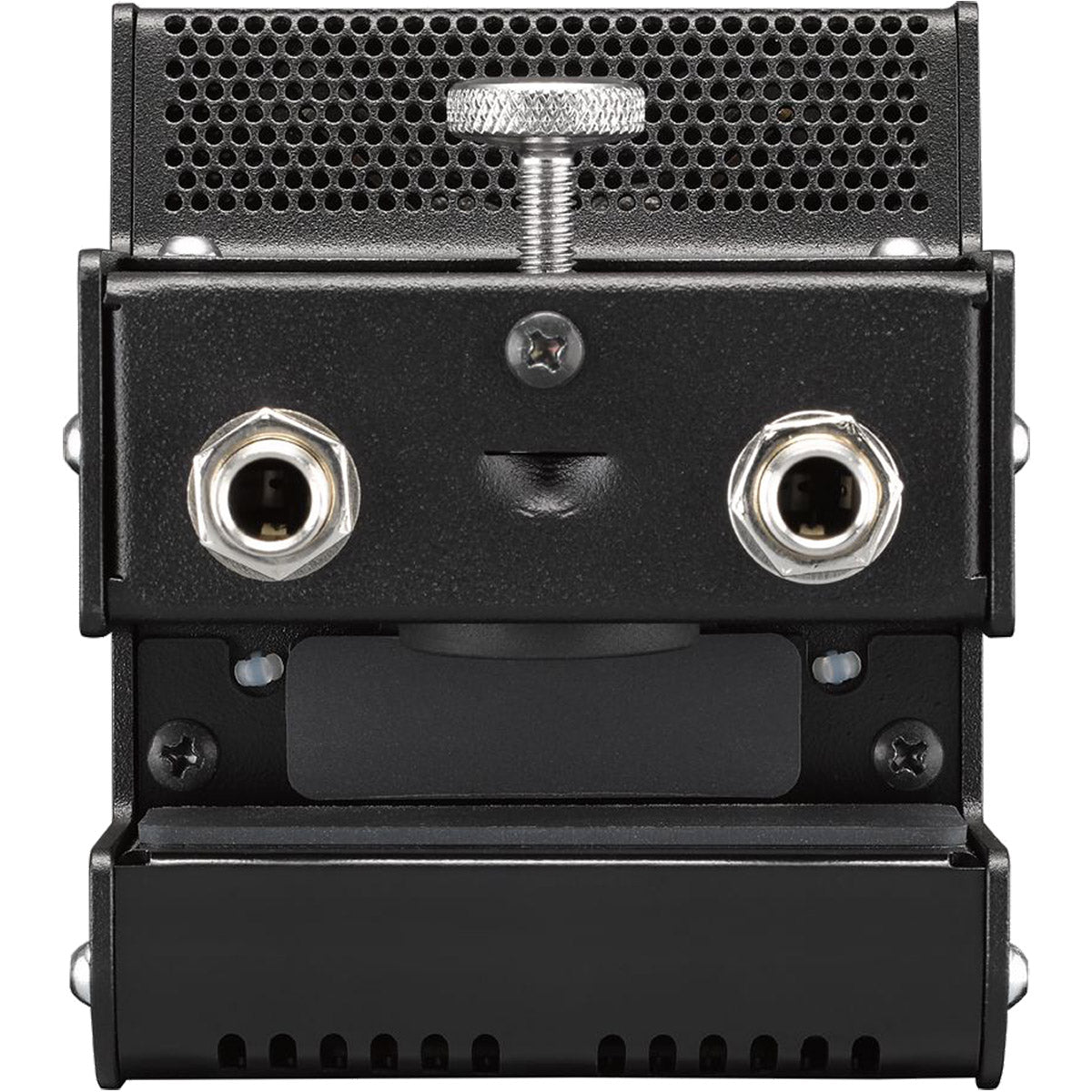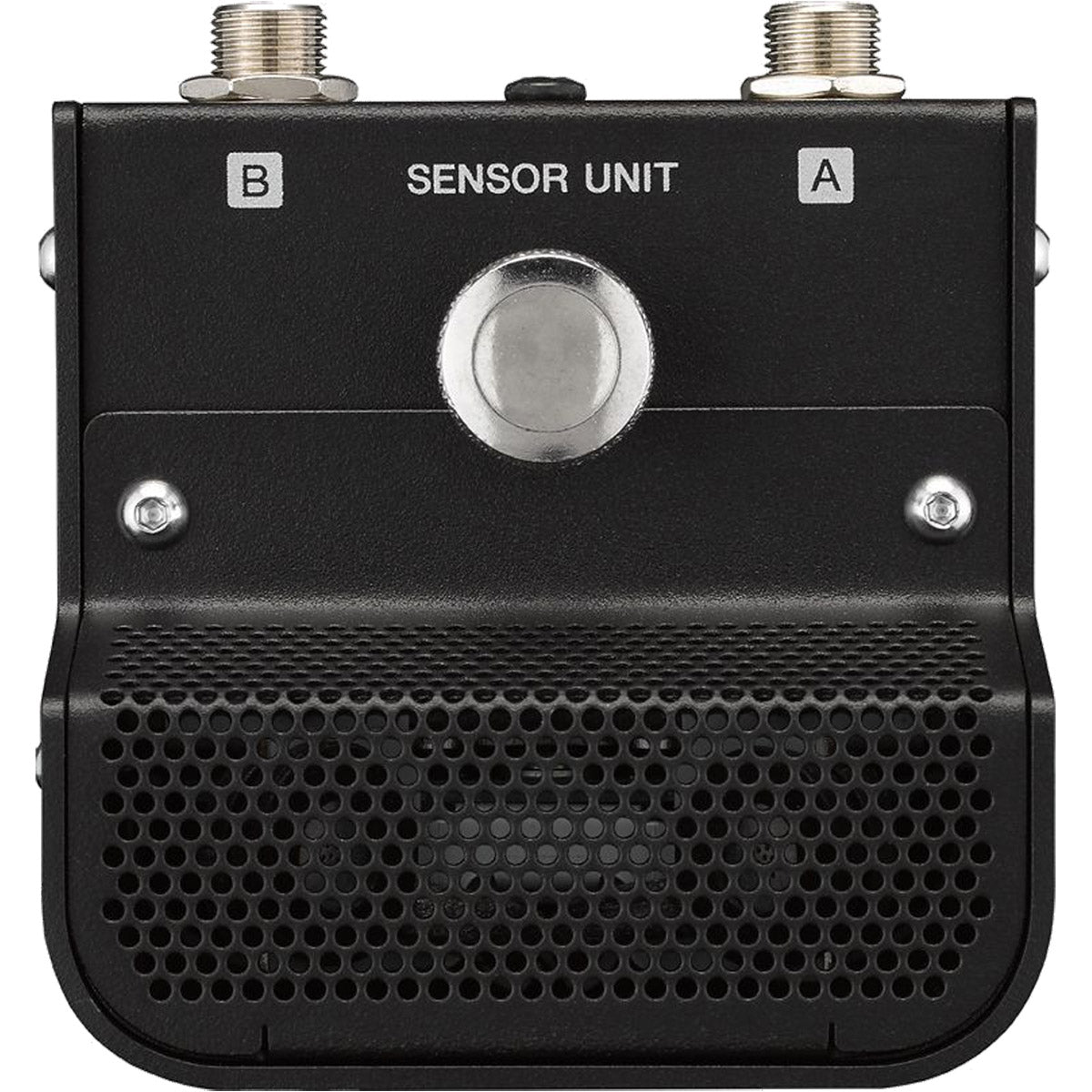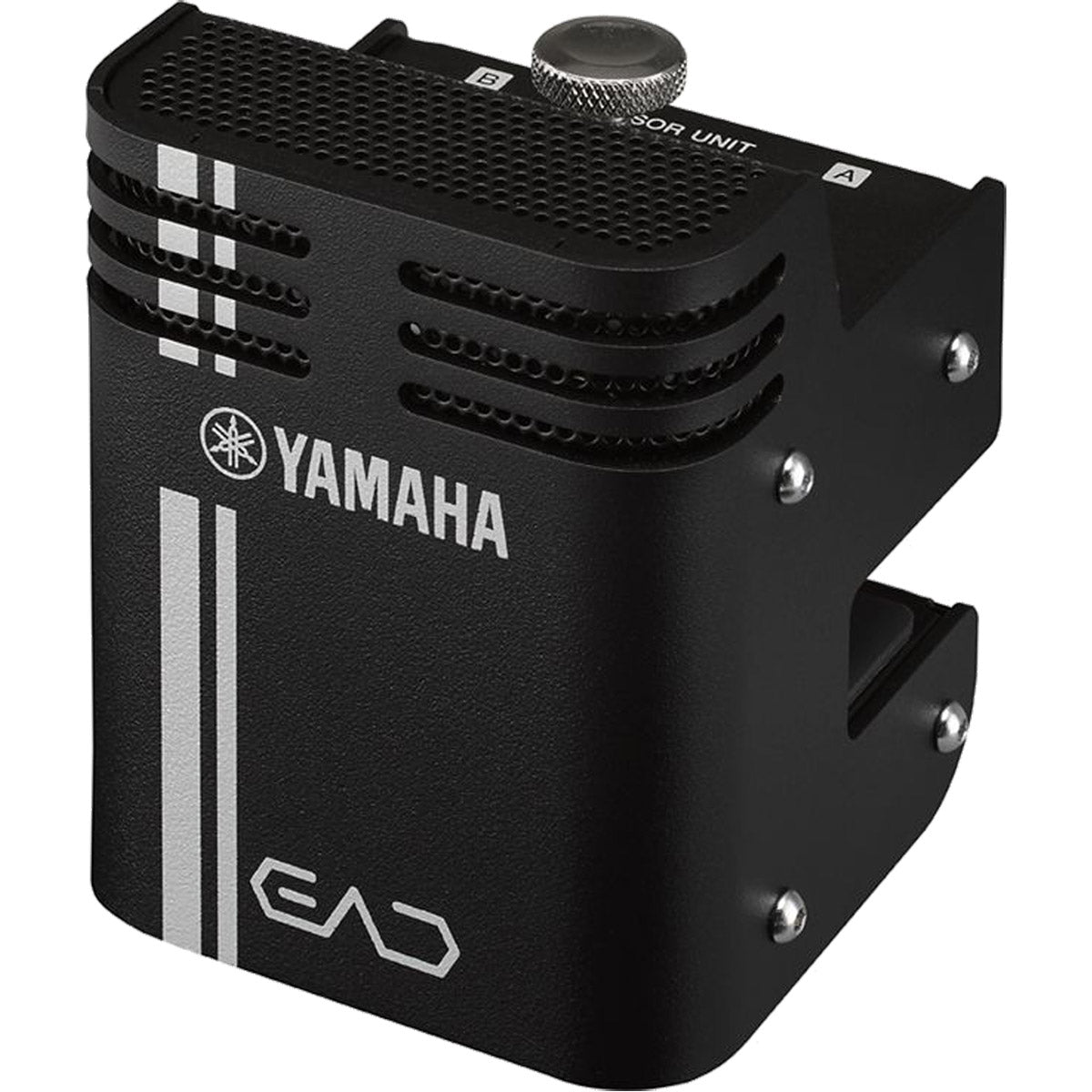 Yamaha EAD10 Electronic Acoustic Drum Module TRIGGER PAK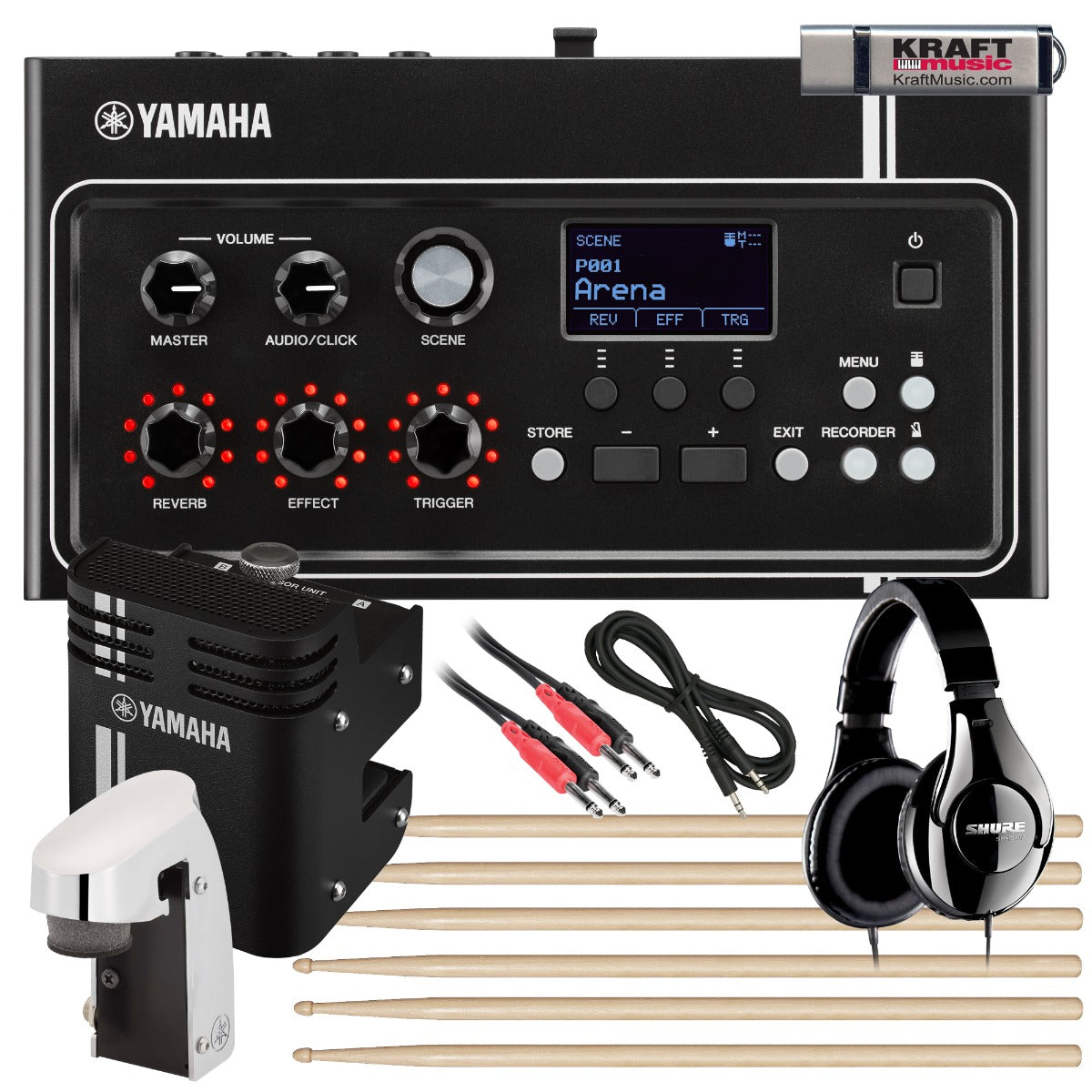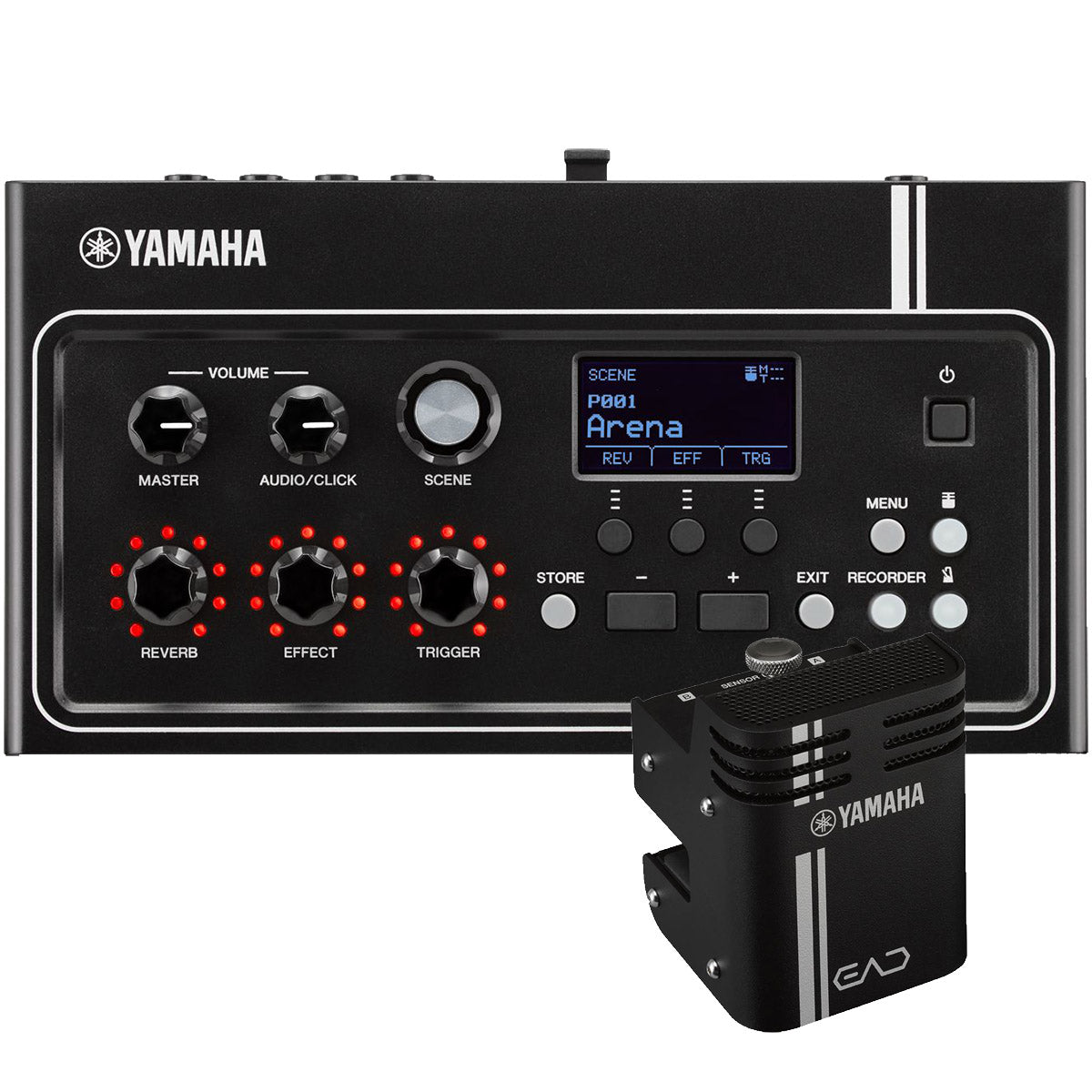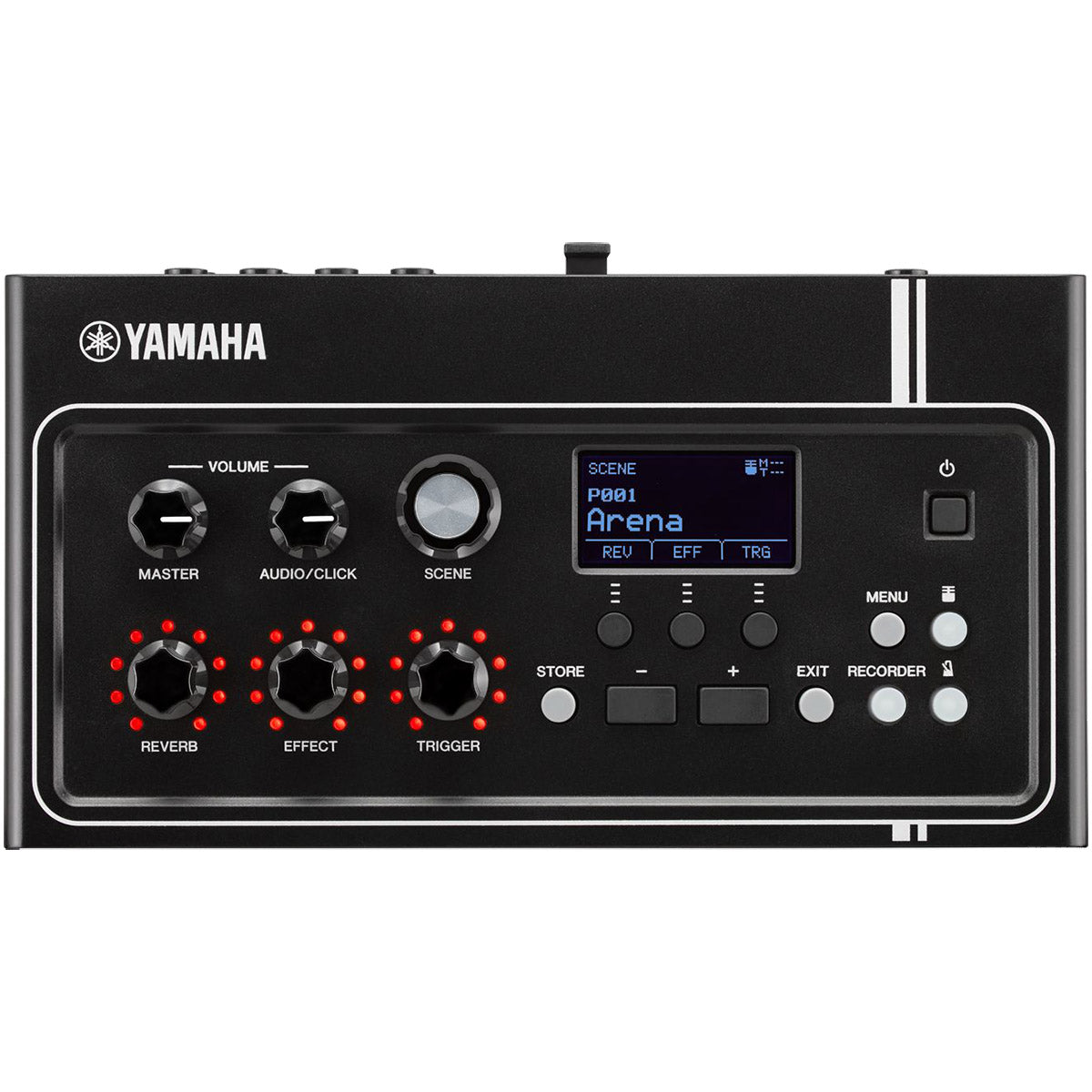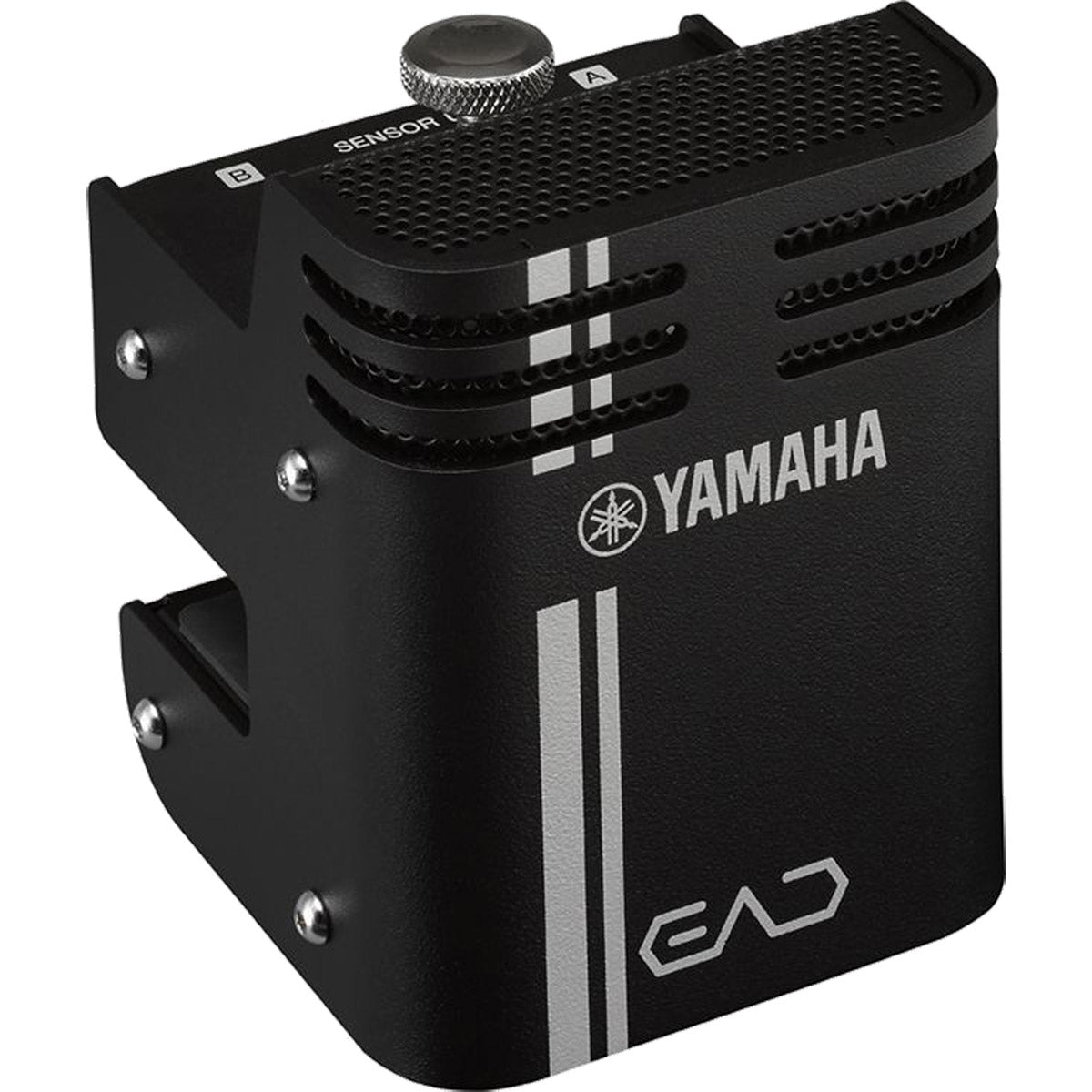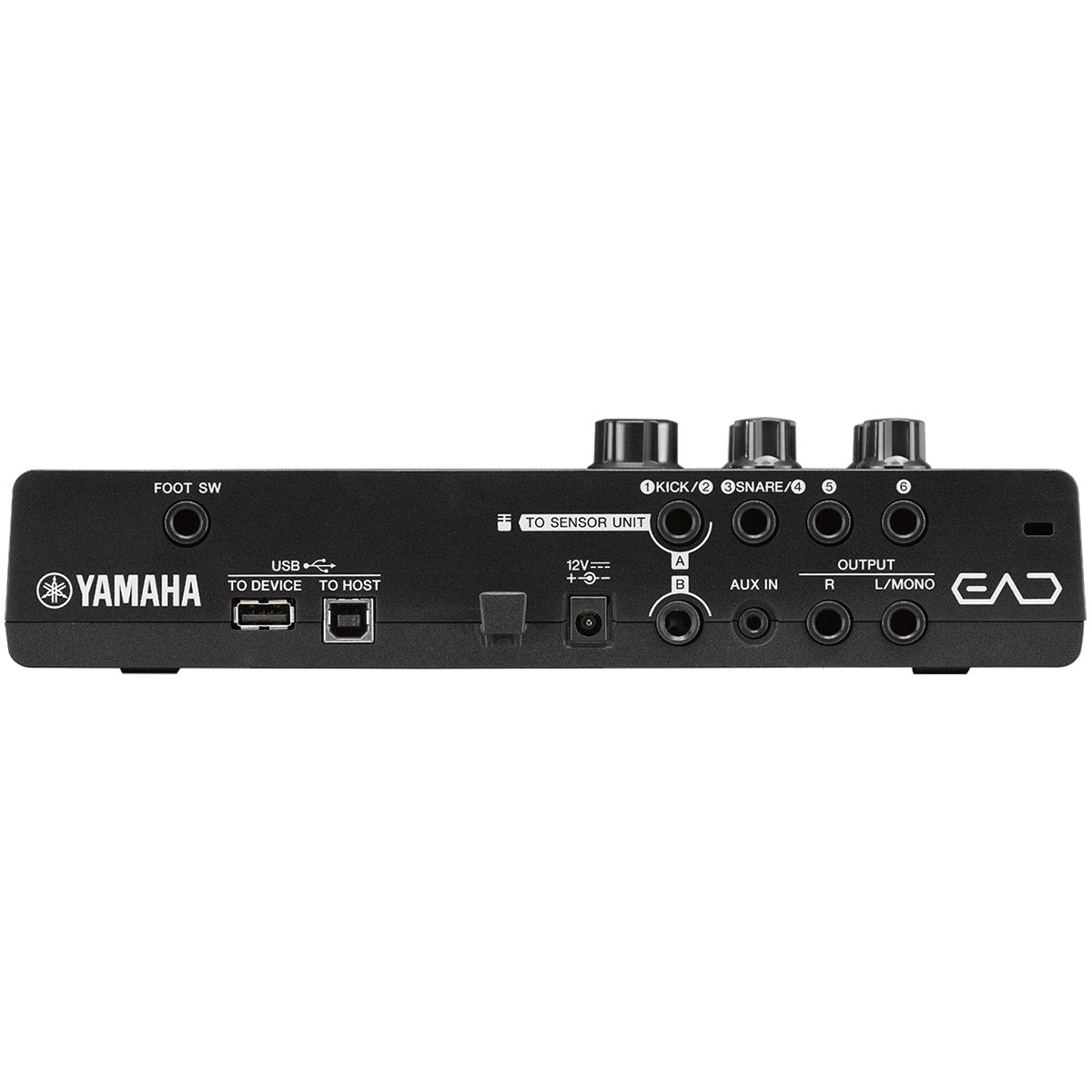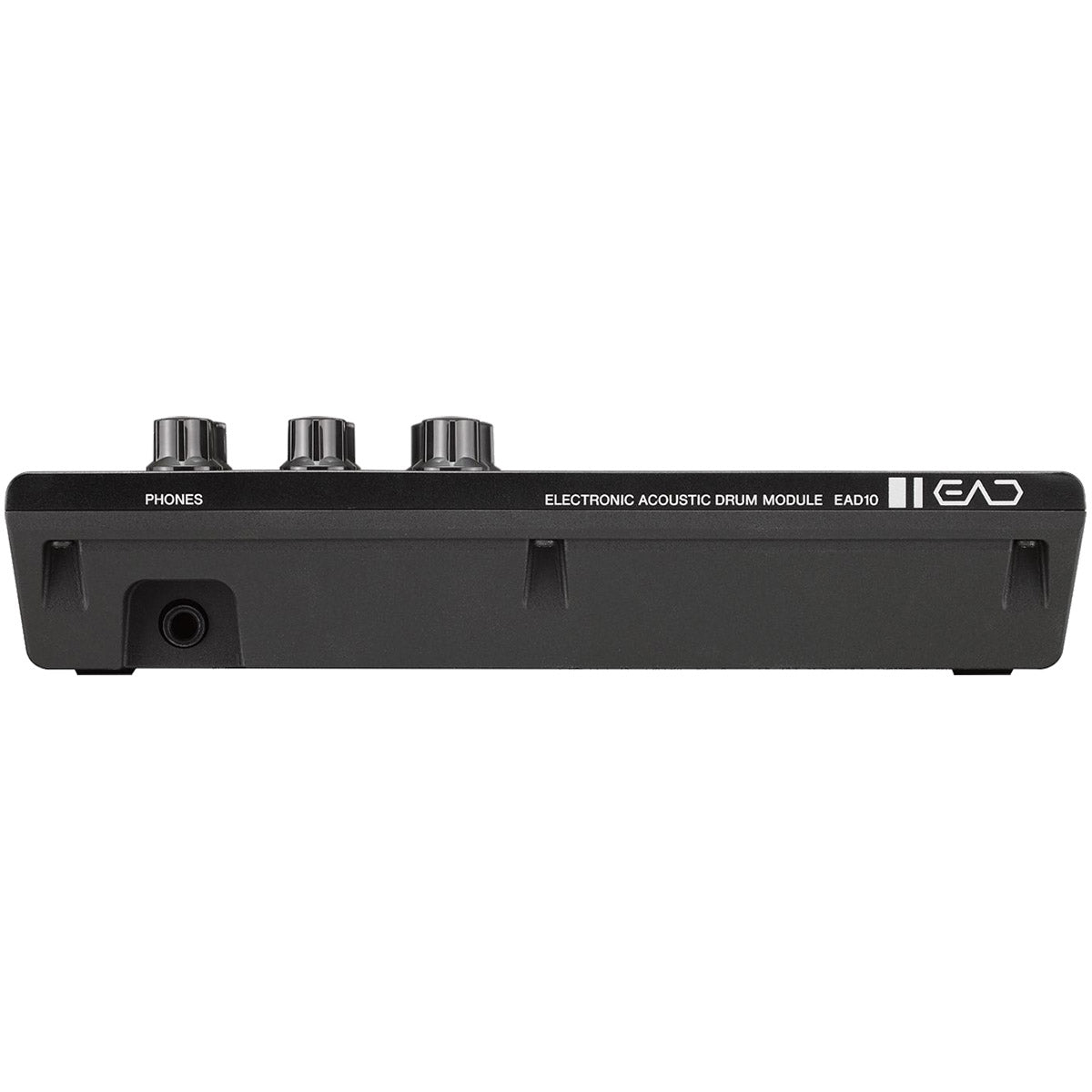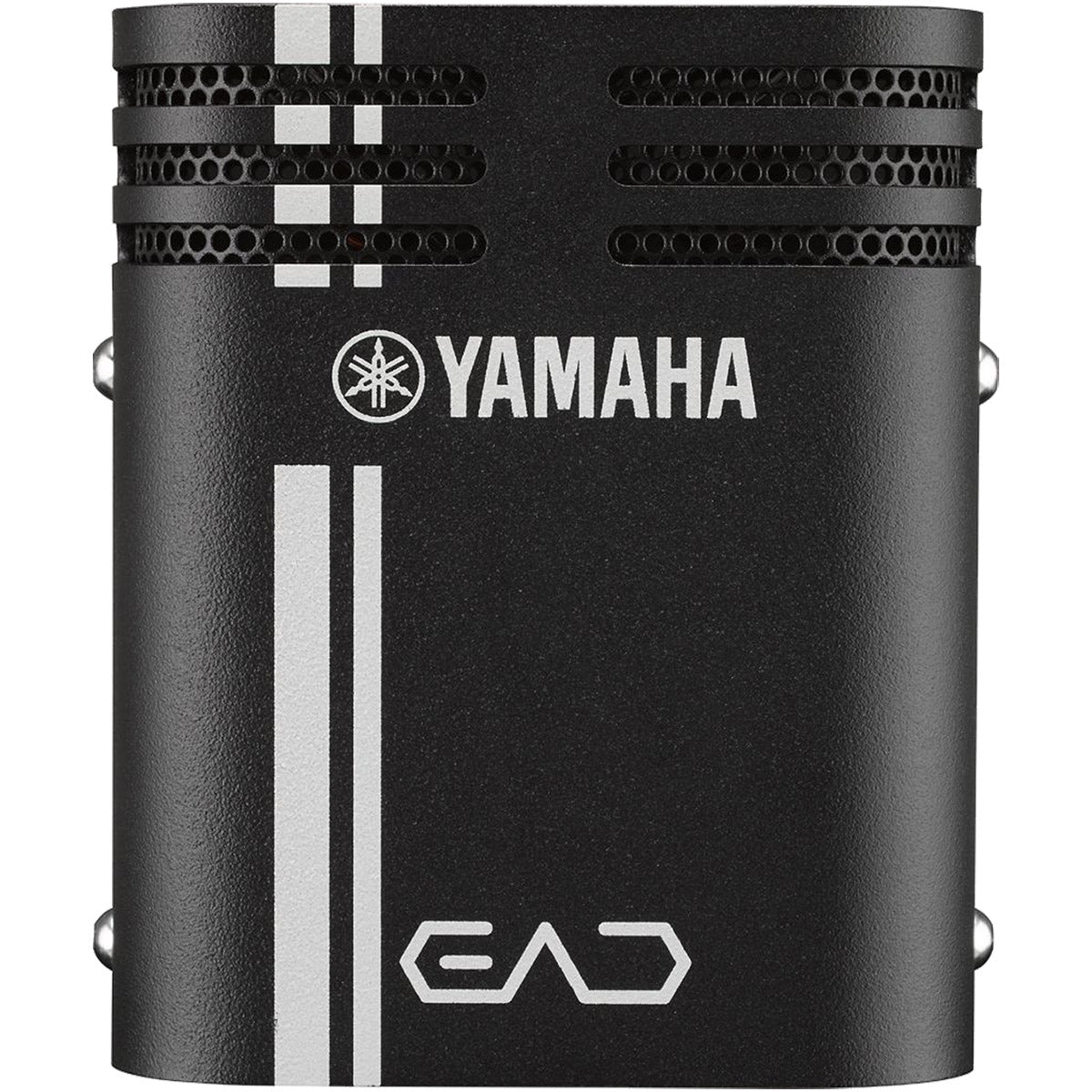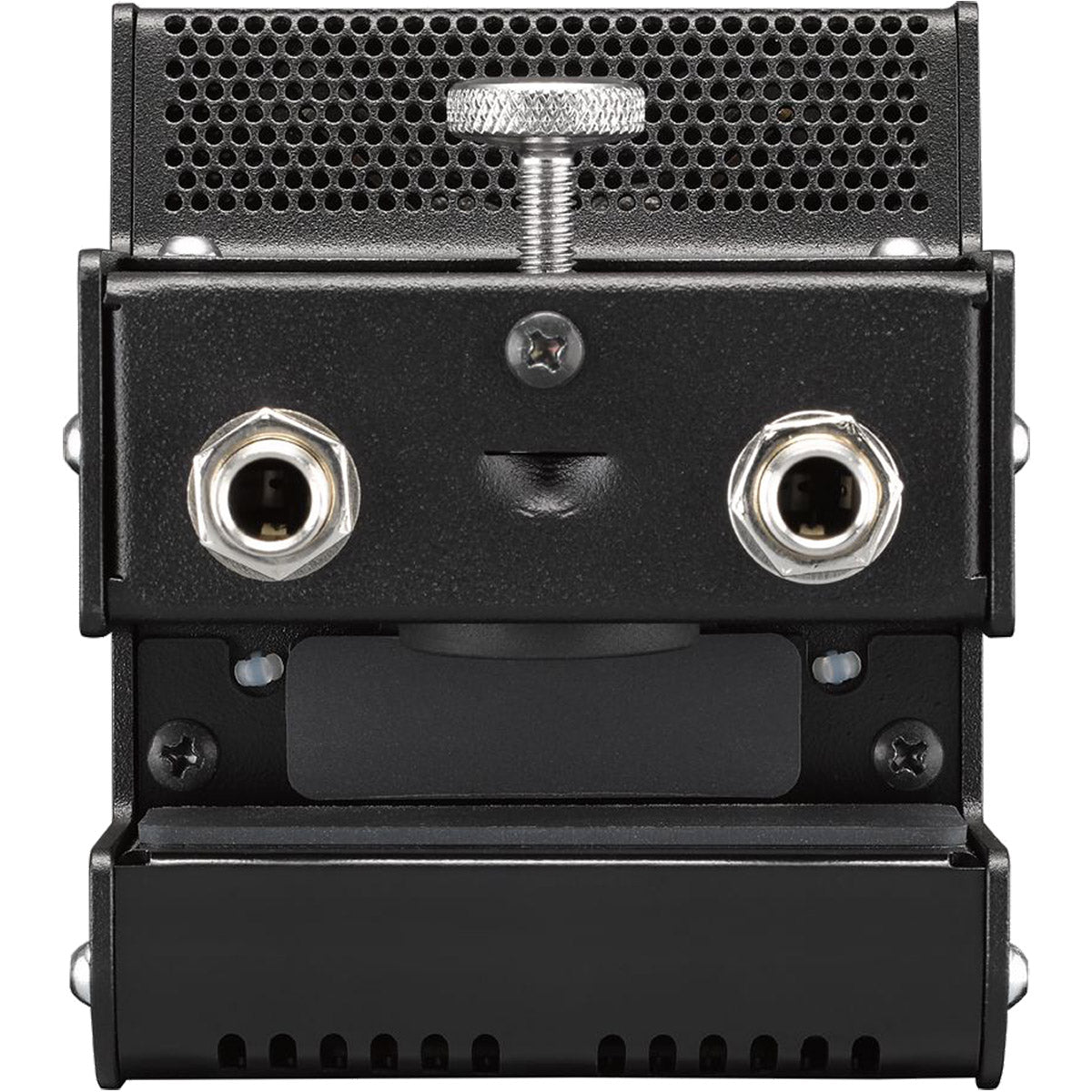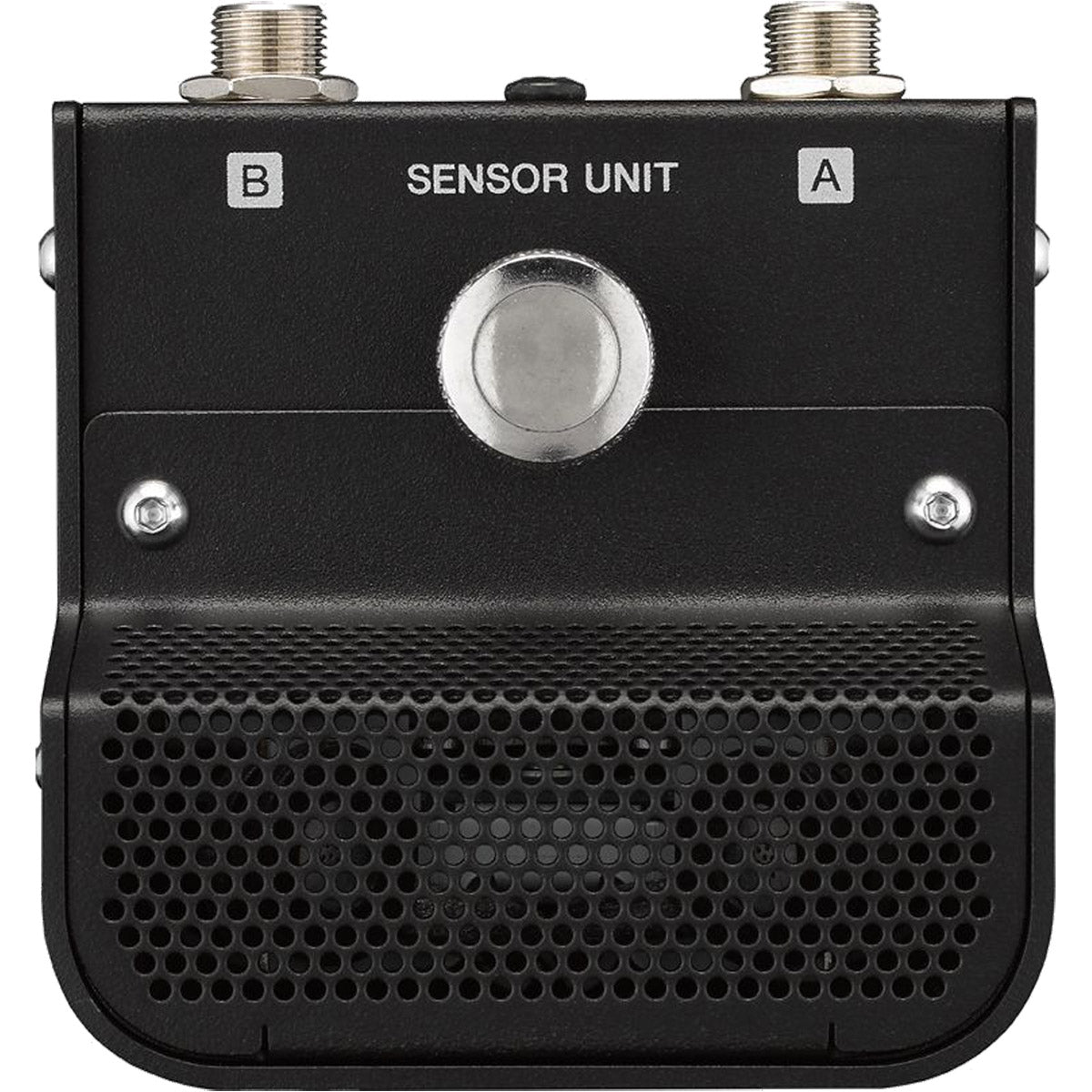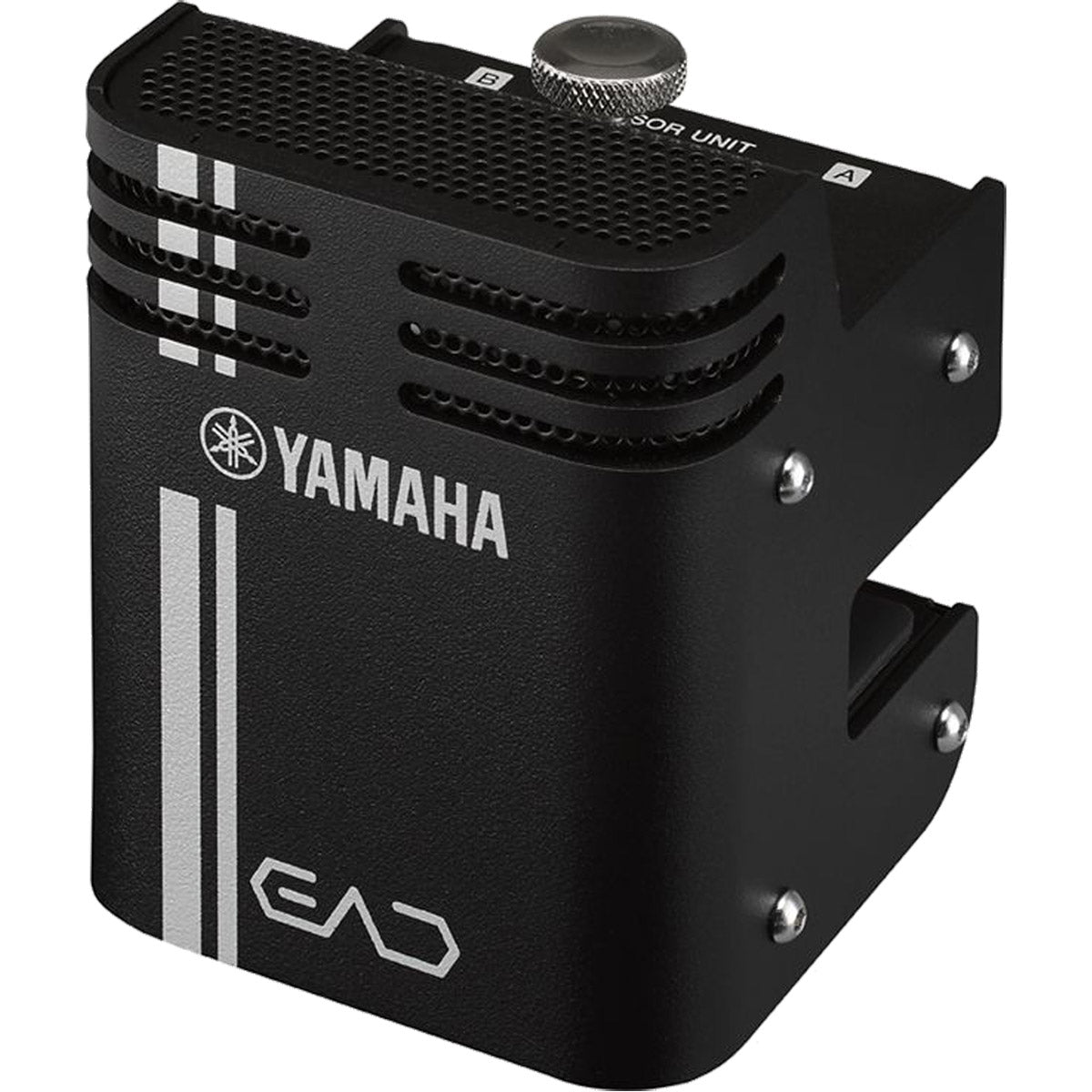 Yamaha EAD10 Electronic Acoustic Drum Module TRIGGER PAK
7 items included
This Kraft Music Bundle Includes
Click on a product to view more details.
Yamaha EAD10 simplifies a complicated setup that typically requires microphones, cables, mixers and PA expertise. Just attach the EAD10 sensor unit to any acoustic bass drum and you will have a high-quality stereo image of your entire kit. It allows you to play along with your favorite artists, record your acoustic drums and share the recording digitally. With the free iOS/Android app you can shoot, edit and upload videos of your drum performances. EAD10 enhances every aspect of your drumming – the way you practice, record and perform live – and it makes your acoustic drums do more.
Sensor unit that attaches to the bass drum contains a stereo pair of condenser mics tuned to pick up your entire acoustic kit and a bass drum trigger
50 preset and 200 user scenes are customizable and feature 757 built-in sounds plus sample import to inspire your creativity
Multitude of effects including reverb, mic effects, trigger effects, compression, distortion, delay, phasers and more to transform your sound
Rec'n'Share app allows you to record stereo audio and video of you playing along with songs from your music library which you can instantly share on any platform
Rec'n'Share app can detect the tempo of any song in your library to generate a click track, allowing you to change the tempo of the song or repeat a section
Up to 5 triggers/pads can be added for more playing options and 42 add-on scenes can be downloaded for applications with low-volume setups that use mesh heads, triggers or low volume cymbals
Talkback function enables a clearer and louder recording of your voice for online lessons or educational content creation with a simple push of a button
Routable click function can be sent to stereo outputs, headphones and/or USB
Microphone noise gate with threshold and release time settings removes unwanted background noise
Record performances up to 90 minutes long to a USB flash drive
Mic your drums in seconds
Attach the EAD10 sensor to any acoustic drum set and you will have a high-quality, stereo image of your entire kit in seconds. You can instantly hear studio-quality sound from your headphones or PA system. Also, you can record the sound to a module, smart device, USB flash drive or computer.
Make your drums do more
The EAD10 module is intuitive to operate and it can instantly transform your acoustic drum sound. You can also easily make it a hybrid drum kit by connecting additional triggers or pads. Combining EAD10 with a low-volume drum kit using mesh heads and low-volume cymbals leads to the birth of an entirely new kit. Playing PCM sound with triggers attached to each drum and capturing the raw sound of the cymbal from the sensor allows a low-volume experience while realistic drum sounds are output through the headphones and/or speakers.
Play with the world, share with the world
EAD10 allows you to play along with your favorite artists from your music library – just connect your smart device via an aux cable or over USB. The free iOS/Android Rec'n'Share app allows you to create stunning audio and video and easily share it directly from your mobile device. You can also use the app for practice by adding a metronome to your favorite music.
Add triggers and pads
EAD10 can connect to a maximum of six triggers and pads, including the bass drum trigger of the sensor, to augment your kit with percussion, electronic sounds and loops and expand your range of expression.
Sensor unit
The sensor unit of EAD10 comprises a specially-developed X-Y stereo microphone sensor and trigger sensors, allowing you to capture a balanced recording of the entire kit by placing this at the center of the kit itself.
Microphone capsule
The microphone capsule is a newly-developed microphone that comes equipped with the ultra-high sound pressure resistance and strong noise resistance suitable for recording drums. The entire sensor unit, including the grill that covers the microphone capsule, incorporates an acoustical design that allows for the adjustment of directivity and frequency characteristics. The preamplifier is equipped with custom parts and the mic itself is designed to draw out the maximum dynamic range of a drum kit while achieving the balance ideal for recording, allowing for clear, dynamic sounds.
The module
The main unit of EAD10 is designed with ease of use in mind. The left side of the main unit comes equipped with large knobs that can easily be adjusted mid-performance, so that the main control functions like volume and preset scene can be accessed easily. LED indicators have been added to the preset scene controls of reverb, effect and trigger to make them more visible. This allows for quick and intuitive adjustment on even the darkest of stages. The buttons and LCD display on the right allow for even more detailed adjustments. It also comes equipped with many high-quality effects and PCM sound sources used in Yamaha electronic musical instruments.
Headphone amp
A high-performance headphone amplifier was developed specifically for this unit and delivers power and performance that cannot be outdone by the dynamic sounds of acoustic drums.
Talkback function
A player's voice can be captured by the microphone of the unit sensor by operating the mic button on the module or by using a footswitch (sold separately), making it perfect for video creation and web lessons. The talkback feature instantly changes the mic gain to a level that makes your voice easy to hear, and when recording using the Rec'n'Share app it also enables you to hear your voice on video when you stop playing. Turning off talkback returns the mic gain to its original setting.
Click output assignment
Being able to work with a click track is an important skill for any drummer. EAD10 provides several options for routing the click, with destinations including headphones, main outputs and USB so you can hear it in live performance as well as while recording. Since the click is the tempo guide, being able to hear it clearly creates a solid audio reference for your groove. The click output assignment feature makes it easy for you to ascertain whether your performance is in sync with the click, or if you're ahead of or behind the beat, vital for improving your drumming skills.
Noise gate
If you're recording in a noisy environment, EAD10's microphone noise gate can be used to filter out background noise by setting a threshold that ensures the noise will be filtered out but your drums will still come through loud and clear. This is a great way to prevent background stage noise or audience chatter from sneaking into your performance between songs. It's also useful in situations where you need to filter out environmental sounds like the 'whoosh' coming from an air conditioner and other sounds you might not hear while playing but will definitely hear once you stop.
Mesh heads and low-volume drum sets
EAD10 supports an optional data file that includes 42 scene presets designed for consistent, accurate triggering from mesh heads. They allow you to construct an incredibly realistic, low-volume practice or performance drum set while preserving all the other functions of EAD10.

SKU
YAM-EAD10TP
MPN
EAD10
Vendor
Yamaha
Drum Trigger Type
Acoustic Trigger
Included From Manufacturer
Power adapter
Module holder
(2) module holder wing bolts
Connector cables (pair)
(3) cable bands
(2) adhesive cushions
Mpn
EAD10
Drum Rack Mount
Yes
Size
Module 10.5" W × 2.5" H × 5.5" D
Sensor 3" W × 3.5" H × 3" D
Stand Mount
Yes
Trigger Zones
(2) high-SPL microphones with stereo audio output to module
Bass drum trigger with standard 1/4" trigger output
Yamaha Electronic Drums Limited Warranty
Thank you for selecting a Yamaha product. Yamaha products are designed and manufactured to provide a high level of defect-free performance. Yamaha Corporation of America ('Yamaha') is proud of the experience and craftsmanship that goes into each and every Yamaha product. Yamaha sells its products through a network of reputable, specially authorized dealers and is pleased to offer you, the Original Owner, the following Limited Warranty, which applies only to products that have been (1) directly purchased from Yamaha's authorized dealers in the fifty states of the USA and District of Columbia (the 'Warranted Area') and (2) used exclusively in the Warranted Area. Yamaha suggests that you read the Limited Warranty thoroughly, and invites you to contact your authorized Yamaha dealer or Yamaha Customer Service if you have any questions.
This warranty covers Yamaha Electronic Drums against defects in materials or workmanship for one (1) year.
Yamaha will, at its option, repair or replace the product covered by this warranty if it becomes defective, malfunctions or otherwise fails to conform with this warranty under normal use and service during the term of this warranty, without charge for labor or materials. Repairs may be performed using new or refurbished parts that meet or exceed Yamaha specifications for new parts. If Yamaha elects to replace the product, the replacement may be a reconditioned unit.
You will be responsible for any installation or removal charges and for any initial shipping charges if the product(s) must be shipped for warranty service. However, Yamaha will pay the return shipping charges to any destination within the USA if the repairs are covered by the warranty.
This warranty does not cover (a) damage, deterioration or malfunction resulting from accident, negligence, misuse, abuse, improper installation or operation or failure to follow instructions according to the Owner's Manual for this product; any shipment of the product (claims must be presented to the carrier); repair or attempted repair by anyone other than Yamaha or an authorized Yamaha Service Center; (b) any unit which has been altered or on which the serial number has been defaced, modified or removed; (c) normal wear and any periodic maintenance; (d) deterioration due to perspiration, corrosive atmosphere or other external causes such as extremes in temperature or humidity; (e) damages attributable to power line surge or related electrical abnormalities, lightning damage or acts of God; or (f) RFI/EMI (Interference/noise) caused by improper grounding or the improper use of either certified or uncertified equipment, if applicable.
Any evidence of alteration, erasing or forgery of proof-of-purchase documents will cause this warranty to be void. This warranty covers only the Original Owner and is not transferable.
Warranty service will only be provided for defective products within the Warranted Area. Contact your local authorized Yamaha dealer who will advise you of the procedures to be followed. If this is not successful, contact Yamaha directly. Yamaha may request that you send the defective product to a local authorized Yamaha Servicer or authorize return of the defective product to Yamaha for repair. If you are uncertain as to whether a dealer has been authorized by Yamaha, please contact Yamaha's Service Department or check Yamaha's website.
Product(s) shipped for service should be packed securely and must be accompanied by a detailed explanation of the problem(s) requiring service, together with the original or a machine reproduction of the bill of sale or other dated, proof-of-purchase document describing the product, as evidence of warranty coverage. Should any product submitted for warranty service be found ineligible therefore, an estimate of repair cost will be furnished and the repair will be accomplished only if requested by you and upon receipt of payment or acceptable arrangement for payment.
Any implied warranties, including warranties of merchantability and fitness for a particular purpose shall be limited in duration to the applicable period of time set forth above. Yamaha shall not be responsible for incidental or consequential damages or for damages based upon inconvenience, loss of use, damage to any other equipment or other items at the site of use or interruption of performances or any consequences. Yamaha's liability for any defective product is limited to repair or replacement of the product, at Yamaha's option. Some states do not allow limitations on how long an implied warranty lasts or the exclusion or limitation of incidental or consequential damages, so the above limitation or exclusion may not apply to you. This Warranty gives you specific legal rights, and you may also have other rights which vary from state to state. This is the only express warranty applicable to the product specified herein; Yamaha neither assumes nor authorizes anyone to assume for it any other express warranty.
Standard Shipping