Skip product carousel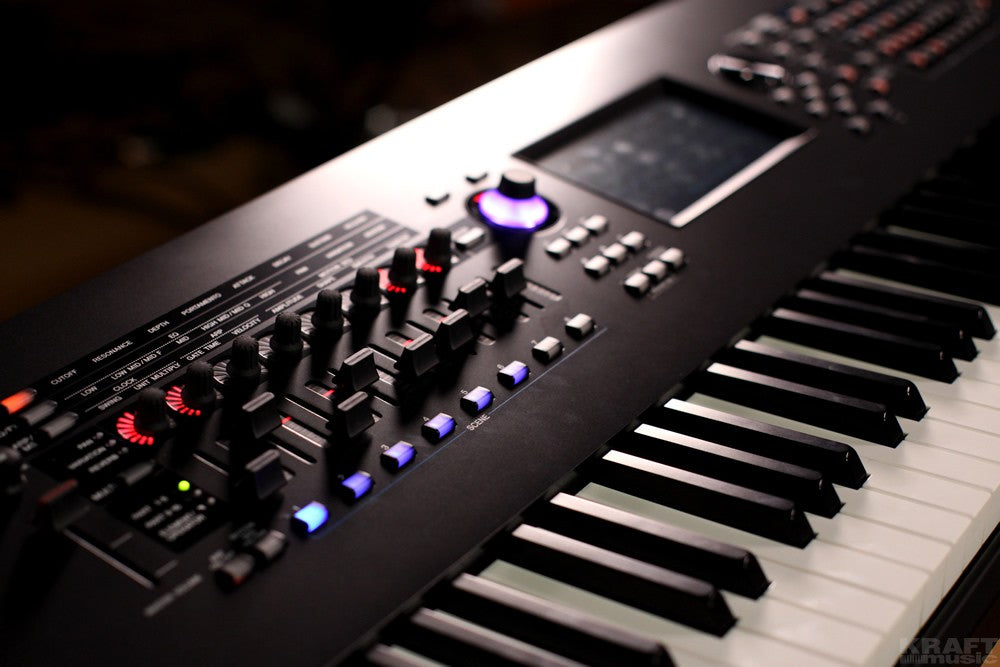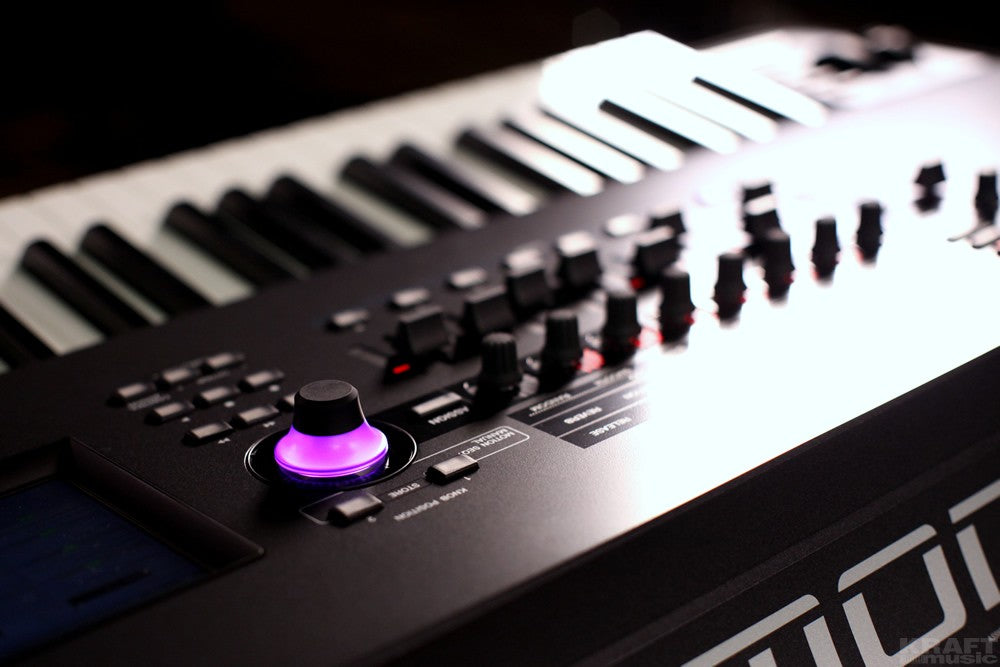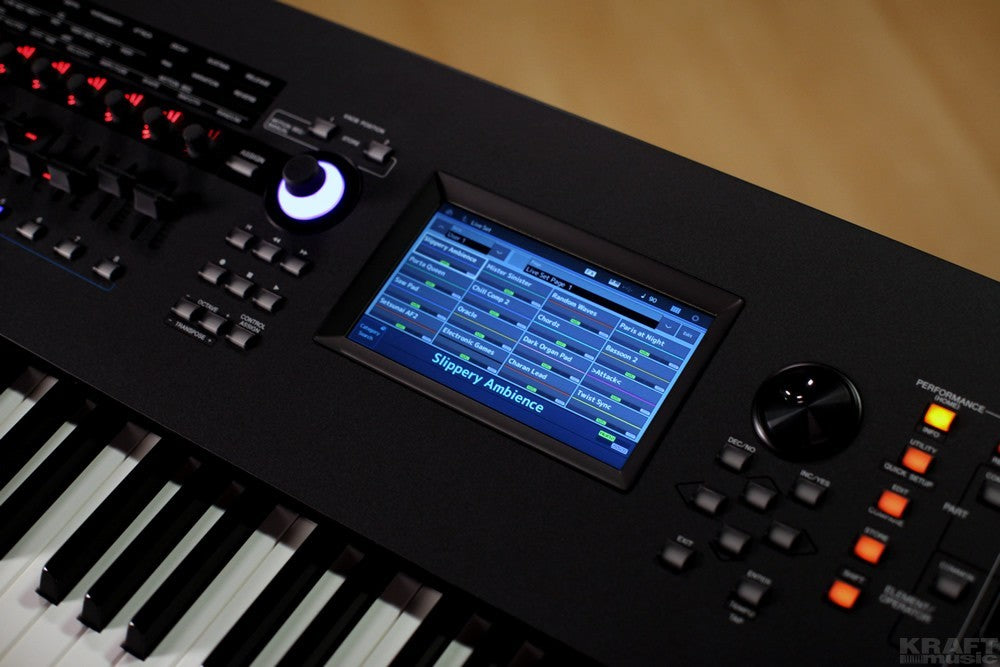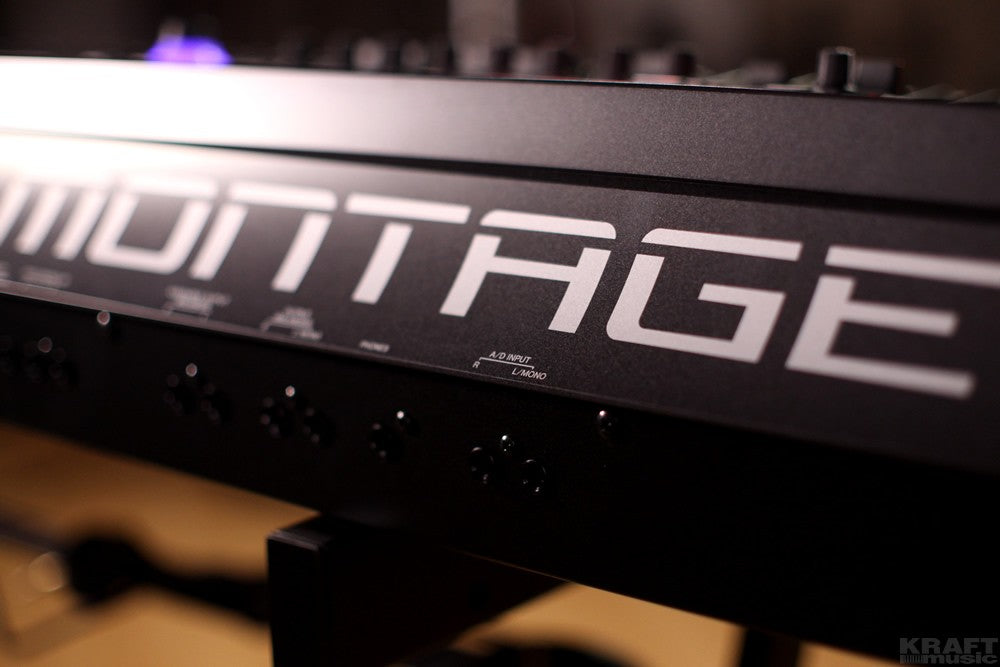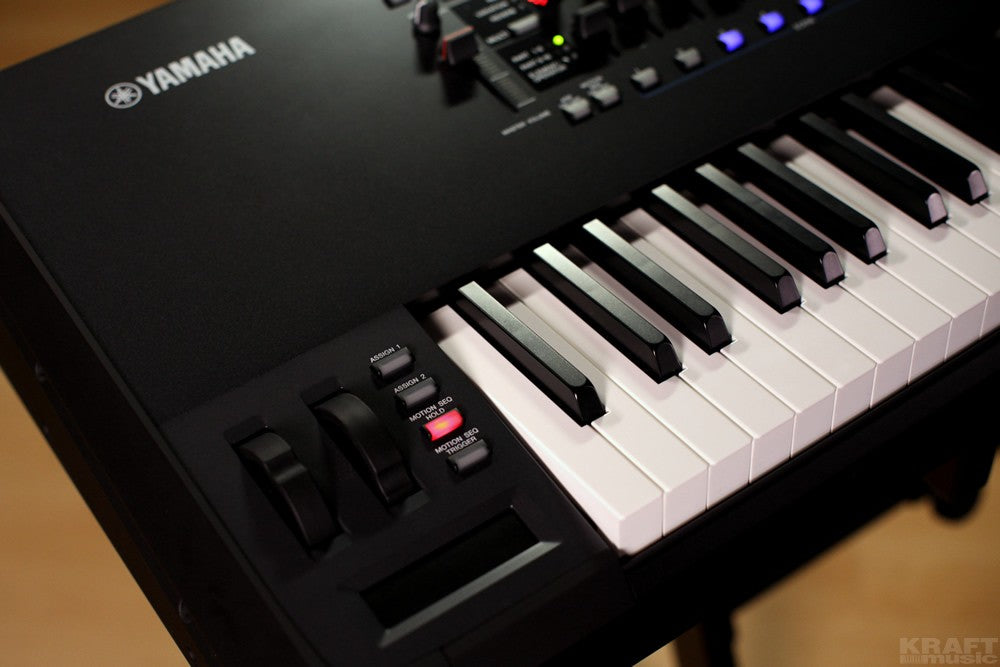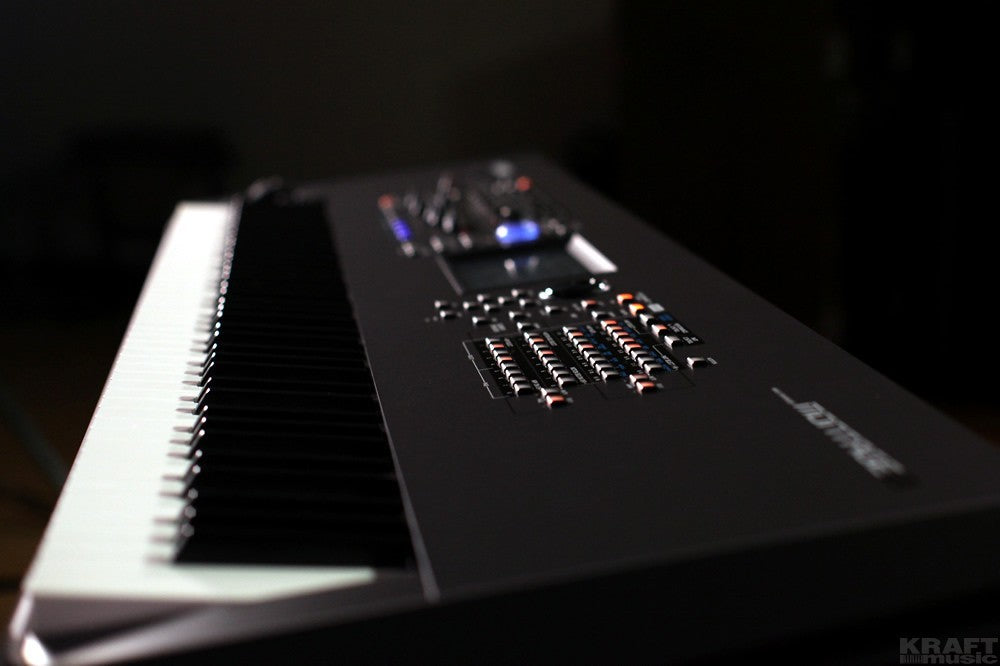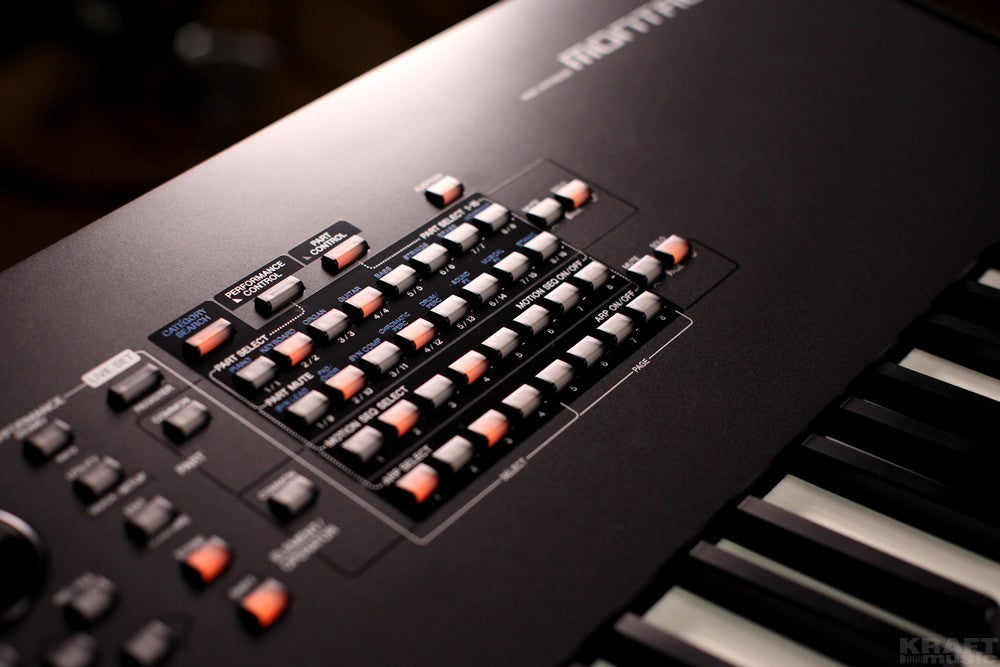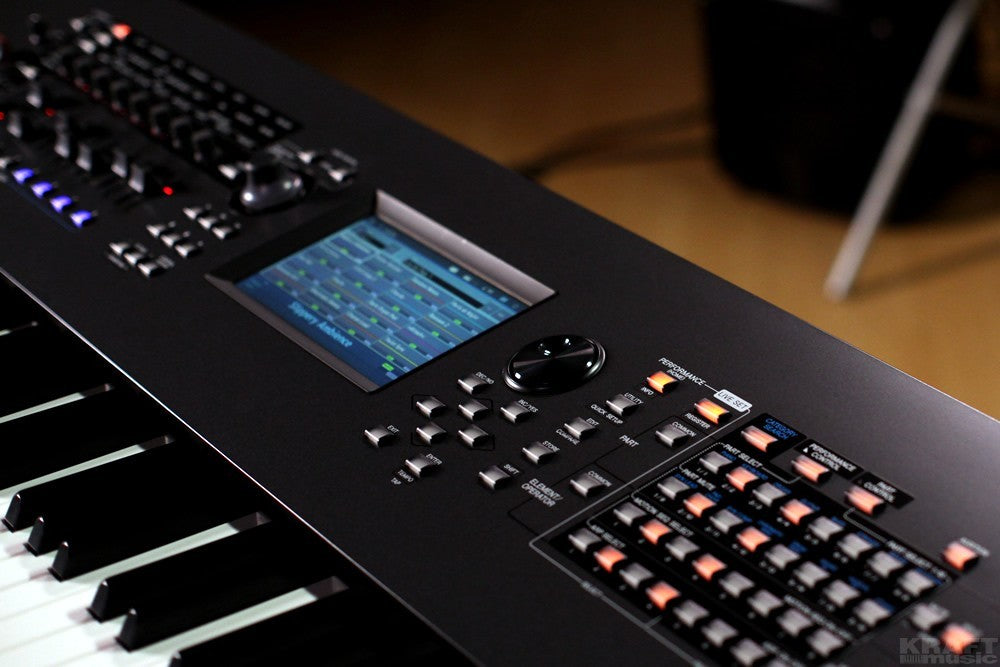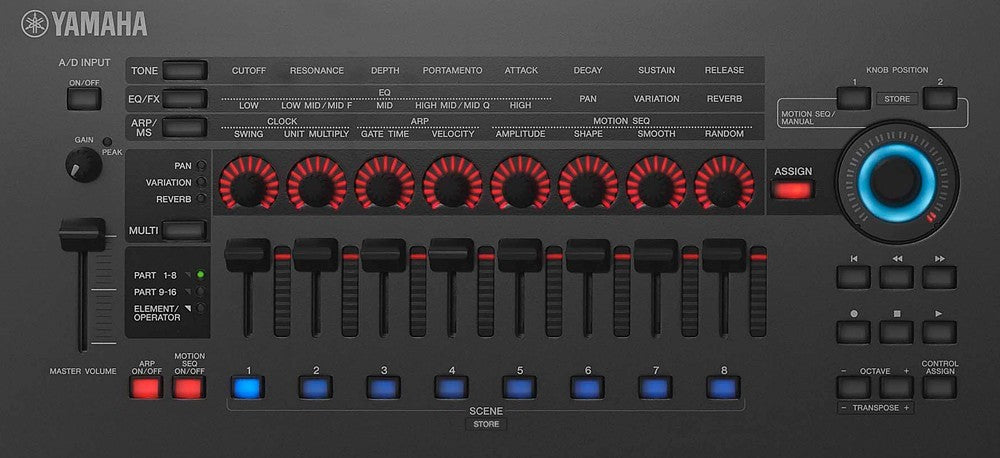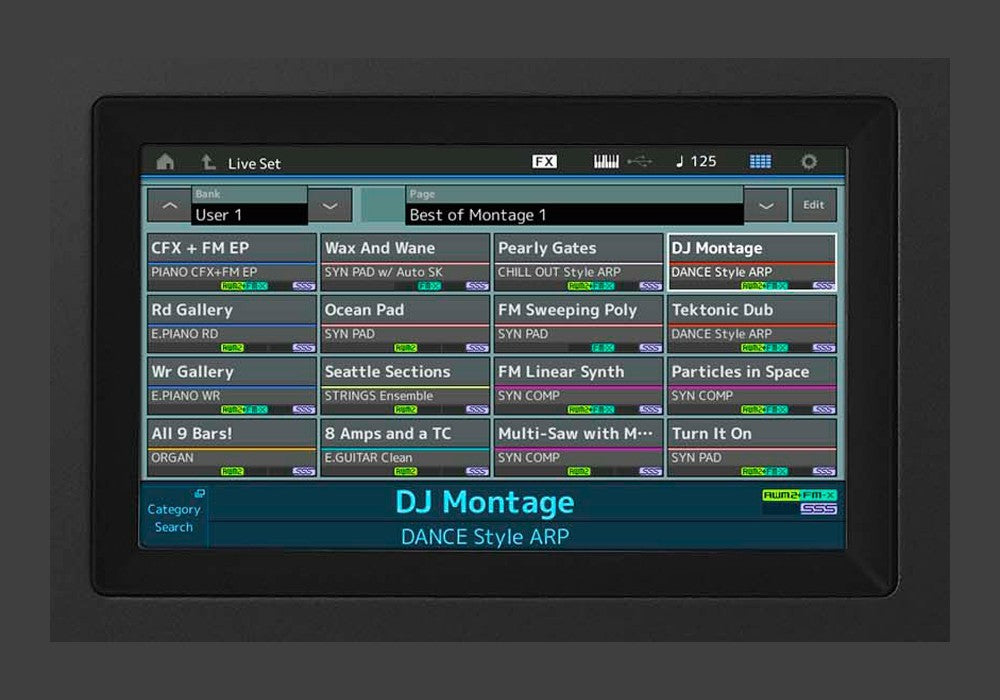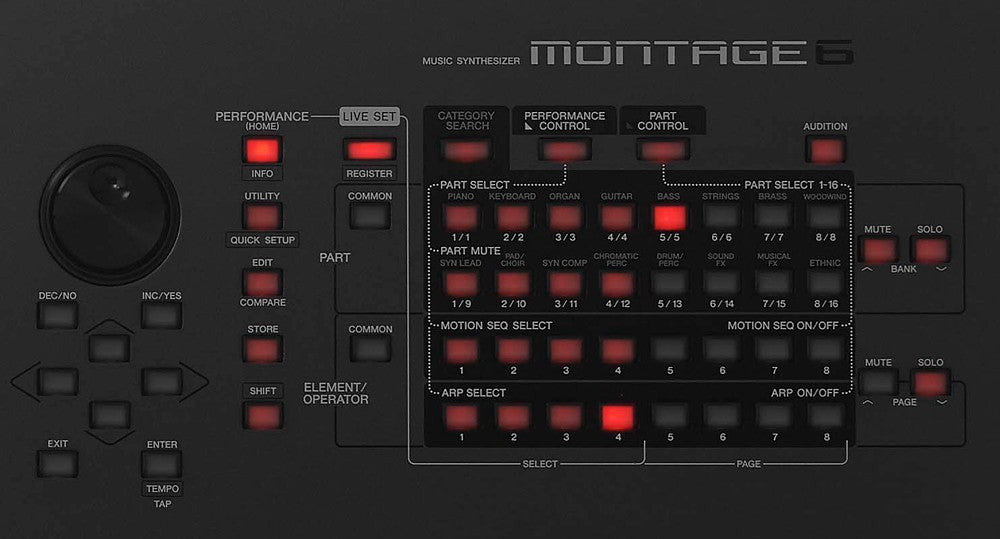 Yamaha Montage 6 Synthesizer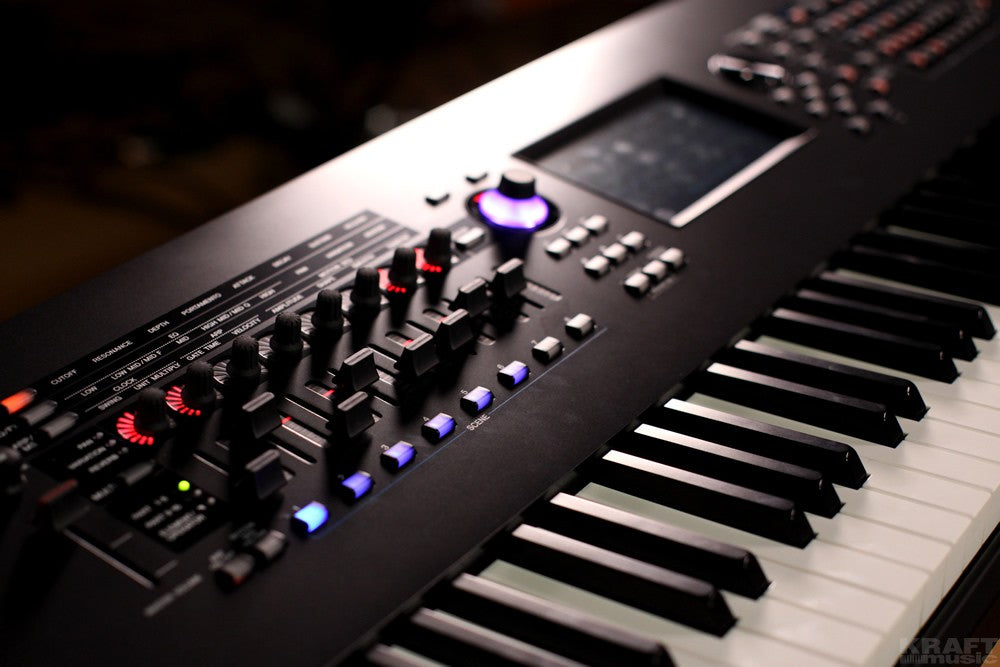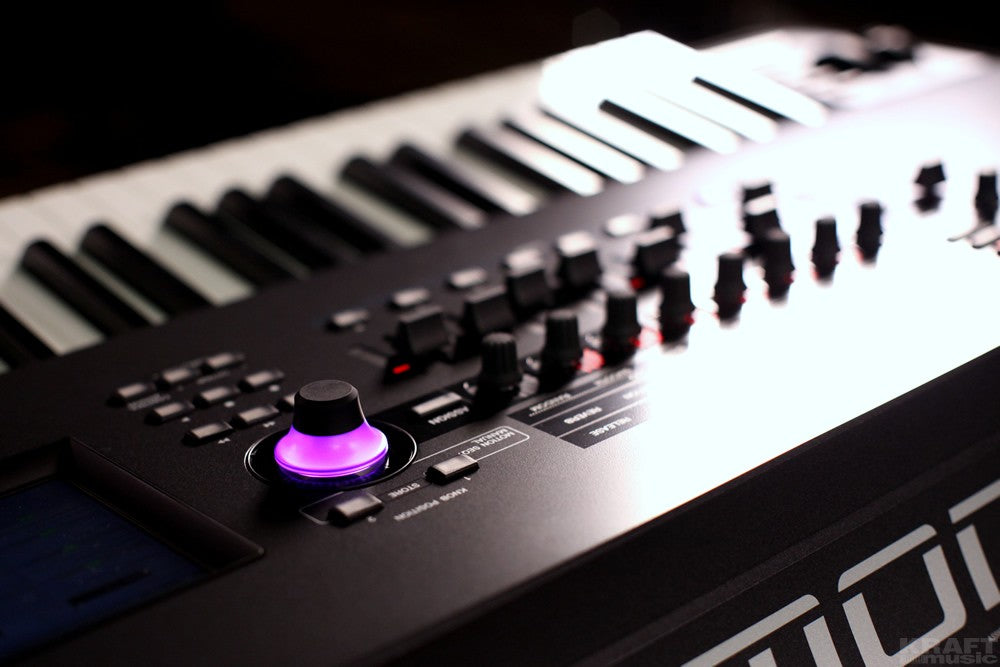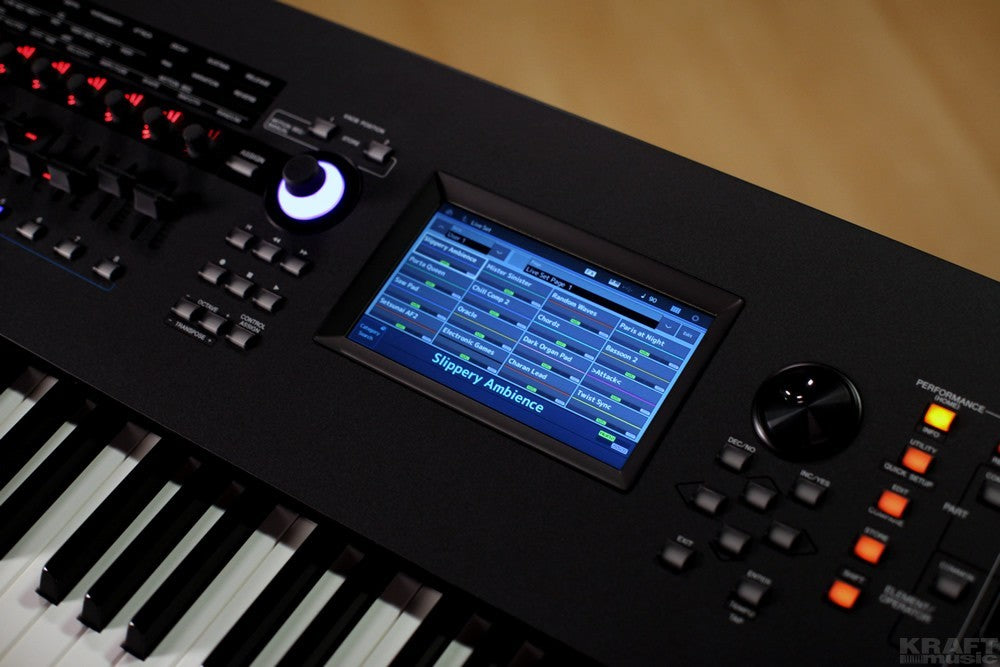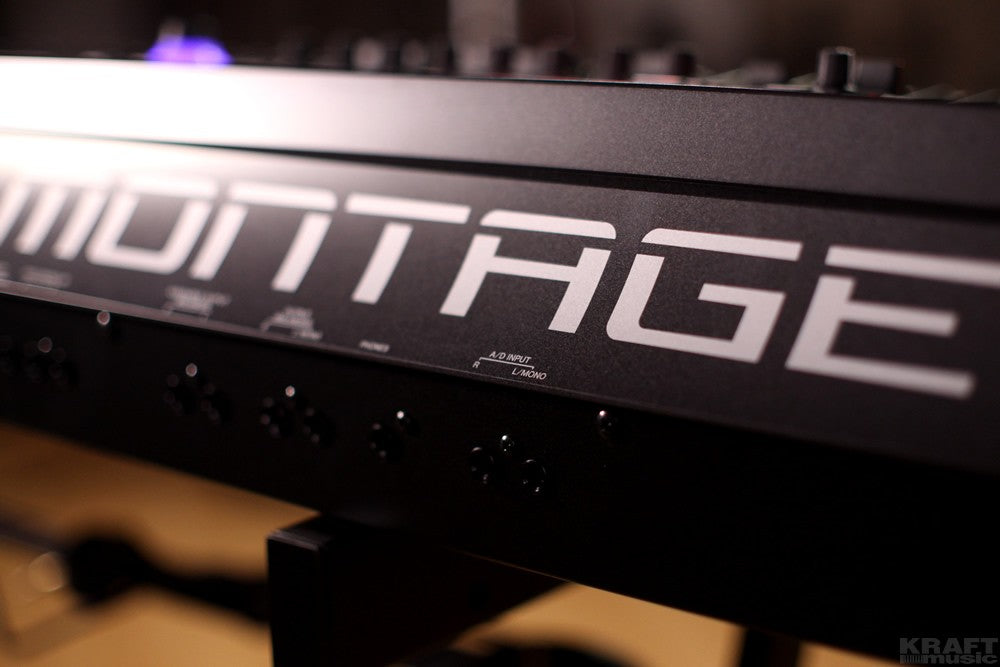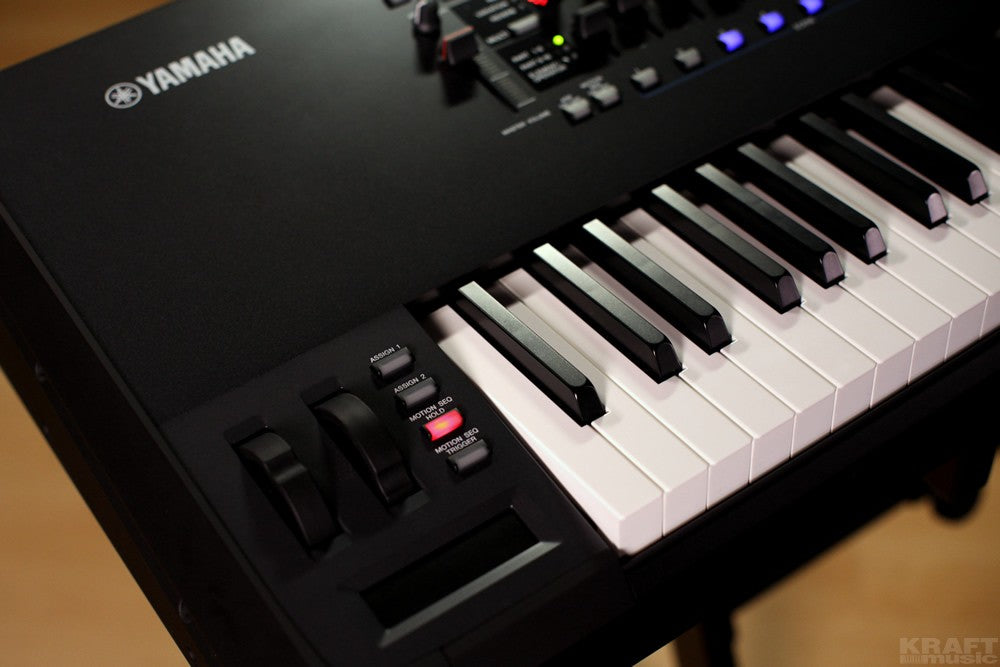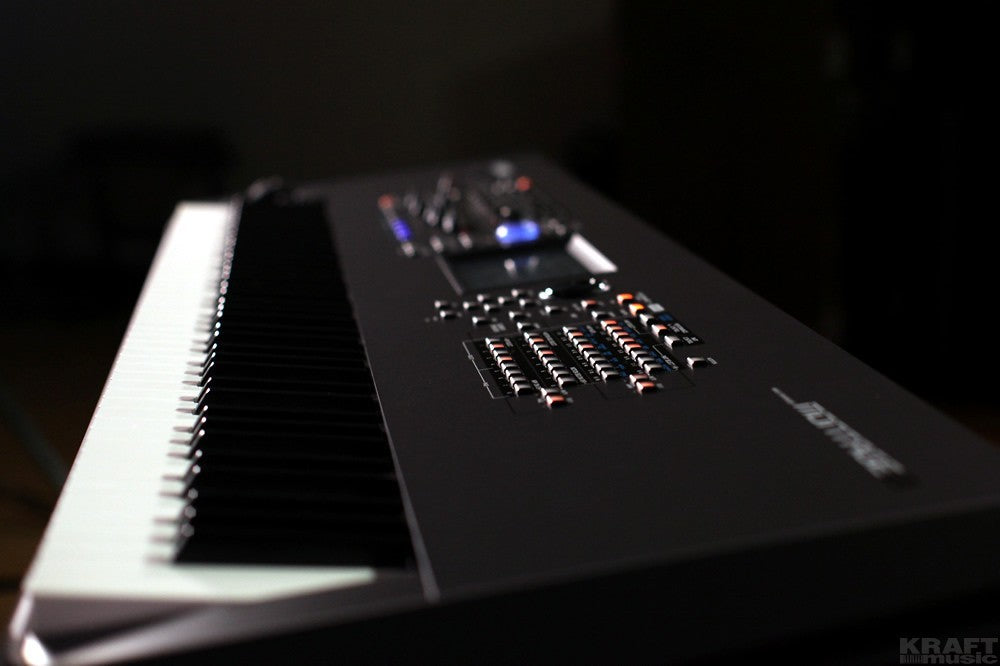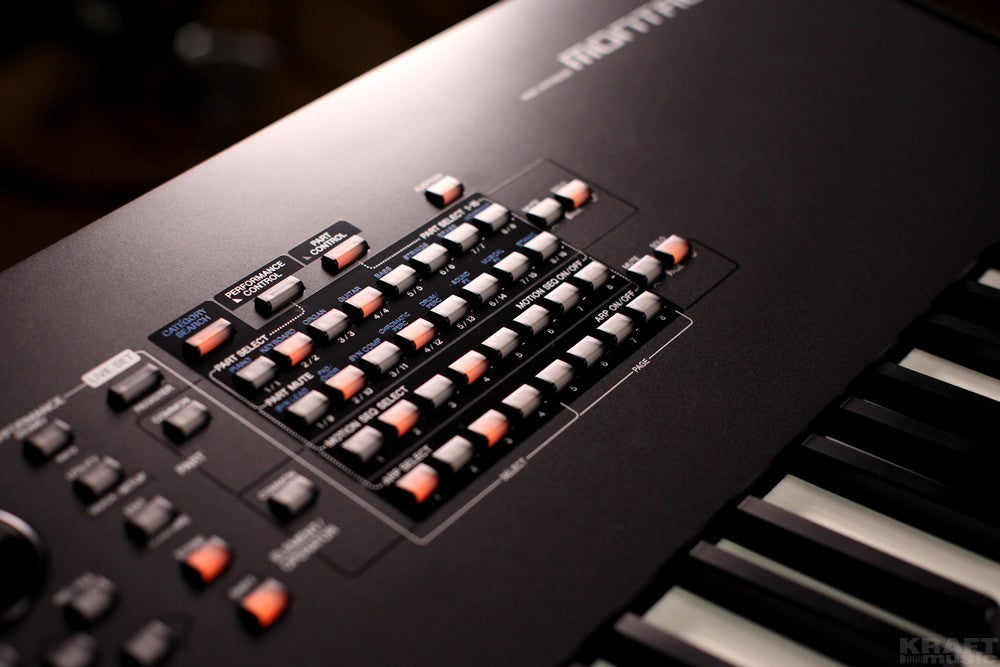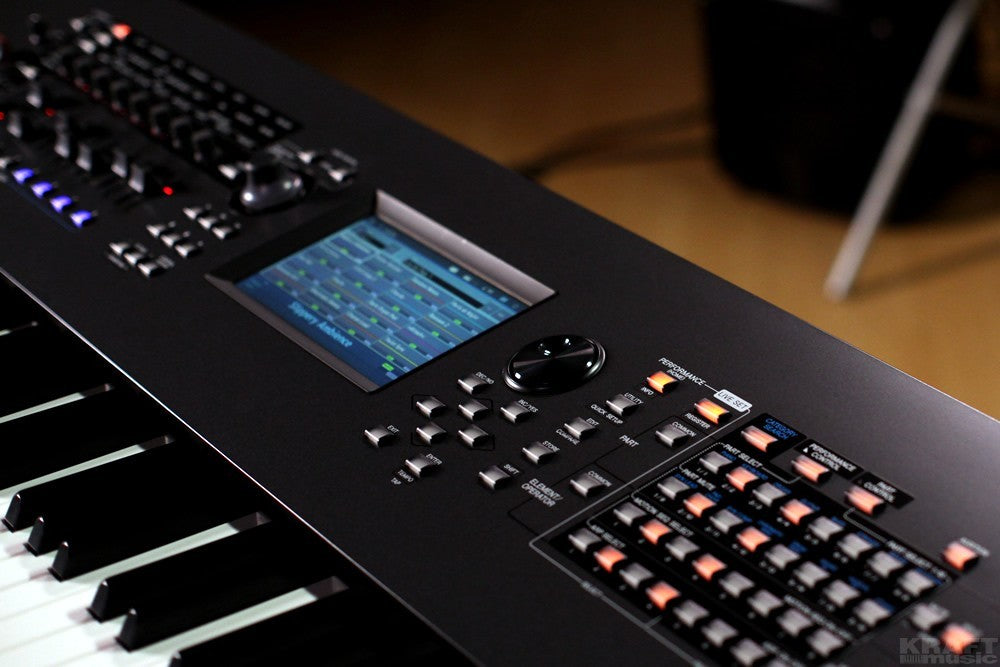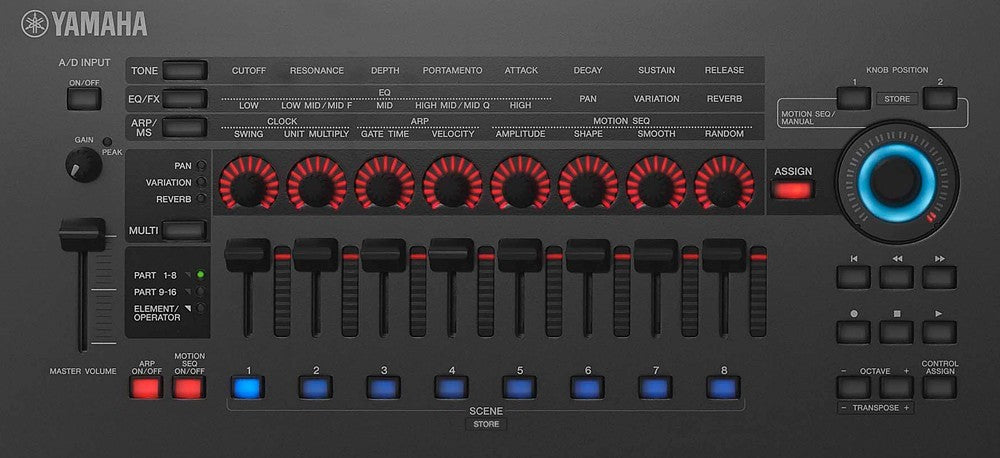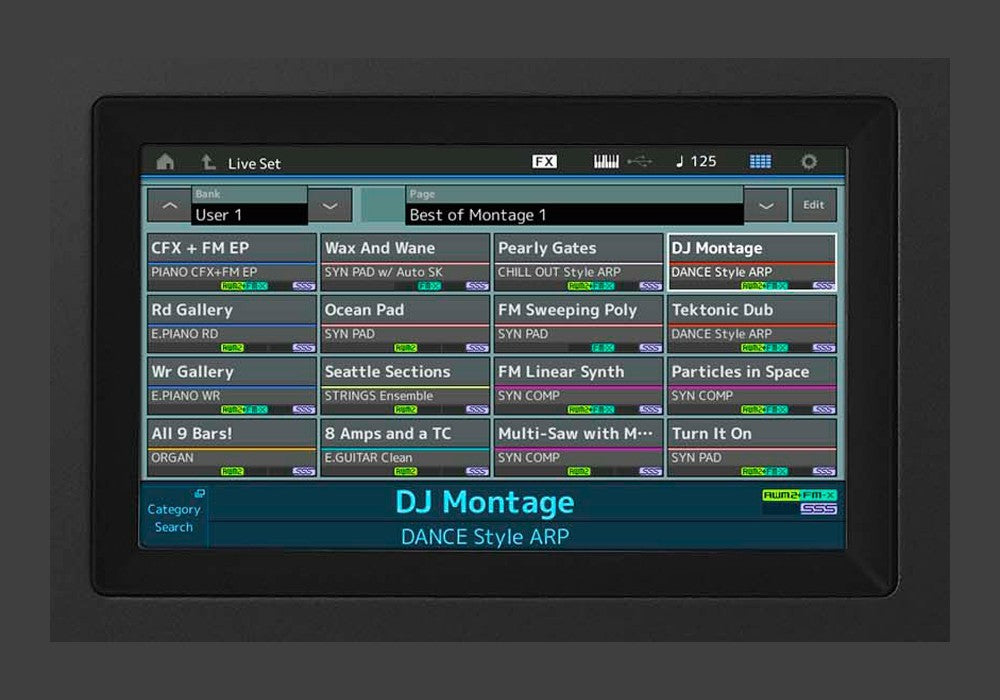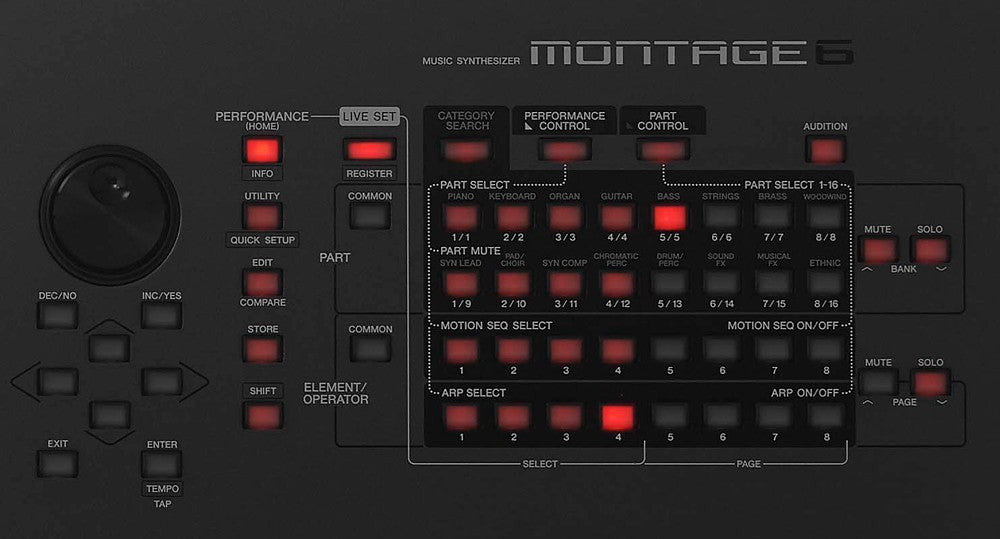 Yamaha Montage 6 Synthesizer
Welcome to the new era in synthesizers from the company that brought you the industry-changing DX and the hugely popular Motif. Building on the legacy of these two iconic keyboards, Yamaha Montage sets the next milestone for synthesizers with sophisticated dynamic control, massive sound creation and streamlined workflow all combined in a powerful keyboard designed to inspire your creativity. If you liked DX and Motif, get ready to love Montage. For sound designers and synthesists needing massive sound creation Montage is a flagship synthesizer with an extensive control matrix and two powerful synth engines. Unlike workstations, Montage offers sophisticated dynamic control, massive sound creation and a streamlined workflow.
Super Knob
Super Knob is a macro controller that controls the movement of Montage's eight assignable knobs. Dynamic sound changes from subtle to radical are achieved with with Super Knob. Super Knob can control multiple parameters simultaneously, allowing for deep sound expression, dynamic sonic changes and detailed interactivity. Super Knob can even be assigned to an expression pedal, making it easy to manipulate Montage's sound while still playing with both hands.
Motion Control synthesis engine and Motion Sequencer
Motion Control is a highly customizable synthesizer engine control matrix. Motion Control allows the synth engines to be controlled via any physical control, macro controlled via the Super Knob or rhythmically controlled with the Motion Sequencer. Motion Sequences are tempo-synchronized control sequences for creating rhythmic sound changes. Motion Sequences also have dedicated controls on the front panel making it easy to manipulate and change in real time, providing incredible interactivity and expression.
Envelope follower
Montage's envelope follower converts audio into a control source for virtually any synthesizer parameter. For example, a drum loop could make a filter open or close on every hit or a vocal input can control multiple parameters to create a 'talking' synthesizer. The audio can even be a live source through the A/D input.
A/D input
Montage's A/D input processes external audio sources through the internal DSP. Use guitars, mics or any line source as an input and process with the internal effects, great for adding reverb to vocal, amp simulator effects to guitars or recording directly to your DAW.
AWM2: Advanced Wave Memory, second generation
AWM2 is a proprietary Yamaha technology for data compression without sound quality loss. This allows longer, more natural decay, more articulations and variations and higher quality samples. The result is highly realistic instrument sounds rivaling the quality of huge computer sample libraries coupled with the stability and reliability of hardware.
FM-X: sophisticated 8-operator FM synthesis engine
FM-X is Yamaha's modern version of FM (frequency modulation), a synthesis technology introduced in the 1980s with products like DX7. FM synthesis works by using one simple waveform (modulator) to modulate the sound of another simple waveform (carrier). FM-X greatly expands traditional FM by adding more waveform shaping options, more modulators and carriers, resonant filters, DSP and direct real-time control of FM-X parameters. The result is a deeply programmable and controllable synthesizer engine capable of producing dynamic synthesizer sound from classic 80s to cutting-edge modern electronic sounds.
Live Sets
Live Sets are a way to organize Performances. There are Preset Live Sets organized by category that are read only and there are User Live Sets. User Live Sets allow you to freely organize Performances however you want without copying, changing order or renaming. You can give a User Live Set slot a descriptive name separate from the Performance as well as a color for easy visual organization. User Live Sets are perfect for organizing Performances for gigs and creating your own Performance organization scheme.
8-part Seamless Sound Switching
Seamless Sound Switching lets you change Performances using eight or fewer parts without any cut-off in envelope or effects. This is perfect for live performances when you want to end one song and start another without stopping.
Keyboard
Montage is available in three different configurations: Montage 6 and Montage 7 feature premium FSX semi-weighted synthesizer key action with aftertouch in 61 and 76 keys respectively, while Montage 8 features an-88 key, fully-weighted balanced hammer action with aftertouch, providing equal resistance for each key across the keyboard.
USB audio/MIDI interface
Montage's integrated USB audio and MIDI interface provide easy, single cable connectivity from your synthesizer to your computer or iOS device. Here's what you can do:
Send 32 audio channels to your computer/iOS device from your synth
Return 6 audio channels from your computer/iOS device to your synth
Send and return 16 channels of MIDI between your computer/iOS device and synth
SKU
YAM-MONTAGE6
Vendor
Yamaha
Aftertouch
Yes
Analog Digital
Digital
Built In Speakers
No
Included From Manufacturer
Power cord

Cubase AI
Keys Weighted
Semi-Weighted
Key Num
61
Key Size
Full Size Keys
Midi
In, Out, and Thru
Mono Poly
Polyphonic
Mpn
MONTAGE6
Arpeggiator
Yes
Audio File Playback
Yes
Control Connections
Foot Controller [1]/[2]
Foot Switch [ASSIGNABLE]/[SUSTAIN]
Onboard Controllers
Master Volume
AD Input Gain knob
Pitch Bend wheel
Modulation wheel
Ribbon Controller
Control Sliders x 8
Knobs x 8
Super Knob
Data dial
Effects
Reverb x 12 types
Variation x 76 types
Insertion (A, B) x 76 types
Master Effect x 15 types
Master EQ (5 bands)
1st part EQ (3 bands)
2nd part EQ (2 bands)
Audio Inputs
A/D Input
Audio Outputs
Main Output
Internal Storage Capacity
1.75GB flash memory
Key Action
Semi-weighted with aftertouch
Multitimbral Capability
16 parts
Oscillators per Voice
Varies by Sound Engine
Product Weight
33 lb
Programs/Presets
Motion Control Synthesis Engine
AMW2 Engine
Sampling
Sample import from Motif XF
Sequencer
Performance Recorder
USB Flash Drive Port (to Device)
Audio Recording;Song File Playback;Program/Preset Storage;Sample Import;System Updates
USB Port (to Host)
MIDI;Audio;Editor/Librarian/Patch Manager
Voices of Polyphony
128
Width
40.8125"
Depth
15.5625"
Height
5.1875"
Yamaha Music Production Limited Warranty
Thank you for selecting a Yamaha product. Yamaha products are designed and manufactured to provide a high level of defect-free performance. Yamaha Corporation of America ('Yamaha') is proud of the experience and craftsmanship that goes into each and every Yamaha product. Yamaha sells its products through a network of reputable, specially authorized dealers and is pleased to offer you, the Original Owner, the following Limited Warranty, which applies only to products that have been (1) directly purchased from Yamaha's authorized dealers in the fifty states of the USA and District of Columbia (the 'Warranted Area') and (2) used exclusively in the Warranted Area. Yamaha suggests that you read the Limited Warranty thoroughly, and invites you to contact your authorized Yamaha dealer or Yamaha Customer Service if you have any questions.
This warranty covers Yamaha synthesizers, mobile mini keyboards, monitor speakers, audio interfaces, MIDI controllers, wind MIDI controllers and music production accessories against defects in materials or workmanship for one (1) year. Yamaha Montage music synthesizers are covered by the same Limited Warranty for two (2) years.
Yamaha will, at its options, repair or replace the product covered by this warranty if it becomes defective, malfunctions or otherwise fails to conform with this warranty under normal use and service during the term of this warranty, without charge for labor or materials. Repairs may be performed using new or refurbished parts that meet or exceed Yamaha specifications for new parts. If Yamaha elects to replace the product, the replacement may be a reconditioned unit.
You will be responsible for any installation or removal charges and for any initial shipping charges if the product(s) must be shipped for warranty service. However, Yamaha will pay the return shipping charges to any destination within the USA if the repairs are covered by the warranty.
This warranty does not cover (a) damage, deterioration or malfunction resulting from accident, negligence, misuse, abuse, improper installation or operation or failure to follow instructions according to the Owner's Manual for this product; any shipment of the product (claims must be presented to the carrier); repair or attempted repair by anyone other than Yamaha or an authorized Yamaha Service Center; (b) any unit which has been altered or on which the serial number has been defaced, modified or removed; (c) normal wear, and any periodic maintenance; (d) deterioration due to perspiration, corrosive atmosphere or other external causes such as extremes in temperature or humidity; (e) damages attributable to power line surge or related electrical abnormalities, lightning damage or acts of God; or (f) RFI/EMI (Interference/noise) caused by improper grounding or the improper use of either certified or uncertified equipment, if applicable.
Any evidence of alteration, erasing or forgery of proof-of-purchase documents will cause this warranty to be void. This warranty covers only the Original Owner and is not transferable.
Warranty service will only be provided for defective products within the Warranted Area. Contact your local authorized Yamaha dealer who will advise you of the procedures to be followed. If this is not successful, contact Yamaha directly. Yamaha may request that you send the defective product to a local authorized Yamaha Servicer or authorize return of the defective product to Yamaha for repair. If you are uncertain as to whether a dealer has been authorized by Yamaha, please contact Yamaha's Service Department or check Yamaha's website.
Product(s) shipped for service should be packed securely and must be accompanied by a detailed explanation of the problem(s) requiring service, together with the original or a machine reproduction of the bill of sale or other dated, proof-of-purchase document describing the product, as evidence of warranty coverage. Should any product submitted for warranty service be found ineligible therefore, an estimate of repair cost will be furnished and the repair will be accomplished only if requested by you and upon receipt of payment or acceptable arrangement for payment.
Any implied warranties, including warranties of merchantability and fitness for a particular purpose shall be limited in duration to the applicable period of time set forth above. Yamaha shall not be responsible for incidental or consequential damages or for damages based upon inconvenience, loss of use, damage to any other equipment or other items at the site of use or interruption of performances or any consequences. Yamaha's liability for any defective product is limited to repair or replacement of the product, at Yamaha's option. Some states do not allow limitations on how long an implied warranty lasts or the exclusion or limitation of incidental or consequential damages, so the above limitation or exclusion may not apply to you. This Warranty gives you specific legal rights, and you may also have other rights which vary from state to state. This is the only express warranty applicable to the product specified herein; Yamaha neither assumes nor authorizes anyone to assume for it any other express warranty.
Standard Shipping