Skip product carousel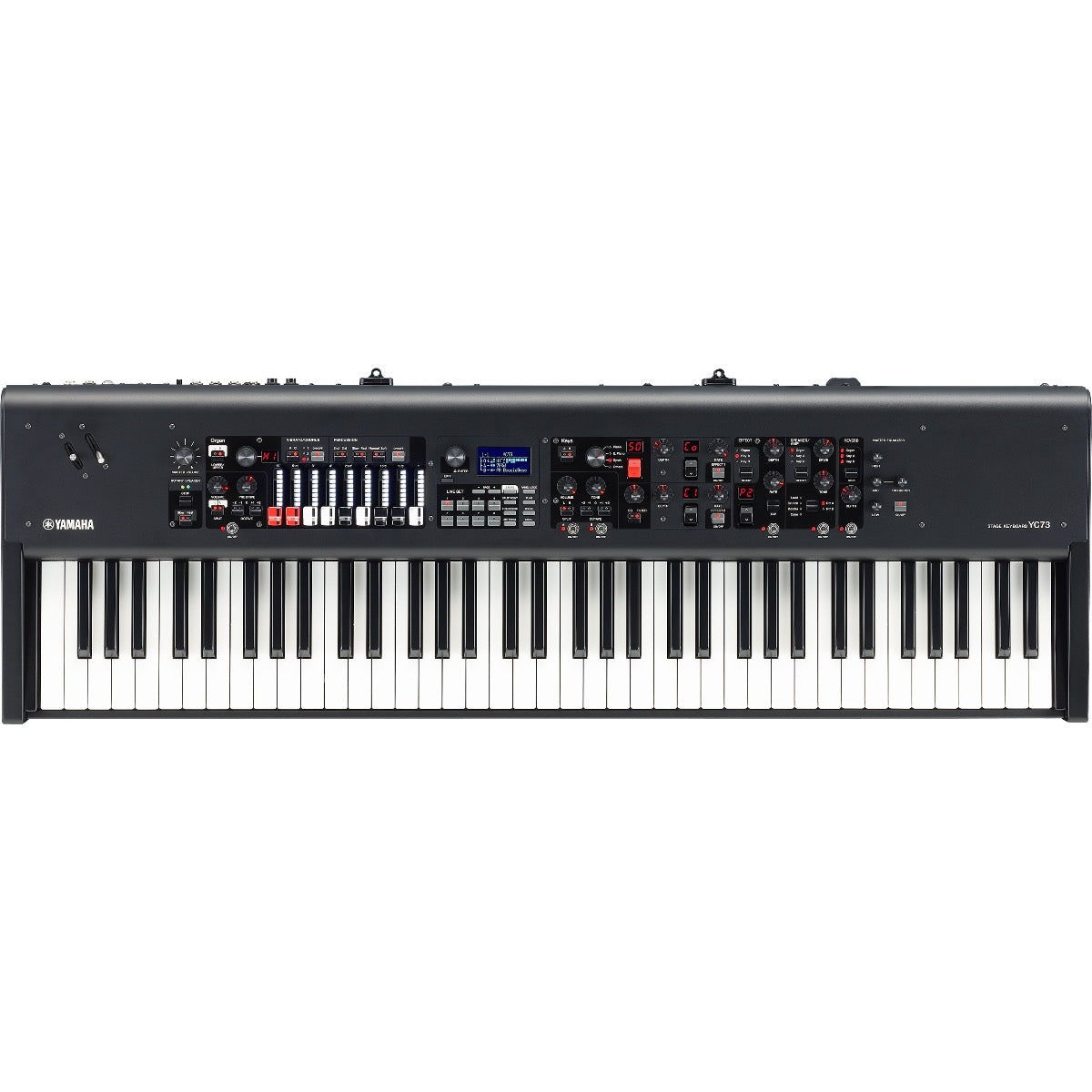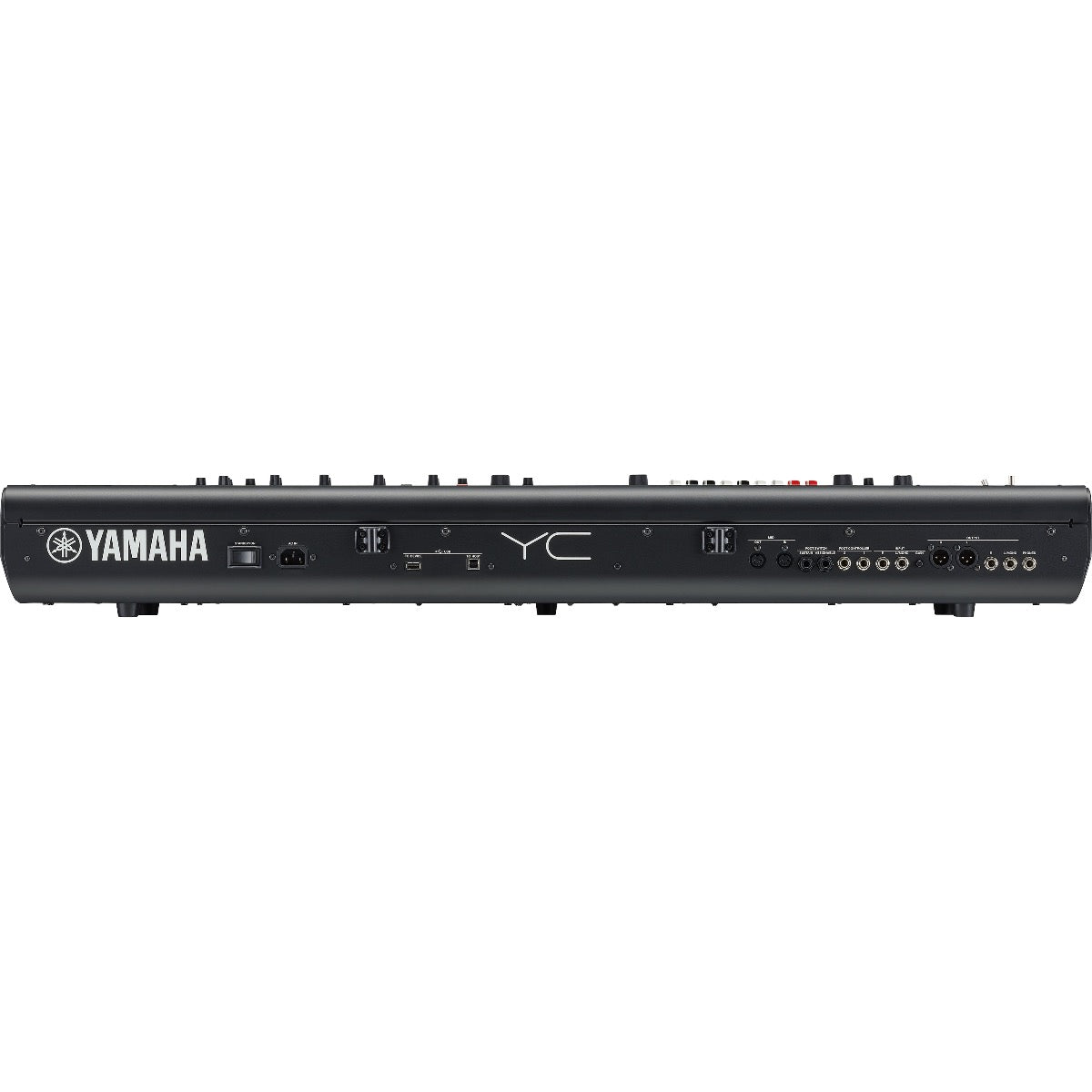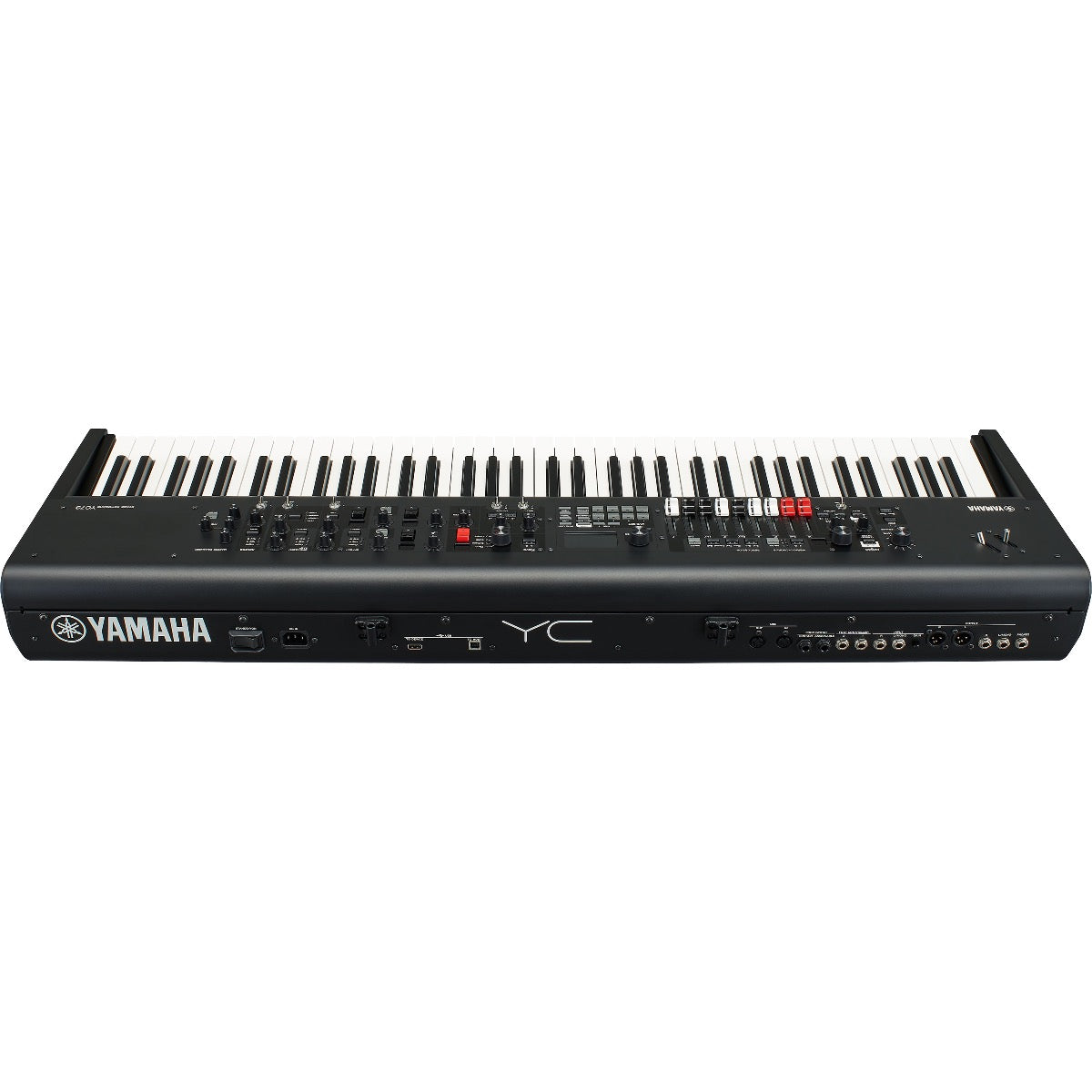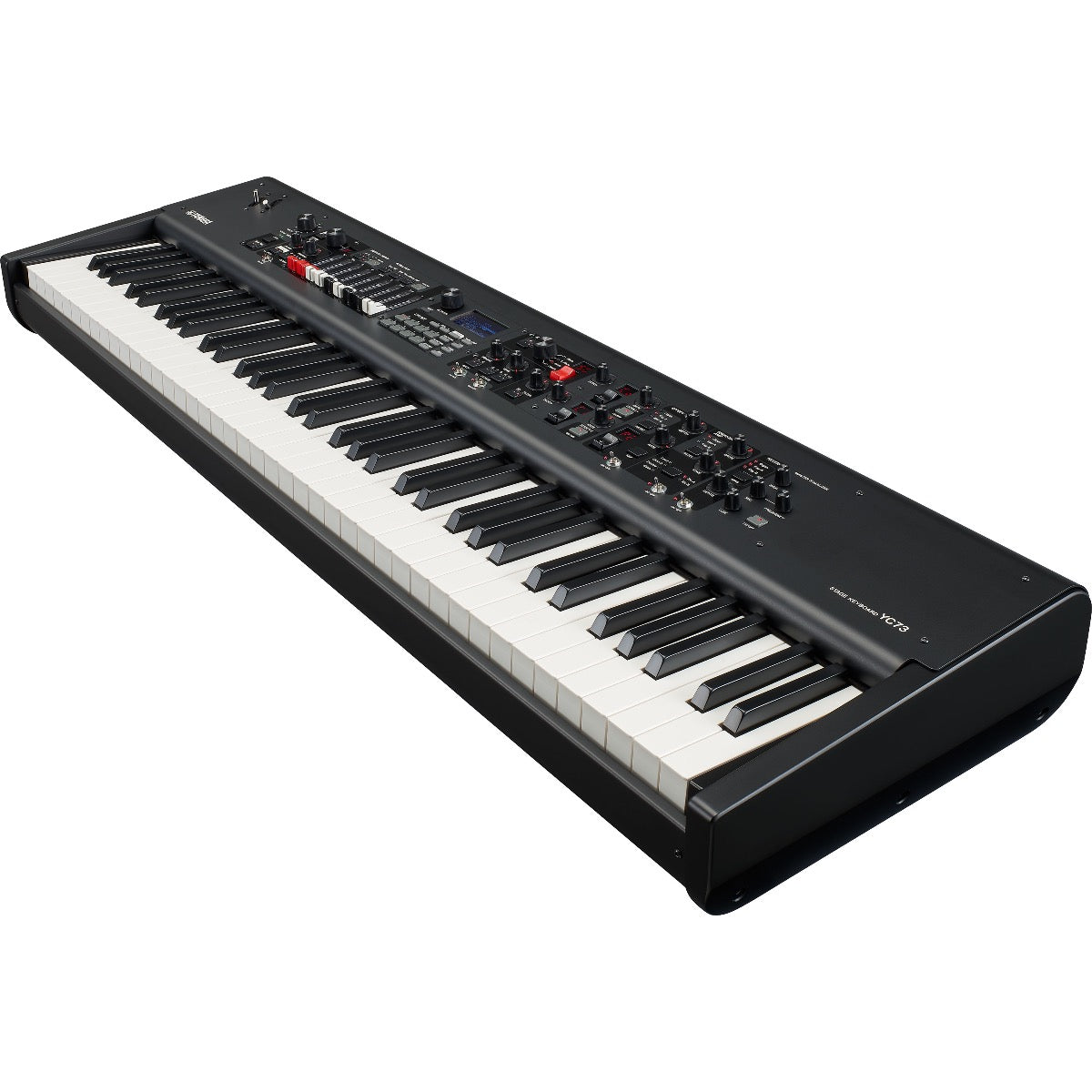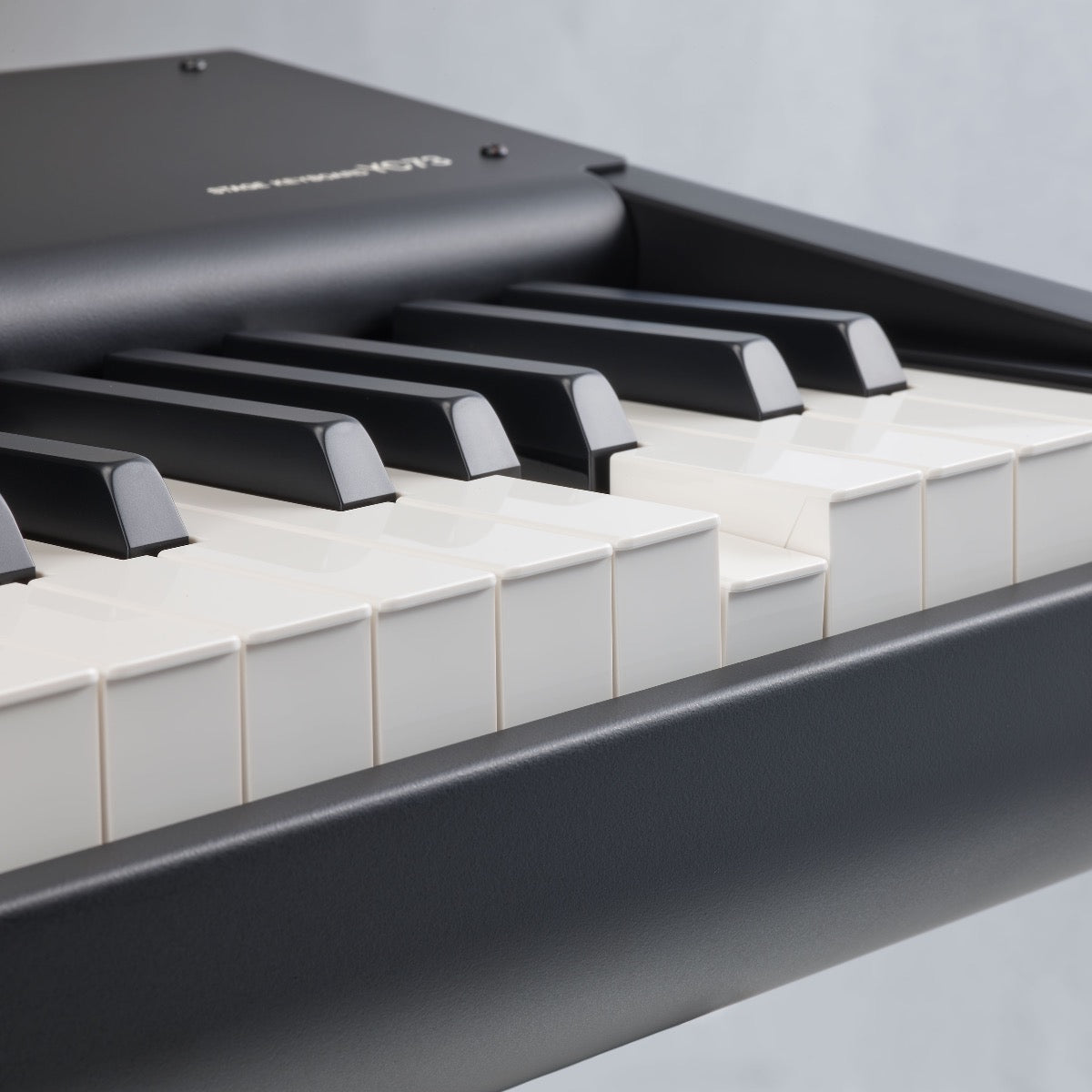 Yamaha YC73 73-Key Stage Keyboard and Organ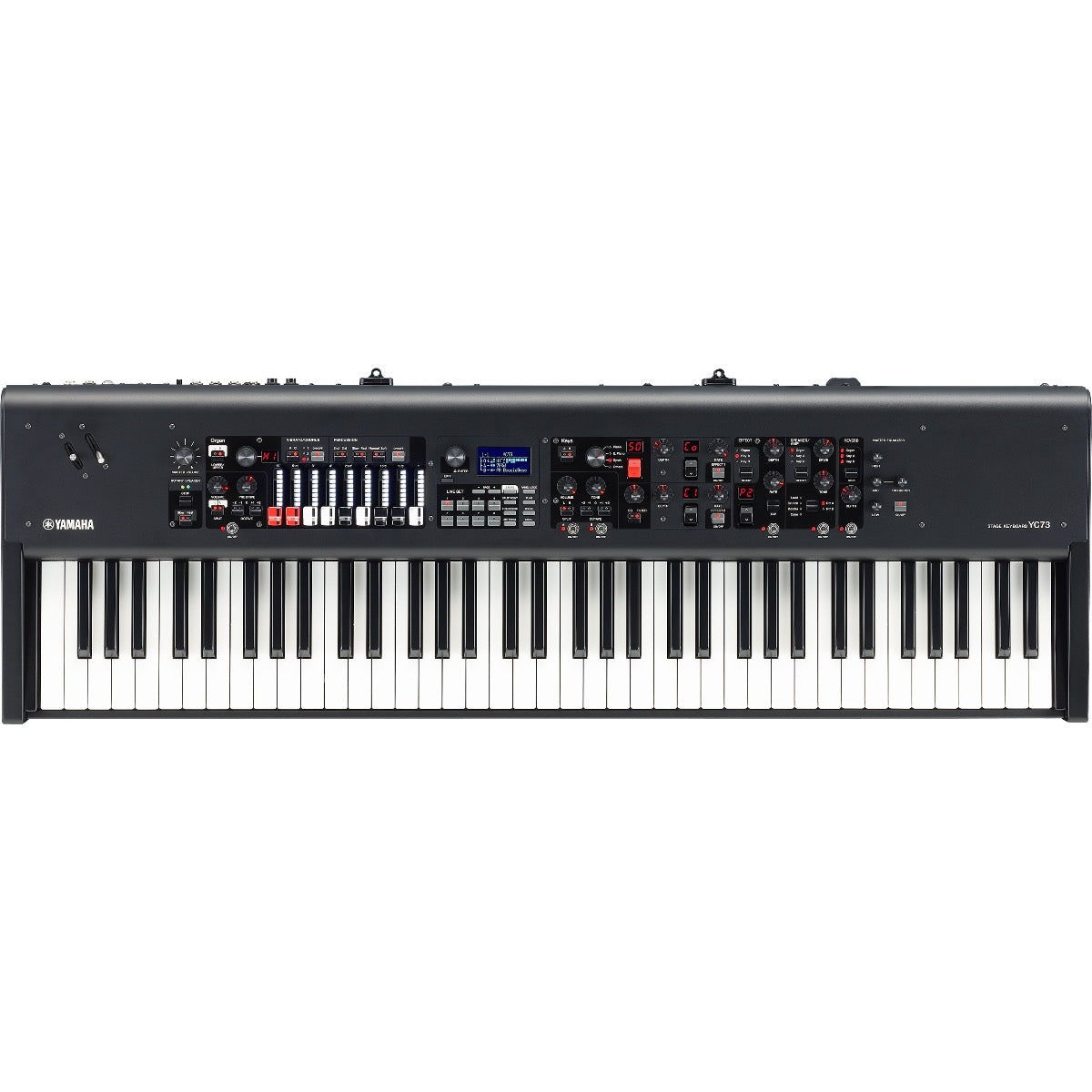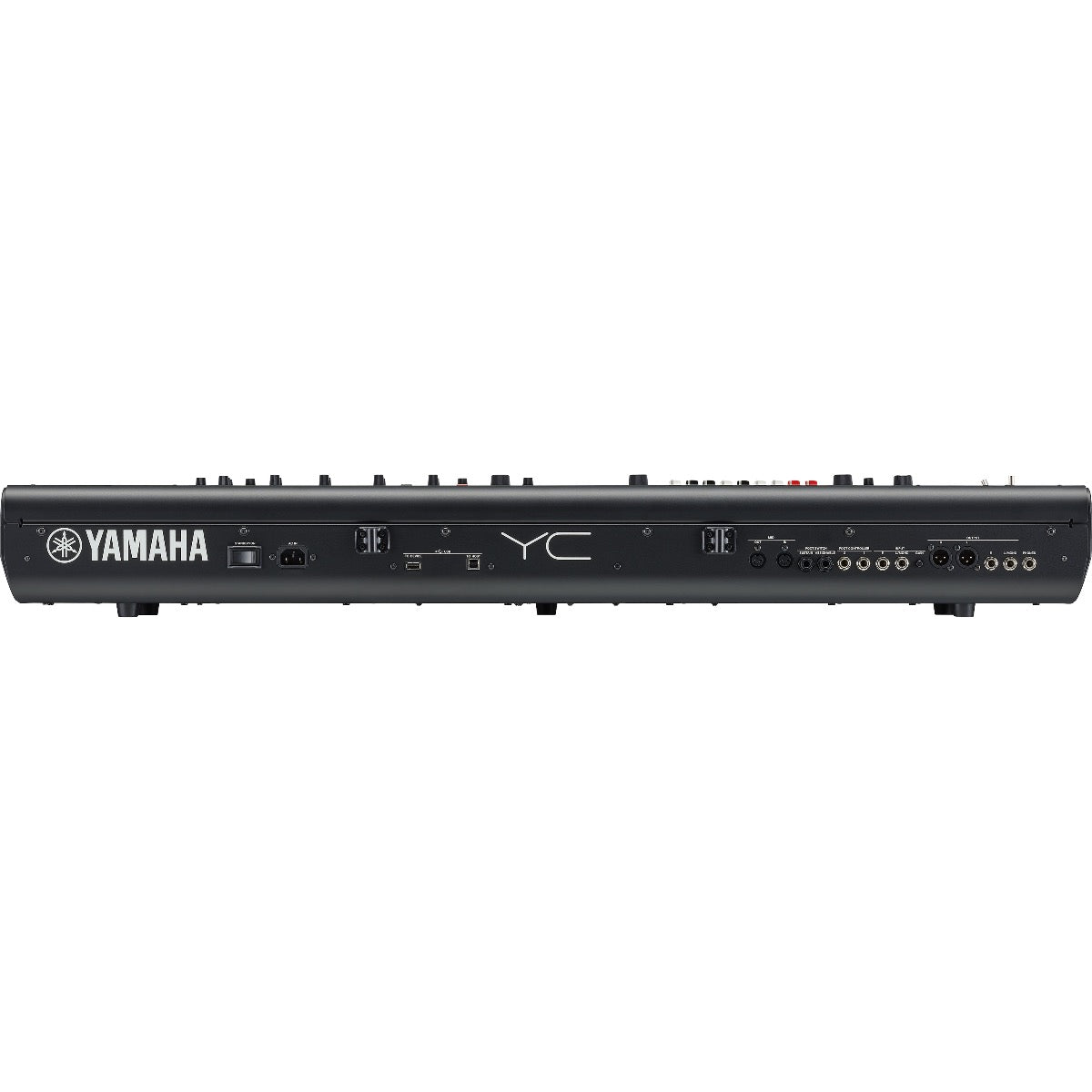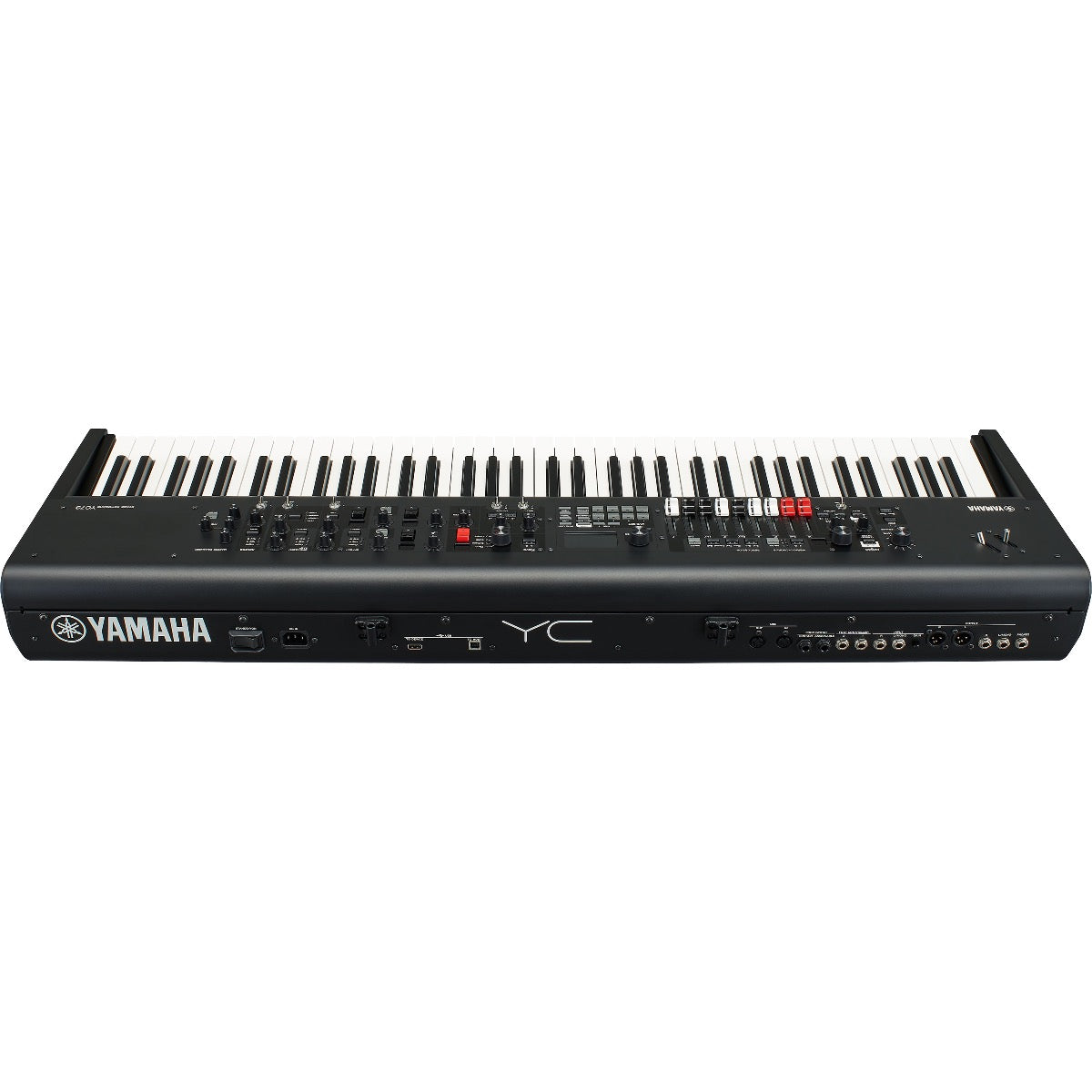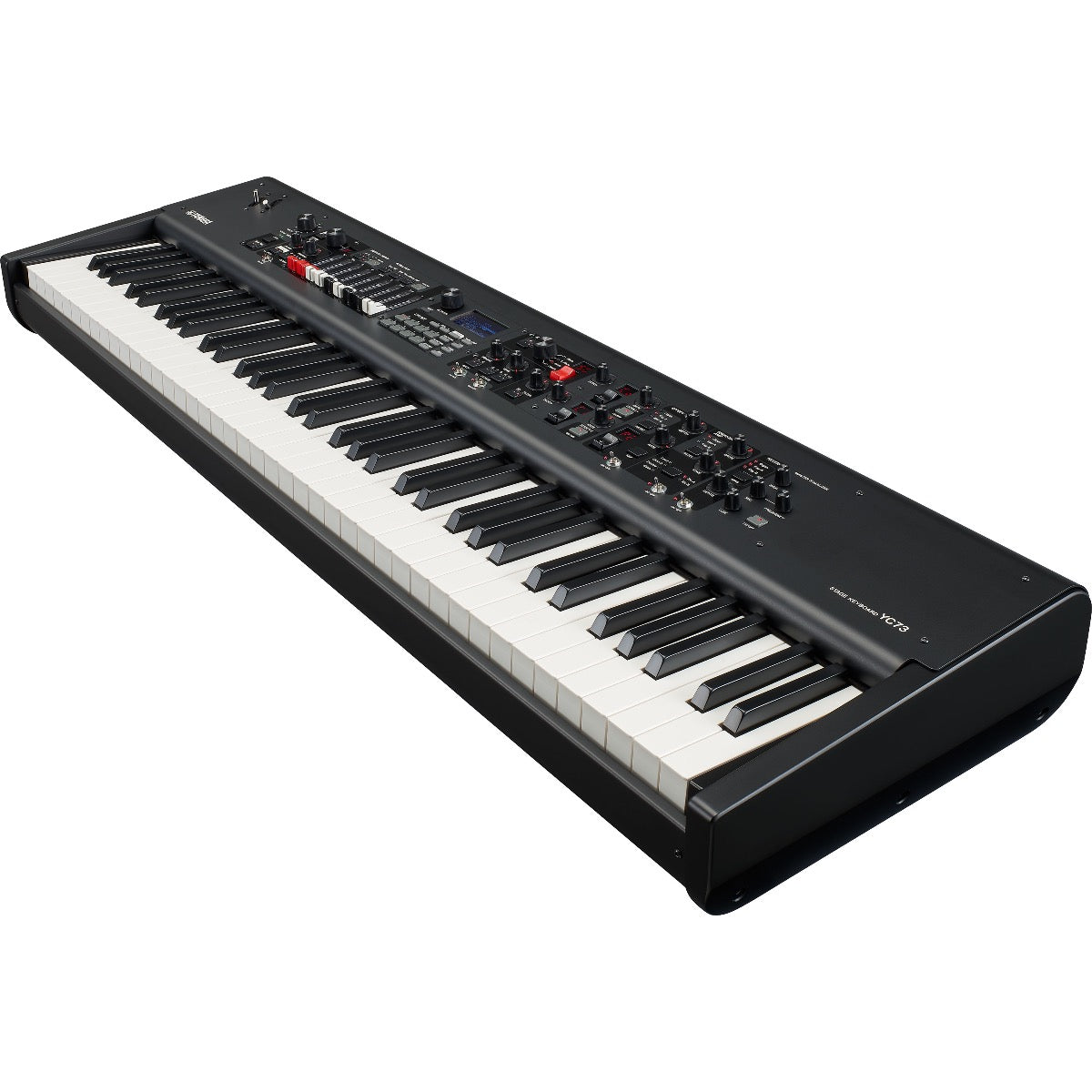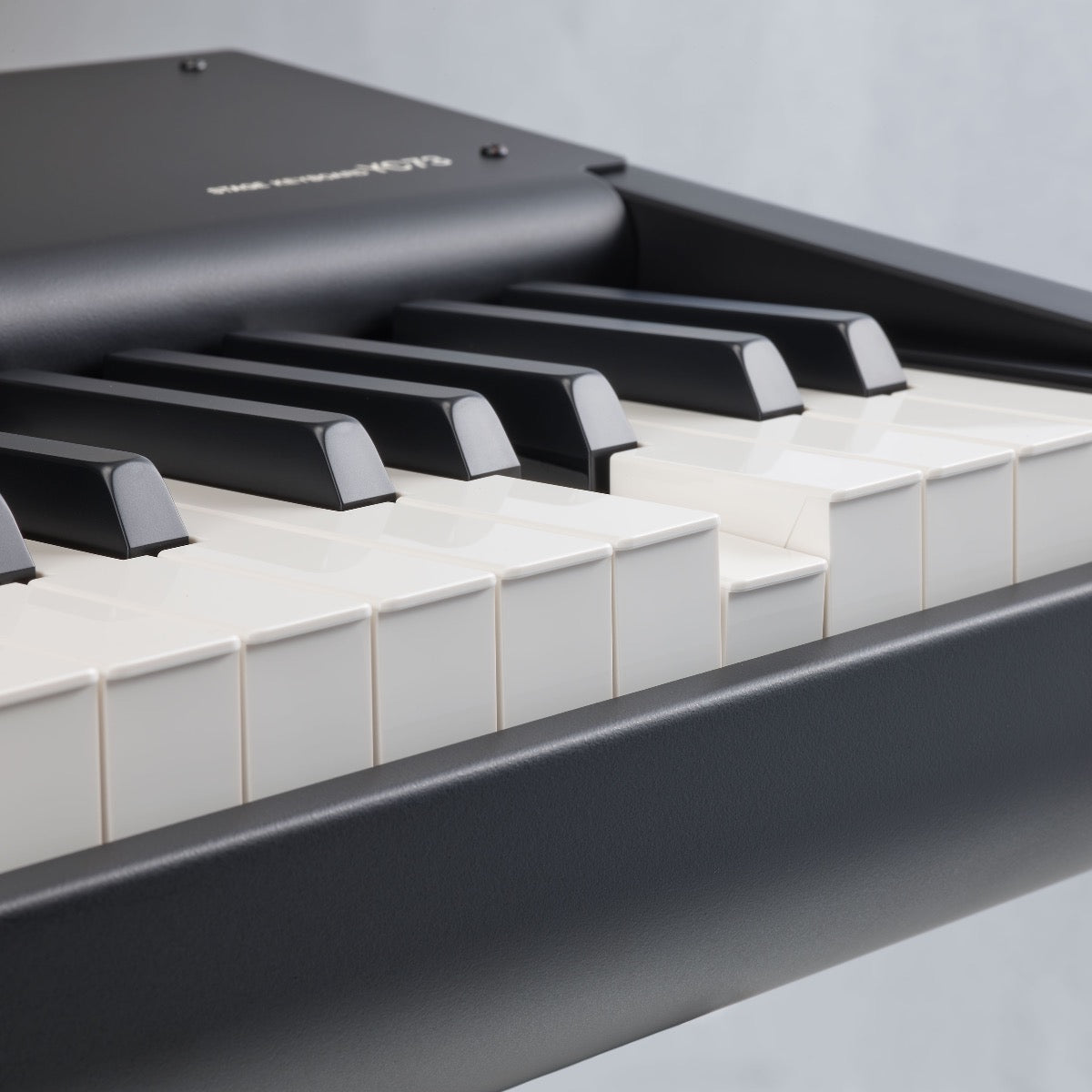 Yamaha YC73 73-Key Stage Keyboard and Organ
Yamaha YC73 features great sound, expressive touch and modern design. YC73 is powered by Yamaha's proprietary Virtual Circuitry Modeling (VCM) organ engine, which recreates individual component behavior to reproduce classic organ character and, most important, sound. In addition to organs, it comes with acoustic/electric pianos and iconic FM synth sounds that Yamaha made famous. YC73 has an intuitive control panel with physical drawbars and 73 keys weighted and balanced like an electric piano.
Compact and portable
Intuitive controls with no menu diving
73 weighted and balanced keys that feel like an electric piano
32 types of effects including authentic rotary speaker simulation
9 physical organ drawbars
Includes classic organs, pianos, electric pianos and FM sounds
Balanced electric piano action
YC73 has a weighted and balanced action that models the unmistakable feel of an electric piano. With an E-to-E keyboard and a touch that falls between graded acoustic piano and authentic organ action, it's quite possibly the most versatile YC of all.
Intuitive user interface
All controls required during onstage are placed in dedicated sections on the control panel, such as Organ and Keys. This gives you direct access to the parameters you need at any time and allows you to instantly improvise sound changes on the fly. In addition, the Organ section features newly developed physical drawbars, which naturally deliver exceptionally high playability and even allow you to immediately check the current settings of the drawbars when switching among different sounds, letting you fully concentrate on your performance.
Physical drawbars
The nine drawbars on YC73 have the footages and ratcheting you expect in an organ, but there's more than meets the eye. See-through drawbar stops with customizable LED light color make it easy to see differences between simulated upper and lower configurations and to play in split mode. It's like having a virtual set of drawbars to give you more sounds, more flexibility and more choices than you ever thought possible in a compact stage keyboard.
VCM organ
Yamaha puts your favorite classic organ sounds in one powerful, compact stage keyboard. YC73 models three organ vintages: just out of the box, well-traveled and character-rich vintage. Need more? Go under the hood to adjust key click, leakage, rotary speaker speed and more to get the one-of-a-kind organ tone you've been searching for.
VCM rotary speaker
YC73 brings you the authentic sounds of classic rotary speakers with no maintenance required. Choose from two faithfully modeled rotary speaker profiles – clean and full or dirty and aggressive – and adjust top or bottom rotor speed, balances and more for total control.
FM organ
In 1983, Yamaha introduced the iconic sounds of FM synthesis to the world with the launch of DX7. Now YC73 brings FM synthesis to the organ for a new generation of players. Simply switch to FM organ and now the drawbars control 8 FM operators that send a pure sound with massive low end.
Yamaha premium acoustic pianos
YC73 features two premium concert grand pianos: Yamaha CFX and Yamaha S700. These pianos provide full dynamic expression and nuance through meticulous recording and voicing. Also included are Yamaha C7, one of the most-recorded pianos in the world and known for being able to cut through a mix with power and clarity, and Yamaha U1, the most popular upright piano in the world.
Electric pianos
YC73 is equipped with high-quality electric piano sounds perfected in and derived from the Yamaha CP series. Powered by the same technology that made DX7 famous, YC73 features real 8-operator FM synthesis for full dynamic and expression that can't be reproduced with samples.
VCM effects
VCM recreates the sound and behavior of vintage effects and high-end studio signal processors through nine FX processors that model the circuits down to the original analog component level and let you customize the sound on the fly with dedicated control panels.
Seamless sound switching
Seamless sound switching allows YC73 to smoothly switch from one sound to another without cutting off the notes, envelopes or effects of the initial sound. This is useful between songs in live performance situations where the sound from one song can fade out while selecting the sound for the next song.
Powerful MIDI control and built-in USB audio/MIDI interface
Comprehensive MIDI control functions and the powerful Master Keyboard function make it more useful to connect and use this instrument with software synthesizers and external MIDI devices. Moreover, YC73 has a built-in class-compliant USB audio/MIDI interface, which makes for greater recording ease in home and professional studios as well as greater onstage performance power.
SKU
YAM-YC73
MPN
YC73
Vendor
Yamaha
Built In Speakers
No
Drawbar Sets
1 Set
Drawbar Style
Physical
Included From Manufacturer
Power cord
Keys Weighted
Hammer Weighted
Number of Keys
73
Midi
In, Out, and USB
Mpn
YC73
Product Unique Features
Powerful MIDI Master Keyboard control functions
Built-in class-compliant USB audio/MIDI interface
Control Connections
1/4" sustain footswitch input
1/4" assignable footswitch input
2 × 1/4" foot controller inputs
Onboard Controllers
9 organ drawbars
Duet Mode
No
Effects
Insert effects: 32 types
Rotary speaker: 2 types
Amp models: 4 types
Reverb: 1 type
Master EQ: 3 bands with sweepable mid
Finish
Black
Half-Damper Support
Yes
Half Moon Switch Input
No
Audio Inputs
Dual 1/4" stereo external audio input
Audio Outputs
Dual 1/4" stereo main output
Dual XLR stereo main output
1/4" stereo headphone output
Key Action
Weighted and balanced to feel like an electric piano
Layer Feature
Yes
Leslie Output
None
Number of MIDI Control Zones
4
Pedal Board Input
5-Pin MIDI In
Pedal Drawbars
No
Product Weight
29 lb 9 oz.
Programs/Presets
6 organ sounds
139 keys sounds
80 preset live set sounds
Reverse Key Presets
No
Rotary Simulation
Yes
Split Feature
Yes
Transpose Feature
Yes
USB Flash Drive Port (to Device)
Program/Preset Storage
USB Port (to Host)
MIDI;Audio;System Updates
Voices of Polyphony
128
Width
42.75"
Depth
14"
Height
5.6875"
Yamaha Music Production Limited Warranty
Thank you for selecting a Yamaha product. Yamaha products are designed and manufactured to provide a high level of defect-free performance. Yamaha Corporation of America ('Yamaha') is proud of the experience and craftsmanship that goes into each and every Yamaha product. Yamaha sells its products through a network of reputable, specially authorized dealers and is pleased to offer you, the Original Owner, the following Limited Warranty, which applies only to products that have been (1) directly purchased from Yamaha's authorized dealers in the fifty states of the USA and District of Columbia (the 'Warranted Area') and (2) used exclusively in the Warranted Area. Yamaha suggests that you read the Limited Warranty thoroughly, and invites you to contact your authorized Yamaha dealer or Yamaha Customer Service if you have any questions.
This warranty covers Yamaha synthesizers, mobile mini keyboards, monitor speakers, audio interfaces, MIDI controllers, wind MIDI controllers and music production accessories against defects in materials or workmanship for one (1) year. Yamaha Montage music synthesizers are covered by the same Limited Warranty for two (2) years.
Yamaha will, at its options, repair or replace the product covered by this warranty if it becomes defective, malfunctions or otherwise fails to conform with this warranty under normal use and service during the term of this warranty, without charge for labor or materials. Repairs may be performed using new or refurbished parts that meet or exceed Yamaha specifications for new parts. If Yamaha elects to replace the product, the replacement may be a reconditioned unit.
You will be responsible for any installation or removal charges and for any initial shipping charges if the product(s) must be shipped for warranty service. However, Yamaha will pay the return shipping charges to any destination within the USA if the repairs are covered by the warranty.
This warranty does not cover (a) damage, deterioration or malfunction resulting from accident, negligence, misuse, abuse, improper installation or operation or failure to follow instructions according to the Owner's Manual for this product; any shipment of the product (claims must be presented to the carrier); repair or attempted repair by anyone other than Yamaha or an authorized Yamaha Service Center; (b) any unit which has been altered or on which the serial number has been defaced, modified or removed; (c) normal wear, and any periodic maintenance; (d) deterioration due to perspiration, corrosive atmosphere or other external causes such as extremes in temperature or humidity; (e) damages attributable to power line surge or related electrical abnormalities, lightning damage or acts of God; or (f) RFI/EMI (Interference/noise) caused by improper grounding or the improper use of either certified or uncertified equipment, if applicable.
Any evidence of alteration, erasing or forgery of proof-of-purchase documents will cause this warranty to be void. This warranty covers only the Original Owner and is not transferable.
Warranty service will only be provided for defective products within the Warranted Area. Contact your local authorized Yamaha dealer who will advise you of the procedures to be followed. If this is not successful, contact Yamaha directly. Yamaha may request that you send the defective product to a local authorized Yamaha Servicer or authorize return of the defective product to Yamaha for repair. If you are uncertain as to whether a dealer has been authorized by Yamaha, please contact Yamaha's Service Department or check Yamaha's website.
Product(s) shipped for service should be packed securely and must be accompanied by a detailed explanation of the problem(s) requiring service, together with the original or a machine reproduction of the bill of sale or other dated, proof-of-purchase document describing the product, as evidence of warranty coverage. Should any product submitted for warranty service be found ineligible therefore, an estimate of repair cost will be furnished and the repair will be accomplished only if requested by you and upon receipt of payment or acceptable arrangement for payment.
Any implied warranties, including warranties of merchantability and fitness for a particular purpose shall be limited in duration to the applicable period of time set forth above. Yamaha shall not be responsible for incidental or consequential damages or for damages based upon inconvenience, loss of use, damage to any other equipment or other items at the site of use or interruption of performances or any consequences. Yamaha's liability for any defective product is limited to repair or replacement of the product, at Yamaha's option. Some states do not allow limitations on how long an implied warranty lasts or the exclusion or limitation of incidental or consequential damages, so the above limitation or exclusion may not apply to you. This Warranty gives you specific legal rights, and you may also have other rights which vary from state to state. This is the only express warranty applicable to the product specified herein; Yamaha neither assumes nor authorizes anyone to assume for it any other express warranty.
Ground shipping is FREE for all orders $99 and up.