Skip product carousel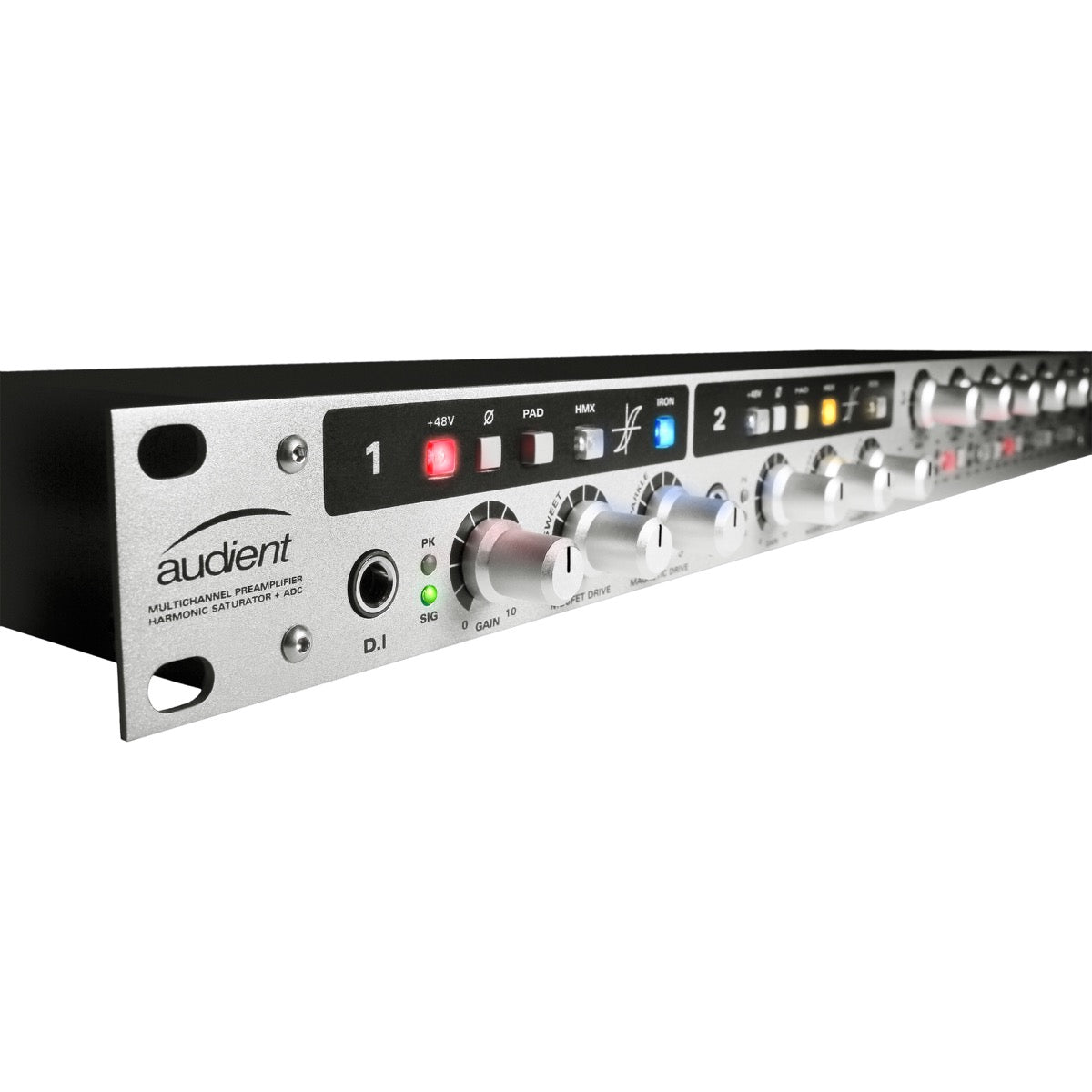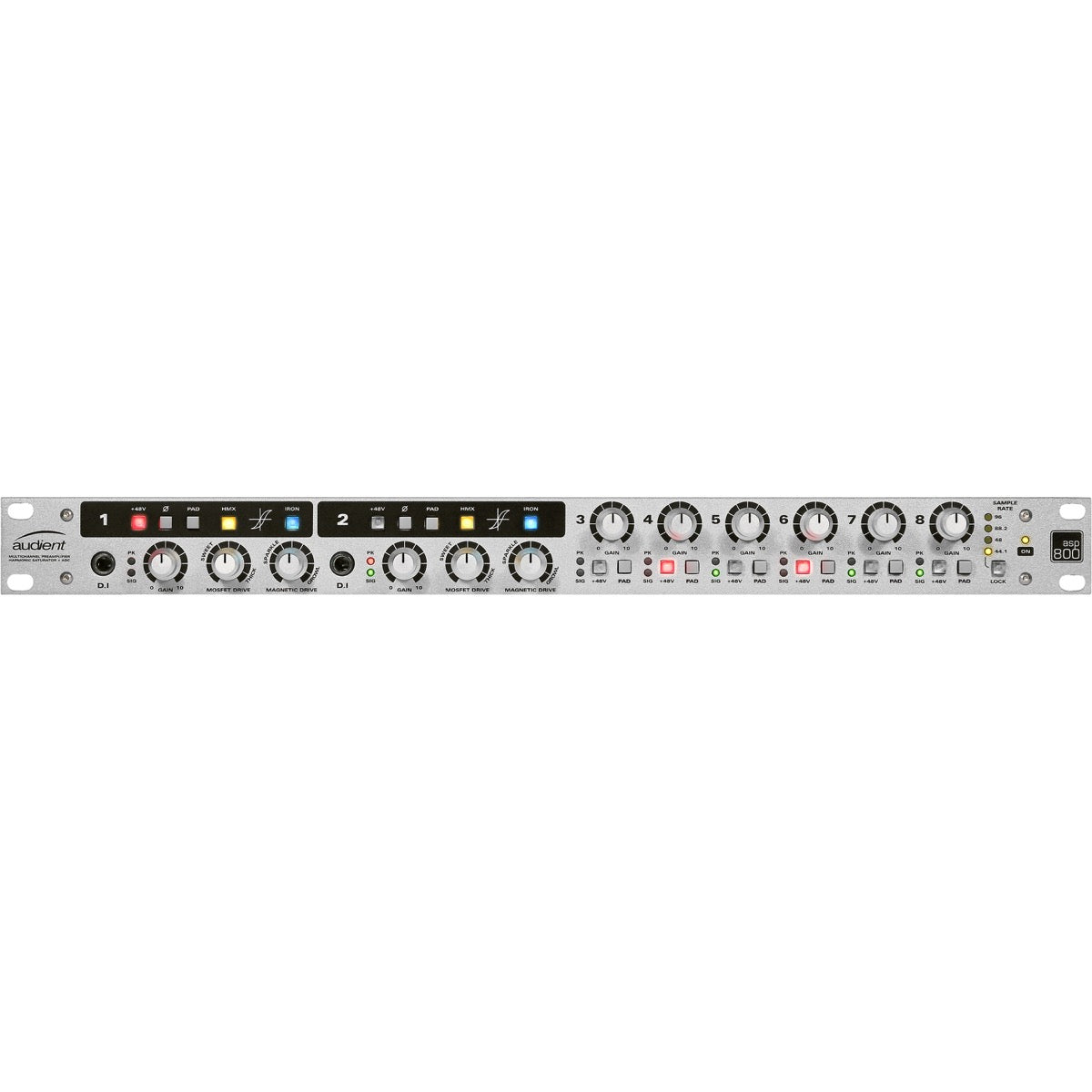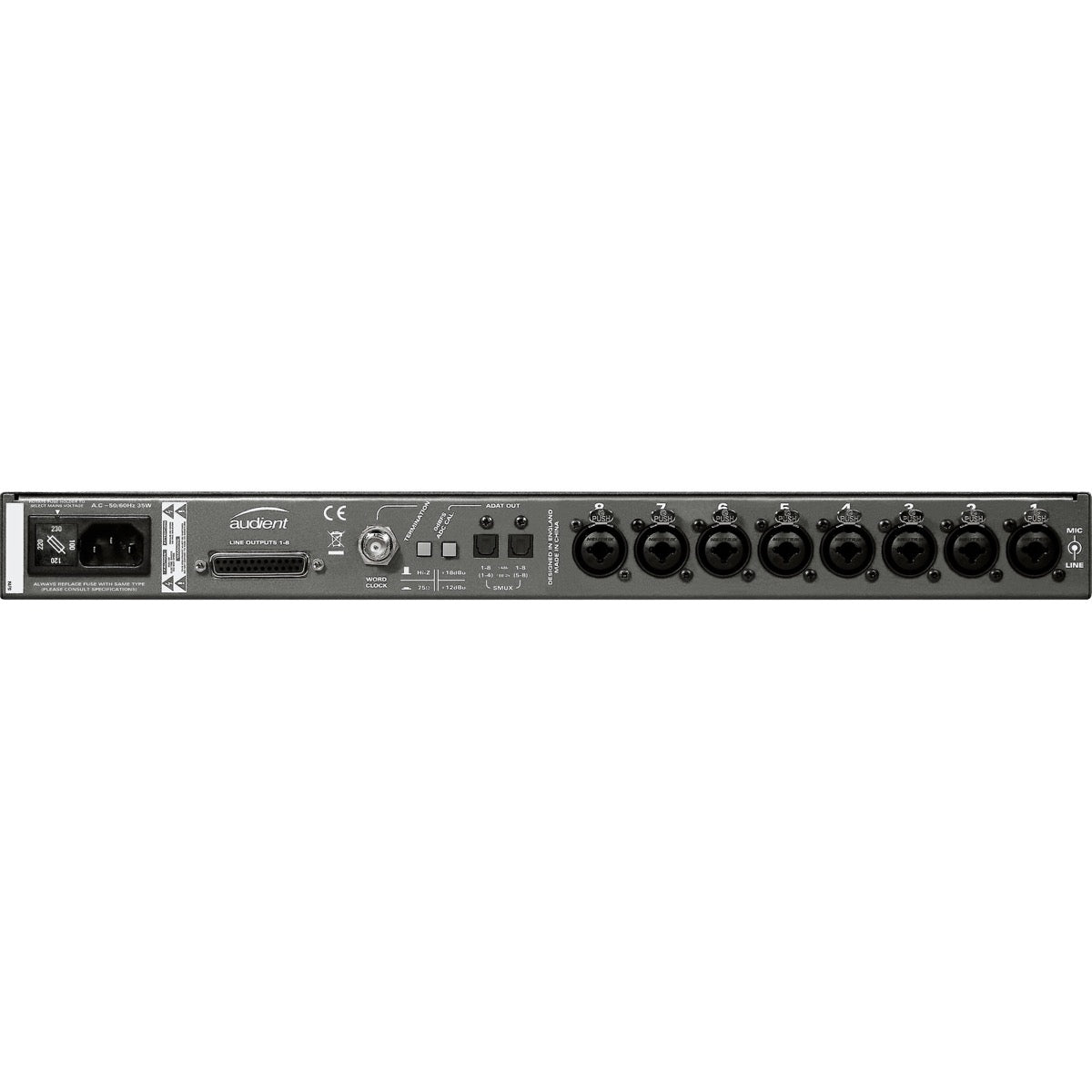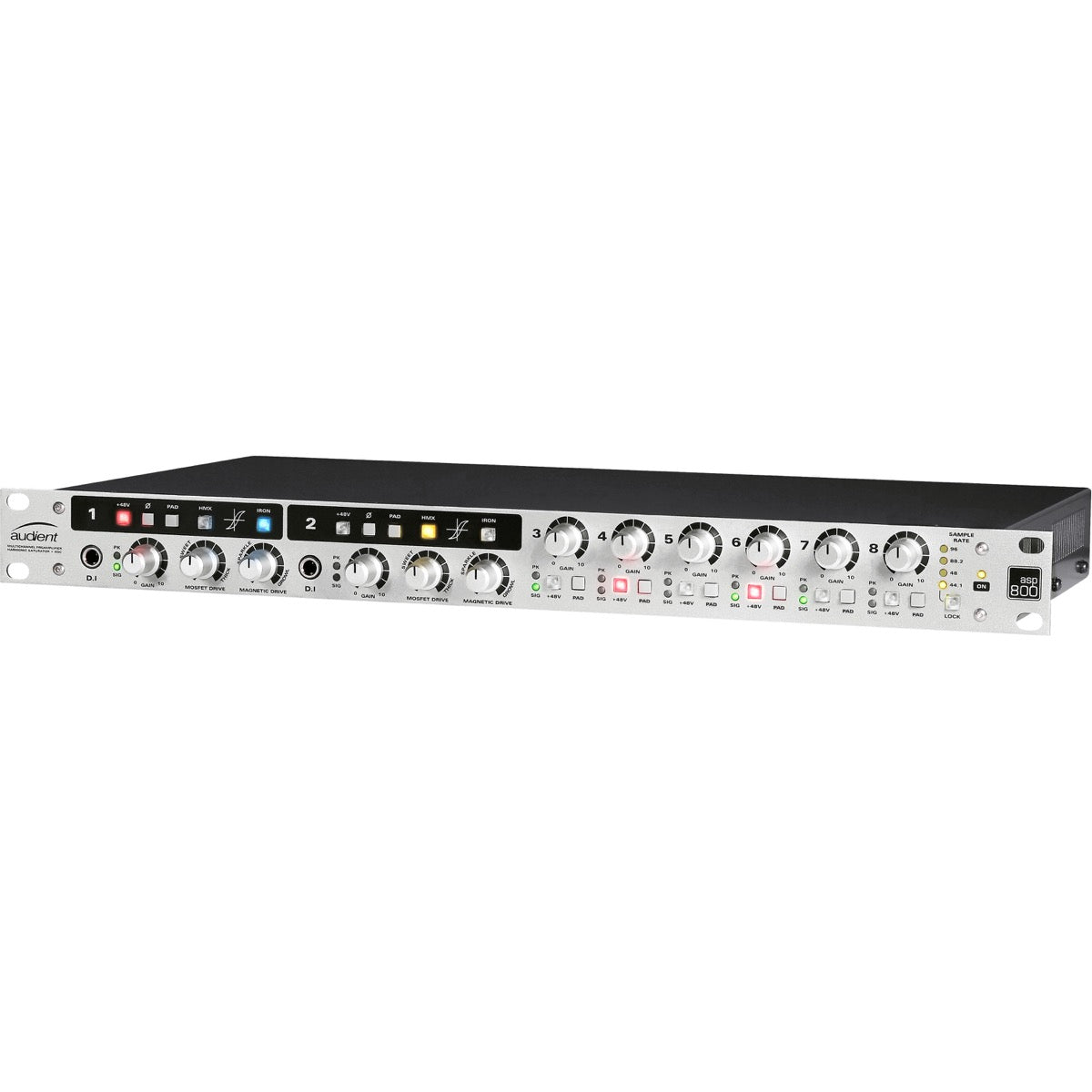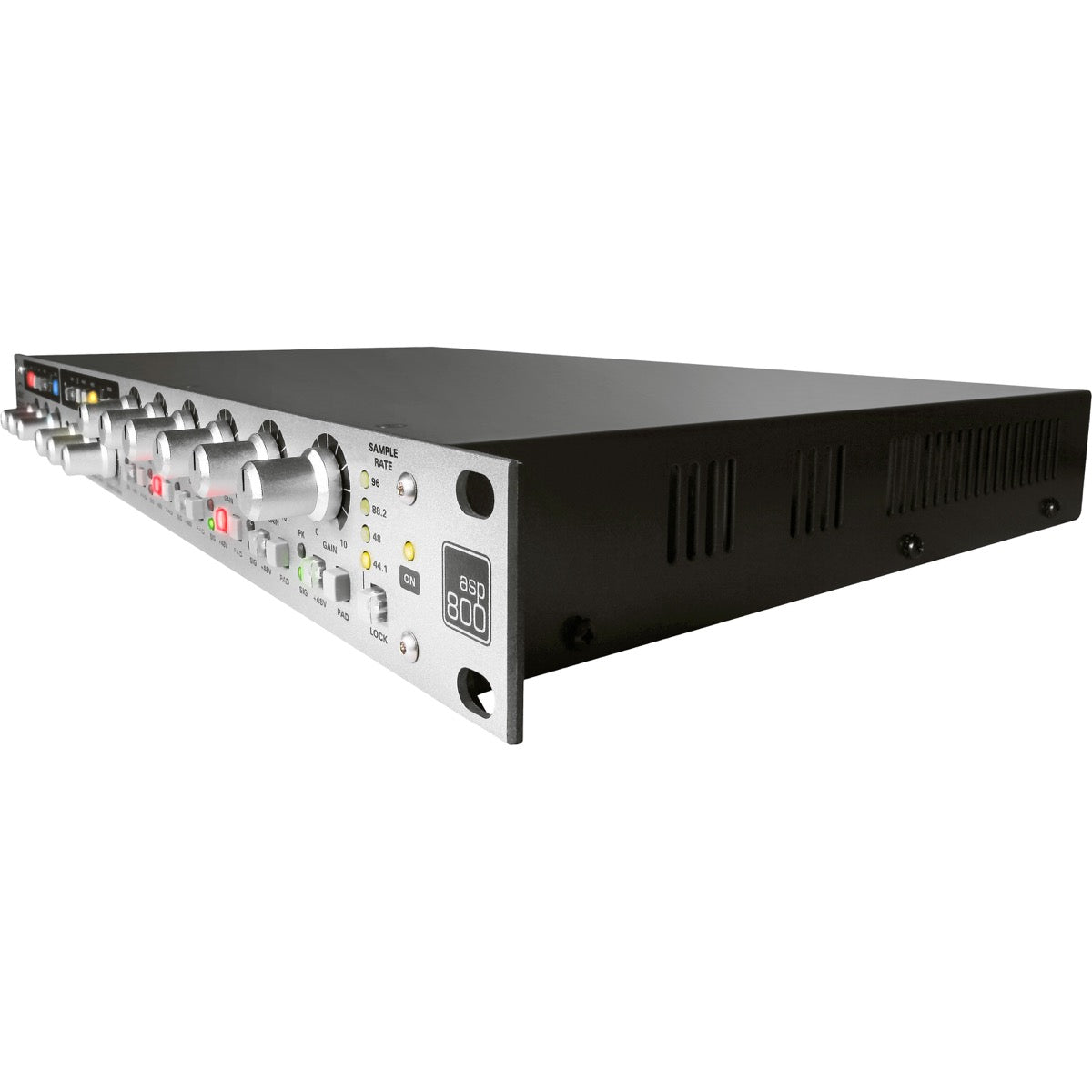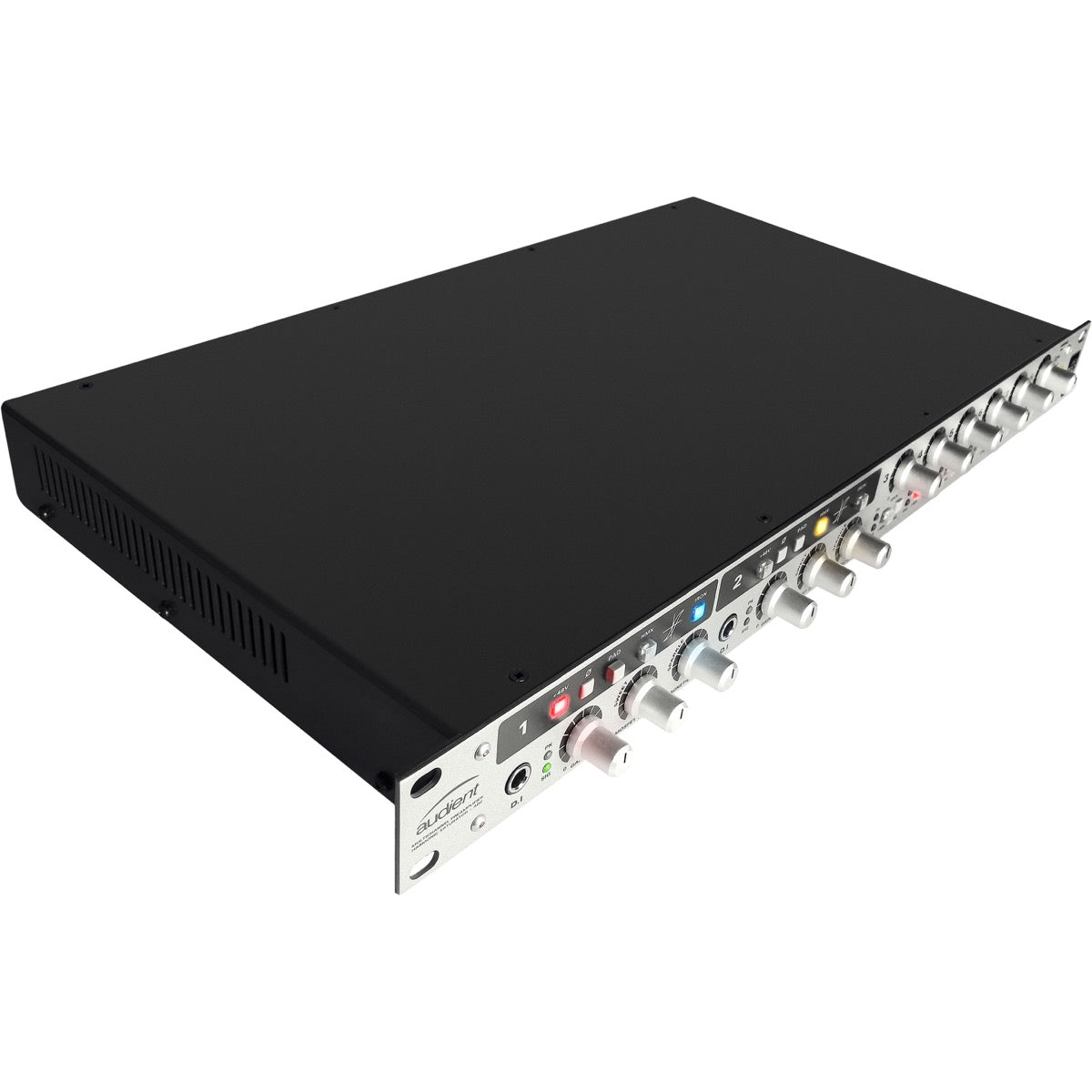 Audient ASP800 8-Channel Mic Preamp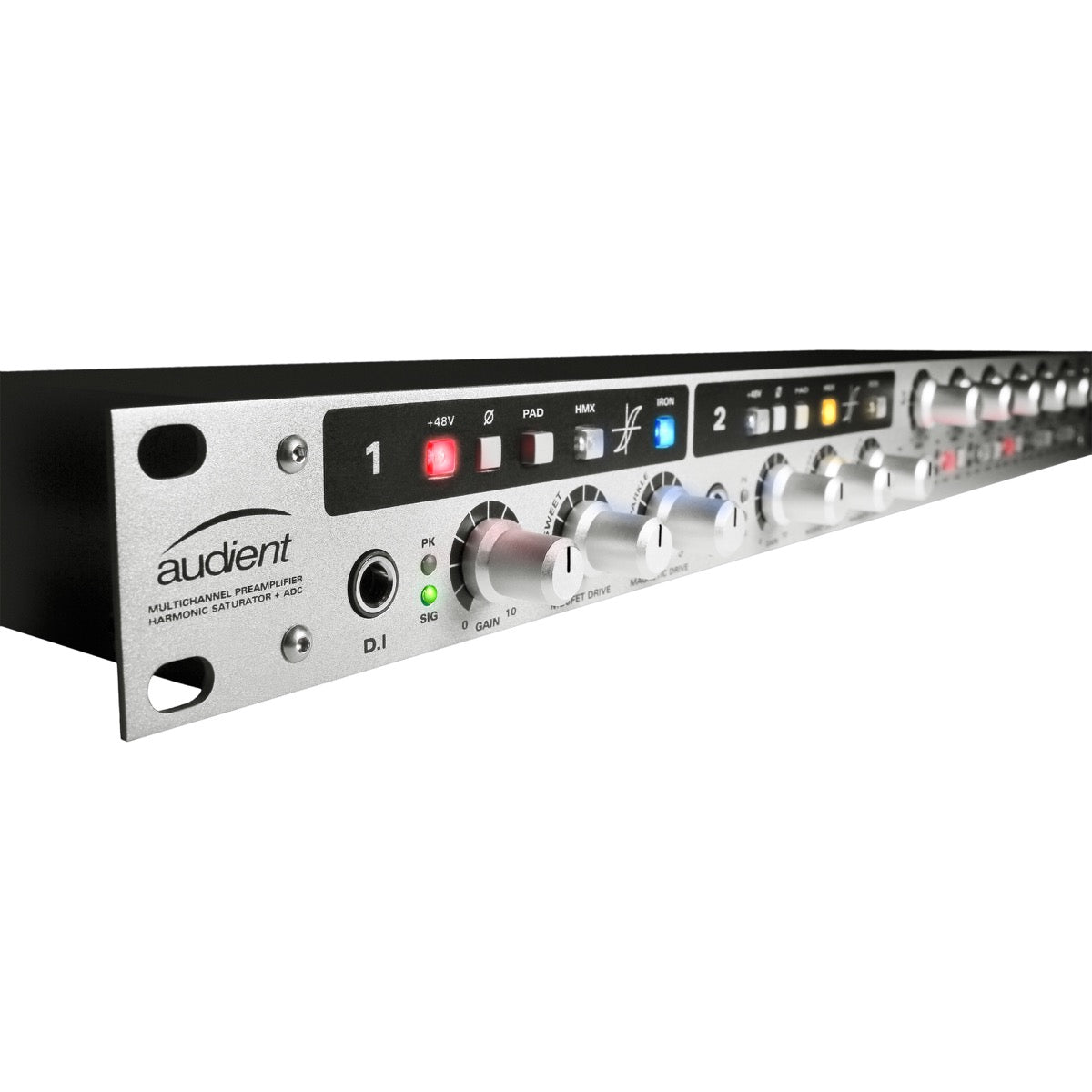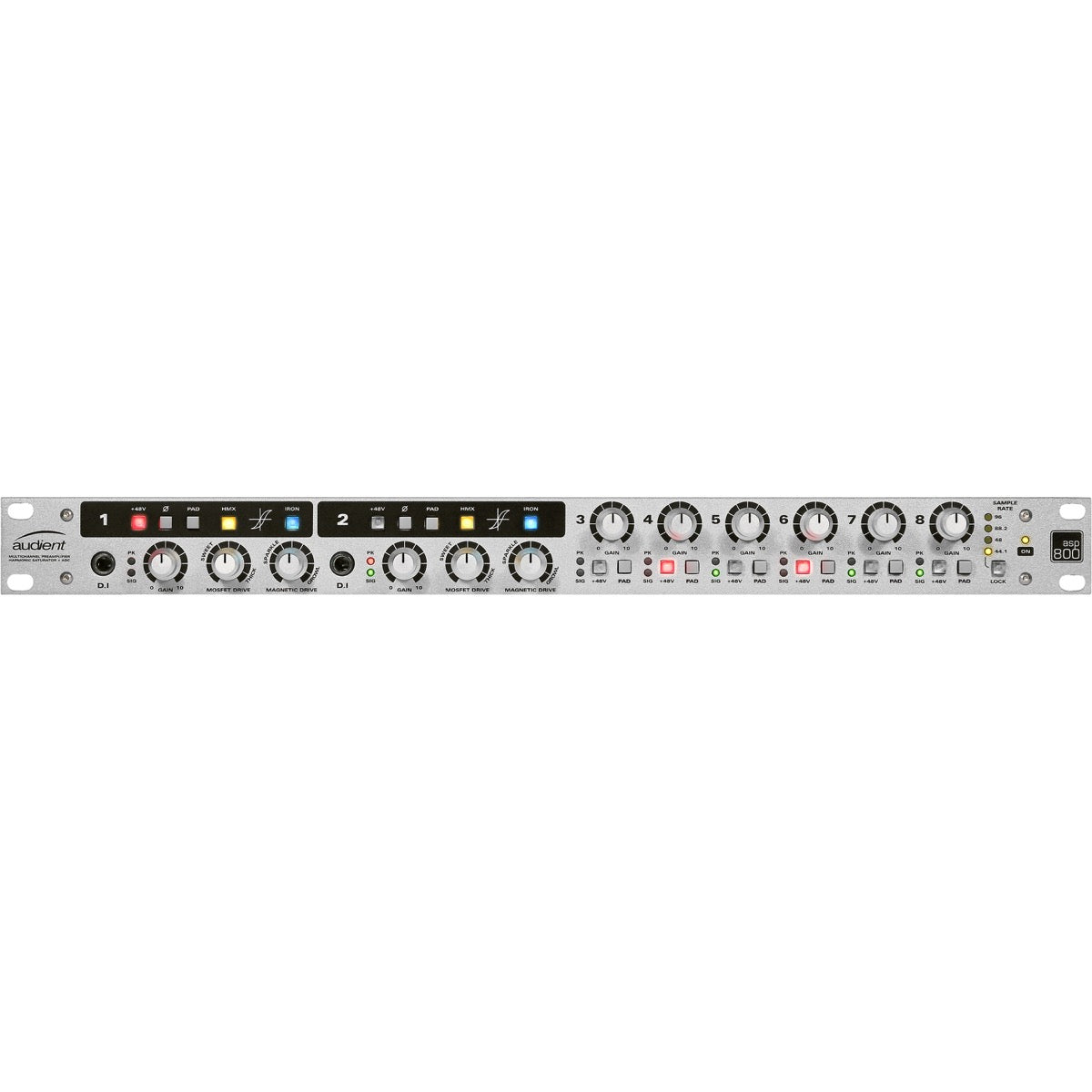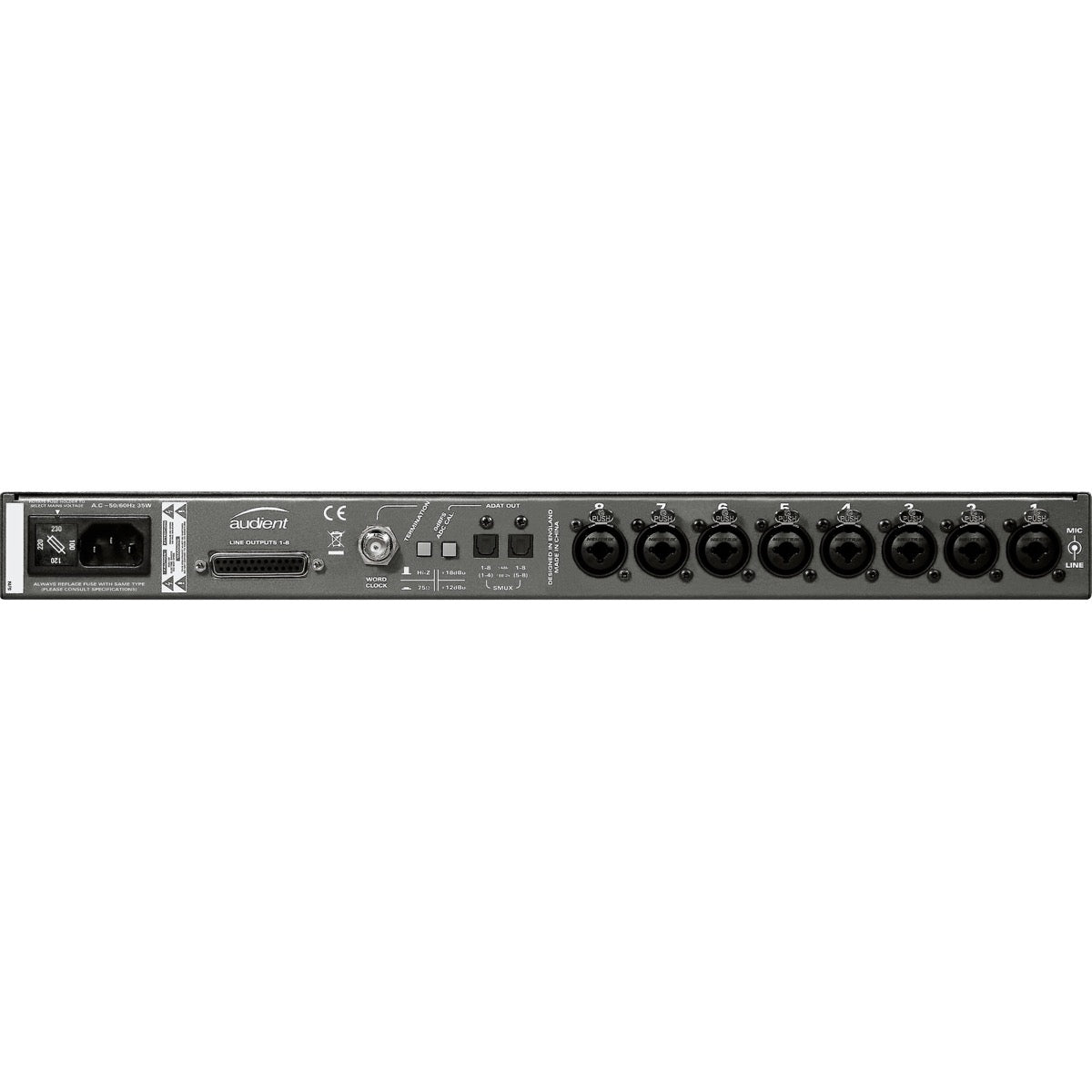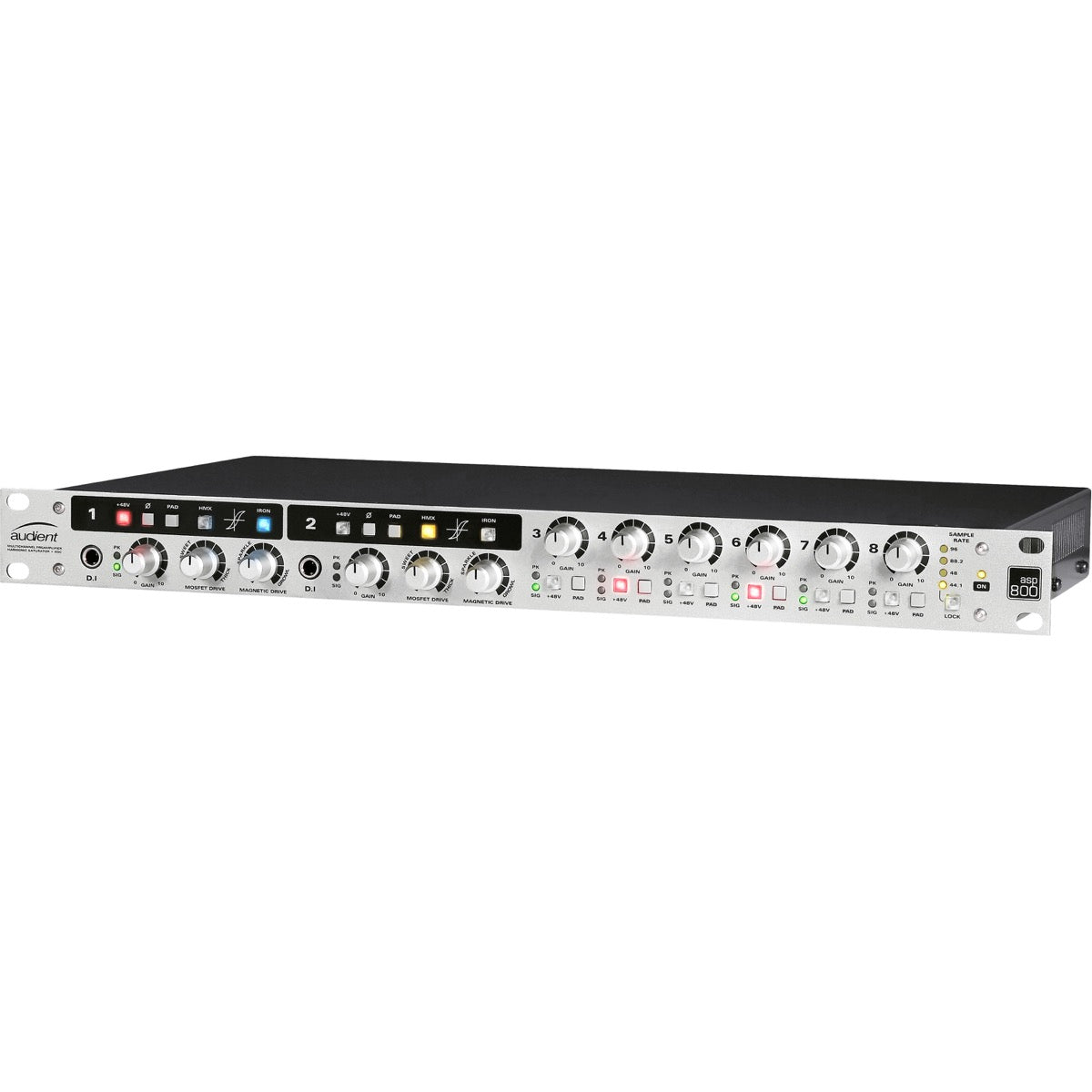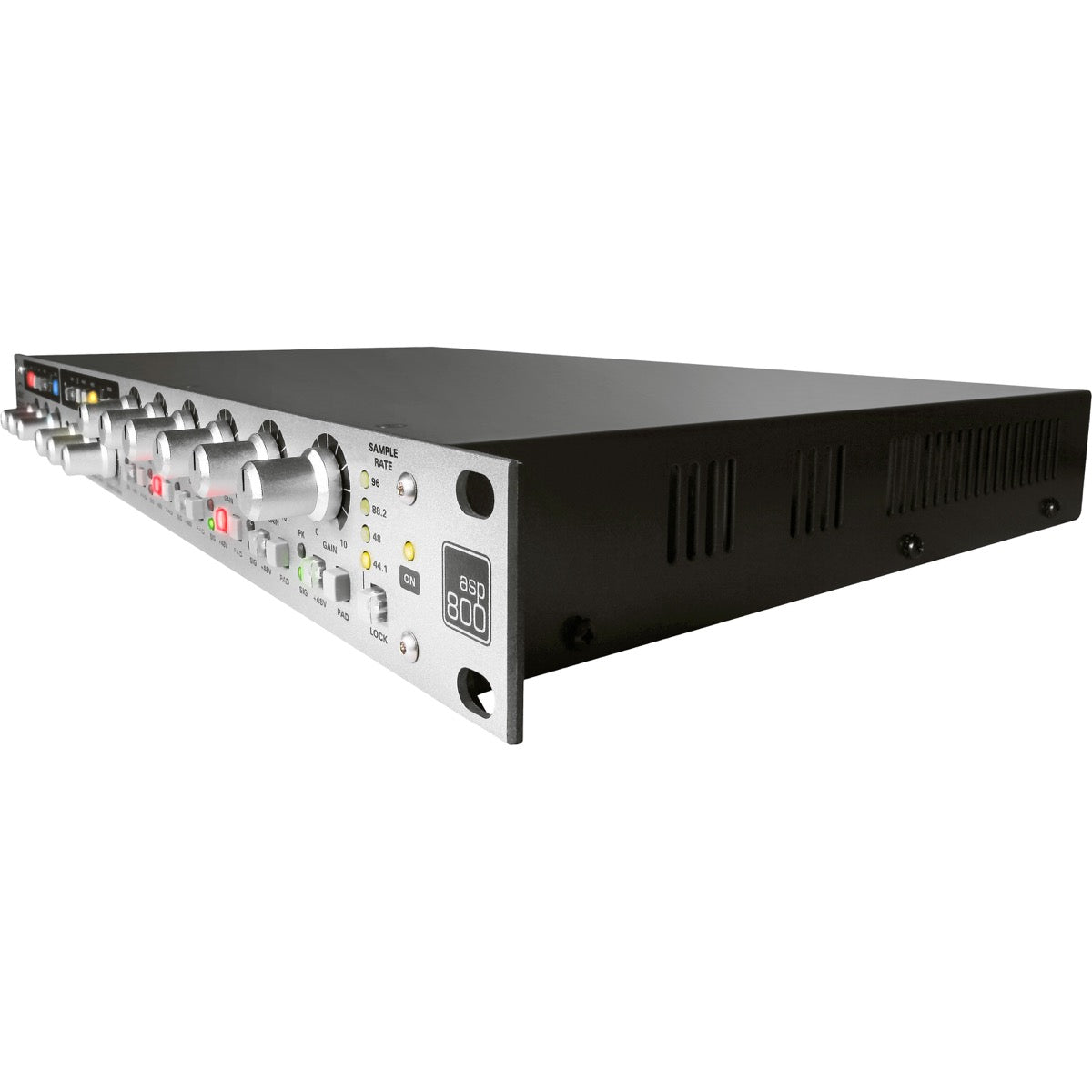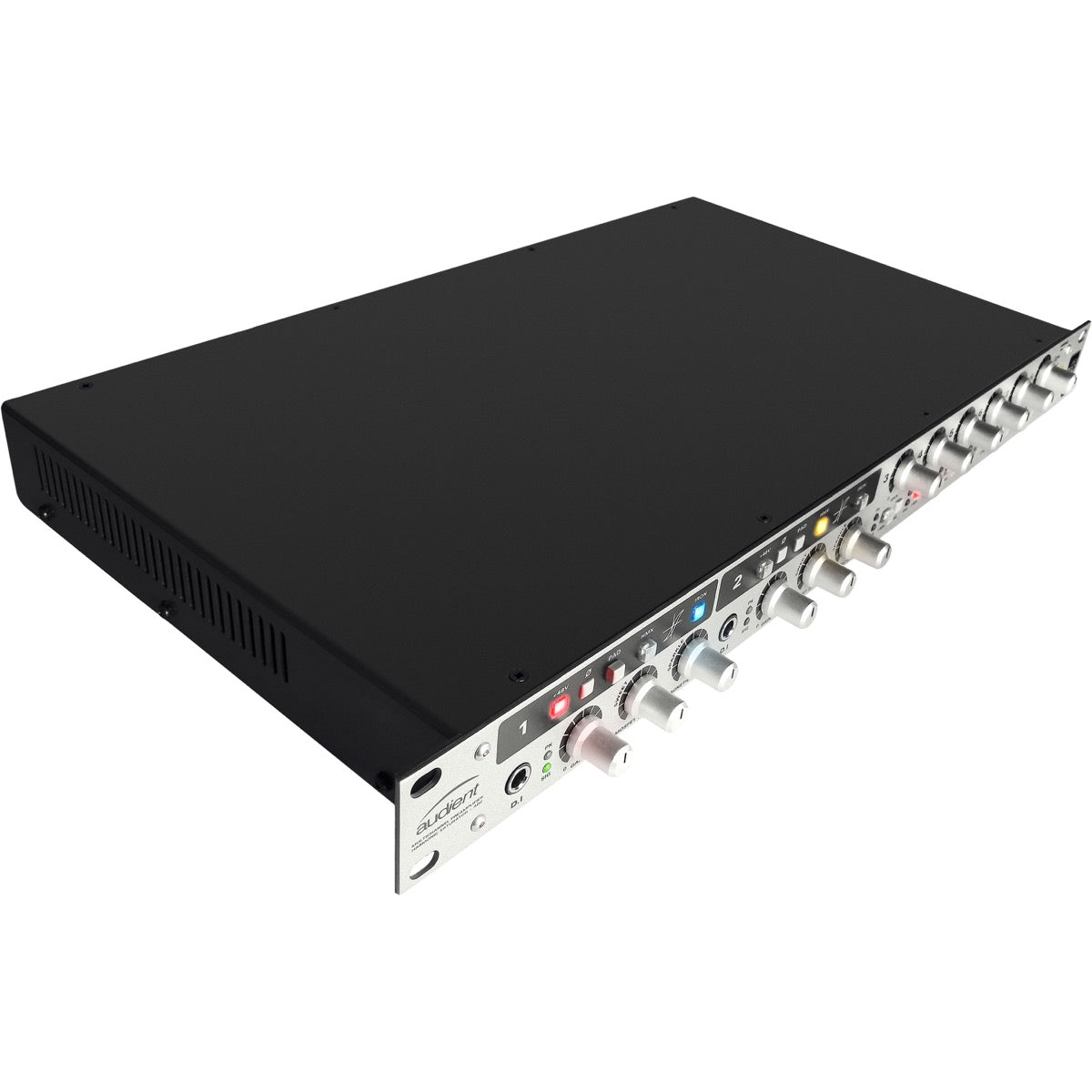 Audient ASP800 8-Channel Mic Preamp
Audient ASP800 is an audio powerhouse designed with expandability in mind, making it the perfect addition to your audio interface. Upgrade your current setup with 8 channels of Audient Console mic preamps, 8 line inputs, class leading converters, two JFET DIs and two Retro channels with powerful tone control.
8 × Audient microphone preamps
8 × balanced line outputs
2 × JFET instrument inputs
2 × Retro channels with saturated controls
60dB gain range: clean, quiet and punchy
Phantom power: give your mics the power they need
-10dB pad: maintain headroom on loud sources
Polarity reverse: make sure everything is in phase
Expand via ADAT: more channels, more possibilities
ASP800 is the perfect tool for expanding your existing interface. Add 8 channels of Audient mic pre via ADAT and transform your current setup into the complete recording rig. Take on bigger sessions and easily record drum sets and/or bands. Use the line inputs to record analog instruments.
Audient Console mic pres: the professional sound you deserve
Tackle any project with the renowned Audient Console mic preamp, the same all-discrete high grade op amp circuit design found in the renowned ASP8024-HE recording console. Designed to deliver ultra-low noise and low distortion with a touch of classic analog warmth, ASP800's eight Audient Console mic pres will give you the professional sound you deserve.
Retro channels: add color to your audio
Designed to emulate tones often associated with 1960s tube designs and the coveted transformer zing of British audio in the 1970s, HMX & IRON give you the option to add analog tone to your recordings. HMX and IRON work on both the instrument and line inputs. One control simultaneously alters drive impedance, bass response, high frequency damping, phase shift, magnetic saturation and transient shaping, letting you instantly add character to your audio.
HMX harmonic saturator
By using discrete MOSFET technology HMX produces asymmetrical harmonic distortion, giving you the option to add richness and body to the pristine tone of the Audient mic preamp.
IRON transformer drive
Using a custom British transformer with a high voltage MOSFET drive network, IRON is designed to add saturation reminiscent of magnetic tape distortion and recreate that sparkly 'sounds like a record' signature of 1970s recording.
JFET instrument input: plug and play
As well as offering you 8 channels of Audient mic pres, ASP800 has two harmonically rich JFET DI inputs. Designed to replicate the input stage of a classic valve amplifier, you can plug your guitar, bass, keyboard or drum machine straight in and start recording instantly.
Class-leading converters: it's all in the detail
ASP800's class-leading converter technology makes sure you capture every nuance, every detail of your audio with stunning clarity, letting you focus on getting the most from your session.
All-metal construction: built to last
With its all-metal construction, hand finished aluminum knobs and high grade component selection, ASP800 packs a powerful feature set into an ergonomic 1RU rack mount.
SKU
ADN-ASP800
MPN
ASP800
Vendor
Audient
Bus Power
No
Included From Manufacturer
Power cord
Max Sample Bit
96 kHz / 24-bit
Mic Preamps
8
Mpn
ASP800
Product Unique Features
Audient Console microphone preamps from ASP8024-HE recording console
BNC word clock input
60dB gain range
-10dB pad
Polarity reverse
All-metal design
Simultaneous Inputs
10
Digital Conversion
96 kHz / 24-bit
Audio Inputs
8 × XLR / 1/4" combo mic/line inputs
2 × 1/4" JFET instrument inputs
Audio Outputs
ADAT output
8 × line outputs on DB25 connector
Phantom Power
Switchable 48V (±4V) phantom power rated at 10mA/channel
Product Weight
9.92 lb
Rackmountable
Yes
Width
18.97"
Depth
9.86"
Height
1.73"
Audient Warranty Statement
Three years parts and labor on all Audient Ltd products.
Warranty covers all defects in material and workmanship.
The following are not covered: damage caused by accident, misuse, abuse, product modification or neglect; damage occurring during shipment; damage from failure to follow instructions contained in the instruction manual; damage resulting from unauthorized repairs; or damage caused by improper installation; or damage caused by AC power overvoltage conditions.
Audient Ltd's liability is limited to the repair or replacement, at our option, of any defective product and shall not include incidental or consequential damages.
Audient LTD reserves the right to replace a discontinued model with a comparable model. Any replacement units or parts may be new or rebuilt.
Standard Shipping