Skip product carousel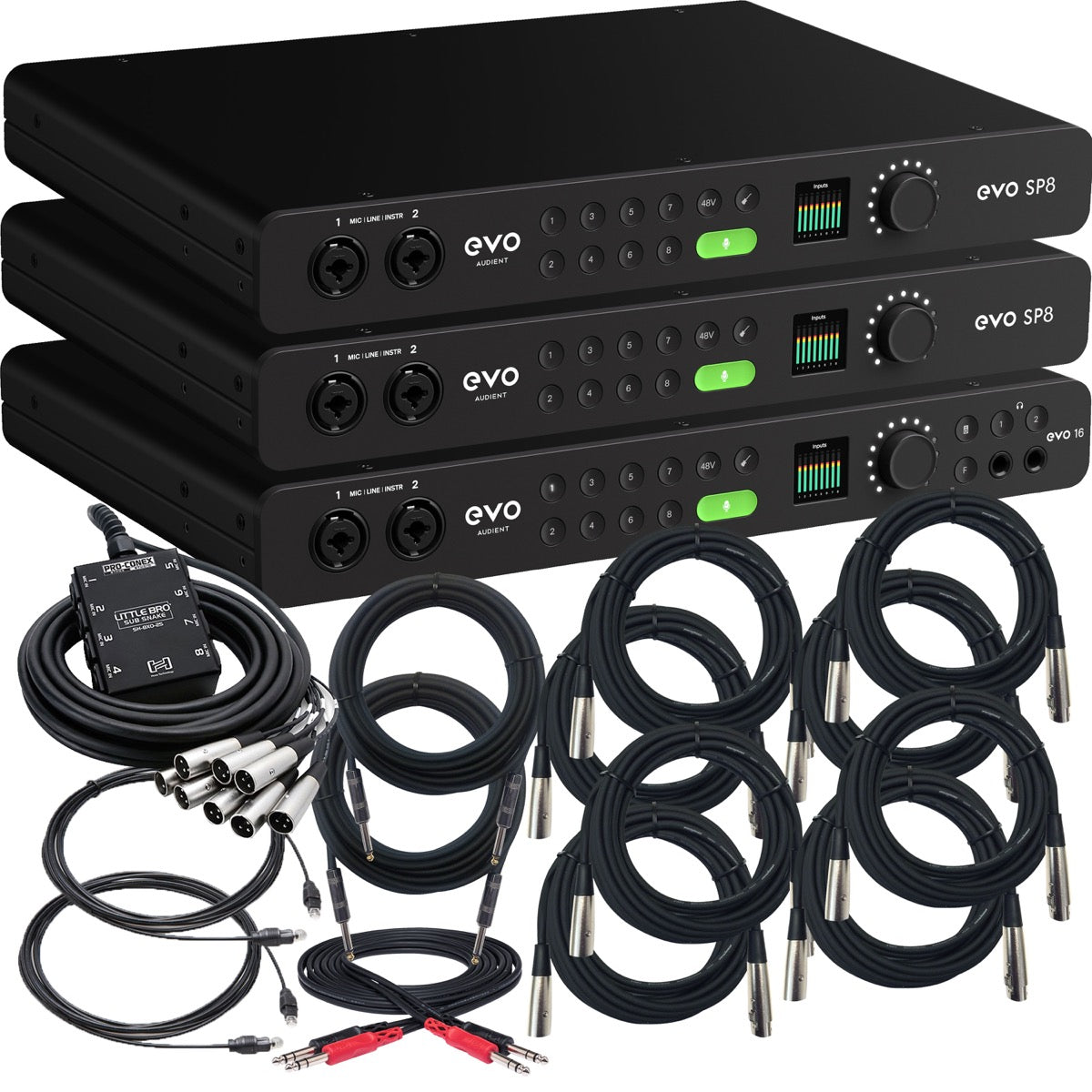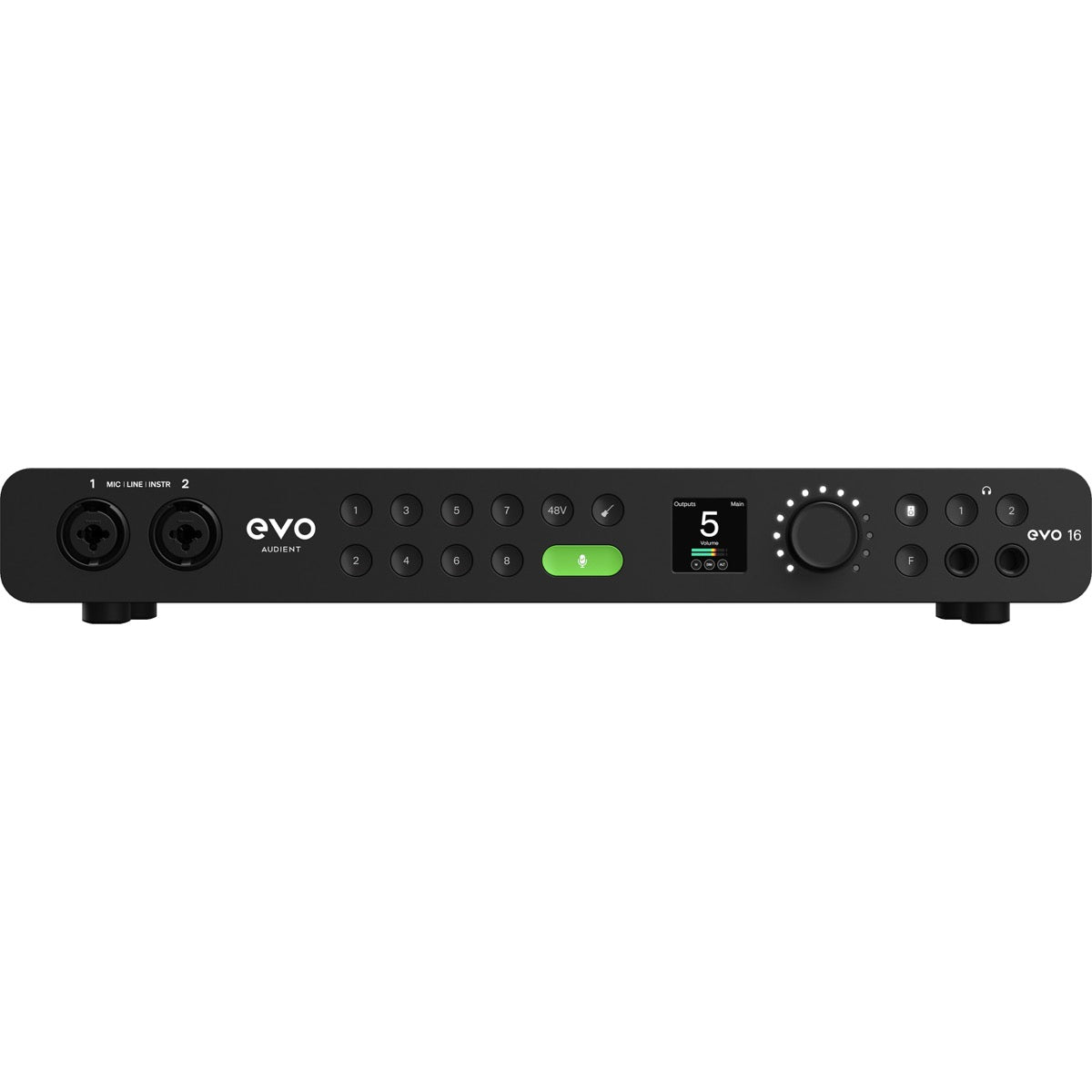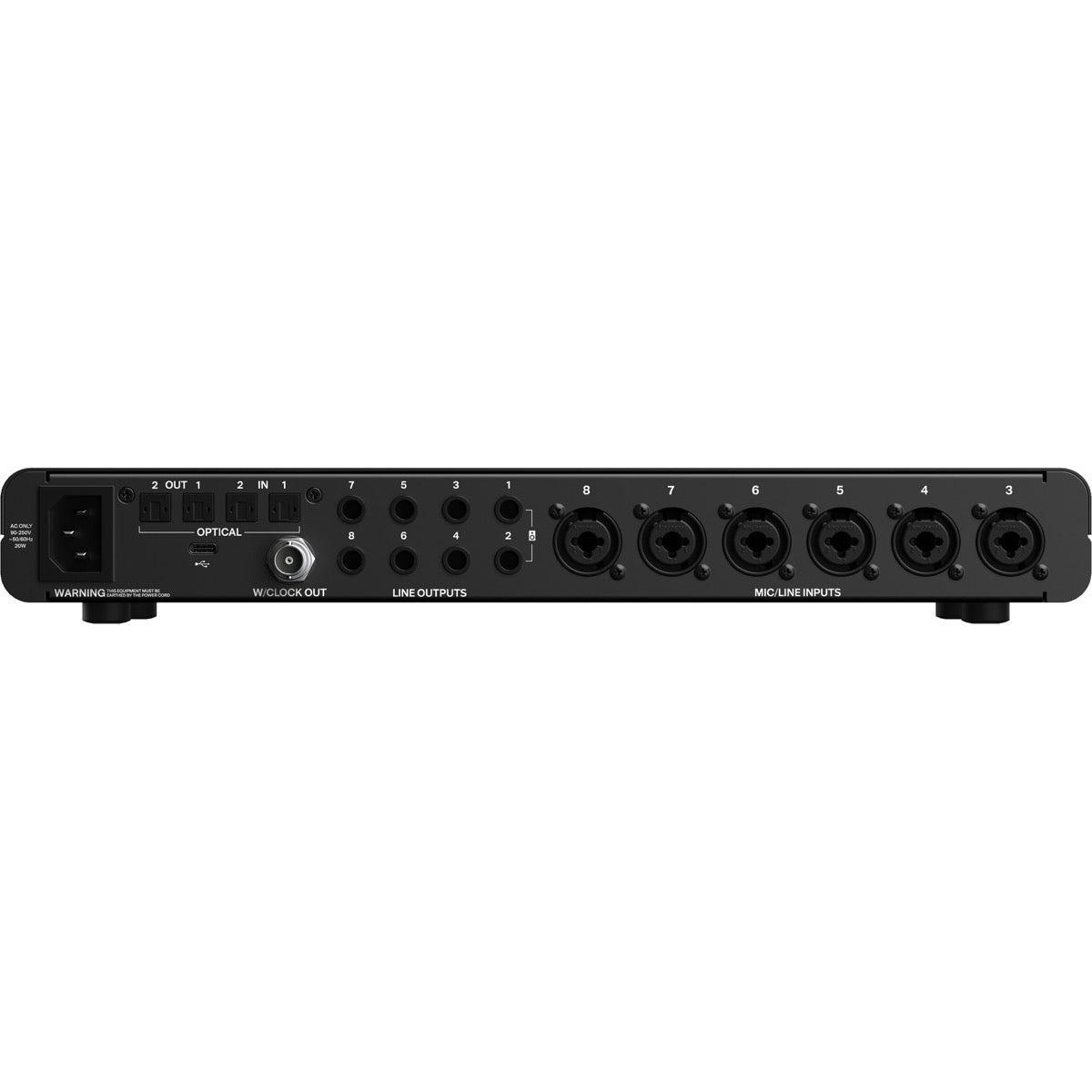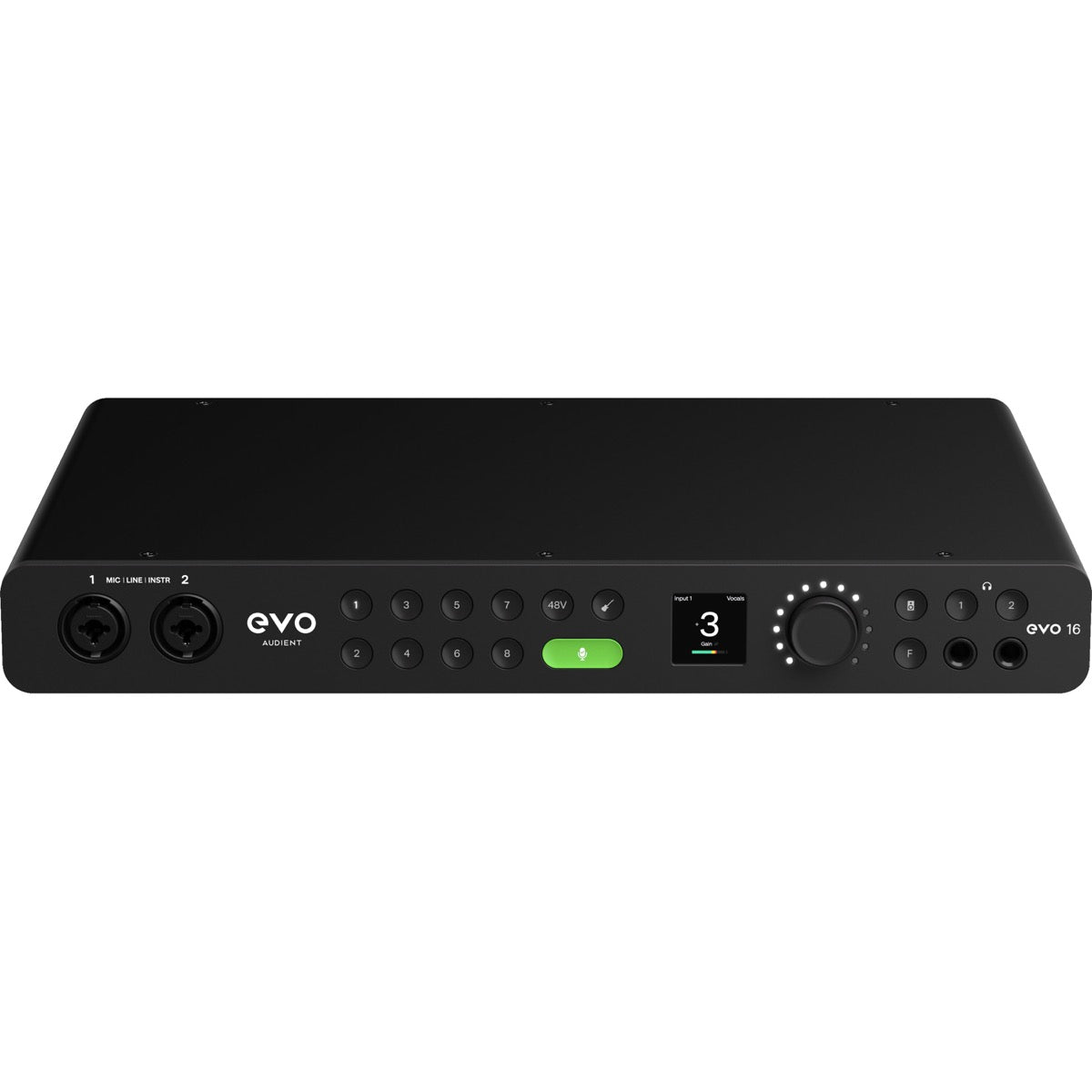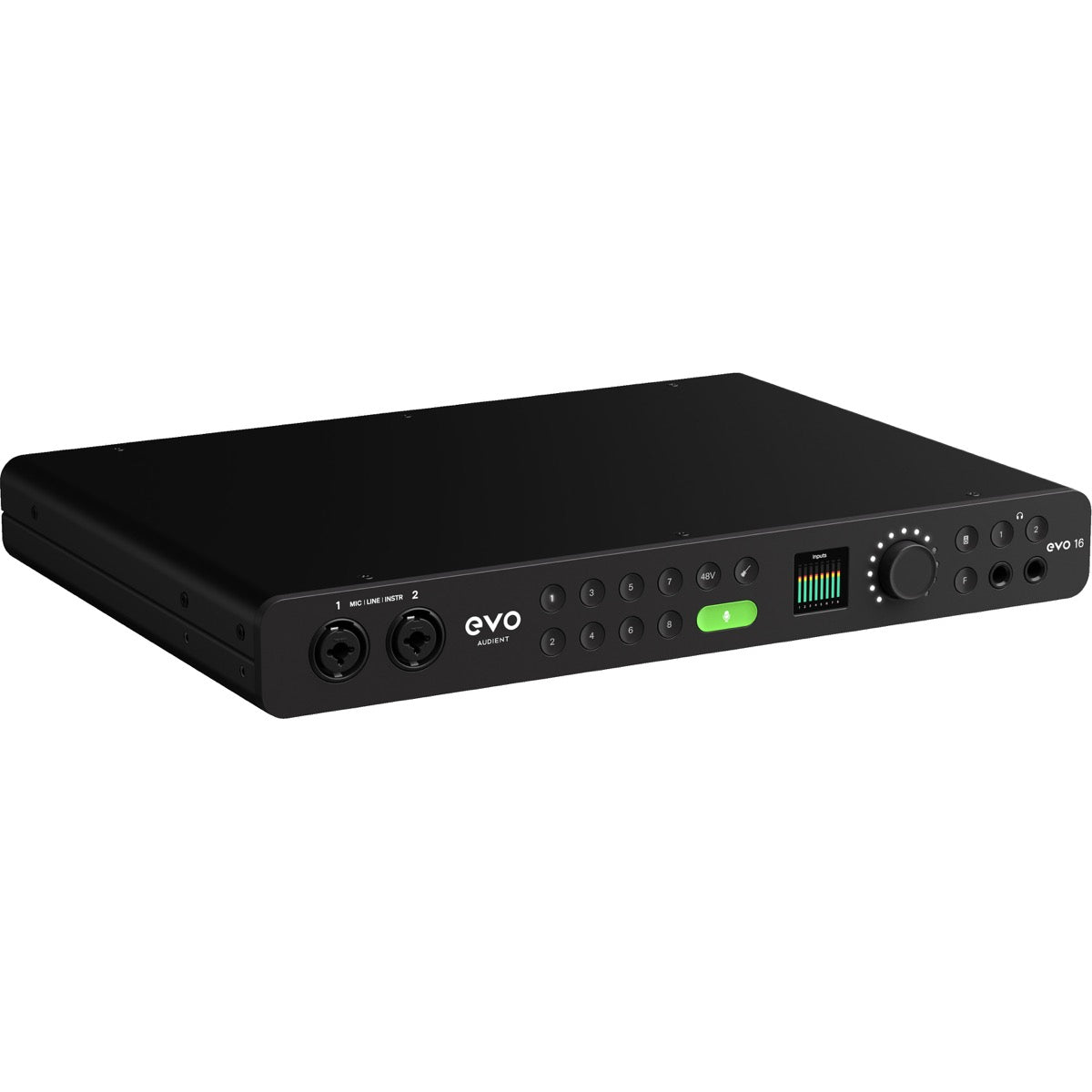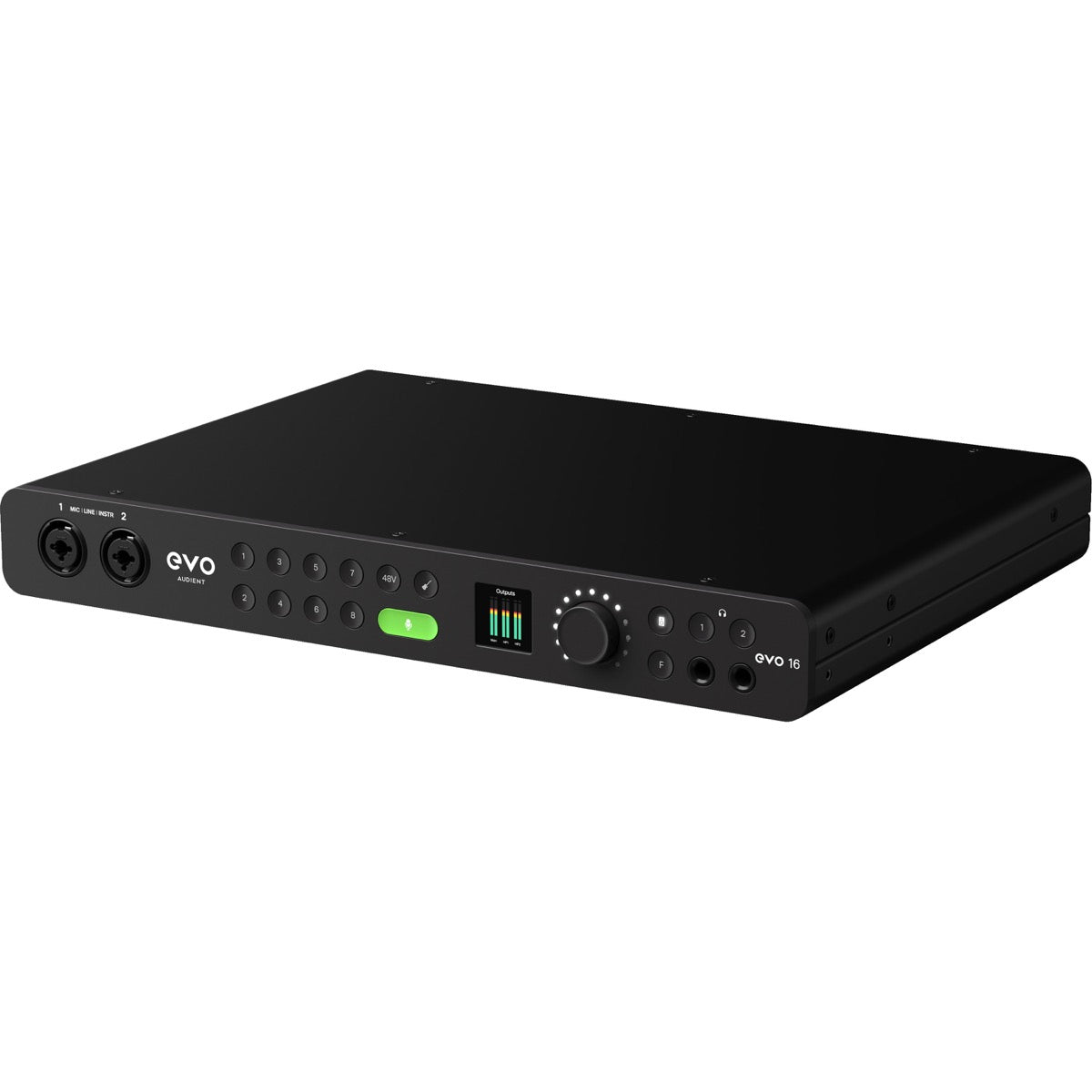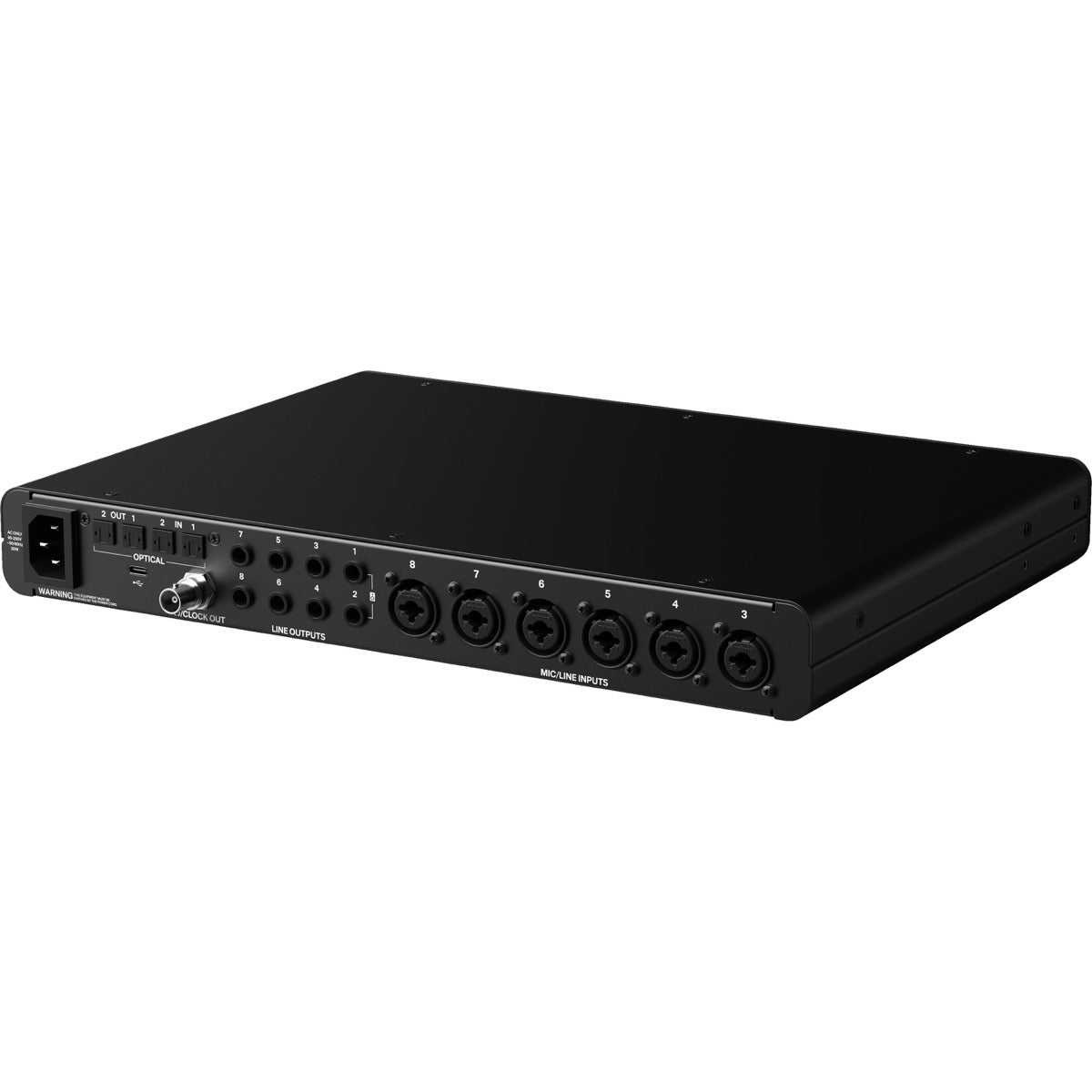 Audient Evo 16 24in/24out USB-C Audio Interface 24-CHANNEL RIG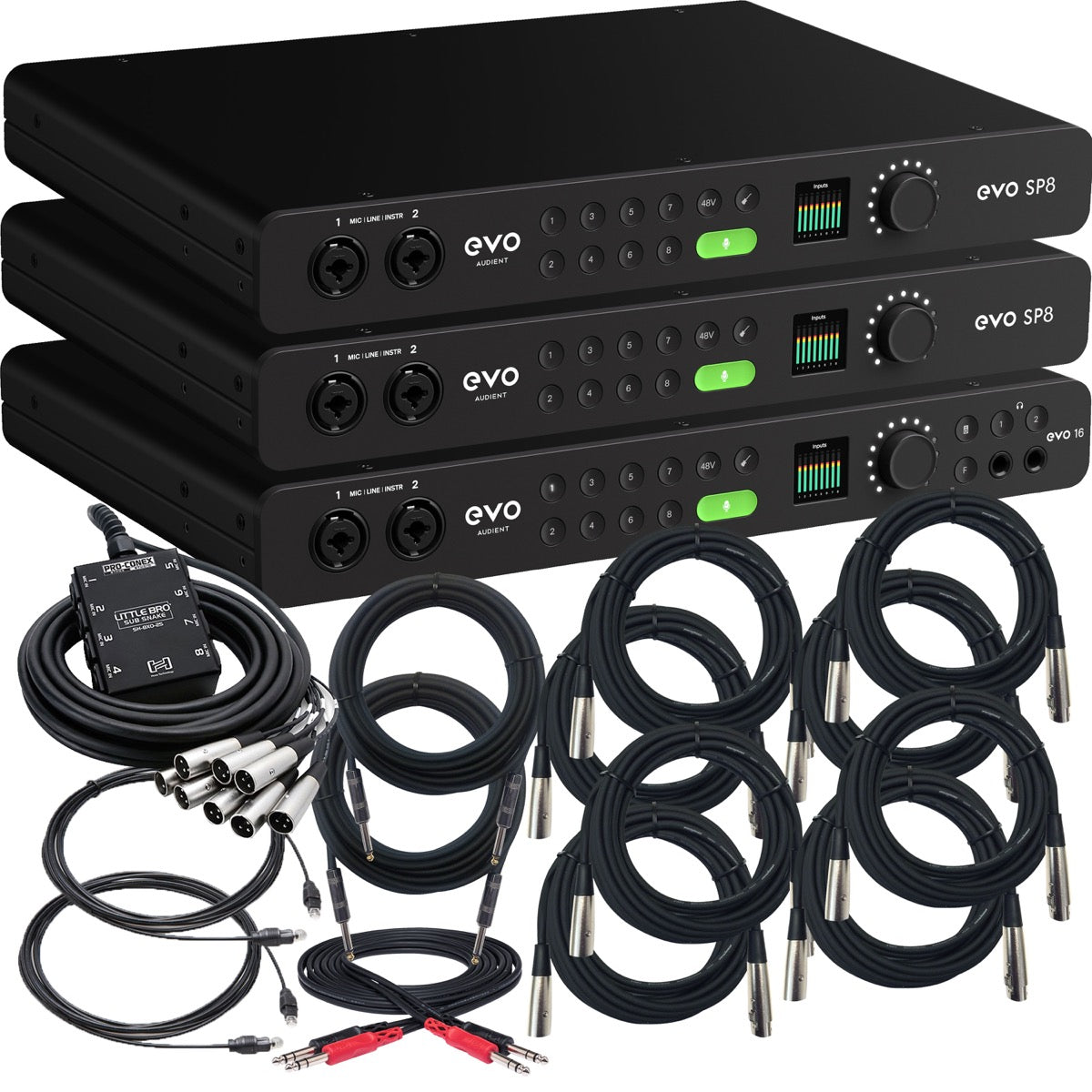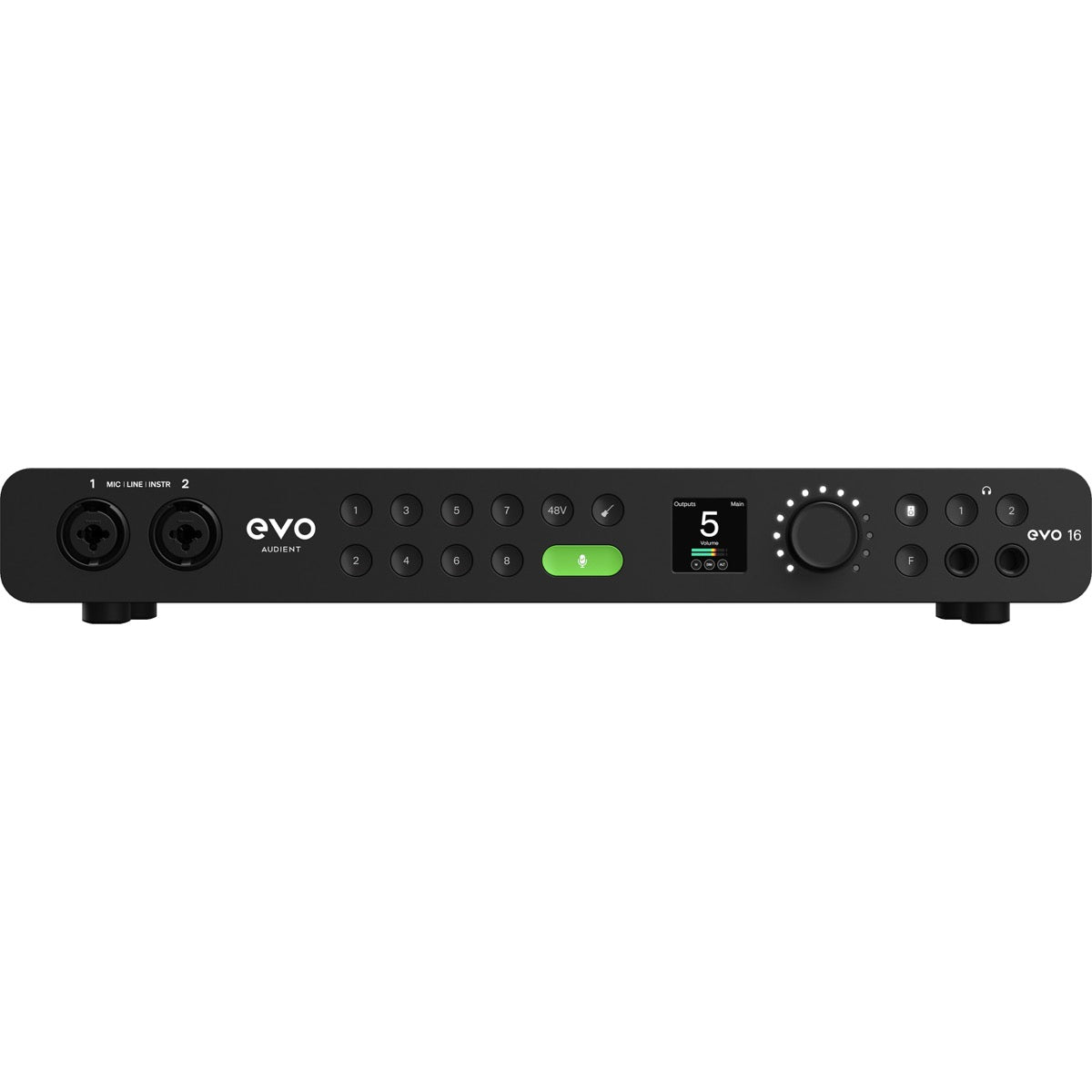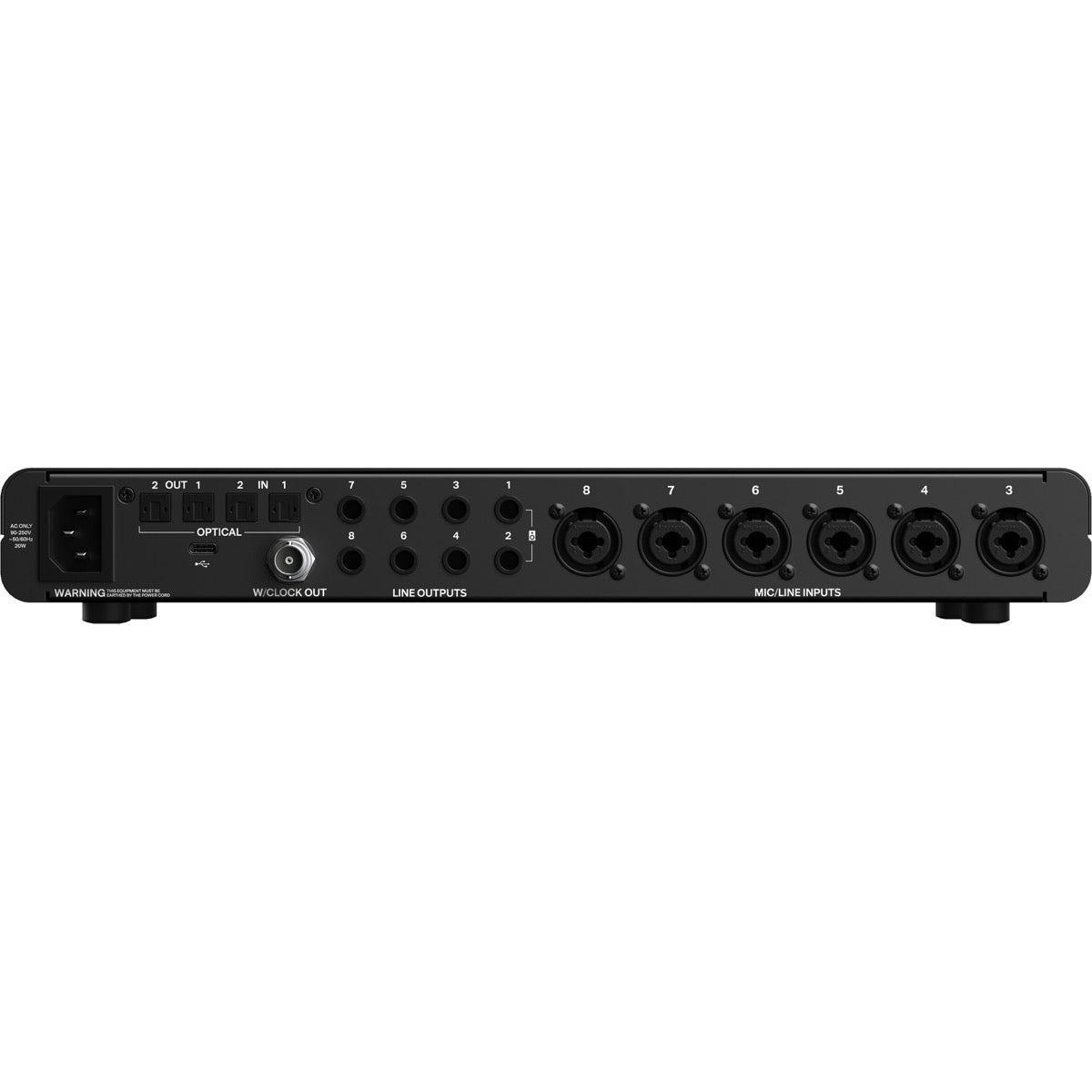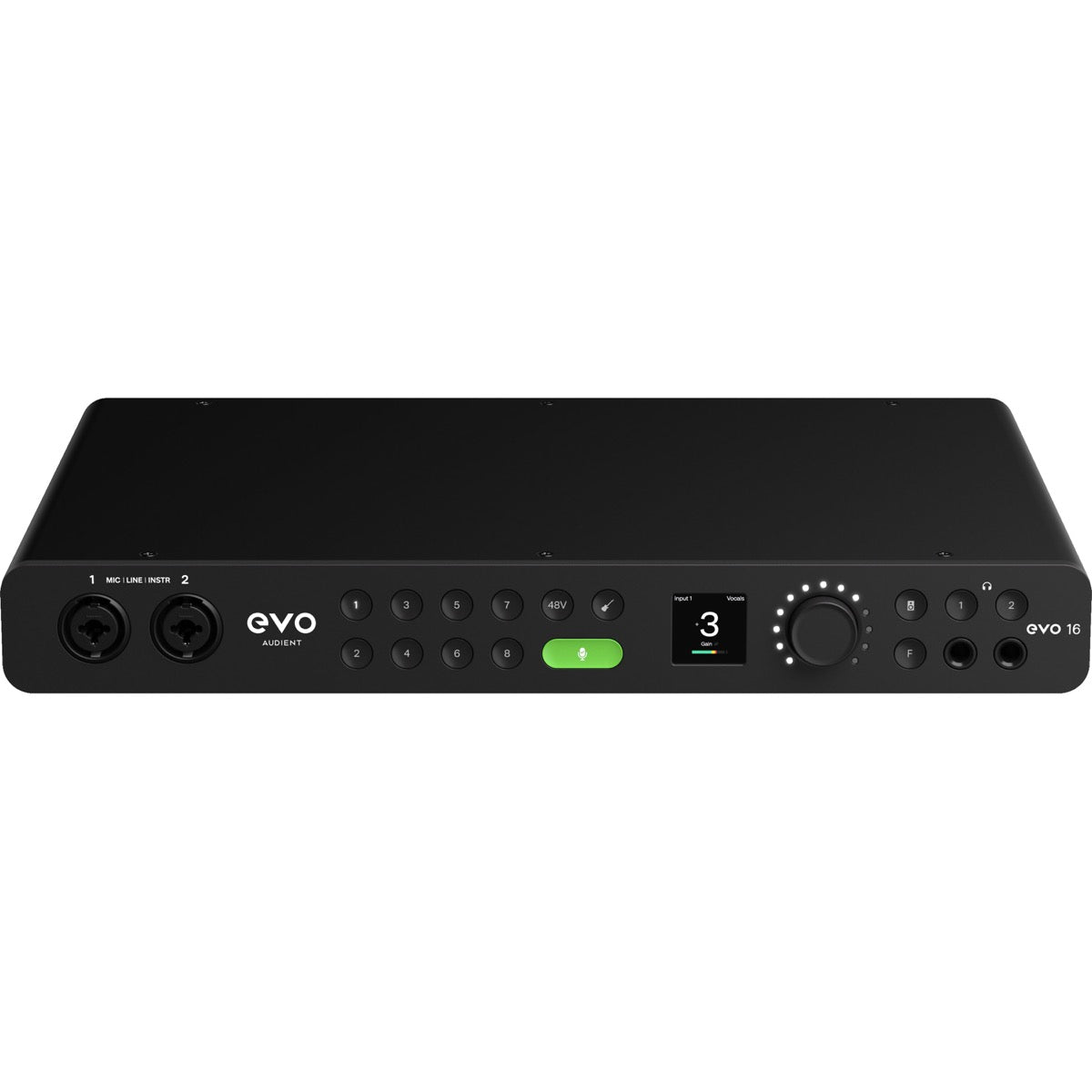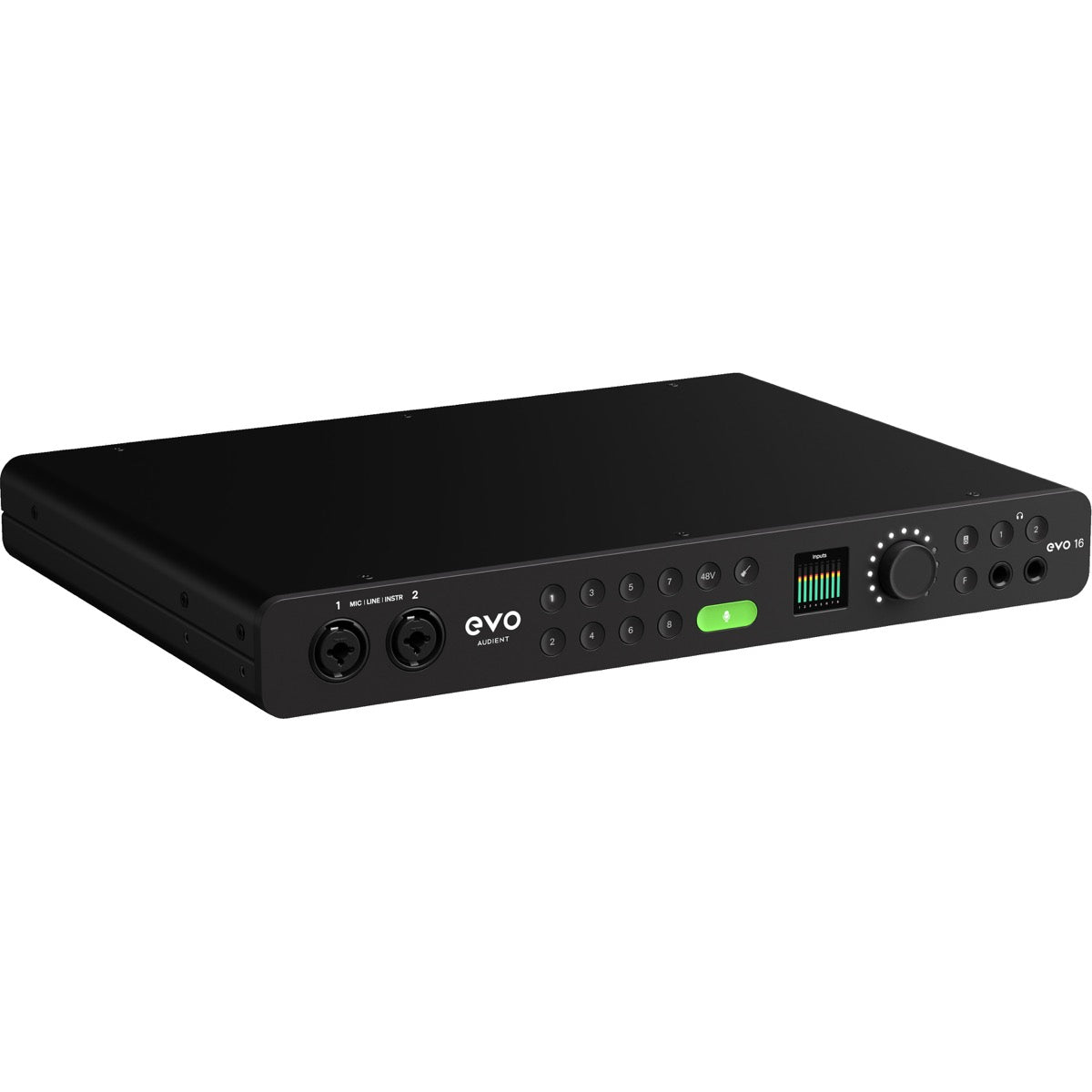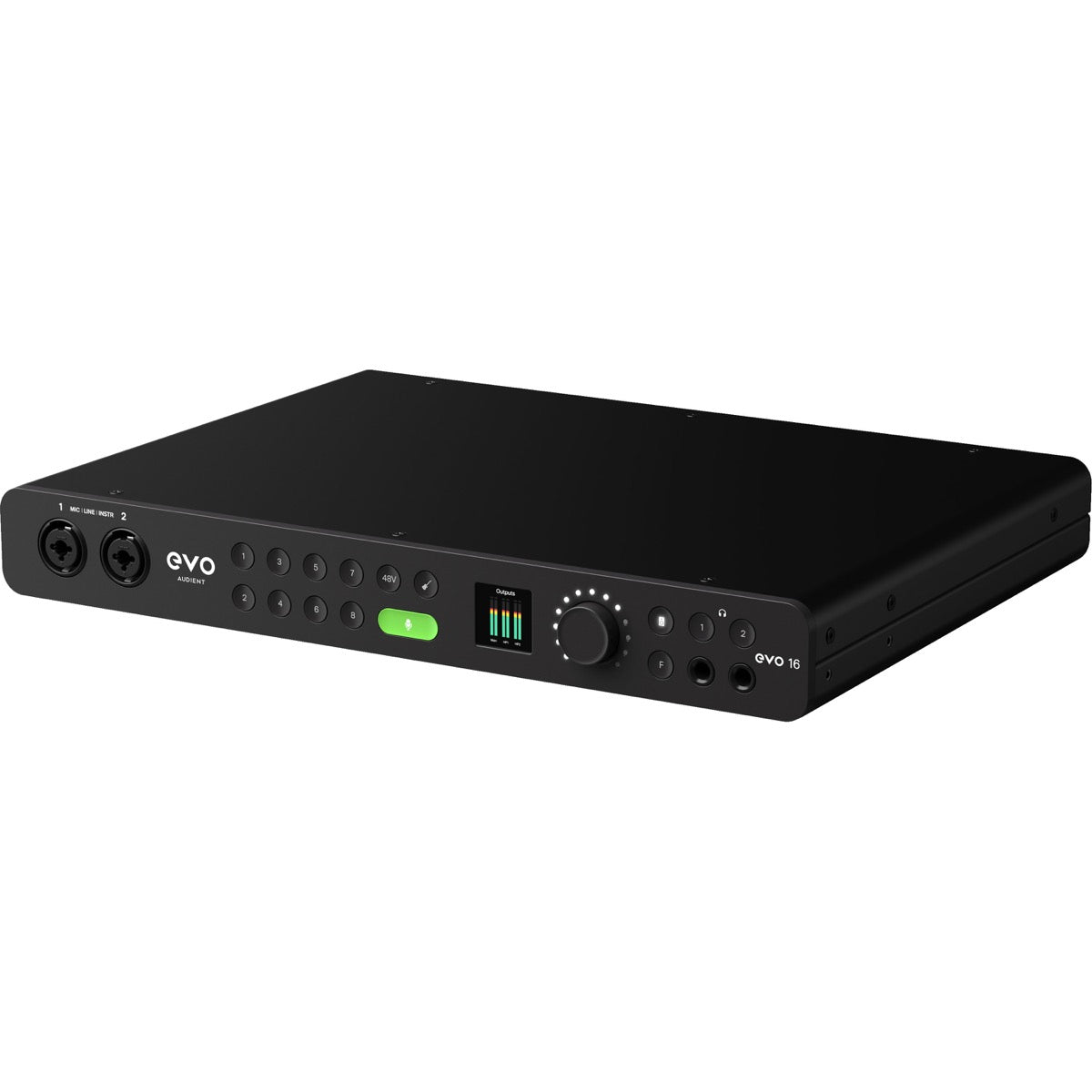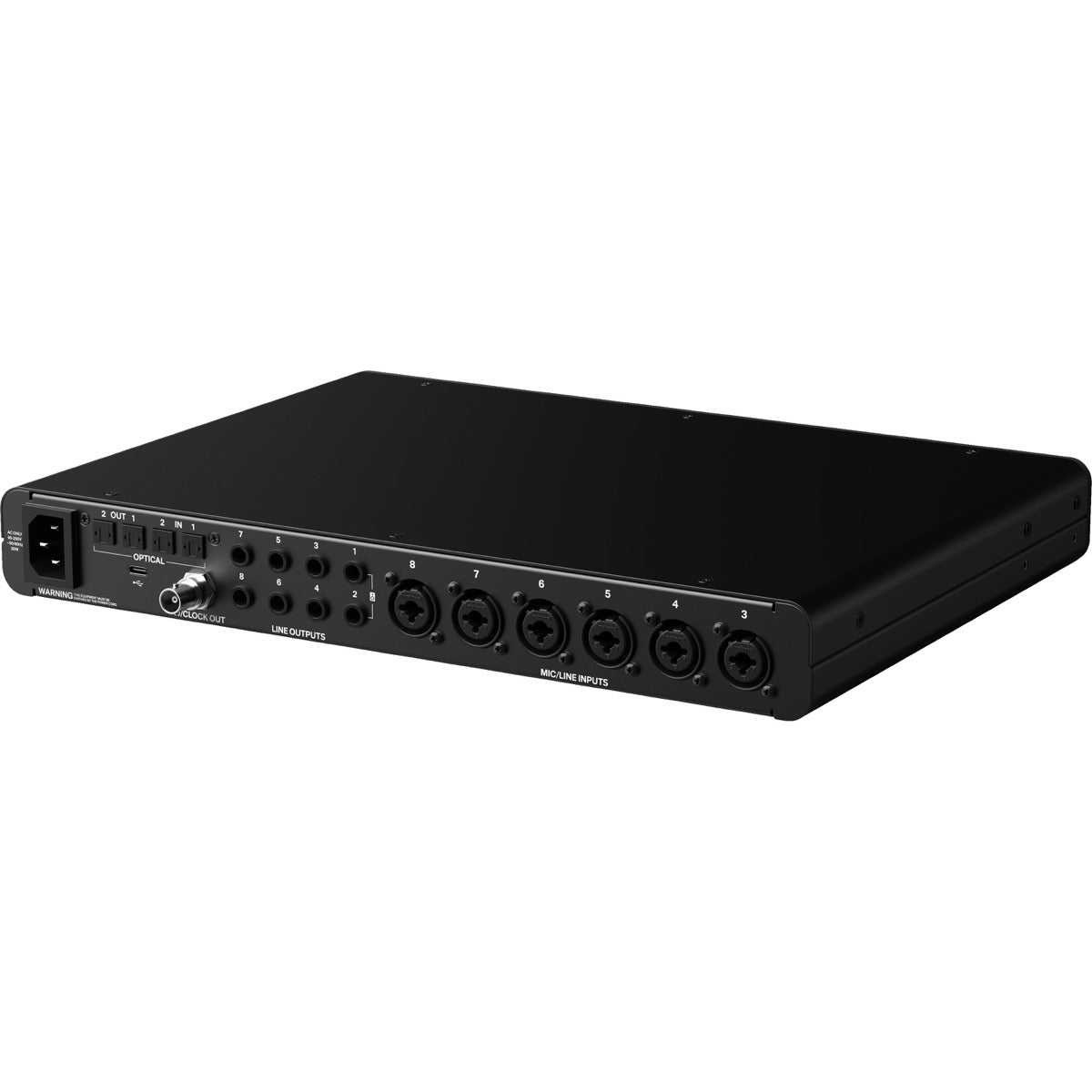 Audient Evo 16 24in/24out USB-C Audio Interface 24-CHANNEL RIG
7 items included
This Kraft Music Bundle Includes
$1,649.99
Regular price
$1,807.27
You Save $157.28
Click on a product to view more details.
Make studio-quality recordings with Audient Evo 16's next-level audio performance. Eight award-winning Evo preamps alongside Audient's advanced converter technology will make everything you do sound better. Add to that intelligent mic preamps that set their own levels with Smartgain, the groundbreaking Motion UI control system and enough I/O firepower to tackle even the biggest of sessions, Evo 16 is truly a studio powerhouse, designed from the ground up to make recording easy.
8 × Evo mic preamps
2 × JFET instrument inputs
2 × independent headphone outputs
8 × line outputs
2 × optical inputs
2 × optical outputs
Multi-channel Smartgain
Evo Motion UI control system
Programmable function button
Ultra-low latency software mixer
Monitor control
Audio loopback
Word clock output
USB 2.0 on USB-C connection
The Evo mic preamp: get studio-quality recordings
Level up your audio performance with eight sonically stunning Evo preamps. Backed by 25 years of engineering experience, Audient's analog mic preamp has been designed to deliver the most accurate, clean and true-to-source version of your audio, no matter what you're recording.
An analog mic preamp, but smarter
Evo preamp technology not only has all the sonic advantages of an analog mic preamp, but also combines it with digitally-controlled precision, giving you the ability to set your gain with pin-point accuracy right down to the decibel. Control it from software or use realtime visual feedback on the screen to perfectly match the level of stereo pairs.
Smartgain: a total gain changer
Make recording drums and larger sessions easy with Smartgain. Automatically set the gain for all eight channels at once with a simple touch of a button. Powered by Audient's lightning-quick algorithm, Smartgain uses advanced peak analysis to automatically analyze, adjust and set your gain to the perfect levels – all in less than 20 seconds! Now it's up to you to figure out what to do with all that time you're saving. Smartgain works on up to eight mics at once to help you avoid clipping.
Working solo? Smartgain is your own assistant engineer
Record, adjust levels, repeat – sound familiar? Save time and make recording on your own a breeze with Smartgain. Simply set up your mics, hit Smartgain, start performing and Evo 16 will take care of the rest.
Introducing Motion UI, a powerful control system
The Motion user interface has been designed to change the way you interact with your audio interface. For the first time, a stunning high-resolution, full-color screen intelligently displays information as you need it, transforming Evo 16 into a fully immersive, easy-to-use experience.
The screen
Every adjustment, every detail, every button press is beautifully displayed in real time on a 240×240 TFT-backlit LCD screen, letting you navigate hardware features effortlessly, make changes on the fly and take full control of your recording session without ever looking at your computer. Plus, IPS technology means information on the screen remains legible no matter your viewing angle, ideal for a variety of setups.
Channel status
Pressing an input or output button momentarily displays the channel name, the levels and the functions activated for that specific channel – all the information you ever need in one place.
Metering
Keep an eye on your levels by quickly cycling through your inputs and outputs with Evo 16's crystal-clear, full-color metering.
One-knob control
Designed to keep your session in motion, one-knob control lets you glide through Evo 16's hardware features from a single centralized point. Unlimited power, simple control.
Function button
Thanks to the customizable F-button, you can assign any of Evo 16's advanced monitoring controls to the programmable function button. Your workflow, just the way you like it.
Digital outputs: room for expansion
Future-proof your studio and configure your setup to tackle bigger sessions. Whether you're recording drums or taking on a full band, Evo 16's optical inputs and outputs have got you covered. Supporting both ADAT and SPDIF, add up to 16 channels of mic preamps to your setup, giving you plenty of options for expanding your studio down the line.
Line outputs: pick the best route
Connect and listen to your mixes through multiple sets of speakers with Evo 16's eight line outputs. Alternatively, use the extra line outputs to send audio to external outboard gear such as compressors or effects units or to headphone amps for distribution to your artists.
Headphone outputs: clarity where you need it most
Drive even the most demanding headphones with Evo 16's two dedicated headphone amps. Easily power headphones up to 600 Ohms all while experiencing detailed monitoring and playback as well as plenty of volume.
Two instrument inputs: classic tone, modern sound
To build a monster guitar sound you need the right foundation. Audient's harmonically-rich JFET instrument input circuit is designed to replicate the input stage of a classic valve amplifier, providing an ideal sonic foundation before you hit your guitar sims.
Advanced monitor control
Evo 16 takes critical listening seriously and is packed full of monitoring functionality to back it up. Whether you are switching between two sets of speakers using the ALT monitor feature, checking your mix in mono or quickly communicating with your artist using talkback, all features can be activated straight from Evo 16's front panel. The best part is you get to customize which control is assigned to the hardware F-button.
Talkback: communication is key
Evo 16's dedicated talkback technology lets you use any audio source connected to your computer such as a built-in or USB microphone as your talkback mic, freeing up valuable mic preamps for recording.
The mixer
Engineered to simplify your workflow, Evo mixer software enables you to set up and route your inputs and outputs effortlessly, provide ultra-low latency monitoring, set up dedicated artist headphone mixes and so much more. Compatible with macOS and Windows.
Audio loopback for content creators
In the world of content, your audio needs to not only sound great but be easy to control. Audio loopback makes this possible, ideal for content creators, podcasters and streamers.
Looks that could kill
Who said interfaces have to look utilitarian? Evo 16 has been meticulously designed to look amazing on both your desktop and in your rack. Super-bright backlit LED lighting not only looks stunning but ensures visibility in the darkest of studios, whilst a solid steel chassis makes sure Evo 16 is built to last.
Portable
Although packed full of features, Evo 16 defies the norm with its deceptively small form factor. At just over 16" wide with non-slip rubber feet, Evo 16 works perfectly whether on your desktop, under your laptop or as a permanent fixture in your studio with the optional rack ears. (Rack ears provided free directly from the manufacturer upon request at product registration.)
Free software with ARC
Compatible with all major audio software and plugins, Evo 16 comes bundled with a collection of professional recording software including Cubase LE, giving you everything you need to start recording right out of the box.
SKU
ADN-EVO1624C
MPN
Evo 16
Vendor
Audient
Bus Power
No
Connectivity
USB-C
Direct Monitoring
Yes
Included From Manufacturer
Power cord
USB cable
Optional rackmount hardware provided directly from manufacturer upon request during product registration
Max Sample Bit
96 kHz / 24-bit
Mic Preamps
8
Mpn
EVO 16
Product Unique Features
Evo Motion UI control system
Loopback functionality with software mixer
Multi-channel Smartgain to automatically set input levels
Simultaneous Inputs
10
ADAT Expandable
Yes
Number of Channels
24 in / 24 out
Digital Conversion
96 kHz / 24-bit
Audio Inputs
8 × XLR / 1/4" combo mic/line inputs
2 × 1/4" JFET instrument inputs
Audio Outputs
8 × balanced 1/4" line outputs
2 × 1/4" stereo headphone outputs
Phantom Power
Switchable 48V (±4V) phantom power rated at 10mA
Rackmountable
Optional
Audient Warranty Statement
Three years parts and labor on all Audient Ltd products.
Warranty covers all defects in material and workmanship.
The following are not covered: damage caused by accident, misuse, abuse, product modification or neglect; damage occurring during shipment; damage from failure to follow instructions contained in the instruction manual; damage resulting from unauthorized repairs; or damage caused by improper installation; or damage caused by AC power overvoltage conditions.
Audient Ltd's liability is limited to the repair or replacement, at our option, of any defective product and shall not include incidental or consequential damages.
Audient LTD reserves the right to replace a discontinued model with a comparable model. Any replacement units or parts may be new or rebuilt.
Ground shipping is FREE for all orders $99 and up.