Skip product carousel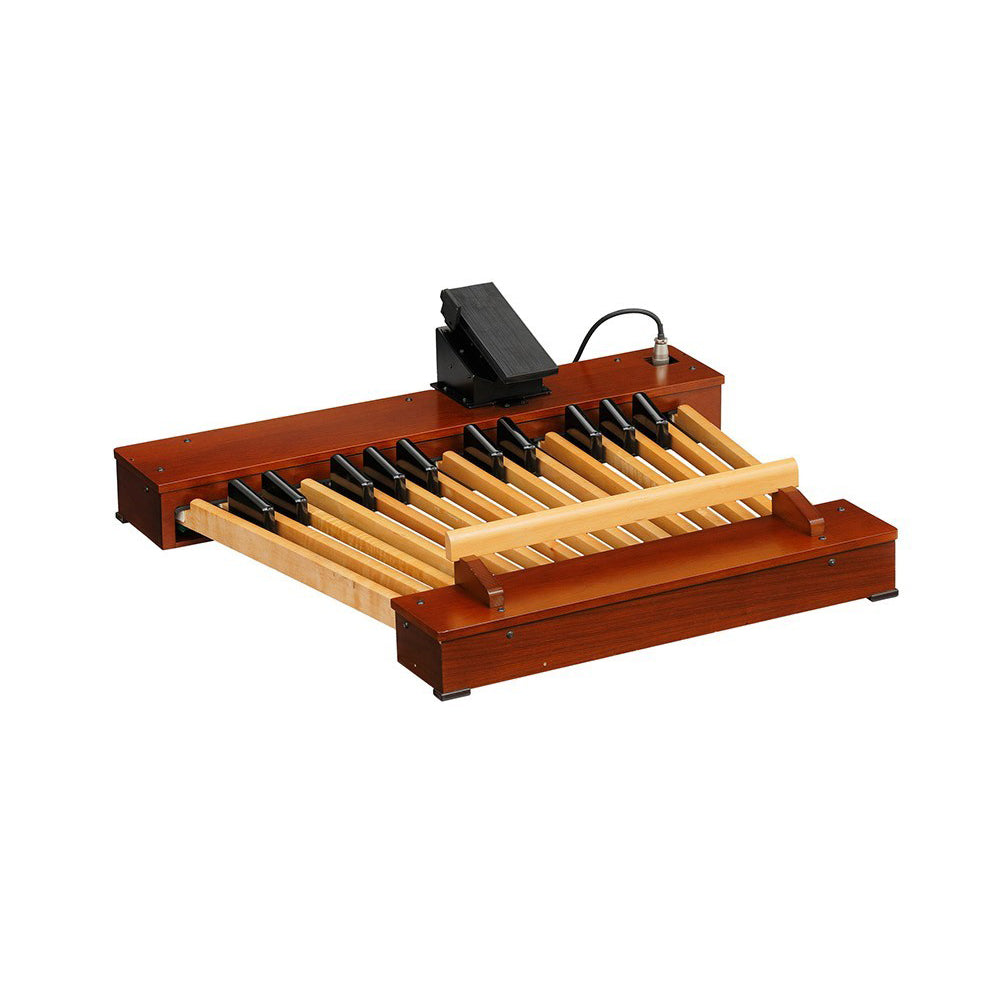 Hammond Model A-3 Heritage System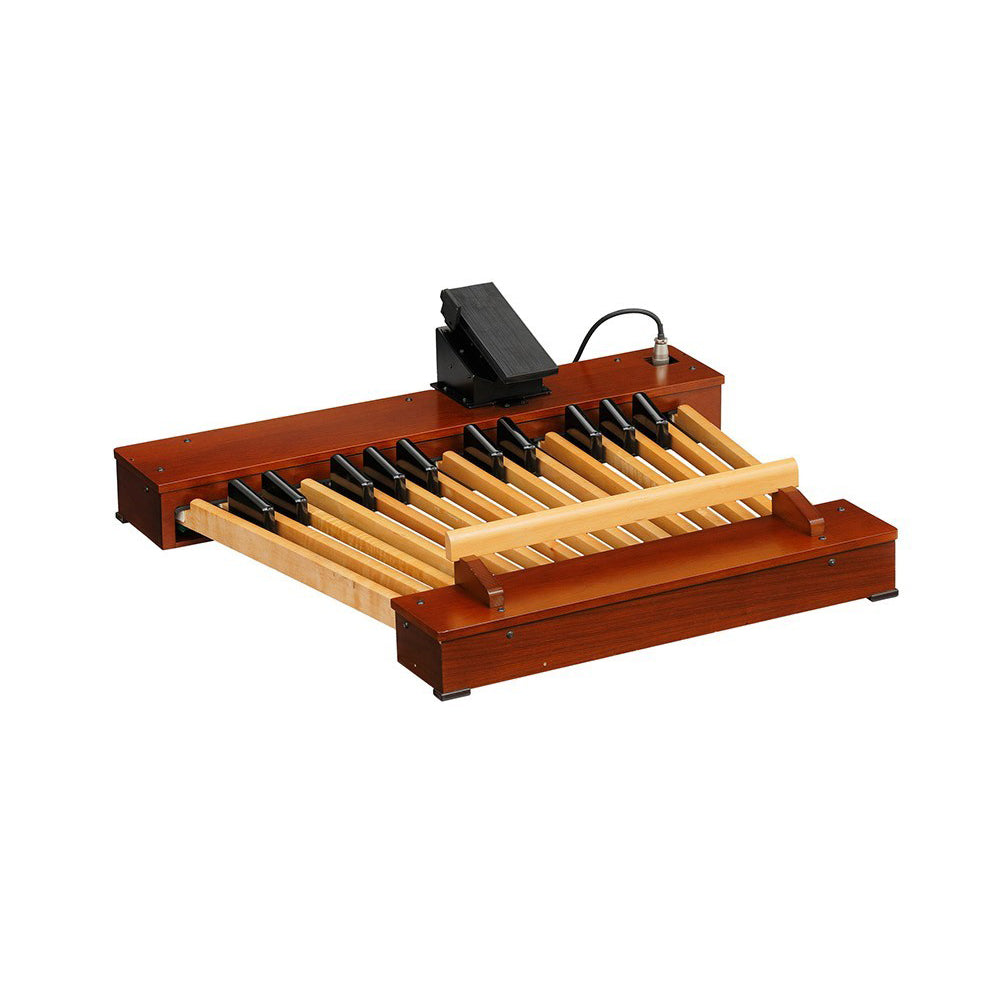 Hammond Model A-3 Heritage System
The HAMMOND B-3 organ and its siblings such as the C-3 and A-100 have been the single most influential keyboard instruments in musical history, perhaps apart from the acoustic piano. When paired with the spinning Leslie speaker, the HAMMOND's sonic versatility defined the electrified keyboard sound of genres from rock to soul to Gospel to jazz. This sound is as sought after today as ever. With the XK-5 Hammond is proud to announce that they've closed the final millimeters of the realism gap—in terms of both sound and feel—in a form factor that's far more portable and affordable than a vintage Hammond organ.
The Model A-3 Heritage System, so named because it looks very much like Laurens Hammond's first organ, the Model A, is ideal for installation in a church or nightclub, or for any application where the classic sound and appearance of a B-series Hammond is desired.
Four full sets of Harmonic Drawbars plus pedal drawbars, just like on original Hammond console organs including the B-3.
12 additional virtual tone wheels are devoted to harmonically complex pedal tones (i.e. more than just 16' and 8' sine waves), as found on Hammonds beginning in 1945.
Custom tone wheel profiles available via download.
The best-ever Digital Leslie effect. Anything else is just a "rotary simulator."
Continuously variable Digital Leslie speed if desired.
Dedicated octave shift / transpose buttons.
Improved DSP-based overdrive complemented by vacuum tube preamp.
Improved vibrato-chorus.
Dedicated on/off buttons and amount knobs for reverb, overdrive, and assignable multi-FX.
Lower B drawbars can alternately control 9 MIDI CC messages for external gear.
Left and right 1/4" outs can be used at the same time as Leslie output, for running the XK-5 through a real Leslie in parallel to stationary speakers, a subwoofer, or house P.A.
More key-triggering modes for pedal-to-lower coupler (Manual Bass function).
Firmware updatable via USB flash drive or directly from computer.
Crisp new OLED display is more readable under different lighting conditions
Hammond XK-5 Drawbar Organ
The most versatile organ/keyboard anywhere. For all practical purposes, the XK-5 is the "Upper Manual" of a B-3. All the familiar ingredients are there. Reverse Presets, Chorus- Vibrato on the left, Percussion on the right. A 2-tube preamp, and full MIDI controller capability are just a few of the features of this beast. The nameplate says "XK-5" but play it, and you'll think "B-3".
A-3 Lower Manual
The A-3 lower manual uses the same key-bed and multi-contact system as the XK-5. It features the same high-quality cabinetry, with vertically extended side panels designed to cradle your XK-5. Remove the existing side panels from the main unit (a quick and simple operation), slide it into place, and you have an integrated dual-manual rig with a seamless appearance.
A3STD Spindle Stand
Sturdy and well built, this stand holds the XK-5 and lower manual at an appropriate height for comfortable and ideal play. This stand matches the cabinetry and style of your A-3 system and gives the classic appearance of a vintage Hammond organ.
XPK-250W 25-Note Pedal Board (Red Walnut)
For players who kick bass, the XPK-250 two-octave radiating pedalboard is included to provide you with a 25-note pedal board, and an on-board EXP-250 expression pedal.
XK-3-W Vintage Spindle Bench
Sit comfortably at the correct level with this matching bench. Matches the vintage style of the A-3 system.
Dimensions: Width 36", Depth 14-1/2", Height 23" , Weight 30 lbs
SKU
HAM-XK5MDLA3HSYS
Vendor
Hammond
Built In Speakers
No
Drawbar Sets
4 Sets
Drawbar Style
Physical
Included From Manufacturer
XK-5 Organ
A-3 Lower Manual
A3STD Spindle Stand
XPK-250W Pedal Board
XK-3-W Spindle Bench
Keys Weighted
No
Number of Keys
61 x 2 (Dual Manual)
Midi
In and Out
Mpn
A-3
Accompaniments
No
Control Connections
(2) Foot Controller
(1) Expression Pedal (EXP-100)
Onboard Controllers
(2 x 9) Upper Drawbars
(2 x 9) Lower Drawbars
(2) Pedal Drawbars
Duet Mode
No
Effects
Vibrato/Chorus, Tube Preamp, Overdrive, Multi Effects, Equalizer, Internal Leslie, Reverb, Master Equalizer
Half-Damper Support
No
Half Moon Switch Input
Yes
Audio Outputs
Dual 1/4" (L/Mono + R)
11-pin Leslie Connector
1/4" Headphones
Key Action
Waterfall
Layer Feature
No
Leslie Output
11-Pin
Metronome
No
Number of MIDI Control Zones
6
Organ Models
Tonewheel;Transistor;Pipe
Pedal Board Input
H-BUS, 5-Pin MIDI
Pedal Drawbars
Yes
Product Weight
Stand: 40lbs
Lower Manual: 37.5lbs
Bench:30lbs
Programs/Presets
100 Factory Patches
100 User Patches
Reverse Key Presets
Yes
Rhythm Patterns
N/A
Rotary Simulation
Yes
Number of Songs
N/A
Split Feature
Yes
Number of Tracks
N/A
Transpose Feature
Yes
USB Flash Drive Port (to Device)
Program/Preset Storage
USB Port (to Host)
MIDI;Audio;System Updates;File Transfer
Voices of Polyphony
61 for Manuals
5 for Pedals
Width
Stand: 51"
Pedal Board: 42"
Lower Manual: 51"
Bench: 36"
Depth
Stand: 22.4"
Pedal Board: 37"
Lower Manual: 22.4"
Bench: 23"
Height
Stand: 30"
Pedal Board: 6"
Lower Manual: 7.5"
Bench:14.5"
Hammond USA Limited 1-Year Warranty
Hammond-Suzuki, LTD. ('Hammond') warrants to the original consumer/purchaser that this product shall be free from any defect in material and workmanship for a period of one year from the date of purchase for an authorized Hammond dealer.
If a defect covered by this warranty occurs during this one-year warranty period, you should return the product within such one year to:
A. The dealer from whom you purchased it, together with a copy of your sales slip or similar proof-of purchase, and the dealer will repair the defective unit without charge for parts or labor.

OR

B. The nearest Hammond Authorized Service Center together with a copy of your sales slip or similar proof-of-purchase, and the authorized service will repair the defective unit without charge for parts or labor.
The warranty does not cover damage or malfunction resulting from improper handling or abuse, accident, misuse, failure of electrical power, battery leakage, use on improper voltage or current, failure to follow normal procedures outlined in the User's Manual, use with other products not manufactured or approved by Hammond, alteration, damage while in transit for repairs, repairs attempted by any unauthorized person or agency or any other reason not due to defects in materials or workmanship. This warranty is void if the serial number (if any) has been altered, defaced, or removed.
Any implied warranties arising out the sale of this hardware product, including but not limited to the implied warranties or merchantability and fitness for a particular purpose, are limited in duration to above one-year period. Liability is limited solely to the repair or replacement of the defective product in Hammond's sole discretion, and in no event shall include damages for loss of use or other incidental or consequential costs, expenses or damages incurred by the purchaser, including, without limitation, any data or information which may be lost or rendered inaccurate, even if Hammond has been advised of the possibility of such damages.
Hammond shall have no obligation to enhance or update any product once manufactured.
Some states do not allow limitations on how long any implied warranty lasts or the exclusion of incidental or consequential damages, so the above limitations or exclusions may not apply to you. This warranty gives you specific legal rights, and you may also have other rights which vary from state to state. (Available in USA only.)
To receive the protection of the limited one-year warranty, you must return your registration card within 10 days after the date of purchase.
This oversize item ships via our Freight Delivery Service.